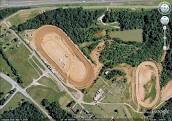 Greetings from Gaffney, South Carolina
From the travels and adventures of the "World's #1 Trackchaser"
Cherokee Speedway



Lifetime track #146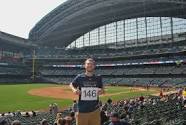 The Cherokee Speedway is officially listed as my 146th lifetime racetrack to see.  This venue was the first track I ever saw in South Carolina.  I was there on a Saturday evening, April 20, 1985.  The next day I dropped over to the North Wilkesboro Speedway in, where else, North Wilkesboro, North Carolina for a NASCAR Winston Cup race.  Neil Bonnett won.
I didn't begin writing my famous Trackchaser Reports until about track #400.  Therefore all I have to go on is my memory of the afternoon and evening activity.  I also didn't begin doing much in the way of photos or videos at that time either.  It was "pre-technology time".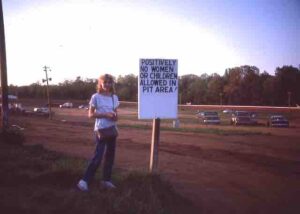 My most vivid memory of my visit to this track didn't have anything to do with the racing.  That is not unusual.  Carol was with me on this trip.  I had her stand by a sign at the entrance of the pit area.  As you can see it read "Positively no women or children allowed in pit area!"  That was in 1985.  Times have changed haven't they!
According to the National Speedway Directory (2013) the Cherokee Speedway is a 3/8-mile high banked dirt oval.  They race on Saturday nights with a whole gaggle of stock cars including super late models.  If you go be prepared for super late model times trials to take place in the middle of the program.  That's how they do it in the south.  I don't like time trials.  I especially don't like time trials in the middle of the program.  In 2014 the Cherokee Speedway has one of the longest schedules of any track that races on a weekly/semi-weekly basis.  The first show is on February 22.  The last program of the season is planned for November 30.  That's a long racing season.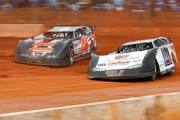 You might have remembrances about the Cherokee Speedway.  If so, please feel free to share in the comments section below.  If you have any photos from back in the day, send them to me at Ranlay@yahoo.com.  I'll try to include them here.