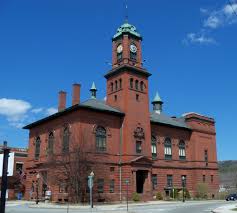 Greetings from Claremont, New Hampshire
.

From the travels and adventures of the 
"World's #1 Trackchaser"
The EventClaremont - 1988Twin State F8 - 2006Twin State karts - 2010Video PlusPhotos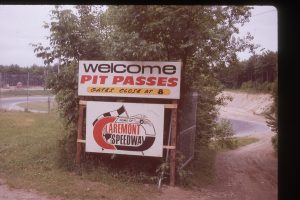 Claremont International Raceway
Outer asphalt oval
 Lifetime Track #175
.
Twin State Speedway
Asphalt figure 8
 Lifetime Track #1,074
.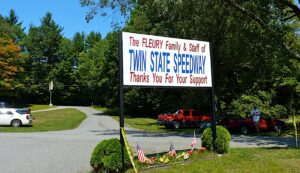 Twin State Speedway
Asphalt inner oval
 Lifetime Track #1,587
THE EVENT
Editor's note: I've seen racing at the same facility in Claremont, New Hampshire at three different track configurations. I first went there in 1988 when the track was named Claremont International Raceway. I would return in 2006 and 2010, but for those visits, the track was called the Twin State Speedway. Sit back and I'll tell you about each of those trips. To find those stories you'll need to select the appropriate dropdown menu. No problem. I know you can do it.
I AM A TRACKCHASER.
My name is Randy Lewis (above with Spike and Linda Rixon, English trackchasers and P.J. Hollebrand). I hail from the sleepy little village by the sea, San Clemente, California. I am a "trackchaser". I trackchase. Have you ever in your life heard of "trackchasing"? I didn't think so. 
Well, you made it this far. You might as well pour yourself a cold one and take your Trackchasing 101 class. When you finish you'll have your trackchasing diploma and can then teach your friends about the hobby. 
Let's get started. Trackchasing is a three-pronged hobby. I'm a racing fan. I love to travel. I love to analyze opportunities to get the most out of everything while saving time and money.
Let's do this by the numbers.
The racing part of my trackchasing has me trying to see wheel to wheel auto racing at as many different racetracks as I can all over the world. Yes, all over the world. Do I mean that? Yes, I do! I've seen racing in 85 countries at more than 2,600 tracks. I'm known as the "World's #1 Trackchaser". Why? Because I've seen racing in more countries in the world than anyone else by a wide margin. 
However, my hobby of trackchasing involves much more than simply visiting racetracks. Much more. My hobby includes and requires lots of traveling. I get to see and experience, over the "long and dusty trackchasing trail," all kinds of interesting places, restaurants, sporting events and the like. I call these adventures "Trackchasing Tourist Attractions". You won't want to miss my "Trackchasing Tourist Attractions" page. Here's the link:  Trackchasing Tourist Attractions or my "Sports Spectating Resume" page, Sports Spectating Resume on my website at www.randylewis.org.
I live in southern California. That's probably the most inconvenient location in the country for seeing tracks in the U.S. Most of the racetracks in the U.S. are located well over 1,000 miles from where I live. My average trip covers 5,000 miles and more. I take 35-40 of those trips each season. In any given year I will travel well over 200,000 miles, rent more than 50 cars, and stay in more than 150 hotel rooms. 
I get the chance to meet people from all over the world. With trackchasing trips to 85 countries and counting just getting the chance to experience so many unique cultures, spend time in the homes of my friends and meet so many people is a huge reward for being in this hobby. I am indebted to several of these folks for their help and friendship. 
It takes a good deal of planning to do the above and not spend my entire retirement portfolio. I enjoy the challenge, the travel and every other aspect of "trackchasing". In reality, my trackchasing hobby is a lot like being with the carnival. I breeze into town, stay a little while and then head on down the road.
Once you begin researching my trip itineraries from my website, yes you will want to do that, you will be surprised. One day I'll be in Tucson, the next in maybe Tuscaloosa and the following day in Syracuse. I do that kind of thing all the time. Figuring out the logistics of a trip like that is as much fun for me as watching a figure 8 race.
Now you know a little bit about my trackchasing addiction. When you receive one of my Trackchaser Reports or find one on my website at www.randylewis.org you'll get three pieces of entertainment.
First, my Trackchaser Report will be an in-depth essay on how the trip went from A-Z. Yes, I'll cover the racing aspect of things. But you will also hear about what it took to pull off the trip, the special stops that made the trip fun and the obstacles that needed to be overcome.
Secondly, you'll get a YouTube video of the racing action I saw. These are normally short 3-6 minutes highlights of the racing. My YouTube channel is named, "RANLAY". I have nearly 2,000 subscribers to my channel. Currently, I have posted more than 1,300 videos and my channel has more than 1.2 million views!
Finally, I'll share a captioned photo album using a photo-sharing program called SmugMug. Normally, there will be anywhere from 50-200 photos from each trip I take. Sometimes more! My website is linked to hundreds of thousands of photos from all of the trips I have taken.
There you have it. That's trackchasing…the way I do it. Do others trackchase? Absolutely. Do they share their experiences? Sorry. They don't. If you want to see the true "essence" of trackchasing you've come to the right place.
A common question I get about my hobby is, "Why?". I'm a curious fellow. I'm an adventuresome fellow. My hobby is about seeing and experiencing the things that most folks walk right past. Below is a link to a special video. It shows a small town in Missouri that I visited on one of my trips. In this video, I'll share with you exactly what I mean. This video might just make your day.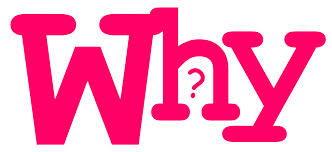 Trackchasing….this is exactly why I do it
Today's adventure was one more of the 2,000 trips that have taken me up, down and around the proverbial long and dusty trackchasing trail.  If you would like to see where I've been and experience those adventures here's the link: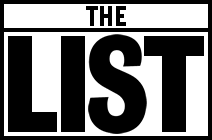 If you've got a question, comment or whatever please leave it at the bottom of this report.  It's very easy to do.  Or you can visit me on Facebook.  Thanks!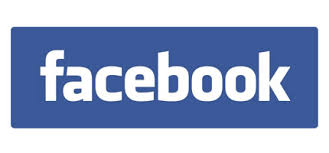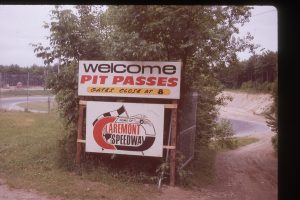 Claremont International Raceway
Outer asphalt oval
 Lifetime Track #175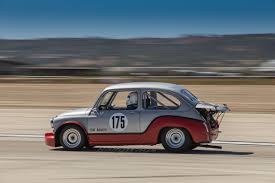 The Claremont International Raceway in Claremont, New Hampshire is officially listed as my 175th-lifetime track. Claremont was just the second-ever track I visited to see racing at in the Live Free or Die State. I had gone to the Star Speedway three years earlier in 1985.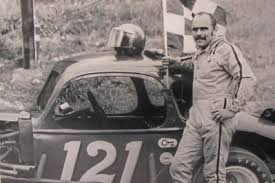 Much of what I can tell you about the Claremont International Raceway is from memory. I went there on Saturday, September 3, 1988. The famous Punky Caron was the race winner. I was surprised the grandstand seating area was built at such a steep angle. It was straight up!
During that 1988 racechasing/trackchasing season I went to a number of very famous tracks. How does this list sound?
Phoenix International
Ascot Park
North Wilkesboro
Orange Show
Wisconsin State Fair Park
Mesa Marin
Hawkeye Downs
Eagle Raceway
Colorado National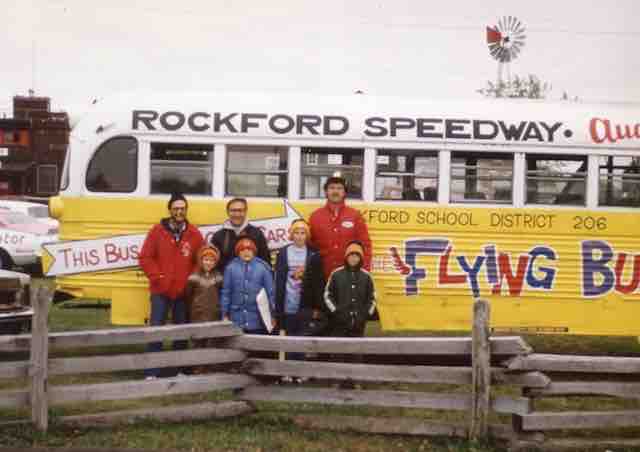 Rockford
Cayuga
Bristol
I guess I could say this. If any racing fan had these tracks on their resume in a lifetime they would have been doing very well. I saw racing at all of these tracks and more….in 1988.
I can tell you that "The History of America's Speedways – Past and Present" authored by Allan E. Brown has this to say about the Claremont International Raceway. By the way, I can't even imagine the level of research it took to make this book. There is a listing from virtually every racetrack that ever existed in the U.S. and Canada. It truly does border on the unbelievable. Well done!
The facility opened up for racing all the way back in October 1947. They began with a 1/5-mile dirt oval. They ran on the dirt through the 1972 season. Then in 1973 until the present, they have raced on a paved 1/3-mile oval. They've been racing in Claremont, New Hampshire for more than 70 years!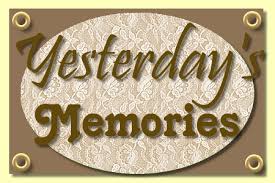 You might have remembrances about this track.  If so, please feel free to share your memories of the comments section below.  If you have any photos from back in the day, send them to me at Ranlay@yahoo.com.  I'll try to include them here.
Twin State Speedway
Asphalt figure 8
 Lifetime Track #1,074
Greetings from Claremont and then Canaan, both fine cities in New Hampshire
REALLY IMPORTANT
Don't miss the people section today.  I ran into a lot of interesting folks.
This morning Carol and I woke up in Victor, New York. This is what transpired today.
PEOPLE/STRATEGY/TRAVEL NEWS
The Strategy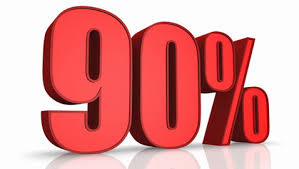 Did you know that more than 90% of the 1,000+ Trackchaser Report readers are not official trackchasers?  I always need to keep that in mind when I write.  I suspect non-trackchasers may think somewhat differently than a full-fledged trackchaser.
As a non-trackchaser, can you ever imagine planning a family vacation to Disneyland?  When you arrive at Disneyland, you find it is raining.  Alternatively, maybe there were not enough employees that showed up for work to staff all of the Disney characters.  Therefore, because it was raining or there weren't enough people to run Disneyland, the entire park closed for the day.
It's always a tough conversation with the kids when you have to say, "You know kids, we've been planning our trip to Disneyland for a long time.  Disney isn't going to open today, so we're going somewhere else.  The Grand Canyon is running today.  It's only 550 miles up the road.  Get in the car, we'll be there in no time."
In the above example, you have just experienced the thought process of the trackchaser.  Of course, the above "Civilian" example would never happen in real life.  In trackchasing, it happens on nearly every trip.  Virtually none of my 25-30 annual trackchasing trips goes exactly as I planned it once my plane touches down.
We were supposed to be in Halifax, Nova Scotia, Canada tonight.  I had sold Carol on the idea of making a New England trip with stops in both Nova Scotia and New Brunswick.  Just as the parent must sit down with their child and tell them that Disneyland will not be opening today, I needed to sit down with Carol and give her the bad news.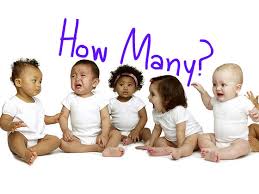 I picked a quiet and secluded spot to explain that Nova Scotia was going to be wet this weekend.  Even though we could not go there, we could visit lovely New Hampshire, the Granite State.  I went on to extol the virtues of a New Hampshire vacation for several minutes.  When I paused to take a breath, Carol asked just one question, "How many tracks?"  It was then that I knew that we were still going to have a successful trackchasing trip, despite our change in venues.
The Trip
When I go trackchasing with Carol, I do my best to keep our driving distances to a minimum.  Nevertheless, the "Trip A" trip odometer on the National Rental Car Racing Pontiac Grand Prix read 1,037 miles when we pulled into the Twin State Speedway parking lot.  At that very moment, we had driven more than 1,000 miles and seen one countable track!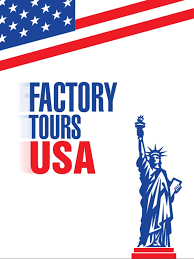 I've been using www.factorytoursusa.com as a source for our TTAs.  Yes, that's Trackchasing Tourist Attractions.  We've taken our share of brewery tours.  We've done the Heineken tour in Amsterdam and the Budweiser tour in St. Louis among others.  Today, we were going on another brewery tour.  This time, we would be visiting the Matt Brewing Company in Utica, New York.

The Matt Brewing Company (http://www.saranac.com/) is the oldest family-owned brewer in the world.  I have a unique connection to the company.  I worked with Nick Matt during my 13 years with the Richardson-Vicks (makers of Vaporub, Vicks Nyquil, Clearasil, Oil of Olay, etc.)  Nick worked in our marketing department after serving as a naval officer and graduating with a Cornell M.B.A.  In the late 80s, he left the Vicks organization as the President of the Health Care division to run the family business.
Today, Nick is the Chairman and CEO of the Matt Brewing Company.  I was looking forward to seeing Nick again after more than 20 years.  Unfortunately, he was out of town for a wedding, so the best I could do was leave a message on his voicemail.  I'm sure he'll be surprised to hear from me.
The brewery tour was great.  It's free and lasts about an hour.  At the end of the tour, you'll get coupons for two full-sized beers.  The company's leading brands are Saranac and Utica Club beer. 
To promote the Matt Brewing Company brands as well as reward the loyal readers of the Trackchaser Report, I have a special offer for you.  If you are a primary recipient of the TR, you can get up to two free six-packs of either Saranac or Utica Club beer.  Simply send me your receipt with the brand name circled by no later than August 31, 2006.  My mailing address is:
RANLAY Racing
P.O. Box 4275
San Clemente, CA 92674
You will be reimbursed for up to two six-packs of these Matt Brewing Company brands.  Please allow six weeks for processing and handling.
If you are in Utica, New York for the tour, please don't miss Stanley's corner bar located just a block or two from the Matt Brewing headquarters.  Carol and I had lunch here.  They offer only two menu choices, ham and cheese sandwich or a Kielbasa sandwich.  We went with Kielbasas and Utica Clubs.  This is a true corner bar.  The locals recognized that we "Weren't from around here".   I may have been the first person ever to darken their door wearing an Aloha shirt.  They made us feel welcome anyway.  For a great local experience go to Stanley's.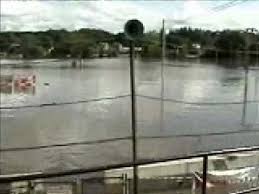 You might enjoy Utica as well.  It is an old old town.  Following our tour of the Matt brewery, we headed toward New Hampshire.  This area has been getting a ton of rain over the past few weeks.  We passed the Fonda Speedway, which was totally underwater just a couple of weeks ago.  I wanted to stop to see what kind of shape it was in today.  From the looks of things, the track surface is back to normal and they can run right now.
While getting gas across the street from the Fonda Speedway, we noticed the McDonalds next door.  This  McDonalds is home to the Fonda Speedway Museum.  We couldn't miss that.  They have lots of photos, model cars and Fonda Speedway memorabilia from the 50s to now.  It's definitely worth a stop.
Our first planned racing stop of the day was going to be at the New Hampshire International Speedway.  I visited the track in 2002, but Carol had never been there.  However, we were stuck in some very slow traffic in Vermont on Route 9 and bagged the idea of a visit to NHIS.  We motored on to the Twin State Speedway in Claremont, New Hampshire.
The People
We met some interesting people today and yesterday.  Let me tell you about them.
#1 Local Utica, New York residents
When we were within three blocks of the Matt Brewing Company, I took a wrong turn and got lost.  A brief stop into a convenience store hooked me up with the local culture.
My request for directions quickly had three different New York young men competing to give me directions.  Two were wearing a shirt and tie.  It reminded me of three wild animals fighting over a piece of meat until two were shoved out of the way by the strongest of the three.
In heavy New York accents, they each spoke louder than the other, while waving their hands and painting a directional word picture.  After a few moments, I had to take charge of the group and told them I couldn't hear anyone's directions when they were all speaking at the same time.
This prompted the largest guy to put his arm around me in a "Have I got a deal for you" fashion.  He walked me over to a corner of the store and used a Budweiser beer display to quickly sketch out a map.
My conclusion of my convenience store encounter?  All three of these people were trying to help.  I grew up in a small town in Illinois.  People in Illinois didn't act like these fellas.  However, that didn't matter, I wasn't in Illinois or California for that matter.  These people were in their home environment and acting as they do at home, as they attempted to help a stranger.  I was pleased they took the time to offer their unusual (to me) form of help.  Encounters like this help me better understand and appreciate the died in the wool New Yorkers who are members of our golf club.
#2 Mike Knappenberger and his racing buddy, Jeff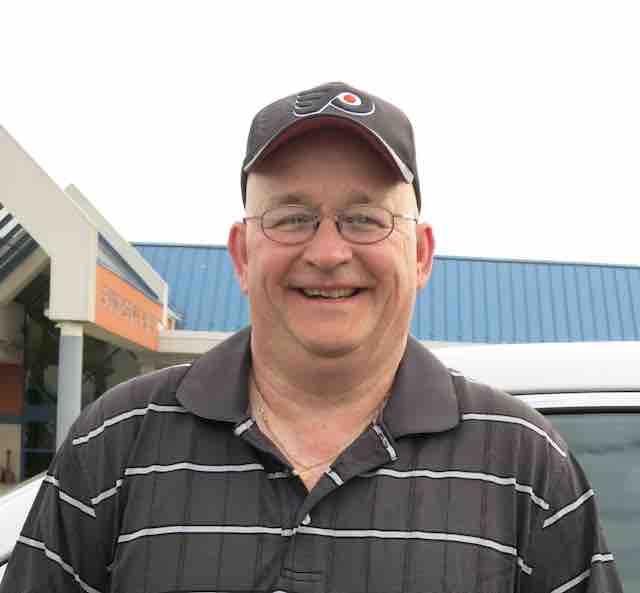 Yesterday's TR did not permit me to explain the various people contacts I had at the Little Valley Speedway.  With a bad weather forecast for our planned track in Maine on Thursday night, Carol and I were planning a lovely Maine lobster (O.K. not really a Maine lobster, but maybe Alaskan lobster tail dinner), when we I came across an email from trackchaser Mike Knappenberger.  I had not done any trackchasing research for New York tracks.  I was not planning to visit New York on this trip.  Mike's message told me about a special Thursday night show in New York.  Now our leisurely dinner in Maine would be replaced by a long and torturous drive to New York.  Thanks, Mike!
I expected to see Mike at the race.  As soon as I peeked into the nearly full grandstand of 2,000 people, a hatless (this would soon be remedied) Mike Knappenberger spotted me and motioned for Carol and me to join him in the stands.
Mike was with his trackchasing buddy, Jeff.  This was Carol's first meeting with Mike.  It was important for Carol to meet Mike for one big reason.  Mike is on Carol's radar list of trackchasers to pass.  Now that she has met up with Mike, she can imagine just what it is going to take to pass up Mr. Knappenberger.  Although she will be trying to beat him into the trackchasing ground, she did admit as I had suggested, that Mike is a very nice guy.
#3 Marcia & Dave Sully
Just as we were saying hello to Mike, a young couple sitting just two rows behind Mike and Jeff yelled a greeting our way.  It was Dave and Marcia Sully.  Dave is the Media Relations person for the Little Valley Speedway.  Dave was also the first person to ever write a major trackchasing story about my hobby.  He did a very complete write-up (check it out at www.ranlayracing.com and click on "Media contacts") in the Buffalo Sports & Leisure Magazine.
Carol and I have been out socially with the Sully's during a trip to Niagara Falls and the Sully's have visited our home during its construction stages in Southern California.  It was great seeing Dave and Marcia.  During intermission, Dave and I recorded a radio interview for his one-hour racing radio program.  I didn't get the channel his program airs on, but maybe Dave will share that with us.
#4 Little Valley Speedway congregation
At intermission, the Little Valley Speedway track announcer invited me down for an interview.  I've revamped my trackchaser press release and the results were the best ever during this trip.  The Little Valley Speedway has a covered grandstand.  The announcers sit out in the open at the very bottom of the grandstand between the crowd and the racetrack. 
The announcer had a creative way of introducing his trackchasing guest.  First, he asked everyone in the crowd to raise their hand if they had been to 5 different tracks, 10 different tracks, 25 different tracks, 100 different tracks.  Finally, he asked if anyone had been to more than 500 different tracks before offering his introduction.
In some ways, the announcer wasn't much of an interviewer.  He simply told the crowd, "We have a celebrity in the crowd tonight.  He's Randy Lewis from San Clemente, California.  He is the world's #1 ranked trackchaser.  Randy, tell us about your trackchasing."
With that, he handed me the microphone and it was just me and 2,000 of my closest friends.  Of course, I have been trained for just these encounters.  First, I thanked Mike K. for his Little Valley heads-up.  I went on to explain about the trackchasing group and, loosely, how the hobby and competition works.  I invited anyone in the crowd who might have 200 or more tracks to come down and meet me.  They could be eligible to become a listed trackchaser.  I mentioned that such racing luminaries as Chris Economaki, Kenny Schrader, Steve Kinser and Sammy Swindell were members of the worldwide trackchasing crowd.  These crusty old Eastern race fans were starting to warm up to this brash California trackchaser.
After I finished speaking, several people came down to talk.  I'm not sure if the racing program was delayed because of so many people milling about the announcing stand or not.  One nice fellow came down to chat.  He told me he was just two days shy of his 69th birthday and was proud of the 33 tracks he had attended.  I quickly shoved him aside since he was such an unaccomplished trackchaser.  Of course, I'm kidding!  He was a very nice guy.
Another fellow told me he had 215 tracks to his credit.  I gave him my card and asked him to send me his list.  If he does, I will work with him to get it in an acceptable format for submission to trackchasing hierarchy.
#5 Grant Young
There was a guy in the stands who just kept looking at me after I returned from my trackchaser interview.  He bore a striking resemblance to the top 10 trackchaser Gordon Killian.  After a while, I was starting to feel uncomfortable, just like I would if Mr. Killian were here.
Finally, the man spoke up.  He told me he had been to a large number of tracks.  Actually, he said, "I've been to 2,021 tracks."  Wow!  Extra wow!  I've been trackchasing like crazy for a very long time.  I have only 1,075 tracks.  This fellow was telling me he had nearly twice as many as I had or any other known trackchaser.
The man introduced himself as Grant Young.  I'm pretty sure he's from Ontario, Canada.  Grant Young is known to some other trackchasers as a critic of the trackchasing process.
I will say that Grant appears to be both sincere and genuine.  On the other hand, his claim might not be genuine or at the very least accurate.  Grant is 55 years old and saw his first track when he was five.  He told me his father would take him to races in "Farmer's fields" nearly every day of the week when he was a child.  Apparently, his father kept records of the visits. 
There were several things that Mr. Young said, that led me to question his claims.  You the reader will have to decide on the validity of his data.
From the conversation, I deduced Mr. Young had not traveled very far for his racing. I asked him where he had been trackchasing.  He told me he had been all over, "Even Florida."
He told me he had seen multiple tracks at many locations. He said he had seen nine separate tracks at the Oswego Speedway alone.  He also told me he had seen racing at "700 or 800" racing facilities.  With a total of 2,021 different tracks that would average at nearly three tracks for each and every facility.
For comparison purposes, I have been to approximately, 960 different facilities while seeing 1,075 countable tracks.  This means I've seen about 1.12 countable tracks per facility.  Mr. Young's numbers indicated his incidence of multi-tracks per facility is nearly three times greater than mine.  I may have seen more multi-tracks than any other trackchaser known at this time and my ratio is only 1.12.
I told Mr. Young that if he had seen so many tracks, he should simply submit his list for authentication. His response was "I'm a racechaser, you're a trackchaser, I go to see racetracks I like and you go to see a new track."  That is correct, I do going racing for the purpose of seeing a new track.  Young's response did not make much logical sense.  However, in my experience, many of the trackchasing discussions with our existing trackchasers I've had to date were short on logic, so Mr. Young's response was not totally unexpected as an answer to my question.  Nevertheless, I gave Mr. Young my card and told him to follow up if he wished.
#6  P.J. Hollebrand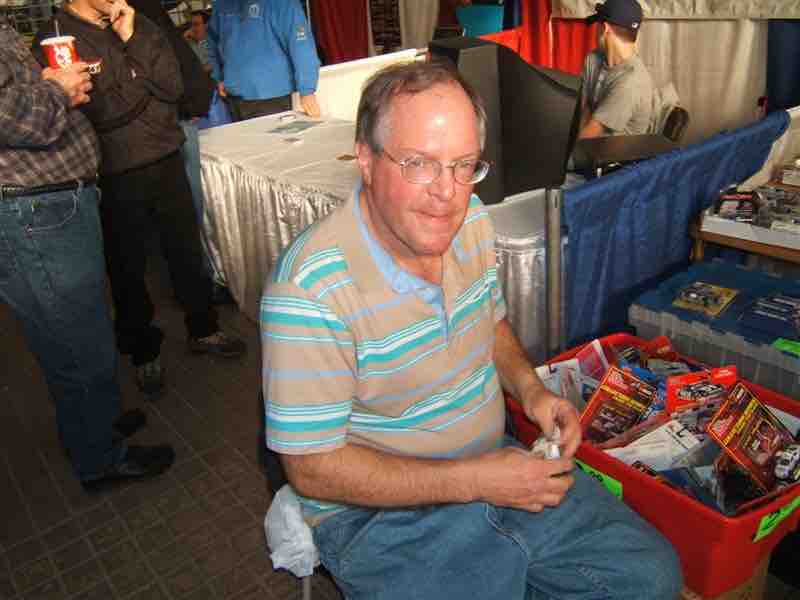 My next "People" contact came at the Twin State Speedway.  Carol and I had just entered the gate and we were approached by an unshaven man wearing a V-neck white t-shirt.  It was none other than Mr. P.J. Hollebrand.  P.J., just one day after celebrating his 57th birthday was making a cameo appearance at Twin State for the figure 8 track only.  Mr. Hollebrand is the #9 ranked trackchaser in the entire world.
This was my 83rd track of the 2006 season.  It was only my third track of the season where I had unexpectedly run into another trackchaser when we were both trackchasing.  The others were both with Ed Esser in Ocala, Florida and Grand Bay, Alabama.  The incidence of top trackchasers running into each other on an unannounced basis is rare and will become even rarer in the future.
This was Carol's first meeting with Mr. P.J.  They hit it off immediately.  P.J. had driven nearly seven hours ONE WAY for the five-car, five-minute figure 8 race.  He had already seen the track's oval and just needed to see the figure 8 race.  When the race was over, he bade us farewell with the words, "I hope to get back home (Webster, New York) by 3 a.m. or so.  Yes, that's a 14-hour drive for a five-minute race."
P.J. recounted his 2006 trackchasing activity.  I promised not to share the specifics, although P.J. has been out on the trackchasing trail.  P.J. will share his season information when the time is right.
#7 Colonel Sanders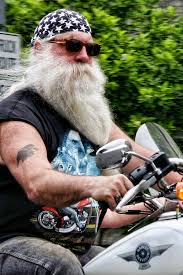 Our final people contact was most unusual.  We were out in the New Hampshire countryside with the sun rapidly going behind the White Mountains.  I was minorly lost while trying to get from the Twin State Speedway to the Canaan Speedway and a blended double with features on both ends.  As a last-minute timesaving idea, I turned on my laptop to get street-by-street directions.
As we were sitting at a stop sign on this rural road in the fading twilight, a motorcyclist pulled up beside us.  Had the fellow been a Hell's Angel type rider our reaction would have been different.  As it was, the rider looked more like Colonel Sanders with a big bike and leather saddlebags with lots of leather streamers.  I'm sure you know the type.
We lowered our window.  In a heavy New England accent, he asked "Where ya goin?"  I replied, "Canaan Speedway."  His response was, "I'm headin' up to Goose Creek, and Canaan is on the way.  I'll lead you up there.  When I turn left, you go straight."  With a nod of his head, the conversation ended with him saying, "Let's go!"  We were off. 
The cyclist drove the roads like he knew where he was going.  He also did not seem to mind breaking the local speed laws on the winding and up and downhill two-lane roads.  In what seemed like no time we were pulling into the Canaan Speedway parking lot just in time for their 100-lap open competition modified feature event.
Whew!  That's a lot of people contact in just a couple of days.  I was hoping to spend some personal time with Carol, but we've been so busy visiting with folks it's been difficult.
RACE TRACK STATS:
TWIN STATE SPEEDWAY (FIGURE 8), CLAREMONT, NEW HAMPSHIRE – TRACK #1,074 – 7/14/06 & CAANAN FAIR SPEEDWAY (ASPHALT OVAL), CAANAN, NEW HAMPSHIRE – TRACK #1,075 – 7/14/06
CAROL'S TRACKS INCLUDED –TWIN STATE SPEEDWAY (OVAL) – TRACK #261 & TWIN STATE SPEEDWAY (FIGURE 8) – TRACK #262 & CANAAN FAIR SPEEDWAY (ASPHALT OVAL) – TRACK #263 – ALL ON 7/14/06
These tracks were only my fourth and fifth to see in the Granite State.  This gives me a 22nd place state ranking, again one track behind Andy Ritter's 21st place total.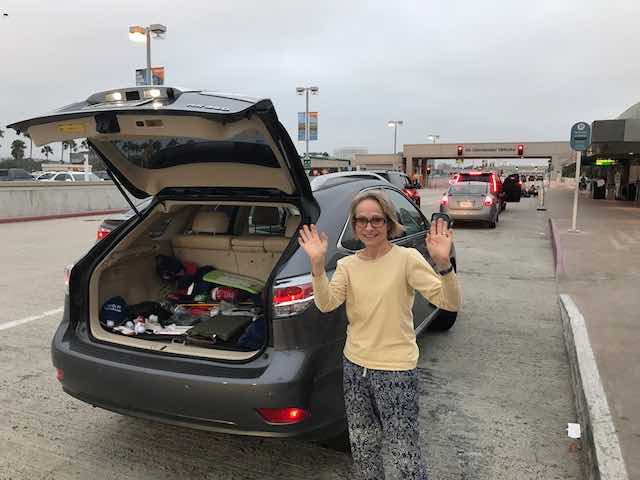 I'm happy to announce that this was Carol's first-ever trackchasing trip to New Hampshire.    She now has been trackchasing in 39 states.  Carol's three tracks vault her from nowhere to a 23rd place tie with several people including fellow gender mate, Nancy Brown.  Paul Weidman leads his wife Eleanor for the state lead 27-25.  Maybe Eleanor will tell us how Paul got the jump on her in New Hampshire (referring to trackchasing here.)
RACE TRACK NEWS:
TWIN STATE SPEEDWAY (OVAL & FIGURE 8), CLAREMONT, NEW HAMPSHIRE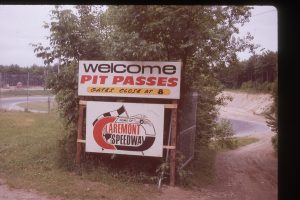 I went to the Twin State Speedway oval track, which was called the Claremont International Raceway back in 1988.  For all I know I may have seen the figure 8 track back then, but since we weren't counting figure 8 tracks back then, I have no recollection of it.
Carol and her three children (mine too) were with me on that trip.  We were on a New England family vacation where we stayed in a different state for each of seven consecutive nights.  The family decided to hang out at the hotel while I made a quick visit to the Claremont track on Saturday, September 3.  This was the only race I went too during the entire vacation. 
Today, Carol and I arrived at the track at 4 p.m.  It was really hot and very humid.  The track wasn't open for spectators yet, but we did run into a track employee on our way to use their porta-potties.  He was able to give us a great restaurant recommendation. 
First, he tried to pawn us off on a Pizza Hut.  I told him that we really wanted to avoid chain restaurants.  He then shared his hidden gem the China Delight sit down restaurant in downtown Claremont.  Their only Chinese employee is the cook, but that's enough.  The food was very good and eaten with chopsticks.  It gets a recommendation from us.
The racetrack in Claremont is a country track in good condition.  There is ample board seating (meaning 2" by 10" boards attached to one foot round poles placed in the ground.)  The announcer and speaker system are solid.  The announcer got really enthused about our trackchasing visit.  He gave us multiple mentions.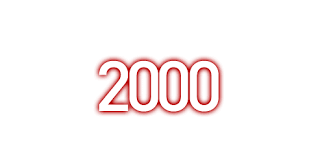 P.J. Hollebrand and I are both 57 years old.  On a combined basis, we have seen nearly 2,000 tracks.  We've both been trackchasing all over the U.S. and the world.  What are the odds that on this night we would both choose to come to the Twin State Speedway for just the figure 8 race?  Incredible!
The racing was O.K. on the oval track.  I've got some great photos of the facility.  It's very unique.  The heat and humidity bordered on unbearable.  We sat in the turn one and two bleachers because the shade would visit this part of the track the soonest.
Following the oval heats, they ran the five-car figure 8 feature race.  There were no figure 8 heats.  This barnburner of an event ended about five minutes after it started at 8:05 p.m.  This signaled both P.J.'s and our departure.  The track was going to intermission where the crowd would be allowed onto the track for "Pepsi night."  This promotion would allow everyone to get up close and personal with the cars and drivers.  We enjoyed our visit to Twin State Speedway but it was hot.
The most significant aspect of tonight's Twin State visit involved Carol.  This was her first-ever trackchasing visit to New Hampshire.  This gives her 39 states where she has seen racetracks.  That puts her in the top echelon of trackchasers in this important category.
CAROL'S COMMENTS
I liked the way they kept the races running one after another.  It was weird the way we ran into P.J.  This was my first time to meet him.  I was surprised how he came so far just for the figure 8 race.  He's a good guy to talk too.  He better get his girlfriend out to the tracks.  She'll never become a listed trackchaser if he doesn't. 
CANAAN FAIR SPEEDWAY (ASPHALT OVAL), CANAAN, NEW HAMPSHIRE
The Canaan Speedway is unusual.  They have a full-sized 3/8 mile asphalt track and a full-sized ½-mile dirt track.  The dirt track is located behind the asphalt track's grandstands.  As far as I know, they never race on the same night.  Tonight we were in line to see the asphalt track.
We pulled into the very dark parking lot at about 9:05 p.m.  I didn't expect many problems seeing some countable feature racing.  The track's answering machine told us they would be featuring six divisions of racing capped off with a 100-lap open competition modified feature.  The machine also told us that a family of two adults and three kids would be admitted for just $35 and if you didn't have any kids, then "Bring the neighbor's kids."  We took advantage of the vague "Senior rate" of just $10, a hefty saving for us oldsters of five dollars.
We were also greeted with this news from the ticket takers.  "We're getting ready to start our last race."  Wow!  It's 9:05 p.m. and you started at 7 p.m. with six divisions and you're getting ready to start your last race?  We hustled inside.  Carol went to the bathroom and I sent my press release up to the tower. 
In a minute or two, the drivers were introduced and the green flag flew on 13 starters.  The cars were blindingly fast in what I call "Richie Evans Modifieds."  There was an early crash and red flag delay.  This allowed the announcer to get into the trackchasing information I had given him in some depth.  Actually, I think he ready all 283 words of the entire communiqué.  He invited me to join him in victory lane after the race.
Two drivers battled nose to tail for the entire 100 laps.  They raced cleanly with Teddy Christopher taking second and a young double ear ringed surfer dude winning.  The feature ended at 9:50 p.m.
There was a good crowd on hand in some very dark grandstands.  There were lots of big bugs dive-bombing us that wasn't very enjoyable.  The entire front stretch lighting system was a series of 10" by 10" shop lights attached to the top of the wheel fence.  Surprisingly, they did a great job.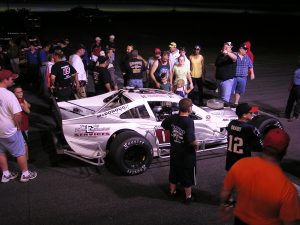 True to his word, the announcer called for me to visit the winning driver in victory lane.  The surfer dude was just happy to meet anyone and we shook hands.  We had been at the track for less than one hour and seen the main race of the night, a 100-lap feature event.  Had we shown up much later we would have missed it.  This was my second traditional double of the 2006 season.  It was Carol's first three pack of the season.
CAROL'S COMMENTS
I loved the cars.  The announcer was great to us with our trackchaser recognition.  It was dark in the grandstands.  They got the races over really quickly.  Our motorcycle friend was another gracious New Hampshirite.  The track's management (announcer and promoter) took the time to talk to us after the races for several minutes.
WEATHER CONDITIONS
It's hot and humid up here.  It feels somewhat better after the sun goes down.
RENTAL CAR UPDATE:
The National Rental Car Racing Pontiac Grand Prix is affixed with Massachusetts license plates.
Wednesday total driving miles – 204 miles
Thursday total driving miles – 462 miles
Friday total driving miles – 428 miles
LIFETIME TRACKCHASER STANDINGS UPDATE:
These worldwide trackchasers are within 100 tracks (plus or minus) of my current trackchaser total.
Randy Lewis, San Clemente, California – 1,075
Rick Schneider – Bay Shore, New York – 1,046 (-29)
Guy Smith, Effort, Pennsylvania – 1,035 (-30)
Allan Brown, Comstock Park, Michigan – 1,021 (-54)*
Gordon Killian, Sinking Spring, Pennsylvania – 1,017 (-58)*
Andy Sivi, Clairton, Pennsylvania – 1,015 (-60)*
Ed Esser, Madison, Wisconsin – 913 (-162)**
* Warning, you are within 50 tracks of being removed from this list.
** Special exemption.
The widespread use of the "*" is causing my printer cartridges to run dry much faster than they should.
Other notables
These worldwide trackchasers are within 10 tracks (plus or minus) of Carol's current trackchaser total.
Bob Schafer, Oshkosh, Wisconsin – 267 (+4)
Carol Lewis, San Clemente, California – 263
Spike Rixon has been removed from this list.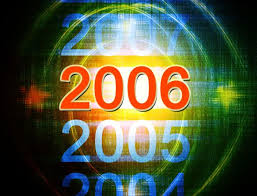 2006 TRACKCHASER STANDINGS
Randy Lewis, San Clemente, California – 84
Ed Esser, Madison, Wisconsin – 52
Roland Vanden Eynde, Vilvoorde, Belgium – 43
Mike Knappenberger, Reading, Pennsylvania – 39
Paul Weisel, Orefield, Pennsylvania – 36
Carol Lewis, San Clemente, California – 33
Gordon Killian, Sinking Springs, Pennsylvania – 31
Roger Ferrell, Majenica, Indiana – 30
Guy Smith, Effort, Pennsylvania – 30
Pam Smith, Effort, Pennsylvania – 20
Thanks for reading about my trackchasing,
Randy Lewis
#1 Trackchaser Living West of the Mississippi
I should never care to argue for anything that would lessen the difficulty of the game because the difficulty is its greatest charm.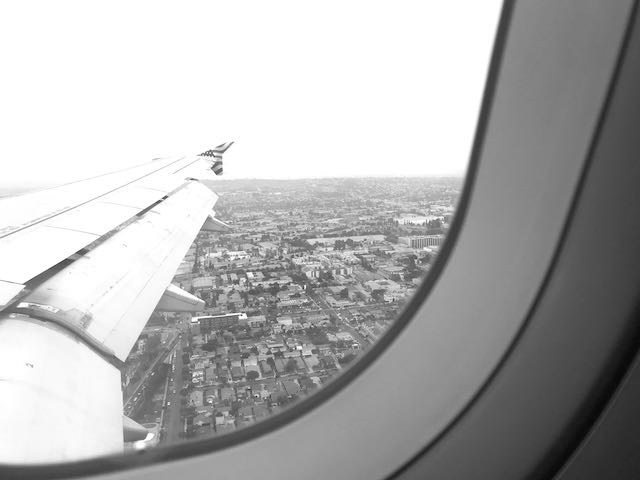 CUMULATIVE TRAVEL DISTANCES:
AIRPLANE
Los Angeles, CA –  Boston, MA – 2,567 miles
RENTAL CAR
Logan International Airport – trip begins
Little Valley, New York – 547 miles
Claremont, NH – 1,037 miles
Canaan, NH – 1,074 miles
TRACK ADMISSION PRICES:
Little Valley Speedway – $12
Twin State Speedway – $10
Canaan Fair Speedway $10 senior rate (Reg. $15)
UPCOMING TRACKCHASING PLANS
Tonight Carol was able to see a new track in her 39th state.  She has plans to see her 40th state later in the week.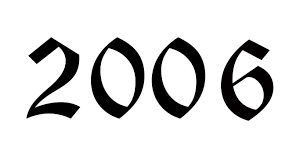 RACETRACKS VISITED IN 2006
(** not the first time to visit this track)
Watermelon Capital Speedway, Cordele, Georgia – January 14
Cross Roads Motorplex (asphalt oval), Jasper, Florida – January 15
Norfolk Scope Arena, Norfolk, Virginia – January 20
Qualcomm Stadium, San Diego, California – January 21
Oregon State Fair & Expo Center, Forster Livestock Arena, Salem, Oregon – January 28
Morosso Motorsports Park, Jupiter, Florida – February 4
Thunderbowl Speedway of Ocala, Ocala, Florida – February 4
Cross Roads Motorplex (dirt oval), Jasper, Florida – February 5
1,000.  Auburndale Kartway, Auburndale, Florida – February 10
1,001.  Ocala Speedway (asphalt oval), Ocala, Florida – February 12
1,002. Speedworld Speedway, Surprise, Arizona – February 19
1,003. Lowe's Motor Speedway (1/5 mile asphalt oval), Concord, North Carolina – February 25
1,004. Concord Raceway, Concord, North Carolina – February 25
1,005. Antioch Speedway, Antioch, North Carolina – February 25
1,006. Green Valley Speedway, Gadsden, Alabama – February 26
1,007. East Bay Raceway (inner oval), Gibsonton, Florida – March 17
1,008. Volusia Speedway Park West (1/6M oval), Barberville, Florida – March 18
1,009. Speedway Park, Fruitland Park, Florida – March 18
1,010. Sand Mountain Speedway (road course), Fort Meade, Florida – March 19
1,011. Anderson Motor Speedway, Anderson, South Carolina – March 31
1,012. Westminster Speedway, Westminster, South Carolina – March 31
1,013. East Lincoln Motor Speedway, Stanley, North Carolina – April 1
1,014. Margarettsville Speedway, Margarettsville, North Carolina – April 2
1,015. Sunny South Raceway, Grand Bay, Alabama – April 7
1,016. Barber Motorsports Park, Leeds, Alabama – April 8
1,017. Coldwater Raceway, Coldwater, Alabama – April 8
1,018. Talladega Short Track, Talladega, Alabama – April 8
1,019. Ballymena Raceway, Ballymena, Northern Ireland – April 14
1,020. Oulton Park, Little Budworth, England – April 15
1,021. Somerset Rebels Banger Raceway, Rooks Bridge, England – April 16
1,022. Mendips Raceway, Shipham, England – April 16
1,023. Oval Raceway, Angmering, England – April 17
1,024. Arlington Stadium, Eastbourne, England – April 17
1,025. Southside Speedway, Midlothian, Virginia – April 28
1,026. Motor Mile Speedway, Radford, Virginia – April 29
1,027. Wythe Speedway, Wytheville, Virginia – April 29
1,028. Summit Point Raceway, Summit Point Circuit, Summit Point, West Virginia – April 30
1,029. Old Dominion Speedway – inner inner oval, Manassas, Virginia – April 30
1,030. Shenandoah Speedway, Shenandoah, Virginia – May 4
1,031. Bridgeport Speedway (inner oval – front), Bridgeport, New Jersey – May 5
1,032. Empty Jug, Hawley, Pennsylvania – May 6
1,033. Oakland Valley Race Park, Cuddebackville, New York – May 6
1,034. Thunder Mountain Speedway, Center Isle, New York – May 6
1,035. Motocross 338, Southwick, Massachusetts – May 7
1,036. Glen Ridge Motorsports Park, Fultonville, New York – May 7
1,037. Calumet County Speedway, Chilton, Wisconsin – May 19
1,038. Grant County Speedway, Lancaster, Wisconsin – May 20
1,039. Blackhawk Farms Raceway, Rockton, Illinois – May 21
1,040. The Milwaukee Mile (Road course), West Allis, Wisconsin – May 21
** Angell Park Speedway, Sun Prairie, Wisconsin – May 21 (new track Carol only)
1,041. Park Jefferson Speedway, Jefferson, South Dakota – May 25
1,042. Superior Speedway, Superior, Wisconsin – May 26
1,043. Brainerd International Raceway, Brainerd, Minnesota – May 27
1,044. Canby Speedway, Canby, Minnesota – May 27
1,045. Crawford County Fairgrounds (figure 8), Denison, Iowa – May 28
1,046. Tri-State Speedway, Sisseton, South Dakota – May 29
1,047. Sheyenne River Speedway, Lisbon, North Dakota – May 29
1,048. Spring Mountain Motorsports Ranch, Pahrump, Nevada – June 3
1,049. The Bullring at Las Vegas Motor Speedway, Las Vegas, Nevada – June 3
1,050. Hibbing Raceway, Hibbing, Minnesota – June 6
1,051. Buena Vista Raceway, Alta, Iowa – June 7
1,052. Lebanon Midway Speedway, Lebanon, Missouri – June 8
1,053. Rocky Top Raceway, Coal Grove, Ohio – June 9
1,054. Midvale Speedway (oval), Midvale, Ohio – June 10
1,055. Midvale Speedway (figure 8), Midvale, Ohio – June 10
1,056. Spring Valley Raceway, Millport, Ohio – June 11
1,057. Rialto Airport Speedway, Rialto, California – June 17
1,058. Lawrenceburg Speedway (figure 8), Lawrenceburg, Indiana –  June 20
1,059. Lawrenceburg Speedway (temporary oval), Lawrenceburg, Indiana –  June 20
1,060. Thunder Mountain Speedway, Knox Dale, Pennsylvania –  June 21
1,061. State Park Speedway, Wausau, Wisconsin –  June 22
1,062. Dodge County Fairgrounds Speedway, Beaver Dam, Wisconsin –  June 23
1,063. Lucas Oil Speedway (oval), Wheatland, Missouri –  June 24
1,064. Lucas Oil Speedway (figure 8), Wheatland, Missouri –  June 24
1,065. Tri-City Speedway, Pontoon Beach, Illinois – June 25
1,066. Lake Ozark Speedway, Eldon, Missouri – June 29
1,067. Poplar Bluff Speedway, Poplar Bluff, Missouri – June 30
1,068. Indianapolis Motor Speedway (road course), Indianapolis, Indiana – July 1
1,069. Rush County Fairgrounds, Rushville, Indiana – July 1
1,070. Rock Castle Speedway, Mount Vernon, Kentucky – July 2
** Windy Hollow Speedway (oval), Owensboro, Kentucky – July 2
1,071. Heartland Park Topeka (dirt oval), Topeka, Kansas – July 3
1,072. Thunderhill Speedway, Mayetta, Kansas – July 3
1,073. Little Valley Speedway, Little Valley, New York – July 13
** Twin State Speedway (oval), Claremont, New Hampshire – July 14
1,074. Twin State Speedway (figure 8), Claremont, New Hampshire – July 14
1,075. Canaan Speedway (asphalt oval), Canaan, New Hampshire – July 14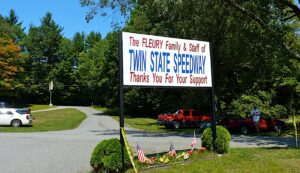 Twin State Speedway
Asphalt inner oval
 Lifetime Track #1,587
DAYS 5&6 – "LAST TRIP BEFORE LABOR DAY" TRACKCHASING TOUR
Greetings from Claremont, New Hampshire and then West Haven, Vermont.
TODAY'S HEADLINES
Bruce Spencer….a great race fan. …………..details in "The People".
Danger was lurking……………..more in "Race Review – New Hampshire".
Vermont was important …………..details in "Race Review – Vermont".
THE OBJECTIVE, THE TRIP, THE PEOPLE…AND A WHOLE LOT MORE
The Objective 
Doubles….Doubles.
Trackchasing "doubles" are the lifeblood for any leading trackchaser.  Of course a "double" is simply seeing two countable tracks in one day.
I've had 14 trackchasing doubles so far in 2010.  Doubles are getting harder and harder to come by.  Of the fourteen I have seen this year, nine of those were "day/night" doubles.  What's a "day/night" double?  It simply means I saw one new track in the afternoon and one in the evening.
I have also seen five "same track" doubles this year.  A same track double is where a single racing business operates more than one type of countable track with racing on the same day.  In trackchasing, we count three "types" of tracks.  Those would be ovals, road courses and figure 8 layouts.  Sometimes one facility has two different sized ovals.  Those are commonly called an "inner" oval and an "outer" oval.  The "same track" double is the easiest to get.  You don't even have to leave your seat!
The other types of trackchasing doubles are the "traditional", the "blended double with a feature on both ends" and a "blend double with a feature on the back end only".  I haven' seen any of those "double types" so I won't take your time to explain them now.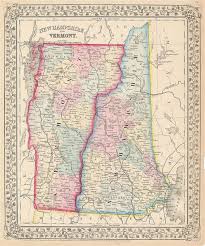 Today's double was a 'two-stater'.
Today's trackchasing double was unusual on one front.  It involved TWO states.  In the afternoon I went trackchasing in New Hampshire and in the evening I saw a race in Vermont.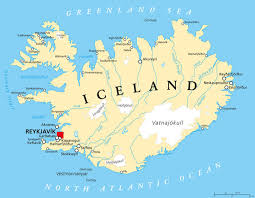 The only inter-continent double ever recorded.
I probably hold the claim to having the most unusual trackchasing double of all-time.  It was an INTER-CONTINENT double.  That came about when I saw an afternoon race in Iceland and an evening race in New Hampshire!  I even surprised myself with that one.
The Trip
I love giving gifts.
I woke up this morning in Burlington, Vermont.  It was going to be a short drive over to this afternoon's track in Claremont, New Hampshire.  That's what so unique about northeastern racing.  You can literally fall out of bed and there are a plethora of racetracks scattered nearby.  I wish that were the case in the Far West.
I had some time in the morning so when a flea market caught my eye, I had to stop.  I made just one purchase.  This was a 70-year old children's book for, arguably, the very best grandkids on either side of the Mississippi.  It was about monkeys and the kids love monkeys.  It was selling for the right price…..just a dollar.  The inside cover told me that a previous owner lived in Wilton, Connecticut.  It's a small world.  I worked in our Wilton, Connecticut corporate offices when we lived in Connecticut.
A phantom Vermont track.
Then it was off to get some gas for the National Rental Car Racing Chrysler 300.  I normally wouldn't take your time to talk about filling my gas tank.  However, while gassing up, I overheard a conversation between two men nearby.  One was telling the other about how he was racing his Honda at a small dirt track in Vermont.  That got my attention!
I sidled over to this gentleman and briefly explained my vocation.  He told me there were just three drivers and they raced on some land owned by a friend.  I gave him my business card and asked him to call me with details.  If he does I just might visit that track.  If I do, and it meets both OSHA safety requirements and trackchaser guidelines I will share the information with my fellow competitors.  That way, I will have checked out the track first for both suitability and countability.  I wouldn't want anyone to make a wasted trip to a track that I had only heard about but not experienced firsthand.
Next up it was time for lunch.  I asked Garth to take me to Subway.  He obliged.  However, when we arrived both the Citgo gas and the Subway store were closed for remodeling.  Eating establishments don't seem to be as plentiful in New England as other places.  That is certainly true for chain locations.  However, my temporary loss turned into a long-term gain a few hours later (see below).  Off I went to try my luck at the Twin State Speedway.
The People
The dog ate my homework doesn't cut it.
When I can I'll let my friends know that I'm trackchasing in their area.  Because of my somewhat erratic and unpredictable travel schedule, this can be difficult.  I'm one of those "be there or be square" kinds of people. If I commit to doing something I do my level best to do it.  I don't like to hear those "the dog ate my homework" excuses on why someone couldn't show up.
Therefore, I am somewhat reluctant to make commitments in advance.  However, I knew that once I got to Boston (whenever I got to Boston!) the rest of the trip would be done by car.  Cars are predictable for me, airplanes less so.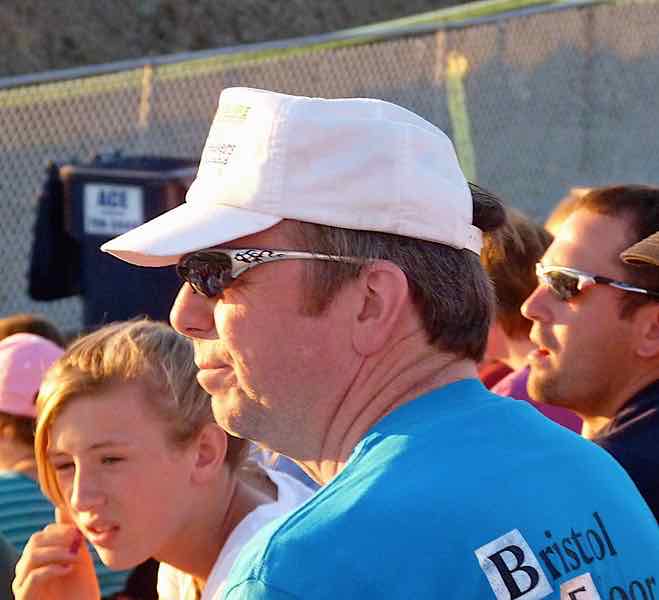 Bruce Spencer….a great race fan.
It was with this in mind that I alerted New Hampshire racechaser Bruce Spence about this afternoon's races in first the Granite state (NH) and then the Green Mountain state (VT).  Bruce is a great race fan.  He didn't show much interest in the idea of seeing some caged go-karts race.  I don't blame him.  When I was a racechaser I would not have been interested in that show either.
However, Bruce did want to meet up for the race at the Devil's Bowl Speedway in Vermont.  We even had time to share a meal together at the Lake House Pub & Grill in nearby Lake Bomoseen, Vermont  (Click here to see the Lake House Pub & Grill).  The Lake House restaurant is just over the mountain from the racetrack.  Carol and I went there the first time I visited Devil's Bowl.  That was back in2006 when the track had a dirt-racing surface.
It's always nice to see Bruce.  We've been together for several races in New England.  Bruce's racing roots go back a long way as mine do.  He grew up with oval asphalt racing while my early outings were limited to dirt oval racing.  To this day those early experiences remain our preference.  Nice seeing Bruce and watching the races together.
RACE REVIEW
TWIN STATE SPEEDWAY – CLAREMONT, NEW HAMPSHIRE
Three visits….three tracks.
Some people decry the fact that trackchasers can count more than one track at the same facility.  I'm not that wild about that idea either but I understand the thinking behind the rule.
After this afternoon I have now been credited with seeing three different tracks at the Twin State Speedway.  However, I had to come here three DIFFERENT times to see racing on first the outer oval, then the figure 8 track and today the inner oval.  I feel better, in some ways, about doing it that way.
Danger was lurking.
Today I planned to see countable racing with the "senior champs karts".  They looked to be the only class that met trackchasing standards.  These karts were caged and the drivers were "adults".  Those are pretty much the two standards that must be met when seeing "kart" racing.
However, there was danger lurking with today's senior champ karts.  For some reason, this is not a terribly popular class at many tracks where they race.  Twin State has had 6-8 kart races this year.  The first race of the year drew eight senior champs.  However, the last two races had only two senior champs competing.  For practical purposes, two racers is the MINIMUM allowed for a race, and thus a track to count. 
There was one more troublesome fact about today's event.  During the last two races the points leader had raced each time.  However, the second car racing during those two events was different for each race.  I figured the leader would be here today.  However, would one of the two drivers who had only made one of the past two events show up?
The price was right.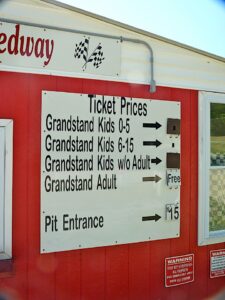 Today spectator admission was free.  It was $15 for a pit pass.  Let's see.   I'm retired.  I don't have the big trackchasing budgets of those "Dreaded East Coast Trackchasers".  I chose free.
There were a grand total of fewer than ten people in the grandstands on a gloriously beautiful New England day.  Soon the senior champs came out for their heat race.  This track was "nearly in the books".
This track was almost in the books.
The announcer told us that point leader Ryan Hammer was coming onto the track.  The announcer then said, "Ryan is being joined by Roger LeBlanc for the senior champ kart heat".  I smiled internally.  Two karts were all I needed and two karts were what we had. 
"Wait", the announcer screamed.  "I guess Roger LeBlanc isn't here today.  Ryan Hammer is the only senior champ kart racer running today".
Say what!!  How can this be Mr. Announcer?  You told us there were TWO senior champs coming out for the heat race.  Alas, there was a sole senior champ racer.  He ran his ten lap heat race all by himself.  If you would like (and why would you?) to see a single senior champ kart race around a tiny little asphalt oval you can.  Just check out the movie listed above.
A feeling of melancholy.
Yes, a feeling of melancholy came over me.  I still had a race this evening in Vermont to see so the entire day wasn't wasted.  I didn't fancy the idea of coming back to the Twin State Speedway for a FOURTH time just to see a senior champ kart race. 
There were some other kart classes racing today.  However, from their names, it didn't sound as if any of them were countable.  With names like Austin, Tyler, Ashley and Cassandra you know these folks were not born in the 50s.  Some chasers would have gotten up and left when it was learned there was only one senior champ kart racing.  They aren't race fans they are trackchasers.  I would like to tell you I stayed for my love of racing.  That wouldn't be true.  I can't really explain why I stayed when it appeared there would be no countable racing….but I did.
I stayed.
I didn't have to be in Vermont for several hours.  I stayed to watch the rest of the non-countable races.  They had the "Tiger Cub" class and then the "Tiger Cup A" and "Tiger Cub B" group.  It was a warm and sunny day, so I just sat back and relaxed.  There were still more classes racing including the "Junior Outlaws, Junior Sportsman Champs and Junior Champs".  I can't tell you the difference in these classes.  However, if the word "Junior" appears in a class name nearly 100% of the time that class is NOT countable. 
The "stock heavies" and the "heavy outlaws" raced.  I think the same two karts raced in these classes.  These racers were "flat" karts and they don't count in trackchasing.
Then something unusual happened.  The "senior outlaw" class came out to race.  There were just two of them.  I've seen other "outlaw kart" classes and they are normally "flat" karts.  Flat karts don't have roll cages and go-karts without roll cages don't count in trackchasing.  However, THESE senior outlaw karts HAD cages.  That made the car countable but what about the driver?
iPhone don't fail me now.

I fired up my iPhone internet connection and went to the Twin State Speedway website (http://www.twinstatespeedway.net/gokart/).  I wanted to check out the rules for these senior outlaws.  There it was as plain as day in the rules section was the "driver's age rule" for the senior outlaws (page 6 of 13).  This class was open to racers "15 and over".  The car was countable.  The driver was countable.  That meant the track was countable!!
Yes, and He said, 'The meek…..shall inherit the earth'.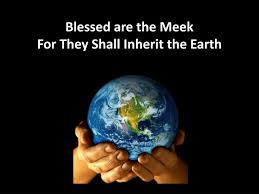 Now my melancholy feeling faded away and was replaced by jubilation.  Yes, and HE said, "Blessed are the meek for they shall inherit the earth".  Amen!  Patience had prevailed.  I would not ever be coming back to the Twin State Speedway to see kart racing again.  I sat back and watched a lovely two kart senior outlaw heat race.  I even recorded the event for any naysayer amongst the group of naysayers.  Folks, as they say, "this track was in the books!"
DEVIL'S BOWL SPEEDWAY – WEST HAVEN, VERMONT
Vermont was important.
Coming to Vermont to trackchase this weekend was of great importance.  Earlier in the year, I had been knocked out of the trackchasing "top ten" in Vermont.  There was no fanfare from the trackchasers who knocked me out.  They know enough not to "kick a sleeping dog".  Recently, I cruised by www.autoracingrecords.com and checked the Vermont state rankings Vermont Trackchaser Rankings and found I was ranked #11.   That saddled me with five National Geographic Diversity (NGD) penalty points. 
Even though I finished in the lifetime NGD lead by 42 overall state points at the end of 2009, I never like to lose points anywhere.  I could go to 100 new tracks in the right combination of states and never GAIN five state points.  I didn't want to lose five points in a single state.
Change of surface means a new track.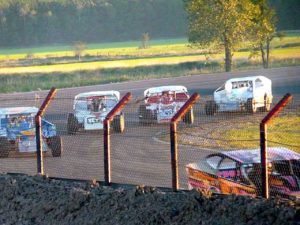 As mentioned Carol and I saw racing here in 2006 when the track had a dirt surface.  During this past winter, they changed the surface to asphalt.  This isn't done often but it does happen.  The maintenance is so much less time consuming and expensive with an asphalt track.
Trackchasing rules allow us chasers to count a track layout a second time when the surface changes from dirt to asphalt or vice versa.  There are a number of rules in trackchasing that I don't agree with.  I probably disagree with this one as much as any.  We are TRACK chasers.  It doesn't make any sense to be to count a track a second time just because they change it from dirt to tar or whatever. 
I'll take 7th place.
Nevertheless, I now have five lifetime tracks in Vermont.  This put me in a tie for 7th place with Bruce and Pat Eckel, Gordon Killian and Pam Smith.  There's not enough firepower from the trackchasers listed below me in Vermont to cause much concern.  I'm in the clear here for a good long time.
Car counts seemed to be on the skinny side tonight.  However, the racing was very good.  They had a solid announcer who told us what was happening over a very stout P.A. system.
Who is responsible for this?
There was one annoying feature at this track.  It was warm.  The temperature had to be in the high 80s.  Racing starts at 6 p.m. on Sunday nights here.  The sun doesn't set until nearly 8 p.m.  As luck would have it…..no, let's call a spade a spade.  Luck doesn't have a darned thing to do with it.
Someone made a colossal mistake by putting the spectator grandstand on the WRONG side of the track.  Fans are forced to stare into a glaring, setting sun for nearly two hours.  I consider this "retina abuse".  This makes viewing very uncomfortable and would keep me from coming to the Devil's Bowl Speedway on a regular basis. They didn't put up those grandstands at night did they?
Take all the pictures you want.
On the other hand, the track has made some improvements in its draconian policy regarding cameras.  The last time we were here they didn't allow cameras!  I've run into a track or two that doesn't allow video cameras.  I can never recall having a track ban "point and shoot" cameras.  I guess with nearly everyone's cell phone having a camera they had to relent.
They still have a list of "don't" rules longer than just about any other track I know.  You can't bring in blankets.  You can't go out to the car and get your jacket and return without buying another ticket.  These are most unusual and I doubt they are truly necessary.
Down in front.
I was taking advantage of my location in the top row of the grandstand to take some pictures for your viewing enjoyment.  That was until the track announcer told me to sit down.  It's not often that someone yells "down in front" when I'm standing in the TOP ROW.  Apparently I was blocking the view of the track scorers.  Fair enough.  That made sense to me.  I sat down and enjoyed the rest of the races.
STATE COMPARISONS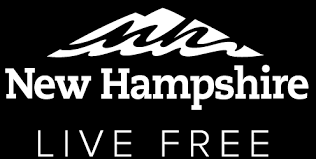 New Hampshire
This afternoon I saw my 19th-lifetime track in the Granite state, yes the Granite state.  This moves me into a fourth-place ranking all by myself and punts Gordon Killian back into the fifth spot.  I trail Eleanor Weidman (25) as well as both Paul Weidman and Guy Smith who have 27 tracks up here.  I would love to know the story behind why Paul has two more tracks than Eleanor in New Hampshire.  They are a lovely couple and seem to go everywhere together.
I have just a single figure 8 track and some ice racing locations yet to see in New Hampshire.  Had it not been for my NGD competitors I never would have "developed" my New England trackchasing to this degree.  Who would have guessed I would have a fourth-place ranking in Maine and now New Hampshire?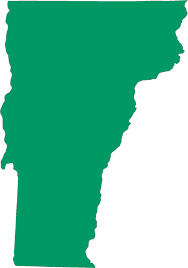 Vermont
This evening I saw my fifth-lifetime track in the Green Mountain state, yes the Green Mountain state.  I trail John Osowski and Rick Schneider for fifth place.  They each have six tracks here.  Guy Smith leads Paul Weidman 10-9 for the state lead in Vermont.  I'm not sure I have any tracks remaining to be seen up here…..unless of course, the guy at the gas station comes through!
Coming Soon – RLR – Randy Lewis Racing Exclusive Features!
Thanks for reading about my trackchasing,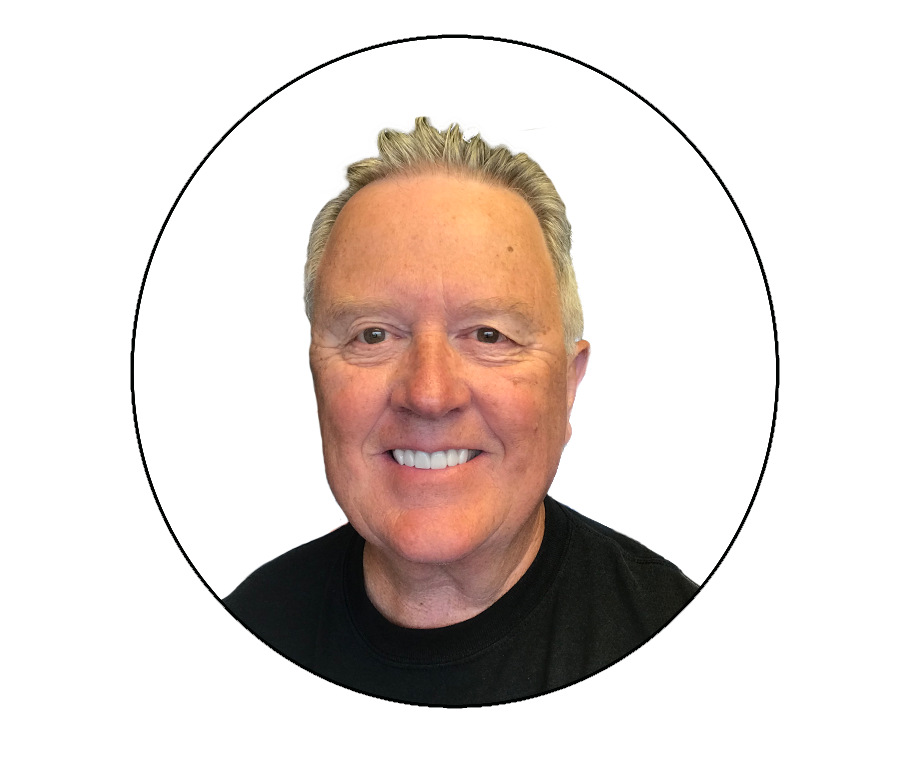 Randy Lewis
World's #1 Trackchaser
New Hampshire sayings:  Go away and leave us alone.
Vermont sayings:  Yep!
TRAVEL DETAILS
AIRPLANE
Los Angeles, CA (LAX) – Chicago, IL (ORD) – 2,210 miles
RENTAL CAR #1
O'Hare International Airport – trip begins
Joliet, IL – 59 miles
O'Hare International Airport – 123 miles – trip ends
AIRPLANE
Chicago, IL (ORD) – Boston, MA (BOS) – 863 miles
RENTAL CAR #2
Logan International Airport – trip begins
Dover-Foxcroft, ME – 272 miles
Oxford, ME – 444 miles
Montreal, PQ – 659 miles
St-Eustache, PQ – 689 miles
Claremont, NH – 888 miles
West Haven, VT – 961 miles
Logan International Airport – 1,160 miles – trip ends
AIRPLANE
Boston, MA (BOS) – Los Angeles, CA (LAX) – 2,608 miles
Total Air miles – 5,681 (3 flights)
Total Rental Car miles – 1,283 (2 cars)
Total miles traveled on this trip – 6,964 miles
TRACK ADMISSION PRICES:
Route 66 Raceway – Joliet, Illinois – $20
Mechanical Park @ Piscataquis Valley Fairgrounds – $6
Oxford Plains Speedway – $5
Circuit Gilles Villeneuve – $35 Canadian
Autodromo St-Eustache – $20 Canadian
Twin State Speedway – Free!
Devil's Bowl Speedway – $10
Total Race Track Admissions – about $93 U.S.
COMPARISONS
LIFETIME TRACKCHASER COMPARISONS 
There are no trackchasers currently within 200 tracks of my lifetime total. 
Randy Lewis, San Clemente, California – 1,589
Ed Esser, Madison, Wisconsin – 1,319
Guy "The Kid" Smith, Effort, Pennsylvania – 1,300
Official end of the RLR – Randy Lewis Racing Trackchaser Report
Click on the link below to see the video production from the racing action today.
Kart racing from the Twin State Speedway – 2010 
.
.
Check out the New England scenery on the way to the Twin State Speedway
.
.
Racing from the Devil's Bowl Speedway – 2010 style
.
.
Traveling through beautiful Vermont on the way to Devil's Bowl
Click on the link below for a photo album from today's trackchasing day.  You can view the album slide by slide or click on the "slide show" icon for a self-guided tour of today's trackchasing adventure.
Twin State Speedway – The 2010 visit
.
.
Devil's Bowl Speedway and the trip to Vermont – 2010