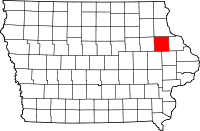 Greetings from Delaware, Iowa
.
.
From the travels and adventures of the 
"World's #1 Trackchaser"
.
.
Delaware Speedway
Dirt oval
Lifetime Track #2,360
The EventVideo PlusPhotos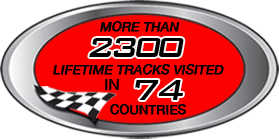 THE EVENT
I have had the opportunity to follow my trackchasing hobby all over the world. As this is written I have seen racing in 74 countries. My lifetime track total exceeds 2,300. Each and every year I will trackchase in 25-30 states.
At track #1,040 I moved into the "World's #1 Trackchasing" spot. Here's the funny thing about that. I was perfectly content to remain in about seventh place in the worldwide trackchasing standings. Then I had rotator cuff surgery, which knocked me out of golf for about six months. With no golf and time on my hands I turned up my trackchasing by a notch or two. I discovered I liked MORE trackchasing and LESS golf. It didn't take all that long to move up to the top of the world trackchasing standings at that point.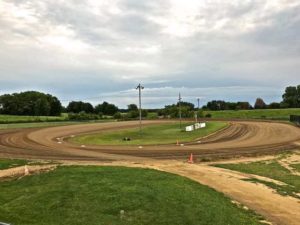 There are lots of unsung racing promoters out there. I'm not talking about the ones who come into the business for a few years and leave. I'm talking about folks like Candice and Bill Rieken. They've been operating the Delaware Speedway for around 25 years! It's a spotless place with excellent racing. They are the unsung racing promoters that I'm so proud of.
My hobby is not only about racing. Trackchasing for me centers around three things. The racing part is pretty obvious. However of equal importance is the logistics of trackchasing and the opportunity to see the world.
I live in Southern California. The vast majority of tracks are located in the Midwest and East. It takes a good deal of logistical planning to get from where I live to where the tracks are. For the past 15 years I have traveled about 175 nights each and every year. Surprisingly to some, more than half of those overnights were not part of trackchasing.
Then there's the travel just for the fun of seeing new things. You won't want to miss my "Trackchasing Tourist Attractions" page or my "Sports Spectating Resume" page on my website at www.randylewis.org. That will give you some understanding on how important seeing the world is with my hobby.
Today's adventure was one more of the 2,000 trips that have taken me up, down and around the long and dusty trackchasing trail. If you would like to see where I've been and experience those adventures here's the link: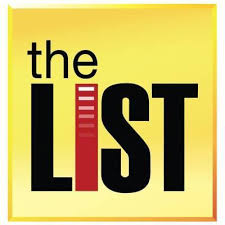 If you've got a question, comment or whatever please leave it at the bottom of this report.  It's very easy to do.  Or you can visit me on Facebook.  Thanks!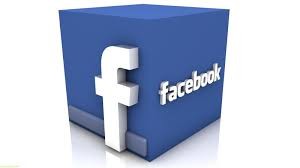 FOREWORD
I woke up this morning in Jefferson City, Missouri. I was all set to go trackchasing at the Cole County Fairgrounds in Jefferson City this evening. This was going to be a special event. I would be seeing J&B Promotions run one of their signature figure 8 events. Additionally, this was going to be my 300th lifetime figure 8 racing venue. Yes, it was a special day.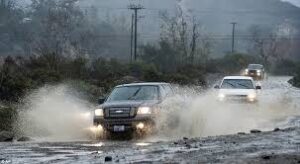 However, lots of special things come with special problems. The weather was my enemy today. Rain was expected to hit at about 1 p.m. Tonight's racing was scheduled to start at 7 p.m. The forecast was calling for local flooding and 1-2 inches of rainfall. That's a pretty bad forecast.
I gave my buddy Gary Jones a phone call. He's the owner of J&B Promotions. He answered with, "Hey Randy how you doing"? That greeting would tell you that I am friends with Gary and lots of other race promoters as well. That helps in my business.
I talked with Gary for several minutes. During our conversation I learned a lot about Gary personally and the things that he does locally to earn a living. I'll just put it this way. Gary is a good guy and a very patriotic individual.
Figure 8 shows don't rain out very often. On the other hand, I don't run into very many forecasts calling for an inch or two of rain over a short period of time just before the race is scheduled to begin. I told Gary that I was likely going to head elsewhere to trackchase tonight. He understood fully and wished me well.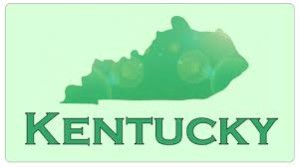 I contacted another race promoter who was having an event tonight in Kentucky. He confirmed that everything was all set. They had a good weather forecast. The only drawback to that event was that it would be a seven-hour drive. When that race was over in Kentucky I would have another seven-hour drive up to Northern Illinois for tomorrow's action.
That was when I discovered a kart track that I've had in my database for years. I called them. I needed to confirm they would have the type of racing kart that tracks need to have in order for me to count this according to trackchasing rules. They did. They had a good weather forecast.   They welcomed me with open arms.
The drive from Jefferson City, Missouri to Delaware, Iowa would be a little bit more than five hours. It was nearly on my way to a race I was planning to attend on Sunday morning in Warren, Illinois. How lucky was that?
I have been so certain about trackchasing in Jefferson City, Missouri tonight. I had already added two Trackchasing Tourist Attractions in "Jeff City" to my daily agenda.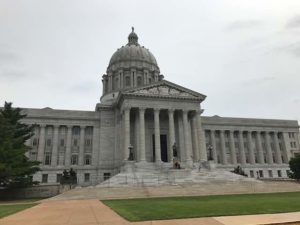 At 11 a.m. I would take a tour of the Missouri state capitol building. It's located in downtown Jefferson City, Missouri. In the past month I've toured the state capitol buildings of Iowa, New York and Indiana. I ran into some people today who were going around the country seeing state capitols. They even have a special book where they can get a stamp commemorating each visit. I might just try that.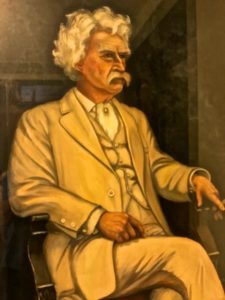 I also did some research on TripAdvisor. I found the #1 attraction in all of Jefferson City to be the Missouri State penitentiary tour. This penitentiary has now been "decommissioned". That means closed! Nevertheless, it's available for tours.  There wouldn't be time to go there but I would get a chance to see (a painting) of Mark Twain!
Yesterday I had scheduled a 1 p.m. tour for today. I paid the $15 admission fee over the phone with my credit card. That was now going to be inconvenient. Now that I have decided to head up to Iowa I wouldn't be able to make the penitentiary tour. Later I'll see if they can give me a refund.   Editor's note: They did.
I still had time to make the state capitol building tour at 11 a.m. Off I went and found a parking spot right in front of the huge capitol building. There is no charge for these types of tours. They normally last for 45 minutes to an hour and a half. They're very informative and you get to see quite a bit. I suspect I'll be touring more state capitols as I go up and down and around the long and dusty trackchasing trail.
I had a lunch of day old queso fundido con chorizo and pork rinds while driving. My National Car Rental Racing Toyota Camry was headed straight north. In about five hours I would be pulling into Delaware, Iowa.
There was one big advantage to trackchasing in Delaware, Iowa tonight. After the races I would have a short drive to my hotel. Had I trackchased in Jefferson City tonight I would have had a six-hour drive over some questionable two-lane roads after getting out of the track at 10 p.m.
The best "big" city for me to find a hotel room in would be Dubuque, Iowa. To get that set up I popped into McDonald's for a southwest salad and a little laptop time.
I opened my MacBook Pro and tethered it with my iPhone to get a Wi-Fi connection. I could have used the McDonald's Wi-Fi but my source was quicker and more reliable.
Using Priceline I did not find what I was looking for in Dubuque, Iowa. Only three hotels were available. They were priced in the $125-$175 plus tax range. Had I trackchased in Jefferson City tonight I would have driven 6-7 hours overnight and slept for just a few hours in my car. With that in mind said I wasn't going to pay $200 for a hotel room.
However, in situations like this, I have an alternative. Remember I'm casting pearls here. All you have to do to benefit is to bend over and pick one up.
I went to Hotels.com. The smaller independent hotels use brokers like Hotels.com. I soon found the Colonial Inn in Dyersville, Iowa. They were charging $65 a night. Dyersville is just 15 minutes down the road from tonight's track in Delaware, Iowa. Yes, it pays to know the ropes of the travel industry. But wait! I wasn't done yet making my travel plans. 
Rather than book a hotel through Hotels.com at 65 bucks a night I called the Colonial Inn directly. I told them I had seen the rate they were charging on the "Hotels'" website. They were likely paying a 20-25% commission for rooms booked through Hotels.com.
What kind of rate could they give me when they didn't have to pay a travel commission? I was soon told that my rate would be $56 including tax. That was a significant savings over the best I could have done with Priceline AND Hotels.com. I would take it. Now is it becoming clear how I can do all of this travel after being retired with no work income for more than fifteen years? I mention this so that you might benefit from my experience.
I enjoyed my tour of the Missouri State Capitol building in Jefferson City. I've now done four of these types of tours in the last month. After you've done four of just about anything you can begin to make some comparisons based upon your experience.
The capitol buildings that I've have seen so far are all 100 years old or more. They all seem to be built out of granite and marble. There's definitely a good deal of similarities in their appearance. I would say the Missouri Capitol is a little plainer than the others but then I said that about Indiana's building as well.
I guess I'm now a "collector" of state capitol building tours. I ran across a couple today that had seen 30 of the state capitol buildings. They had a book where they placed a stamp for each one of their visits. I'm going to track down that book and start doing the same thing.
From Jefferson City it was a five-hour drive up to Delaware, Iowa. Previously I had seen both oval and figure 8 racing at the Delaware County Fairgrounds in nearby Manchester, Iowa.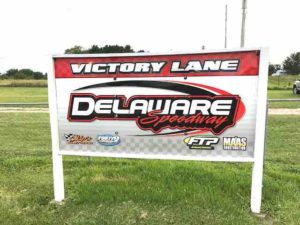 I called the track. I wanted to make sure of starting times and race classes. I also wanted to confirm that the Delaware Speedway was not using the same track where I had seen oval racing at the Delaware County Fairgrounds. I talked with Candice one of the co-owners of the track. All of the information she gave me was exactly what I needed to hear. The Delaware Speedway would soon be lifetime track #2,360.
Candice gave me some directions on how to find the track. However, I didn't pay much attention. I was driving. I figured that Delaware, Iowa couldn't be all that big. I would find the track easily right? Of course, I have "figured" that same type of thing in the past and been wrong. Today I happened to be correct.
THE RACING
Delaware Speedway – Delaware, Iowa
My Waze GPS system took me to the Delaware, Iowa exit off of Route 20. Within a few seconds of taking that turn I was looking down want on a beautiful and manicured little kart track.
Candice had asked me to call her when I arrived at the track. I did just that. She welcomed me in the same fashion that Iowans always do. She told me where I should park my car, gave me a complementary pit pass and told me to enjoy myself. Thank you Candice.
Delaware Speedway was relatively new to my particular radar screen as a countable track. I'm not quite sure why that was the case. I learned about the track just a few years ago. I mostly thought they were not running caged karts, a requirement of trackchasing rules.
Please do NOT ask me why trackchasing's founding fathers did not want to count flat karts. I can't explain it. I was not part on the trackchasing rules development. I can't speak for them if you have questions/comments about any of the other trackchasing rules. I was NOT part of the process. I simply try to meet and exceed the trackchasing rule requirements.
As I continued to talk to people during the evening I learned that I had been missing racing at this track for a very long time. The track has been here for 25 years or maybe a little bit longer. Later in the evening Candice checked the track's website. She confirmed they have been racing caged karts as far back as 2007.
Candice and her husband Bill own the track together. Bill also races champ karts and heads up tech for all of the karting classes as well. He's a busy guy.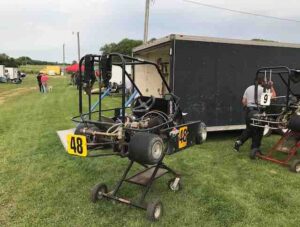 I had a chance to meet up with Bill in the pit area. He's been racing champ karts for a long time. His kart carries the yellow number 48 on its side. This yellow designation signifies that he is has won races on a national level. Without getting a little behind the scenes information I never would have known that.
I continued to walk through the pits talking with drivers and their crews. I ran across one of the champ kart racers who had come all the way from southern Wisconsin to race.
Even though he was busy working on his kart and getting it ready for the next race he chatted freely with me. He answered all of my goofy questions. This driver was applying some sort of a tire prep liquid to soften up his tires. In the late model racing world that's a no-no. It's O.K. in this type of kart racing.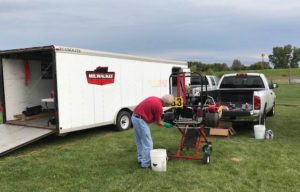 Fred, the driver of the 53, would then go out and win the second heat and end up finishing second in the main event after a last lap pass failed. When the feature was finished I went up to congratulate him. He told me that he had the best time racing tonight.
There were eight caged champ karts racing tonight. Normally the champ karts race last or near the end of most karting programs. However, at the Delaware Speedway they race first. Why do they do that? So track owner and lead tech man AND champ kart racer Bill can handle the tech responsibilities a little bit easier. That makes sense. By the way Bill, the track owner, went on to win the main event. Well done!
I also talked with the Schwamman family. They race a flat kart out of Fort Atkinson, Iowa. Their driver, 13-year-old Dale is hoping to upgrade to a sport modified from kart racing. It sounds like the family is 100% behind him on that. It will likely happen.
The Delaware Speedway is as neat as a pin. You can tell the people who operate it and the folks who race here have a lot of pride in their track. The racers pit beyond turns three and four. There's a pit grandstand and a spectator grandstand for fans along the main straightaway.
They've got a nice concession stand as well. Like any upstanding Iowa racetrack they sell pork tenderloins. They also sell something I don't see on very many racetrack menus. That's a "Maid Rite" sandwich. If I'm not mistaken Maid Rite is headquartered in Des Moines, Iowa. I had one tonight minus the bread. I smothered it in mustard and onions. Delicious.
Tonight each class was running two heat races. I watched the heats from the elevated pit grandstand. Then after a short intermission I sat in the main grandstands to record the feature racing.
I took the safe route on tonight's trackchasing trip. I bagged the idea of chancing the figure 8 racing down in Jefferson City for a sure thing in Delaware, Iowa. As it turned out they did race in Jefferson City albeit during a rainstorm that dumped an inch or more rain.
Had I wanted to be very aggressive I could have watched the racing in Jefferson City tonight and then come up to the Delaware Speedway tomorrow evening. They were racing on a Sunday as a make-up date for some of their rainouts earlier in the year. Between the Jefferson City race (Saturday night) and the Delaware race (Sunday late afternoon/night) I could have easily fit in the 11 a.m. starting time for the Sunday enduro racing in Warren, Illinois.
Editor's note: I did stop at the Delaware Speedway early Sunday night after the morning race in Illinois. It looked as if they had dramatically fewer cars for the Sunday racing than what they had on Saturday night. I'm not sure how many senior champs showed up for Sunday's competition.
AFTER THE RACES
All of this knowledge is done in hindsight however. I was playing the odds and normally you'll do pretty well in life if you play the odds consistently.
I was treated very well at the Delaware Speedway. Everyone I met at the track was more than friendly. Additionally when I left the track I was only 15 minutes from my hotel. From the hotel I was just 75 minutes from Sunday morning's racing in Warren, Illinois at the Jo Daviees County Fairgrounds.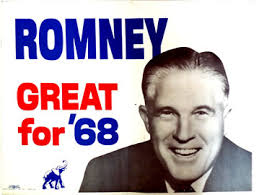 I had escaped the risk of bad weather again. Tonight I had seen my 68th new track of the 2017 trackchasing season. I've only had one rain out all season. I came very close to getting that one in before a last-minute rain shower forced a track cancellation. I would say that 68 out of 69 is a pretty good batting average! Over the winter I showed up at two different tracks only to find out they didn't have any countable racing.
Good night from Delaware, Iowa.
Iowa
The Hawkeye state
This evening I saw my 108th lifetime track in the Hawkeye state, yes the Hawkeye state. I hold the #1 trackchasing spot in Iowa as I do in 24 total states. I've seen 108 or more tracks in 4 separate states.
Thanks for reading about my trackchasing,
Randy Lewis
World's #1 Trackchaser
Peoria Old Timers Racing Club (P.O.R.C.) Hall of Fame Member
Iowa sayings: Pork Queen
In any other state, this might be an insult, but in Iowa, it's actually an honor.
QUICK FACTS
LIFETIME TRACKCHASER COMPARISONS 
The three most important trackchasing comparisons to me are:
Total lifetime tracks seen
Total "trackchasing countries" seen
Lifetime National Geographic Diversity results
Total Lifetime Tracks
There are no trackchasers currently within 600 tracks of my lifetime total. Don't blame me.
Randy Lewis, San Clemente, California – 2,360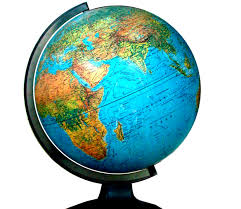 Total Trackchasing Countries
There are no trackchasers currently within 20 countries of my lifetime total.
Randy Lewis, San Clemente, California – 74
Current lifetime National Geographic Diversity results
Randy Lewis, San Clemente, California – 4.37
That's all folks! Official end of the RLR – Randy Lewis Racing Trackchaser Report
Click on the link below to see the video production from the racing action today.
Click on the link below for a photo album from today's trackchasing day.  You can view the album slide by slide or click on the "slide show" icon for a self-guided tour of today's trackchasing adventure.
Missouri state capitol touring plus kart racing from an immaculate little Iowa kart track