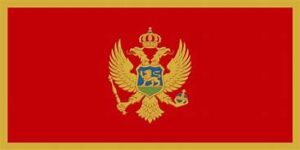 Montenegro 
.
.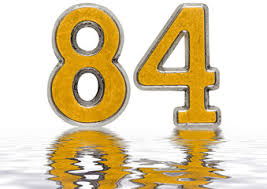 Trackchasing Country #84
Greetings from places on the way to and from Podgorica, Montenegro.   Click on the links below to read about the "story" and see the photos and videos from this trip to a place where few Americans have ever been…Montenegro, home to my trackchasing country #84.
HighlightsThe StoryVideosPhotos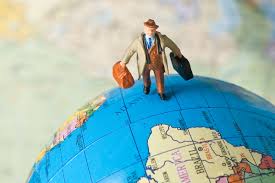 I've been traveling the world with my hobby of trackchasing for a good long time. At the completion of this trip I had seen auto racing in 84 different countries across six continents. Finding new countries to visit and where I can also see a race is becoming more and more difficult, but not impossible.
I will be the first to tell you that I could not do what I do on an international basis without the help of local people in the country I plan a visit. Often times getting information from the these people is made more difficult because of the language barrier.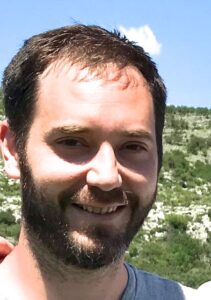 Some time ago I met up, speaking of meeting up as in meeting someone on the internet, with a fellow by the name of Davor Drljevic. Davor was with a group called "Montenegro Racing". Over the months and ultimately years Davor and I would communicate from time to time.
He told me that Montenegro had no circuit racing or wheel to wheel racing of any kind. Davor said they only had hill climb racing. Of course, hill climb racing, being a timed event, is not a countable race activity by trackchasing rules.
By the way no trackchasers have ever seen a race in Montenegro. As a matter of fact, if you were to take the trackchasing country totals achieved by EVERY trackchaser who has ever reported a track or had a track reported for them COMBINED their country totals would be less than my results of seeing racing in 83 countries. I find that statistic somewhat amazing.
Despite Montenegro not having any active racetracks, Davor and I continued to communicate every so often. He told me he was always on the alert for something that might help me. I was sure he was.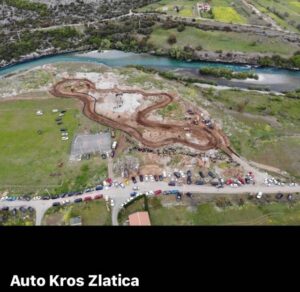 Then somewhere along the line I became aware of a racetrack called Auto Kros Zlatica in Montenegro. I honestly can't remember exactly where I got that information. If I could remember I would love to credit the individual who first made me aware of this new racing track in Montenegro.
The good thing about my sharing such detailed information about each event that I attend is that my fellow competitors can simply read my reports. They can mimic my actions and get similar results. It is said that, "Imitation is the sincerest form of flattery". It is true that a trackchaser could now see a race in Montenegro but I am 100% certain their "adventure" would not come close to being as complete and in-depth as mine are. Sorry. That's just a fact.
Carol and I would end up seeing racing at the Auto Kros Zlatica track on Sunday, April 28, 2019. However, that was not the original plan. The original plan called for me to go to Montenegro on my own three weeks prior to this date.
Davor and I had several conversations about my visiting the dirt autocross racing in Podgorica. He was adamantly against my doing this. He didn't think of this as "real" racing. I understood that point of view on a certain level. I get that kind of thinking from American fans all the time. People just need to chill and remember that the type of racing they enjoy the most is not always the type of racing that others enjoy the most.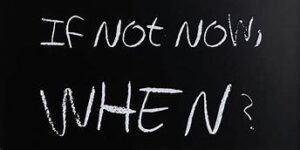 Davor wanted me to wait until a better opportunity came up. I told him I couldn't wait. Montenegro didn't have any other tracks! The Auto Kros Zlatica was it. As a matter of fact, I enjoy low-dollar aka junk car racing events a good deal. I don't have to see a well-known big-name circuit race when I visit a new country. I'll take any kind of racing and enjoy it whether it is big or small.
One night Davor and I debated back-and-forth over many many messages on whether or not coming to Montenegro for this race was a good idea. When all the discussion had died down the date of Sunday, April 7, 2019 was selected. I was coming to Montenegro. Montenegro was going to provide racing as my 83rd trackchasing country.

Wait just a minute! You already know that Tunisia WAS my 83rd trackchasing country. Then what happened to Montenegro? Good question!
Before I could buy the airline ticket I needed for Montenegro I needed to check the weather forecast. Wouldn't you know it? The rain forecast for Friday Saturday and race day on Sunday was absolutely horrendous. They were calling for nearly a 100% chance of rain for all three days and a cumulative rain total of more than 5 inches leading up to the race date on April 21.

I have never ever been rained out of an event when I showed up in a country for the very first time to trackchase. I didn't want Montenegro to be the first to hold that dubious distinction. I waited until I couldn't wait any longer and then I canceled my plans without buying an airline ticket to visit Montenegro… this time.
I had not had any direct contact from the Auto Kros Zlatica group. Davor was my only hope. He was doing the best he could for me. I soon learned they would be racing again on Sunday, April 28, 2019. I could make that date but the circumstances would be entirely different than the original plan. Being 100% flexible is the key to success with my trackchasing hobby.
Carol and I had an International trackchasing plan set for one week later, Sunday, May 5, 2019. As part of my travel plan with her she was going to come in a weekend early to see what she could see. Her airline tickets were already purchased.
My travel plan was much more complex. I had scheduled myself to see a race in Tunisia on the continent of Africa on Sunday, April 21, 2019. My original plan was to fly home after that event, pick up Carol and head to Europe for two weekends of trackchasing across the pond.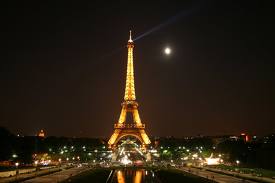 When Montenegro got rained out (April 7) and was rescheduled for three weeks later I changed my return plan from Tunisia (race date – April 21). I had already purchased my ticket, which had me returning from Tunisia to Paris then Detroit and finally Los Angeles. I figured I could simply "get off the plane" in Paris and ultimately head toward Montenegro. I am using the phrase "head toward Montenegro" loosely as you will discover as you read along.
Here's what our actual plan looked like. I would leave Tunisia as scheduled but then hang out in Paris for a couple of days. That would not be tough duty at all. Then I would fly to Zagreb, Croatia. Why do that?
Carol would be arriving from Los Angeles via Vienna into Zagreb, Croatia. It's amazing how a plan can come together when the person doing the planning is well-educated and well-motivated in what it takes to make the plan work.
With the above as background I will take you through the week that Carol and I spent getting to Montenegro, enjoying Montenegro and leaving Montenegro for the next race, which turned out to be in Italy. I think you'll enjoy the travel log.
Friday – April 26, 2019
Today Carol and I would meet in Zagreb, Croatia. Before I go much further let me tell you this. It's nice being able to have a spouse with whom you can simply say, "Meet me in Zagreb" and they can do it. How many people have a spouse that could pull that off?
During the trip we would be dealing with an eight or nine hour time zone difference from our home near Los Angeles. I had already been on this time zone for the last 10 days or so with my trip to Tunisia and then over to Paris. Therefore, no problem for me. Carol would be arriving in the late afternoon. She would certainly be affected by the big time zone difference for the first few days of her trip.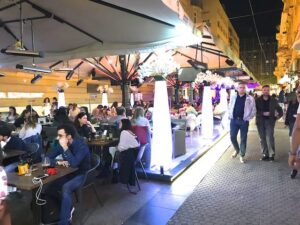 The night before Carol was to arrive in Zagreb I had come into Croatia on my own. My good buddy Boris Miljevic drove over to Croatia from Bosnia and Herzegovina, his home country. We enjoyed a lovely dinner at an outdoor café in downtown Zagreb, which we had done a few years earlier.
By the way, the restaurant screwed up my bill. They gave me the bill for the table next to us….which was more, of course. I only noticed this AFTER I had signed the credit card voucher. Then we went through a big rig-a-ma-row about how to get things corrected. The best they could do was send out the waiter THE NEXT DAY with the cash difference. Wow.
Since Carol wasn't scheduled to arrive until 2 p.m. on this day Boris and I had breakfast at our hotel and then ventured down into Zagreb to do some sightseeing. I'm very impressed with Zagreb as a city. They've got an active nightlife and in good weather there are literally a couple dozen or more outdoor cafés serving delicious food.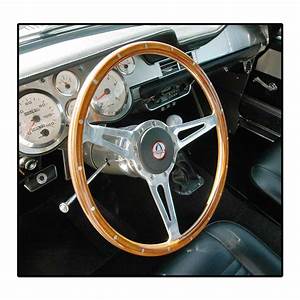 Carol and I would be doing our own driving on this trip. There are virtually no trackchasers from the United States who come to foreign-speaking countries and do their own driving. Why is that? I can't really say for sure. I think they're just so inexperienced that they're afraid to do such a thing. I've been doing it forever and really enjoy the flexibility having your own car provides.
I use TripAdvisor quite a bit to get travel recommendations for foreign countries. The advice I get on there is outstanding. That's where I learned about the Nova Rental Car Company. They came highly-rated.
I went on the Nova site, which was very friendly toward English-speaking users. We're going to be driving our car more than 2,000 miles (3,000 km) across several countries.
Did you know there are a list of countries that often times rental car companies prohibit you from using your rental car in? It's true. As a matter fact, we were going to be visiting some of those countries! I was concerned about being able to drive a rental car legally (from the rental car company point of view) in them.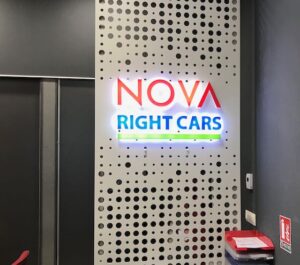 That's where the Nova rental car experience really shined. For a small fee I could get a "cross border" green card. This would allow me to drive our car in all of the countries that I wanted to visit on this trip. I also paid a small premium for an automatic transmission just for the comfort. I paid extra to get a car powered by diesel, which would improve my fuel mileage. Unlike the United States diesel fuel is actually cheaper than gasoline in Europe. The total cost of my car for 10 days was what I would have paid in the United States, which seemed more than fair given all of the premium upgrades I had selected.
Today Carol arrived pretty much on time. She and I had a late lunch with Boris, whom she hadn't seen since our last trip to Austria. On that trip Boris took us over to the Red Bull automobile museum in Salzburg, Austria. That place was beyond fantastic.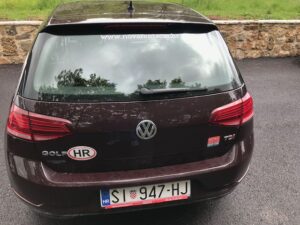 Following lunch we walked over to get our rental car. The Nova rental car people couldn't have been nicer. They explained everything we needed to know about our car. We would be renting a VW Golf. The Golf would be perfect for our needs on this trip.
From there Boris was heading back to Bosnia and Carol and I were beginning our drive toward Podgorica, Montenegro. The driving time was going to take somewhere around eight hours. We would knock off a couple of hours tonight and tackle the rest tomorrow, Friday.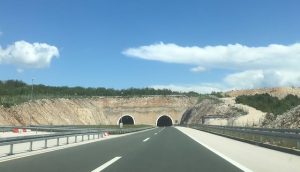 On this trip we would encounter a lot of toll roads and a lot of tunnels. We must've gone through 500 tunnels on the entire trip. I have no idea how much we paid in tolls but it was generally expensive but at the same time time-saving on some excellent roads. As a matter of fact, I've never driven on higher quality roads than these toll roads.
For the most part I only booked our hotels about a night in advance. This would give us maximum flexibility just in case we needed to change our plan at the last minute. In the business I am in changing plans at the last minute is common and it's only done when the change of plans is a better idea.
Of course, I tried to get some very nice and upscale hotels for Carol's part of the trip. I commonly say, "When Carol comes along I get upgraded!" On this evening we would stay in Zager, Croatia located right on the water.
We didn't pull into town until after dark at nearly 8 p.m. We were looking for a place to eat but not a place that would take a lot of time. When you're in the United States and you want to stop for something to eat but you don't have a lot of time and you don't have a lot of money where do you go… how about McDonald's"?
I will also tell you that I am not a fan of American tourists visiting foreign countries and eating their meals at McDonald's. At home I love McDonald's. I eat there all the time. When I travel in foreign countries I allocate myself one McDonald's visit per country. This allows me to try any new foreign items they may have.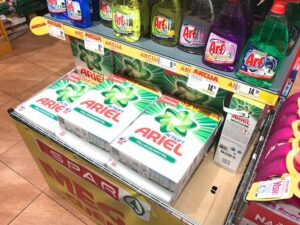 Tonight Carol and I stopped at a large indoor shopping mall looking for something to eat. First, we took a tour of the grocery store in the mall simply to be taking a tour of the grocery store. In my business life I was in a lot of stores like this. I love to see how our products are displayed. By that I mean products that are manufactured by Procter and Gamble. It's also fine just to see how the stores differ from what we have back home.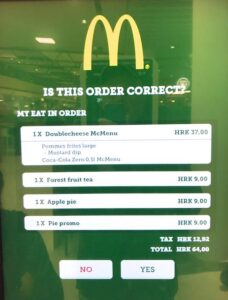 We did eat at a McDonald's in the mall. We used the electronic ordering kiosk just to challenge our computer capabilities. We always learn a lot from that. Carol tried the forest fruit tea. I ordered the mustard dip for my French fries. Yes we were doing "research" on something as simple as a McDonald's visit, this time in the country of Croatia.
Saturday, April 27, 2019
The nice thing about the entire trip with Carol was that we didn't need to get up early on any morning except the last day. That meant we could sleep in to a reasonable hour and then enjoy the hotel breakfast. If you make a hotel reservation in Europe you are almost always going to get breakfast as part of your rate.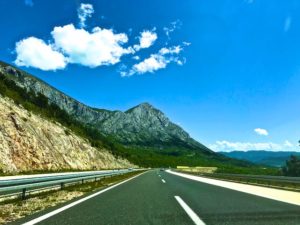 Today's drive would take us from Croatia through Bosnia and Herzegovina on our way to our first ever entry into the country of Montenegro. During the six-hour drive we enjoyed the scenery, the tolls in the tunnels. There were lots of all three.
During the drive we were only in Bosnia for about an hour. Nevertheless, our trip through that country came at lunchtime. We stopped at a very small mall and found a unique restaurant inside.
We didn't have any Bosnian currency, which is the "convertible mark". Nevertheless, we had euros and credit cards. If you are in Europe and have euros and credit cards you are not likely to starve.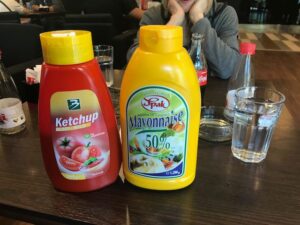 If you go into a Bosnian restaurant and see two large plastic bottles sitting on your table that are red and yellow beware. This is NOT catsup and mustard. This catsup and mayonnaise! We had a decent lunch here but not one of our best. The waiter didn't speak a word of English.
I had hoped that our drive to Podgorica, Montenegro would take us along with Croatian seaside route. However, I had simply punched in that we take the fastest route using toll roads. The Waze GPS route took us across the mountains, not along the sea.
This route was somewhat of a surprise especially when we left Bosnia and Herzegovina and crossed the border into Montenegro. It seemed as if we were literally on a mountaintop after having driven on curving mountainous roads to get to the border stop and then to continue on to the capital of Montenegro.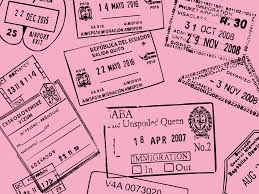 We probably received ten or more passport stamps during this trip. On the one hand that was fun. On the other hand, filling up your passport can be expensive. It costs a good deal of money getting pages added to your passport and/or having to get a new passport because all of the pages are filled with country stamps. I should know. I've had to go both!
We made our first fuel stop just as we entered Montenegro. Our Nova Rental Car Racing VW Golf uses diesel fuel. Today in Montenegro diesel was selling for a €1.25 per liter. That translated into roughly $5.32 US per gallon.
Yes, fuel is more expensive in Europe than it is in the United States. However, the high cost of fuel comes with free healthcare! We would end up paying prices later in the trip for higher than $5.32 a gallon.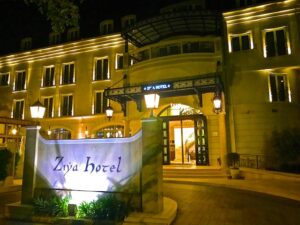 Davor had given me a hotel recommendation for our stay out in Podgorica. As I mentioned, when Carol comes along on the trip I try to make sure we stay in some pretty opulent places. The Ziya Hotel fit the bill on that front. It was brand new and gorgeous.
By the time we got situated in the hotel it was 8 p.m. Europeans eat dinner much later than we do in America. As a matter of fact, Carol and I eat somewhat early at 5:30 p.m. or so on most nights. However, growing up in East Peoria, when the factories let out at 3:30 p.m. we were normally having dinner shortly thereafter.
I don't normally like to eat in hotel restaurants when I am traveling. I think a core competency of the hotel is accommodation and not food. However, the Ziya Hotel was what a boutique/gourmet operation is in every way. We would try the restaurant.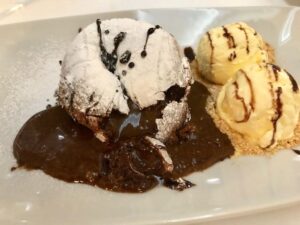 I will simply say this about the Ziya hotel and restaurant. Don't miss the photos! It was gourmet in every way. The wine, the pasta and the desert were to die for. As a matter, fact we ate dinner like this on every night of the trip and I did it for 19 days.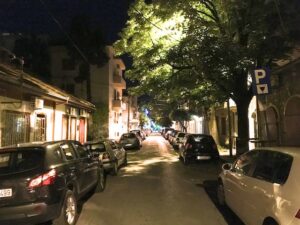 Following dinner we took a nighttime walk around the city. The area we were in was nothing special. It didn't seem to have a "downtown" vibe. However, we were just getting our feet wet in Montenegro. We were enjoying the ambience of a country that very few people get to visit.
Sunday, April 28, 2019.
Today is race day in a new country. I had only been able to say that 83 times before today's event in Montenegro. That's right. Montenegro would be the 84th country where I have trackchased.
We enjoyed a lovely breakfast of fresh squeezed orange juice, croissants and the like on the outdoor patio of the Ziya Hotel. During breakfast we were in for a special surprise.
A mysterious delivery person had dropped off some gifts for us at the front desk. The Montenegro Racing group had given me a beautiful souvenir T-shirt and other small souvenirs commemorating our visit to Montenegro. I know that Davor was the organizer of this effort. Thank you!
Following breakfast we needed to get to the racetrack. I knew the track was only a couple of miles from the hotel. However, I didn't know how to get there.
Davor recommended that we take a taxi to the track and leave our car at the hotel. His rationale was that our Hungarian license plates might not be well received in Montenegro! However, I always like having a car rather than relying on public transportation.
Having our own wheels allows us to move around on our own timing and move around much more freely. We would go with both Davor's idea and my preference.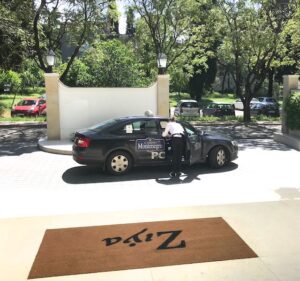 We would drive our car to the racetrack. However, a taxi would be involved in this process of getting us to the track as well. Since my GPS wouldn't quite cut it this morning because we didn't have a firm address for the track we ordered a taxi. We paid the taxi fare (only about $3 U.S.) for taking us from the hotel to the track and we simply followed the taxi. Ingenious huh?
When we arrived we found a parking area that basically screamed, "Every man for himself". I'm one of those people when I see a situation like this I think to myself, "There's always room for one more". I squeezed in and hoped that we wouldn't get boxed in, which is a common problem at events like this. Being boxed in is no fun when it's time to leave.
We were now at the Auto Kros Zlatica car racing facility. It was a beautiful weather day with temperatures at nearly 80° under blue skies with white puffy clouds. There was no admission price or charge for parking.
This is the first year of operation for Auto Kros Zlatica. I think on this day they were having their third or fourth race meeting ever. As a matter of fact, they did have a race three weeks ago when I bagged the idea of coming because of the rain forecast.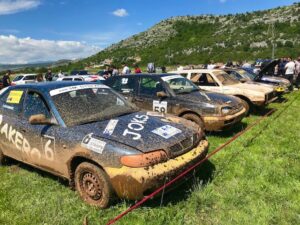 We immediately headed to the paddock area of today's dirt road course. I found a collection of about 10 very basic four-cylinder formerly passenger cars. We had full run of the place and could take all of the photos that my iPhone storage would allow.
It was obvious that virtually no one in the crowd spoke much English. That was OK. I've been around enough situations like this to know how the drill generally works. We simply walked around taking photos and observing all of the unique to Montenegro Racing circumstances.
I had done some corresponding with one of the drivers before I got here. His name was Ivica Radmanovic. When I saw Ivica's name on one of the racecars I knew that I was about to meet a new friend. Ivica did not speak much English. However, he had a solution for that.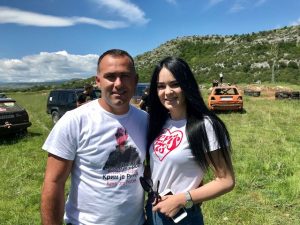 Ivica rounded up his friend Martina Ivanovic. Martina spoke English very well and acted as our tour guide for the rest of the racing afternoon. It was helpful to get her take on things. Then she disappeared for a while and we sought out our viewing locations.
You may have noticed that just about everyone's last name in Montenegro ends in "vic". Did you know Carol's maiden name was Polakovic? The people we met here loved Carol for that! Carol claims the Czech Republic as her ancestor's home.
The first event of the day was time trials or qualifications. Each driver made a lap or a couple of laps I couldn't tell for sure around the track. A handheld stopwatch or possibly an iPhone was used for timing!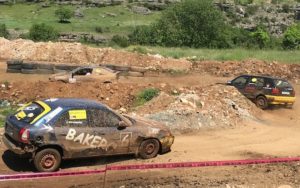 There was no announcer or PA system. This was a very rural and rustic track. I'm going to guess the distance was about 3/4 of a mile with a very rocky and sandy surface. The entire grounds where the track was carved out looked to be a park of sorts. There was a full-court outdoor basketball set up adjacent to the racetrack itself.
Martina introduced us to her dad (above) who was the race director today. She also hooked us up with her brother. We sat in on the drivers' meeting, which was brief. Of course, we didn't understand a thing because they were speaking the Montenegrin language.
I didn't see or observe any Americans at the track today. As I mentioned no trackchasers has ever been to Montenegro to see a race. This is pretty far off the beaten path but nothing is too far off the beaten path for me.
Today was the Orthodox Easter Sunday holiday. The Orthodox Easter Sunday comes a week after the Christian Easter Sunday. This meant that my internet friend Davor was home celebrating with his family. His sisters had come all the way from Spain to visit.
Nevertheless, Davor made a special trip out to the racetrack to meet Carol and me. Remember, this type of dirt track racing was not Davor's specialty. It was nice to meet him. We really appreciated him taking the time to come out to the track. I thanked him for the gifts that came from Montenegro Racing.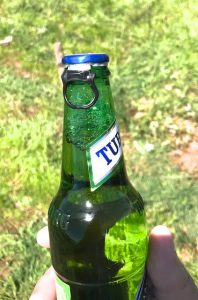 Martina and her friends made sure we were comfortable. Her brother brought us free beer. The Tuborg beer had one of the most unique bottle caps I've ever seen. Although it was a glass bottle of beer it included sort of a pop top beer cap. In all of my travels I had never seen such a thing!
The racing program itself was somewhat brief. It seemed as if there were only three short races, which in total took only about an hour. I'm glad we didn't show up late for this race!
I ask that you take a look at the photo albums and the video from our racing at Auto Kros Zlatica. If you do that you'll be able to get a full understanding of what today's race, racetrack and overall ambience was like.
Following today's event the racers convened at a nearby bar for the "prize giving". Martina and her brother invited us to join them. This part of the day would turn out to be a highlight of the trip.
Again, all of the festivities were conducted in a language foreign to us. Even though we didn't understand the language it was sort of like watching a movie. You could see what the people were up to you just didn't know exactly what was being said or anything close!
As the trophies were given out I was in for another hospitality surprise. They asked me to come up on centerstage and accept a certificate for my attendance at the racing in Montenegro today. What a nice gesture on their part. Thank you very much!
While all of this was going on Davor messaged me a photograph of his family enjoying their Easter Sunday holiday. He told me that when the family broke up later in the day he would like to get together for dinner. Unfortunately, our travel plan at that point called for an exit from Podgorica after the race and the prize giving ceremonies. I was sorry to miss Davor but I knew that he was with his family and that we also had places to be.
From there Carol and I made the drive over to Blanche, Bijela, Montenegro. We would be staying at a seaside resort that I had reserved in advance. Our hotel was named the Casa Mare Hotel and restaurant.
I don't know if this was more of a hotel or more of a restaurant. They only had eight rooms. This was the off-season for the seaside in Montenegro. A number of the local restaurants had not opened for the year yet. That being the case for the second consecutive night we ate at a hotel restaurant.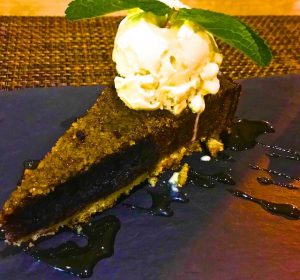 This was gourmet dining with a waterfront view. Lovely. I had the filet mignon and Carol went with the prawns. Our dessert, the poppy seed cake, was tied for the best dessert of the entire trip! When you think about traditional American poppy seed cake that has NOTHING in common with tonight's dessert. Do not miss the photos.
Monday, April 29, 2019.
Today, we had some decisions to make. During the past two weekends I had trackchased in Tunisia and Montenegro. Carol and I actually had another new country trackchasing visit planned for next Sunday, May 5, 2019.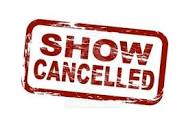 However, about 10 days ago that country and track canceled their racing program. Bummer. Carol already had her airline tickets purchased. We were both committed to being in Europe until May 6. What should we do?
I have a lot of racing contacts all over the world and especially in Europe. One of my newest contacts is a fellow by the name of Drazen Komarica. He and I were in constant contact with potential opportunities for next weekend.
We were dealing with a couple of constraints. Whatever race location we picked for next weekend had to be within driving distance of Zagreb, Croatia. Why? We had early morning flights from Zagreb on Monday, May 6. If it's not one limitation in life it's another right?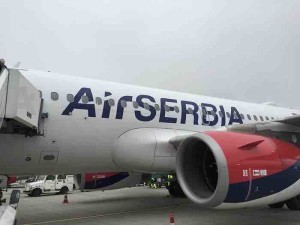 We settled on a racetrack in Serbia. Carol and I both had already been to Serbia for racing and touring but another visit would be just fine. However, there was a problem. The weather was the problem. The forecast was terrible. Even though this was an autocross event I wasn't sure they would race in that much mud.
With next week's racing location tentatively confirmed Carol and I set about the business of touring Montenegro. Touring in Europe is the most fun.
We had a wonderful breakfast at our boutique hotel facing the sea and watched it rain hard all morning. The weather forecast for most of the next week and at most of the places we expected to be traveling too told us we were going to get wet. We would just have to deal with it.
The two young women who worked at the desk at our hotel were fantastic at recommending touring opportunities for us. They couldn't have been more helpful and friendly.
The first recommendation was a visit to the seaside village of Perast. The name of this town was pronounced just like Paris in France. The small town was home to a special church located in Perast, an old town on the bay of Kotor in Montenegro.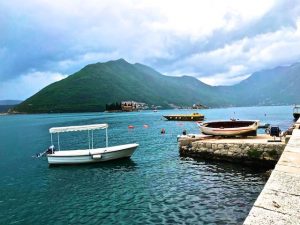 We rode a small motor boat out to Perast Church Island. With the mountains still covered on their tops with snow we visited the "Our Lady of the Rock" church. The church was built in the year 1630.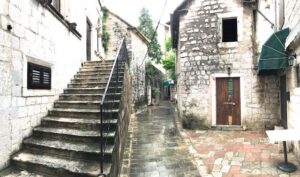 From there we moved on to the larger City of Kotor. We went there to visit the old town section. It was well worth the visit. This is was one of the better "Medina areas" that I've seen in all of my travels. We had lunch in a quaint little Italian restaurant. We dined inside as the rainy weather dictated. The electricity in the entire Medina went off a few times during our lunch. The proprietor was prepared for this and had electronica candles at the ready.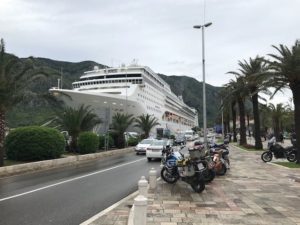 Kotor must be a pretty large a tourist attraction. An unusually large cruise ship was docked at the city's port.
By late afternoon we had done the last of our Montenegro touring. We decided to spend most of the next few days in Bosnia and Herzegovina in advance of our racing weekend in Serbia. We chose BiH over Serbia based upon the recommendations of our friend Boris Miljevic, a native of Bosnia.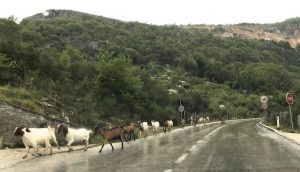 Leaving Montenegro we discovered a large herd of goats walking one after the other on a rain slicked highway. We ran into animals in this formation a few times during the trip. That's always exciting!
Tonight's hotel would be the SL Panorama in Trebinje, Bosnia. I had used Kayak.com to find this place. My search criteria included hotels rated four or five on a five-point scale as well as having customer ratings of eight or more and preferably nine or more on a 10-point scale. When I did this I was pretty well certain we're going to get a nice place….some might say an opulent hotel.

We did get a nice hotel with one of the biggest and best rooms of the entire trip. However, what I didn't realize was that this hotel was located a couple of miles outside of town in a large commercial development named "Aqua Park". Everything was brand new. With the weather being rainy and also it being the off-season the huge Aqua Park was closed. The park looked like it might have been nearly brand new.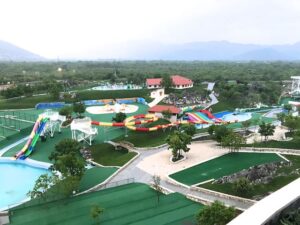 We were told the owner of this massive real estate project, which included our hotel and several condominium developments, was the manufacturer of packaged chocolate candies and such in Bosnia.
When we checked in we were told everything in the minibar was complementary. This included a wide selection of items that were part of the product line of the owner. You can bet that when we left we had raided the complementary stash to a large degree. It had taken us the better part of the day to drive from Montenegro to tonight's location. For the evening we simply relaxed in the spacious accommodations and enjoyed ourselves.
Tuesday, April 30, 2019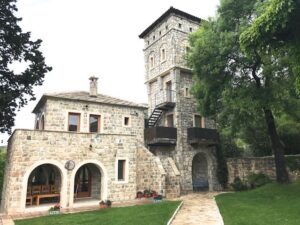 There were a couple of touring highlights in Trebinje that we didn't want to miss. The first was the Tvrdos Monastery. I was a little surprised, although maybe I should not have been, that I couldn't get into the monastery wearing shorts. I had worn shorts for pretty much the entire trip. I changed into blue jeans in the car and we completed the tour of the monastery.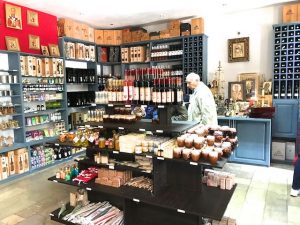 Probably the highlight of this particular visit was the gift shop. The brothers of the monastery may be a religious order but I think in their secret life they are winemakers and gift shop sellers. We picked up a few souvenirs for the family. I will always remember this touring stop as the stop where I had to wear blue jeans. I don't like long pants so this will not be a fond memory.
Next up was a visit to the old town section of Trebinje. Although not as impressive as the old town of Kotor it was still fun to visit. We had pizza slices and drank cokes and coffee at an outdoor café.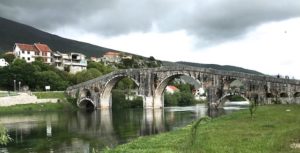 In Trebinje a touring highlight was visiting their old bridge. It's called the Perovic – Arslanagic's Bridge. It was built back in the late 1500s. Don't miss the photos here. We probably walked nearly three miles out of our way to see it.
Traveling through Bosnia was not for the faint-hearted on the highways. Again we encountered a lot of mountainous winding roads, which are certainly not Carol's favorite. Our Volkswagen Golf handled everything well.
Tonight we will be staying in the Bosnian town of Mostar. I had selected a bed-and-breakfast called the "Bosnian National Monument Muslibegovic House". I made that choice based upon the reviews that told of the place's uniqueness.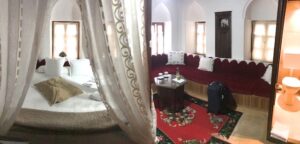 This was not your typical Holiday Inn! It was as difficult to find because it was located on a very small nondescript street. I had to ask a couple of locals walking along the streets for help. The little B&B was old and rustic. There probably aren't any hotel rooms in the United States or the world for that matter that are any more unique. Again, don't miss the photos.
The hotel did have one rule that neither Carol nor I liked. In order to enter the main building we had to take off our shoes. That was a hassle. Additionally, we were a little surprised they were not going to accept credit cards. That meant that we would begin to deplete our supply of euros even further.
Carol and I are good walkers. That is helpful when you are touring. We hiked down from our bed-and-breakfast location into downtown Mostar. Mostar was severely affected by the Bosnian war in the early 90s.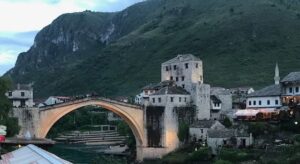 The biggest attraction in Mostar is the "old bridge". The original bridge was built in the 16th century but was destroyed during the Bosnian war. Reconstruction began in 2001 and today you wouldn't know that the current bridge wasn't the original.
We had another delightful dinner in the old town section of Mostar. The experience was virtually too unique to describe, which is why I refer you to the photo album that comes along with this Trackchaser Report.
Wednesday, May 1, 2019.
Today is "May Day" in the United States. When I was about six or seven years old my grandmother and I would make "May baskets". These were small baskets made from construction paper of all colors. The baskets held a small bouquet of flowers. When we were finished with our creation I would place the baskets on the door knobs of our neighbors, press the doorbell or knock on the door and then run away. That was May Day when I was a child!
Did I tell you that we didn't like having to take our shoes off and put them back on each time we entered and left the hotel in Mostar? At breakfast we met a young couple touring the area from Kansas. To see a young American couple, especially from a place like Kansas, visiting this area of the world seemed unusual. It sort of reminded me of what Carol and I looked like and behaved like when we were their age. Good on them. By the way, we didn't see virtually any Americans on the entire trip.
Part of our "room rate" was a tour of the house that was now the Bosnian National Monument Muslibegovic House. The building had been home to the same Muslim family for centuries. This tour only took a few minutes but it was interesting to hear about the history of the house where we had slept the night before.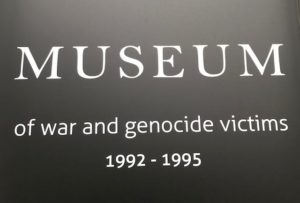 We had just enough time to tour the "Museum of War and Genocide Victims" located in downtown Mostar. The museum was only a couple of blocks from our hotel.
The Bosnian War was completed less than 25 years ago. I was busy working during that time and Carol was busy raising the kids. We sometimes say that we missed out on the 80s and 90s because we were focused on those two activities. Carol did mention that her day was pretty well ruined after seeing the photos from this war and genocide.
From there we continued our drive up the center of Bosnia and Herzegovina. We were headed to Sarajevo. We would be staying in a more American like hotel in downtown Sarajevo, the Residence Inn by Marriott.
This was a good location because of my frequent stay status with Marriott. We were upgraded to a suite and given a complementary upscale breakfast. It is nice to be recognized for all of the time and money I put into the Marriott/Sheraton chain.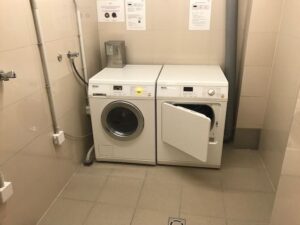 I was just beyond the halfway point of my 19-day trip at this point. That meant I had to do some laundry. The Residence Inn by Marriott is a perfect place for something like that. Believe it or not, I actually did my own laundry on this trip. What was I thinking? What was the world coming too?
Walking around the old town section of Sarajevo was fun. We found a very unique restaurant where I had a dish called "cevapi". I first experienced this dish with my Macedonia friend, Nikola Popevski. I had it again tonight. It's essentially sausages and bread and I'm a big fan of that.
Thursday, May 2, 2019.
Today was another big day of sightseeing. I arranged for a half-day guided tour of Sarajevo. This was one of the highlights of our trip.
The tour operator picked us up at our hotel at 10 a.m. For the next four hours he drove us and one other couple around to see the sights of Sarajevo.
You might recall that Sarajevo, Bosnia and Herzegovina was the location of the 1984 winter Olympics. Then less than 10 years later it was being bombed into oblivion during the Bosnian War.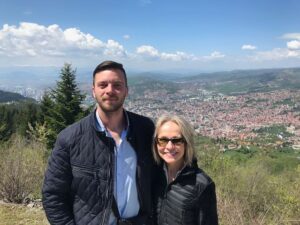 Our guide was a young Muslim man (above) who had just the right amount of factual information, seriousness and humor to entertain us during the entire tour. He pointed out some of the buildings, which still show the pock marks from the mortar shells from the war.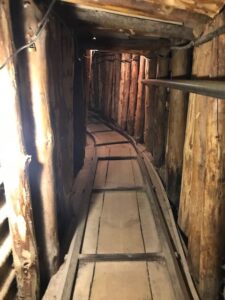 The two highlights of this particular tour were going through the "Sarajevo Tunnel", which was created to transport supplies as well as guns and ammunition from the "outside" of Sarajevo into downtown. The Bosnians were pretty well ringed in by their enemies who were perched on the mountain tops that surrounded the city. This tunnel was less than six feet tall and only about four feet wide. I couldn't stand up inside as I walked through it.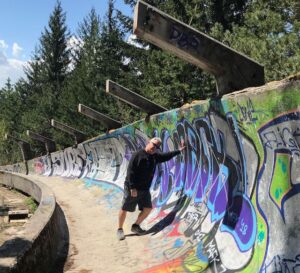 The other highlight was being able to visit the bobsled course from the '84 Winter Olympics. On the drive up to its location we saw signs in the woods warning people that explosive mines were still uncovered in the area. I've never seen signs like that!
We spent the late afternoon driving through more of Bosnia toward the evening's location at the Zepter Hotel in Dubica, BiH. Once again we ran across herds of sheep using the same highway that we were. We stopped at one gas station for a bathroom break. We ended up walking far into the woods on a walking path where locals were taking their daily hikes. That was fun.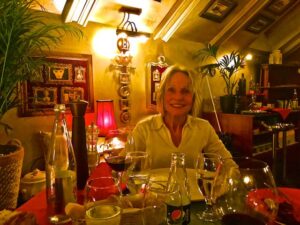 On our drive toward Dubica we would pass through one of Bosnia's major cities that being Banja Luka. This is the city where my friend Boris Miljevic lives. Luckily, he was in town. We all went out to dinner at a lovely upscale restaurant. Again the wine flowed, the desserts were excellent and we had a wonderful time.
After dinner we drove for another hour up to the Zepter Hotel in Dubica, a city on the Bosnia and Croatia border. Boris knew the fellow who owned the place. He made arrangements for us to get a suite overlooking the river. We didn't get to the hotel until nearly midnight.
I was using my GPS to find the place. When the bright blue letters announcing the Zepter Hotel were right in front of the windshield only 40 yards away I was thanking my lucky stars I had GPS. However, there was a bit of a problem.
The GPS route had taken us on the "direct" route to the hotel. It was either that or once I saw the hotel I missed the correct turn. However, there was not an entrance to the hotel from the road we were on only a fairly high chain link fence. It turned out that we had just crossed the border checkpoint from Bosnia into Croatia. That was not the way to get to the hotel!
We were informed of this "outage" by the border agent! We made a U-turn and soon found our way into the proper entrance to the hotel.
Yesterday we had learned the Serbia autocross race was canceled by the wet weather. This forced us to change directions and take a route that would ultimately allow us to see some road racing in Rome, Italy. I'll tell you more about that in my next Trackchaser Report.
As you can see the idea of visiting a race for just a few hours in Montenegro turned into a pretty large expedition. That's the way it is and that's the way I like it. Montenegro had been fun. The people had been fun. The racing was unusual and we had a really good time. However, that is not an unusual statement being made by me. We always have a good time!
Good day from Montenegro and other points involved in the trip.
THE COUNTRY LIST
#84!!
RLR – Randy Lewis Racing Lifetime Trackchasing Countries
# 1 – UNITED STATES OF AMERICA – Peoria Speedway – Mt. Hawley, (oval) – Track #1, Peoria, Illinois – circa 1954 (age 5)
# 2 – CANADA– Cayuga Speedway (oval) – Track #174, Nelles Corner, Ontario – July 31, 1988 (Dick Trickle winner)
# 3 – AUSTRALIA– Parramatta City Raceway (oval) – Track #180, Granville, New South Wales – November 17, 1989 (accompanied by Carol)
# 4 – UNITED KINGDOM – Northhampton International Raceway (oval) – Track #378, Northhampton – June 26, 1999 (accompanied by Carol, Kristy, Jim)
# 5 – NETHERLANDS– Driesum Racetrack (oval) – Track #839, Driesum – May 5, 2005 (accompanied by Roland Vanden Eynde)
# 6 – BELGIUM– Bellekouter oval (oval) – Track #841, Affligem – May 8, 2005 (accompanied by Roland Vanden Eynde)
# 7 – FRANCE– Circuit de Croix en Ternois (road course) – Track #843, Saint-Pol sur-Ternoise – May 8, 2005 (accompanied by Roland Vanden Eynde – 2ndnew country in one day!)
# 8 – GERMANY– Nurburgring (road course) – Track #844, Nurburg – May 13, 2005 (accompanied by Carol, Roland Vanden Eynde)
# 9 – NEW ZEALAND – Western Springs Speedway (oval) – Track #1,134, Western Springs – December 26, 2006 (accompanied by Carol)
# 10 – MEXICO – Triovalo Bernardo Obregon (oval) – Track #1,281, Tiajamulco de Zuniga, Jalisco – October 14, 2007 (accompanied by Carol, J.J., Roger Ward)
# 11 – BARBADOS – Bushy Park Racing Circuit (road course) – Track #1,296, Bushy Park – December 9, 2007
# 12 – THAILAND – Bira Circuit (road course) – Track #1,300, Pattaya – January 19, 2008
# 13 – SOUTH AFRICA – Durban Grand Prix (road course) – Track #1,315, Durban, KwaZulu-Natal – February 24, 2008 (accompanied by J.J. and Will Van Horne)
# 14 – JAMAICA – Dover Raceway (road course) – Track #1,322, Brown's Town St. Ann – March 24, 2008
# 15 – SWEDEN – Sturup Raceway (road course) – Track #1,335, Malmo – May 10, 2008 (accompanied by Carol)
# 16 – DENMARK – Ring Djursland (road course) – Track #1,336, Tirstrup – May 11, 2008 (accompanied by Carol)
# 17 – CZECH REPUBLIC – Automotodrome BRNO (road course) – Track #1,381, Brno – September 13, 2008
# 18 – AUSTRIA – Lambrechten Stock Car Track (road course) – Track #1,382, Lambrechten – September 14, 2008
# 19 – IRELAND – Tipperary International Raceway (oval) – Track #1,388, Rosegreen – October 26, 2008 (Carol and I visited this track earlier in the year)
# 20 – GUYANA – South Dakota Circuit (road course) – Track #1,390, Timehri – November 2, 2008 (accompanied by Carol)
# 21 – CHINA – The Guia Circuit (road course) – Track #1,392, Macau – November 16, 2008 (accompanied by Carol)
# 22 – COSTA RICA – Autodromo La Guacima (road course) – Track #1,398, La Guacima – November 30, 2008
# 23 – ANDORRA – Grandvalira Circuit (road course) – Track #1,404, Port d'Envalira – January 17, 2009
# 24 – ARGENTINA – Circuito Efren Chemolli (oval) – Track #1,406, Buenos Aires – January 31, 2009 (shared with Jerry Fisher)
# 25 – QATAR – Losail International Circuit (road course) – Track #1,408, Doha – February 13, 2009
# 26 – BAHRAIN – Bahrain International Circuit (road course) – Track #1,410, Sakhir – February 27, 2009 (accompanied by Carol)
# 27 – UNITED ARAB EMIRATES – Dubai Autodrome (road course) – Track #1,411, Dubai – February 28, 2009 (accompanied by Carol)
# 28 – COLOMBIA – Autodromo de Tocancipa (road course) – Track #1,415, Tocancipa – March 22, 2009
# 29 – SPAIN – Motorland Aragon (road course) – Track #1,416, Alcaniz – March 28, 2009
# 30 – PORTUGAL – Circuto de Murca (road course) – Track #1,417, Murca – March 29, 2009
# 31 – ICELAND – Kapelluhraum (road course) – Track #1,420, Hafnafjorour – April 25, 2009 (shared with Will White)
# 32 – HUNGARY – Hungaroring (road course) – Track #1,426, Mogyorod – May 8, 2009 (accompanied by Carol)
# 33 – SWITZERLAND – Hock Ybrig (road course) – Track #1,427, Hoch Ybrig – May 9, 2009 (accompanied by Carol)
# 34 – ITALY – Vighizzolo d'Este Stock Car Track (road course) – Track #1,428, Vighizzolo d'Este – May 10, 2009 (accompanied by Carol)
# 35 – DOMINICAN REPUBLIC – Autodromo Mobil 1 (road course) – Track #1,515, Santo Domingo – December 6, 2009 (accompanied by Carol)
# 36 – MALTA – Ta'Qali Race Track (road course) – Track #1,521, Ta'Qali – February 7, 2010 (accompanied by Carol)
# 37 – FINLAND – Lake Pidisjarvi Ice Track (road course) – Track #1,524, Nivala – February 20, 2010
# 38 – JAPAN – Suzuka Circuit (road course) – Track #1,530, Suzuka – March 21, 2010
# 39 – CHILE – Autodromo de Interlomas (road course) – Track #1,531, Temuco – April 18, 2010
# 40 – MOROCCO – Circuit de Marrakesh (road course) – Track #1,535, Marrakesh – May 1, 2010 (accompanied by Carol)
# 41 – BRAZIL – Circuit de Caruaru – Aryten Senna (road course) – Track #1,540, Caruaru – May 16, 2010 (accompanied by Carol, Jerry Fisher and Katina Spencer)
# 42 – ESTONIA – Laitse Rally Park (road course) – Track #1,571, Laitse – July 24, 2010 (accompanied by Carol)
# 43 – LATVIA – Bikernieki (road course) – Track #1,572, Riga – July 25, 2010 (accompanied by Carol
# 44 – GUATEMALA – Autodromo Pedro Cofino (road course) – Track #1,580, Alotenango – August 15, 2010
# 45 – EL SALVADOR – El Jabali (road course) – Track #1,582, Quezaltepeque – August 22, 2010 (accompanied by Carol)
# 46 – ROMANIA – Bradu (road course) – Track #1,603, Bradu – October 16, 2010
# 47 – BULGARIA – Closed Route – Burgas (road course) – Track #1,604, Burgas – October 17, 2010 (accompanied by Lyubomir and Plamen Simeonov)
# 48 – SOUTH KOREA – Korea International Circuit (road course) – Track #1,605, Yeongam, Jeollanam-Do – October 24, 2010
# 49 – PHILIPPINES – Batangas Racing Circuit (road course) – Track #1,608, Batangas – November 21, 2010
# 50 – NORWAY – Lyngas Motorbane (road course) – Track #1,648, Lier – April 30, 2011
# 51 – MALAYSIA – Sepang International Circuit (road course) – Track #1,656, Sepang – May 28, 2011
# 52 – INDONESIA – Sentul International Circuit (road course) – Track #1,657, Babakan Madang, Boder – May 29, 2011
# 53 – LUXEMBOURG – Alzingen (road course) – Track #1,711, Alzingen – September 4, 2011 (accompanied by Carol)
# 54 – POLAND – Tor Slomczyn (road course) – Track #1,713, Slomczyn – September 11, 2011 (accompanied by Carol)
# 55 – SINGAPORE – Marina Bay (road course) – Track #1,714, Singapore – September 24, 2011 (accompanied by Carol) 
# 56 – URUGUAY – Piriapolis Grand Prix (road course) – Track #1,724, Piriapolis – November 12, 2011
# 57 – SRI LANKA – Pannala Race Track (road course) – Track #1,732, Pannala – February 12, 2012
# 58 – ECUADOR – Autodromo Internacional de Yahuarcocha (road course) – Track #1,736, Ibarra – March 11, 2012
# 59 – SLOVAKIA – Slovakia Ring (road course) – Track #1,742, Orechova Puton – April 29, 2012
# 60 – MONACO – Circuit de Monaco (street course) – Track #1,746, Monte Carlo – May 13, 2012 (accompanied by Carol)
# 61 – CROATIA – Automotodrom Grobnik (road course) – Track #1,762, Rijeka – June 23, 2012
# 62 – PERU – Autodromo La Chutana (road course) – Track #1,802, Lima – October 21, 2012 (accompanied by Carol)
# 63 – GREECE – Serres Circuit (road course) – Track #1,807, Serres – November 4, 2012
# 64 – RUSSIA – Moscow Central Hippodrome (oval) – Track #1,824, Moscow – February 23, 2013 (accompanied by Carol)
# 65 – LITHUANIA – Marijampole Autokross Track (road course) – Track #1,842, Marijampole – May 12, 2013 (accompanied by Carol)
# 66 – INDIA – Buddh International Circuit (road course) – Track #1,915, Noida – October 27, 2013 (accompanied by Carol)
# 67 – GEORGIA – Rustavi International Motorpark (road course) – Track #1,916, Rustavi – November 10, 2013
# 68 – TRINIDAD AND TOBAGO – Larry Gomes Stadium (road course) – Track #1,928, Arima – January 26, 2014 (accompanied by Carol)
# 69 – TURKEY – Istanbul Park (road course) – Track #2,035 Akfirat (accompanied by Carol)
# 70 – AZERBAIJAN – Streets of Baku (road course) – Track #2,037, Baku (accompanied by Carol)
# 71 – SERBIA – Usce (road course) – Track #2,224, Belgrade (accompanied by Carol)
# 72 – BOZNIA AND HERZEBOVINA – Zaluzani (road course) – Track #2,235, Zaluzani (accompanied by Boris Miljevic)
# 73 – PANAMA – La Chorrera (road course) – Track #2,290, Circuito Internacional de Panama (accompanied by Carol)
# 74 – ZIMBABWE – Bulawayo Motorsport Park (road course) – Track #2,291, Bulawayo
# 75 – NAMIBIA – Desert Raceway (oval) – Track #2,369, Walvis Bay – 2017
# 76 – MACEDONIA – Skopje Street Course (road course) – Track #2,386, Skopje – 2017
# 77 – UKRAINE – Autodrome Chayka (road course) – Track #2,387, Kiev – 2017
# 78 – BELARUS – Stadium Zarya (oval) – Track #2,421, Minsk – 2018
# 79 – MALDIVES – Hulhumalé Racing Track (road course) – Track #2,425, Hulhumalé – 2018
# 80 – BOLIVIA – Autodromo Santa Cruz (road course) – Track #2,429, Santa Cruz – 2018
# 81 – Moldova – Colonita Autocross (road course) – Track #2,503, Colonita – 2018
# 82 – Saudi Arabia – Ad Diriyah E-Prix (road course) – Track #2,514, Ad Diriyah – 2018
# 83 – Tunisia – Belvedere Circuit (road course) – Track #2,547, Tunis – 2019
# 84 – Montenegro– Auto Kros Zlatica (road course) – Track #2,548, Podgorica – 2019
The International Big 3 country count.
. Randy Lewis, San Clemente, California USA – 84
. Roland Vanden Eynde, Vilvoorde, Belgium – 52
. Carol Lewis, San Clemente, California USA – 47
The year 2019 is turning out to be another great international trackchasing. Tunisia and Montenegro are in the books. That combination sounds like a World Cup final! I've got even more planned for 2019. Stay tuned.
LIFETIME TRACKCHASER COMPARISONS 
The three most important trackchasing comparisons to me are:
Total lifetime tracks seen
Total "trackchasing countries" seen
Lifetime National Geographic Diversity results
Total Lifetime Tracks
There are no trackchasers currently within 710 tracks of my lifetime total. Don't blame me.
. Randy Lewis, San Clemente, California – 2,548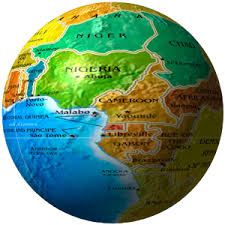 Total Trackchasing Countries
There are no trackchasers currently within 30 countries of my lifetime total.
. Randy Lewis, San Clemente, California – 84
Current lifetime National Geographic Diversity results
Randy Lewis, San Clemente, California – 4.14
LIKE TO KNOW MORE ABOUT MONTENEGRO – TRACKCHASING COUNTRY #84?
Montenegro – FAST FACTS*
Provided by my friends at Wikipedia and others.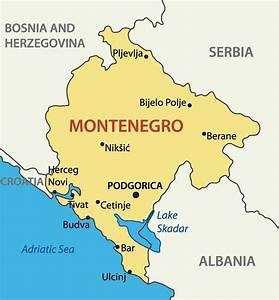 Montenegro
Capital

and largest city

Podgorica
42°47′N 19°28′E
Official languages
Montenegrin (national and official)[1]
Serbian, Bosnian, Albanian, Croatian (co-official)[2]
Writing system
Latin, Cyrillic
Ethnic groups

(2011[3])

·       44.5% Montenegrins

·       28.7% Serbs

·       8.6% Bosniaks

·       4.9% Albanians

·       0.9% Croats

·       13.6% Others

Religion 

(2011)

·       75.93% Christians

·       19.21% Muslims

·       3.31% irreligious

·       3.65% Others

Demonym(s)
Montenegrin
Government
Unitary dominant-partyparliamentaryconstitutional republic
• President
Milo Đukanović
• Prime Minister
Duško Marković
• Speaker of Parliament
Ivan Brajović
Legislature
Parliament
Events
• Prince-Bishopric
1516
• Principality
1 January 1852
• Kingdom
28 August 1910
• Formation of Yugoslavia
1 December 1918
• Republic declared
15 November 1944
• Independence regained
3 June 2006
Area 
• Total
13,812 km2 (5,333 sq mi) (156th)
• Water (%)
2.6
Population
• July 2018 estimate
 678,901[4] (164th)
• 2011 census
620,029[5]
• Density
45/km2 (116.5/sq mi) (121st)
GDP (PPP)
2019 estimate
• Total
$12.310 billion[6]
• Per capita
$19,734[6] (74th)
GDP (nominal)
2019 estimate
• Total
$5.607 billion[6]
• Per capita
$8,988[6] (80th)
Gini (2014)
 31.9[7]
medium · 9th
HDI (2017)
 0.814[8]
very high · 50th
Currency
Euro (€)a (EUR)
Time zone
UTC+1 (CET)
• Summer (DST)
UTC+2 (CEST)
Driving side
right
Calling code
+382
ISO 3166 code
ME
Internet TLD
.me
a.  Adopted unilaterally; Montenegro is not a formal member of the Eurozone.
Montenegrois a country in Southeast Europe on the Adriatic Sea. It borders Bosnia and Herzegovina to the northwest; Serbia and Kosovo to the east, Albania to the south and Croatia to the southwest. Montenegro has an area of 13,812 square kilometres and a population of 620,079 (2011 census). Its capital Podgorica is one of the twenty-three municipalities in the country. 
During the Early Medieval period, three principalities were located on the territory of modern-day Montenegro: Duklja, roughly corresponding to the southern half; Travunia, the west; and Rascia proper, the north. In 1042, archon Stefan Vojislav led a revolt that resulted in the independence of Duklja from the Byzantine Empire and the establishment of the Vojislavljević dynasty. The independent Principality of Zeta emerged in the 14th and 15th centuries, ruled by the House of Balšić between 1356 and 1421, and by the House of Crnojević between 1431 and 1498, when the name Montenegro started being used for the country. After falling under Ottoman rule, Montenegro regained de facto independence in 1697 under the rule of the House of Petrović-Njegoš, first under the theocratic rule of prince-bishops, before being transformed into a secular principality in 1852. Montenegro's de jure independence was recognised by the Great Powers at the Congress of Berlin in 1878, following the Montenegrin–Ottoman War.
In 1905, the country became a kingdom. After World War I, it became part of Yugoslavia. Following the breakup of Yugoslavia, the republics of Serbia and Montenegro together established a federation known as the Federal Republic of Yugoslavia, which was renamed State Union of Serbia and Montenegro in 2003. On the basis of an independence referendum held in May 2006, Montenegro declared independence and the federation peacefully dissolved on 3 June of that year.
Since 1990, the sovereign state of Montenegro has been governed by the Democratic Party of Socialists and its minor coalition partners. Classified by the World Bank as an upper middle-income country, Montenegro is a member of the UN, NATO, the World Trade Organization, the Organization for Security and Co-operation in Europe, the Council of Europe, and the Central European Free Trade Agreement. It is a founding member of the Union for the Mediterranean.
The country's name derives from Venetian and translates as "Black Mountain", deriving from the appearance of Mount Lovćen when covered in dense evergreen forests.
After the second session of the AVNOJ during World War II in Yugoslavia, the modern state of Montenegro was founded as the Federal State of Montenegro  on 15 November 1943 within the Democratic Federal Yugoslavia by the ZAVNOCGB. After DF Yugoslavia became the Federal People's Republic of Yugoslavia, the Federal State of Montenegro was renamed to the People's Republic of Montenegroon 29 November 1945. In 1963, the FPRY was renamed to the Socialist Federal Republic of Yugoslavia and coincidentally, the People's Republic of Montenegro was renamed to the Socialist Republic of Montenegro. As the breakup of Yugoslavia occurred, the SRCG was renamed to the Republic of Montenegroon 27 April 1992 within the Federal Republic of Yugoslavia by removing the adjective "socialist" from the republic's title. Since 22 October 2007, a year after its independence, the name of the country became simply known as Montenegro.
History
Arrival of the Slavs
In 1910, Montenegro became a kingdom, and as a result of the Balkan wars in 1912 and 1913 (in which the Ottomans lost all Balkan land), a common border with Serbia was established, with Shkodërbeing awarded to a newly created Albania, though the current capital city of Montenegro, Podgorica, was the old border of Albania and Yugoslavia.
Montenegro was among the Allied Powers during World War I (1914–18). From 1916 to October 1918, Montenegro was occupied by Austria-Hungary. During the occupation, King Nicholas fled the country and a government-in-exile was set up in Bordeaux.
Kingdom of Yugoslavia
In 1922, Montenegro formally became the Oblast of Cetinje in the Kingdom of Serbs, Croats and Slovenes, with the addition of the coastal areas around Budva and Bay of Kotor. In a further restructuring in 1929, it became a part of a larger Zeta Banate of the Kingdom of Yugoslavia that reached the Neretva River.
World War II
In April 1941, Nazi Germany, the Kingdom of Italy, and other Axis allies attacked and occupied the Kingdom of Yugoslavia. Italian forces occupied Montenegro and established it as a puppet Kingdom of Montenegro.
In May, the Montenegrin branch of the Communist Party of Yugoslavia started preparations for an uprising planned for mid-July. The Communist Party and its Youth League organised 6,000 of its members into detachments prepared for guerrilla warfare. The first armed uprising in Nazi-occupied Europe happened on 13 July 1941 in Montenegro.
Unexpectedly, the uprising took hold, and by 20 July, 32,000 men and women had joined the fight. Except for the coast and major towns (Podgorica, Cetinje, Pljevlja, and Nikšić), which were besieged, Montenegro was mostly liberated. In a month of fighting, the Italian army suffered 5,000 dead, wounded, and captured. The uprising lasted until mid-August, when it was suppressed by a counter-offensive of 67,000 Italian troops brought in from Albania. Faced with new and overwhelming Italian forces, many of the fighters laid down their arms and returned home. Nevertheless, intense guerrilla fighting lasted until December.
War broke out between Partisans and Chetniks during the first half of 1942. Pressured by Italians and Chetniks, the core of the Montenegrin Partisans went to Serbia and Bosnia, where they joined with other Yugoslav Partisans. Fighting between Partisans and Chetniks continued through the war. Chetniks with Italian backing controlled most of the country from mid-1942 to April 1943. Montenegrin Chetniks received the status of "anti-communist militia" and received weapons, ammunition, food rations, and money from Italy. Most of them were moved to Mostar, where they fought in the Battle of Neretva against the Partisans, but were dealt a heavy defeat.
During the German operation Schwartz against the Partisans in May and June 1943, Germans disarmed large number of Chetniks without fighting, as they feared they would turn against them in case of an Allied invasion of the Balkans. After the capitulation of Italy in September 1943, Partisans managed to take hold of most of Montenegro for a brief time, but Montenegro was soon occupied by German forces, and fierce fighting continued during late 1943 and entire 1944. Montenegro
was liberated by the Partisans in December 1944.
Montenegro within Socialist Yugoslavia
Montenegro, like the rest of Yugoslavia, was liberated by the Yugoslav Partisans in 1944.
Montenegro became one of the six constituent republics of the communist Socialist Federal Republic of Yugoslavia (SFRY). Its capital became Podgorica, renamed Titograd in honour of President Josip Broz Tito. After the war, the infrastructure of Yugoslavia was rebuilt, industrialization began, and the University of Montenegro was established. Greater autonomy was established until the Socialist Republic of Montenegro ratified a new constitution in 1974.
Montenegro within FR Yugoslavia
After the dissolution of the SFRY in 1992, Montenegro remained part of a smaller Federal Republic of Yugoslavia along with Serbia.
In the referendum on remaining in Yugoslavia in 1992, the turnout was 66%, with 96% of the votes cast in favour of the federation with Serbia. The referendum was boycotted by the Muslim, Albanian, and Catholic minorities, as well as the pro-independence Montenegrins. The opponents claimed that the poll was organized under anti-democratic conditions with widespread propaganda from the state-controlled media in favour of a pro-federation vote. No impartial report on the fairness of the referendum was made, as it was unmonitored, unlike in 2006 when European Union observers were present.
During the 1991–1995 Bosnian War and Croatian War, Montenegrin police and military forces joined Serbian troops in the attacks on Dubrovnik, Croatia. These operations, aimed at acquiring more territory, were characterized by a consistent pattern of large-scale violations of human rights.
Montenegrin General Pavle Strugar was convicted for his part in the bombing of Dubrovnik. Bosnian refugees were arrested by Montenegrin police and transported to Serb camps in Foča, where they were subjected to systematic torture and executed.
In 1996, Milo Đukanović's government severed ties between Montenegro and its partner Serbia, which was led by Slobodan Milošević. Montenegro formed its own economic policy and adopted the German Deutsche Mark as its currency and subsequently adopted the euro, although not part of the Eurozone currency union. Subsequent governments pursued pro-independence policies, and political tensions with Serbia simmered despite the political changes in Belgrade. Targets in Montenegro were bombed by NATO forces during Operation Allied Force in 1999, although the extent of these attacks was very limited in both time and area affected.
In 2002, Serbia and Montenegro came to a new agreement for continued cooperation and entered into negotiations regarding the future status of the Federal Republic of Yugoslavia. This resulted in the Belgrade Agreement, which saw the country's transformation into a more decentralised state union named Serbia and Montenegro in 2003. The Belgrade Agreement also contained a provision delaying any future referendum on the independence of Montenegro for at least three years.
Independence
The status of the union between Montenegro and Serbia was decided by a referendum on Montenegrin independence on 21 May 2006. A total of 419,240 votes were cast, representing 86.5% of the total electorate; 230,661 votes (55.5%) were for independence and 185,002 votes (44.5%) were against. This narrowly surpassed the 55% threshold needed to validate the referendum under the rules set by the European Union. According to the electoral commission, the 55% threshold was passed by only 2,300 votes. Serbia, the member-states of the European Union, and the permanent members of the United Nations Security Council all recognised Montenegro's independence.
The 2006 referendum was monitored by five international observer missions, headed by an Organization for Security and Co-operation in Europe (OSCE)/ODIHR team, and around 3,000 observers in total (including domestic observers from CDT (OSCE PA), the Parliamentary Assembly of the Council of Europe (PACE), the Congress of Local and Regional Authorities of the Council of Europe (CLRAE), and the European Parliament (EP) to form an International Referendum Observation Mission (IROM). The IROM—in its preliminary report—"assessed compliance of the referendum process with OSCE commitments, Council of Europe commitments, other international standards for democratic electoral processes, and domestic legislation." Furthermore, the report stated that the competitive pre-referendum environment was marked by an active and generally peaceful campaign and that "there were no reports of restrictions on fundamental civil and political rights."
On 3 June 2006, the Montenegrin Parliament declared the independence of Montenegro, formally confirming the result of the referendum. Serbia did not object to the declaration.
Euro-Atlantic integration in the 21st century
The Law on the Status of the Descendants of the Petrović Njegoš Dynasty was passed by the Parliament of Montenegro on 12 July 2011. It rehabilitated the Royal House of Montenegro and recognized limited symbolic roles within the constitutional framework of the republic.
In 2015, the investigative journalists' network OCCRP named Montenegro's long-time President and Prime Minister Milo Đukanović "Person of the Year in Organized Crime". The extent of Đukanović's corruption led to street demonstrations and calls for his removal.
In October 2016, for the day of the parliamentary election, a coup d'état was prepared by a group of persons that included leaders of the Montenegrin opposition, Serbian nationals and Russian agents; the coup was prevented. In 2017, fourteen people, including two Russian nationals and two Montenegrin opposition leaders, Andrija Mandić and Milan Knežević, were indicted for their alleged roles in the coup attempt on charges such as "preparing a conspiracy against the constitutional order and the security of Montenegro" and an "attempted terrorist act."
Montenegro formally became a member of NATO in June 2017, though "Montenegro remains deeply divided over joining NATO", an event that triggered a promise of retaliatory actions on the part of Russia's government.
Montenegro has been in negotiations with the EU since 2012. In 2018, the earlier goal of acceding by 2022 was revised to 2025.
Geography
Internationally, Montenegro borders Croatia, Bosnia and Herzegovina, Serbia, Kosovo,[a] and Albania. It lies between latitudes 41° and 44°N, and longitudes 18° and 21°E.
Montenegro ranges from high peaks along its borders with Serbia, Kosovo, and Albania, a segment of the Karst of the western Balkan Peninsula, to a narrow coastal plain that is only 1.5 to 6 kilometres (1 to 4 miles) wide. The plain stops abruptly in the north, where Mount Lovćen and Mount Orjen plunge into the inlet of the Bay of Kotor.
The mountains of Montenegro include some of the most rugged terrain in Europe, averaging more than 2,000 metres (6,600 feet) in elevation. One of the country's notable peaks is Bobotov Kuk in the Durmitor mountains, which reaches a height of 2,522 m (8,274 ft). Owing to the hyperhumid climate on their western sides, the Montenegrin mountain ranges were among the most ice-eroded parts of the Balkan Peninsula during the last glacial period.
Longest beach: Velika Plaža, Ulcinj– 13,000 m (8.1 mi)
Highest peak: Zla Kolata, Prokletijeat 2,535 m (8,317 ft)
Largest lake: Skadar Lake– 391 km2 (151 sq mi) of surface area
Deepest canyon: Tara River Canyon– 1,300 m (4,300 ft)
Biggest bay: Bay of Kotor
Deepest cave: Iron Deep 1,169 m (3,835 ft), exploring started in 2012, now more than 3,000 m (9,800 ft) long
Politics
The President of Montenegro, is elected for a period of five years through direct elections. The President represents the country abroad, promulgates laws by ordinance, calls elections for the Parliament, proposes candidates for Prime Minister, president and justices of the Constitutional Court to the Parliament. The President also proposes the calling of a referendum to Parliament, grants amnesty for criminal offences prescribed by the national law, confers decoration and awards and performs other constitutional duties and is a member of the Supreme Defence Council. The official residence of the President is in Cetinje.
The Government of Montenegrois the executive branch of government authority of Montenegro. The government is headed by the Prime Minister, and consists of the deputy prime ministers as well as ministers.
The Parliament of Montenegrois a unicameral legislative body. It passes laws, ratifies treaties, appoints the Prime Minister, ministers, and justices of all courts, adopts the budget and performs other duties as established by the Constitution. Parliament can pass a vote of no-confidence in the Government by a simple majority. One representative is elected per 6,000 voters. The present parliament contains 81 seats, with 39 seats held by the Coalition for a European Montenegro after the 2012 parliamentary election.
Foreign relations of Montenegro
After the promulgation of the Declaration of Independence in the Parliament of the Republic of Montenegro on 3 June 2006, following the independence referendum held on 21 May, the Government of the Republic of Montenegro assumed the competences of defining and conducting the foreign policy of Montenegro as a subject of international law and a sovereign state. The implementation of this constitutional responsibility was vested in the Ministry of Foreign Affairs, which was given the task of defining the foreign policy priorities and activities needed for their implementation. These activities are pursued in close cooperation with other state administration authorities, the President, the Speaker of the Parliament, and other relevant stakeholders.
Integration into the European Union is Montenegro's strategic goal. This process will remain in the focus of Montenegrin foreign policy in the short term. The second strategic and equally important goal, but one attainable in a shorter time span, was joining NATO, which would guarantee stability and security for pursuing other strategic goals. Montenegro believes NATO integration would speed up EU integration. In May 2017 NATO accepted Montenegro as a NATO member starting 5 June 2017.
Although it only borders Albania, Bosnia and Herzegovina, Croatia, Kosovo, and Serbia, Montenegro also counts former Yugoslav republics North Macedonia and Slovenia as its neighbouring countries, for historical and regional reasons, as well as the neighbours of former Yugoslavia: Austria, Hungary, Romania, Bulgaria, and Greece.
Symbols
An official flag of Montenegro, based on the royal standard of King Nicholas I, was adopted on 12 July 2004 by the Montenegrin legislature. This royal flag was red with a silver border, a silver coat of arms, and the initials НІ, in Cyrillic script (corresponding to NI in Latin script), representing King Nicholas I. On the current flag, the border and arms are in gold and the royal cipher in the centre of the arms has been replaced with a golden lion.
The national day of 13 July marks the date in 1878 when the Congress of Berlin recognized Montenegro as the 27th independent state in the world and the start of one of the first popular uprisings in Europe against the Axis Powers on 13 July 1941 in Montenegro.
In 2004, the Montenegrin legislature selected a popular Montenegrin traditional song, "Oh, Bright Dawn of May", as the national anthem. Montenegro's official anthem during the reign of King Nicholas I was Ubavoj nam Crnoj Gori ("To Our Beautiful Montenegro").
Military
The military of Montenegro is a fully professional standing army under the Ministry of Defence and is composed of the Montenegrin Ground Army, the Montenegrin Navy, and the Montenegrin Air Force, along with special forces. Conscription was abolished in 2006. The military currently maintains a force of 1,920 active duty members. The bulk of its equipment and forces were inherited from the armed forces of the State Union of Serbia and Montenegro; as Montenegro contained the entire coastline of the former union, it retained practically the entire naval force.
Montenegro was invited to join NATO on 2 December 2015 and on 19 May 2016, NATO and Montenegro conducted a signing ceremony at NATO headquarters in Brussels for Montenegro's membership invitation. Montenegro became NATO's 29th member on 5 June 2017, despite Russia's objections. The government plans to have the army participate in peacekeepingmissions through the UN and NATO such as the International Security Assistance Force.
Administrative divisions
Montenegro is divided into twenty-three municipalities . This includes 21 District-level Municipalities and 2 Urban Municipalities, with two subdivisions of Podgorica municipality, listed below. Each municipality can contain multiple cities and towns. Historically, the territory of the country was divided into "nahije".
No.
Municipality
Seat
Municipalities of Montenegro.

Regions of Montenegro.

 1
Pljevlja Municipality
Pljevlja
 2
Plužine Municipality
Plužine
 3
Žabljak Municipality
Žabljak
 4
Mojkovac Municipality
Mojkovac
 5
Bijelo Polje Municipality
Bijelo Polje
 6
Berane / Petnjica
Berane / Petnjica (22)
 7
Rožaje Municipality
Rožaje
 8
Šavnik Municipality
Šavnik
 9
Nikšić Municipality
Nikšić
 10
Kolašin Municipality
Kolašin
 11
Andrijevica Municipality
Andrijevica
 12
Plav / Gusinje
Plav / Gusinje (23)
 13
Kotor Municipality
Kotor
 14
Cetinje
Old Royal Capital
 15
Danilovgrad Municipality
Danilovgrad
 16
Podgorica
Capital City and Municipality
 17
Herceg Novi Municipality
Herceg Novi
 18
Tivat Municipality
Tivat
 19
Budva Municipality
Budva
 20
Bar Municipality
Bar
 21
Ulcinj Municipality
Ulcinj
Cities in Montenegro
 

·       v

·       t

·       e

Largest cities or towns in Montenegro

2011 census[49]

Rank
Name
Municipalities of Montenegro
Pop.
1
Podgorica
Podgorica Municipality
136,473
PljevljaBijelo Polje
2
Nikšić
Nikšić Municipality
58,212
3
Pljevlja
Pljevlja Municipality
21,377
4
Bijelo Polje
Bijelo Polje Municipality
15,883
5
Cetinje
Cetinje Municipality
15,137
6
Bar
Bar Municipality
13,719
7
Herceg Novi
Herceg Novi Municipality
12,739
8
Berane
Berane Municipality
11,776
9
Budva
Budva Municipality
10,918
10
Ulcinj
Ulcinj Municipality
10,828
Economy
The economy of Montenegro is mostly service-based and is in late transition to a market economy. According to the International Monetary Fund, the nominal GDP of Montenegro was $4.376 billion in 2016. The GDP PPP for 2016 was $10.428 billion, or $16,749 per capita. According to Eurostat data, the Montenegrin GDP per capita stood at 46% of the EU average in 2017. The Central Bank of Montenegro is not part of the euro system but the country is "euroised", using the euro unilaterally as its currency.
GDP grew at 10.7% in 2007 and 7.5% in 2008. The country entered a recession in 2008 as a part of the global recession, with GDP contracting by 4%. However, Montenegro remained a target for foreign investment, the only country in the Balkans to increase its amount of direct foreign investment. The country exited the recession in mid-2010, with GDP growth at around 0.5%. However, the significant dependence of the Montenegrin economy on foreign direct investment leaves it susceptible to external shocks and a high export/import trade deficit.
In 2007, the service sector made up 72.4% of GDP, with industry and agriculture making up the rest at 17.6% and 10%, respectively. There are 50,000 farming households in Montenegro that rely on agriculture to fill the family budget.
Infrastructure
The Montenegrin road infrastructure is not yet at Western European standards. Despite an extensive road network, no roads are built to full motorway standards. Construction of new motorways is considered a national priority, as they are important for uniform regional economic development and the development of Montenegro as an attractive tourist destination.
The backbone of the Montenegrin rail network is the Belgrade–Bar railway, which provides international connection towards Serbia. There is a domestic branch line, the Nikšić-Podgorica railway, which was operated as a freight-only line for decades, and is now also open for passenger traffic after the reconstruction and electrification works in 2012. The other branch line from Podgorica towards the Albanian border, the Podgorica–Shkodër railway, is not in use.
Montenegro has two international airports, Podgorica Airport and Tivat Airport. The two airports served 1.1 million passengers in 2008. Montenegro Airlines is the flag carrier of Montenegro.
The Port of Bar is Montenegro's main seaport. Initially built in 1906, the port was almost completely destroyed during World War II, with reconstruction beginning in 1950. Today, it is equipped to handle over 5 million tons of cargo annually, though the breakup of the former Yugoslavia and the size of the Montenegrin industrial sector has resulted in the port operating at a loss and well below capacity for several years. The reconstruction of the Belgrade-Bar railway and the proposed Belgrade-Bar motorway are expected to bring the port back up to capacity.
Tourism
Montenegro has both a picturesque coast and a mountainous northern region. The country was a well-known tourist spot in the 1980s. Yet, the Yugoslav wars that were fought in neighbouring countries during the 1990s crippled the tourist industry and damaged the image of Montenegro for years.
With a total of 1.6 million visitors, the nation is the 36th (out of 47 countries) most visited country in Europe.
The Montenegrin Adriatic coast is 295 km (183 mi) long, with 72 km (45 mi) of beaches, and with many well-preserved ancient old towns. National Geographic Traveler (edited once in decade) features Montenegro among the "50 Places of a Lifetime", and Montenegrin seaside Sveti Stefan was used as the cover for the magazine. The coast region of Montenegro is considered one of the great new "discoveries" among world tourists. In January 2010, The New York Times ranked the Ulcinj South Coast region of Montenegro, including Velika Plaza, Ada Bojana, and the Hotel Mediteran of Ulcinj, as among the "Top 31 Places to Go in 2010" as part of a worldwide ranking of tourism destinations.
Montenegro was also listed in "10 Top Hot Spots of 2009" to visit by Yahoo Travel, describing it as "Currently ranked as the second fastest growing tourism market in the world (falling just behind China)". It is listed every year by prestigious tourism guides like Lonely Planet as top touristic destination along with Greece, Spain and other world touristic places.
It was not until the 2000s that the tourism industry began to recover, and the country has since experienced a high rate of growth in the number of visits and overnight stays. The Government of Montenegro has set the development of Montenegro as an elite tourist destination a top priority.
It is a national strategy to make tourism a major contributor to the Montenegrin economy. A number of steps were taken to attract foreign investors. Some large projects are already under way, such as Porto Montenegro, while other locations, like Jaz Beach, Buljarica, Velika Plaža and Ada Bojana, have perhaps the greatest potential to attract future investments and become premium tourist spots on the Adriatic.
Demographics
Ethnic structure
According to the 2003 census, Montenegro has 620,145 citizens. If the methodology used up to 1991 had been adopted in the 2003 census, Montenegro would officially have recorded 673,094 citizens. The results of the 2011 census show that Montenegro has 620,029 citizens.
Historical population
Year
Pop.
±%
1900 
311,564
—    
1909 
317,856
+2.0%
1921 
311,341
−2.0%
1931 
360,044
+15.6%
1953 
419,873
+16.6%
1971 
529,604
+26.1%
1981 
584,310
+10.3%
1991 
615,035
+5.3%
2003 
620,145
+0.8%
2011 
620,029
−0.0%
Montenegro is multiethnic state in which no ethnic group forms a majority. Major ethnic groups include Montenegrins, others are Bosniaks, Albanians and Croats. The number of "Montenegrins" and "Serbs" fluctuates widely from census to census due to changes in how people perceive, experience, or choose to express, their identity and ethnic affiliation.
Ethnic groups(2011 census)
Languages
The official language in Montenegro is Montenegrin. Also, Serbian, Bosnian, Albanian and Croatian are recognized in usage. Montenegrin, Serbian, Bosnian, and Croatian are mutually intelligible, all being standard varieties of Serbo-Croatian language. Montenegrin is the plurality mother tongue of the population under 18 years of age. In 2013, Matica crnogorska announced the results of public opinion research regarding the identity attitudes of the citizens of Montenegro, indicating that the majority of the population claims Montenegrin as their mother tongue. Previous constitutions endorsed Serbo-Croatian as the official language in SR Montenegro and Serbian of Ijekavian standard during the 1992–2006 period.
Religion
Montenegro has been historically at the crossroads of multiculturalism and over centuries this has shaped its unique form of co-existence between Muslim and Christian populations. Montenegrins have been, historically, members of the Serbian Orthodox Church (governed by the Metropolitanate of Montenegro and the Littoral), and Serbian Orthodox Christianity is the most popular religion today in Montenegro. The Montenegrin Orthodox Church was recently founded and is followed by a small minority of Montenegrins although it is not in communion with any other Christian Orthodox Church as it has not been officially recognized.
Despite tensions between religious groups during the Bosnian War, Montenegro remained fairly stable, mainly due its population having a historic perspective on religious tolerance and faith diversity. Religious institutions from Montenegro all have guaranteed rights and are separate from the state. The second largest religion is Islam, which amounts to 19% of the total population of the country. One third of Albanians are Catholics (8,126 in the 2004 census) while the two other thirds (22,267) are mainly Sunni Muslims; in 2012 a protocol passed that recognizes Islam as an official religion in Montenegro, ensures that halal foods will be served at military facilities, hospitals, dormitories and all social facilities; and that Muslim women will be permitted to wear headscarves in schools and at public institutions, as well as ensuring that Muslims have the right to take Fridays off work for the Jumu'ah (Friday)-prayer. There is also a small Roman Catholic population, mostly Albanians with some Croats, divided between the Archdiocese of Antivari headed by the Primate of Serbia and the Diocese of Kotor that is a part of the Church of Croatia.
Religious determination according to the 2011 census:
Religion
Number
%
Total
620,029
100
Eastern Orthodox
446,858
72.1
Catholics
21,299
3.4
Protestants
143
0.1
Adventists
894
0.1
Jehovah's Witnesses
145
<0.1
Other Christians
1,460
0.2
Islam/Muslims
118,477
(99,038 Islam, 19,439 Muslims)
19.1
(16.0 Islam, 3.1 Muslims)
Buddhists
118
<0.1
Atheists
7,667
1.2
Agnostics
451
0.1
other
6,337
1.0
without declaration
16,180
2.6
Note: In the 2011 census, there are two separate columns for the adherents of Islam, one is called Islam, the other Muslims.
Education
Education starts in either pre-schools or elementary schools. Children enroll in elementary schools  at the age of 6; it lasts 9 years. The students may continue their secondary education, which lasts 4 years (3 years for trade schools) and ends with graduation. Higher education lasts with a certain first degree after 3 to 6 years. There is one public university (University of Montenegro) and two private (Mediterranean University and University of Donja Gorica).
Elementary and secondary education
Elementary education in Montenegro is free and compulsory for all the children between the age of 7 and 15 when children attend the "eight-year school".
Various types of elementary education are available to all who qualify, but the vocational and technical schools (gymnasiums), where the students follow four-year course which will take them up to the university entrance, are the most popular. At the secondary level there are a number of art schools, apprentice schools and teacher training schools. Those who have attended the technical schools may pursue their education further at one of two-year post-secondary schools, created in response to the needs of industry and the social services.
Secondary schools are divided in three types, and children attend one depending on choice and primary school grades:
Gymnasium, lasts for four years and offers a general, broad education. It is a preparatory school for university, and hence the most academic and prestigious.
Professional schools last for three or four years and specialize students in certain fields which may result in their attending college; professional schools offer a relatively broad education.
Vocational schools last for three years and focus on vocational education (e.g., joinery, plumbing, mechanics) without an option of continuing education after three years.
Tertiary education
Tertiary level institutions are divided into "Higher education"  and "High education" level faculties.
Colleges and art academies  last between 4 and 6 years (one year is two semesters long) and award diplomas equivalent to a Bachelor of Arts or a Bachelor of Science degree.
Higher schools lasts between two and four years.
Post-graduate education
Post-graduate education is offered after tertiary level and offers Masters' degrees, PhD and specialization education.
Culture
Art
The culture of Montenegro has been shaped by a variety of influences throughout history. The influence of Orthodox, Ottoman (Turk), Slavic, Central European, and seafaring Adriatic cultures (notably parts of Italy, like the Republic of Venice) have been the most important in recent centuries.
Montenegro has many significant cultural and historical sites, including heritage sites from the pre-Romanesque, Gothic and Baroque periods. The Montenegrin coastal region is especially well known for its religious monuments, including the Cathedral of Saint Tryphon in Kotor(Cattaro under the Venetians), the basilica of St. Luke (over 800 years), Our Lady of the Rocks (Škrpjela), the Savina Monastery and others. Montenegro's medieval monasteries contain thousands of square metres of frescos on their walls.
A dimension of Montenegrin culture is the ethical ideal of Čojstvo i Junaštvo, "Humaneness and Gallantry". The traditional folk dance of the Montenegrins is the Oro, the "eagle dance" that involves dancing in circles with couples alternating in the centre, and is finished by forming a human pyramid by dancers standing on each other's shoulders.
Literature
The American author Rex Stout wrote a long series of detective novels featuring his fictional creation Nero Wolfe, who was born in Montenegro. His Nero Wolfe novel "The Black Mountain" was largely set in Montenegro during the 1950s.
Media
The media of Montenegro refers to mass media outlets based in Montenegro. Television, magazines, and newspapers are all operated by both state-owned and for-profit corporations which depend on advertising, subscription, and other sales-related revenues. The Constitution of Montenegro guarantees freedom of speech. As a country in transition, Montenegro's media system is under transformation.
Cuisine
Montenegrin cuisine is a result of Montenegro's long history. It is a variation of Mediterranean and Oriental. The most influence is from Italy, Turkey, Byzantine Empire/Greece, and as well from Hungary. Montenegrin cuisine also varies geographically; the cuisine in the coastal area differs from the one in the northern highland region. The coastal area is traditionally a representative of Mediterranean cuisine, with seafood being a common dish, while the northern represents more the Oriental.
Sport
The Sports in Montenegro revolves mostly around team sports, such as football, basketball, water polo, volleyball, and handball. Other sports involved are boxing, tennis, swimming, judo, karate, athletics, table tennis, and chess.
The most popular sport is football. Notable players from Montenegro were Dejan Savićević, Predrag Mijatović, Mirko Vučinić, Stefan Savić or Stevan Jovetić. Montenegrin national football team, founded at 2006, played in playoffs for UEFA Euro 2012, which is the biggest success in the history of national team.
Water polo is often considered the national sport. Montenegro's national team is one of the top ranked teams in the world, winning the gold medal at the 2008 Men's European Water Polo Championship in Málaga, Spain, and winning the gold medal at the 2009 FINA Men's Water Polo World League, which was held in Montenegrin capital, Podgorica. Montenegrin team PVK Primorac from Kotor became a champion of Europe at the LEN Euroleague 2009 in Rijeka, Croatia.
The Montenegro national basketball team is also known for good performances and had won a lot of medals in the past as part of the Yugoslavia national basketball team. In 2006, the Basketball Federation of Montenegro along with this team joined the International Basketball Federation (FIBA) on its own, following the Independence of Montenegro. Montenegro participated on two Eurobaskets until now.
Among women sports, the national handball team is the most successful, having won the 2012 European Championship and finishing as runners-up at the 2012 Summer Olympics. ŽRK Budućnost Podgorica won two times EHF Champions League.
Chess is another popular sport and some famous global chess players, like Slavko Dedić, were born in Montenegro.
At the 2012 Olympic Games in London, Montenegro women's national handball team won the country's first Olympic medal by winning silver. They lost in the final to defending World, Olympic and European Champions, Norway 26–23. Following this defeat the team won against Norway in the final of the 2012 European Championship, becoming champions for the first time.
Public holidays
Holidays
Date
Name
Notes
1 January
New Year's Day
(non-working holiday)
7 January
Orthodox Christmas
(non-working)
26 April
Orthodox Good Friday
(non-working) *
28 April
Orthodox Easter
(non-working) *
1 May
Labor Day
(non-working)
9 May
Victory Day
21 May
Independence Day
(non-working)
13 July
Statehood Day
(non-working)
That's all folks! Official end of the RLR – Randy Lewis Racing Trackchaser Report