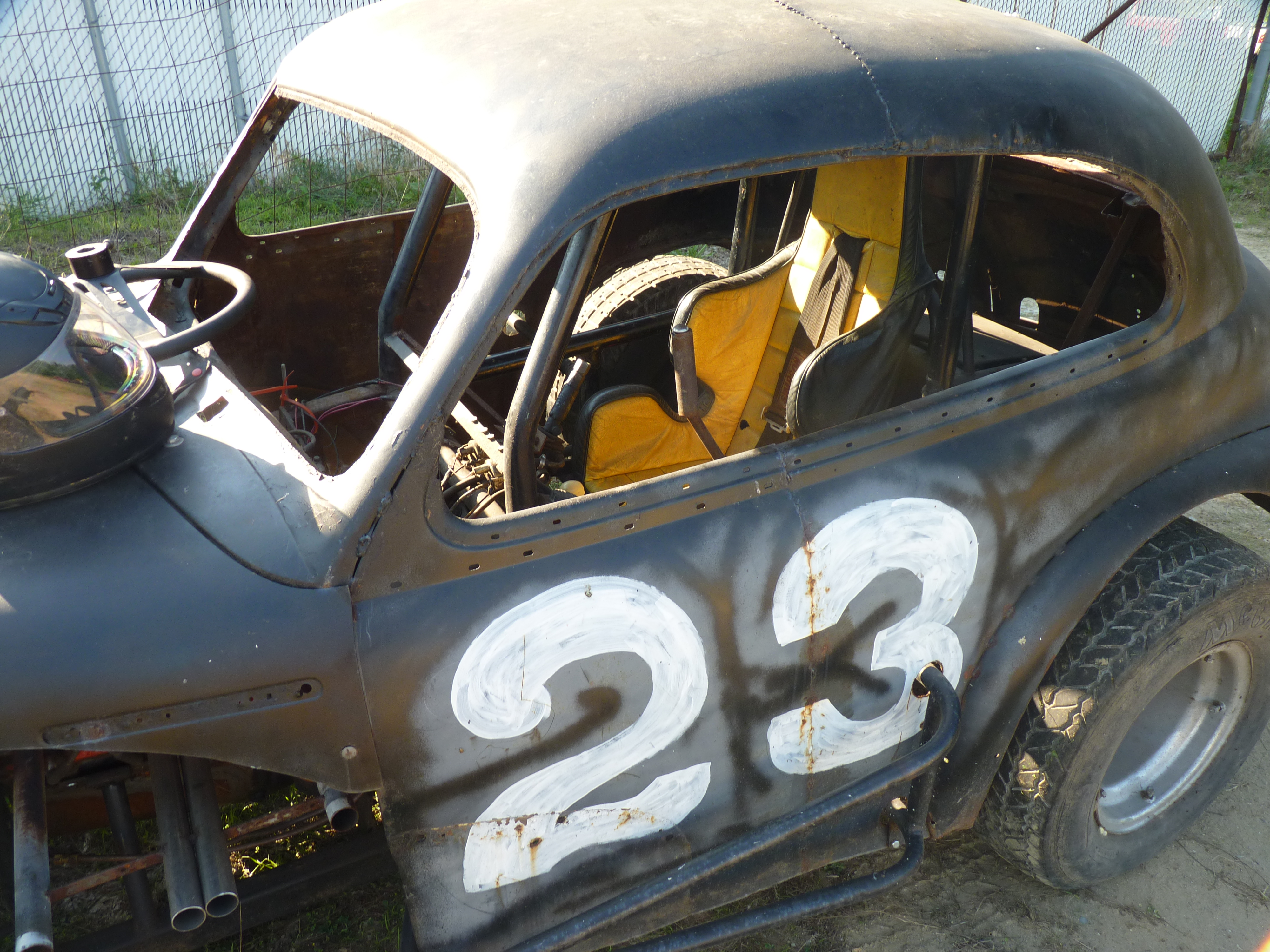 Greetings from Rochester, Indiana
From the travels and adventures of the
"World's #1 Trackchaser"
Lifetime Tracks #1,859 & #1,860
HighlightsThe PlanThe TripThe ExperienceRace ReviewVideosPhotosQuick Facts
What a plan this turned out to be……………..more in "The Plan"
I am not picking on Guy Smith but facts is facts…………….more in "The Plan".
What happens when mosquitoes threaten to reduce your adult height by six inches?………..details in "Race Review".
I love it when a plan comes together.  I love it when a plan delivers even more than what I expect it too.  That doesn't happen often.  However, the "boys back at the shop" at the headquarters of Randy Lewis Racing deserve two pats on the back.  They really delivered this time.
The hobby of trackchasing is all in the "counting".  I've said it a million times.  Trackchasers will almost always make the trip only if a track they are about to see "counts".  You wouldn't go to work if they didn't pay you.  A trackchaser doesn't leave the driveway if he/she isn't going to get paid.
Six tracks in six days was good enough for me.
I left the sunny climes of San Clemente on this trip with the idea of seeing six tracks in six days.  That seemed pretty productive.  In reality I have a chance to see nearly twice that amount with one day added to the trip.
I had a suspicion the North Iowa Fairgrounds might race on two tracks (oval & figure 8) the other night and they did.  That moved up the plan to seven tracks in six days.
But wait!  There could be more.
Tonight I knew the Fulton County Fairgrounds was running a "figure 8 race and a trailer race".  Of course, the figure 8 race would count.  Would the trailer race count?  It would if they raced over an oval configuration.
There were a couple of ways where the trailer race would NOT count.  First, let me tell you what a "trailer" race is.  In this event (I've seen 10-15 of these over time) a racecar pulls a trailer.  The "trailer" can be, and often is a camper or the trailer can be towing a boat or just about anything.  That's what a trailer race is.
However, if the trailer race was run on a figure 8 track (remember the rules of trackchasing only allow racing on ovals, figure 8s and road course layouts to count) it couldn't count again as the fairgrounds main attraction was already a figure 8 race.
If the trailer race were really more of a demo derby, where the last car running was the winner then the event wouldn't "count".  In order to count, any racing event must be run for a set number of laps or a set amount of time.  Races run against the clock (i.e. rally) don't count although they probably should.
The devil would be in the details.
I arrived at the track early and entered the pit area.  General admission and pit admission were the same price at $10.  That's unusual, except in the U.K.  At the driver's meeting the program's details were explained to the drivers.
They didn't mention what track the trailer race would use.  At the end of the meeting I asked the promoter how it would go.  He told me that "Last year the trailer race was run as a figure 8.  We tore up so much stuff and left so much debris on the track it wasn't worth it.  This year the trailer race will be run on our oval track".  Bingo!  That meant I was in line to see racing on both an oval and a figure 8 track.
Before I go any further….
Before I go any further let me mention something of importance.  Several of the East Coast based trackchasers (note I did not say Dreaded East Coast Trackchasers – they are never identified by name but they seem to know who they are) have in the past actually PAID promoters to run a "special race" (wink!) in circumstances like this.  At other times they have tried to "influence" promoters to do something that was directly in the interest of their track counting.
Who am I talking about?  I hate to "name names" but Guy Smith comes to mind, the trackchasing commissioner himself.  On more than one occasion Guy and his cronies have actually paid a promoter to run a race the way they wanted it run.  One trackchaser actually recounted a story where they paid the promoter to run a race on a "special" track.  For whatever reason the race didn't come on and the "sponsoring" trackchasers got their money back!!  No, I am not kidding.  If you think what Michael Waltrip Motorsports did in NASCAR was bad this is much worse in my opinion.  On other occasions Guy has "gotten in the face" of the promoter to influence the whether a race happens or not.
I know this might sound, to some, as if I am unduly picking on Guy Smith.  However, as one after another of you was added to my distribution list of well over 1,000 folks from all over the world, I was charged with simply telling the facts of the story (except on April Fool's Day) and letting the chips fall where they may.  To be clear Guy Smith was not the ONLY trackchaser who had paid to have promoter's "stage" special races on the spur of the moment to benefit trackchasers only.  However, Guy Smith was the FIRST person to accuse P.J. Hollebrand of cheating in the counting of his tracks when it was later proven he did not.  Folks who live in glass houses…..shouldn't.  Oh, my.
In the civilian world this is called "tampering".  Folks go to jail for tampering.  Some day I would love to hear Guy Smith's rationalization for this behaviour.
I think this type of trackchasing behaviour is blasphemy.  I would never do it.  That's like saying to the baseball umpire, "Would you call the next pitch a strike?".  No thanks.  I think anyone who does such a thing should have all of the tracks for that entire year removed.  I think this is the worst example of trackchasing behaviour that I can think of.  However, I digress.
I caught a lucky geographical break tonight.
As part of my trackchasing plan I knew the Plymouth Speedway in Plymouth, Indiana was racing tonight.  As God is my witness I had no idea how far Plymouth was from tonight's fairgrounds in Rochester, Indiana.  About two hours before I left for Rochester I used Google Maps! to find out.  That research showed me the two small towns were just 23.3 miles apart.  Did I mention I love it when a plan comes together?
In point of fact, things were even better than I thought they were.  Plymouth is located just north of Rochester on state highway 31.  The Fulton County Fairgrounds sits on the north side of  Rochester.  The Plymouth Speedway is located on the south side of Plymouth.  That made the tracks, not the center of the two cities, just 19 miles apart.  The trackchasing Gods were smiling on me tonight.
I had a history with Plymouth.
I had been to the Plymouth Speedway back on September 8, 2001.  It was my 520th lifetime track.  I went there by myself after seeing Scott Bloomquist win the World 100 the night before at Eldora Speedway with buddies Jim Sabo and Ed Montgomery.  Did I ever expect to return to the Plymouth Speedway asphalt track?  No.  Did I have much remembrance of my first visit to the Plymouth Speedway?  Not really, I came there more than 1,300 tracks ago!
Rules is rules even though I didn't make the rules.
However, as you probably already know the rules of trackchasing allow a trackchaser to "count a track again" if the racing surface changes from asphalt (or its various forms) to dirt (or its various forms) or vice versa.  I didn't make that rule.  I only play by the trackchasing rules.
Before I joined the trackchasing group I never would have counted tracks this way and didn't.  So don't blame me for using "too liberal" rules to count tracks.  However, I am a loyal U.S. citizen.  I try to abide by every one of our laws even though I might not agree with them all.  I do the same thing in trackchasing.


The Plymouth Speedway had been busy.
The Plymouth Speedway added a dirt inner oval to their outer oval asphalt track in 2012.  I didn't get to that track last year.  Then THIS year they covered over their asphalt outer oval track with dirt.  That left them with both an inner oval and an outer oval with a racing surface of DIRT!  What did that leave me with?  Two NEW dirt tracks to see at the Plymouth Speedway.
I realize to the non-racing fan reader this may seem either ridiculous, crazy, goofy, insane or all of the above.  Yes, the explanation can be a "bit out there" but have you read the IRS regulations lately.  That makes just about whatever rules that trackchasing has seem the most rational of all.
Can we summarize?
In summary what did we have tonight?  First, at the Fulton County Fairgrounds I would see a trailer race on an oval track and then a figure 8 race.  I would drive just 19 miles up the highway to see racing at the Plymouth Speedway on first their dirt inner oval and then their dirt outer oval.
Folks, that's four tracks!  That's not my best ever one-day total but it ranks in my top five most productive trackchasing days ever.  I love it when a plan produces even more than it called for.
A pretty simple trip.
I woke up this morning in Indianapolis, Indiana.  I went to bed in Indianapolis, Indiana.  This is what today looked like.
This trip was pretty simple.  I drove about two hours from Indy to Rochester, Indiana.  Then I drove another 19 miles up to Plymouth, Indiana.  Finally I drove a bit more than two hours back to my hotel in Indianapolis.  I arrived back a little after 1 a.m. (only 10 p.m. San Clemente time) with a pretty big smile in my heart.
I couldn't make this deadline.
Breakfast at my Ramada Inn Hotel was being served from 5:30 a.m. to 10 a.m.  You would think I could make that.  However, "10 a.m." is really only "7 a.m." my time.  I missed it.  Can you blame me?  Over the past four nights I had spent one on an airplane and two sleeping in my car.  What's the upside of that?  If I ever become homeless I will have some experience to look back on.
Ramada Inn quality varies property by property.  The Indianapolis airport Ramada Inn is nearly as good as a full scale Marriott.  That makes the $35 per night (regular rate $89) rate from Priceline even more of a steal.  Are you using Priceline?  Should you be using Priceline?  I am not a paid spokesman for Priceline but maybe I should be.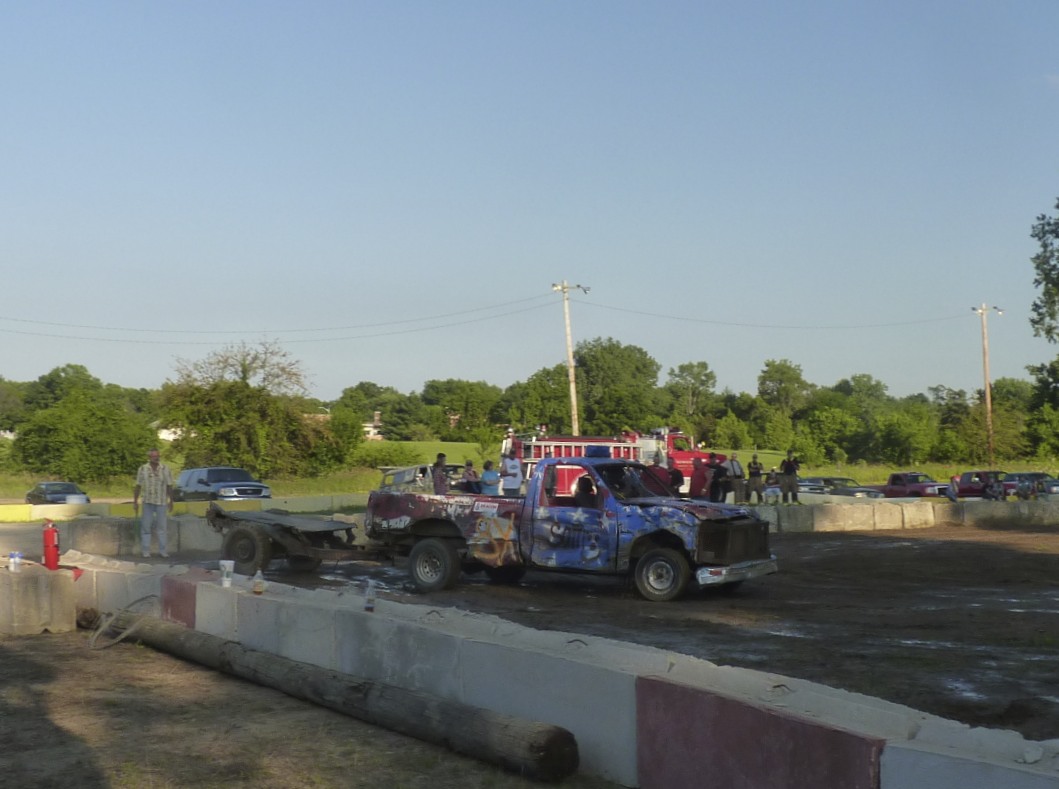 ROCHESTER COUNTY FAIRGROUNDS – GREENSBURG, INDIANA
It was day one of the fair.
It was a warm but not hot weather day with temps in the low 80s when I arrived at 6:30 p.m. for the 7 p.m. start of tonight's racing.  This is the first day of the Fulton County Fair.  The "horse" people were all beginning to arrive with their horse trailers and animals.  There was no carnival activity at all at this point.  Only one food "booth" was open.  In reality the only activity at the fair was happening at the racetrack.
This was a rural wooded and hilly fairground.  That's a nice change from the traditional flat, no tree land reserved for the majority of county fairgrounds.  Admission to the races was $10.  I learned I could use my "spectator" wristband to go into the pits as well.  That was a good deal.
What was happening in the pits?
I toured the pit area taking pictures of all the racecars.  There were 12-13 figure 8 racers.  I watched one driver use a crow bar to break out the rear windows of his big Ford.  It looked as if he had driven this car directly to the track.  When he was breaking out the windows one of the pitmen yelled to the man wielding the crow bar, "Do you know whose car that is?"  This drew a good deal of laughter from those nearby.
There were also two "modifieds" in the pits.  One of them was a Volkswagen bug painted with the famous "Herbie" paint scheme from the Disneyland movie.  These were interesting racing machines.  These cars did an "exhibition" of hot laps only in an oval configuration.  They didn't "start" with a green flag or end their activity with a checkered flag.  It was fun seeing them go around in circles but this was not a countable event.  Don't miss the pictures and video.
Three other cars were entered in the "rollover" contest.  Six drivers had trailers hooked up to their racing machines.  One was carrying a small rowboat that would never go rowing again!  The first events of the night were the rollover contest and the trailer race on the oval track.  Those competitors also competed (if they were still running) in the following figure 8 races (two heats and a feature).
By the way, the promoter had originally scheduled just a feature event for the figure 8 cars.  However, the drivers wanted to have two heats and then a feature based upon the car count.  The promoter explained the feature figure 8 paychecks were already cut.  Nevertheless, the group went with two heats and a feature with the figure 8 cars.
There was a good deal of "action" in all of tonight's events.  In order to keep my report shorter I ask that you take a look at the pictures and video from tonight's activity.  As they say a picture is worth more than 900 words.
STATE COMPARISONS
Indiana
The Hoosier State
This evening I saw my 73rd, 74th, 75th and 76th lifetime tracks in the Hoosier state yes the Hoosier state.  The Fulton County Fairgrounds provided the racing action for Indiana tracks #73 & #74.  Later in the evening the Plymouth Speedway would step up with tracks #75 and #76.  I'll be back.
Thanks for reading about my trackchasing,
Randy Lewis
World's #1 Trackchaser
Peoria Old Timers Racing Club (P.O.R.C.) Hall of Fame Member
Indiana sayings:  Two billion years, tidal wave free
TRAVEL DETAILS


AIRPLANE
Los Angeles, CA (LAX) – New York, NY (JFK) – 2,475 miles
AIRPORT SHUTTLE
New York, NY (JFK) – New York, NY (LGA) – 12.2 miles
AIRPLANE
New York, NY (LGA) – Cincinnati, OH (CVG) – 585 miles
RENTAL CAR #1
Cincinnati/Northern Kentucky International Airport – trip begins
Proctorville, OH
Cincinnati/Northern Kentucky International Airport – 368 miles
AIRPLANE
Cincinnati, OH (CVG) – Chicago, IL (ORD) – 264 miles
Chicago, IL (ORD) – Omaha, NE (OMA) – 431 miles
RENTAL CAR #2
Eppley Airfield (Omaha) – trip begins
Albion, NE
Eppley Airfield (Omaha) – 278 miles – trip ends
RENTAL CAR #3
Eppley Airfield (Omaha) – trip begins
Mason City, IA
Minneapolis-St. Paul International – 398 miles – trip ends
AIRPLANE
Minneapolis, MN (MSP) – Indianapolis, IN – 503 miles
RENTAL CAR #4
Indianapolis International Airport (IND) – trip begins
Greensburg, IN
Rochester, IN
TRACK ADMISSION PRICES:
Lawrence County Fairgrounds – $10
Boone County Fairgrounds – $10
North Iowa Fairgrounds – $10
Decatur County Fairgrounds – $7
Rochester County Fairgrounds – $10
LIFETIME TRACKCHASER COMPARISONS 
The three most important trackchasing comparisons to me are:
Total lifetime tracks seen
Total "trackchasing countries" seen
Lifetime National Geographic Diversity results
Total Lifetime Tracks
There are no trackchasers currently within 350 tracks of my lifetime total.  Don't blame me.
1.  Randy Lewis, San Clemente, California – 1,860
Total Trackchasing Countries
There are no trackchasers currently within 10 countries of my lifetime total.
1.  Randy Lewis, San Clemente, California – 65
Current lifetime National Geographic Diversity results
1.  Randy Lewis, San Clemente, California – 5.10
That's all folks!  Official end of the RLR – Randy Lewis Racing Trackchaser Report