Greetings from Herman, Minnesota
From the travels and adventures of the 
"World's #1 Trackchaser"
Lifetime Track #1,869
Highlights
The Details
Race Review
Videos
Photos
Quick Facts
I was sleeping overnight in an airport again!…………….more in "The Details".
There weren't many vintage racers but any vintage racer is great in my book……………..more in "Race Review"
Check out the "Piglet" heat and feature event………..details in "The Details".
THE PLAN.


Would it be Minnesota or New Jersey?
Today's destination was totally dependent upon the weather.  I had standby airplane reservations and rental car reservations in both Minnesota and New Jersey.  How would I decide which direction to go from today's base in Illinois?
First of all, Sunday morning flights had enough seats to take me to either place.  The weather forecast was similar for both Minnesota and New Jersey.  Actually, the forecast had changed in each location from rain probabilities as much as 50% to 0-20% around the racing hours at each track.
Rain likelihoods were about the same at each Sunday afternoon race.  Would it be Minnesota or New Jersey?  The impact of National Geographic Diversity (NGD) points was about the same.  Visiting either state would have little NGD impact.
It's all about long-term strategy.
When it came down to decision time I picked Minnesota over New Jersey.  Why?  In Minnesota the track I considered visiting races just four times per year.  However, the track in New Jersey race about 16 times.  I figured if I chose Minnesota this time then NEXT TIME I would have 16 opportunities per year to see the racing in New Jersey.  If I chose New Jersey this time then I would have only four opportunities to see the Minnesota track in any given year.  I know by now veteran readers of my Trackchaser Reports know how important "strategy" is in the long-term success of a traveling trackchaser.


THE TRIP
This would be a long day.
The day began early with a wakeup call in Palatine, Illinois.  I went to bed in the San Jose, California International Airport.  This is what today looked like.
My travel itineraries are not for the timid.  Today's wakeup call came at 4:38 a.m. (2:38 a.m. San Clemente time).  I was staying at my college fraternity brother's (Mike Skonicki) home.  He had agreed to give me a ride to the Chicago O'Hare Airport.  Now THAT'S what a fraternity brother is for isn't it?
We left for the airport at 5 a.m. just 22 minutes after my iPhone alarm awakened me.  Mike would be keeping my golf clubs at his house.  Why?  There were two reasons.  I didn't want to lug them all over "God's green acres" for the rest of this trip.  Secondly, and most importantly, Mike and I will be playing golf again in about three weeks.  I'll be so busy trackchasing between now and then that I won't need the clubs.
My planned 6:30 a.m. flight was delayed by 45 minutes.  What did that mean?  It meant that I would jump on another sponsoring airline that had more seats which was leaving at 7:15 a.m., the same time as the delayed flight that had fewer standby seats.
Who does this?
There aren't too many people who wake up in the morning knowing they are going to take a trip but NOT knowing which state they will visit.  Not many folks wake up expecting to take one airline and then on five minutes notice take another airline.  I believe this is valuable training for me.  It teaches me to have "flexibility of thought".  I am wedded only to the best idea.  What seemed like the best idea five minutes ago might not be the best now.  Make sense?
For the past four nights I have averaged about four hours of sleep each evening.  That's not much.  However, if one wants to do what I do (and there are not many "ones") then this is the way it has to be.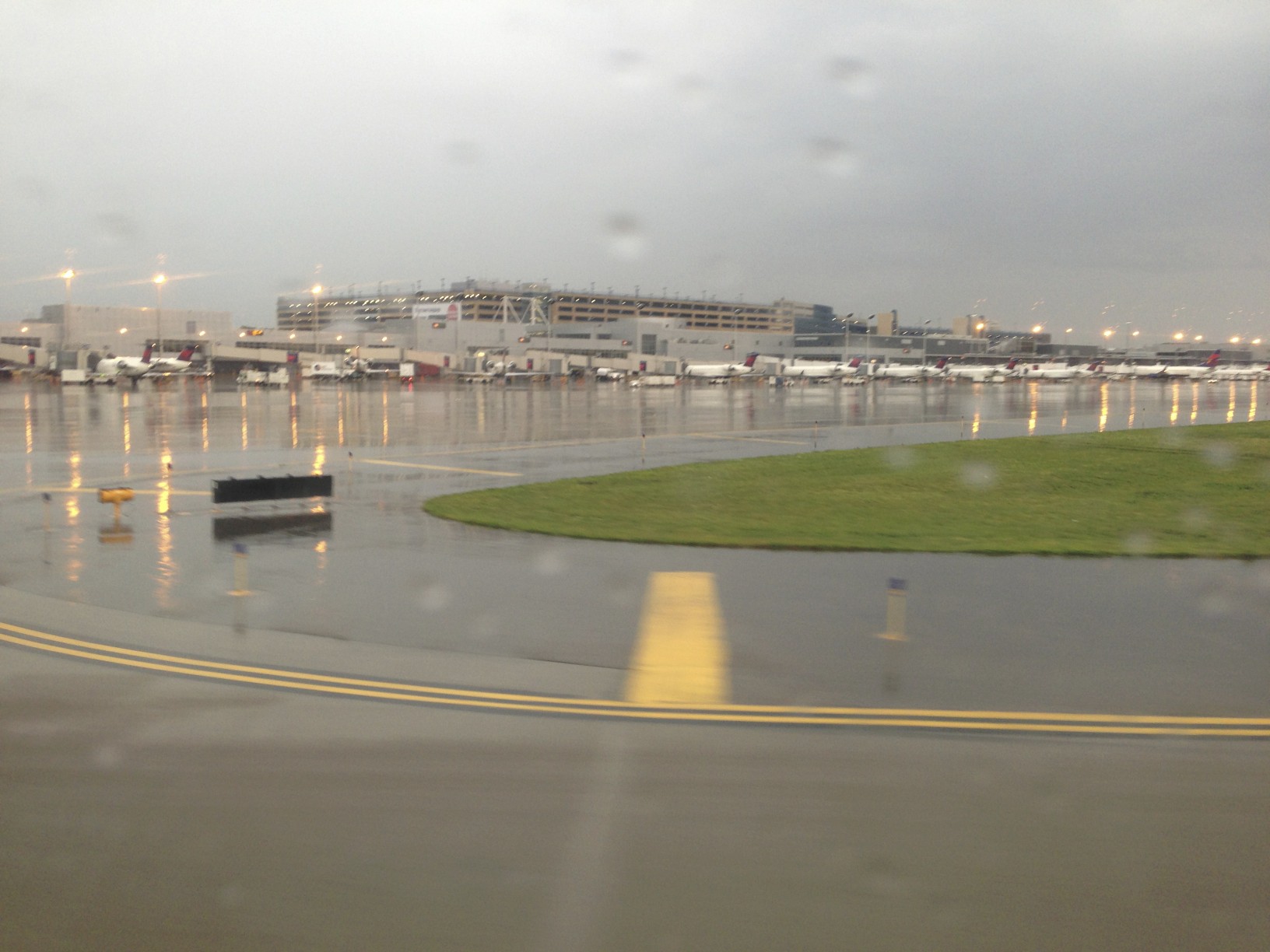 When I landed in Minneapolis it was pouring rain.  To date, I have now gone 779 days (more than two years!) and 212 tracks without a rainout.  When this streak ends this record will NEVER be broken.
With it raining in Minneapolis was I concerned about being rained out in Herman, Minnesota?  Not a chance!  Herman was 181 miles to the northwest of Minneapolis.  The weather forecast for Herman was perfect.  The streak lives on.

Yikes.
However, I was a bit delayed in Minneapolis.  The weather was so bad when we landed with rain and lightning that the airport was closed.  This is a common occurrence when lightning is in the area.  The ramp personnel are not allowed outside to guide the plane to the gate or help unload checked luggage.  We sat on the plane waiting for the bad weather to clear for the better part of twenty minutes.
Finally I was able pick up my rental car at the Minneapolis airport.  This is my 14th trackchasing trip of the year involving airplanes.  Excluding foreign trips and a trip to the west coast all but one adventure to the Midwest or East has had me coming or going into Minneapolis.
If you need a car like this….
I would be renting my third Hyundai Sonata of the trip.  These cars are good for these adventures on two fronts.  Most have satellite radios.  The Sonata gasoline models get 33-35 M.P.HG.  The hybrid models reach nearly 40 M.P.G.  This knocks my gasoline expense down to about a dime a mile.

I drive more miles than any fellow competitor.
The trip up to Herman and back to the airport would cover nearly 400 miles.  That gave me a total of 1,312 miles with the three Sonatas I rented for this four-track trip.  I couldn't forget the 213 miles when Mike drove us to the Iroquois County Fairgrounds and back last night.  Yes, I fly a lot with trackchasing…..but I drive a lot too.
I'm not above taking a "12-minute power nap" if it's needed.  If I have more time I might sleep at a rest area a little longer.  When I feel sleepy I try to pull over at the earliest opportunity.
After the races…….
This was the best plan in a series of not so great plans.
Getting home would prove to be somewhat difficult.  After I drove the better part of 200 miles back to the Minneapolis airport I discovered I would not be able to make it back home tonight.
The best I could do was fly into San Jose, California about 400 miles north of San Clemente.  I could have rented a car and driven overnight from there.  That prospect did not seem very appealing.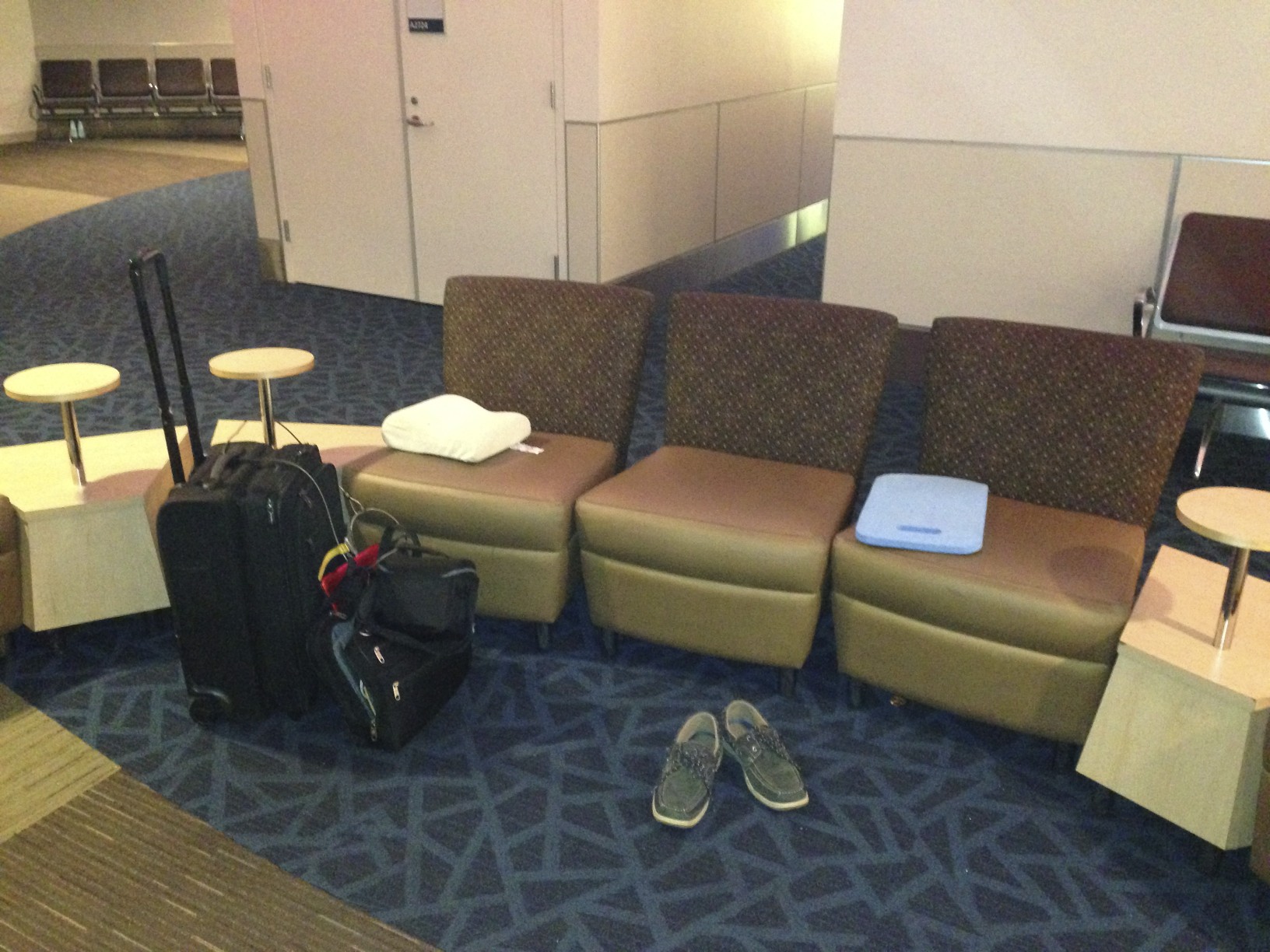 I elected to find a quiet place to sleep overnight in the San Jose airport.  Folks, it IS true that I have been able to see racing at more tracks than anyone else in the world.  Why is that?  One of the reasons is because I am willing to sleep overnight in an airport.  Not a lot of folks are willing to do that for ANY reason.  The next morning I grabbed a flight to LAX and was home in time to watch the late morning surfers, who surf in front of our home EVERY morning.  I have a simple motto for getting done most of the things that I really want to do.  "I do whatever it takes".
THE EXPERIENCE.

Here little piglets.
Folks, as you know I live in San Clemente, California.  San Clemente is a beach community.  It's a lovely place to live.  However, as far as I know they don't have "piglet" races in SC.  If you want to see piglet races you have to travel.
Seeing piglet races was one of the benefits of coming to Herman, Minnesota today.  Although this was a smallish fair they have the best looking and well run piglet racing I had ever seen.
"Randy, good gracious, what in the world is piglet racing?" the nearly dumbfounded, yet interested, Randy Lewis Racing reader might likely exclaim.  "More importantly why would you travel nearly 2,000 miles to see them?"
Like many questions I get about my hobby this two-part question gets to the point.  Piglet racing is simply a large group (maybe about 15-20) of baby pigs that are encouraged to race around a short and flat oval track in staggering summer heat.  I didn't see any PITA officials in sight.  Heck, we're going to eat these little piglets when they grow into sows so what's the problem?

Don't miss this one.
If you've never seen a Randy Lewis Racing video, or if you see every one that's ever been produced you do NOT want to miss this piglet racing.  That's what piglet racing is.
So why would I travel so far to SEE piglet racing.  I guess it's because I can.  I can't work on financial plans, play golf and cater to most of Carol's wishes every minute of the day.  Make sense?
GRANT COUNTY SPEEDWAY – HERMAN, MINNESOTA
The thrill of the chase.
I go trackchasing for the "thrill of the chase".  The Grant County Speedway certainly provided the "chase".  An early morning wake-up call, an airplane flight and a 160-mile drive definitely qualified as a certified "chase".  But what about the racing?
My primary reason for going trackchasing is really not about the racing.  Some folks have a hard time understanding that.  They think, "You're going to a racetrack and your primary mission is not about the racing?"  No, it is not.
If my main mission was about the racing then I would go to about 40 tracks nationwide time and time again.  That's what I did more than thirty years ago when I was a "racechaser".  However, even the best racing can get old after a while at least to me.  I voluntarily gave up racechasing when I discovered I enjoyed going somewhere for the FIRST time was more fun than going somewhere for the TENTH time.  Make sense?

I love vintage racing.
The Grant County Speedway is a permanent auto racing track that goes back well over twenty years.  One veteran told me the "grandstands used to run all the way from turn four to turn one and they got huge crowds".  Nowadays the Grant County Speedway is reserved for 2-3 enduros a year and today's special event "vintage" stock car racing.
I absolutely love vintage stock car racing.  I especially like cars from the old "coupe" days and the "late model" stock cars that replaced them.  Those "late models" feature bodies from the 50s.  The 1955-1957 Chevy was the car of choice but occasionally a Ford or Dodge Charger would slip in.
This racetrack is high-banked.  Beyond turns one and two is a runoff area.  That good for drivers so they won't crash into a wall and hurt themselves and their racecars.  Beyond turns three and four sits a number of trees and brush.  Crashing into that area seems like a lot less fun than what the driver might encounter at the other end of the track.

Things seemed a little quiet.
As I approached the track today from the fairgrounds carnival area I couldn't see anything in the pit area or the track itself.  There wasn't much activity.  It was nearly 2 p.m.  I've shown up at a track or two only to find the place vacant in the past.  I was getting a little worried.  My saving grace was seeing a handful of fans sitting in the bleacher grandstands.  They wouldn't be sitting there if they weren't waiting for a race to begin right?
When I did get a glimpse of the pit area I didn't see much.  There were just three cars.  That wasn't good.  One of the racers featured a "sedan" body from the old coupe days.  The other two cars were a '56 Chevy and a '63 or so Chevy Chevelle.  I had traveled a long way to see today's event.  Was I disappointed?  Yes and no.  I certainly would have liked to have seen more cars.  That made me disappointed.  However, if they raced I wouldn't be disappointed for long.
There had been no admission charge for the fair or the race.  Since this was a pretty laid back affair there was no admission charge to the pit area in the infield either.  I walked right in and started talking to people.
I got my best information from this fellow.
One of the first people I met was Bryan Mooney he was the owner/driver of the sedan from the 30/40s.  Bryan was a friendly and determined fellow.  He was representing the H.O.T.R.O.D. (www.angelfire.com/de3/hotrodtour/) vintage stock car group.  He had come to the track to support another vintage racing group.
He was much more disappointed in the turnout than even I was.  He told me "his" group had lots of vintage racers.  He didn't know where they were.  He was also disappointed in the local group for bringing only two cars.
As I talked to more people I learned that two additional cars were "on the way".  That meant two things.  We would have five cars but we would not be starting on time!  While we waited on the late arrivals the track was watered and run in by some of the local folks driving pickup trucks and their personal cars.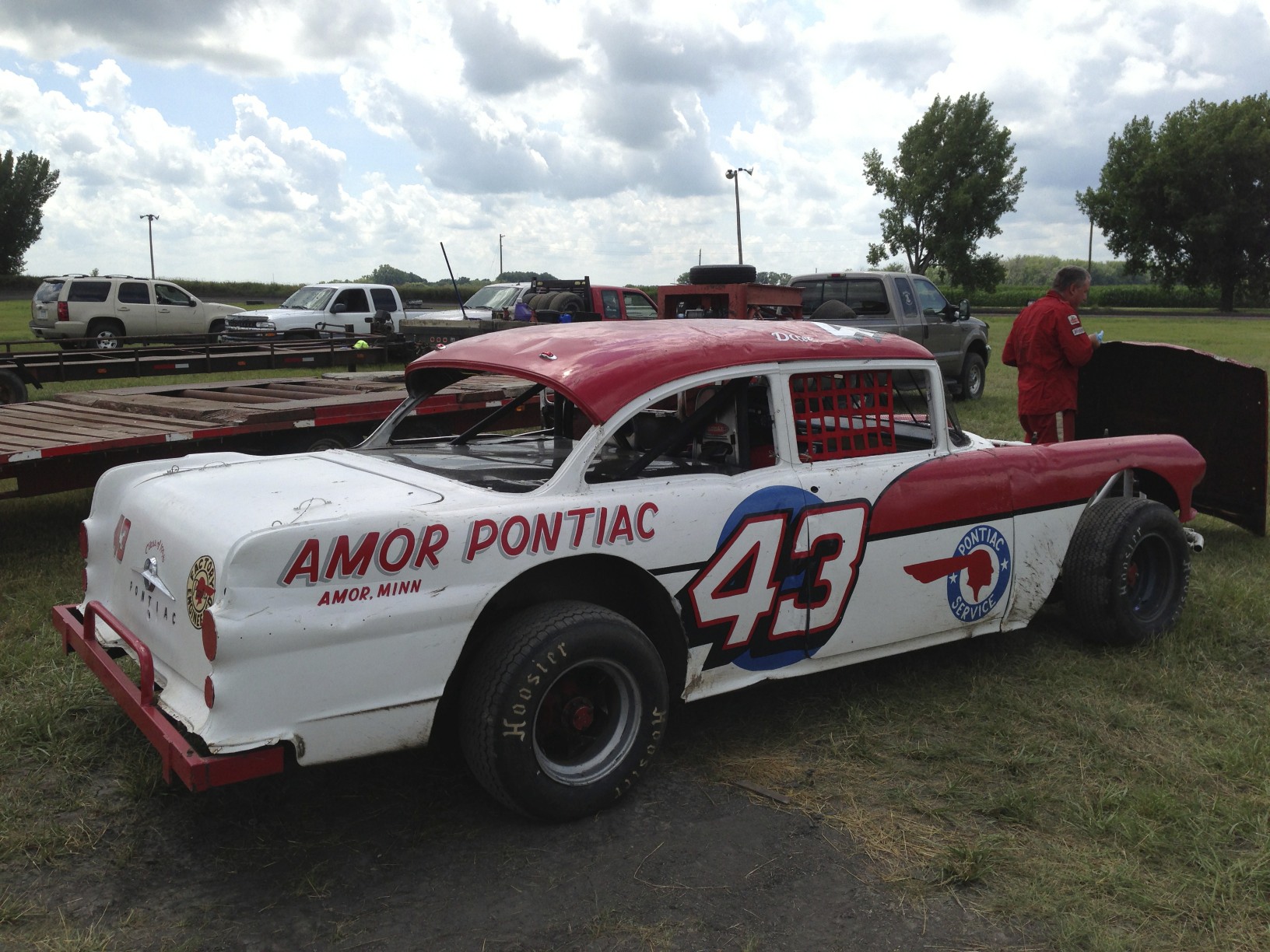 Soon, as promised, two more cars on the same flatbed trailer showed up.  One of the racers was a beautiful '56 Pontiac.  I liked this car especially since my very first car was a '55 Pontiac Chieftain.  Don't miss my "History with cars" tab on my brand new website.  It's getting a lot of traffic and comments.
Some of the cars were having a hard time getting on the track.  The '56 Pontiac had automatic transmission problems.  Although he made it close to the actual racetrack the car never did put its tires on the racing surface.  The '56 Chevy had starting problems and that limited his activity.  The '63 Chevelle had overheating issues.  The fifth and final car to show up was a sharp looking '66 Chevy Chevelle.  That car and the sedan from the coupe days were the only two competitors to race in all events.
We're racing.
The first race of the day was a six-lap heat race.  All of the competitors except the Pontiac raced in that one.  They followed that heat with a short break to water the track.  Then the ringleader, Bryan Mooney, of today's group ran over to the grandstand and told the smallish crowd of 75-100 people that the next race would be something that "NASCAR used to do" if I heard him correctly.  The race would be run with three laps in a clockwise direction (which is normal) and then four laps in a counter-clockwise direction.
I left before the feature event after seeing two of the cars break and with a third in serious jeopardy.  I didn't leave the fairgrounds I simply left the racetrack.  I figured a 2-3 car feature on this ½-mile dirt oval might not be any better than a four-car heat race.  I did find my racing replacement activity, (mentioned in the "Experience" section) the piglet race, to be most entertaining.

Was I disappointed?
When I did leave the fairgrounds was I disappointed?  Absolutely not.  I had come to see "competitive racing" at the Grant County Speedway.  Had I done that?  Yes.  My favorite time to see auto racing is on Sunday afternoon.  Today was Sunday afternoon and it was a beautiful sunny day after I had landed in a rain and lightning storm in Minneapolis.  I was more than pleased.
From here I was headed home.  However, I would be home for less than 24 hours.  Then I would begin the busiest stretch of my entire 2013 trackchasing season.  I couldn't wait to get started.
STATE COMPARISONS
Minnesota
The Gopher State
This evening I saw my 65th lifetime track in the Gopher state, yes the Gopher state.  I'll be back.
Thanks for reading about my trackchasing,
Randy Lewis
World's #1 Trackchaser
Peoria Old Timers Racing Club (P.O.R.C.) Hall of Fame Member
Minnesota sayings:  Not Sweden but we act like it.
TRAVEL DETAILS

AIRPLANE
Los Angeles, CA (LAX) – Minneapolis, MN (MSP) – 1,535 miles
RENTAL CAR #1
Minneapolis- St. Paul International Airport – trip begins
Sibley, IA
Minneapolis- St. Paul International Airport – 459 miles
AIRPLANE
Minneapolis, MN (MSP) – Chicago, IL (ORD) – 334 miles
RENTAL CAR #2
O'Hare (Chicago) International Airport – trip begins
Stronghurst, IL
O'Hare (Chicago) International Airport – 490 miles
FRIEND'S CAR #1
O'Hare (Chicago) International Airport – trip begins
Watseka, IL
O'Hare (Chicago) International Airport – 213 miles
AIRPLANE
Chicago, IL (ORD) – Minneapolis, MN (MSP) – 334 miles
RENTAL CAR #3
Minneapolis- St. Paul International Airport – trip begins
Herman, Minnesota
Minneapolis- St. Paul International Airport – 363 miles
AIRPLANE
Minneapolis, MN (MSP) – San Jose, CA (SJC) – 1,576 miles
San Jose, CA (SJC) – Los Angeles, CA (LAX) – 308 miles
Total air miles – 4,087 (5 flights)
Total rental car miles – 1,312 (3 cars)
Total friend's car miles – 213 (1 car)
Total miles traveled on this trip – 5,612 miles 
TRACK ADMISSION PRICES:
Osceola County Fairgrounds – $7
Henderson County Fairgrounds – $6
Iroquois County Fairgrounds – $5 (additional $6 fair admission)
Grant County Speedway – No charge
Total racetrack admissions for the trip – $18
LIFETIME TRACKCHASER COMPARISONS 
The three most important trackchasing comparisons to me are:
Total lifetime tracks seen
Total "trackchasing countries" seen
Lifetime National Geographic Diversity results
Total Lifetime Tracks
There are no trackchasers currently within 350 tracks of my lifetime total.  Don't blame me.
1.  Randy Lewis, San Clemente, California – 1,869
Total Trackchasing Countries
There are no trackchasers currently within 10 countries of my lifetime total.
1.  Randy Lewis, San Clemente, California – 65
Current lifetime National Geographic Diversity results
1.  Randy Lewis, San Clemente, California – 5.10
That's all folks!  Official end of the RLR – Randy Lewis Racing Trackchaser Report