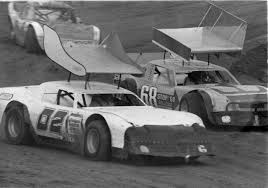 Greetings from Angie, Louisiana
From the travels and adventures of the "World's #1 Trackchaser"
Great Southern Speedway –  Track #94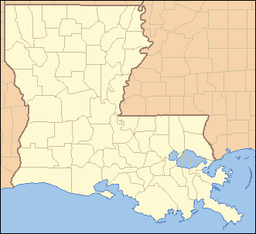 First Louisiana track visit – 1981.
My very first track to see in Louisiana was back on March 15, 1981.  I was living in the greater Chicago area at the time.  I didn't begin writing my famous Trackchaser Reports until about track #430. Therefore all I can go on is my memory of the visit to Angie, Louisiana some 33 years from the time this is written.


According to the "History of the Great American Speedway" written by Allan Brown the Great Southern Speedway only raced from 1979-1983.  I guess I was lucky to have made a visit there in 1981…in the middle of the short lived history of this quarter-mile dirt track.


Some twenty years after my visit to Angie, it's population is just 240 people!  There were more people at the race than the population of the entire town.  Angie has just 1.5 square miles of land in it's jurisdiction which is probably plenty for 240 people. 


Racing took place on a Sunday and Joel Wood driving a winged stock car #K-9 was the feature winner.  This might have been the first time I ever saw stock cars racing with wings. This was the only track I saw all weekend.  I'm going to guess I was tying this track visit into a New Orleans based sales meeting.  I frequently scheduled my race track visits on the front or back end of a business trip.  This helped me "finance" my racechasing efforts at the time.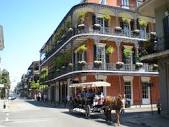 Just nine years earlier I began my business career with Richardson-Vicks Inc.  The first week of employment was spent at a National Sales Meeting in New Orleans.  It was here that I developed my affection for being in the Bayou.  You can imagine how much fun it was for a 23-year old to spend the first full week of his new job wandering around the French Quarter.  During these meetings we ate at the very best restaurants and had AAA accommodations.  That famous first week we stayed at the Royal Sonesta Hotel in the heart of the French Quarter.  Given that fact I am surprised it took me nine years to see a race down here.


At the time I was a most active "racechaser.  I went to these tracks because they offered the very best racing at the very best tracks.  It was during these times that I began to enjoy traveling long distances to see racing.  However, it was not for several more years that I would "move over" from racechasing to trackchasing, i.e. going to a track just for the sake of going to a new track even if the racing might not be very good.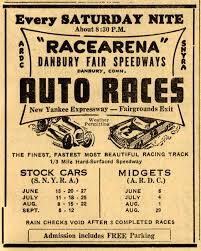 The race weekend before I went to the races at Great Southern were spent at Florida SpeedWeeks at first East Bay and then the Florida State Fairgrounds.  There I saw Keith Kaufman #29 and Tom Helfrich #71 win main events.  My first race after the event in Angie, Louisiana was at the Danbury Racearena in Danbury, Connecticut.  Bob Riley #66 won the main.  Mind you I was living in northern Illinois at the time.  Nevertheless, racing was taking me all over the country.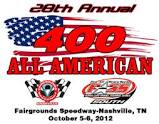 During the 1981 season I was able to see racing at many famous tracks.  These venues included the Convention Hall in Atlantic City, New Jersey, Wisconsin State Fairgrounds (Bob Senneker and Rusty Wallace winning), Sharon Speedway (Charlie Swartz), Hawkeye Downs (Miller, maybe Falstaff 100 – Leon Plank), 81 Speedway (Sammy Swindell), Red River Valley in Fargo, North Dakota (Sammy again), Butler Motor Speedway (Doug Wolfgang), Winchester Speedway (Mike Eddy) and a visit to the Nashville International Raceway for the All-American 400 won by Butch Lindlay.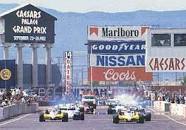 In October of 1981 I had my first chance to see World Formula 1 racing at Caesar's Palace in Las Vegas, Nevada.  The course was held in a converted parking lot!  Seeing F1 was a long way, in many ways, from seeing winged stock cars at the Great Southern Speedway in rural Louisiana.  By the way Alan Jones in car #1 won the feature event at Caesar's Palace.



I saw a lot of famous drivers winning feature events in 1981 beyond those listed above.  How many Hall of Fames are these drivers in:  Larry Detzens, Dick Trickle, Tom Hearst, Jim Sauter, Mark Martin, Lee Osborne, Brad Doty, John Provensano, Alan Kulwicki, Warren Mockler, George Snyder, Buck Simmons, Gary Webb, Larry Moore (World 100), Joe Shear, Junior Hanley, Arnie Gardner and Danny Sullivan.  Wow!  What I look back on it 1981 was an outstanding season of racechasing.
Of course I have seen racing in all 50 states many times over.  However, going into the 2014 season, I have only seen racing at 10 venues in the Bayou state.  That's not very many when you consider my numbers in other states.  I currently (2014) average 33 tracks for each and every one of the 50 United States.  



You might have remembrances about the Great Southern Speedway.  If so, please feel free to share in the comments section below.  If you have any photos from back in the day, send them to me at Ranlay@yahoo.com.  I'll try to include them here.