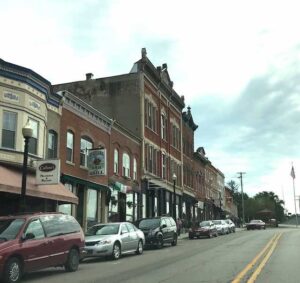 Greetings from Warren, Illinois
.
.
From the travels and adventures of the 
"World's #1 Trackchaser"
.
.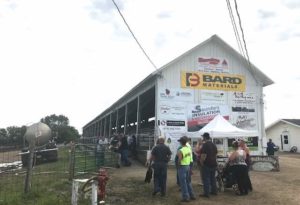 Jo Daviees County Fairgrounds
Dirt oval
Lifetime Track #2,361
The EventVideo PlusPhotos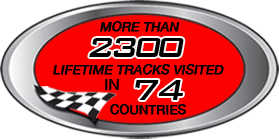 THE EVENT
I have had the opportunity to follow my trackchasing hobby all over the world. As this is written I have seen racing in 74 countries. My lifetime track total exceeds 2,300. Each and every year I will trackchase in 25-30 states.
At track #1,040 I moved into the "World's #1 Trackchasing" spot. Here's the funny thing about that. I was perfectly content to remain in about seventh place in the worldwide trackchasing standings. Then I had rotator cuff surgery, which knocked me out of golf for about six months. With no golf and time on my hands I turned up my trackchasing by a notch or two. I discovered I liked MORE trackchasing and LESS golf. It didn't take all that long to move up to the top of the world trackchasing standings at that point.
I discovered the racing planned for the Jo Daviees County Fairgrounds just a few days ago. Folks couldn't remember the last time they held a race at the fairgrounds. As my hobby continues to chug along it's based on finding more and more locations that are having that once a year racing event.
My hobby is not only about racing. Trackchasing for me centers around three things. The racing part is pretty obvious. However of equal importance is the logistics of trackchasing and the opportunity to see the world.
I live in Southern California. The vast majority of tracks are located in the Midwest and East. It takes a good deal of logistical planning to get from where I live to where the tracks are. For the past 15 years I have traveled about 175 nights each and every year. Surprisingly to some, more than half of those overnights were not part of trackchasing.
Then there's the travel just for the fun of seeing new things. You won't want to miss my "Trackchasing Tourist Attractions" page or my "Sports Spectating Resume" page on my website at www.randylewis.org. That will give you some understanding on how important seeing the world is with my hobby.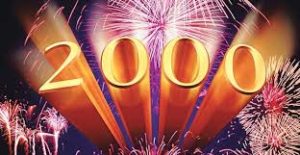 Today's adventure was one more of the 2,000 trips that have taken me up, down and around the long and dusty trackchasing trail. If you would like to see where I've been and experience those adventures here's the link:
If you've got a question, comment or whatever please leave it at the bottom of this report.  It's very easy to do.  Or you can visit me on Facebook.  Thanks!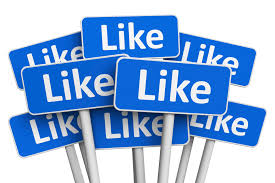 FOREWORD
My original plan called for me to be trackchasing in Kentucky today. However, when the Randy Lewis Racing research department came up with a once a year opportunity in northern Illinois I couldn't pass that up.
Why would I say that? There were several reasons. Most importantly the track I was planning to visit in Kentucky races a dozen times or more each year. Today's track in Warren, Illinois will race only one time all year.
If I wiped out the Kentucky track today that would eliminate a dozen potential dates or so for 2018. If I went to Illinois today, because they race just once a year, I would only be eliminating one possible racing date for next year. Get it? There is a lot of strategy in the trackchasing game! Could that be one of the reasons I am more than 600 tracks ahead of my nearest fellow competitor after joining this hobby later in life?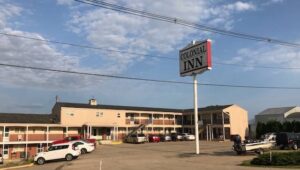 I woke up this morning in the Colonial Inn at Dyersville, Iowa. Staying overnight in a mom and pop hotel reminds me of my early days in trackchasing. Pre-internet and Pre- Priceline my hotel buying strategy was much different than it is today.
Back in the day I would never make a hotel reservation until the racing for the night was finished. That was usually somewhere between 11 p.m. and midnight. Then I would simply go "knocking on doors". I would stop at one place and if they had a room I would grab it. If they didn't I would ask them if they knew of a hotel that did have a room.
This worked reasonably well for the time except up in New England. Those hotels and bed-and-breakfast are so spread out and on such gnarly rural roads. They seem to go to bed early up there too. It was most difficult to try to get a room after midnight there.
Those times have changed. I do everything with my phone right now. I've got an outstanding Priceline.com hotel program. It's been refined after hundreds and hundreds of Priceline stays. You can find that information and use it for yourself by simply following the procedures I have outlined on my website at www.randylewis.org. It's just another way that I share the knowledge I have gained over the years in my trackchasing hobby.
My morning began with a 50-minute power walk around Dyersville, Iowa. I normally go for 60 minutes and cover more than 4 miles. However I knew I would be doing a lot of walking at the fairgrounds today. Time was tight. Fifty minutes would do it. By the way you see so much more when you're walking then when you're driving.
Carol and I have spent time in Dyersville in the past. Do you know what Dyersville is famous for? They are home to the original movie set of the film "Field of Dreams". Carol and I have actually run the bases on the field used in that movie.
I've been back a time or two just to check things out. This morning I had a few extra minutes and drove on down to the movie set. They weren't open yet and no one was there… except a man who walked out of the house in a full baseball uniform just like Shoeless Joe Jackson did in the 1989 movie Field of Dreams. It was just Shoeless Joe and me. It was eerie.
Next up was breakfast. I would say that I eat breakfast in my car 80-90% of the time when I'm on the road on one of these trips. I just don't have time to stop at a restaurant for 30 minutes or more to eat breakfast.
Since I discovered the McDonald's smart phone app, used on my iPhone, I've been saving money right and left at Mickey D's. At this rate I will never spend much of my retirement savings. Today I bought two breakfast sandwiches for the price of one.
I've been using Apple Pay at McDonald's since it first came out. As far as I know McDonald's is the only major fast food chain that uses Apple Pay.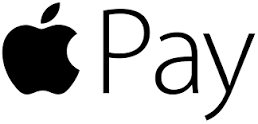 There is something I find a little funny with McDonald's and Apple Pay. I use it EVERY time I visit McDonald's whether I'm in the drive-through or ordering inside. However the clerks at the drive-through window commonly have no idea how Apple Pay works. Heck, it's their company that has authorized the procedure. That happened again this morning. I truthfully told the clerk that she was going to "learn something new today". That thought seemed to put a dreadful look on her face. OMG.
It was a good morning. My morning exercise was finished; I had breakfast in a bag and a Trackchasing Tourist Attraction already in the books. I headed over from Dyersville, Iowa to Warren, Illinois. Driving time would be about 75 minutes.
I was pretty well shocked and in some awe when the folks over at Randy Lewis Racing research gave me a call at my office one morning last week. They had good news. The group had discovered a fairgrounds in Illinois, the Jo Daviees Fairgrounds. They would be running an Enduro race during their fair on this particular Sunday.
That was new news and it was good news. I immediately found a contact and gave them a call. Soon I was talking to Greg McKinstrey.
Greg and his father were stock car racers back in the day. They raced at Freeport Raceway Park. Of course the Freeport Raceway was one of the tracks I visited often during my college years at Northern Illinois. I saw some of the very best racing there on Sunday nights.
Stars like Darrell Dake (my all-time favorite), Don Bohlander, Arnie Gardner, John Connelly and the like showed up every Sunday night. My day was made when I saw Darrell Dake and his racecar hauler appear from over the hill just beyond turns three and four of the raceway.
I didn't have much money back then. Heck, I don't have much money now. However, some how I came up with a $50 bill. I wasn't going into the pits very often back then. I would simply sit on the spectator side and enjoy the races. However on this particular night I took that $50 bill and motioned to one of Dake's pit crew to come over to the fence. I handed him the fifty and asked him to give it to Darrell. I told the crewmember that if Darrell could send me a picture that would be great. It wasn't long after that that I received an 8 x 10 photograph of Darrell standing by the first car that I ever saw him race in a '62 Ford convertible. That might've been the best 50 bucks I ever spent. That photo is my all-time favorite racing photograph.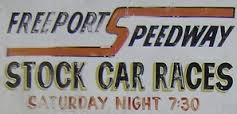 Greg and I soon formed a bond over the phone as we talked about the upcoming enduro event. Of course, as a native of Illinois and a big race fan and a knowledgeable visitor to the Freeport Raceway Park I certainly had a few "advantages" over the typical trackchaser who might be speaking to Greg.
Greg told me that he thought many years ago they had some racing at the fairgrounds. This year's race day would be the fairgrounds' first in a very long time.
Like most fairgrounds organizers Greg was a volunteer. One of his buddies was taking care of the demolition derby. That left the responsibilities for the enduro to Greg. He asked me to give him a call when I showed up at the fairgrounds.
THE RACING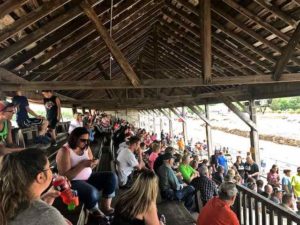 Jo Daviess County Fairgrounds – Warren, Illinois
When I reached the Joe Daviees County Fairgrounds I paid my $10 admission to the fair. This also included admission to the grandstand to watch today's 100-lap stock car enduro main event.
In less than three minutes I was leaving the fairgrounds! Why in the world would I do that? I had a couple of housekeeping chores to finish up. They required an Internet connection. My cell phone carrier AT&T isn't all that good in several rural midwestern locations. I didn't have a signal at all at the fairgrounds.
I drove up and down some of the residential neighborhoods in Warren.  Warren is a small town.  I was trying to "borrow" a Wi-Fi connection. It seems as if everyone has his or her Internet password protected nowadays. I'm sure that's a function of the providers themselves. It's not an idea that 100% of the local residents could come up with!
Soon I got a strong enough cell phone signal to make my NASCAR fantasy picks for the Watkins Glen race. I'm not doing all that well but if I didn't submit my picks today I would really be doing badly. Then I used my phone to remotely record the Watkins Glen NASCAR race on my DVR. Now I was all set.
Back at the fairgrounds, with a weak cell signal, I gave promoter Greg a phone call. He was happy I had made it all the way to Warren, Illinois. I was too.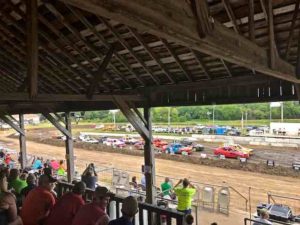 First, he apologized for having fewer cars that he had estimated a few days ago. It turned out that thirteen enduro stock cars would take the green flag for today's "Landmark 100". That wasn't a huge car count but I've seen fewer. For a first year event they can only take those numbers and try to build them into something greater for the future.
Greg invited me to come into the pit area at the lap 50 intermission mark. He wanted me to grab the microphone and tell the crowd just a little bit about my trackchasing and why I had shown up today. I gladly accepted his offer.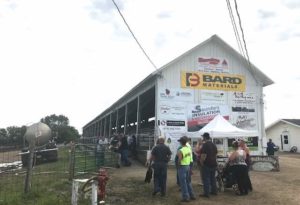 The Jo Daviees grandstand is certainly a relic. I'm going to guess it was built in about the 1920s maybe earlier. It was definitely one of the older county fair grandstands that I've seen in sometime. I even had to watch when I stood up inside the roof so that I didn't bang my head on an 8 x 8 wooden beam.
The Jo Daviees Fair itself began all the way back in 1860. That was a year before the start of the American Civil War!
I'm going to say today's dirt oval was a small quarter-mile in distance. When they started it was pretty wet and muddy. As the race continued it got dryer and the cars got much faster.
For the first 50 laps I watched from the grandstand and then down by turn four. Then I moved over to watch from turn one. I took several video clips that should make for a nice YouTube film of today's action. You won't want to miss it. 
As requested I headed on down to the pit area at the 50-lap break. Actually I didn't walk into the pit area. In reality they sent a car for me since I didn't have an official pit pass!
Greg (above) was pretty happy to have the World's #1 Trackchaser in the house. I was equally as happy to accept his and his group's hospitality. I was able to get photographs with all of the track crew. Nice folks. I also took a minute or two to tell the crowd about my trackchasing hobby. I love doing that because most people have never heard of such a thing.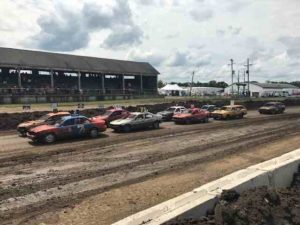 I watched the last half of the race from the infield stage. That was certainly a different perspective than watching from the grandstand. The race winner led from the start and beat his nearest competition by two laps.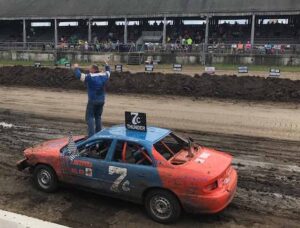 This was the first real racing they have had at the fairgrounds since anyone could really remember. I'm going to guess that if they continue to pursue this they will get a lot more cars for the event next year. I wish them well.
Of course I owe a debt of gratitude to the promoter for giving me all of the information he did the other day on the phone. I also need to thank his crew for being so friendly and welcoming a visitor from pretty far away. I hope they have an even bigger event next year. You never know. Maybe they will bring figure 8 or road course racing to the Jo Daviees County Fairgrounds!
AFTER THE RACES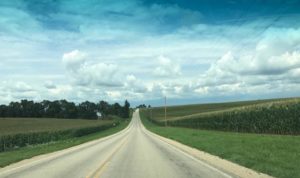 When the race finished at about 1:30 p.m., it was scheduled to begin at 11 a.m., I was then released to head toward the Kansas City International airport. I'll be flying out of there tomorrow afternoon.  The long and dusty trackchasing trail was in front of me.
However, it was only 1:30 p.m. I was in Iowa. Iowa has the best dirt stock car racing of any state in the country. Maybe I could catch a Sunday evening program on my way back toward Kansas City.
I got in touch with my Iowa announcing buddy Scott Watson. I first met him when he was announcing over at the Barnes Figure 8 track in Barnes, Iowa. He and I did an interview for his radio program.
Scott had a lot of good ideas on where I might be able to see some racing tonight. It all came down to whether I wanted to see a sprint car race at the famous Knoxville Raceway or some good old Iowa black dirt stock car racing at the Benton County Fairgrounds in Vinton, Iowa.
I would nearly always want to see good local stock car racing over sprint car racing. I grew up with stock car racing. I chose the stock cars in Vinton, Iowa for tonight's entertainment.
Did you know that Vinton, Iowa was the headquarters for the famous auto racing newspaper the Hawkeye Racing News? I pretty much subscribed to that paper from day one back in the late 60s/early 70s. Sadly, they went out of business just a couple of years ago.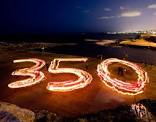 I'll tell you more about my stock-car racing adventure in Iowa in my next report. I would not be visiting the track in Vinton for the first time. Back in 1998 I saw racing there. It was my 350th lifetime track. That was now more than 2,000 tracks ago!!
For now I'll say good afternoon from Warren, Illinois.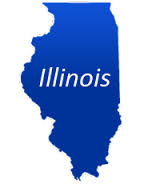 Illinois
The Illini state
This afternoon I saw my 105th lifetime track in the Illini state, yes the Illini state. I hold the #1 trackchasing spot in Illinois as I do in 24 total states. I've seen 105 or more tracks in five separate states.
Thanks for reading about my trackchasing,
Randy Lewis
World's #1 Trackchaser
Peoria Old Timers Racing Club (P.O.R.C.) Hall of Fame Member
Illinois sayings: Pronouncing The S Is The Worst Crime An Out-Of-Towner Can Commit
QUICK FACTS
LIFETIME TRACKCHASER COMPARISONS 
The three most important trackchasing comparisons to me are:
Total lifetime tracks seen
Total "trackchasing countries" seen
Lifetime National Geographic Diversity results
Total Lifetime Tracks
There are no trackchasers currently within 600 tracks of my lifetime total. Don't blame me.
Randy Lewis, San Clemente, California – 2,361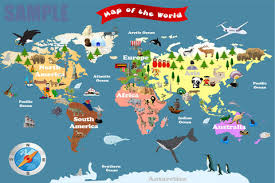 Total Trackchasing Countries
There are no trackchasers currently within 20 countries of my lifetime total.
Randy Lewis, San Clemente, California – 74
Current lifetime National Geographic Diversity results
Randy Lewis, San Clemente, California – 4.37
That's all folks! Official end of the RLR – Randy Lewis Racing Trackchaser Report
Click on the link below to see the video production from the racing action today.
Click on the link below for a photo album from today's trackchasing day.  You can view the album slide by slide or click on the "slide show" icon for a self-guided tour of today's trackchasing adventure.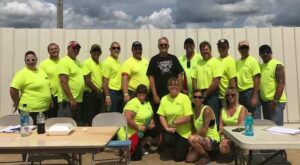 A day of Illinois county fair racing with real good hospitality