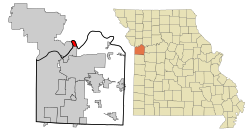 Greetings from River Bend, Missouri
.
.
From the travels and adventures of the 
"World's #1 Trackchaser"
The EventVideo PlusPhotos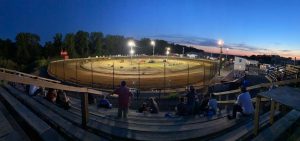 KC Raceway
Dirt oval
 Lifetime Track #2,628
THE EVENT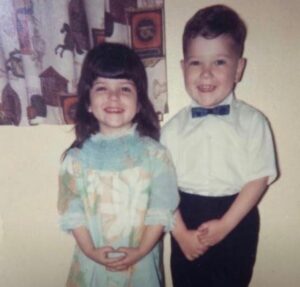 Editor's note: I live in California. None of my relatives outside of my immediate family live in the Golden State. Most of my kinfolk still reside in the Midwest where we grew up. One of the advantages of the travel I do with trackchasing is that I can visit relatives and friends frequently who live 2,000 miles or more from where I do in Southern California. Few people have that benefit. Tonight I was meeting up with my brother Mark (above with his twin sister, Lynn). We would end up having a good time in Missouri.
I AM A TRACKCHASER.
Are you new to the hobby of trackchasing? If so, let me give you just a little bit of background. Before I go any further I will tell you that a lot of people get pretty enthused about what I've been doing with trackchasing. I will offer this warning. If you try it yourself it could become addictive.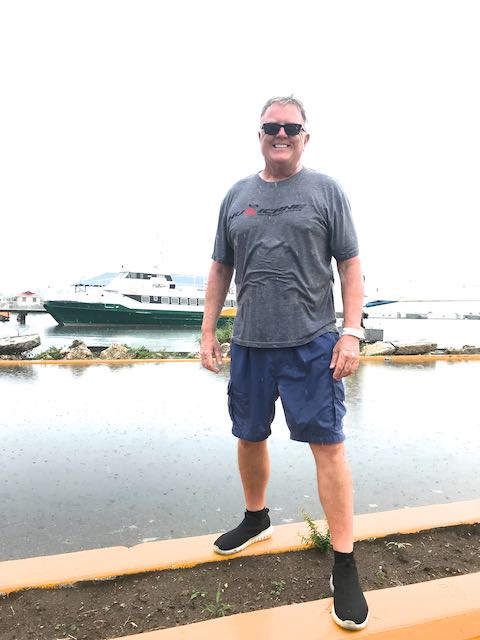 My name is Randy Lewis (above during trackchasing trip to Antiqua and Barbuda). I hail from the sleepy little village by the sea, San Clemente, California. I am a "trackchaser". I trackchase. Have you ever in your life heard of "trackchasing"? I didn't think so. 
Trackchasing is a "collecting" hobby. Trackchasing is a "counting" hobby. It's really not all that much different than when you were a kid and you collected stamps or beer cans or bottle caps.
Trackchasing is all about visiting new auto racing tracks for the very first time. Believe it or not, trackchasing has "rules" as to what kind of racetrack and race car and race driver count toward your lifetime totals and which ones would not.
I'll try to oversimplify the rules situation for you. Trackchasers are allowed to count racing cars and trucks that compete on oval, road course and Figure 8 configurations. Any class that is racing, in order to count, must be open to racers 18 years of age or older.

This means that trackchasers cannot count racing down exclusively by kids. There are also various motorsports events and classes of cars that do not count. Trackchasers do not count drag racing, demolition derbies, motorcycle racing or boat racing. Just cars and trucks on ovals, road course and figure 8 tracks. Trackchasing does not allow the counting of flat go-kart racing either.
Remember, I didn't set up these rules. I only count by them. The rules were set up in the 1990s by a group of white men who primarily hung out in Pennsylvania. I don't know that any of them had ever seen any racing on a road course or figure 8 track or maybe even a drag race, with a few exceptions, when the rules were established. There is one good thing about having a common set of rules. It allows each trackchaser to compare his or her list to the next trackchaser. Trackchasers like to do that.
In addition to the racing part of trackchasing for me, I really enjoy seeing the local sights and sounds of whatever area I am visiting. I called these "Trackchasing Tourist Attractions". If you go to my website at www.randylewis.org and click on the Trackchasing Tourist Attractions tab you'll see where I've been all over the world. Here's a link to that tab.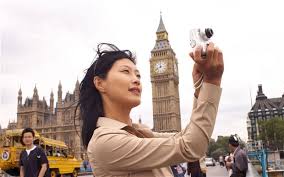 Trackchasing Tourist Attractions
I also really enjoy the logistical part of the hobby. I have been retired for nearly 20 years. During that time I have not earned a single dime of work income. That means I have to manage my money pretty closely enable in order to be able to do what I do.
Logistically I have to handle seven different categories of trackchasing expenses. Those expenses include airplanes, rental cars, hotels, airport parking, gasoline, food and race tickets. As an example, you can just imagine what traveling from Southern California out to the Midwest for four days of racing would cost.
In any given year I will travel well over 200,000 miles. I'll stay in hotels 150-200 nights a year, rent 50-75 rental cars every year and buy a full tank of fuel about 100 days a year just for trackchasing.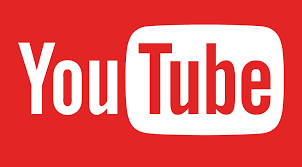 After each and every event that I attend I post a YouTube video, a SmugMug photo album and a very detailed Trackchaser Report about the experience. My stories are not just about what happened at the track but about my visit to the area and what exactly it took to make the trip happen. That's where the racing, the touring and the logistical challenges come from.
I told you that trackchasing is a "counting" hobby. Trackchasing is ultra-competitive as well. Lots of people don't recognize that when they are initially exposed to this hobby. Trackchasing has had all of the political drama, cheating, accusing people of cheating and other aspects of poor personal behavior that any other competitive activity might have. This is why I am NOT a member of any organized trackchasing group. The management of these groups has been so poor over the years these groups are not something I want to be associated with whatsoever.
As this is written I have seen racing in 85 different countries at more than 2,650 racetracks. During all this time I have never tried to benefit financially from my hobby. This is despite being interviewed by hundreds of track announcers, newspaper reporters and radio and TV outlets as well as doing a TV pilot. I'm a volunteer. I do this 100% for the fun of it.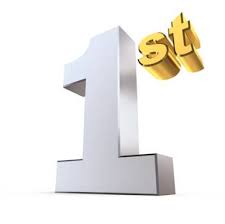 Because I have seen racing in 85 countries at this point I am considered the World's #1 Trackchaser. That's good enough for me. Now I encourage you to drop down a few spaces and read about trackchasing adventure. As you discover what went on today just think about the idea that I've done this more than 2,600 times. I don't mind admitting I am addicted to that hobby of trackchasing.
Yes, today's adventure was one more of the 2,000 trips that have taken me up, down and around the proverbial long and dusty trackchasing trail.  If you would like to see where I've been and experience those adventures here's the link: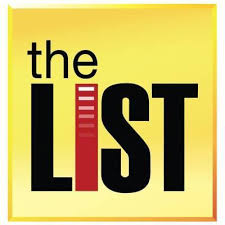 If you've got a question, comment or whatever please leave it at the bottom of this report.  It's very easy to do.  Or you can visit me on Facebook.  Thanks!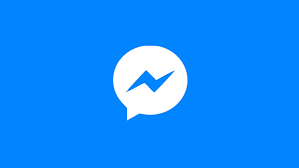 FOREWORD
Friday, July 24, 2020.
Tonight I would be visiting a track that I didn't even know existed until about a month ago. I am absolutely blown away by the number of "pop up" racetracks that I attend each year.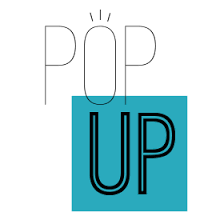 What is a "pop up" racetrack? It's simply a track that I didn't know existed until very recently. I do a good deal of research and have the full support of the Randy Lewis Racing research group finding the tracks that I visit. You would think after we have done this for years and years and years that every possible racetrack that exists would be known to us. That is not the case.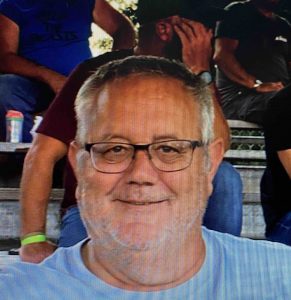 About a month ago I was trackchasing and ran into fellow trackchaser, Brian Dolphy. He lives in Illinois. We were trackchasing in What Cheer, Iowa. Brian told me about the KC raceway In Riverbend, Missouri. Bryan, thank you for that!
By the way, when I get new track information from someone else I always give them full credit. That's just the right thing to do. Sadly, we have a large number of trackchasers who don't extend that same common courtesy. Frankly, this doesn't surprise me.
Knowing that the KC Raceway held their competitive racing that was "trackchasing countable" on Friday nights was perfect for me. Most racetracks in America run their shows on Saturday. A few race on Sunday. Maybe less than 10% of all tracks in the United States have Friday race programs. I can just about count on two hands the number of tracks the race weekly during the week.
I love trackchasing but family comes before trackchasing. If there's a significant family event I'll be there for that before I hit the road to see a race. If you go back and look at my records you will see that I averaged only 10 new tracks a year for more than a decade when our kids were in baseball, theater and the like. Now that they are grown I am free to hit the road with Carol's blessing.
By the way my fellow trackchasers seemed to notice that for more than 10 years I "stayed home" when our kids were younger. Almost all trackchasers are single or married with no kids. They don't go to little league baseball games or school plays or three soccer matches in one day! Trackchasing is so competitive that when one trackchaser (no family) can gain an advantage over another trackchaser (with a family) they take full advantage.
Let me share an example of exactly what I am talking about. From 1980-1999 when our kids were growing up fellow trackchasing competitor Guy Smith held a commanding 672-405 track lead over me. I was 267 tracks BEHIND Mr. Smith! In 1999 I was fifty years old and had averaged just 8 new track visits a year for my entire life. Yep! Little league games trumped trackchasing for a very long time.
However, in the year 2000, our kids had grown to the ages of 22, 24, and 26. They had each graduated from UCLA….in four years no less. We were very proud of their accomplishments then and remain so to this day.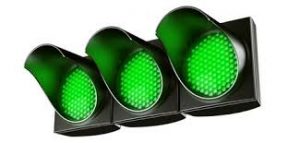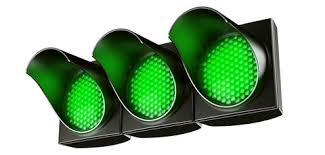 I was getting ready to retire in the year 2000. We were building a new house from 2000-2003. I would retire in June 2002. Beginning with the 2000 trackchasing year Carol gave me the green light to go trackchasing. That was all I needed.
From 2000 until 2020 when this is being written my track total stands at 2,654. Since the beginning of the 2000 season, more than twenty years ago, through the middle of the 2020 season, I have seen racing at 2,249 tracks. That's an average of about 107 tracks each year for nearly 21 years!
You might be asking what happened to the likable Mr. Guy Smith. Was he still crushing me as he had done on a lifetime basis at the end of the 1999 season? No, his crushing days are over.
As this is written my trackchasing total is 2,654. Mr. Smith's total is 1,883. In 1999 I was 267 tracks BEHIND Guy Smith. Today I am 771 tracks AHEAD of the aforementioned Mr. Smith.
Mr. Smith will go trackchasing EVERY weekend when there is a new track to see. He doesn't do anything else if he can add a new track to his lifetime totals. It's difficult to compete against a mindset like that. Nevertheless since January 1, 2000, I have seen 1,038 tracks MORE than my next closest trackchasing fellow competitor. Folks, that's a "whuppin"!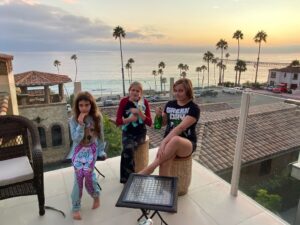 This week our daughter Kristy and her friend Laura and their four kids aged 9-12 stopped by San Clemente. They were on the back half of a 61-day, 48-state driving trip all over the U.S.
They aren't doing this adventure in some big fancy recreational vehicle. They have a standard-sized Toyota SUV for the six of them and their luggage and lots of gear. Granted they did lose one of their roof carriers along the way but that was all part of the fun.
Their crew spent three nights with us in San Clemente. The kids love going to the beach when they're in our hometown. We all had a good time and we did something that has become a Lewis family tradition.
The four kids, along with me as a supervisor, did a deep cleaning of the once white Toyota SUV. The vehicle didn't have a formal bug screen. However, a complete layer of bugs prevented any new bugs from attaching themselves to the paint of their Japanese car.
With the kids helping it normally takes about an hour to wash my car. We took 2 1/2 hours to clean the Toyota. However, when we were finished except for its own internal and external scrapes and bruises the car was looking pretty good.
I am a big supporter of "pay for performance". If you work you get paid. If you don't work you don't get paid. It seems to me like a pretty simple equation to me.
Our grandkids have always been paid with "credits" at the 99 Cent store to wash my car. If they do an especially good job they might get an extra credit as a tip. Normally, my tip to most people I run into who do a good job is, "stay in school".
Today I was feeling especially generous. The kids had not gotten a raise since they were five years old. This car was pretty well trashed. I contracted with them at a rate of eight credits per person for the wash. This seemed acceptable to everyone.
I did have to warn grandson Mitch that I wasn't going to fall for his normal "sad story". It goes like this. It's not unusual for him on the drive over to the 99 Cents store after the car wash to tell me that "some kid in Texas" owes me three dollars. Therefore I should be able to spend seven dollars at the 99 Cents store not the four he actually earned. That kid will try anything.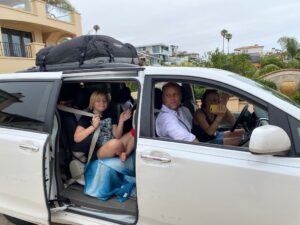 When this traveling troop backed out of our driveway, with Kristy at the wheel and drove on down the road toward Las Vegas, Nevada I knew that I would have the weekend free for trackchasing. I was headed to Kansas City, Missouri.
I grabbed a very early morning flight on Spirit Airlines that was flying nonstop from Los Angeles to Kansas City. I was checking rates the other day. On another itinerary, Los Angeles to Denver, Spirit was offering a $17 one-way fare. Unbelievable.
I landed at about 1 p.m. into the Kansas City (MCI) airport. This is a very funky airport. They built it such that about every two gates has its own security entrance which is unlike any other airport in the United States. Overall, I don't really care for it.
Later this evening I will be meeting my brother Mark, who lives in the Kansas City area, for dinner. I had a couple of hours of free time in Google "auto museums" in Kansas City.
I was surprised to learn that the Kansas City Automotive Museum is the only "public" auto museum in Kansas City. I was told there are other auto museums but they are private collections. A private collection doesn't seem like a museum to me.
This Kansas City museum is small. It probably only holds about 25 cars. I've been to a lot of automobile museums in my time. Some of these places have literally hundreds of cars on display.
The general admission price for this particular museum is nine dollars. Seniors save a buck. Just as I was negotiating my "senior" discount deal the clerk asked me if I had served in the military. Yes, I had. I was in the United States Marine Corps from 1971-1977. Wouldn't you know it? This was military appreciation month at the museum. I got in for free.
I highly recommend that you take a look at the photo album I have shared from the Kansas City Automotive Museum. Before you do that I would like you to agree that you won't sue me for potentially ruining your experience if you actually do go to the museum. After seeing all of my photos you're going to feel exactly as if you have been there. Then you might not want to go on your own and if you do it might not be a new experience for you.
For me, the highlight of the visit was the section devoted to racing. They had an old super modified on display. There were also lots of photos of racing around the greater Kansas City area. This included a huge board track they had back in the 1920s. I thought the overall visit was well worth the time spent. Don't miss the photos. If you are a museum lover of cars like me you'll like what they have.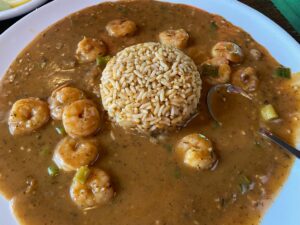 From there I met my brother at a Jazz Kitchen Cajun restaurant. He just moved to Kansas City, where he used to live years ago. I hadn't seen him since he relocated. It's always good to see brother Mark. As he is likely to tell you he enjoys his "groceries". We dined on stuffed mushrooms, Cajun calamari and shrimp étouffée. It was all good.
After din ner we drove over to the KC Raceway. I don't know if the track opened this year or last. It's definitely brand new.
Since I picked up the dinner check Mark was buying the tickets to the races tonight. This was the type of track that you pay from inside your car as you enter the premises. The track worker told me a grandstand admission ticket was $10 and pit passes were 30.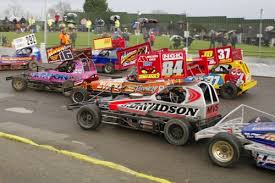 I sure miss the England tracks where one admission, although a little higher than a standard admission price in the US, gets you into the grandstands AND the pits. However, I don't begrudge United States racetrack promoters trying to make a buck. I don't think too many of them are getting rich. However, the curious spectator is not likely to fork over $30 bucks for a pit pass when the grandstands are only ten.
Tonight the temperature in Missouri was 150° and the humidity was a nearly matching 125%. Those are hot and humid conditions made worse with the grandstands for the most part facing into a summer setting sun. Did the constructors at the KC Raceway have no other option for their grandstands? Were the grandstands built at night?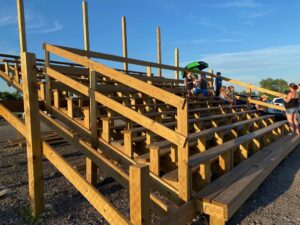 We could see that the wooden grandstands were newly constructed. We grabbed a spot in the top row with another 50-75 fans for a night of open-wheel racing. I wondered how many of the fans in the stands tonight were not directly associated with a car or driver. I was guessing not many.
I was told that racing would begin at 8 p.m. by my track contact. That's a little bit of a late start but I guess on a Friday night when people are getting off work not so bad. Did they start racing at 8 p.m?
I guess if you went to law school the answer to that question could be debated. For me, racing is when the green flag drops on the first race of the night. This evening they had eight different classes. Hot laps started at about 8 p.m. Those were finished at about 8:30 p.m.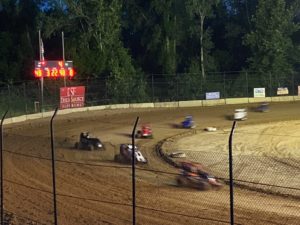 They actually had the first heat race of the night at about a quarter until nine. The car counts were thin. They averaged four or five caged karts or micro sprints per division. Every division that was racing had all of its competitors in one heat race with the exception of the mini modified.
From our grandstand seating position overlooking turn four, the announcer and PA system could barely be heard. That was a bummer. The announcer sounded as if he was giving some explanation of the race program to the spectators but we could barely hear it.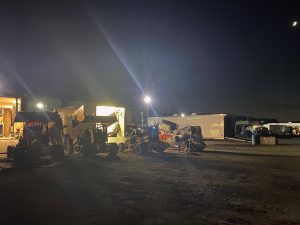 All race machines but the mini modified class, as you might guess these were a miniature version of a full-size modified, were open-wheeled winged and non-winged micro sprints. That's what they call them at the KC Raceway.
Racing was good on the well-manicured 1/5-mile banked dirt oval. They have done a nice job with this track. I can see full-sized midgets racing on it. It would've been nice if the car counts had been a little stronger. Of course, that could be said for most tracks in the United States nowadays.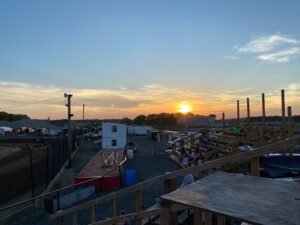 We entered the grandstand and were greeted by a scorching hot sun for the first hour of our visit. You might think that when the sun went down the weather conditions would improve. Not true. When the sun fell below the horizon the mosquitoes woke up and began to devour us at a rapid rate.
This wasn't too surprising in a way. Just behind the grandstand was a large lake. It looked to have stagnant water, a perfect breeding ground for the little fellas that were gnawing on our legs and bodies.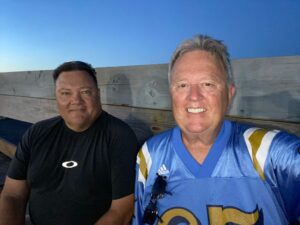 We watched nine heat races. All except for the mini modifieds raced the same number of cars in their heat races as would be scheduled for their main events. Of course, some cars crashed or suffered night ending maintenance issues in their heat races. This meant the features would actually have LESS entries than the heat races.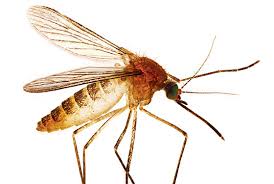 The hot weather and incessant mosquitoes had worn on us. When the final heat race was finished we looked at each other and nodded. We were out of here. Had it not been for the mosquitoes we would've stayed for the feature racing except it would have been virtually identical to the heat racing in terms of car count.
The mini modifieds had only seven cars in their class. Nevertheless, track management thought it was a good idea to break those seven cars into groups of three and four for the heat races. As a fan, I would not have voted for that.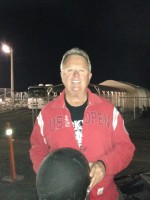 You might know that I am a former mini modified driver. I competed at the Millard County Speedway in Delta, Utah. As a matter of fact, I was a feature event winner at Millard County. Racechaser and Wissota board member Rod Palmer can vouch for this victory. He watched from his South Dakota home on computer TV. He then texted me with congratulations afterward. If you missed the video that race here it is. Just click on the link.
Millard County Raceway – Randy wins the mini-modified feature race
At our departure, Mark and I bid each other a fond farewell. During the evening he estimated his track total was somewhere around 700. I thought it was closer to 100! In truth, it is probably somewhere between those two numbers but far closer to 100. We both agreed we couldn't wait until our next get together.
From there I drove a little bit more than an hour north to the Super 8 Motel in Bethany, Missouri. I used to stay at Super 8 properties quite a bit. Then I discovered I could use Priceline.com to get Marriott and Sheraton hotels for the same price as a Super 8. However tonight it would be a Super 8.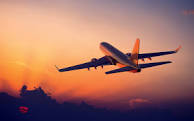 It's late July in my 2020 trackchasing season. Granted the coronavirus did knock me off the trackchasing trail for a whole three months. Nevertheless, I have flown somewhere in each of the last eight consecutive weekends. Knock on wood, I haven't had a single rainout.
Tomorrow afternoon I will be trackchasing in Northern Iowa. I will be visiting a track that has been racing for a long time but has not featured cars and drivers that meet trackchasing's sometimes stringent and sometimes overly lax rules. I'm looking forward to that one.
Good evening from River Bend, Missouri.
Randy Lewis – 85 countries – 2,628 tracks.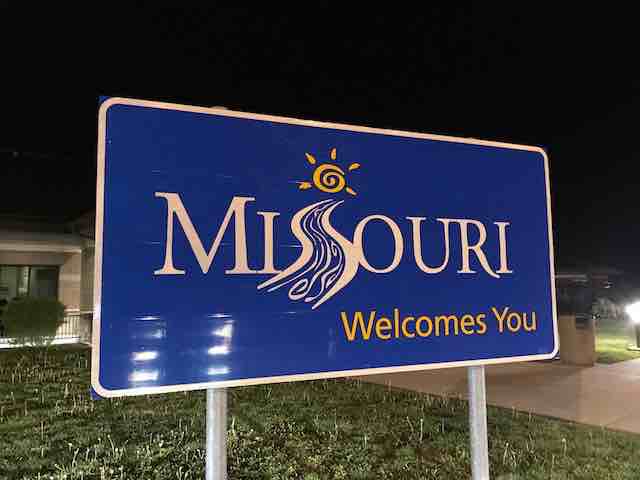 Missouri
The Show Me State
This evening I saw racing at my 69th-lifetime track in the Show Me State, yes, the Show Me State.  I hold the #1 trackchasing ranking in Missouri. Missouri ranks #13, amongst all the states, in tracks seen for me in the U.S. Trackchaser Ed Esser ended up seeing 68 tracks in Missouri.
Here's a link to my all-time Missouri trackchasing list. I have made 53 separate trips to Missouri seeing these tracks.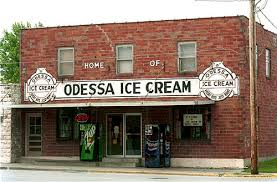 Thanks for reading about my trackchasing,
Randy Lewis
World's #1 Trackchaser
Peoria Old Timers Racing Club (P.O.R.C.) Hall of Fame Member
Missouri sayings: I might as well be talking to a brick wall. "

JUST THE FACTS
LIFETIME TRACKCHASER COMPARISONS 
The three most important trackchasing comparisons to me are:
Total lifetime tracks seen
Total "trackchasing countries" seen
Lifetime National Geographic Diversity results
Total Lifetime Tracks
There are no trackchasers currently within 760 tracks of my lifetime total.  Don't blame me.
Randy Lewis, San Clemente, California – 2,628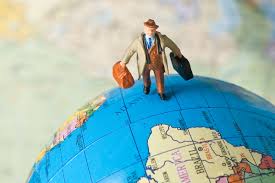 Total Trackchasing Countries
My nearest trackchasing competitor, a native of Belgium, has seen racing in more than 30 fewer countries compared to my lifetime total. 
Randy Lewis, San Clemente, California – 85
Current lifetime National Geographic Diversity results
Randy Lewis, San Clemente, California – 3.96
That's all folks!  Official end of the RLR – Randy Lewis Racing Trackchaser Report
Click on the link below to see the video production from the racing action today.
Click on the link below for a photo album from today's trackchasing day.  You can view the album slide by slide or click on the "slide show" icon for a self-guided tour of today's trackchasing adventure.
Family, fun, eating and trackchasing from the west to the midwest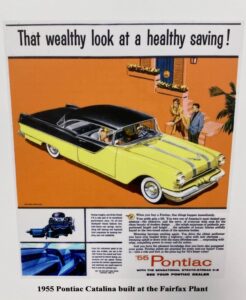 A most entertaining visit to the only public auto museum in Kansas City….the Kansas City Auto Museum