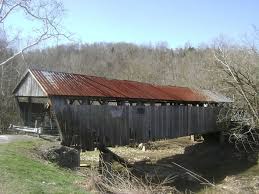 Greetings from Tollesboro, Kentucky
.
.
From the travels and adventures of the 
"World's #1 Trackchaser"
The EventVideo PlusPhotos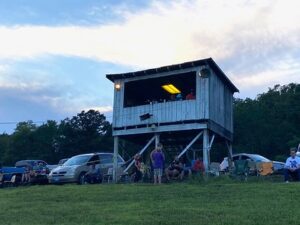 Mudlick Valley Raceway
Dirt oval
 Lifetime Track #2,623
THE EVENT
Editor's note: I've been trackchasing for a long time. I have "collected" a lot of experiences. However, there are only so many racetracks in North America and the world for that matter to visit. I don't have that many remaining on my hit list. No matter. I will shoulder on. Life on the road is too precious.
I AM A TRACKCHASER.
Are you new to the hobby of trackchasing? If so, let me give you just a little bit of background. Before I go any further I will tell you that a lot of people get pretty enthused about what I've been doing with trackchasing. I will offer this warning. If you try it yourself it could become addictive.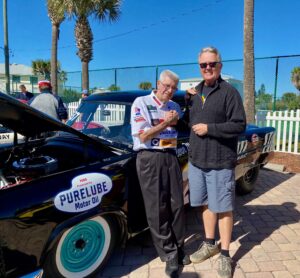 My name is Randy Lewis. (Above with Leonard Wood of the famous Wood Brothers Racing Team). I hail from the sleepy little village by the sea, San Clemente, California. I am a "trackchaser". I trackchase. Have you ever in your life heard of "trackchasing"? I didn't think so. 
Trackchasing is a "collecting" hobby. Trackchasing is a "counting" hobby. It's really not all that much different than when you were a kid and you collected stamps or beer cans or bottle caps.
Trackchasing is all about visiting new auto racing tracks for the very first time. Believe it or not, trackchasing has "rules" as to what kind of racetrack and race car and race driver count toward your lifetime totals and which ones would not.

I'll try to oversimplify the rules situation for you. Trackchasers are allowed to count racing cars and trucks that compete on oval, road course and Figure 8 configurations. Any class that is racing, in order to count, must be open to racers 18 years of age or older.
This means that trackchasers cannot count racing down exclusively by kids. There are also various motorsports events and classes of cars that do not count. Trackchasers do not count drag racing, demolition derbies, motorcycle racing or boat racing. Just cars and trucks on ovals, road course and figure 8 tracks. Trackchasing does not allow the counting of flat go-kart racing either.
Before the hair on the back of your neck starts to stand straight up as you think one or more of these rules are just preposterous let me explain. First, I didn't set up these rules. I only count by them. The rules were set up in the 1990s by a group of white men who primarily hung out in Pennsylvania. I don't know that any of them had ever seen any racing on a road course or figure 8 track or maybe even a drag race, with a few exceptions, when the rules were established. There is one good thing about having a common set of rules. It allows each trackchaser to compare his or her list to the next trackchaser. Trackchasers like to do that.
For me, I need three things in order to make my hobby hunt. First, I need a race date. Then I need good weather because folks in the U.S. often cancel racing events when it rains. Finally, I need a way to get to the track. I live in Southern California. The lion's share of racing events in the United States are located in the Midwest and east.
I trackchase just a little bit differently than my fellow competitors. For me, there are three essential elements to the enjoyment of trackchasing. First, I like to see auto racing. I prefer to see racing on what we call "short tracks" more so than a visit to Daytona, Indianapolis or Monaco. By the way, I've seen racing in each of those three iconic locations.
In addition to the racing part of trackchasing for me, I really enjoy seeing the local sights and sounds of whatever area I am visiting. I called these "Trackchasing Tourist Attractions". If you go to my website at www.randylewis.org and click on the Trackchasing Tourist Attractions tab you'll see where I've been all over the world. Here's a link to that tab.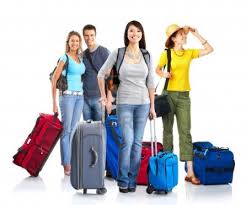 Trackchasing Tourist Attractions
The third and final reason that trackchasing is a lot of fun for me is simply the logistical part of the hobby. I have been retired for nearly 20 years. During that time I have not earned a single dime of work income. That means I have to manage my money pretty closely enable in order to be able to do what I do.
Logistically I have to handle seven different categories of trackchasing expenses. Those expenses include airplanes, rental cars, hotels, airport parking, gasoline, food and race tickets. As an example, you can just imagine what traveling from Southern California out to the Midwest for four days of racing would cost.
In any given year I will travel well over 200,000 miles. I'll stay in hotels 150-200 nights a year, rent 50-75 rental cars every year and buy a full tank of fuel about 100 days a year just for trackchasing.
After each and every event that I attend I post a YouTube video, a SmugMug photo album and a very detailed Trackchaser Report about the experience. My stories are not just about what happened at the track but about my visit to the area and what exactly it took to make the trip happen. That's where the racing, the touring and the logistical challenges come from.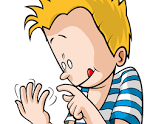 I told you that trackchasing is a "counting" hobby. Trackchasing is ultra-competitive as well. Lots of people don't recognize that when they are initially exposed to this hobby. Trackchasing has had all of the political drama, cheating, accusing people of cheating and other aspects of poor personal behavior that any other competitive activity might have. This is why I am NOT a member of any organized trackchasing group. The management of these groups has been so poor over the years these groups are not something I want to be associated with whatsoever.
As this is written I have seen racing in 85 different countries at more than 2,630 racetracks. During all this time I have never tried to benefit financially from my hobby. This is despite being interviewed by hundreds of track announcers, newspaper reporters and radio and TV outlets as well as doing a TV pilot. I'm a volunteer. I do this 100% for the fun of it.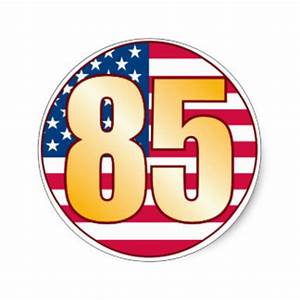 Because I have seen racing in 85 countries at this point I am considered the World's #1 Trackchaser. That's good enough for me. Now I encourage you to drop down a few spaces and read about trackchasing adventure. As you discover what went on today just think about the idea that I've done this more than 2,600 times. I don't mind admitting I am addicted to that hobby of trackchasing.
Yes, today's adventure was one more of the 2,000 trips that have taken me up, down and around the proverbial long and dusty trackchasing trail.  If you would like to see where I've been and experience those adventures here's the link: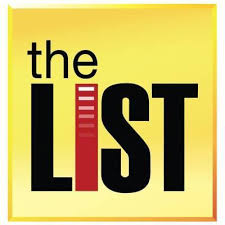 If you've got a question, comment or whatever please leave it at the bottom of this report.  It's very easy to do.  Or you can visit me on Facebook.  Thanks!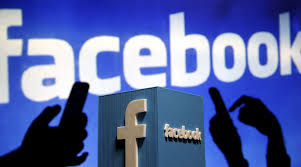 FOREWORD
Saturday, July 11, 2020.
I woke up this morning in Shakopee, Minnesota, a suburb of Minneapolis. Tonight I will be sleeping in Indianapolis, Indiana. In the meantime, I would be trackchasing this evening in Tollesboro, Kentucky. This was not my original plan.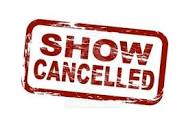 Last night while I was watching the racing at the Cooley Go-Kart Raceway in West Salem, Wisconsin I received a text message. My racing contact from a track in Indiana had new news for me. The race program in Indiana that I was expecting to see tonight had been canceled. From a trackchaser's perspective, that was short notice! I'm sorry I can't be more descriptive about the location or circumstances of this track in Indiana. You know. Prying eyes.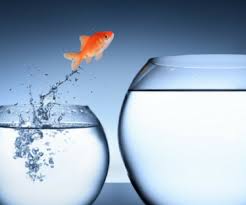 Before I go any further I will tell you that "trackchasing is a great training ground for being flexible and accepting new ideas immediately". I was on the road. In a matter of minutes, my "vacation" was changing. I needed a new plan for tomorrow!  
With this news, I suddenly had an open Saturday night on my trackchasing calendar. You probably already know that in the short track auto racing world Saturday is the most popular day of the week for tracks to operate. If I had to guess I would say that more than 80% of all weekly or semi-weekly auto racing events take place on Saturday night.
You might think that with the popularity of Saturday night racing finding a replacement for the canceled, at the last minute, Indiana track would be easy. Not so much. Here's the situation. I have been trackchasing at such a strong rate of frequency for decades that there just aren't that many race tracks left for me to visit.
I estimate there are only about 20 tracks in the entire United States that race on a regular basis that I have not seen. That's out of well over 1,000 tracks that race regularly in the U.S. Can you imagine that? For anyone who doesn't know we have 50 states in the United States of America. I have an average of only about one-half of one track remaining to be seen per state that races weekly or every couple of weeks.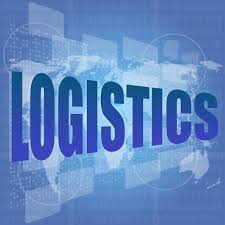 Of course, I have seen hundreds of racetracks that host a show on just one single day in an entire year. Most of those locations are at county fairs in the U.S. and Canada. Matching up race dates from locations that race just one day a year is a gigantic logistical challenge. This is one of the things I like best about my trackchasing hobby.
However, I'm not going to leave California for just one county fair race in Bethesda, Maryland. On the other hand, if I can piece together Bethesda with a county fair date the next night in Anderson, South Carolina and a race the next night in Peoria, Illinois then I've got a trip.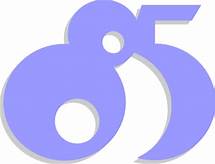 It is obvious that the COVID-19 pandemic has wreaked havoc in any number of ways. COVID has effected trackchasing as well. To begin with, I had to take off 85 days from March through June when the pandemic scare seemed to be the greatest. Now I have flown somewhere for the past six weekends. Most people I know are still afraid to leave their homes. Maybe they are right with that thinking. I do know this. The pandemic has canceled most county fairs in the country. That means I don't have any "one-off" dates to fill in my trackchasing schedule.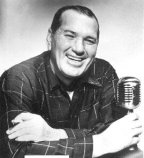 However, there is a reason that I have seen racing at more than 2,620 tracks up to this point. I have the resources of the Randy Lewis Racing research department on my side. That might sound like a boastful statement. However as Dizzy Dean used to say, (I'll wait while the youngsters or non-sports fans Google that reference), It's not bragging if it's true or you can do it. Don't you just love old Diz?
Every year there are more and more tracks that stop operating on a consistent basis. Some close forever. Often times real estate development plows under the race track and constructs a residential neighborhood or a commercial project. I commonly say that short track racing is going the way of the drive-in movie theatre. Don't hate me. I'm only the messenger.
Sometimes a track sits idle for a season or in some cases many seasons. Then along comes a bright-eyed and bushy-tailed young promoter who is convinced that he or she can do it better than the last guy or gal. Sometimes they are correct. Often times they are not.
The Randy Lewis Racing research department keeps an extensive database of racetracks that have operated at any point in time during the past two or three decades. Even if the track closes they do not escape the radar of the RLR research department. This was the case with the Mudlick Valley Raceway in Tollesboro, Kentucky.
Mudlick had been on our radar screen for a few years. Even though my kinfolk come from Kentucky I've got to tell you that Kentucky, from a communications point of view as regards racetracks, is one of the worst states to get information from. Why is that? The answer to that question would probably fill up a full semester of college sociology.
According to the Mudlick Valley Raceway website they were going to be racing for the first time in 2020 today, yes this Saturday night. I will tell you that I was not able to confirm this fact with anyone personally or via the phone. I never like to go on website information alone. That's way too risky. Lots of racing groups don't update their websites on a timely basis. However, the Mudlick website announcement seemed timely and topical and it was all I had to go on.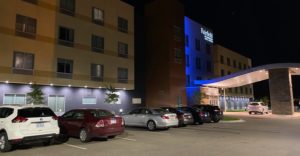 I didn't get back to my Fairfield Hotel and Suites property, where I was staying for the fourth consecutive night, in West Salem, Wisconsin until past midnight. I would have just a little bit less than five hours of sleep until my 5:50 a.m. wake-up call came. 
This morning at 8:15 a.m. I would be boarding an airplane flight from Minneapolis to Indianapolis, Indiana. Passenger traffic for our nation's airlines is down significantly due to the coronavirus pandemic. I'm told that TSA screenings are at 25% of a year ago. A couple of months ago screenings were at only 5% compared to year ago.
I can tell you that flying on a standby basis is a little bit easier during a pandemic. Why is that? I guess you could say it's because we are in a pandemic! People are scared to travel. This is true despite the fact that several airlines are still blocking middle seat occupancy in order to create their version of social distancing.

Lately, I've been using the online travel company, SnapTravel, to book some of my hotel reservations. From time to time they offer significant discounts compared to all others.
I know that most people when they go on vacation like to book their travel arrangements far in advance. I don't do that for my trips. The reason is I never know if I'm going to have to change at the last minute. Last-minute changes might occur because the racetrack I am planning to see changes. What might cause these last-minute changes? Usually, the weather would be the biggest culprit. However, my inability to get a seat on an airplane or the track's mismanagement are primes reasons for a last-minute change as well.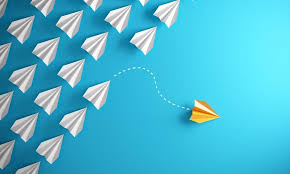 I think one of the coolest aspects of my trackchasing hobby is that it makes me think on my feet. It makes me challenge myself as to what is really the very best idea. You can't be an "I'm not changing no matter what the facts are" kind of guy. I don't want to be THAT guy.
I almost never book a hotel until the day I expect to stay at that location. However, I was so convinced that I was going to be seeing a race in Indiana tonight that I booked my hotel yesterday a full day in advance. I got a great deal on a Holiday Inn Express in Indianapolis. I've got to be honest with you. It did cross my mind, several times, that booking a day and advance was going to come back and bite me in the butt. It nearly did.
When the Indiana race was canceled I was so distraught that I considered flying back to California a day early. Then I sadly remembered that I already booked a hotel reservation in Indianapolis tonight. Did I just want to "eat" that reservation? I could consider the situation a sunk cost. That's an accounting term.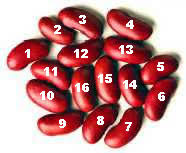 Did you know I began my college career as an accounting major? By the end of the first semester, I concluded that was way too much work. I switched over to personnel management. With that major, all I really had to do was know how to talk. I think I made the right decision.
However, I wasn't going to stay overnight in Indianapolis if I couldn't find a track to visit this evening. Luckily I got a call from back at the world headquarters of Randy Lewis Racing. It was the research department. They had spotted the Mudlick Valley Raceway on their radar. I would be staying in Indy tonight.
Back in the day I used to seek out tracks in specific states simply for the purpose of building up my National Geographic Diversity (NGD) score. The NGD program rewards trackchasers who have seen the most tracks in the most states. After having done that for years and years the opportunity for improvement with my NGD results is limited. I already hold the #1 trackchasing position in Kentucky and my nearest fellow competitor isn't all that near. Seeing a race tonight in the Bluegrass State would simply add to my overall lifetime totals which was good enough for me.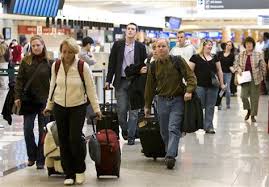 I was able to get in 2.3 miles of walking in the Minneapolis airport this morning before my flight took off. Then when I landed in Indianapolis I added another mile. With 3.3 miles already in the bank, before I even picked up my rental car, I was going to be good to go for another four-mile powerwalking day. I know this. When I set my goals to include certain activities those activities get done. As we used to say back at Procter & Gamble, "You get what you measure". 
I was guessing that racing would begin tonight at 7-8 p.m. A lot of people think that southern tracks do not operate in a timely fashion. Although that may be true there are lots of short tracks across the United States that seem to have lost their pocket watch.
As I drove through rural Kentucky I noticed it was nearing supper time. We don't called "supper" "supper" in California. It's "dinner". However, I grew up in the Midwest and here in the Midwest and south it's still "supper". With that being the case when I happened upon Maysville, Kentucky it was time for supper. I fancied eating Mexican food. Back in SoCal I eat Mexican food several times each week. We're only 74 miles from the Mexican border.
Eating Mexican food in a place like Kentucky can be a chancy endeavor. I consulted Yelp. I always take a look at Yelp when I'm in a new town and want some feedback from folks who have tried the local restaurants. Soon I was pulling into the parking lot of the El Caminante Mexican restaurant in Mayfield.
This place had a 5-star yelp rating from a somewhat limited number of reviewers. You should know this. A 5-star Yelp rating in Kentucky for a Mexican restaurant would be about a three-star rating for the same Mexican restaurant in Southern California. The place was decent  but certainly not the best Mexican eatery I have ever visited and I have been to my share.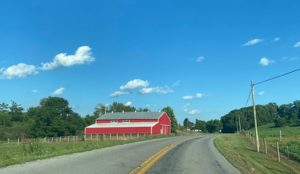 The last few miles of the drive over to the Mudlick Valley Raceway was done over winding roads in rural Kentucky. I passed in and out of Lewis County. Recall my kinfolk on my father's side come from Kentucky.
The Mudlick track was exactly where my Waze GPS program told me it would be. I'd be lying if I didn't tell you I was a little surprised by that. I didn't know much about the history of Mudlick but I was about ready to find out.
Mudlick is one of those tracks where you buy your race ticket from inside your car as you enter the speedway property. As I was waiting in line I had a chance to ask a woman who works for the track what was up with Mudlick.
She told me that they had already raced five or six weekends this year. They had raced at this location last year as well. She mentioned this was not a new track. They had existed previously but were shuttered for a few years until they reopened in 2019.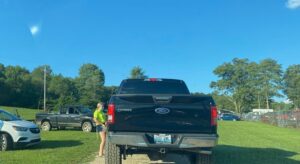 No it was time to buy my race ticket. A young woman maybe 20 years old approached the driver's side door of my rental car. First I asked if there was any senior pricing. My philosophy in life is simple. If you don't ask you don't get.
She looked at me and smiled and said that she didn't really know. I guess if you're the ticket seller you can't know everything about the price of tickets right?
I sometimes carry $50 bills in order to cut down on the thickness of the money that goes into my money clip. I know this can be an awful problem to have. Tonight I asked the ticket seller if she "could break a fifty". She smiled and told me she could. Now it was time for her compute how much change I was owed from my $50 bill. The cost of my race ticket was $15 U.S. I waited and watched while she mentally counted using her fingers. It wasn't long before she came up with the correct answer of $35. She seemed as proud of this outcome as if she had just aced her high school math test. You've got to love the educational skills some of our young people in the United States have acquired.
I'm always saying that I run into things at virtually each new track that I visit that I've never experienced before despite having seen racing at more than 2,600 tracks. Once again, that was the case tonight.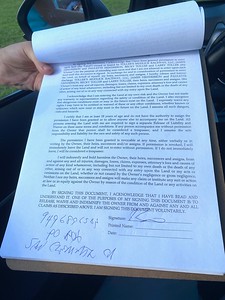 Because of the COVID-19 situation I had to sign a special release. However, this was the part that I had never experienced before. In addition to my signature they were requiring my telephone number and home address. While I was completing those documents a second young woman reached out and pointed her hand toward my forehead. What was up with this? She was taking my temperature! 96.0. I guess those results might have been influenced by the fact that I keep it pretty chilly inside my rental car as I drive along on these warm summer days.
Next up was both a positive and a negative situation. The positive was that I could sit in my car in the comfort of the car's air-conditioning with a good view of the track. This WAS like a drive-in movie. Just a little bit of turn four was blocked by a grandstand but I could probably see seven-eighths of the racing action.
The negative? I had "zero bars" on my phone. That meant I wouldn't be doing any searching of the internet tonight during downtimes between races. On the bright side I was able to use my Evernote app and dictate the goings-on of tonight's trackchasing experience. That's right. You're reading about those experiences right now.

At 8 p.m. tonight the announcer told the crowd that hot laps were going to begin. No, they were not exactly starting early. It appeared that car counts would be small. The limited late models checked in with seven competitors. The modifieds had a similar car count. The bombers division had only three racers. Then some 18 or so four-cylinder cars came on to the track for their hot lap session. The last class of the night had been created just this year exclusively for Ford Crown Victorias. They had five of them. We used to have a Ford Crown Vic. Our kids pretty well drove that thing into the ground but fortunately with no accidents.
The first heat took the green flag at 8:35 p.m. With just seven cars in the limited late model division I was curious as to whether they would run one heat or two. Thankfully they ran one.

I walked all over the grandstand hillside getting the best views possible. This was uneven ground and difficult to traverse. Fans were scattered all over the place. I'm going to guess they had a crowd of 600 but that's just a wild guess. This was rural country.
I made the executive decision that following the heat races I was going to boogie. They only had one class, the four cylinders, that warranted more than one heat so effectively I was seeing both the feature in the heat in the heat race. It is common with say a field of six starters that one or two cars will break or blow up in their heat race. That means the feature event will actually have fewer cars in the main event for that particular class than the heat race did.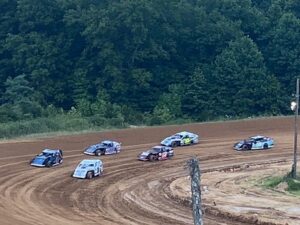 Tonight's racing was being conducted on a slightly banked dirt oval track. I'm going to guess the track was a quarter-mile in length. I'm also guessing the heat races were 8 laps in distance. That means the cars were racing just two miles in their heats. I always find it amazing that one or two cars and sometimes more can't make it two miles around a dirt oval track like this.
It wasn't all that difficult to make the decision to leave a track with very little competitive or entertaining racing. My decision seemed to be supported by an announcement by the track commentator. He came over the public address system on two separate occasions toward the end of the heat race action with this recommendation. "Please hold onto your tickets stubs just in case we get rained out". Rained out?
I hadn't given rain a second thought on deciding to come to the Mudlick Valley Raceway. The forecast I looked at for the day was calling for no rain. Because there was no cell phone connectivity at the track I couldn't check my radar.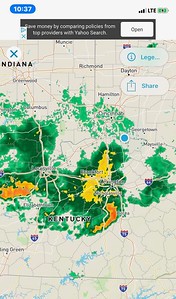 When I did leave the Mudlick venue I was not five miles down the road when it began to sprinkle. I don't know if they got rained out or not. At that point, I wasn't too worried about it. 
As I was leaving the track I did stop and talk to the lady who was still manning the pit entrance. Based upon what I heard at the track I suspected that tonight might've been the first time the Mudlick Valley Raceway had actually allowed fans to watch the races from the stands. I confirmed this fact with the woman. Yes, indeed, tonight's pretty nice crowd was sitting in the grandstands for the first night of the entire 2020 racing season.
From the track, it was a three-hour drive back up to Indianapolis. I really wish I hadn't made a hotel reservation in Indianapolis yesterday. This was especially true when I learned my original race plan for tonight in southern Indiana ended up being canceled. I hate being locked into a decision that is no longer optimal based upon current data.
Nevertheless, I made it back to the Holiday Inn Express South in Indianapolis at a little past 1 a.m. I was turning out the light at about 1:30 a.m.
Good evening from Tollesboro, Kentucky and the Mudlick Valley Raceway.
Randy Lewis – 85 countries – 2,623 tracks.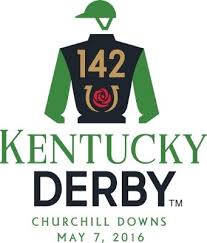 Kentucky
The Bluegrass State
This evening I saw racing at my 54th-lifetime track in the Bluegrass State, yes, the Bluegrass State.  I hold the #1 trackchasing ranking in Kentucky. Kentucky ranks #14, amongst all the states, in tracks seen for me in the U.S. Actually, that surprises me considering Kentucky doesn't have much in the way of "one-off" races at county fairgrounds and very little road course racing.
Here's a link to my all-time Kentucky state trackchasing list. I have made 36 separate trips to Kentucky seeing these tracks.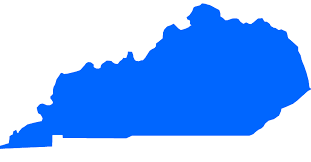 Thanks for reading about my trackchasing,
Randy Lewis
World's #1 Trackchaser
Peoria Old Timers Racing Club (P.O.R.C.) Hall of Fame Member
Kentucky sayings: It's a Kentucky thing. Y'all wouldn't understand.
JUST THE FACTS
LIFETIME TRACKCHASER COMPARISONS 
The three most important trackchasing comparisons to me are:
Total lifetime tracks seen
Total "trackchasing countries" seen
Lifetime National Geographic Diversity results
Total Lifetime Tracks
There are no trackchasers currently within 750 tracks of my lifetime total.  Don't blame me.
Randy Lewis, San Clemente, California – 2,623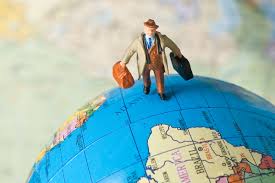 Total Trackchasing Countries
My nearest trackchasing competitor, a native of Belgium, has seen racing in more than 30 fewer countries compared to my lifetime total. 
Randy Lewis, San Clemente, California – 85
Current lifetime National Geographic Diversity results
Randy Lewis, San Clemente, California – 3.96
That's all folks!  Official end of the RLR – Randy Lewis Racing Trackchaser Report
Click on the link below to see the video production from the racing action today.
Click on the link below for a photo album from today's trackchasing day.  You can view the album slide by slide or click on the "slide show" icon for a self-guided tour of today's trackchasing adventure.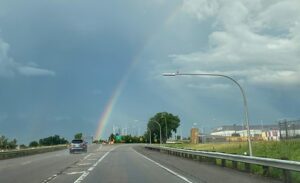 Another trackchasing trip down Kentucky way