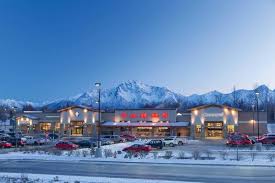 Greetings from Wasilla, Alaska
.
.
From the travels and adventures of the 
"World's #1 Trackchaser"
.
.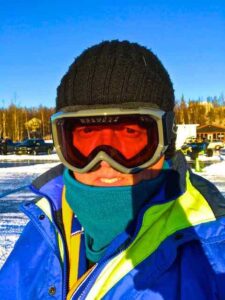 Lake Wasilla Ice Track
Ice road course
 Lifetime Track #2,414
The EventVideo PlusPhotos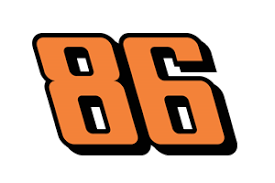 THE EVENT
I have had the opportunity to follow my trackchasing hobby all over the world.  As this is written I have seen racing in 77 countries.  My lifetime track total is just over 2,400. I was seeing my 86th lifetime track on ice today.  Long ago I wrapped up seeing racing in every American state.
Some twelve years ago I moved into the "World's #1 Trackchasing" spot.  Of course, that's if that title is awarded to the person who has seen the most lifetime tracks.  Frankly, I don't think it should be.   Maybe "Most Prolific Trackchaser" is a better description for that category.
The World's #1 Trackchaser title should be bestowed on the person who has seen the most racing in the most countries.  That's what the "world" is made up of isn't it?  Countries!
The Last Frontier! Yep. That's Alaska's nickname. I've been here about ten times and still feel that I have barely scratched the surface. Nevertheless, I won't give up. I'll keep coming back for those "once in a lifetime" experiences.
It's important to note that my hobby is not only about racing.  Yes, that is one part of it.  However, of equal importance are the logistics of trackchasing (getting from point A to B to C, etc.) and the opportunity to see the world.
I live in Southern California.  The vast majority of tracks in the U.S. are located in the Midwest and East.  It takes a good deal of logistical planning to get from where I live to where the tracks are.  A typical weekend trip within the U.S. will cover more than 5,000 air and driving miles.  I do about forty of those trips each year.  For the past 15 years I have traveled about 175 nights each and every year.  Surprisingly to some, more than half of those overnights were not part of trackchasing.
A big part of trackchasing for me is simply travel just for the fun of seeing new things.  You won't want to miss my "Trackchasing Tourist Attractions" page or my "Sports Spectating Resume" page on my website at www.randylewis.org.  Search around on my site.  Use the drop-down menus.  They will take you all over the world!  My site will give you some understanding on how important seeing the world and just "seeing stuff" is with my trackchasing hobby.
Today's adventure was one more of the 2,000 trips that have taken me up, down and around the long and dusty trackchasing trail.  If you would like to see where I've been and experience those adventures here's the link: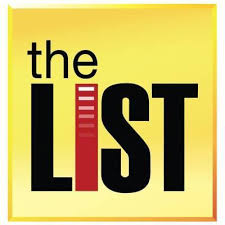 If you've got a question, comment or whatever please leave it at the bottom of this report.  It's very easy to do.  Or you can visit me on Facebook.  Thanks!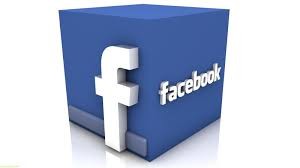 FOREWORD
Sunday, January 28, 2018.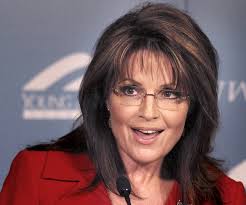 I'll be trackchasing in the Last Frontier state today. That's right. I'm headed to Wasilla, Alaska, home of Sarah Palin, to see some ice racing on Wasilla Lake.
I've got a reasonably extensive travel history with our nation's 49th state. This will be my sixth trackchasing trip to Alaska. Up until today I've seen racing at 11 Alaska racetracks.
I first came up here on a business trip in about 1980. It took me a while to finagle that trip out of my boss. I showed up wearing a business suit. Our Alaska sales rep picked me up in a windbreaker and blue jeans. Welcome to Alaska!
Carol and I have been up here for an ocean cruise and some other touring as well. This will be my third visit to Alaska during the winter time. Tomorrow I have an even more unusual sightseeing trip planned. This will definitely be an adventure vacation.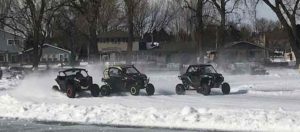 Yesterday, after the ice races on East Lake Okoboji in Okoboji, Iowa in the late afternoon, I headed for the airport. I got back to the Minneapolis airport just in time to catch a four-hour flight to Seattle. I had an hour and a half layover at SeaTac and then hopped on another four-hour flight up to Anchorage. I landed at the Ted Stevens International Airport in Anchorage, Alaska at about 2 a.m.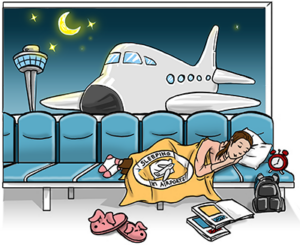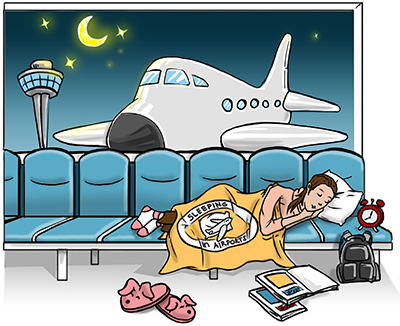 I had done my research. The boys and girls over at www.sleepinginairports.net provide some excellent information for travelers like me. They told me exactly where I could get a few hours sleep in the ANC airport terminal.
The consensus pick was gate C9. I would know I was at gate C9 when I saw the full-sized plane hanging from the ceiling. They were right.
It was somewhat eerie to hear 50s and 60s music being played over the PA system all night in the airport. There was something that made that especially weird.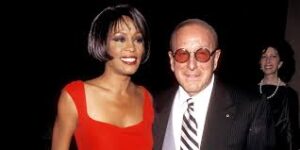 On the trip up here I watched two films on my computer. One was the life story of Clive Davis and the other was the film biography of Bert Berns. Both of these gentlemen were instrumental in developing and promoting most of the rock 'n' roll stars that you know from the 50s and 60s as well as many artists who are active today. Yes, weird.
I knew the Alaska Lounge opened at 5 a.m. My research also told me the Anchorage sunrise would not be happening until 9:30 a.m. After about 3 1/2 hours of sleep on some very comfortable fake leather airline chairs I wandered over to the Alaska lounge.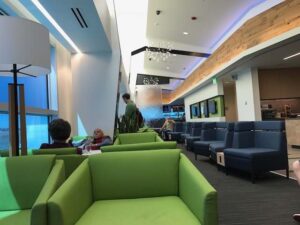 There I just chilled for about three hours. I had a little breakfast. I took a little nap. There was just enough time to use the bathroom. Too much information? Why the bathroom?
The answer wasn't as obvious as you might think. I had to start "layering". That's right. I was looking at a feels like temperature of six degrees below zero Fahrenheit. I brought pretty much every piece of winter clothing I had. If that wouldn't handle the Alaska cold then I was out of luck.
I had originally planned to go ice trackchasing in Alberta, Canada today. However, when the opportunity came up for a trip to Alaska I just couldn't pass it up.
THE RACING
Lake Wasilla Ice Track – Wasilla, Alaska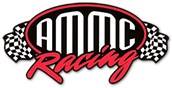 I got in touch with a fellow by the name of Kyle Nicoll. Kyle is with the Alaska Motor Mushers Club (AMMC) racing organization. The "mushers" part of their name might tell you how they started! AMMC was promoting a special ice racing show at Wasilla Lake for snow machines and UTVs. They've been having races since at least 1963. Nevertheless, today was going to be their first ever UTV ice race. No, a track doesn't last long before the Randy Lewis Racing research department finds it and checks it off the list.
Kyle couldn't have been more supportive of a southern California suburban slicker (that's like a city slicker but a little further from the city center) coming to Alaska to see his racers compete. He gave me all of the information I needed. He even told me that he would take me on a personal tour of the three-mile ice road course. Then during the race if I needed to use his RZR, no not his shaving utensil, I could. That's what I call real race promoter cooperation.
I picked out a Toyota Camry from the National Car Rental lot. It had front-wheel drive. That might be an advantage. Some of the roads were still snow-packed in and around Anchorage.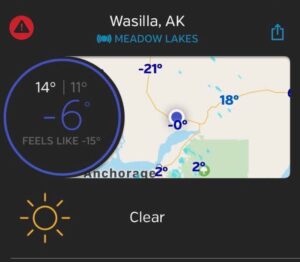 According to my weather app it was 6° below zero with a 7 MPH wind at 10 o'clock in Wasilla. That was cold enough for me. With any luck I would be able to see some of the ice racing from the warmth of my car. With any bad luck I wouldn't.
While I was in the Alaska lounge I had some chores to do. First, I went on Priceline and secured a hotel. Carol and I stayed at this hotel in the past. I would be staying at the Lakefront Anchorage hotel, which has a beautiful view of the lake hence its name. Hotel prices in Anchorage were surprisingly low.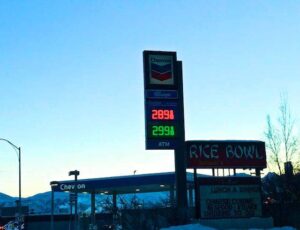 Alaska has a reputation for high prices. However I got a hotel and a rental car for about the same that I had paid in Minneapolis. Gas prices in Anchorage were about $2.89 USD a gallon. Right now in California there $0.30-$0.50 higher than that!
Kyle had mentioned the ice races would take place in front of the Mat-Su Resort in Wasilla. This was a recently renovated place with an excellent restaurant. They had a huge wooden deck that looked directly over the paddock area. The deck was also a great place to watch the races.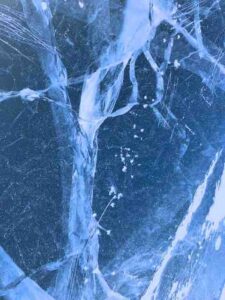 I have seen more than my share of ice races. However, I had never seen ice like I saw on Lake Wasilla. To get an idea of what I am trying to describe think about those crystal-clear ice cubes that cooled your last adult beverage. Today I could see a depth of 2-3 feet that was as clear as an ice cube. My photos  do not do justice to this unusual sight. Like I say I had never seen such a thing. It was beautiful.
At most ice races spectators park their cars on the frozen lake. They can either watch from their cars or venture outside onto the lake to watch. I always "venture out onto the lake".
Essentially a frozen lake has one of two surfaces. If it is snow-covered it's easy to walk on. If the ice is just ice it is as slick as snot. Today there was some snow cover in the paddock but not much. My boots were no match for this glare ice situation.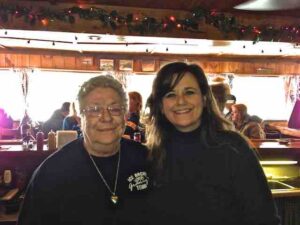 I've got to thank Wisconsin's Wendy Hurst (above right) for the solution to this problem. She recommended I get a pair of ice cleats. They are one of the most valuable pieces of equipment in my ice racing arsenal. The cleats have about 8-10 studs that dig into the ice. They fit over my size 14 clodhopper ice racing boots with some stretchable rubber elastic bands. The metal studs provide just enough traction to keep me on my feet in the slickest of conditions.
Today the AMMC racing group would be racing snow machines aka snowmobiles as well as UTVs. The snow machines would run first. Their race on the flat three-mile road course would go for 34 laps or about 100 miles. The UTV racing would follow.
If you are thinking about going ice racing as a spectator here are some useful things to know. If you are renting a car don't tell the rental car company you drove it onto a lake. If you are driving your own car don't tell the insurance company you drove it onto a lake.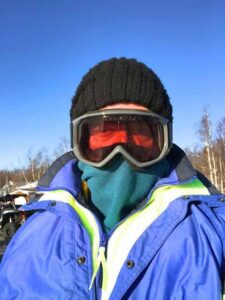 Dress warmly. It's not the cold temperature but the wind that will get you. Get some ice cleats. That way you won't need to use your medical insurance.
There might not be any toilet facilities. Plan for it. Deal with it. There will be no PA system at most ice races. Get to know the racers and the promoters. They are nice folks and will keep you informed.
At most ice races there won't be any food served on the lake. However, at most ice races there will be a bar/restaurant on land. There was today. Try to patronize the place because often they are sponsoring the ice racing.
The first race of the day was a 100-miler for four snow machines. That's a long way to ride a snowmobile. The top speed on the long straights was 117 MPH. I wouldn't want to fall off one of those at that speed on a frozen lake.
The snow machine race took nearly two hours. This gave me plenty of time to explore the paddock area, talk to race officials and fans watching the event. I was here for the UTV racing. The snow machine racing was a bonus for me but a staple for the Alaska Motor Mushers Club race group.
Sometimes I have to worry if enough UTVs will show up for an ice race. That wasn't the case today. I had talked with Kyle, today's race director this morning. Some five UTVs were registered to race. Perfect.
Then during the snow machine race Kyle told me that only three UTV drivers were going to race. I'm not exactly sure what happened to the other two. No problem. Three worked. I only needed two to meet trackchasing's participant requirement.
When the snow machines wrapped up Kyle took me on a high-speed chase around the three-mile road course. That was fun. Do NOT miss the video. We were only going about two-thirds as fast as racing speeds. However, it seemed pretty fast to me. For insurance purposes there is no need to discuss the safety equipment we were or were not using. I figured Kyle new what he was doing.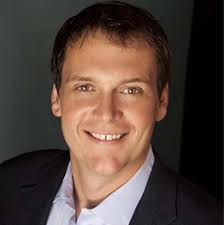 Kyle was the spitting image of Steve Letarte. NASCAR fans know Stevie Letarte as the former crew chief for Jeff Gordon and Dale Jr. Now Letarte is a NASCAR commentator for NBC. Both Kyle and Steve are tall, well-spoken and direct about their sport. It was a pleasure meeting Kyle today. I really appreciated all of the advance info he gave me today as well as the drive around the course.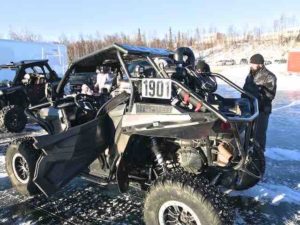 When the snow machines finished their race the three UTVs took a pre-run (hot lap) around the course. Wouldn't you know it? One of the three (above) broke! He was never ever able to get his machine in a race ready condition.
That meant that two UTVs took the green flag for the first of three five-lap heat races. That meant the track was countable but just barely. I'm glad I didn't know the original five UTV drivers would melt down to two. If I had I would not have had nearly as a relaxing morning as I did!
When the first race finished I went up to the restaurant for a soda. While there the menu talked me into a quick lunch. The wedge salad and fried calamari were excellent.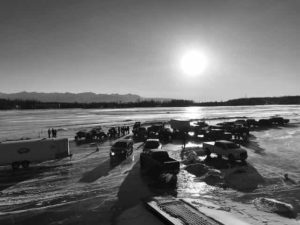 I watched the second heat from the deck of the Mat-Su Resort. The same two UTV racers from the first heat made up the second race. When that finished they decided to call it a day on the ice of Lake Wasilla.
I guess some folks might be disappointed to come all the way to Alaska only to find out that just two UTV racers would compete. I felt exactly the opposite.
I do this for the event and the adventure. Just being in Alaska was the adventure. I had a fantastic Trackchasing Tourist Attraction planned for tomorrow in the northernmost city in the U.S.
It was fun seeing some more snow machine racing for the third weekend in a row. It's always fun to meet new people and hear about their lifestyles in a semi-foreign land like Alaska.
I very much enjoyed talking with Mike Lasky, president of AMMC racing. He was the flagman today. On lots of ice racing afternoons that's the coldest job at the track. Good luck Mike in your future endeavors. Of course, sleeping in an airport added to the adventure. I mean, how many people have ever done that!
AFTER THE RACES
I closed the day with a one-hour ride back to the hotel. Just as I was pulling off the ice I noticed Kyle and others "cleaning up" after the races. The promoter's work is never done and often not appreciated. I know they were slightly disappointed in today's racer turnout. It was fun meeting both Kyle (right) and Mike (left). It's guys like this that will keep this sport going into the future.
These folks should not be disappointed in the car counts. Everywhere I go racer counts are down. Two ice racing groups in the lower 48 have stopped racing because they can't cover the insurance costs. Racing is expensive for the racer. There isn't much financial return.
One of the problems has always been that the well-financed team buys the best stuff and wins all the races. When the rules are lax in this area this is what happens. The rich teams continue to spend money because money is no object for them. The poorer teams get tired of being out moneyed and drop out of the system. Then the few teams with all the money don't have anybody to race against. When the racer counts drop off so does the crowd. It's a vicious downward cycle.
I'm not saying this is the problem or the cure for today's race group. I do know this happens based upon my experiences of visiting all of the tracks that I have. The least expensive classes almost always have the biggest car counts.
Good afternoon from the Lake Wasilla Ice Track in Lake Wasilla, Alaska…..but the trip continues tomorrow!
Monday, January 29, 2018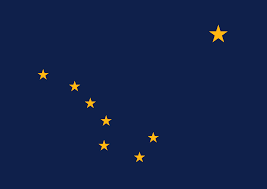 I think when I look back on this trip it's going to be one of my best trackchasing weekends of 2018. I had already seen my first ever ice track in Iowa on Saturday. Then on Sunday I picked up another Alaska track on the ice at Wasilla lake making it my 12th track in the Last Frontier state.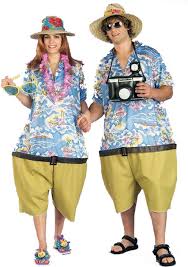 Even though those were two fantastic experiences I had an inkling that today's adventure might rank number one for the weekend. If you have followed what I do with trackchasing then you know that I go out of my way to see those unique and unusual "Trackchasing Tourist Attractions". What comes next will be one of the best.
This morning I hopped on a jet airplane from Anchorage to Deadhorse, Alaska a.k.a. Prudhoe Bay. It was a connecting flight. There wasn't even enough time to get off the plane before we were in the air again headed for Utqiaġvik. There's a good chance you've never heard of Utqiaġvik. Why is that? The town of Barrow, Alaska changed its name just about a year ago. Now it's Utqiaġvik. However, people still seem to refer to it as "Barrow" and in the rest of this review I will too.
At the bottom of this report I will share some information for you from Wikipedia about Barrow. I hope you find it as interesting as I did.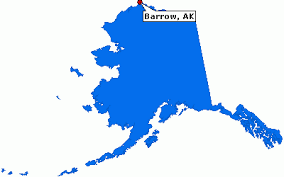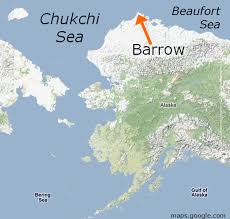 Barrow, Alaska is the northernmost city in the entire United States. As a matter fact it is the 11th most northern city in the world. As you might imagine they get some pretty cold weather up here.
Climate data for Barrow, Alaska (Wiley Post–Will Rogers Memorial Airport, 1981−2010 normals,[36] extremes 1901–present)
Month
Jan
Feb
Mar
Apr
May
Jun
Jul
Aug
Sep
Oct
Nov
Dec
Year
Record high °F (°C)
36
(2)
38
(3)
34
(1)
42
(6)
47
(8)
72
(22)
79
(26)
76
(24)
62
(17)
44
(7)
39
(4)
34
(1)
79
(26)
Mean maximum °F (°C)
17.9
(−7.8)
16.2
(−8.8)
16.6
(−8.6)
27.3
(−2.6)
38.2
(3.4)
57.6
(14.2)
65.6
(18.7)
61.4
(16.3)
50.2
(10.1)
34.3
(1.3)
24.6
(−4.1)
20.3
(−6.5)
67.5
(19.7)
Average high °F (°C)
−7.3
(−21.8)
−8
(−22)
−6.1
(−21.2)
8.5
(−13.1)
25.8
(−3.4)
40.5
(4.7)
46.9
(8.3)
43.9
(6.6)
35.8
(2.1)
21.8
(−5.7)
6.2
(−14.3)
−1.8
(−18.8)
17.3
(−8.2)
Average low °F (°C)
−19.5
(−28.6)
−20.4
(−29.1)
−19.2
(−28.4)
−4.9
(−20.5)
16.5
(−8.6)
30.8
(−0.7)
34.8
(1.6)
34.1
(1.2)
28.5
(−1.9)
12.6
(−10.8)
−4.8
(−20.4)
−13.8
(−25.4)
6.3
(−14.3)
Mean minimum °F (°C)
−39.3
(−39.6)
−41.2
(−40.7)
−37.1
(−38.4)
−24.5
(−31.4)
−1.9
(−18.8)
23.5
(−4.7)
28.9
(−1.7)
27.5
(−2.5)
17.4
(−8.1)
−8.4
(−22.4)
−23.5
(−30.8)
−33.2
(−36.2)
−44.7
(−42.6)
Record low °F (°C)
−53
(−47)
−56
(−49)
−52
(−47)
−42
(−41)
−19
(−28)
4
(−16)
22
(−6)
20
(−7)
1
(−17)
−32
(−36)
−40
(−40)
−55
(−48)
−56
(−49)
Average precipitation inches (mm)
0.13
(3.3)
0.14
(3.6)
0.09
(2.3)
0.16
(4.1)
0.18
(4.6)
0.32
(8.1)
0.98
(24.9)
1.05
(26.7)
0.72
(18.3)
0.41
(10.4)
0.21
(5.3)
0.14
(3.6)
4.53
(115.1)
Average snowfall inches (cm)
2.6
(6.6)
2.6
(6.6)
2.1
(5.3)
3.2
(8.1)
2.7
(6.9)
0.7
(1.8)
0.2
(0.5)
0.9
(2.3)
4.4
(11.2)
9.1
(23.1)
5.7
(14.5)
3.5
(8.9)
37.7
(95.8)
Average precipitation days (≥ 0.01 inches or 0.25 millimetres)
4.6
4.6
4.1
5.1
5.1
5.8
9.1
11.5
12.7
12.2
7.1
5.7
87.6
Average snowy days (≥ 0.1 inches or 0.25 centimetres)
6.4
6.4
5.7
7.7
6.4
1.7
0.6
2.3
8.9
15.6
10.6
8.2
80.5
Average relative humidity (%)
72.7
70.0
70.9
76.8
87.0
88.5
87.9
91.1
90.6
85.6
79.4
74.0
81.2
Their all-time low temperature is a coolish 56 degrees below zero Fahrenheit.  That's actually cold! The town's record high temperature is only 79°. Their average high temperature for this month, January, is -7° with an average low of -20. I was going to catch Barrow on a "warm" day where the high might reach zero but with wind.
I had researched hotels in advance and made myself a reservation. From what I could tell there are only three formal hotels in town. There's only one gas station and one grocery store in Barrow!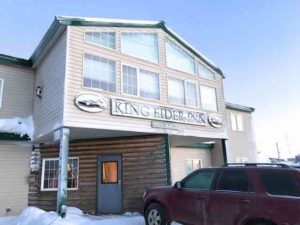 I would be staying at the King Eider Inn. I called the hotel to find out the best way to get from the airport to the hotel. The hotel manager told me I could walk! Walk in temperatures below zero in Alaska?
Long ago I learned to trust the judgment of locals rather than any ideas I might have for places I have never visited. If I could walk from the airport to the hotel in the middle of winter in Barrow, Alaska I would.
You've heard me refer to our modest seaside cottage in San Clemente. It may be modest but it's all we can afford. Well, the airport in Barrow is modest as well. I would say their entire terminal building, including the check-in area, baggage claim and everything else are about the same size as our living room and dining room combined. It's not very big. It's not very new.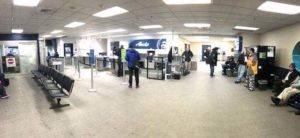 How many flights does Wiley Post-Will Rogers Memorial Airport handle each day? How does TWO sound? That's right. Two flights a day. I would guess they had about five or six TSA security people working today's flights. With vacation schedules and such I'll bet there are 20-30 TSA people on the payroll. That "staff" is in place for two flights a day!
Have you ever imagined all of the jobs that could be eliminated if everyone in the world was honest? What was God thinking?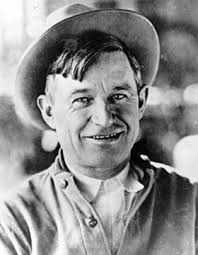 You may have noted the airport's name. I'm sure you've heard of storyteller Will Rogers. He and his pilot, Wiley Post, died in a plane crash near Barrow back in 1935.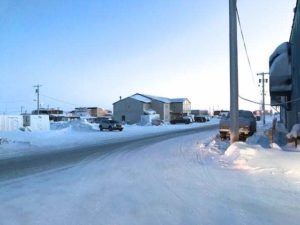 It was actually true that I could walk from the airport to the King Eider Inn. The walking distance was probably 75 yards (above). It was only 11 a.m. I didn't think Barrow was getting a lot of tourists during the winter season. With that in mind I was able to check into room 208 on the second floor immediately.
Checking in early was important. I wanted to do some touring. Today the sun rose in Barrow at 11:30 a.m. It set at 3 p.m. That's not a lot of daylight is it?
There are some strange things that you might not expect from the northernmost town in the entire United States. Did you know that for 80 straight days in the summer the sun never sets? Did you know that for 65 days in the winter the sun never rises? I was majorly bummed that I missed the 24-hour no sun period by only one week!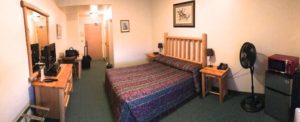 My room was great. It was decorated in an Alaska motif with knotty pine log frames around the beds and mirrors. It was also warm and quiet. I got their January 15 percent discount which brought my room total to a somewhat reasonable, for Barrow, $140 a night. Parts of Alaska are very expensive especially in a faraway location like I was visiting.
The only way to reach Barrow is by airplane. There are no connecting roads….to anywhere. There is a barge the passes by the town two times in the summer coming and going. Anything that arrives into Barrow comes in by airplane or by that barge. I'm talking ANYTHING including cars and cracker jacks.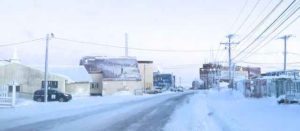 This was a town of only about 4,500 people. On one side of town you can drive out about six or eight miles. On the other side of town you can go two miles before the road ends. Nevertheless, I wanted to take a formal tour of the town. I had read that tours of 2-3 hours were given for a fee of $100. I don't get to Barrow that often so that would work for me.
I asked the hotel for a guide recommendation. They gave me one and I called him. However I reached him in Anchorage as he was on his way to Mexico for his winter vacation. He was nice enough to give me a recommendation of one of his competitors. That would be Andrew who also owns the Airport Inn in town.
I gave Andrew a call and just my luck, he was available. I hadn't had any lunch yet. Andrew gave me several recommendations on where I might be able to eat in town. I added my TripAdvisor dining notes to what Tim recommended. I chose Osaka. Andrew recommended their double cheeseburger. However, when I arrived I found a very eclectic menu.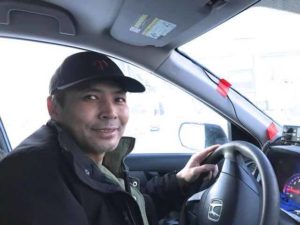 There are lots of cabs, which in most cases are really minivans, in Barrow. The cab drivers were very friendly. I think people up here might not drive their own cars for a couple of reasons. Gas is $5.90/gallon. It can cost $10,000-15,000 to get a new car shipped via air to Barrow. On the other hand, you can ride a cab anywhere in Barrow one-way for a fee of six dollars. I had heard that taxi drivers relocate up here because the pay is much greater even though the living cost is much more expensive as well.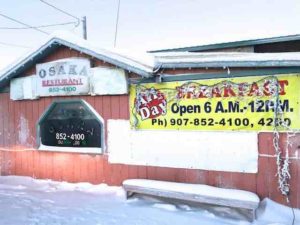 I took my first cab ride over to Osaka's for breakfast/lunch. You haven't seen "quaint" until you been to Osaka. It's a small little ramshackle building that looks like it's almost completely snowed in. I entered to find a very warm environment with some native Alaskan proprietors.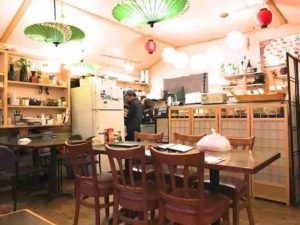 I've been eating a low-carb diet but that would be a little bit difficult to do up here. I am on vacation, right? I sat down and ordered a side order of pancakes (2) and a luncheon special of shrimp tempura with white rice. With a can of Diet Coke added I walked out the door with a bill for $33 USD including tip. Welcome to Alaska. I loved every minute of the experience.
Service is pretty much door-to-door up here in Barrow. The town's footprint isn't that large. I gave Andrew my tour guide, a call. He picked me up at the restaurant. Off we went in his truck on a very memorable two-hour plus tour. Andrew was a most enthusiastic and thorough guide. He peppered me with historical facts on everything from how homes are constructed to how the village gets to harvest 25 whales a year for food and subsistence. I peppered him back with all kinds of questions that a newbie might ask on their first visit to Barrow.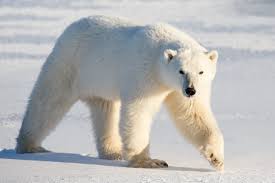 Andrew brought his camera scope that multiplies things by 60 times in the hopes we would see some polar bears. Polar bears are king of the jungle in this part of the world. Unfortunately we didn't see any on this trip but, apparently they frequent town all the time.
I wish I could share a video or maybe a podcast of everything that Andrew had to say about the town that he's been living in for 17 years. He was so thorough and entertaining. He told me he really enjoyed "small town" living in Barrow. During the course of the conversation I did make my point of view known. I told him this wasn't exactly like living in a small town in rural Ohio. Nevertheless, I suspect the longer you live here the more that it does seem like any other small town in America.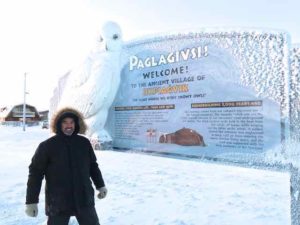 I'll just say this. If you ever find yourself all the way up here in Barrow you can't go wrong with Andrew. He'll tell you everything you ever wanted to know about barrow and answer any kind of question you might have as well. I was most impressed with him as a person and his tour guiding capability. To think I almost hired the first taxi driver I saw at a cost of $50 per hour when he barely spoke or understood English. That would've been a major mistake.
Barrow is located in a "damp" area as far as alcohol is concerned. There are also "wet" and "dry" parts of Alaska. I had never heard of an alcohol situation like Barrow has. First, there is nowhere in down where you can buy booze of any kind. However, you can order beer and liquor "on line" if you will. Your good will be sent to a central warehouse in Barrow. Then you can withdraw from your stash an amount the state thinks is "reasonable" each month. The "dry" areas in Alaska are really unique. Not only do they not SELL any liquor in these areas residents are not permitted to even have liquor in their homes!! Wow. This is 2018. I didn't think place like that existed in the U.S.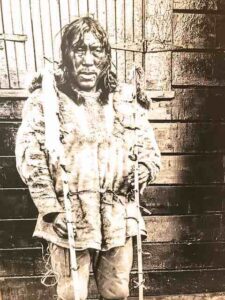 When our tour was finished Andrew dropped me back at the King Eider Inn. I got things organized and then grabbed a cab for a visit to the Iñupiat Heritage Center. This attraction had been recommended on TripAdvisor. There was no admission fee for seniors. The senior age limit began at age 60. It made my day with the ticket seller made me show my ID to prove that I was over 60!

I don't know what the main exhibit of the museum was or is. It was closed for restoration today. I didn't think all that much of the rest of the museum. I must admit I'm not a museum person.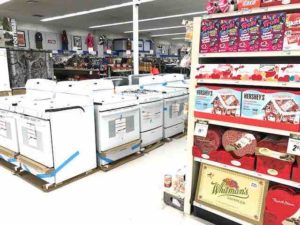 The highlight for me was making a visit across the street. That's where the AC Value store is located. It's the biggest store in town by far. It's the towns one and only main grocery store. However they also sell washing machines, recliners, ATV four wheelers and stuff like that.
I did make some purchases. I bought a 20-ounce bottle of Diet Mountain Dew for $2.79. That's nearly twice as much as what it might cost me elsewhere.
However I did come up with a bargain. I like lightweight jackets. They had a few racks where they were advertising goods at 75% off. I found a jacket that was normally $29. It was now priced at $7.88. The low price of $7.88 didn't surprise me quite as much as the original $29 price tag. If I had seen that jacket on sale in Alaska somewhere else I would've thought the retail price would easily be $60-$80. For $7.88 I couldn't pass it up even though I had nowhere to put it in my already jam-packed luggage. I also picked up a few novelty souvenirs for our twin grandbabies.
Of the top five or six restaurants in town two were closed. One of the proprietors was gone on a month-long vacation. Another location had simply been closed for the last four or five weeks.
That pretty much left going back to the Osaka Restaurant. However, when I'm on these trips I'm in search of new experiences. Even though I loved Osaka this morning if I have an opportunity to go somewhere a second time or try something new I'll probably want to go somewhere different.
During our day of touring Andrew had recommended a place called "East Coast Pizza". I told him at the time that the last thing I wanted to do was eat at a place called "East Coast" when I was in Alaska. He smiled and told me they had the best pizza around. I wasn't sure how many places he was comparing it to!
With such a limited selection of dining opportunities I decided to have a pizza delivered. East Coast Pizza only has customer pickup or delivery. I gave East Coast Pizza a call. The person answering the phone was probably the worst and least enthused customer service person I can call talking to in a very long time.
They did have a pizza special, one large pizza with one topping with wings and two liters soda for the alarming price of $42. However when they didn't have any diet soda I asked how much a large pizza by itself would be?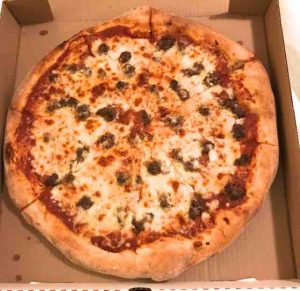 A large one topping pizza was only $22 including a three-dollar delivery fee. Heck, that wasn't that bad. I'm glad I didn't pay an extra 20 bucks for some wings and soda. It wasn't all that long before a taxi driver, that I had used earlier in the day, was down in the hotel lobby with my pizza.
Even though I paid a three-dollar delivery fee I tipped him another three bucks. I used to be a pizza delivery man back in college. It was one of the best jobs pay wise that I had back in the day. I definitely have a soft spot in my heart for pizza delivery people.
I spent the last couple hours this evening writing postcards, making future trackchasing plans and just getting everything organized for tomorrow.
I left on the trip on Friday afternoon. I'll be home very late on Tuesday night, actually early into Wednesday morning. During that time I'll take nine separate flights. Four of those flights will get me from Barrow back to Los Angeles tomorrow.
Tuesday, January 30, 2018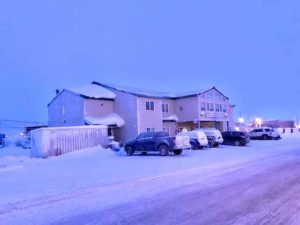 On the one hand I was happy that my first flight of the day today wasn't leaving until about noon. On the other hand I wasn't going to land into LAX, if everything went according to plan, until about 12:15 a.m. on early Wednesday morning. That would put me back into San Clemente at about 2 a.m. When I left my hotel at 10:30 a.m. the sun still had not risen.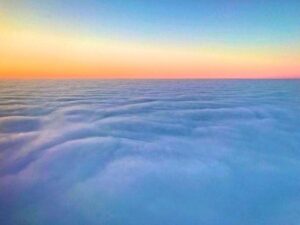 Today's flight plan had me flying from Barrow to Fairbanks to Anchorage to Seattle to Los Angeles. I had window seats that allowed me to take in plenty of the Alaskan sunset as I headed back to the barn. I also had plenty of work to do on my computer and a couple of iTunes movies as well. I don't mind long plane rides. I don't my long drives. I am motivated by what is on the other end of the travel plan.
This had been a wonderful trackchasing weekend. On Saturday I saw my first ever ice race in Iowa. On Sunday I added another, hard to get, track in Alaska. Then yesterday, Monday, I enjoyed a Trackchasing Tourist Attraction at Barrow, Alaska that very few people will ever get to experience.
I've got some pretty exotic trips lined up for 2018. Those trips are like a series of airplanes, one after the other, all in the sky waiting to land at LAX. Nevertheless, this weekend's trip will be one of the best of the year I predict.
Randy Lewis – 77 countries – 2,407 tracks.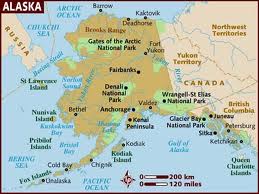 Alaska
The Last Frontier state
This afternoon I saw racing at my 12th lifetime track in the Last Frontier state, yes, the Last Frontier state.  I hold the #1 trackchasing ranking in Alaska as I do in 24 states.  I've seen 12 or more tracks in forty-three different states.
Thanks for reading about my trackchasing,
Randy Lewis
World's #1 Trackchaser
Peoria Old Timers Racing Club (P.O.R.C.) Hall of Fame Member
Alaska sayings:  If you're a single woman in Alaska, remember: Your odds are good; but the goods are odd.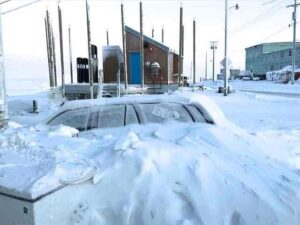 P.S. Here's some more information I promised you about Barrow, Alaska. I think you'll find it most interesting.
Utqiaġvik (Inupiaq: [ut.qe.ɑʁ.βik]), commonly known by its former name Barrow (/ˈbɛəroʊ/), is the largest city of the North Slope Borough in the U.S. state of Alaska and is located north of the Arctic Circle. It is the 11th northernmost public community in the world and is the northernmost city in the United States. Nearby Point Barrow is the country's northernmost point. Barrow's population was 4,683 at the 2000 census and 4,212 at the 2010 census.
20th century to the present
In 1901, a United States Post Office was opened.
In 1935, the famous humorist Will Rogers and pilot Wiley Post made an unplanned stop at Walakpa Bay 15 mi (24 km) south of Barrow while en route to the city. As they took off again, their plane stalled and plunged into a river, killing them both. Two memorials have been erected at the location, now called the Rogers-Post Site. Another memorial is located in Barrow, where the airport was renamed as the Wiley Post–Will Rogers Memorial Airport in their honor.
In 1940, the indigenous Iñupiat organized as the Native Village of Barrow Iñupiat Traditional Government (previously, Native Village of Barrow), which is a federally recognized Alaska Native Iñupiat "tribal entity", as listed by the US Bureau of Indian Affairs circa 2003. They wrote a constitution and by-laws, under the provisions of the Indian Reorganization Act (IRA) of 1934. An IRA corporation was also created.
Barrow was incorporated as a 1st Class City in 1958.
Residents of the North Slope were the only Native people to vote on acceptance of the Alaska Native Claims Settlement Act; they rejected it. The Act was passed in December 1971 and, despite their opposition, became law. The Ukpeaġvik Iñupiat Corporation (UIC) is the for-profit village corporation established under the Act.
In 1972, the North Slope Borough was established. With millions of dollars in new revenues from the settlement and later oil revenues, the borough has created sanitation facilities, water and electrical utilities, roads, fire departments, and health and educational services in Barrow and the villages of the North Slope.
In 1986, the North Slope Borough created the North Slope Higher Education Center. Renamed Iḷisaġvik College, it is an accredited two-year college providing education based on the Iñupiat culture and the needs of the North Slope Borough.
The Tuzzy Consortium Library, in the Iñupiat Heritage Center, serves the communities of the North Slope Borough and functions as the academic library for Iḷisaġvik College. The library was named after Evelyn Tuzroyluk Higbee, an important leader in the community.
Barrow, like many communities in Alaska, has enacted a "damp" law, prohibiting the sale of alcoholic beverages. It allows for import, possession and consumption of such beverages.
In 1988, Barrow became the center of worldwide media attention when three California gray whales became trapped in the ice offshore. After a two-week rescue effort (Operation Breakthrough), a Soviet icebreaker freed two of the whales. Journalist Tom Rose details the rescue, and the media frenzy that accompanied it, in his 1989 book Freeing The Whales. The movie Big Miracle is based on the rescue and was released on February 3, 2012.
In October 2016, a city referendum renamed the city from Barrow to its traditional Iñupiaq name, Utqiaġvik. The name change officially went into effect on December 1, 2016.
Geography
Barrow is the only U.S. city on the continent of North America with an antipodal point on uninhabited dry land (in Antarctica, at 71°17′44″S 23°14′1″E) Barrow is roughly 1,300 miles (2,100 km) south of the North Pole. Only 5.3% of the Earth's surface lies as far from the equator as Barrow.
According to the United States Census Bureau, the city has a total area of 21 sq mi (54 km2), 18 sq mi (47 km2) of the area being land and 3 sq mi (8 km2) being water. Water makes up 14% of the total area. The predominant land type in Barrow is tundra, which is formed over a permafrost layer that is as much as 1,300 feet (400 m) in depth.
Climate
Owing to its location 320 miles (515 km) north of the Arctic Circle, Barrow's climate is cold and dry, classified as a polar climate (Köppen ET). Winter weather can be extremely dangerous because of the combination of cold and wind, while summers are cool even at their warmest. Weather observations are available for Barrow dating back to the late 19th century. A National Oceanic and Atmospheric Administration (NOAA) Climate Monitoring Lab operates in Barrow. The United States Department of Energy (DOE) has a climate observation site in Barrow as part of its Atmospheric Radiation Measurement (ARM) Climate Research Facility.
Despite the extreme northern location, temperatures at Barrow are moderated by the surrounding topography. The Arctic Ocean is on three sides, and flat tundra stretches some 200 miles (300 km) to the south. There are no wind barriers or protected valleys where dense cold air can settle or form temperature inversions in the lower atmosphere, as commonly happens in the interior between the Brooks and the Alaska ranges.
Barrow has the lowest average temperatures of cities in Alaska. Although it is rare for Barrow to record the lowest temperatures statewide during cold waves, extremely low wind chill and "white out" conditions from blowing snow are very common. Temperatures remain below freezing from early October through late May.
The high temperature is above freezing on an average of only 120 days per year, and there are 160 days of sub-0 °F (−18 °C). Freezing temperatures and snowfall can occur during any month of the year.
In terms of precipitation, Barrow has a desert climate, and averages less than 5 inches (127 mm) "rainfall equivalent" per year. One inch of rain possesses approximately equal water content to 12 inches (30 cm) of snow. According to 1971−2000 normals, this includes 29 inches (74 cm) of snow, compared to 101 inches (257 cm) for Kuujjuaq in Nunavik, Quebec[32] or 84 inches (213 cm) and 77 inches (196 cm) for much warmer Juneau and Kodiak, Alaska, respectively. Even Sable Island, at around 44 degrees latitude and under the influence of the Gulf Stream, receives 44 inches (112 cm), or 52 percent more snowfall than Barrow.
The first snow (defined as snow that will not melt until next spring) generally falls during the first week of October, when temperatures cease to rise above freezing during the day. October is usually the month with the heaviest snowfall, with measurable amounts occurring on nearly half the days and an average total accumulation of 8.8 inches (22 cm).
The sun sets on November 18 or 19, and it remains below the horizon for about 65 days. This creates a polar night that lasts until the Sun returns to lightly touch the horizon (due to the refraction and scattering of the atmosphere) by January 22 or January 23. The sun then rises again completely over the horizon by January 27 or 28. During the first half of the polar night, there is a decreasing amount of twilight each day, and on the winter solstice (around December 21 or December 22), civil twilight in Barrow lasts for a mere 3 hours.
In addition to its low temperatures and polar night, Barrow is one of the cloudiest places on Earth. Owing to the prevailing easterly winds off the Arctic Ocean, Barrow is completely overcast slightly more than 50% of the year. It is at least 70% overcast some 62% of the time. Cloud types are mainly low stratus and fog; cumuli forms are rare. Peak cloudiness occurs in August and September when the ocean is ice-free. Dense fog occurs an average of 65 days per year, mostly in the summer months. Ice fog is very common during the winter months, especially when the temperature drops below −30 °F (−34 °C).
Serious cold weather usually begins in January, and February is generally the coldest month, averaging −14.2 °F (−25.7 °C). By March 1, the sun is up for 9 hours, and temperatures begin to warm, though winds are usually higher. April brings less extreme temperatures, with an average of 1.8 °F (−16.8 °C), and on April 1 the sun is up for more than 14 hours. In May, the temperatures are much warmer, averaging 21.2 °F (−6.0 °C). Beginning around May 11 or 12, the sun remains above the horizon the entire day, and the phenomenon known as the midnight sun is observed. The sun does not set for about 80 days, until around July 31 or August 1. In June, the average temperature rises above freezing, to 35.7 °F (2.1 °C), and average daily temperatures remain above freezing until mid- or late September.
July is the warmest month of the year, with an average high of 47 °F (8 °C) and an average low temperature of 35 °F (2 °C). Beginning in late July, the Arctic Ocean is relatively ice-free, and remains so until late October. The highest temperature recorded in Barrow was 79 °F (26 °C) on July 13, 1993, while the lowest is −56 °F (−49 °C) on February 3, 1924; the highest minimum is 53 °F (12 °C), while the lowest maximum is −47 °F (−44 °C). Barrow records an average 24 days per year where the high reaches at least 50 °F (10 °C). Even in July and August, the low falls to or below the freezing mark on 24 days
Variation of wind speed during the year is limited, with the fall months being windiest. Extreme winds from 40 to 60 miles per hour (60 to 100 km/h) have been recorded for all months Winds average 12 mph (20 km/h) and are typically from the east.
Demographics
Historical population
Census
Pop.
 
%±
1880
200
—
1890
152
−24.0%
1910
446
—
1920
322
−27.8%
1930
330
2.5%
1940
363
10.0%
1950
951
162.0%
1960
1,314
38.2%
1970
2,104
60.1%
1980
2,207
4.9%
1990
3,469
57.2%
2000
4,581
32.1%
2010
4,212
−8.1%
Est. 2016
4,335
[4]
2.9%
As of the 2010 United States Census, there were 4,212 people residing in the city. The racial makeup of the city was 60.5% Alaska Native, 16.2% Caucasian, 0.9% African, 8.9% Asian, 2.3% Pacific Islander and 8.1% from two or more races. 3.1% were Hispanic or Latino of any race.
As of the census of 2000, there were 4,683 people, 1,399 households, and 976 families residing in the city. The population density was 249.0 people per square mile (96.1/km2). There were 1,620 housing units at an average density of 88.1 per square mile (34.0/km2). The racial makeup of the city is 57.19% Alaska Native, 21.83% White, 9.41% Asian, 1.00% Black or African American, 1.35% Pacific Islander, 0.70% from other races, and 8.51% from two or more races. Hispanic or Latino of any race were 3.34% of the population.
There were 1,399 households out of which 56.5% had children under the age of 18 living with them, 45.2% were married couples living together, 14.8% had a female householder with no husband present, and 28.0% were non-families. 23.0% of all households were made up of individuals and 1.8% had someone living alone who was 65 years of age or older. The average household size was 3.35 and the average family size was 4.80.
In Barrow, the age distribution of the population shows 27.7% under the age of 18, 13.3% from 18 to 24, 31.6% from 25 to 44, 19.4% from 45 to 64, and 3.4% who were 65 years of age or older. The median age was 29 years. For every 100 females there were 107.1 males. For every 100 females age 18 and over, there were 109.5 males.
The median income for a household in the city was $63,094.09, and the median income for a family was $68,223. Males had a median income of $51,959 versus $46,382 for females. The per capita income for the city was $22,902. About 7.7% of families and 8.6% of the population were below the poverty line, including 7.2% of those under the age of 18 and 13.12% of those 65 and older.
As of March 3, 2009, the town's website wrote of the population: "The largest city in the North Slope Borough, Barrow has 4,429 residents, of which approximately 61% are Iñupiat Eskimo."
Economy
Barrow is the economic center of the North Slope Borough, the city's primary employer. Numerous businesses provide support services to oil field operations. State and federal agencies are employers. The midnight sun has attracted tourism, and arts and crafts provide some cash income.
Because transporting food to the city is very expensive, many residents continue to rely upon subsistence food sources. Whale, seal, polar bear, walrus, waterfowl, caribou, and fish are harvested from the coast or nearby rivers and lakes Barrow is the headquarters of the Arctic Slope Regional Corporation, one of the Alaska Native corporations set up following the Alaska Native Claims Settlement Act in 1971 to manage revenues and invest in development for their people in the region.
QUICK FACTS
LIFETIME TRACKCHASER COMPARISONS 
The three most important trackchasing comparisons to me are:
Total lifetime tracks seen
Total "trackchasing countries" seen
Lifetime National Geographic Diversity results
Total Lifetime Tracks
There are no trackchasers currently within 600 tracks of my lifetime total.  Don't blame me.
Randy Lewis, San Clemente, California – 2,414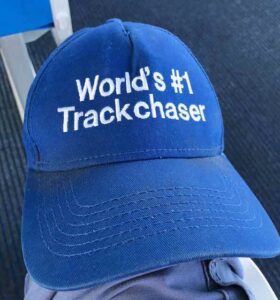 Total Trackchasing Countries
There are no trackchasers currently within 20 countries of my lifetime total. 
Randy Lewis, San Clemente, California – 77
Current lifetime National Geographic Diversity results
Randy Lewis, San Clemente, California – 4.14
That's all folks!  Official end of the RLR – Randy Lewis Racing Trackchaser Report
Click on the link below to see the video production from the racing action today.
Click on the link below for a photo album from today's trackchasing day.  You can view the album slide by slide or click on the "slide show" icon for a self-guided tour of today's trackchasing adventure.
North to Alaska for one of my best trackchasing trips in a long time….don't miss this one