Greetings from Belton, South Carolina
From the travels and adventures of the "World's #1 Trackchaser"
Possum Kingdom Super Speedway – Lifetime Track #1,187
HighlightsThe DetailsRace ReviewQuick Facts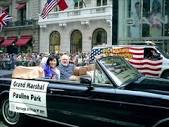 Trackchaser named 'Celebrity Grand Marshal' …….details in "The Details."
Randy sleeps it off in an interstate rest area……….details in the "The Details."
Should trackchasers be counting flat karts?……………..details in the "Race Review."  
GREETINGS FROM BELTON, SOUTH CAROLINA AND THEN LATER IN THE EVENING LAURENS, SOUTH CAROLINA
I woke up in Augusta, Georgia (home of the Masters golf tournament).   I went to sleep in a highway rest stop along I-85 just outside of Atlanta.  This is what transpired today.
THE STRATEGY                                                                                     
I enjoy telling people about trackchasing.  If you've ever met me, I suspect I've probably told you more about the hobby than you wanted to hear!  I love it when I can expose large groups of folks to this unique and interesting hobby.
I was able to do that today.  I found a very receptive audience from a group of 2,000 people or more, most of which I suspect had never heard of trackchasing. 
Several folks up in the scoring tower asked me how I found my way to Belton, South Carolina today.  I'm not really sure they understood my answer.  This is what I told them over the P.A. system.
"I was in Albuquerque yesterday morning (Friday).  My planned Friday night track in Lubbock, Texas was about to be rained out.  So I hopped on a plane to Atlanta and ended up in South Carolina for a Friday night race last night.  I'm going to a track after you finish racing today.  I should get out of that track by midnight.  Then I'll drive nearly 200 miles and catch a flight from Atlanta to Los Angeles on Sunday morning.  I expect to be at a Championship Off-Road Racing event tomorrow (Sunday) afternoon with my wife near Los Angeles, California."  No, I don't think they really could comprehend what I was up too.
THE TRIP
Saturday morning
It would a pretty simple trip today.  I had overnighted in Augusta, Georgia.  I drove past the Augusta National Golf Club where the Masters Golf Tournament is played.  I've been through Augusta several times in recent years.  It always amazes me that such a beautiful golf course and event can be played within yards of a major thoroughfare where every major chain restaurant, hotel and convenience store is located.  The street looks pretty trashy.  I wonder if Tiger Woods shops at the Circle K just outside the gates of Augusta National.
The drive up to the Possum Kingdom Super Speedway, the first part of my planned trackchasing double was slightly less than 100 miles. 
Early Saturday night
I left the Possum Kingdom Super Speedway at just a minute or so past 10 p.m.  If you said that Possum Kingdom sounds like it might be out in the boonies you would be right.  The roads aren't marked very well out here. 
I had hoped the Senior Champ Kart race would have been run off earlier in the program.  It wasn't.  Now, it was going to be touch and go getting to the Laurens County Speedway before their program was finished.  The Laurens program was not scheduled to begin until 8 p.m.  I expected to get there about 10:45 p.m.  They don't run very time efficient programs in this part of the country.  Maybe they would still be racing.  You might recall that last week's race program in Salt Lake City ended before 10 p.m.
Did you know that I no longer carry any paper maps or atlases with me whatsoever?  That's how confident I am in my Garmin GPS unit.  I don't know of any trackchaser out there who travels without some form of paper map.  Come on, boys step up that technology.
The GPS told me it was 29.9 miles to the Laurens County Speedway from Possum Kingdom.  Imagine yourself trying to navigate in a large forest-like maze.  The only thing directing you is a soft little British English voice of "Emily."  Yes, that's what Garmin calls the voice that directs the World's #1 Ranked Trackchaser.  Of course, that's when Carol is not directing the World's #1 Ranked Trackchaser!
The GPS took me down some of the most rural and narrow two-lane country roads you might imagine.  All of the driving was in nearly pitch-black darkness.  I must admit that the GPS unit is not always absolutely perfect, but it is close.
The unit has the capability to direct me to all kinds of specific locations in categories like lodging, gas stations, rest areas, recreational locations and on and on.  Tonight, I plugged in "Laurens County Speedway" from the list of racetracks in the area that were programmed in the GPS.  The unit got me to Laurens, South Carolina which in these parts at this time of night on roads lined with 50 foot trees on both sides (the trees can effect the satellite signal) was quite an accomplishment.  I honestly do not think I could have gotten here in a timely manner on my own.
However, when the machine told me "I was here" I wasn't.  I was in Laurens but I wasn't at the track.  It was dark.  Time was running out.  What would I do?  Of course, any good trackchaser worth his salt must have a backup plan or two.  I had two.
I had the track's street address in two locations.  The first was in my computer.  For any track that I plan to visit in advance, (Laurens data was entered last night while planning the trip) I copy the pertinent data from the track's website into a Microsoft Word file.  I also had a tattered and torn copy of the National Speedway Directory.  The NSD was the more handy of my two backup plans so I went with that.  This book carries exact street addresses for many but not all of its listings.  Fortunately, there was a street address for the Laurens County Speedway.  In less than five minutes, I was at the track.  Information is king!
Late Saturday night
I left the Laurens County Speedway exactly one hour after I had arrived.  I was on the road at 11:45 p.m. (8:45 p.m. San Clemente time.)  My next race was just "15 hours up the road."  In this case, "up the road" meant California.
Yes, I was going to attempt to drive through most of the night, then board a jet plane back for the Golden state where the Championship Off-Road Racing sanctioning group, aka CORR, was holding an afternoon race in Pomona, California.  Yes, someday trackchasing historians are going to look back on some of my trip combinations and ask, "How'd he do that?"
My GPS unit, dubbed "Dusty" by "Trackchasing's First Mother" told me it was going to be a 188-mile drive to the Atlanta airport.  My projected time of arrival was 2:44 a.m. to the airport.  My flight was scheduled to depart at 7 a.m.  In order to return my rental car and clear airport security, I figured I needed to be at the airport by 5:30 a.m. 
I could drive straight to the airport without stopping and then catch some sleep there.  Or, I could drive to somewhere near the airport along the interstate and catch some sleep.  How much sleep could I get?  How could I calculate how much sleep I could get and still not miss my plane?
For me the equation was simple.  I would simply subtract the time (2:44 a.m.) that marked my arrival without stops from the time (5:30 a.m.) that was needed to take care of my airline trip housekeeping.  The result from that subtraction meant I could sleep for two hours and forty-six minutes.
I didn't know if it would be worthwhile to arrive at the airport at 2:44 a.m.  Would the National Rental Car bus be operating at three o'clock in the morning?  Sleeping in airports would probably not be as quite as sleeping in an interstate rest area.
Therefore, I opted for the last rest area on Interstate 85, about 40 miles east of the airport.  Over time and even today, several of our best-known trackchasers routinely pass up motels in favor of sleeping overnight in their cars.  I guess, like me, they have to operate on a budget as well.  I only do it in the rarest of circumstances and only when I need to be somewhere early the next morning.
Heck, my rest stop stay wasn't even three hours long, so I can't even compare myself to the chasers who do this all the time.  I will say this.  Three hours was more than I cared to do it.  My body doesn't seem to fit that well in a Pontiac Grand Prix even when the seat fully reclines.  Couple that with the constant sound of 18-wheelers coming in and out with their airbrakes hissing and good REM sleep was hard to come by.
I set two alarms, so I wouldn't miss my departure time.  The cell phone alarm and portable alarm clock were set for 4:30 a.m. Eastern time (1:30 a.m. San Clemente time).  They worked well, and I was off.  I arrived at the airport at 5:23 a.m. (2:23 a.m. San Clemente time).  Returning the car and clearing airport security was a snap.
When I reached the gate, I learned I was 33rd on the standby list of some 40 people trying to get on this plane.  Not to worry, there were more than 80 open seats on the Atlanta to Los Angeles non-stop flight.  By the way, this was the 100th flight segment that Carol and I have taken in the nine months we've been on our airline sponsorship program.  I've taken about 80 of those flights.
I would land at 8:50 a.m. San Clemente time, drive 60 miles home.  I figured I would hit the driveway about 10:30 a.m.  I did.  I planned for one hour of rest and clean-up and then Trackchasing's First Mother and I would go out to the driveway, hop in the Carol Lewis owned and Life of Virginia sponsored Lexus LS 430 and head to Pomona.
The drive to Pomona would be a manageable 59 miles.  Carol will do the driving.  I've already warned her not to expect my normal cheerful and effervescent personality!
Editor's note:  By the way, if I "never make it" on one of these trips, please don't worry about me.  I am so far ahead in life's game that I owe it.  Life does not owe me.  I've led such a privileged life in so many ways, for so long that I'm miles ahead.  That doesn't mean I don't want to keep enjoying my adventure lifestyles for as long as my joints and the man above will allow.  I just don't want anyone worrying about me.
Once in awhile, I think what it would be like if one of my planes ever goes down.  You should know that if that ever happens, I will be planning like crazy all the way down how I'm going to write about such an occasion in a Trackchaser Report.  If I make it, you'll be the first to hear about the experience.  If I don't, you won't.
THE PEOPLE
I've met some really nice people as I travel the world trackchasing.  Today's visit to the Possum Kingdom Super Speedway was an excellent example of what I'm talking about.  I had contacted the track's owner earlier in the day by cell phone.  I was trying to confirm the track's starting time.  I was impressed when he called me back with the info I was looking for.  I'm sure with more than 500 competitors at his racetrack today, he had a lot on his plate.
Once at the track, I ran into a fellow named Jim of Video Jim's (www.videojim.com.)  He was a lifelong racing fan who used to have his own cable TV racing show.  Now, he does the video work at local tracks and sells his stuff as a living.  Jim had heard about "trackchasers."  He knew what we were about and was impressed with the hobby.  If you'd like a video or DVD of today's action, check him out.
Jim insisted on taking me "up to the tower" to meet the track's announcer, Bill, and the track owner, Greg.  Bill, the announcer, had also heard about trackchasers.  He told me he's received several calls over the years from trackchasers asking questions about the tracks down this way.
Bill and I got to talking and soon I was being named the "Celebrity Grand Marshall" for today's Tri-State All Star racing event.  There were several responsibilities I was assigned in order to earn such a lofty designation.  First, I would be giving the command, "Gentlemen, start your engines" for the first race of the event.  My command followed the track prayer and the National Anthem.
My next assignment was to throw the green flag to start the first race.  The Possum Kingdom flag stand is a first class affair.  It juts out over the track some 25 feet at an elevation of a like distance.  I had a great view from there to give the green flag to some 25 karts in the Super Heavy group.
Following an at the track interview, I was given a very nice gift for my efforts.  Each class's fast qualifier had been given a beautiful medallion with the words, "Fast Qualifier – Tri-State All Star Series 2007 – Possum Kingdom."  As the grand marshal for today's event, I received the very same memento.  Thank you, Possum Kingdom Super Speedway.
By the way, I mentioned to Bill the announcer, that in trackchasing we only count senior champ karts from a normal class of go-karts.  His reply was interesting.  "Wow!" he said.  "Over the years, I've gotten several calls from trackchasers and they always asked me if we would be running senior champ karts.  I just thought they liked that class.  Now, I know why they were asking!"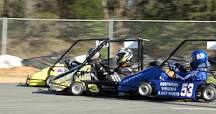 POSSUM KINGDOM SUPER SPEEDWAY, BELTON, SOUTH CAROLINA – TRACK #1,187
Possum Kingdom was my 17th  lifetime track to see in South Carolina.  I'm stuck in fifth place here for the foreseeable future.  I am five tracks out of fourth place, a position held by my trackchasing idol of several years ago, Andy Sivi.  John Moore of Knoxville, Tennessee leads in South Carolina with 35 tracks.
 
RACE TRACK NEWS:
POSSUM KINGDOM SUPER SPEEDWAY
The Possum Kingdom Super Speedway is what is referred to in the world of trackchasing as a "go-kart" track.  This is trackchaser "code" for "this is typically a non-countable track."  However, "go-kart" tracks can be countable.  We do not count non-caged, flat go-karts.  We do count most caged kart racing machines driven by adults.
Today's event drew more go-karters than I have ever seen at the 50+ "go-kart" tracks I have visited.  They had just over 500 racers today!  I'm not sure if I've ever been to an event with this many entries.
Today's racing was sanctioned by the Tri-State All Star Series.  Some of the races paid $1,000 to win.  In the world of go karting that is HUGE prize money.  I'm glad to see my $20 admission fee was being passed along to the racers.  They deserve it.
The facility easily handles the crowd of competitors they had today.  The P.A. system is as good as any.  The track announcer is easily one of the top five or so I've heard in the 49 tracks I've already attended this year.  Fans could watch the action from the comfort of their air-conditioned automobiles (it was 89 degrees!).  Or, if they prefer, from a few small aluminum grandstands sprinkled around the high-banked nearly quarter-mile long dirt oval.
The track's P.A. was broadcast over FM channel 88.7   I listened to the track's internal communication on my race scanner on the 469.500 frequency.  The program was slightly delayed when transponders had to be transferred from racers who had just finished their event to racers who were just getting ready to hit the track.
I cannot for the life of me understand why most leading trackchasers do not want to count most go karting for trackchasing purposes.  The racing I saw this winter at the "King of the concrete" show in North Carolina and at today's show is so much more entertaining and interesting than the majority of stock car oriented programs I see.  I suspect when more and more trackchasers realize they are being hemmed in geographically, the idea of counting "go-kart" tracks will get a more favorable reaction.  I just hope when we get to that point, we have enough sense not to make adding go-kart tracks retroactive. 
Most of today's feature only races had 20-25 karts or more.  From a racechasing view, that's great.  However, from a trackchasing point of view, it wasn't that great.
The information sheet I was given identified some 24-25 different classes that would be racing today.  Some of the classes had so many karts there were multiple "features" in those classes.  As it turns out, there were only two trackchaser countable classes.  Those were the Senior Champ Lites and the Senior Champ Heavies.  Where do you think those classes were put in the overall order of the 24+ plus features?  How about 16th and 22nd respectively.  I was going to see my share of flat karts before I could legally count this track.
If you thought it might take some time to run 25 feature events with an average of 25 karts to a race for 15 laps you would be correct.  The track's Grand Marshall threw the first green flag at about 5:40 p.m.  The Possum Kingdom Super Speedway has a curfew of 11:30 p.m.  Some races were shortened from 15 laps because of a 15-minute time limit for each race. 
About midway through the program, there was a bad accident.  A female racer was t-boned in turns one and two.  According to the track's radio transmission, her helmet was cracked badly.  This caused a delay in the program of 15-20 minutes.  The injured driver was placed on a backboard and transported to a local hospital.
When a track ambulance is forced to leave the track for the hospital, a significant delay often occurs while the track waits for another ambulance to arrive at the track.  Although the primary ambulance was no longer at the track, the racing resumed.  Maybe they had another ambulance, but I didn't see it.
It began to cross my mind that the second half of my trackchasing double might be in jeopardy.  At 9:15 p.m. we were on the 14th feature.  My countable class was coming up in feature #16.  The second half of my trackchasing double, the Laurens County Speedway, was 29.9 miles away according to my Garmin GPS unit.  The GPS told me it would take 40 minutes to get there.  I figured if I was on the road by 10 p.m., I would probably make it for the last couple of races in Laurens, but there was no guarantee.
The track also sensed they were running short on time.  Have you ever tried to put 10 pounds of potatoes in a 5-pound bag?  I think that is what the Possum King Super Speedway was trying to do today.  They did make one positive change in order to speed up the program.  They went to single file starts, as opposed to two abreast for the start of each race.  I'm not sure I've ever seen that before.
At just about 9:50 p.m., thirteen senior champ karts took to the track.  Of all the classes I had seen up to this point this car count was the smallest.  They ran an entertaining (lots of passing) 15-lap feature event.  Now it was time for me to depart.
I had arrived at the track today at 3 p.m. or so.  I was leaving at 10 p.m.  In between I had met several nice folks that I hope I have the pleasure of meeting again.  For the first time ever (according to my fading memory) I had been named the "celebrity grand marshal" for a racing event.  That was fun.  Thanks Possum Kingdom Super Speedway!
LAURENS COUNTY SPEEDWAY
Later that evening I ventured over to the Laurens County Speedway.  You will be able to see my Trackchaser Report for the Laurens County Speedway by clicking on the underlined link.
WEATHER CONDITIONS
Today's weather provided a full blue sky with a warmer than expected 89 degrees.  I guess it was a good move to bag a rain-swollen West Texas for some very fine southeastern weather.
RENTAL CAR UPDATE – ATLANTA, GEORGIA
I was somewhat disappointed in my Atlanta airport rental car experience.  First of all, there were nearly no traditional four door sedans in the Emerald Aisle Executive Selection area.  The Pontiac Grand Prix I did pick was only marginally clean.  I've had problems with the National Atlanta location.  I suspect it's like any other business.  If they have a poor manager, they are going to have employees who can't get the job done.
I drove the car 553 miles.  That's not very far considering I picked up three new tracks.  I paid an average price of $3.14 per gallon.  The Grand Prix gave me 22.8 M.P.G. in fuel mileage at an average cost of 13.8 cents per mile.  The car cost 12.4 cents per mile to rent, all taxes included. 
Thursday total driving miles – 2.4
Friday total driving miles – 2.5 (Albuquerque car)
Friday total driving miles – 189
Saturday and early Sunday morning total driving miles – 364



LIFETIME TRACKCHASER STANDINGS UPDATE:
These worldwide trackchasers are within 100 tracks (plus or minus) of my current trackchaser total.
1.  Randy Lewis, San Clemente, California – 1,188
2.  Allan Brown, Comstock Park, Michigan – 1,106 (-82)*
3.  Guy Smith, Effort, Pennsylvania – 1,092 (-96)*
7.  Ed Esser, Madison, Wisconsin – 1,005 (-182)**
* Warning, you are within 50 tracks of being removed from this list. 
** Special exemption.
LIFETIME NATIONAL GEOGRAPHIC DIVERSITY STANDINGS
2007 (current thru 5/14/07)**
1. Randy Lewis, San Clemente, California – 6.82
2. Gordon Killian, Sinking Springs, Pennsylvania – 7.12
3. Allan Brown, Comstock Park, Michigan – 7.55
**Until the end of the year, NGD rankings are unofficial.  Rankings are affected not only by the leader's activities but also by other trackchasers impact on the leader's position in each state.
Other notables
These worldwide trackchasers are within 10 tracks (plus or minus) of Carol's current trackchaser total.
31.  Carol Lewis, San Clemente, California – 314
There are no trackchasers within 10 tracks (either above or below) of Carol's current total. 
2007 TRACKCHASER STANDINGS
1.  Randy Lewis, San Clemente, California – 50
2.  Ed Esser, Madison, Wisconsin – 40
3.  Roland Vanden Eynde, Vilvoorde, Belgium – 22
3.  Mike Knappenberger, Reading, Pennsylvania – 22
5.  Carol Lewis, San Clemente, California – 20
6.  Guy Smith, Effort, Pennsylvania – 15
7.  Gordon Killian, Sinking Springs, Pennsylvania – 12
8.  Roger Ferrell, Majenica, Indiana – 11
9.  Rick Young, Maxville, Ontario, Canada – 10
10.  Paul Weisel, Orefield, Pennsylvania – 9
10.  Pam Smith, Effort, Pennsylvania – 9
Tracks have been reported by 34 different worldwide trackchasers this season.
Thanks for reading about my trackchasing,
Randy Lewis
Utah's #1 Trackchaser
That's all the news that's fit to print from San Clemente where the women are strong, the men are good-looking, and all of the children are above average.
CUMULATIVE TRAVEL DISTANCES:
AIRPLANE
Los Angeles, CA – Albuquerque, NM – 676 miles
RENTAL CAR – ALBUQUERQUE, NM
Albuquerque International Airport – trip begins
Albuquerque International Airport – 4.9 miles – trip ends
AIRPLANE
Albuquerque, NM – Atlanta, GA – 1,269 miles
RENTAL CAR – ATLANTA, GA
Hartsfield-Jackson Atlanta International Airport – trip begins
Modoc, South Carolina – 158 miles
Belton, South Carolina – 316 miles
Laurens, South Carolina – 346 miles
Hartsfield-Jackson Atlanta – 553 miles – trip ends

AIRPLANE
Atlanta, GA – Los Angeles, CA – 1,940 miles
Total Air miles – 3,885 miles
Total auto and air miles traveled on this trip – 4,442.9 miles
TRACK ADMSSION PRICES:
Modoc Speedway –  $10
Possum Kingdom Super Speedway –  $20
Laurens County Speedway – $15
Total racetrack admissions for the trip – $45
UPCOMING TRACKCHASING PLANS
It's time to go back to California and join up with Trackchasing's First Mother for some trackchasin' home cookin'.