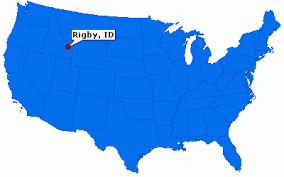 Greetings from Rigby, Idaho
.
.
From the travels and adventures of the 
"World's #1 Trackchaser"
.
.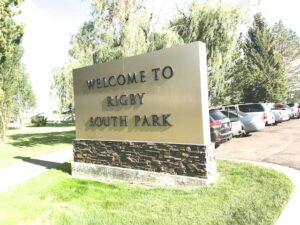 Rigby South Park
Dirt figure 8
 Lifetime Track #2,449
The EventVideo PlusPhotos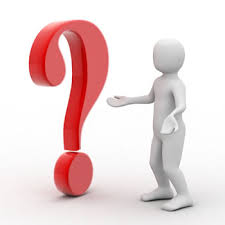 THE EVENT
I am a "trackchaser". So, what the heck is that? I get that question from racing and non-racing people all the time. This is a difficult question to answer. Why? Because after I do my best to respond people say, "I've never heard of such a thing"!
Here's my best answer.
I'm a racing fan. I love to travel. I love to analyze opportunities to get the most out of everything while saving time and money.
Trackchasing fills the need for all of the above. The racing part of my trackchasing has me trying to see wheel to wheel auto racing at as many different racetracks as I can all over the world. Yes, all over the world. So far things are going pretty well. I've seen racing at nearly 2,500 tracks in 80 countries. As a matter of fact, I've seen racing at more tracks than anyone else in the world.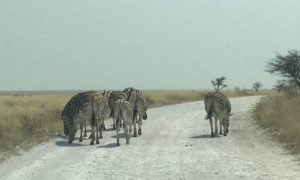 Equally important to me are the things I get to see and experience over the "long and dusty trackchasing trail". I call these adventures "Trackchasing Tourist Attractions". You won't want to miss my "Trackchasing Tourist Attractions" page. Here's the link:  Trackchasing Tourist Attractionsor my "Sports Spectating Resume" page, Sports Spectating Resumeon my website at www.randylewis.org.
I live in southern California. Most of the racetracks in the U.S. are located well over 1,000 miles from where I live. As a matter of fact, my average trip covers 5,000 miles and more. I take 35-40 of those trips each season. In any given year I will travel well over 200,000 miles, rent more than 50 cars, and stay in more than 150 hotel rooms.
I get the chance to meet people all over the world. With trips to 80 countries and counting just getting the chance to experience so many other cultures, spend times in their homes and meet their friends is a huge reward for being in this hobby. I am indebted to several of these folks for their help and friendship.
It's takes a good deal of planning to do the above and not spend my entire retirement portfolio. I enjoy the challenge, the travel and every other aspect of "trackchasing". In reality, my trackchasing hobby is a lot like being with the carnival. I breeze into town, stay a little while and then head on down the road.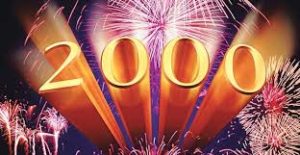 Today's adventure was one more of the 2,000 trips that have taken me up, down and around the long and dusty trackchasing trail. If you would like to see where I've been and experience those adventures here's the link:
If you've got a question, comment or whatever please leave it at the bottom of this report.  It's very easy to do.  Or you can visit me on Facebook.  Thanks!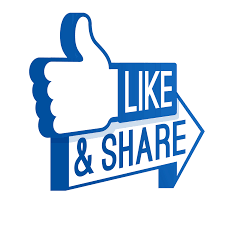 FOREWORD
Saturday, June 9, 2018.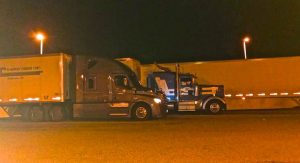 Last night I trackchased in Texarkana, Arkansas. The racing finished up at 11 p.m. I drove back to Dallas arriving into the metroplex at about 2:15 a.m. I slept for two hours in my car. Then I made it over to DFW in the hopes of making a 6:25 a.m. flight to Seattle.
I missed getting on that flight by two seats. I had planned a flight to Seattle and then a connection over to Boise, Idaho. Now that plan was out the window. On two hours sleep I found a quiet spot at the airport . I started analyzing all the location permutations that might get me to tonight's trackchasing event in Rigby, Idaho.
If I wanted to get to Idaho from Dallas I could try for the one and only nonstop. However, that flight was sold out. Other option options included flying into Salt Lake City, Missoula Montana, Billings Montana or Bozeman Montana.
If I couldn't make any of those locations work I had a backup plan of flying into Detroit. If I had to do that I would trackchase in Michigan tonight and Ontario, Canada tomorrow. I got all the flights lined up and began standing by for each one. The best flight option looked like Bozeman, Montana.
If I had made my original connection from Seattle to Boise I would have ended up driving 27 hours to make this weekend of Far West trackchasing work. However, I discovered that the Bozeman connection would only require 19 hours of today driving. Saving eight hours of highway activity was huge. Bozeman would not give me as much flexibility as the bigger city of Boise. But, but it still might work.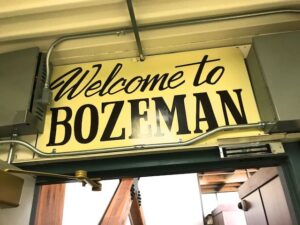 I'm happy to report that I made that flight to Bozeman, Montana. When I knew I was going to make it I called the National Car Rental Company to reserve a car. Getting rental cars in small city markets like Bozeman is not as convenient and it's normally more expensive than it would be in a larger city.
Sometimes these rural Far West markets impose a daily mileage limit. If rental car companies ever go to something like that on a widespread basis you'll soon see be retiring from trackchasing. Luckily, the Bozeman rental offered unlimited mileage.
The bad news was they only had SUVs to rent. I've been renting Toyota Camrys lately and getting 35 miles per gallon or more. An SUV would probably give me 25 miles per gallon or less. I didn't like that idea.
The cheapest rate I could come up with was $175 for two days. That didn't sound all that great. Luckily I have several "free days" in the bank. I used two of them to knock down the two-day rental price to only $22.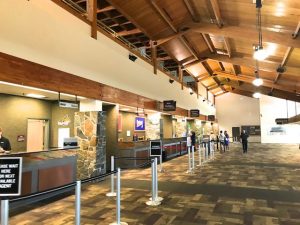 When I landed in Bozeman I was surprised at how large, relatively speaking, the airport was. It was done in dark wood like you might find in a hunting lodge. There were lots of stuffed animals including bear. It seemed a little outdated…sort of like a 1970s Holidome.
I mentioned that I would have 19 hours of driving from the time I picked up my rental car in Bozeman, Montana until I returned it. This afternoon I needed to drive about seven hours round-trip down to Rigby, Idaho for this evening's figure 8 racing.
Remember, I was operating on two hours of sleep from last night. I would wrap up the seven hours of driving at about 11 p.m. or so. Yes, I was dragging just a bit.
I was a little surprised at how slow the surface street driving was in Bozeman. They have more traffic than we do in Los Angeles! Then I pulled into a Wendy's that had 15 cars in the drive-through line. I decided to go inside to save time. Wrong move. They had another 15 people in line trying to get their sandwiches!
I had about an hour, less after my trip to Wendy's, and hoped that I might be able to fit in a Trackchasing Tourist Attraction in Bozeman. Years ago Carol and I happened to be in town. We got to see the Blue Angels demonstration in Bozeman. That was a highlight.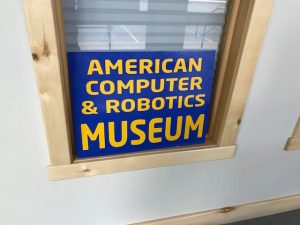 Trip advisor told me that the American Computer Museum was the #1 attraction in all of Bozeman. USA Today said this museum was one of the top 10 museums in the entire country with a free admission. I had to check that out.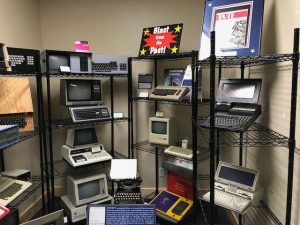 It was interesting museum. Yes it was free although I left a donation when I finished up seeing what I had to see. I didn't have a lot of time but I took several pictures. The place isn't big but if you were into computers from the early days you would love this place.
It just turned out that the computer museum was on the campus of Montana State University. I love touring college campuses. I want to see everything I can during these visits but the three most important areas of any college campus visit for me are the basketball arena, the football stadium and the bookstore (t-shirts). You can see what I got out of college!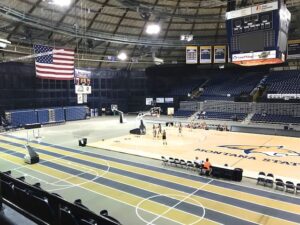 Sometimes the sports facilities are not open to the public when I show up. I was able to get inside the basketball arena today. It's the Brick Breeden Fieldhouse. This was a great looking place to play basketball especially for a mid-major or maybe a lower tier mid-major school. I couldn't get into the football stadium but could still get a good view of the field and the stands from the outside. I didn't have time to find out what was happening in the bookstore.
By the way the Montana State Bobcats compete in the Big Sky conference. They play in Division 1. Here's a rundown of the conference member schools.
Men's sponsored sports by school
School
Basketball
Cross
country
Football
Golf
Tennis
Track and field
(indoor)
Track and field
(outdoor)
Total
Sports
Eastern Washington
6
Idaho
7
Idaho State
6
Montana
6
Montana State
6
North Dakota
7
Northern Arizona
6
Northern Colorado
7
Portland State
6
Sacramento State
7
Southern Utah
7
Weber State
7
The drive down from Bozeman to where tonight's race would be happening in Rigsby was about a 200-mile trip. Most of the driving was on two lanes. I wasn't looking forward to the return trip. Driving those 200 miles on a narrow highway in the dark wasn't ideal, especially with all of the large wildlife in the area, but it was what it was.
I've got a Toyota Highlander SUV rental vehicle. It's got a pretty good suspension on it especially compared to the Chrysler 300 we had last week. That car made us feel every bump in the road. I guess we're just too used to driving the Lexus brand.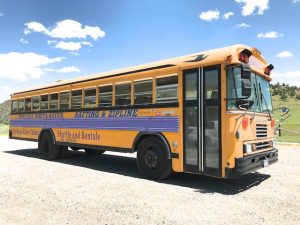 The Highlander has some sort of a radar detection system that I don't know how to turn off. Honestly, I haven't really tried to turn it off. When I get behind a car that I am beginning to overtake my car begins to slow down to the speed of the car that I'm trying to pass. I haven't had the patience or the curiosity to be able to turn that off. It's sort of feels like I am a NASCAR driver being affected by "aero push ". I guess it's a safety feature but a little annoying when my speed drops from seventy to sixty just because the guy ahead of me is traveling 60 MPH.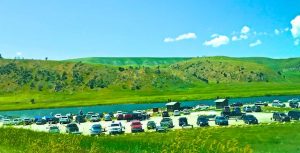 The scenery in the Far West is the most beautiful in the country over a large amount of space. I'm seeing snow-capped mountains in mid-June and lots of free flowing streams. There are quite a few people taking advantage of the nice weather and floating down these rivers. Yes, the Far West is a beautiful place.
The town of Rexburg, Idaho is located about 10 miles north of Rigby. I saw my first ever Mad Marvin figure 8 race there. It was the middle of the winter. It was cold and it was raining. It was so muddy that I didn't want to risk ruining my good athletic shoes. I drove up to Walmart before the race started and bought a $15 pair of high-top waterproof hiking boots. That was a great value. I've use them when I go ice racing from time to time.
Today while I was in Rexburg I drove over to the location of that figure 8 race that I had seen on January 26, 2013. Rexburg had been my first new track of the year. There was no sign of the mud pit that is now known in my records books as lifetime track #1,814. Now the entire area has been smoothed out. The space is dedicated to children's soccer fields. The track has been "re-purposed"!
There was just enough time to grab something to eat. I don't eat much track food anymore. You never know what you're going to get at the track. If you want to get what you want to get you a better get it before you get to the track. Get it?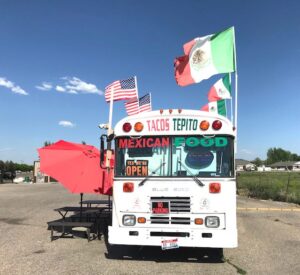 A quick check of Yelp found the Tacos Tepido Mexican eatery. The "facility" was most unique. They were doing business out of an old school bus. The place was highly rated. I ordered a super quesadilla. I'm sad to report that it wasn't all that great. A 4.5-star Yelp rated Mexican restaurant in Rexburg is not on a par with a 4.5- star Yelp recommended Southern California restaurant.
Last month I spent a week of my vacation in Bolivia at elevations of 12-14,000 feet. Not too many people get to do that nor would they want to. The elevation in this part of Idaho is nearly 5,000 feet. I could feel that a little bit.
THE RACING

Rigby South Park – Rigby, Montana
Tonight racing was scheduled to begin at 6 p.m. At 6 p.m. it was 88° in Rigby, Idaho. I wasn't exactly sure why they were starting so early. I think a 7:30 p.m. start time would have given the sun a chance to set a little further. Some of the racing could have been watched in the twilight or in the dark.
I was in a large line of traffic getting into the arena at 6 p.m. There had to be nearly 100 cars in that line with people joining the back of the line by the minute. Nevertheless, they started figure 8 racing at 6 p.m. even though a large number of fans are still trying to get in.
I could see that the folks sitting in the grandstand were facing a hot setting sun. They were going to face that sun for the next 2 1/2 hours or more. I could also see that folks sitting in the pit area had a grandstand with their backs to the sun. That meant I needed a pit pass. How much was that going to cost me?
The price for spectators to sit in the grandstand was a reasonable eight dollars. I was pretty well surprised when I found out that a pit pass was ALSO eight dollars. I don't see a situation like that one time in 100. I paid my eight dollars, got a hand stamp and walked into the pits.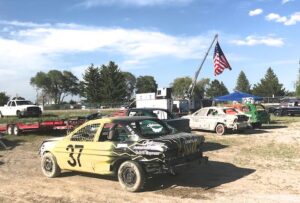 I enjoyed getting behind the scenes photographs of the pit area as I made my way over to the preferred pit grandstand. I grabbed a top row seat between two interesting gentleman. One fellow owned a tow truck company. He brought nearly a dozen cars to the track tonight with for his friends to race in the figure 8. The guy on the other side of me was an animated figure 8 junkie. He screamed and yelled at every turn and every bump.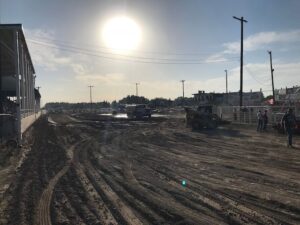 The figure 8 track itself was on the small side. They had a lot of loose dirt with this track. That kept speeds down. Heat races started five cars for ten laps. The winners of the heats advanced to the feature. Cars finishing in the back of the heat races went to the last chance qualifier.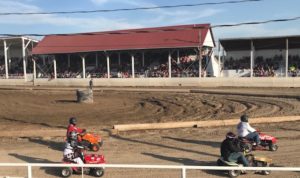 They also had a Powderpuff figure 8 race. I'm not sure where the phrase "Powderpuff" is going to end up in our political politically correct world. The ladies race was followed by a couple of heats of lawnmowers racing on an oval configuration.
AFTER THE RACES
With the races were finished for me I would have a nine hour and 15 minute drive, 599 miles, up to Ekalaka, Montana. The Montana Bump N Run association is racing up there tomorrow with a start time of 12 noon.
I was out of the figure 8 races by about 8 p.m. tonight. Not counting stops for gas and comfort station breaks I would have time to sleep in my car overnight, for the second consecutive night. I could sleep for about six hours. I did stop for fuel, two bottles of water and a bottle of 5-Hour Energy drink. I will try to use everything judiciously.
Much of the drive was either in or along the western edge of Yellowstone National Park. The first couple of hours took me over two-lane roads that were not well lit. I was in a friggin national park already. I feared encountering wildlife at high speeds with the National Car Rental Racing Chrysler 300.
Randy Lewis – 80 countries – 2,449 tracks.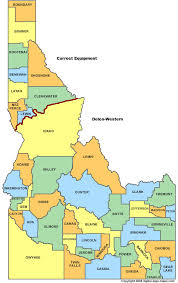 Idaho
The Gem state
This evening I saw racing at my 22nd lifetime track in the Gem state, yes, the Gem state.  I hold the #1 trackchasing ranking in Idaho.  I've seen 22 or more tracks in twenty-nine different states.
By the way, Carol owns the #2 ranking in Idaho. She's seen nine tracks up here. The next leading trackchaser here, not named Lewis, has seen only six tracks in the state. I told you. Folks from the Midwest and the east just don't travel much in the Far West. They just don't.
Thanks for reading about my trackchasing,
Randy Lewis
World's #1 Trackchaser
Peoria Old Timers Racing Club (P.O.R.C.) Hall of Fame Member
Idaho sayings:   "Can I get a side of fry sauce, please?"
If you're not from Idaho, the special combination of ketchup and mayonnaise that is fry sauce may seem downright strange to you. Just trust us. When it comes to fry condiments, we know what we're talking about. Now if only other states would catch on to this delicious dressing so we don't have to carry around miniature containers of fry sauce when we travel anymore.
QUICK FACTS
LIFETIME TRACKCHASER COMPARISONS 
The threemost important trackchasing comparisons to me are:
Total lifetime tracks seen
Total "trackchasing countries" seen
Lifetime National Geographic Diversity results
Total Lifetime Tracks
There are no trackchasers currently within 655 tracks of my lifetime total.  Don't blame me.
Randy Lewis, San Clemente, California – 2,449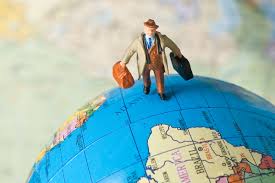 Total Trackchasing Countries
There are no trackchasers currently within 25 countries of my lifetime total. 
Randy Lewis, San Clemente, California – 80
Current lifetime National Geographic Diversity results
Randy Lewis, San Clemente, California – 4.14
That's all folks!  Official end of the RLR – Randy Lewis Racing Trackchaser Report
Click on the link below to see the video production from the racing action today.
Click on the link below for a photo album from today's trackchasing day.  You can view the album slide by slide or click on the "slide show" icon for a self-guided tour of today's trackchasing adventure.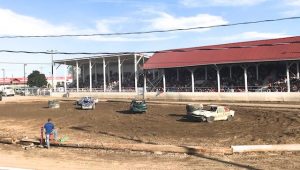 Figure 8 racing way up in Idaho and the scenery that comes with it