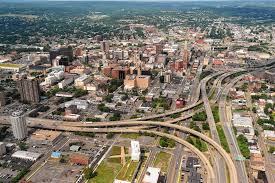 Greetings from Syracuse, New York
.
.
From the travels and adventures of the 
"World's #1 Trackchaser"
.
.

Syracuse Microd & ¼ Midget Club
Asphalt oval
 Lifetime Track #2,473
The EventVideo PlusPhotos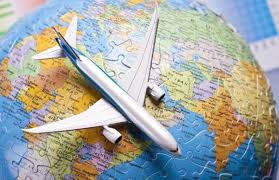 THE EVENT
I am a "trackchaser". So, what the heck is that? I get that question from racing and non-racing people all the time. This is a difficult question to answer. Why? Because after I do my best to respond people still say, "I've never heard of such a thing"!
Here's my best explanation.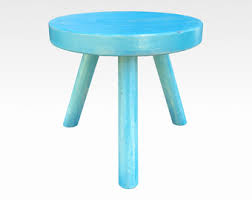 Trackchasing is a three-pronged hobby. I'm a racing fan. I love to travel. I love to analyze opportunities to get the most out of everything while saving time and money.
Trackchasing fills the need for all of the above. The racing part of my trackchasing has me trying to see wheel to wheel auto racing at as many different racetracks as I can all over the world. Yes, all over the world. So far things are going pretty well. I've seen racing at nearly 2,500 tracks in 80 countries. As a matter of fact, I've seen racing at more tracks than anyone else in the world.
Equally important to me are the things I get to see and experience over the "long and dusty trackchasing trail". I call these adventures "Trackchasing Tourist Attractions". You won't want to miss my "Trackchasing Tourist Attractions" page. Here's the link:  Trackchasing Tourist Attractions or my "Sports Spectating Resume" page, Sports Spectating Resume on my website at www.randylewis.org.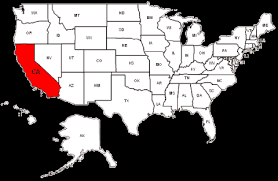 I live in southern California. Most of the racetracks in the U.S. are located well over 1,000 miles from where I live. As a matter of fact, my average trip covers 5,000 miles and more. I take 35-40 of those trips each season. In any given year I will travel well over 200,000 miles, rent more than 50 cars, and stay in more than 150 hotel rooms.
I get the chance to meet people all over the world. With trips to 80 countries and counting just getting the chance to experience so many other cultures, spend times in their homes and meet their friends is a huge reward for being in this hobby. I am indebted to several of these folks for their help and friendship.
It's takes a good deal of planning to do the above and not spend my entire retirement portfolio. I enjoy the challenge, the travel and every other aspect of "trackchasing". In reality, my trackchasing hobby is a lot like being with the carnival. I breeze into town, stay a little while and then head on down the road.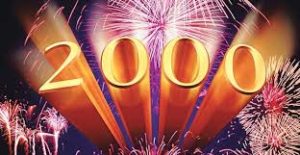 Today's adventure was one more of the 2,000 trips that have taken me up, down and around the proverbial long and dusty trackchasing trail.  If you would like to see where I've been and experience those adventures here's the link:
If you've got a question, comment or whatever please leave it at the bottom of this report.  It's very easy to do.  Or you can visit me on Facebook.  Thanks!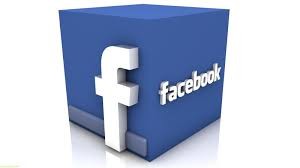 FOREWORD
Thursday, August 2, 2018.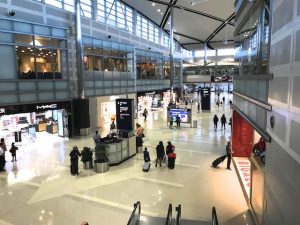 I woke up this morning in Detroit, Michigan. I had stayed overnight in the Delta by Marriott hotel near the airport. I don't typically have problems with Marriotts. As a matter fact I almost never have a problem with a Marriott property.
This was the second time I had stayed at this hotel in the past couple of weeks. I've had problems both times. Last night my deadbolt lock stock in the open position with the door open. That meant that I couldn't shut the door or lock it.
I called the front desk around midnight. However,by that time all of the maintenance people had gone home. The woman at the front desk offered to move me to another room. With all of my stuff spread all over my current room that would be a hassle. I told her that I would keep my room even though the door wouldn't lock.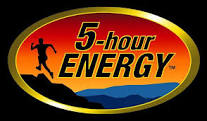 The front desk clerk was sympathetic. She offered to buy me breakfast. However, they had already given me a complimentary breakfast when I checked in. Because of my platinum status they also gave me a $10 gift card for the hotel store or restaurant. I used that credit to buy couple of bottles of 5-Hour Energy drink. I'll use that on one of my upcoming late night drives.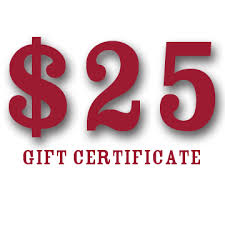 I suggested to the front desk clerk that she give me a $25 credit in the company store. She readily agreed. I should've asked for more! At midnight I went down and bought four more bottles of 5-Hour Energy drink and a couple of packages of NyQuil capsules. That will either keep me awake or put me to sleep depending upon the occasion.
Did you know that I was part of the sales force that introduced the NyQuil brand to retailers all across the country? Actually I was on board for the line extension of Cherry NyQuil in 1972. If I have to use NyQuil, and I do a night or two every year, it will be Cherry NyQuil.
Today I was headed to Syracuse, New York. I was going back to the New York State Fairgrounds for the fourth time in my trackchasing career. Previously I had seen racing on their one-mile dirt oval, their dirt figure 8 track and their indoor track at the Center of Progress building.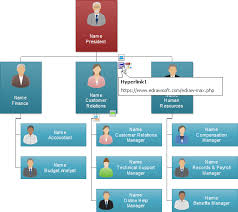 I learned long ago in my business career that you really need to go to the top of an organization if you want to get things done. I did exactly that with the Syracuse Microd racing group. I contacted their president, Tom Wilcox. What a great guy.
I had called him several days ago to get information about tonight's racing. He answered all my questions and gave me even more information about the history of microd racing. I told him I was flying into Syracuse from Michigan and after his race I would be flying out for a race in Minnesota. Tom asked, "You're going to do all that to see our microds race? ". Yes I was. That's what I do.
When I landed at the Syracuse Hancock International Airport I was in for surprise. The entire airport was in the midst of a major renovation. I don't think I've ever seen an airport in a bigger mess in my life. They're hoping to have it done by the end of October. That's only three months from now. They've got a lot of work to do.
Often times as soon as I land at an airport I'll find a comfortable chair. I'll sit down for an hour or so and do the logistical work that's going to be necessary to make my trips a success. The Syracuse airport has some really nice comfortable leather chairs. I plopped down in one of those.
I didn't yet have a hotel reservation for this evening. Because I fly standby most of the time I can never make a hotel reservation in advance just in case I don't make the flight.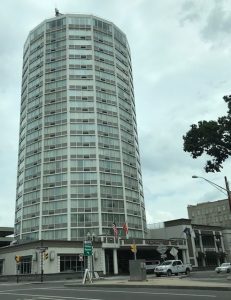 Today I used Priceline.com to save me 59% off the best price the Syracuse downtown located Crowne Plaza was charging. Nope. You can't beat Priceline.
I did some additional research on my upcoming trackchasing plan which calls for me to travel to Minnesota tomorrow night and British Columbia for the weekend. I found one nonstop flight from Syracuse to Minneapolis leaving tomorrow morning. It was wide open. Seat availability looked good.
It was only 9 o'clock in the morning. I grabbed a Nissan Altima from the National Car Rental Company. I wouldn't be doing much driving on this trip, probably only about 50 miles. I thought about taking in a Syracuse area Trackchasing Tourist Attraction. However, I only had about four hours of sleep last night. I figured I would just check into my hotel, get some sleep and maybe catch a movie. That's exactly what I did.

I have a membership with MoviePass. They've been in the news lately. Their initial business model is almost too good to be true. I paid $89 for one year of unlimited movies in movie theaters. That's right. I could see one movie every day of the year if I wanted.
However, MoviePass is running out of money. They pay the theater chains the full value a retail movie ticket whenever I use MoviePass. So far in about the first seven or eight months of the year I've seen 24 movies. That's an average cost of less than four dollars per show. Considering the average movie ticket is $10-$12 and sometimes more it's been a fantastic deal.
Syracuse is in old town, a real old town. Staying in downtown I really noticed that. Then I drove out to the Hollywood theater. This was a single screen theater. It must have been built way back in the day. I saw the movie, "Book Club" starring Jane Fonda, Mary Steenburgen, Candace Bergen and Diane Keaton. This movie had been out for a while. I didn't think I would like it. I liked it a lot. The Hollywood Theater charges just two dollars for their films! The place was nearly sold out. I would say that 90% of the patrons today were women!
THE RACING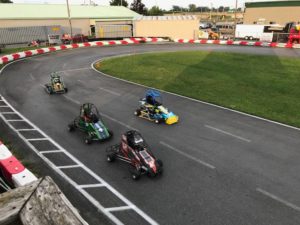 Syracuse Microd & ¼-Midget Club – Syracuse, New York
From the movie theater I headed to the racetrack. Tonight I would be seeing racing at the New York State Fairgrounds in Syracuse, New York. I was here for the "Microd" racing. Microd racing only exists in the state of New York. I had never seen this class race anywhere before.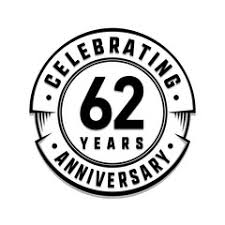 The name of the track is the Syracuse Microd & ¼ Midget Club racetrack. This club has been racing for 62 years! They started in 1955. In 1956 they moved to this track. I don't know if there's another club of this type that has raced for this long.
I have met some really great people during my trackchasing travels. If I had to guess I would say I've actually met thousands of people at the nearly 2,500 tracks I've been to. The group I met tonight in Syracuse ranks right at the top in that exclusive club of great folks I've met while trackchasing.
I will be the first to admit that I trackchase differently than any other trackchaser. You would never see a trackchaser in Michigan last night, Syracuse tonight and hopefully Minnesota tomorrow night. That just doesn't happen.
When I get to the track I do things a lot differently than other trackchasers as well. I try to go to the top of the organization to get information about any track I'll visit. Tonight the first person I looked up was club president Tom Wilcox. He was happy to see that a fellow had come all the way from California to see their racing. I was just as happy or maybe more so to be at the track.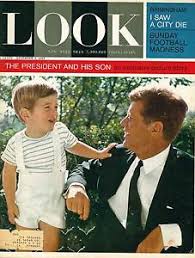 Tom gave me even more history about the track. When they opened in 1956 the famous Look magazine did a photo expose on them. If you're looking for a copy you can probably find one in the national archives in Washington D.C.!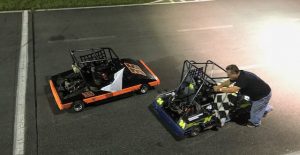 Tom's been with the club since 1980. The year 1980 may not seem that long ago until you do the math. That was 38 years ago! Tonight his grandson won his feature race in a car that was built in 1980 (Tom with the car and driver – above right). Tom told me that all four of his kids had driven the car and now his grandson was the chauffeur.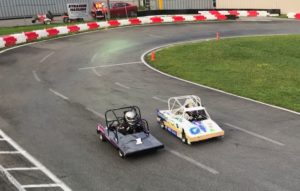 To look at the track you wouldn't think it started back in 1956. I don't see any small tracks like this with better facilities. They had a plastic movable crash wall that you sometimes see at commercial rental go kart tracks. They had a beautiful lap-counter, a fine concession stand and everything was paved at the facility. Somebody has put a lot of time and money into this track.
They were having a special promotion tonight where drivers from around the area brought their full-sized modifieds and sprint cars for a car display. Everyone loved that. At intermission the drivers of those cars signed autographs.
At intermission several of the big car drivers were interviewed over a stout PA system. The fellow who runs Dirt Track Digest was the interviewer. He also took 3-4 minutes to talk to me about trackchasing. That was a fun interview.
Tonight each of the seven classes competing would run one heat race and one feature. Car counts were small. They averaged only three or four competitors per division. Nevertheless, the racing was close. There was a little bit of bumping but not too much.
The microds normally race on this track on Friday nights. The quarter midgets take over on most Saturdays. Quarter midget racing is for youngsters aged 5-16. Nevertheless, they get up to some pretty strong speeds. I was told that a 1/4 midget racer flipped out of the track and over the fence recently.
Microd racing is very much a family sport. Drivers range from 5-18 years of age. Tonight two classes were open to 18-year-old drivers. That made this track countable by trackchasing rules. According to the hobby's rules a class must be OPEN to 18-year olds but an 18-year-old does NOT need to be competing! Folks, if you have any heartburn over how the rules of trackchasing were written don't blame me. I didn't make the rules although several rules have been changed because of me.
This type of racing is racing's equivalent to Little League baseball. Mainly fathers provide the mechanical genius behind these cars and the mothers provide the logistical and culinary support. That's not true in all cases but in many. Grandpas and Grandmas are heavily involved as well.
The kids are all suited up in regular fire suits. That's C.J. Crawford above. He and his sister, Tessa race in a couple of classes each. It was fun meeting the kids father, Carl and grandfather. Racing at this level truly is a family sport. The cars are in pristine condition. Please don't miss the photographs from tonight's track visit. Special thanks to a couple of the fathers who came up to say hi and tell me about their racing programs. I had a nice conversation with Frank Doll. He explained how he's made more friends in racing that he could ever have imagined. Apologies to other friendly folks who spent time telling me about microd racing. I just couldn't get everyone's name.
When feature time came I was in for a couple of special treats. The flagman, Ray, asked if I had ever flagged a race before. I have thrown the green flag on a few occasions. As a matter fact, I was up in the starter's stand at the Atlanta Motor Speedway once to start the race.
I am always amazed, despite having seen racing at more than 2,470 racetracks that I am exposed to experiences that I have never done, seen or heard of before. Tonight I was invited to join Ray on the flag stand. While he assisted I did the complete flagging job for a 25-lap feature event. That was a blast.
The folks with the Syracuse microds do something else that I've never seen in all of my trackchasing time. I love it when that happens. It would be a major and incorrect assumption to ever think that I've seen it all.
Tonight each feature winner took a victory lap around the track holding the checkered flag for all to see. That's not unusual. Most tracks do something like that. I love it in England when drivers hop on the back of a car or truck and take their "Lap of Victory" to music and the applause of the fans.
At tonight's venue they work hard to spread the recognition around. The second-place race finisher takes a celebratory lap around the track holding the white flag. Nope. I've never seen such a thing but I liked it. I guess it's the middle ground between the checkered flag lap and the podium finish, which recognizes three drivers.
For the last several feature events Tom Wilcox invited me down into the center of the track's infield. That's where the fathers and grandfathers stand with electric starters in hand as their sons and daughters compete around the track. This was a good place to get some photos and video.
I told you that I trackchase differently than any other trackchaser. You will almost never hear of a trackchaser being interviewed at a racetrack. I don't think I've ever heard of a trackchaser being invited up to the flag stand to share some of the flagging duties. Being able to get into the pit area and into the track infield, where only a handful of people gather and certainly no fans, is also special.
Let me make one thing perfectly clear. The special privileges have nothing to do with me. It's all about the people I meet. This is all them. If I wasn't willing to meet the people they wouldn't know that I was coming to their track. Once they know that I am going to visit their track they want to treat me as their guest. They want to show off, in the right way, what they have worked hard to build over the years. The Syracuse microd people did that in spades. What a nice group of folks.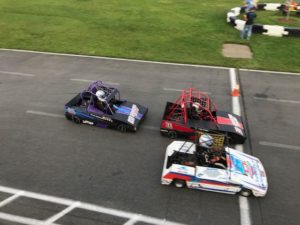 I wouldn't normally stay for an entire "kart" racing program. When kart counts are small I'll usually just stay to see the countable class race. In most instances, I will stay to see all of the drivers race in a minimum of one race. Tonight two or three classes had just two or three racers in total. I think one class might have had a single entry.
However, there was so much going on tonight with the interview at intermission, the flagging, the infield race watching and such that I really wanted to stay to see the very last event. I watched that event from just beyond the backstretch fence. The entire racing program was wrapped up by about 10:30 p.m.
I talked with one father tonight. He had been a racer himself and now was supporting his sons and daughters. We both agreed that racing costs a lot and nobody's going to get rich doing it. However he told me that he was "rich" with experiences and with friends he made while racing. He was absolutely right.
This Syracuse microd group races at five different tracks around New York. After tonight, I've only seen one of them. I suspect that means that I'll be coming back to New York to catch more of their racing if not this year then certainly next.
I want to wish Tom Wilcox and his staff and all of his racers, moms and dads the very best. They've got a good thing going here. That's not just my judgment. It's the judgment of 62 years of racing.
AFTER THE RACES
I was back at my Crown Plaza hotel in downtown Syracuse by 11 p.m. I was going to have to sleep fast. I was hoping to make a 6:30 a.m. flight from Syracuse over to Minneapolis tomorrow morning. I set my wake up call for 4:45 a.m. Eastern time and went to bed with a big smile on my face. It is been an excellent night of trackchasing.
Good night from Syracuse, New York.
Randy Lewis – 80 countries – 2,473 tracks.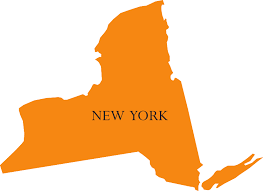 New York
The Empire state
This evening I saw racing at my 79th lifetime track in the Empire state, yes, the Empire state.  I don't even rank in the top ten trackchasers in New York. Why? Trackchasing is an eastern based hobby. However, I am gaining some ground. Maybe someday I will crack the top ten.  I've seen 79 or more tracks in 11 different states.
Thanks for reading about my trackchasing,
Randy Lewis
World's #1 Trackchaser
Peoria Old Timers Racing Club (P.O.R.C.) Hall of Fame Member
New York sayings: New York is a place where the rich walk, the poor drive Cadillacs, and beggars die of malnutrition with thousands of dollars hidden in their mattresses.
QUICK FACTS
LIFETIME TRACKCHASER COMPARISONS 
The three most important trackchasing comparisons to me are:
Total lifetime tracks seen
Total "trackchasing countries" seen
Lifetime National Geographic Diversity results
Total Lifetime Tracks
There are no trackchasers currently within 655 tracks of my lifetime total.  Don't blame me.
Randy Lewis, San Clemente, California – 2,473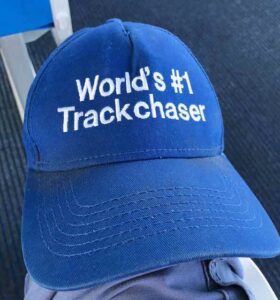 Total Trackchasing Countries
There are no trackchasers currently within 25 countries of my lifetime total. 
Randy Lewis, San Clemente, California – 80
Current lifetime National Geographic Diversity results
Randy Lewis, San Clemente, California – 4.14
That's all folks!  Official end of the RLR – Randy Lewis Racing Trackchaser Report
Click on the link below to see the video production from the racing action today.
Click on the link below for a photo album from today's trackchasing day.  You can view the album slide by slide or click on the "slide show" icon for a self-guided tour of today's trackchasing adventure.
My first ever experience with Microd racing….in Syracuse, New York