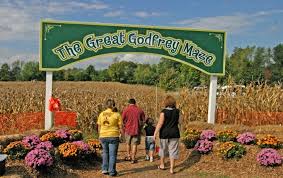 Greetings from Godfrey, Illinois
.
.
From the travels and adventures of the 
"World's #1 Trackchaser"
.
.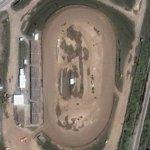 Sixty-Seven Raceway Park
Dirt oval
 Lifetime Track #572
Reprinted with permission from June 13, 2002 Trackchaser Report.
The Sixty-Seven Raceway Park 1/4-mile dirt oval ran its last race on May 12, 2006. I am told the track was carved out of an asparagus field in 1950. It went by various names including Alton Speedway, Ascot Speedway, Action Speedway, Godfrey Motor Speedway and 67 Raceway Park. A cement plant now occupies the land.
PEOPLE/TRAVEL NEWS
Today's wakeup call was a more leisurely 6 a.m. for the 8:30 a.m. non-stop flight to St. Louis. I arrived in plenty of time to make the 37-mile trip to Sixty-Seven Raceway Park in Godfrey, Illinois.  I should point out to any trackchasers driving to the track from St. Louis that it's a little hard to find.  The National Speedway Directory says it's on U.S. route 67. When I drove north on that U.S. 67 I came across a right turn for route 111 north.  I stayed on route 67.  Wrong move. I should have taken the sign marked 111 north.  As a lady at the track told me 111 north is also 67 north.  The road signs would not seem to indicate this important fact. This would not be the only problem with directions on the trip. 
The weather was absolutely shorts weather perfect.  I did see more people wearing bib overalls than I can ever remember.  I even heard two gentlemen talking about "a piece of ground" that one wanted to sell to the other.  That's farmer talk for I'd like to sell you some land.

Today is the day before Flag Day.  Do you know the origination of Flag Day?  It started with the Continental Congress on June 14, 1777.  The congress declared our national flag would have 13 stripes and 13 stars representing the 13 states and it would be flown proudly on Flag Day.
The evening was spent at the $22.95 per night Colonial Inn in High Hill, Missouri.  A large number of cheap midwestern hotels are Iranian owned.  They seem to go out of their way to display the American flag.  Surprisingly, there are a large number of wineries in this area of Missouri.  This is Lake of the Ozark country home of one of the largest manmade lakes in the world. There's a lot of recreation including boating, fishing and golf in this region.  I wish I had more time to enjoy what it has to offer.
RACING NEWS
The Sixty-Seven Raceway Park is my 572nd track.  I've wanted to visit this track for a long time but because of weather and other scheduling difficulties today was the day.  The track was hosting a special Thursday night show as part of the four day Illinois-Missouri sprint car challenge.  General admission was $15.  There were 29 sprint cars and 19 micro sprints in attendance.  This track has been around for a while.  It still sports metal Armco barriers that encircle the one-quarter mile dirt surface.  It's a great spectator track with a 16-row grandstand that spans the entire front stretch.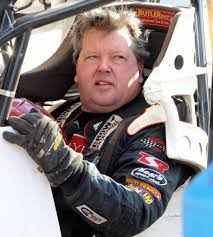 Danny Smith was the only name driver in the field.  He ended up winning the 25-lap A feature from the outside first row.  He led every lap while riding in the high groove. It wasn't easy though.  I would estimate that the second place car, driving in the low groove, passed Danny on at least 10 of the 25 laps but could not hold the advantage to the starting line. 
This is a fun quarter-mile bullring.  The SCRA non-winged sprints will race there on August 14 and the UMP Summernationals will compete there during the next couple of weeks.  I think those would be great shows on this track.
The announcer was a very enthusiastic supporter of my trackchaser note.  He gave a great plug for trackchaser.com.
TRACK FOOD:  The highlight of the night was the BBQ sandwich among the typical racetrack food choices.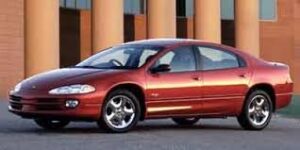 RENTAL CAR UPDATE:    The National Rental Car Dodge Intrepid covered just 37 miles up to Godfrey.
TRACK RADIO FREQUENCY:   Never found it.
The web addresses below were accurate in 2002. Are they still good in 2019? Your guess is as good as mine.

New racetracks visited in 2002
Beebe Speedway, Beebe, AR (http://www.beebespeedway.com/.)
North Alabama Speedway, Tuscumbia, AL (www.northalabamaspeedway.com)
Pike County Speedway, Magnolia, MS (http://hometown.aol.com/racecentrl/index.html)
North Central Arkansas Speedway, Yellville, AR (http://www.northcentralarspeedway.com/)
West Plains Motor Speedway, West Plains, MO (http://www.westplains-speedway.com/)

Southern National Speedway, Kenly, NC (http://www.southernnationalspeedway.com/)

Carolina Motorsports Park, Kershaw, SC (http://www.cmpracetrack.com/)

The Dirt Tract at Lowe's Motor Speedway, Concord, NC (http://www.charlottemotorspeedway.com/)

Oglethorpe Speedway Park, Savannah, GA (www.ospracing.net)
Big Daddy's South Boston Speedway, South Boston, VA (http://www.southbostonspeedway.com/)

Bakersfield Raceway Park, Linton, IN (http://www.ncci.net/Bakersfield/)

Indianapolis Raceway Park (road course), Indianapolis, IN (http://www.irponline.com/)
Kil Kare Speedway (one quarter mile oval), Xenia, OH (http://www.kilkareraceway.com/)

Thunder Raceway, Show Low, AZ (http://www.thunderraceway.com/)

Columbus 151 Speedway, Columbus, WI (http://www.racingonline.com/columbus151/)

Kalamazoo Speedway, Kalamazoo, MI (http://www.kalamazoospeedway.com/)
563.  Galesburg Speedway, Galesburg, MI (http://www.galesburgspeedway.com/)
Toledo Speedway (small oval), Toledo, OH (http://www.arcaracing.com/)

Toledo Speedway (figure 8), Toledo, OH (http://www.arcaracing.com/)

Irwindale Speedway (figure 8), Irwindale, CA (http://www.irwindalespeedway.com/index.html)

Lafayette County Fairgrounds, Darlington, WI (http://www.racingonline.com/lafayette/)

Hamilton County Fairgrounds, Webster City, IA (no web site)

Missou Speedway, Moberly, MO (no web site)

Hartford Raceway Park, Hartford, MI (http://www.hartfordspeedwaypark.com/)
Stateline Speedway, Edon, OH (http://www.statelinespeedway.net/)

Sixty-Seven Raceway Park, Godfrey, IL (http://www.67racewaypark.com/)