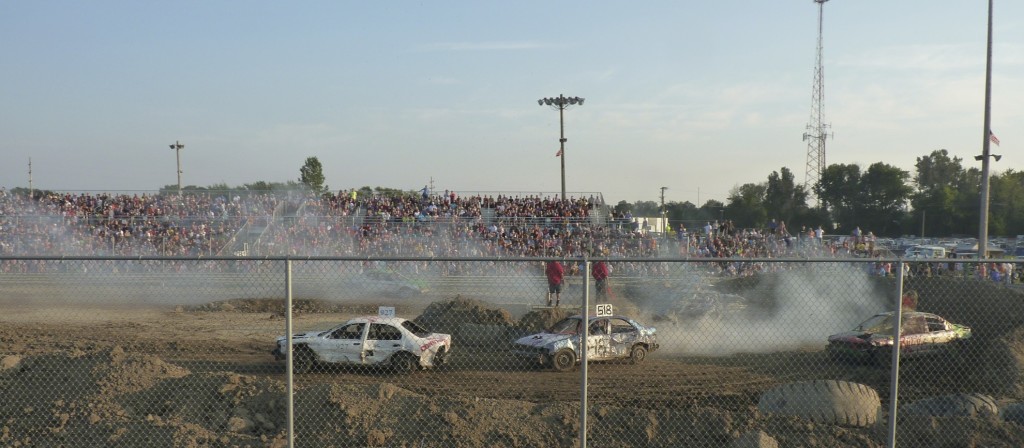 Greetings from Hudsonville, Michigan
From the travels and adventures of the 
"World's #1 Trackchaser"
Lifetime Track #1,890
HighlightsThe DetailsAttractionsRace ReviewVideosPhotosQuick Facts
Even without seeing a race every day it made sense to stay out on the trail……………..more in "The Details".
Dang it!…………….more in "The Details".
An unpleasant visitor…………….more in "The Details".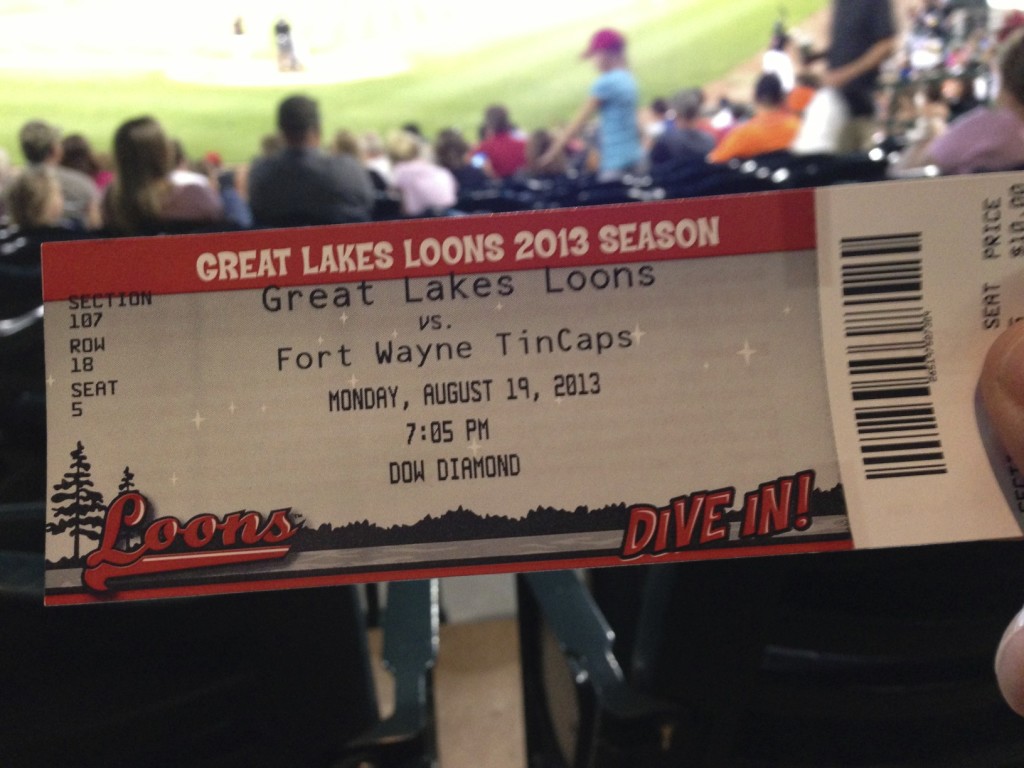 Who would a team called the Great Lakes Loons be playing in a minor league baseball game?…………….more in "Attractions".
Sometimes major league games can be a much better value than minor league contests?…………….more in "Attractions".
You'll never guess who I ran into at the fairgrounds tonight…………..details in "Race Review".
Sometimes I buy cheap stuff cheap…………..details in "Race Review".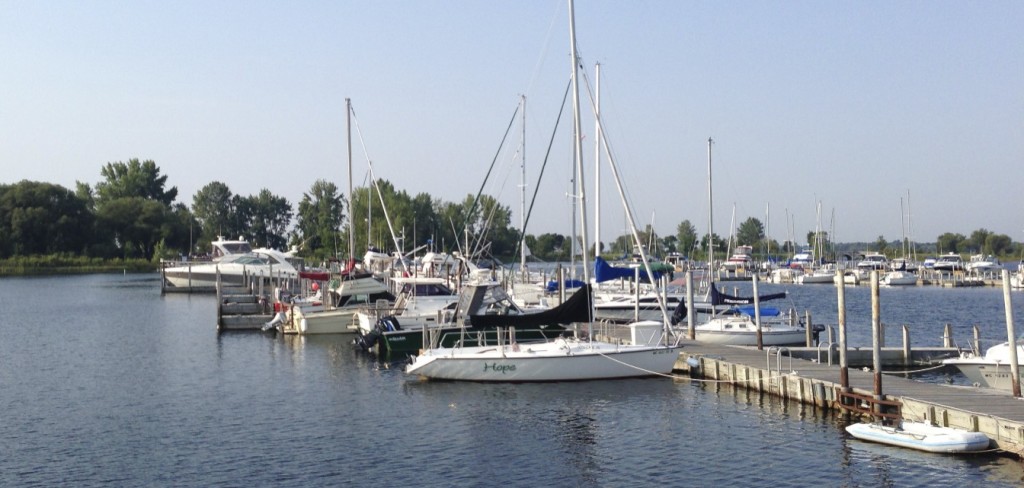 MONDAY
Even without seeing a race every day it makes sense to stay out on the trail.
I woke up Monday morning in Midland, Michigan.  Monday was not be a trackchasing day.  Why?  I couldn't find any place to see a new track.  That happens sometimes.  Nevertheless, I'm in the midst of a 27-day trip.  It makes sense to stay out on the trail even though a day or two will be without racing.
After tonight's racing in Hudsonville, Michigan I overnighted in Toledo, Ohio.  I'll be making my way east after spending the past nine days in Michigan.  This is what the 13th and 14th day of my trip looked like.
Enjoying my last remnants of the Upper Peninsula.
The morning began with a power walk along the lakefront in Escanaba, Michigan.  My real estate agent once told me "All money flows to the sea".  What did he mean by that?  Folks will upgrade their properties whenever they can.  The ultimate is having a home overlooking the "sea".  Made sense to me then and it makes sense to me now.
It was a beautiful 70-degree blue sky morning.  There are very few places in all of United States of America that I haven't visited numerous times. One of those rare locations would be the Upper Peninsula of Michigan. It's a beautiful area and I caught the weather just right.
The Mackinac Bridge separates the Upper Peninsula of Michigan from the Lower Peninsula. Folks to live in the Lower Peninsula are called trolls because they live "under the bridge".  Of course there's a name for the people living in the U.P.  They're "Yoopers".  Yoopers and trolls!
Not all was bright with the local economy.
As befits any summer vacation area there are many smaller older family-run hotels in the U.P. What surprised me was the large number of these types of motels that were closed and out of business during the busy summer season.
Before getting out of Escanaba I returned to the Family Inn breakfast restaurant right next door to the Sunset Lodge. They serve breakfast all day.  They do a good business.  Their food is good and their portion sizes are huge.  Breakfast for me this morning was just north of 1,300 calories.  However it will serve as both my breakfast and lunch and is partially offset by my 45 minutes for mile-per-hour powerwalk.  By the way, I'm pretty good at rationalizing.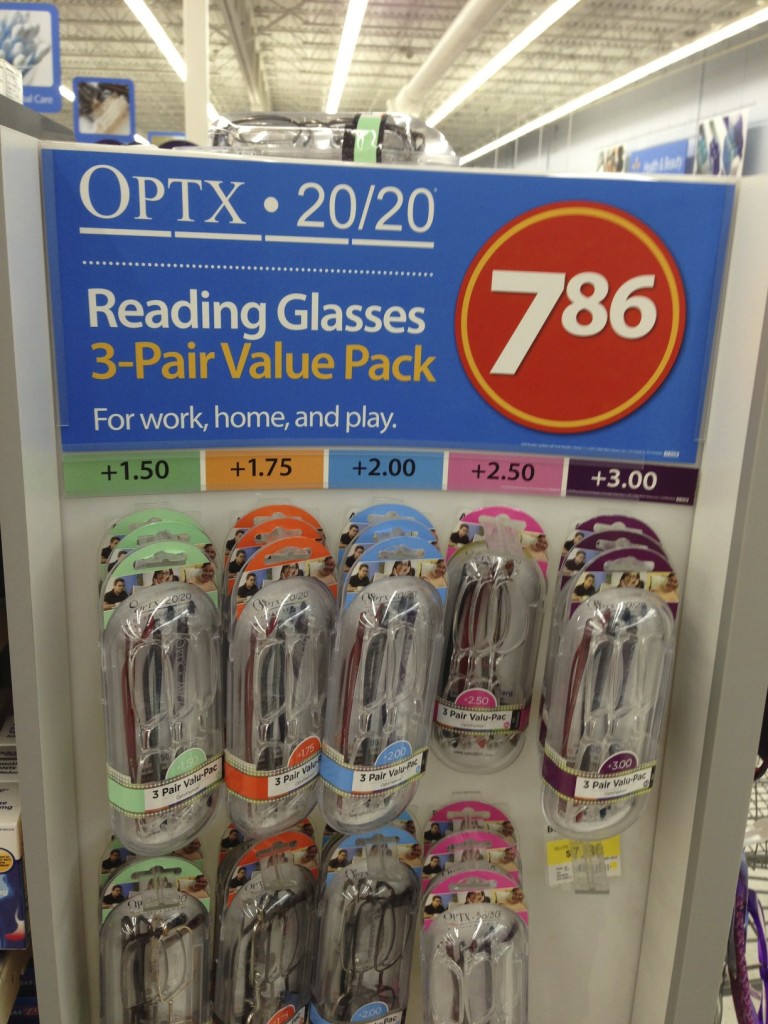 Dang it!
On the way out of Escanaba I ran over my reading glasses.  That was a bummer.  I've had those glasses for a long time.  I think I left them on the roof of the car.  When I ran them over I heard the crunch.  I just didn't quite know what the crunching sound was at the time.  I always bring "backups" because reading glasses are an absolute must.  I remember being in England one night.  This was in the pre-GPS days.  I was lost, the light was poor and I couldn't quite read the map in the light.  That was frustrating!
There is no racing today.  That's O.K.  I can always find something interesting to do.  Check behind the "Attractions" tab to find out what that was.
TUESDAY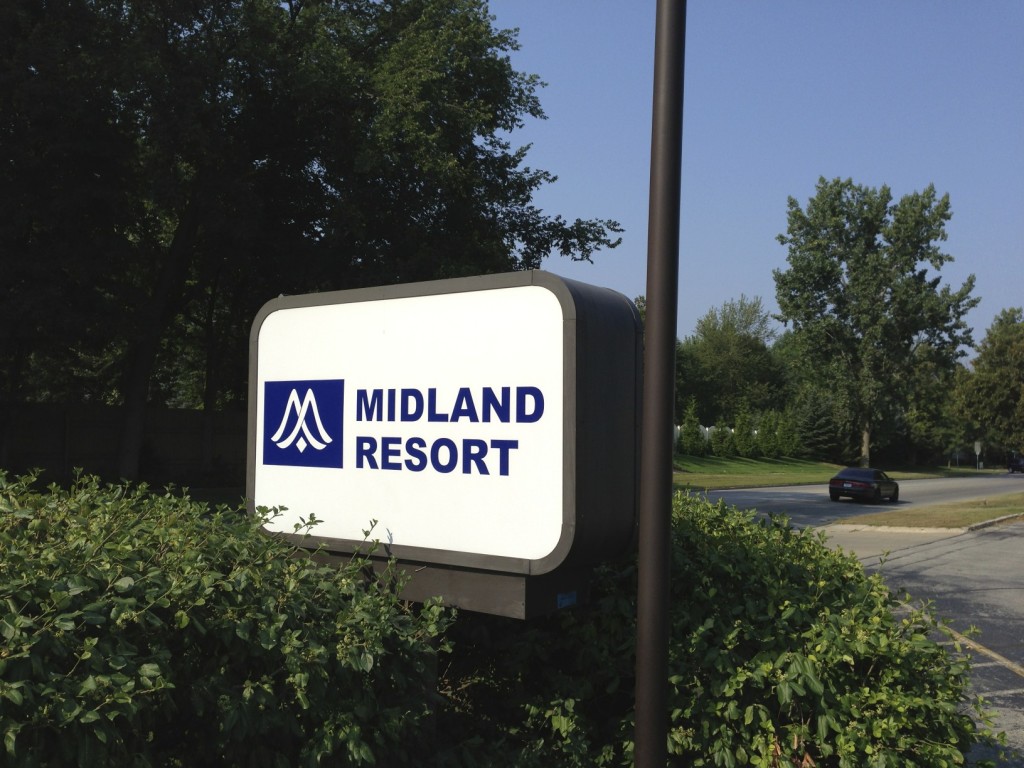 Priceline will save me thousands of dollars in a single trackchasing season.
Priceline supports my lifelong theory of "Buying good things cheap".  This was my second overnight in Midland, Michigan during the past ten days.  Once again I used Priceline to get the Midland Resort and Conference Center for just $40.  I can normally pay $40 for a hotel costing $80-100 U.S.
An unpleasant visitor.
No, I didn't have an encounter with any of the "Dreaded East Coast trackchasers".  But it was about the same thing.  All was going well in my hotel room until I found a live cockroach in the bathroom in the morning.  That wasn't what I was looking for but then I reminded myself….they don't eat much.  Upon check out I mentioned this little problem to the desk clerk but didn't get any tangible relief.  My brother worked in hotel management for years.  He would tell me they put least experienced employees at the front desk.  I'm not sure why the industry would do that.  Wouldn't you want your best people meeting your customers?
I very much enjoy walking at a fast pace.
My first activity of the day was a 45 minute power walk. Once again I went across the street from the Midland resort into a tree-lined upscale suburban neighborhood. Here it was cool and my walk was enjoyable.
With a 350 calorie bonus generated by my powerwalk I ventured over to the Culvers restaurant.  I'm a big fan of Culvers.  There I ate a pork tenderloin sandwich and chili. I like to dip the tenderloin sandwich into the chili creating a chili tenderloin.
Inside the restaurant I used my laptop to finalize details for an upcoming foreign trackchasing trip. Foreign trips require a good deal more advanced planning than my domestic trip.
You'll have to stay tuned to see where that takes me. All I can say is I'll be going to a warm climate in a country that is rarely visited by trackchasers.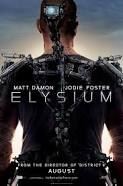 Following lunch I made a repeat visit to the Midland Cinema. This time I saw Matt Damon starred in a sci-fi type flick called Elysium. I'm not a sci-fi fan but I do like Matt Damon.  I liked the premise of the movie. I was out of the cinema by 4 PM and ready for the 2 Hour drive over to Hudsonville, Michigan.
I'll tell you about my interesting trackchasing experience at the Hudsonville County Fairgrounds in the "Race Review" section.
TRACKCHASING TOURIST ATTRACTION
I very much enjoy the racing when I go on trackchasing trips.  However, I am not the type of person who would feel the trip was complete if I simply left home, went to the race and came back home.
I do a good deal of traveling.  I want to do my best to see the local area when I come for a visit.  There are usually unusual attractions that one area is noted for more than any other locale.  I want to see those places.  I want to touch them and feel them.  When I leave an area, I want to have memories of these special places that I call Trackchasing Tourist Attractions.  I will remember those experiences long after the checkered flag has fallen on whatever race I have seen that day.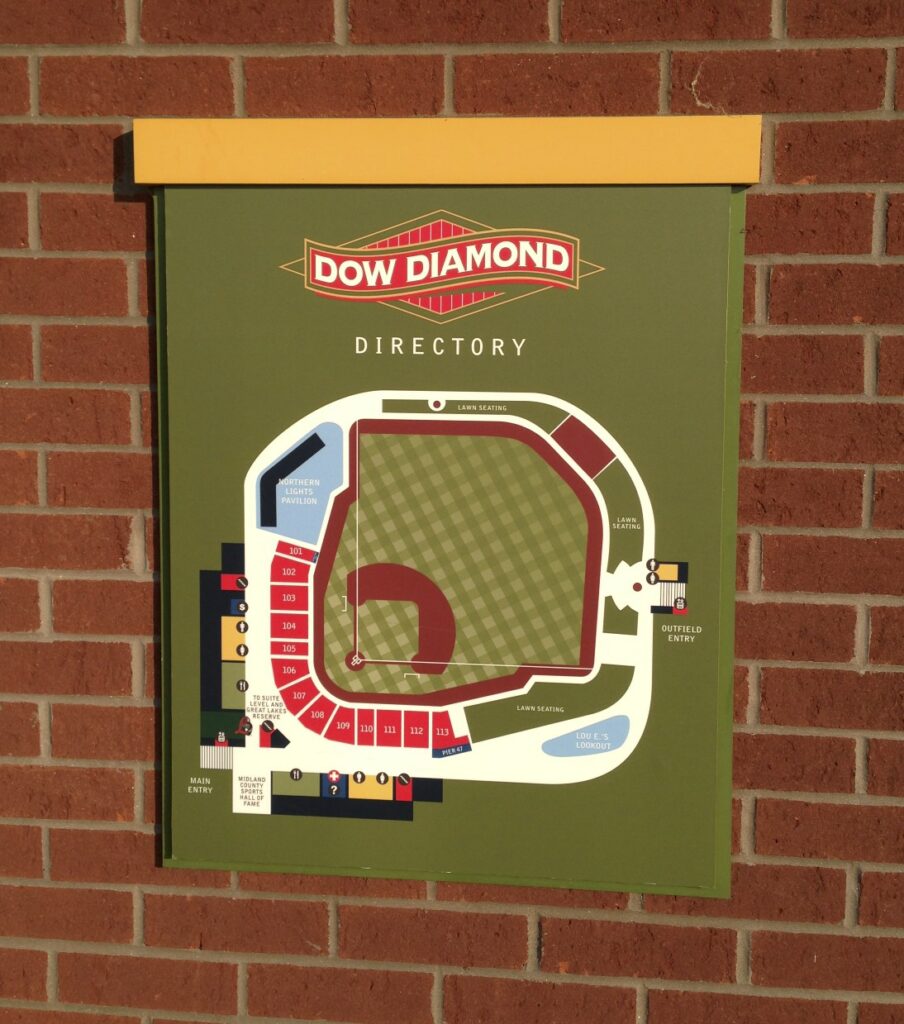 Dow Diamond – Midland, Michigan
Dow does it all in Midland, Michigan.
I was in Midland for a day last week.  On that occasion I visited the Alden B. Dow Studio and Home tour.  Today I would be seeing a minor baseball game.  Where would the game be played?  How about the Dow Diamond, a beautiful stadium built in 2007.  There isn't much that doesn't have the "Dow" name on it in Midland.  Dow employs some 58% of the people in Midland.

I just like seeing new stadia.
I enjoy watching baseball games while I'm on the road but not so much for the baseball.  I'm interested in seeing the stadiums.  My main focus is on major league stadia but I'll catch a minor league game when I can.  With most of my trackchasing activity happening at night there isn't much chance of seeing a game on the road.  The one time I'm more interested in the game and not the stadium is when Carol and I see our Los Angeles Angels of Anaheim team play.
What a beautiful little stadium.
The Dow Diamond is beautiful.  It reminded me of several of the brand new spring training stadia that I have seen.  It was warm at 81 degrees at game time.  You might think that minor league baseball would be a bargain compared to major league games.  Not so.
When I go to events like this I want to get an excellent seat.  Tonight that was a box seat for $10 U.S.  Parking was another four dollars, a hog dog $3.50 and a fountain Diet Coke sold for $4.00.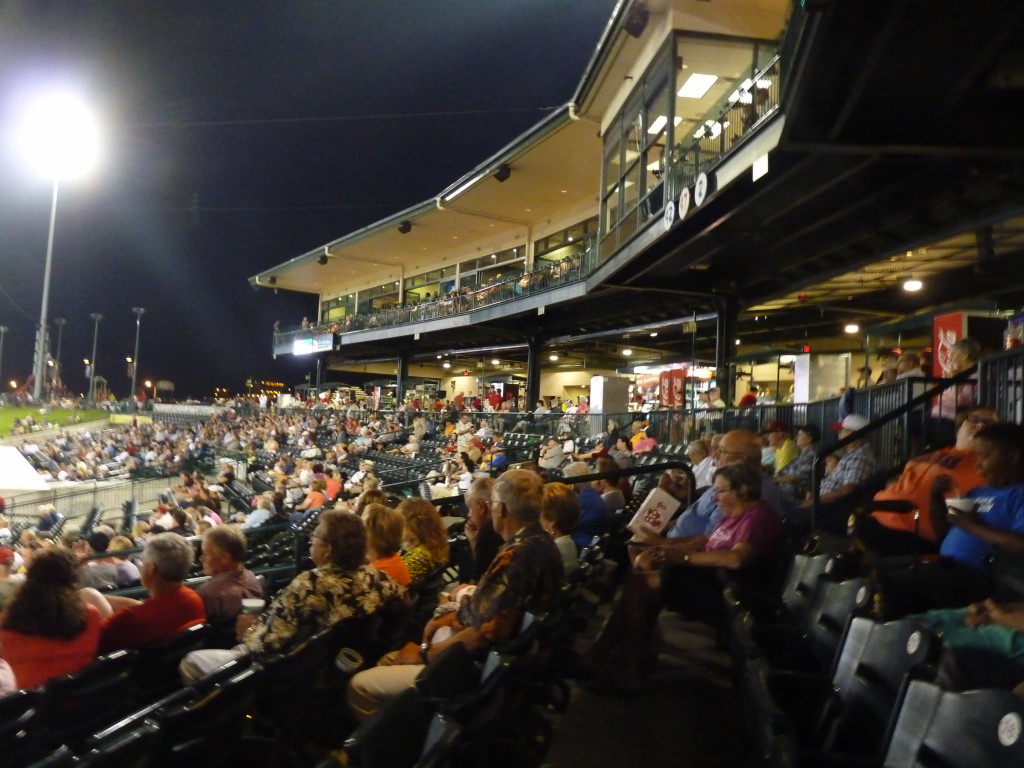 Sometimes major league games can be a much better value than minor league contests.
Last year Carol and I routinely went to Angels games for just six dollars per ticket and that included a round-trip train ride from near our home directly to Angels Stadium.  When we drive to the game we normally pay just three bucks to park.  Hot dogs and drinks are about the same in Los Angeles as I paid tonight.  As you can see I was paying MORE to see minor league baseball that I normally do to see play in the major leagues.
My seat was 18 rows right behind home plate.  It was interesting to see that there were only two umpires calling the game tonight.  Of course, for those who are not baseball fans, a big league game would employ four umpires.  I'm sure it's important to control expenses at the minor league level.  There were several scouts in the stands, using radar guns to measure the speed of tonight's pitches.
I had not anticipated this.
I was surprised by something I had not anticipated.  The players looked much smaller than what I see in the major leagues.  The quality of play was decidedly sub-par.  I played baseball in high school and have followed the sport since I was old enough to read the baseball results in the newspaper.  I know baseball pretty well.
There were nearly 10 errors committed in tonight's game.  Throws from the outfield and over to first base were wild nearly every time.  The outfielders played some 60-80 feet inside the fences.  Did they think that none of the opposing players had the capability to hit the ball over their heads?
Most major sporting events have some sort of "shuffle" that allows the crowd to try to "follow the ball" or whatever to it's final resting place.  Tonight's shuffle so fast that no one would have any chance whatsoever of guessing the winning location.
Not a chance.
During the seventh inning they did a burrito toss from roughly home plate into the short leftfield.  They shot the  burritos from a slingshot type apparatus. They had a 10-year-old girl with marine flippers trying to catch the burritos. Given her age and athletic ability she couldn't have caught those the burritos from a distance of 10 feet if she had the biggest first baseman's mitt that's ever been made.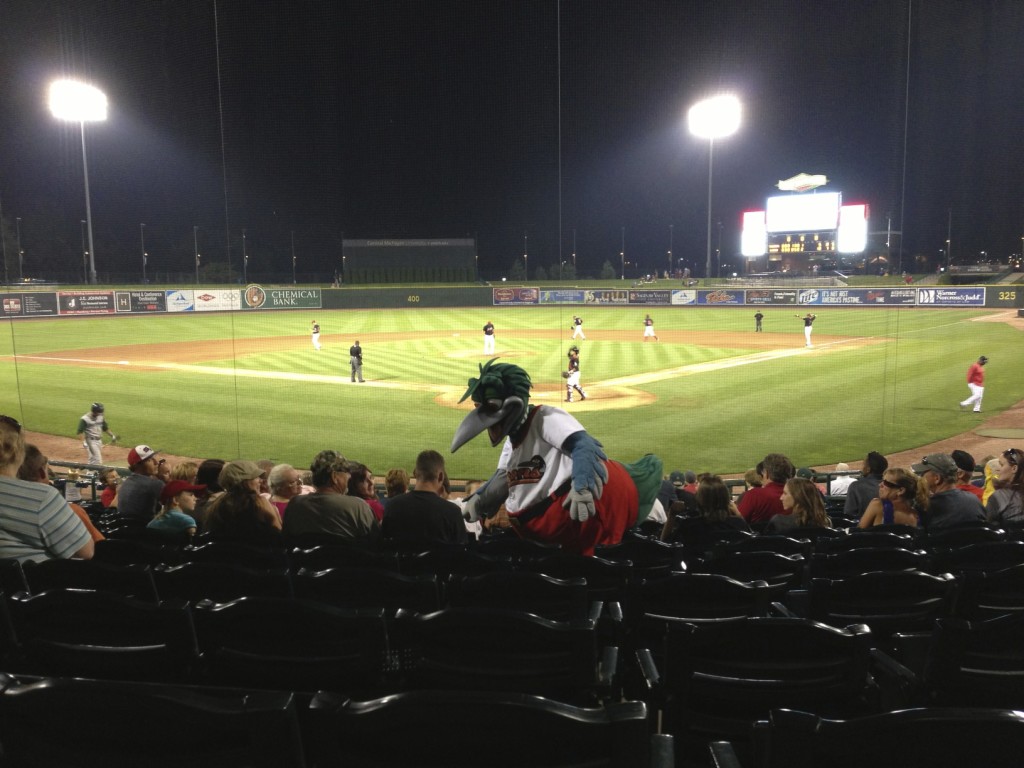 Despite the quality of the play, I very much enjoyed my outing at the Dow Diamond.  These are the types of "one off" activities that really add spice to any long trackchasing trip.  This was an excellent Trackchasing Tourist Attraction.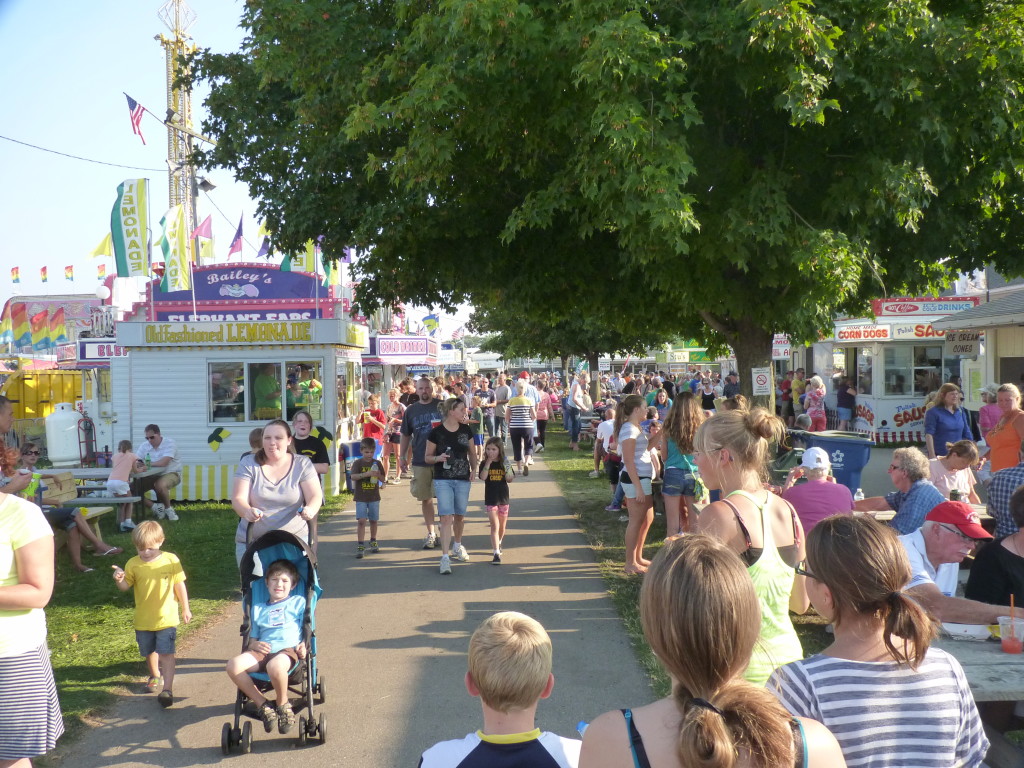 Hudsonville County Fairgrounds – Hudsonville, Michigan
There would be a big crowd tonight.
As soon as I arrived into Hudsonville, I used my iPhone GPS capability to find the fairgrounds.  When I arrived I could see the fair was attracting a huge crowd.  I was directed into a very large parking lot.  As luck would have it I got the very last spot.  Folks following me were being turned away and directed to a more remote location.
I paid a three dollar general admission price to get into the fair.  Then there was an additional six dollar ticket required for admission to the grandstand for tonight's off-road derby.  Sometimes a single fair admission includes the racing.  Sometimes there is no fair admission and only a charge to get into the races.  Sometimes, like tonight, there is a fair admission AND a race admission.
It was a warm evening at race time with a temperature of 85°. The grandstands were large and had seating for 3,000-4,000 people. Lots of the seats were already reserved by people that had put blankets down on the aluminum bleachers. I went to the far end of the track choosing a spot where the sun would be behind me as much as possible.
This was a surprise!
Just as I was about ready to sit down whom did I spot but Nancy Brown.  I've known Nancy for many years.  She is the wife of Allan Brown former owner and publisher of he National Speedway Directory.  They live in nearby Comstock Park, Michigan.  Nancy and Allan were at the fair with their nephews for an evening of off-road racing.
It wasn't long before Alan showed up and sat down beside me.  The first thing Allan said was, "I thought you had already seen every racetrack".  Of course, that IS nearly true.  However, there are just a few left to see!  We had an enjoyable evening talking about racing and life in general. I'm happy to see that Allan has made a nice recovery from his bout with cancer of the past 2-3 years.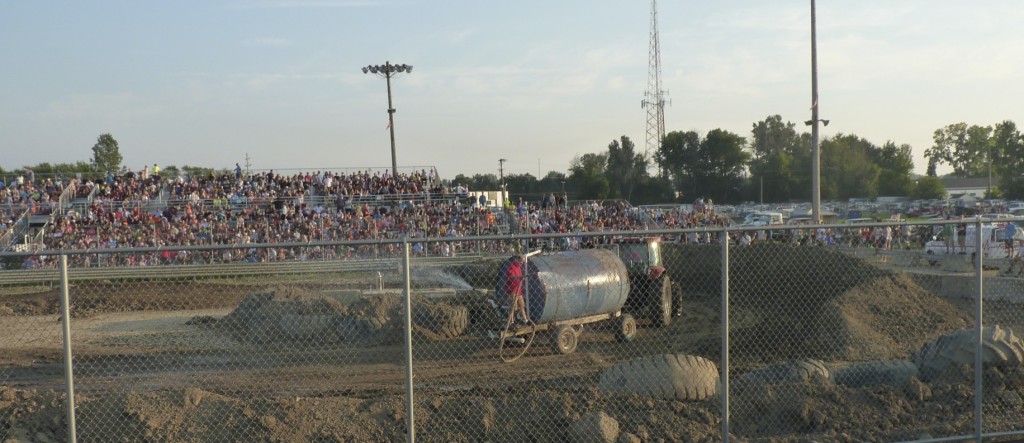 Lots of watering tonight.
Tonight's racing was done on a dirt road course that was really more like an oval but with some very minor left-hand turns. The cars raced in a clockwise direction. I'm not sure how many cars they had but they ran about 8-10 races.  With such warm and dry conditions they had to water the track frequently
Most cars were of the four-cylinder variety but they had a pick up class too. The racing was fun and exciting. The cars got very squirrely when they jumped over the man-made hills in the middle of the straights.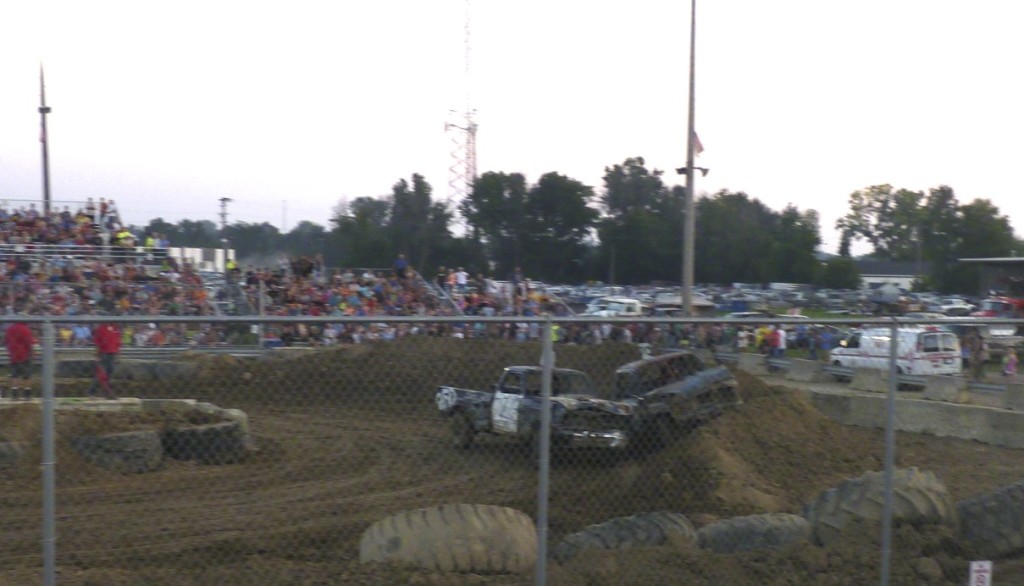 A picture is worth a thousand words.
As always I would prefer you see the photos and videos of tonight's event.  It's true that a picture is worth a thousand words.  Don't miss the videos of the racing action it was very entertaining.
The final checkered flag flew about 9:45 p.m. I had not seen Nancy and Alan for 2-3 years.  As I recall our last encounter was at a road course race in Marengo, Indiana. It was nice seeing them and I wish them well and good health as they continue to enjoy their retirement.
Sometimes I buy cheap stuff cheap.
Then I was off on a three-hour drive to Toledo Ohio. The timing was good as the Angels were just beginning their baseball game against the Cleveland Indians on satellite radio.  I could listen to it all the way over to Toledo.  Once in Toledo, at 1:30 a.m., I made a quick stop at the Waffle House before sleeping overnight in a $28 Motel 6.
STATE COMPARISONS
Michigan
The Wolverine State
This evening I saw my 97th lifetime track in the Wolverine state, yes the Wolverine state.  Don't bet against my seeing my 100th lifetime track in Michigan sometime in 2014.
Thanks for reading about my trackchasing,
Randy Lewis
World's #1 Trackchaser
Peoria Old Timers Racing Club (P.O.R.C.) Hall of Fame Member
Michigan sayings:  Everybody wants to go to heaven but nobody wants to die.
QUICK FACTS
AIRPLANE
Los Angeles, CA (LAX) – Chicago, IL (ORD) – 1,745 miles
Chicago, IL (ORD) – Detroit, MI (DTW) – 234 miles
RENTAL CAR #1
Detroit Metro Airport – trip begins
Belleville, MI
Butler, PA
Urbana, OH
Union, KY
East Moline, IL
Marshall, MI
Armada, MI
West Branch, MI
Midland, MI
Detroit Metro Airport – 2,378 miles
RENTAL CAR #2
Detroit Metro Airport – trip begins
Greenland, MI
Escanaba, MI
Escanaba, MI (again!)
Hudsonville, MI
TRACK ADMISSION PRICES:
Wayne County Fairgrounds – $10
Butler Farm Show – $12 (not trackchasing expense)
Champaign County Fairgrounds – $12
Florence Speedway – Complimentary admission
Quad Cities Speedway – $8 ($2 senior discount – not trackchasing expense)
Calhoun County Fairgrounds – $10
Armada County Fairgrounds – $8
Ogemaw County Fairgrounds – $8
Midland County Fairgrounds – $10
Adventure Mountain Raceway – $8
Upper Peninsula International Raceway – $8
Upper Peninsula State Fairgrounds – $5
Hudsonville County Fairgrounds – $9
LIFETIME TRACKCHASER COMPARISONS 
The three most important trackchasing comparisons to me are:
Total lifetime tracks seen
Total "trackchasing countries" seen
Lifetime National Geographic Diversity results
Total Lifetime Tracks
There are no trackchasers currently within 350 tracks of my lifetime total.  Don't blame me.
1.  Randy Lewis, San Clemente, California – 1,890
Total Trackchasing Countries
There are no trackchasers currently within 10 countries of my lifetime total.
1.  Randy Lewis, San Clemente, California – 65
Current lifetime National Geographic Diversity results
1.  Randy Lewis, San Clemente, California – 5.10
That's all folks!  Official end of the RLR – Randy Lewis Racing Trackchaser Report