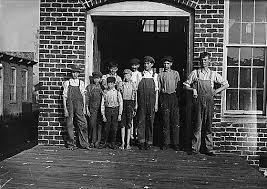 Greetings from Talladega, Alabama
.
.
From the travels and adventures of the 
"World's #1 Trackchaser"
.
.
Talladega Raceway Park
Dirt oval
 Lifetime Track #2,383
The EventVideo PlusPhotos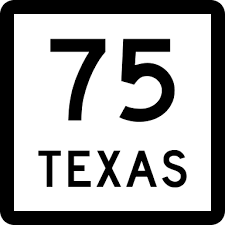 THE EVENT
I have had the opportunity to follow my trackchasing hobby all over the world.  As this is written I have seen racing in 75 countries.  My lifetime track total is nearly 2,400.  Long ago I wrapped up seeing racing in every American state.
Some eleven years ago I moved into the "World's #1 Trackchasing" spot.  Of course, that's if that title is awarded to the person who has seen the most lifetime tracks.  Frankly, I don't think it should be.   Maybe "Most Prolific Trackchaser" is a better description.
Anyway my trackchasing totals exceeded all others more than 1,300 tracks ago.  Different trackchasers including Rick Schneider, Ed Esser and now Guy Smith have held the second spot behind my trackchasing results.
The trackchasing leadership has always had a difficult time managing the "politics" of trackchasing.  Even the leaders have been toppled by trackchasing politics. When Mr. Schneider dropped out over a dispute Ed Esser became the #2 ranked trackchaser.  Sadly, just four days after Ed and I went trackchasing together in Canada he passed away.  This moved Guy Smith into the #2 spot.  Since the year 2000 I've seen nearly 900 tracks more than Mr. Smith.  Currently my advantage over trackchasing's #2 exceeds 600 tracks.
I would lobby that the "World's #1 Trackchaser" title should go to the person who has seen racing in the most countries.  For the longest time the real "World's #1 Trackchaser" was Roland Vanden Eynde of Belgium.  He was closely followed by Will White of Pennsylvania.
I never had all that much interest in international trackchasing.  I was nearly 40 years old when I saw my first track outside of the U.S., in Canada.  I never thought international trackchasing was worth the expense or the hassle.
When I gained an airline sponsorship all of that changed.  Now I have seen racing in 75 countries and toured the world in more than 90 countries.  Long ago I passed up Mr. Vanden Eynde for the true "World's #1 Trackchaser" title.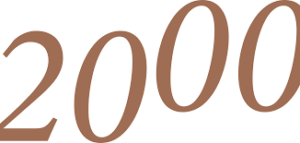 Very few trackchasers return to see racing at a track a long way from where they live.  I've seen racing at the famous Talladega Raceway on four separate race dates.  It's located more than 2,000 miles from my home.  I've also seen racing on the Talladega Short Track.  It's just across the road from the big track.  Now, today I was returning to see racing at the Talladega Raceway.  They race karts there.  Will I ever return to Talladega?  I hope so.  I love the NASCAR racing on the big track.
My hobby is not only about racing.  Yes, that is one part of it.  However of equal importance are the logistics of trackchasing and the opportunity to see the world.
I live in Southern California.  The vast majority of tracks are located in the Midwest and East.  It takes a good deal of logistical planning to get from where I live to where the tracks are.  For the past 15 years I have traveled about 175 nights each and every year.  Surprisingly to some, more than half of those overnights were not part of trackchasing.
Then there's the travel just for the fun of seeing new things.  You won't want to miss my "Trackchasing Tourist Attractions" page or my "Sports Spectating Resume" page on my website at www.randylewis.org.  That will give you some understanding on how important seeing the world and just "seeing stuff" is with my hobby.
Today's adventure was one more of the 2,000 trips that have taken me up, down and around the long and dusty trackchasing trail.  If you would like to see where I've been and experience those adventures here's the link: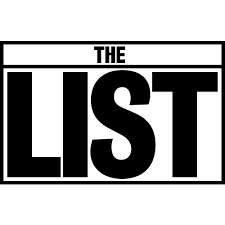 If you've got a question, comment or whatever please leave it at the bottom of this report.  It's very easy to do.  Or you can visit me on Facebook.  Thanks!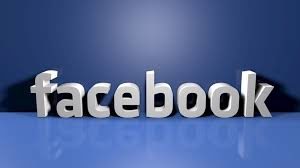 FOREWORD
WEDNESDAY
It's extremely unusual for me to be able to see racing on a kart track on a Thursday night in the middle of October.  Nevertheless, this trip was going to begin with exactly that type of midweek kart racing.

However, I don't want to get the kart (pun intended) before the horse.  First of all I had to get from sunny Southern California to rural Alabama.  I had a good plan in place.  I would fly from Los Angeles to Seattle and then catch a late night flight from Seattle to Atlanta.  I would be flying overnight.  That would save on hotel expenses.
I was sitting in my office at 8:30 in the morning today. I made a final check of the flights.  All of a sudden the flight from Seattle to Atlanta was beginning to fill up.  I couldn't afford to fly up to Seattle and get stranded there.  I might never make it to Alabama.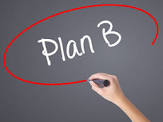 I was going to have to go to Plan B.  With Plan B I would fly from Los Angeles to Atlanta nonstop.  Why wasn't that plan A?  Well, mainly because the idea of flying through Seattle was a little bit cheaper.  Remember, I'm a retiree/unemployed individual.  I haven't earned a dime in more than 15 years. Additionally, I didn't really know if I could make the flight that was flying nonstop to Georgia.
Time was of the essence this morning with plan B.  I had exactly 22 minutes to shower, throw a few things in a bag and hop into the Carol Lewis owned and MFunds sponsored Lexus RX 350.  Of course my fuel tank was nearly empty.  Taking another six minutes to get gas was going to put a crunch on me but I had to do it.
By the time I got on the road for the 65-mile one-way trip to LAX I was beginning to wonder if I could even make the flight time-wise let alone space wise.  When I got to my parking garage I took the first available spot rather than drive up to a higher "Lexus land" floor.  What is Lexus land?  Lexus land is where those parking spaces in the far reaches of a parking lot are.  It's where people park their nice cars so people driving a POS don't ding them.  Now you know what Lexus land is.  I was definitely in a rush.  Mid-morning traffic had been worse than I would have expected on a Wednesday.
I'm not even going to tell you how I got through airline security.  There are people reading these reports that might not like my explanation.  I'll just say that it was creative and leave it at that.
I made the flight.  I flew five hours and got into Atlanta at about 7 p.m.  I immediately went over into a quiet corner of the terminal.  There I popped open my laptop and made arrangements for a hotel and a rental car.  No, you don't know anyone who travels like I do.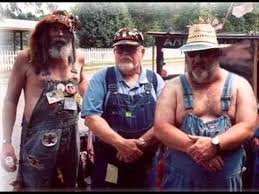 Using Priceline I picked a hotel that I knew would have an airport shuttle.  That way I wouldn't have to rent a car until tomorrow.  That strategy would save me $50 or more.  No, I have never had the finances that support the Dreaded East Coast Trackchasers. Nevertheless, I've been able to stay competitive with them over the years.
I ended up staying at the Days Inn on Best Road in College Park, Georgia.  This is probably the worst hotel I stay at with Priceline.  However, it was the least expensive hotel option that also provided a shuttle to the airport.  I didn't expect to be there long.
I checked into the hotel without too much problem. Then I got a text from a promoter in Indiana.  He had some extremely good news for me.  I'll be telling you about that in my next Trackchaser Report.  That good news came from the mutual respect and bonding that I developed with John Byrd aka Birdman, promoter at the Monroe County Fairgrounds in Bloomington, Indiana. I went to sleep with a smile on my face.
THURSDAY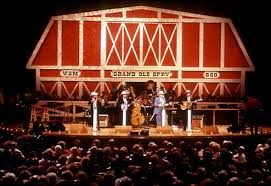 Until I got last night's text message from the Indiana race promoter I was all set to go to the Grand Old Opry in Nashville, Tennessee on Friday night.  That plan was changing now.  I texted my sister.  She lives up by Chicago.  I told her to expect me on Friday night for dinner.  That's how quickly my plans change on these trips.
It seemed to make some good sense to extend my reservation at the Days Inn on Best Road in Georgia by another day.  Yes, this hotel truly is a dive.  Last evening I was shocked and surprised to see a full sized cock roach gliding across the bottom of the bathroom sink.  That cockroach doesn't breathe anymore but I was wondering if he had brothers and sisters.
This morning there was plenty of time for a 4-mile power walk.  There's a really nice bike/walking path near the hotel.  When I got back to my room I relaxed until about 2 p.m.  "Relaxing" on one of these trips for me means being in constant contact with race promoters for near-term upcoming events.
In the early afternoon I grabbed the hotel shuttle for a ride over to the airport.  Then I rode the sky train over to the rental car center.   I picked out a shiny looking Toyota Camry from National Car Rental lot.
It was going to be a two-hour drive from the airport over to Talladega, Alabama.  I've been to Talladega to see racing on the big track four times.  I've also seen racing on their quarter-mile dirt track.  I love the events I've seen on every visit to Talladega.
THE RACING

Talladega Raceway Park – Talladega, Alabama
Today I was coming to see racing at the Talladega Raceway Park.  This is a little 1/5-mile or so banked dirt track.  It's sits just off of turn three of the Talladega Short Track.
Racing was scheduled to begin at 8 p.m.  What I didn't realize was that as soon as I crossed the Georgia/Alabama state border the time changed from eastern time to central time.  I gained an hour.  I didn't need that extra hour.  I was already early.  However, when I return to Georgia later on tonight it would add an hour to my day.  That wasn't good.  I had to be up early tomorrow morning for a flight to Chicago.  Why does it seem that about 80% of the time an hour time change always seems to work against me?  Shouldn't it be a 50/50 deal?
When I thought it was 5:30 p.m. Eastern time at the track it was actually 4:30 p.m. Central time.  That meant I had a lot of downtime.  I simply relaxed in the National Car Rental Racing Toyota Camry and did some work on my laptop.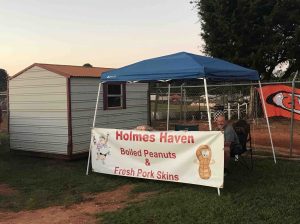 I toyed with the idea of having a quick waffle at the Waffle House while I waited.  Then I ran into a vendor selling fried pork skins.  I would soon be meeting the proprietor James.  He owns "Holmes Haven".  He and his wife travel to dirt tracks, fairs and festivals all over the southeast selling their pork skins and boiled peanuts.
After our conversation I was found walking away with a large cellophane bag of barbecued pork skins. James told me they were fried in friendly canola oil. They did taste different and a lot better than the commercial brands of pork skins I've been eating in the past.  They were much better!
I guess I would have to say I was disappointed in the go-kart racing tonight at the Talladega Raceway Park. I'll take a brief moment to tell you why I felt that way.
There were some several positives.  First, there was no admission charge.  There was also a bigger crowd of spectators in a pretty much normal sized wooden bleachers grandstand than I see at most kart tracks.  I was wondering if the Talladega Superspeedway race on Sunday increased the crowd count tonight?  I think it probably did.
The facility itself was above average.  They had an announcer who communicated with the crowd and the pit area over a stout PA system.  The drawback to all of that was that more than 90% of his communication was done to encourage the drivers in the pit to be ready to go when it was their turn to be on the track.  I don't care for those kinds of announcement that go on constantly.
When I go to a track by myself I try to pick out an individual or individuals who I might find interesting to talk to.  I guess I would call it "Trackchaser profiling".
Tonight I sat down next to a group of gentleman who were about my age.  I surmised they were not regulars at kart tracks.  I was correct.  They had come up from northern Mississippi, Booneville to be exact, to watch Sunday's NASCAR race.  They do this every year.  They bring campers and park them in a Talladega campground located outside of turn one of the big track.  The cost is $325 for the week to get a concrete pad to host their trailers.  I spent the evening talking with one of the fellows.
Tonight there were 15-20 classes of racing go-karts racing.  First, they had a fairly extended practice time.  Kart racers do that for what reason I don't know.  The track website said the racing was to begin at 8 p.m.  Were they on time?  I guess that depends on what you call "racing".
At about 8 o'clock or so they had a prayer and the national anthem.  Then they went to qualifying.  Why on earth would you need to qualify two or three or four cars in one individual class?  Would it be that much of a heartbreak for the drivers if they had a pill draw to see where three different drivers started their heat race?
The announcer continued to plead almost incessantly for the next division to be ready to go for qualifications.  He must have had a standard list that he called out.  A few of the classes didn't have any competitors at the track tonight.  Yes, a couple of classes had only one racer.  Some of the classes, including senior champs, didn't have a single racer.
There was one and only one class that was competing tonight that would allow me to meet trackchasing rules.  That class was the junior late model group.  From what I could tell they brought six competitors.
Class after class came out to run time trails.  I didn't know if it would ever end.  At 9:15 p.m. they were still qualifying.  Remember 9:15 p.m. Talladega time was 10:15 p.m. at my Georgia located hotel.  At this point the junior late models were coming onto the track.
The junior late models got out on the racing surface after about 15 other classes had already qualified.  I figured they would qualify like the others did.  Then we would have to go through another 15 classes or more of heat races before I saw an actual countable race for the junior late models.
Maybe the trackchasing gods were smiling down on me.  For some reason, totally unknown to me, the junior late models came out and ran heat races rather than time trials.  I can't explain it.  Of course they saw the need to take the six cars they had and break them into two three-car heat races.
There wasn't much that tonight's promotion did that was fan friendly.  That probably tells me that the race promoter was a former racer and not a former fan.  A race promoter is challenged to satisfy both the racer and the fan.  Each has totally different objectives.
The first three-car junior late model race went for six racing laps.  Two of the cars were competitive and one lagged far behind.  Then in the second junior late model heat race not one of the three racers finished! They all left the track one by one before the checkered flag would have been thrown.
It was now past 9:15 p.m.  Remember, racing was supposed to begin at 8 p.m.  After the junior late models finished their heat races they went back to qualifying more flat karts.  OMG.
I couldn't stand it anymore.  I had seen just two heat races.  Luckily for me the heat races were with the one and only class that I could "count" at tonight's track.
I had been at the track for nearly 4 hours.  I was going to lose another hour on my drive back to Georgia.  If I left now I might get 5 1/2 hours worth of sleep.  If I stayed for another 15 minutes I would lose 15 minutes of sleep.  It was a direct one to one ratio.
With this track solidly in the books I bade farewell to the new friend I made from Booneville, Mississippi.  He wasn't really a racing fan.  He comes on this Talladega trip to spend some more time with his brother.  That's cool.  He and I enjoyed the short time we had talking together.
AFTER THE RACES
I have had a series of tracks over the past few weeks where only one or two classes would count toward trackchasing results.  In some of those instances there were only a couple of competitors in the class that would count for trackchasing.
Folks, I didn't sign on for that kind of racing.  I'll do this long enough to finish the season strongly.  I'm not going to make trips like this next year to see a handful or less of junior late models race for a couple laps.  I just won't do it.
Talladega, Alabama is only a few miles from the Alabama/Georgia border.  As soon as I crossed back into the Peach state I moved into the eastern time zone.  About an hour later I stopped for gas.  I put way more time, money and effort into seeing this one track that I really wanted or needed to.
Good evening from Talladega, Alabama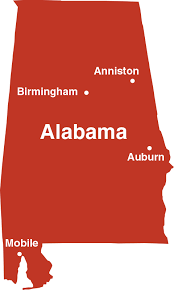 Alabama
The "No official nickname" state
This evening I saw my 24th lifetime track in the sometimes called Heart of Dixie state; yes the sometimes called Heart of Dixie state.  I've seen 24 or more tracks in 25 states.
Thanks for reading about my trackchasing,
Randy Lewis
World's #1 Trackchaser
Peoria Old Timers Racing Club (P.O.R.C.) Hall of Fame Member
Alabama sayings: Rammer jammer yellow hammer give 'em hell Alabama
QUICK FACTS
LIFETIME TRACKCHASER COMPARISONS 
The three most important trackchasing comparisons to me are:
Total lifetime tracks seen
Total "trackchasing countries" seen
Lifetime National Geographic Diversity results
Total Lifetime Tracks
There are no trackchasers currently within 600 tracks of my lifetime total.  Don't blame me.
Randy Lewis, San Clemente, California – 2,383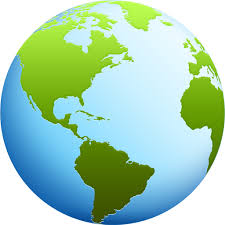 Total Trackchasing Countries
There are no trackchasers currently within 20 countries of my lifetime total. 
Randy Lewis, San Clemente, California – 75
Current lifetime National Geographic Diversity results
Randy Lewis, San Clemente, California – 4.37
That's all folks!  Official end of the RLR – Randy Lewis Racing Trackchaser Report
Click on the link below to see the video production from the racing action today.
Click on the link below for a photo album from today's trackchasing day.  You can view the album slide by slide or click on the "slide show" icon for a self-guided tour of today's trackchasing adventure.
A special Thursday night in Alabama