Greetings from Gresham, Wisconsin
From the travels and adventures of the "World's #1 Trackchaser"
TODAY I WOULD RESUME MY RACE DRIVING CAREER!
Track #1,820
HighlightsSpecial ReportThe PlanThe TripRace ReviewVideosPhotosQuick Facts
THE KEYS TO THE TRIP
I was back on the track…………….more in "RLR – Randy Lewis Racing Special Report".
This was the beginning of a nearly two-week trip………………more in "The Plan".
Please tell the IRS to leave me alone………..details in "The Trip".
Editor's note:  There are very few life changing events in most people's lives.  I am not going to say that if you spend the next 12 minutes watching a dramatic rags to riches video that your life will change.  However, on the other hand, I wouldn't want to bet against it.
The short film will portray the life of a race driver (me) as he struggles along the Wisconsin ice racing circuit.  From the highs of drawing the pole position with one of the fastest cars at the track, through the lows of seeing his ride disappear at the very last minute.  Then seeing a young heroine jump in to save the day at the very last second.  Fans will be screaming support from the sidelines until the race is complete.  Yes, it is a real emotional roller coaster.  All it takes is 12 minutes.  Do you want your life to change?  Click the "Videos" tab if you're ready for what very well MIGHT be that life-changing event you've been waiting for.  If it doesn't change your life you've only lost 12 minutes.  
RLR – RANDY LEWIS RACING SPECIAL REPORT
My special reports are meant to be "critical thinking" pieces on the state of trackchasing.  Sometimes they are just "news" items.  Often times the "trackchasing hierarchy" will consider them controversial.  At other times they are just good ways to think about the right things.  The topics won't always directly relate to trackchasing but they will always at least indirectly tie to the trackchasing hobby.  Remember the best way to learn about new things….is to listen.
Managing risk always seemed like a good idea to me.
I have never had a burning desire to drive a racecar or fly an airplane.  I live my life by calculating risk.  I've always thought flying a plane was too dangerous for my tastes.  Driving a racecar can be dangerous too.  It can also be a lot of work and very expensive.  However, I seem to have found my race driving "niche" if you will.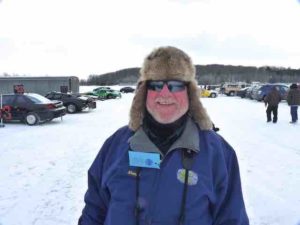 Then another "Randy" came along as in Randy Van Hoofer.  They call him the "Hoofer".
Back February 9, 2008 I met a fellow named Randy Van Hoof.  Randy was a track photographer at the Lake Speed Ice Track up in Tilleda, Wisconsin.  We struck up a conversation at the track that day and stayed in touch.  The next year Randy V. was organizing a media/celebrity race on the ice in Wisconsin.  He invited me to join his group.  I made a special trip back to central Wisconsin just to get a chance to drive a racecar on ice.  Carol came along on that trip with my sister Becky and her husband Bob.  We had a blast that day.  You may have seen the YouTube video that's been up on my website for years.  It shows both Carol and I driving separate cars in an ice racing feature event.
We needed to do this again.
Randy V. has invited me to come back every year since 2009.  In 2013 I took him up again on his invitation to race.  Carol has retired from active race driving but I'll still jump in a car when the situation is right.
Randy V. recognized me immediately when I turned into the ice track.  How did he know it was me?  He noticed the Minnesota license plates on my rental car!  It doesn't take too much for local folks to now "You're not from around here are you boy?"
There's a lot that goes into organizing a media/celebrity race.  First, you've got to get the racecar owners to let some stranger drive their racecar.  Then you've got to get those strangers to commit and show up to race another stranger's car.  Randy V. did a good job of getting twelve car owners and twelve drivers together for today's event.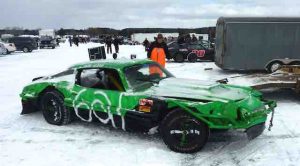 I needed a good car to race today.
The first item on my racing agenda was figuring out which car I would drive.  Randy V. had it all organized in a very official fashion.  While I sat warmly in my car he let me pick my car number out of a hat.  I drew car #621.  Randy V. told me the car would be easy to spot as it had the brightest paint job of the bunch.
Wanting to see "my" car motivated me to get out of my warm rental car and go searching up and down the ice.  It didn't take long to survey all the cars.  There was no brightly painted #621.  This concerned me.  I was really looking forward to racing today.
There was my ride, the Brady Septic Systems Racing '74 Camaro.
However, just as the very last cars were pulling into the pits here came the Brady Septic Systems special racing Camaro owned and driven by Bo Brady.  Bo was a young man in his twenties and racing on ice in his rookie year.
I introduced myself to Bo and his race team (which was just one buddy!).  I told Bo a little bit about my race/trackchasing background and where I had come from to get to today's race.  He said, "That's cool that you're driving my car".
Bo would race the car in his heat and feature event.  Then I would take over for the media race feature.  However, there was a bit of a problem.  The Brady Septic Systems car would not fire.  It had not been started since last weekend's race and it wouldn't even turn over.  Bo did not seem deterred.  He summoned some buddies who came running with a generator.  In a few minutes the Camaro's engine was sounding pretty stout.  I was back in business.  I had survived a late arrival by the Brady Racing Team and an engine problem.  We were good to go.
Bo told me to come on back after his feature race and I would race his car.  The car looked well used and it was.  Bo told me his dad first started racing the car some 34 years ago.  He told me that ten different people had owned the car until he bought it back recently for $500 U.S.  Another $700 U.S. had gone into refreshing the engine.  The 1974 Camaro, decked out in black and florescent green was ready to do some serious racing.
Would I fit?
I had one major concern about my racing this Camaro.  The doors were welded shut.  The only way to get in the cockpit would be to slip through the window opening.  Folks, Camaros don't have very large window openings!  They are especially narrow for a man in his 60s with a bad back and six layers of clothing.  Yep, I was concerned about that.
And then the worst happened.
Bo Brady started on the front row of his feature race.  He led about ten drivers for the first half of the contest.  Then he was passed by the season's point leader.  With just two laps to go the Brady Septic Service Camaro came to a halt on the backstretch.  Oh no!  There went my ride.  He limped back into the pit area and drove the car directly onto the trailer.  When he got out of the car he told me "The transmission's gone.  Sorry".  There was nothing I could do.  It looked as if my racing day was over before it began.  I felt badly for all of the people I had texted telling them to keep a close eye on their phones and BIG news would be coming from Wisconsin.
I conferred with Randy V.  He had worked hard just to get 12 cars for 12 celebrity drivers.  Now both my car and another had broken.  It looked as if I might have to sit this one out.  However, during the course of the day I had made friends with a couple of local dirt drivers who were also racing in the celebrity race.  They didn't want to see me go back to California without having a chance to race.  Neither did I.
You can never know enough of the right people.
Folks, it pays to know people.  It pays to have the people that you know like you.  It pays to have the people that you know who like you have some influence over what might come your way in life.  Folks, these are pearls.  They are free.  You just need to bend over and pick them up.
I was offered a car to race.  There was just one problem.  The driver was much smaller than me.  His belts were fitted for him and probably wouldn't work for me.  One of the dirt drivers told me to just "move the belts around you".  I don't drive racecars partially because they are dangerous.  Riding in the upcoming feature without being belted in didn't seem like a great idea to me.  I was back to square one.
And unnamed woman and Sarah to the rescue!
When you want to talk about getting the work done ask a man.  When you want to GET the work done ask a woman.  There was a young woman who worked for the track.  I didn't get her name.  She was intent on finding me a racecar to race even though the other media/celebrity driver's were now buckled in and ready to leave the pit area for the track.
Folks, I'm convinced if you get the right woman they can outwork the right man.  I've seen it time and again.  It worked again today.
I'm sorry that I don't have the capability of getting everyone's name.  I really want to recognise the people who do great things.  I had initially been ticketed for the #621.  Now I was being given the black car #21 a Toyota Corolla.  This car was normally driven in the front-wheel driver non-studded class by a young woman named Sarah.  She was happy to let me race her car.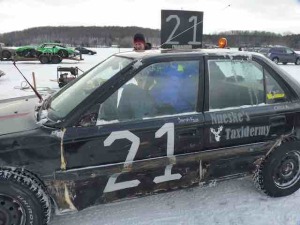 Again just GETTING IN the car was a challenge for me.  The driver's door didn't open but the passenger door did.  I had to slide in back first and then try to bend my legs over and around the floor-mounted gearshift.  Time was on the essence.  This was definitely a "bull in the china shop" endeavor.
Yes, I've been told my head is too big.
Soon I was in the car.  Sarah's helmet was too small for me but another driver came to my rescue with his hard hat.  I had contracted with another young lady who had parked next to my car in the spectator area to take photos of the event.  Christine did a great job of getting some video clips and still photos of my being on the track.  Thanks!
I would have to start at the back.
I had originally drawn the pole position for the 12 starters in the celebrity race.  That came about when Randy V. asked me to "pick a card any card".  I drew the Ace of Spades.  That meant I would start in the #1 position.
However, by the time I got the Nueske's Taxidermy Racing Toyota Corolla #21 on the track the best I could do was "tag the rear".  That was O.K. with me.  I had only been in the car for 60 seconds with about 60 seconds of advance notice.  I'd take a lap or two to get accustomed to the car.  While I was in the back of the pack I would use my iPhone to take some video clips of the racing action.
After entering the track off of turn one and following the pack around to the start/finish line the green flag dropped.  So much for hot laps or getting used to the car.  We were "doing" this!
If only I lived in Wisconsin.
I will tell you this.  If I lived in Wisconsin I would have an ice racing stock car!  I'll bet Carol would too.  I'm as much about recording the moment to enjoy later as I am about enjoying the moment I'm in.  As you might have expected when the green flag dropped I reached for my iPhone.  For the first few laps I took some "in car video".  Then I got serious about the racing.
You will see from the video that I ended up passing three cars to unofficially finish ninth out of twelve.  Had things gone a little better and I had started on the pole (like I was supposed too!) who knows what might have happened.
I am now a professional race driver.
I have now raced five or six times.  Today's racing event marked my move from amateur status to professional.  I, and the other drivers were paid for racing today.  Randy V. had secured sponsorship from the local North Star Casino.  I was awarded two $10 plays at the casino.  I guess I'll have to declare that on my income taxes now.
Following the racing I headed over to the North Star Casino to cash in my race winnings.  Along the way I saw several race teams and their rigs stopped at the local tavern.  That brought back memories.  Leaving the Peoria Speedway as a boy you would always see racers having an adult beverage somewhere along the road with their friends and fellow competitors after the races.
Once at the North Star I discovered two things.  First, the UCLA- Stanford basketball game was on TV.  The Bruins were winning late in the second half.  Secondly, I discovered my back was really hurting from the unusual positions I had to achieve just getting in and out of the car.
Just what the doctor ordered.
My back problem was nothing that two Aleve tablets and three Jack Daniels couldn't fix pretty quickly.  I had a great early dinner at the "Grooves" restaurant in the casino.  I stayed there until the Bruins victory was in the can.  Then I headed to a blackjack table to see what I could build my $20 in race winnings into.
The casino was packed.  I have no idea how a relatively large gambling casino can stay so busy when it's located amongst a series of small Wisconsin farming towns.  The only blackjack table I could find had a $25 minimum.  The lady I sat next too told me, "I was betting $50 per hand during the last few minutes.  I should have been betting $100 per hand".  Folks, although I am not as wealthy as the "Dreaded East Coast Trackchasers" might lead you to believe I'm not destitute either.  I would have to have a LOT of money to routinely play blackjack for $100 per hand.
Just one hand….did I feel lucky?
To meet the $25 minimum I added ten dollars (I didn't have change) to my $20 of "free" play.  That gave me a thirty-dollar bet.  My plan was to play one hand.  If I lost I would be down $10.  However, if I won I would be UP $50.  That's not bad odds on what was essentially a 50/50 bet.  Unfortunately, I drew a "12".  The dealer had an eight showing.
I used to be a semi-pro blackjack player.  My "CB" (you remember CBs right?) handle was the "Blackjack Man".  I pretty much knew I had a losing hand.  However, the players next to me drew a nine, an eight and a seven before it was my turn to take a card.  Every one of their cards would have made my hand a likely winner.  When it came time for me to draw I got a ten and went bust.  I was gone before I even knew what the dealer had.
This was a fantastic day of trackchasing with even more fantastic people.
Folks, it was a great day of trackchasing.  I am the only trackchaser who gets to do all the great things you read about.  I have now raced several times as the guest of the racetrack.  It all comes about by getting the word out that I'm at the track and meeting all the great people who would otherwise go unmet.
I've got Randy V. to thank for taking the time to pull this thing together and invite me to join in.  I've got Bo Brady to thank for offering up his car although it broke before I could use it.  Thanks to Sarah with the #21 Toyota for letting me race her car at the last minute.  Thanks to Christine for doing the video and picture taking of this great event.  Thanks to the various dirt track driver and folks on the spectator side of things today.  Also, thanks to that unnamed woman who kept trying to get me a ride until she did at the very last minute.  They were all fun to talk too.  Wisconsin people are great.  Thanks to you all.
This day called for me to race. 
This was not planned to be a "normal" wintertime Wisconsin ice-racing visit.  It would not be "normal" at all.  What would be different?  Lots!
First, the plan called for me to DRIVE a racecar at today's event.  Folks who have followed my trackchasing career know that I have raced a few times.  My first ever racing effort was in a autograss racing event driving a right-side drive Ford Fiesta in Tirley, England.  That effort has been followed a few times with me racing on ice as far away as Alaska.
I would be gone for nearly two weeks.
Secondly, this is not planned to be a two or three-day trackchasing trip.  I won't be returning home for nearly two weeks.  From here I plan to visit two foreign countries for racing.  I might even stick my toe back in Florida for a few hours if the weather cooperates.
Finally, this trip could yield as many as five new tracks.  It's nearly unheard of for a trackchaser to see that many new tracks in the wintertime……AFTER they've already knocked more than 1,800 tracks off the map.  This is unheard of for one simple reason….it's never been done.  Hang in there with me on this one.  You're going to be very surprised and entertained at where I plan to go.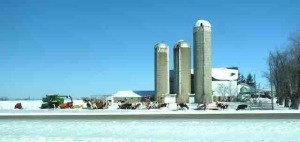 January and February have become very busy trackchasing months for me.
I woke up Friday morning in San Clemente, California.  I went to bed in Menomonie, Wisconsin on the way to today's races in Gresham, Wisconsin.  This is what today looked like.
You would think that January and February would produce a lull of sorts for my hobby of trackchasing.  Nothing could be further from the truth.  This trip will produce my fourth and fifth consecutive weekends of trackchasing.  Don't worry.  My goal of taking 23 weekends off during 2013 is still expected to be met.
I 'work' weekends.
On many of my trips I don't get back home until Sunday or Monday.  Then I'll leave again on Thursday or Friday.  That sore of "narrows" what many people think of as the traditional workweek of Monday through Friday.  However MY "work" week, if anyone looks at this as work is more like Friday-Monday.
Carol and I had a nice semi-quiet week at home celebrating both our wedding anniversary (#41) and Valentine's Day.  We ate out a few times and even spent the day up in Pacific Palisades, California at the Riviera Country Club watching the PGA tour contest their event at the Riviera Country Club.  That was a most fun major league event.  This is all part of my plan to go to as many major sporting events as I can.
Please tell the IRS to leave me alone.
Today, are a few final correspondences with those pesky IRS agents, Carol and I headed off to the airport.  I told you this trip was special.  Carol won't be going on the FIRST part of this trip but she will on the SECOND part.  This meant she had to ride with me to the airport (LAX) and then drive my car back home.  Why was that?
She doesn't have an airline parking sponsorship like I do!  I'll be gone for about two weeks.  In a few days Carol will drive my car back to the airport (using MY airline parking sponsorship).  Then she'll park and head out on her own bound for New York.  There I hope to meet up with her for what I expected to be a trip leading to trackchasing country #64.
Today I would be landing in Minneapolis late on Friday night.  Traveling on Friday was the only way I could guarantee getting to my Saturday afternoon ice track.  To keep as much of the trip within my control I chose to drive round-trip for nine hours rather than shorten the drive time by flying.  We'll see how that strategy works out.
UPPER RED LAKE ICE TRACK – GRESHAM, WISCONSIN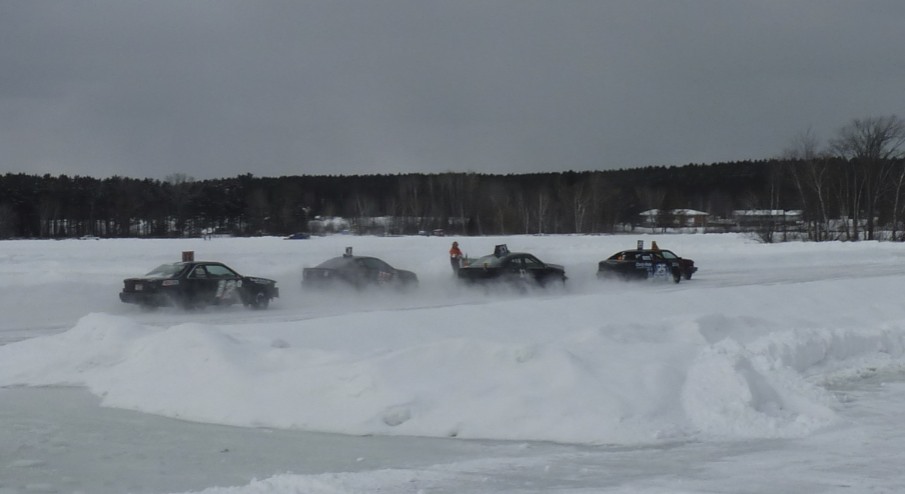 No holds barred.
Today's racing was to begin at 12:30 p.m.  I arrived early at just past 11 a.m.  Why get there so early on a day that started with a temperature of zero degrees?  I was scheduled to be driving in a "celebrity" race today.  My sponsor, Randy Van Hoof, had arranged for me to "get a ride" as in drive one of the ice racers in a special "no holds barred" racing event at the end of the day.  He had requested I show up early so I might get some "hot laps" on this 15-degree morning.
By the way I had met Randy V. back in 2009 at the Lake Speed Ice Track in Tilleda, Wisconsin.  On that day my sister Becky and her husband Bob as well as Carol had seen me race in a celebrity feature event.  Carol was driving a separate car in that race too.  A YouTube video of that event has been on my website for years.  My visit that day, February 7, 2009 was not my first visit to Tilleda.  I had first come there a year earlier on February 9, 2008 (Lake Speed – Track #1,309).  I'm pretty sure that's the day I first met Randy Van Hoof.  He and I have stayed in touch over the years.
When I arrived the racers were just beginning to arrive and unload their ice racing gear.  I decided to hang out in the car as long as I could to stay out of the cold.  It wasn't long before Randy V. was headed toward my car.  He had a hat full of numbers.  He instructed me to pick one.  The number I randomly chose was #621.  That meant I would be driving car #621.  I wonder if this is how Jeff Gordon picked his rides?
Randy told me my car was the brightest one on track.  I guess it would be easy to find.  It wasn't long before I was venturing out onto the frozen Upper Red Lake.  Just across from where I had parked was the track's concession stand.  In reality it wasn't really a "stand" but a mobile trailer with the words "Bonnie's Buns and Burgers emblazoned along the side.  Today was going to be fun!
They race hard up here all winter and have fun.  Please check out my "still photo" YouTube video to see all the "cars and stars" that race with the Tilleda 'Thunder on Ice' group.  They are a fine group of racers and people.
STATE COMPARISONS
Wisconsin
The Badger State
This afternoon I saw my 74th lifetime track in the Badger state, yes the Badger state.  I still have about twenty tracks to see up here.  That includes a base of ice and kart tracks and the, up to now, illusive Plymouth Dirt Track.  I'll be back and probably this year.
Thanks for reading about my trackchasing,
Randy Lewis
World's #1 Trackchaser
Peoria Old Timers Racing Club (P.O.R.C.) Hall of Fame Member
Wisconsin sayings:  The only place where lactose intolerance could kill you!
TRAVEL DETAILS
AIRPLANE
Los Angeles, CA (LAX) – Minneapolis, MN (MSP) –1,535 miles
RENTAL CAR #1 
Minneapolis-St. Paul, Minnesota International Airport – trip begins
Gresham, WI
TRACK ADMISSION PRICES:
Upper Red Lake Ice Track – No charge
LIFETIME TRACKCHASER COMPARISONS 
The three most important trackchasing comparisons to me are:
Total lifetime tracks seen
Total "trackchasing countries" seen
Lifetime National Geographic Diversity results
Total Lifetime Tracks
There are no trackchasers currently within 300 tracks of my lifetime total.  Don't blame me.
1.  Randy Lewis, San Clemente, California – 1,814
Total Trackchasing Countries
There are no trackchasers currently within 10 countries of my lifetime total.
1.  Randy Lewis, San Clemente, California – 63
Current lifetime National Geographic Diversity results
1.  Randy Lewis, San Clemente, California – 5.08
That's all folks!  Official end of the RLR – Randy Lewis Racing Trackchaser Report