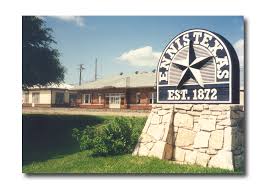 Greetings from Ennis, Texas
.
.
From the travels and adventures of the 
"World's #1 Trackchaser"
.
.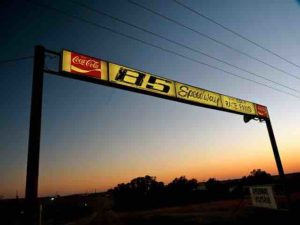 85 Speedway
Dirt oval
Lifetime Track #1,600
The EventVideosPhotos
THE EVENT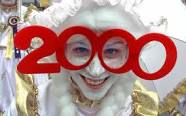 Today's undertaking was just one of more than 2,000 trips that have taken me up, down and around the long and dusty trackchasing trail. If you would like to see where I've been and experience those adventures here's the link:
If you've got a question, comment or whatever please leave it at the bottom of this report.  It's very easy to do.  Or you can visit me on Facebook.  Thanks!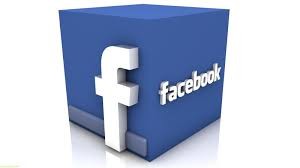 ON THE WAY TO THE RACES
DAY 1 – "I DIDN'T PLAN ON BEING IN TEXAS TONIGHT" TRACKCHASING TOUR
Reprinted with permission from my October 10, 2010 Trackchaser Report.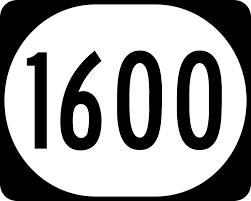 SPECIAL NOTICE! 
This evening I saw my 1,600th lifetime racetrack.  No one else has ever seen that many. The most memorable "milestone" tracks for me have been my 1st, 500th, 1,000th and 1,500th tracks. Below is a list of when and where I saw other "Century" mark tracks.
SUMMARY OF "CENTURY" TRACKCHASING ACHIEVEMENTS
# 1 – Peoria Speedway (Mt. Hawley), Peoria, Illinois – circa 1955
# 100 – Red River Valley Speedway, West Fargo, North Dakota (Sammy Swindell winner) – July 13, 1981
# 200 – Sumter Rebel Speedway, Sumter, South Carolina – March 28, 1992
# 300 – Brownstown Speedway, Brownstown, Indiana (Billy Moyer Jr. winner) – April 19, 1997 –
# 400 – Barren County Speedway, Glasgow, Kentucky – October 1, 1999
# 500 – Freedom Raceway, Delevan, New York – July 27, 2001
# 600 – Trail-Way Speedway (figure 8 course), Hanover, Pennsylvania – July 20, 2002
# 700 – Thunder Alley Park, Evans Mills, New York – April 22, 2004
# 800 – Five Flags Speedway, Pensacola, Florida – December 3, 2004
# 900 – I-96 Speedway (inner oval), Lake Odessa, Michigan – July 15, 2005
# 1,000 – Auburndale Kartway, Auburndale, Florida – February 10, 2006
# 1,100 – Cambridge Fair, Cambridge, Ontario, Canada – September 9, 2006
# 1,200 – Castrol Raceway, Edmonton, Alberta, Canada – June 3, 2007
# 1,300 – Bira Circuit, Pattaya, Thailand – January 19, 2008
# 1,400 – Kemper Raceway, Kansas City, Missouri – December 20, 2008 
# 1,500 – Glencoe Fairgrounds, Glencoe, Ontario, Canada – September 27, 2009
# 1,600 – 85 Speedway, Ennis, Texas – October 8, 2010
On the occasion of my 900th track, I wrote the following.  I don't think I can add much to those words.
"Today is a special day – #900.  I am happy about that.  I would like to thank everyone who has supported me or shown an interest in my trackchasing hobby.   Special thanks go to Carol for being so tolerant of my obsession.  She is a smart woman and recognizes that it is a good idea to let me pursue my hobbies from time to time.  Also, thank you to all of the trackchasers who have provided me information and support along the way (you know who you are) and to those trackchasers who have motivated me through other methods (you know who you are)."
It took me nearly 11 years just to see my 200th lifetime track after I saw my 100th.  Heck, it took me nearly 52 ½ years to see my first 500 tracks.  At that point, I told the boys at the golf club that I would be cutting back on my trackchasing.  I can even remember the table I was sitting at in the club's dining room when I made that assertion.  I missed that one by a bunch!  In the following 9 ½ years, I have added another 1,100 tracks.  Most people would never have expected that, including me.
I offer my apologies to readers who signed up to receive my RLR – Randy Lewis Racing Trackchaser Report some 600 or 800 tracks ago.  Maybe you thought these emails would cease, or at least become less frequent, as time went on.  I hope you received some entertainment value and maybe even a cost saving or travel tip or three.  If you have, then it's all been worth it for me.
TODAY'S HEADLINES
The trackchasing gods had their own plans for me this weekend. …………..details in "The Objective".
If you were in this situation what would you do?………………more in "The Trip".
Track #1,600 didn't really meet my expectations.………..details in "Race Review".
THE OBJECTIVE, THE TRIP, THE PEOPLE…AND A WHOLE LOT MORE
The Objective 

The trackchasing gods had their own plans.
At the very last minute I came up with a strange long distant trackchasing plan. I would end up flying to the other side of the world. I'm the kind of person who can go on a major trip with 15 minutes worth of notice.
However, the trackchasing gods had different plans in mind for me. I had four different planes that could have flown me to international gateways. One of those airlines flew at the same time another one did. I chose the "other" airline because they had TWO flights going where I needed to go. Both of those flights ended up being full. There was no room for me. The fourth and final flight was delayed by eight hours. That would make it impossible to reach my planned destination. That's O.K. Now I have a bit more experience with this particular process. Nevertheless, this international location would have been a great track #1,600.
The Trip
What would you do?
It was about midnight on Thursday night when it was confirmed I would not be trackchasing outside of the United States. At that point I tried to get to the Midwest. Does your local airport have flights leaving at or after midnight? LAX probably has more than most. I tried to get to Minneapolis; not even close. The last shot was a 1:40 a.m. (Friday) plane to Memphis. Nope! That was my last hope. I would not be leaving Los Angeles tonight.
What would you do if it was 2 a.m., you were in the airport and the next best flight wasn't leaving until 6-8 a.m.? You might do what I did. I did some work on my computer, made a few calls and then "camped out". That's right, I set up camp near gate 53 at the Los Angeles International Airport.
I had a backup plan.
My backup plan was to go trackchasing on Friday night in Pennsylvania. However, flights didn't look great getting there either. For a while I thought the seat availability had really opened up after Labor Day. This weekend the planes were as full as they were in the middle of the summer.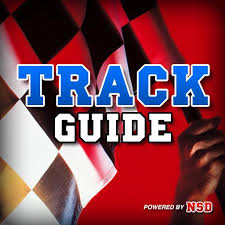 Using new technology with an old-time track.
I was using my new "Track Guide" iPhone app. It's really pretty cool. I'll tell you more about it soon. I was surfing tracks in Texas when I came across the 85 Speedway. This track is one of the few that doesn't have a website. If a track doesn't have a website today you can bet it's "old school". When I here the word "old school" that means "resistant to change" and has other negative connotations to me. I don't see being old school as a positive at all.
I can't believe I did this and didn't get in trouble for it.
There was a phone number for the track in the Track Guide app. It was 2 a.m. where I was and 4 a.m. in Texas. I figured they might have a recording describing upcoming events. I gave them a call. You can imagine my chagrin when a "live" person answered the phone. I acted as if it were 12 noon where I was calling. Were they racing this weekend I asked? Yes, they were! They were racing both this Friday and Saturday night. I needed a track for Friday. This was perfect. The track was just 50 miles from Dallas. I figured I might be able to get a non-stop flight to DFW.
I thanked the woman I was talking too. She didn't sound as if I had awakened here. It was an awfully normal conversation considering the time it was in the middle of the night.
Then it was off to bed….no I meant to say it was 'off to floor'.
From there I locked up my computer to a stationary row of airport seats. I set my iPhone alarm for 6 a.m. Then I stretched out and went to sleep on the floor. Yes, this is what has to be done from time to time if one wants to do well in the ultra-competitive field of worldwide trackchasing.
I made it to Dallas by noon on Friday. Was I tired? Maybe. I purchased some airline tickets for future trips. I cleared my current emails and began to think about where I would be sleeping tonight. I could get a Motel 6. However, I figured I needed to give myself a reward.
You're a member of a very special group.
You may or may not realize that members of my RLR – Randy Lewis Racing Trackchaser Reports have been screened for superior intelligence. All but a couple of you passed with flying colors. A reader or two was "grandfathered" in before the admission requirements were raised! Nevertheless, you are a smart bunch.
That's why I know you are all using first www.biddingfortravel.com when you leave home and then www.priceline.com to get those very special prices on some excellent hotels.
Today I used those sites to get a room at the Hilton Garden Inn in Dallas. Now a Motel 6 goes for about $40 a night in Dallas. Some of them aren't in the best areas. I wasn't necessarily looking for one of those properties.

My Hilton Garden Inn was nearly brand new. When I checked in I asked the desk clerk what the lowest rate for a single room was tonight. His reply was: $129 plus tax. I paid $35. Come on folks. In a situation like this the traveler has three choices.
Pay $40 for a Motel 6
Pay $129 for a Hilton Garden Inn
Pay $35 for a Hilton Garden Inn
Never let your vested interests influence your thinking.
I'll take choice #3 every time. I began a conversation with the desk clerk about Priceline. He was holding the company line that Priceline was really a "bad" deal. Really?
He was explaining how they won't let you cancel. That's true. That has only come back to bite me once when a track in the Dominican Republic canceled at the last moment. On another 100 nights I've saved between 40-70% off the best rate being offered. I get 3-5 star hotels for the price of a Motel 6. I know that many of you who travel are doing to same thing. Good for you!  
The People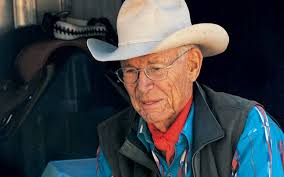 I like country folks.
I enjoyed the races with a lot of country people tonight. I like country folks. In many ways, tonight's racing wasn't much different than when I first started going to the races back in the 1950s.
RACE REVIEW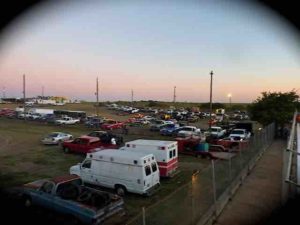 85 SPEEDWAY – ENNIS, TEXAS
This program didn't meet my expectations. 
I would have to say I was a little disappointed with tonight's program. Some of that disappointment came from my own poor planning. I left my hotel at 6 p.m. The temperature was a balmy 83 degrees. That fit my normal "trackchasing suit" of shorts and a t-shirt very well. By nearly 10 p.m. it was 59 degrees and felt more like thirty-nine. I was freezing.
I wasn't sure what time the races started. Later I would learn the scheduled race time was 8 p.m. I arrived at 6:45 p.m. for no other reason than sunset was 7:01 p.m. This would give me time to take pictures of the speedway during the daylight.
This had never happened before.
However, when I arrived I came upon a major automobile accident scene right at the track's entrance. Luckily, they were towing away the last vehicle that was involved in this accident. My delay was only about five minutes.
I bought my ticket ($10 – no senior discounts), went in took some pictures and then went back to my car to listen to Sirius satellite radio and the NASCAR channel. I subscribe to XM satellite radio and don't have the NASCAR option. That's probably a good thing since I find the topics somewhat repetitive even during just a weekend of listening.
For a reason unknown to me, they didn't start racing until 8:45 p.m. That was 45 minutes late! The announcer did apologize to the fans for the tardy beginning. He told everyone the accident had held things up and there was a "long line" of people trying to get into the track.
Let's get real folks.
I'm all for explanations. However, I was the LAST car coming into the track that was held up by emergency personnel. I entered at 6:45 p.m. There was NO way anybody else was held up getting into the track especially considering there couldn't have been more than 200 people in the stands. The announcer also told us there were 105 cars in the pits. I didn't see that many cars either. Hmmmm.
The 85 Speedway has been here a while. It is a very high-banked dirt quarter mile. That's my favorite. However, tonight much of the racing was done by low-dollar stock cars, i.e. cruisers and bombers. Tonight was day one of a two-day racing special.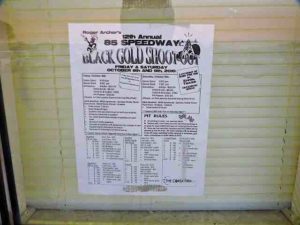 Late in the season the "two-day special" is a good way to see a Saturday night track racing on a Friday. That was the case tonight. Normally on "day one" the program consists of qualifying heats and other races. Then on "day two" the feature races are run. Tonight each car raced in an eight-lap heat that put them into a "qualifier".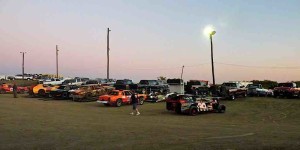 I think a racecar should be able to finish two miles.
Folks, eight laps on a quarter-mile track is just two miles. I was amazed at the number of cars that had trouble and couldn't finish a race this short. That's pretty poor reliability when your car breaks down in less than two miles!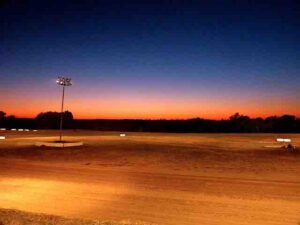 It was what it was.
The P.A. system was O.K., but not great. The announcer pretty much stuck to "name, rank and serial number". The flagman didn't do anything unless the tower told him too. During one yellow flag incident he didn't display a flag of any kind. He simply turned on the track's caution light system and leaned back to see what might happen.  However, there was something very special about tonight's visit.  The sunset!  It was 100% top notch.
By nearly 10 p.m. I had watched all the heat races (about 12). I had been at the track for three hours. For this type of program that was plenty. I had not planned for the 85 Speedway to be track #1,600. However, I never really plan special tracks for my "milestone" facilities. The best way to say it "was what it was".
STATE COMPARISONS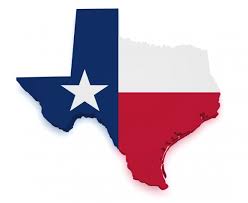 Texas
This evening I saw my 44th lifetime track in Texas. That seems like a lot of tracks in a state more than 1,000 miles from my home. Texas ranks only 13th in my "tracks seen" by state list. This track keeps me into second place in the Texas state rankings. Wisconsin's Ed Esser leads with 46 tracks.
I have 21 tracks in Texas remaining to be seen. This is one of the few states where most of the tracks I still need to see race on a weekly basis. Texas has almost no once a year county fair tracks.
Coming Soon – RLR – Randy Lewis Racing Exclusive Features!
I've added YouTube slide shows and movies with actual racing footage of the tracks I visit. This is all in the name of "trackchasing promotion". I've got one more promotional idea in the "pipeline". Soon you'll see what I've got up my sleeve.
Will White will be changing his trackchasing responsibilities. Stay tuned to see what that's all about.
Soon I will review the Apple iPhone "app" called "Track Guide" powered by the National Speedway Directory.
Thanks for reading about my trackchasing,
Randy Lewis
World's #1 Trackchaser
Texas sayings: Life in Texas taught me two things: One is that God loves you and you're going to burn in hell. The other is that sex is the most awful, filthy thing on earth and you should save it for someone you love.
TRAVEL DETAILS
AIRPLANE
Los Angeles, CA (LAX) – Dallas, TX (DFW) – 1,237 miles
RENTAL CAR #1
Dallas-Ft. Worth International Airport – trip begins
Ennis, Texas – 61 miles
Dallas Love Airport – 116 miles – trip ends
TRACK ADMISSION PRICES:
85 Speedway – Ennis, Texas – $10
COMPARISONS
LIFETIME TRACKCHASER COMPARISONS 
There are no trackchasers currently within 200 tracks of my lifetime total. Here are the deficits of the next two leading worldwide trackchasers.
Randy Lewis, San Clemente, California – 1,600
Ed Esser, Madison, Wisconsin – (-275)
Guy "The Kid" Smith, Effort, Pennsylvania – (-290)
Official end of the RLR – Randy Lewis Racing Trackchaser Report
Click on the link below to see the video production from the racing action today.
.
.
.
Click on the link below for a photo album from today's trackchasing day.  You can view the album slide by slide or click on the "slide show" icon for a self-guided tour of today's trackchasing adventure.