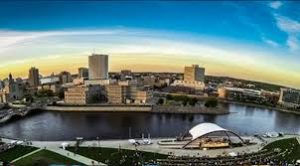 Greetings from Cedar Rapids, Iowa
.
.
From the travels and adventures of the 
"World's #1 Trackchaser"
The EventVideo PlusPhotos
Hawkeye Downs Speedway
Asphalt roval (not oval!)
 Lifetime track #2,645
THE EVENT
Editor's note: I have a very long 50-year history with the Hawkeye Downs Speedway in Cedar Rapids, Iowa. The Hawkeye Downs Speedway has a very long history of its own. The track opened all the way back in 1925 as a dirt track. In 1989 they changed the racing surface to asphalt.
Some of the best dirt track late model racing I've ever seen came from the Hawkeye Downs Speedway. I wish I had more photos and video from those fantastic races from the early 1970s…but I don't. Nevertheless, you might be interested in my Trackchaser Reports from my previous oval track visits to Hawkeye Downs.
Hawkeye Downs Speedway…..oval racing
I AM A TRACKCHASER.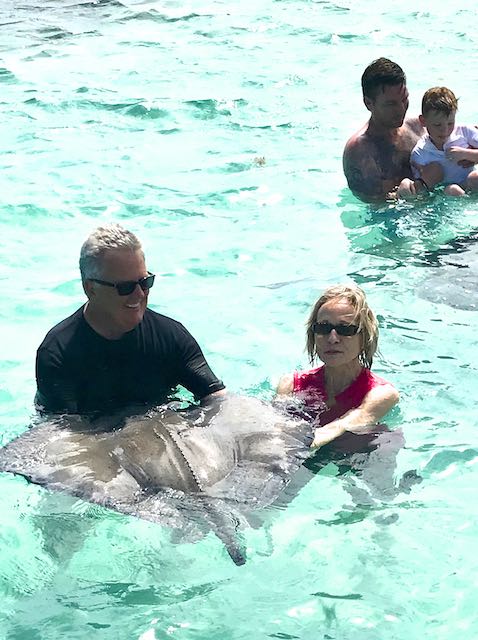 My name is Randy Lewis (above with "Trackchasing's First Mother" aka wife Carol during our Antigua and Barbuda trackchasing trip). I live in a modest seaside cottage in the sleepy little village by the sea, San Clemente, California. I am a "trackchaser". I trackchase. Have you ever in your life heard of "trackchasing"? I didn't think so. 
Trackchasing for me is all about three things. First, I'm interested in seeing an auto race. Secondly, I want to take some time to see the local attractions of wherever I might be visiting. Finally, I want to create a logistical plan that allows me to accomplish the two points mentioned above without depleting my retirement account. That's trackchasing for me.
Am I truly serious about trackchasing? I think so. I've seen an auto race in 85 countries at more than 2,660 different tracks. Does that sound serious to you?
I've been able to see the world doing this. If you're interested in exactly what I've been able to experience all around the U.S. and the world I recommend you click on this link.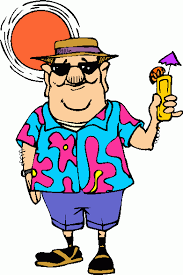 Trackchasing Tourist Attractions
Trackchasing can be an expensive hobby. One of my fellow competitors was said, "When Randy stops trackchasing we know he will have run out of money". Folks, I have been retired for nearly 20 years and have not earned a single dime working. I'm still trackchasing!
After each and every event that I attend I post a YouTube video, a SmugMug photo album and a very detailed Trackchaser Report about the experience on my website at www.randylewis.org. I guess people find what I share interesting. My website gets more than 20,000 views every month.
Because I have seen racing in 85 countries at this point I am considered the World's #1 Trackchaser. That's good enough for me. Now I encourage you to drop down a few spaces and read about today's trackchasing adventure. As you discover what went on at this track just think about the idea that I've done this more than 2,600 times. I don't mind admitting I am addicted to the hobby of trackchasing.
If you're interested in looking back and seeing where I've been the following link is for you.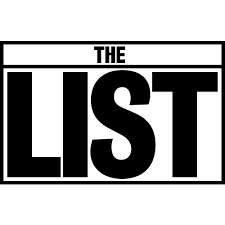 If you've got a question, comment or whatever please leave it at the bottom of this report.  It's very easy to do.  Or you can visit me on Facebook.  Thanks!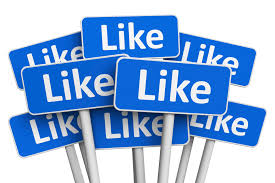 FOREWORD
Sunday, August 30, 2020.
Last night my brother Mark and I trackchased down in Wellsville, Kansas. When the racing was finished there we tried to trackchase in Winston, Missouri. However, I would later come to find out that both Mark and I had gone to the I-35 Speedway (then called the Winston Motor Speedway) back in August 2007. At the time that track had become my 1,251st lifetime track to see. When we showed up tonight we were thinking this would be a new track for Mark. It wasn't. That fact made our visit a racechasing trip and not a trackchasing visit.
When the racing was finished there Mark returned to his home in Missouri. My plan was to trackchase at the famous Hawkeye Downs in Cedar Rapids, Iowa on Sunday afternoon. Cedar Rapids is some 260 miles northeast of the racing we had left at midnight in Winston, Missouri.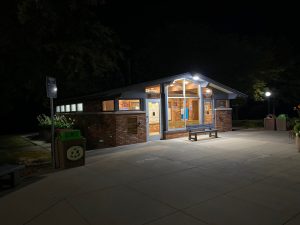 What did that mean? There would be no time for a hotel. I ended up sleeping overnight in an Iowa interstate highway rest area. Don't worry. I do that frequently. It's no big deal. If you haven't done it you should try it sometime.
I pulled into the Hawkeye Downs Speedway at about 10 a.m. local time on Sunday morning. Racing was not scheduled to begin on their brand new "Roval" racing configuration until 1 p.m. That meant I had a little bit of time to scout around Cedar Rapids for something interesting to see or do.
It just turned out that Cedar Rapids had experienced a very unusual wind storm a couple of weeks ago. The storm was called a "derecho". That's a violent thunderstorm complex that creates winds of over 100 miles an hour. Much of that storm gave Cedar Rapids a direct hit. I had never heard of this kind of storm.

I spent the next hour or so driving through the storm's damage in Cedar Rapids. It had been nearly three weeks since the storm first hit. The damage to the trees was the most notable. I had never seen anything like it! I didn't see all that much property damage. There was some roof damage but it wasn't like a tornado where houses were flattened at least in the areas that I visited. You are not gonna want to miss this Photo album.
Cedar Rapids derecho storm damage
You might like to take a look at these two YouTube videos  others  during the storm. Windy beyond belief!!
Chasing the storm…."something I'll never forget"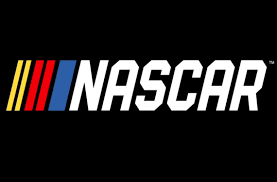 From there it was off to Hawkeye Downs for an afternoon of roval racing. A lot of short tracks get their ideas from NASCAR. When NASCAR went to double-file restarts lots of short tracks followed. NASCAR also changed their traditional oval race at the Charlotte Motor Speedway to a roval race. A "roval" race was conducted over parts of the Charlotte oval as well as Charlotte's infield road course. Now today Hawkeye Downs was having their first ever roval race.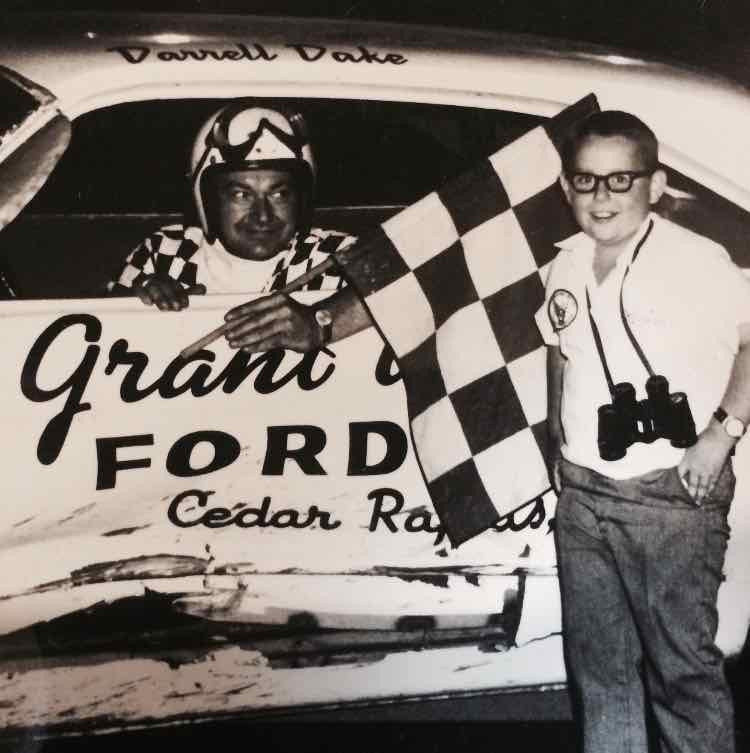 I have a strong history with Cedar Rapids and Hawkeye Downs. First of all my all-time favorite driver out of tens of thousands of drivers that I have seen race was and is Darrell Dake of Cedar Rapids. This is Darrell winning at Hawkeye Downs with my good buddy Kevin Cerveny.
I first went to Cedar Rapids to see racing at Hawkeye Downs in the late 60s and early 70s. My step-father and I used to drive to a midweek race called the Falstaff 100 and later the Miller 100.
Back in those times, the drivers who attended this midweek event at Hawkeye Downs were legendary within the short track dirt racing community. As a matter of fact, during the 1970s Iowa drivers won the famous World 100 race over at the Eldora speedway four separate times with four different drivers.
That list includes:
Verlin Eaker
Ed Sanger
Joe Merryfield
Ken Walton (above)
I'm proud to say that Ken Walton is one of this report's subscribers.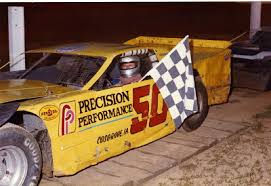 I remember one thing about our Miller 100 visits. I grew up near Peoria, Illinois. We would make the four-hour drive, covering about 180 miles, on less than perfect roads back in the late 60s/early 70s. This special event was held on a Tuesday or Wednesday night. That was a work night during the summer when I was going to college. I worked in the factories of the Caterpillar Tractor Company back then. CAT paid for much of my college expenses. When the race was finished we would get home in the wee hours of the morning. I needed to be at work within two or three hours of our arrival back into the Peoria area. Those were fun times with absolutely great racing.
Surprisingly about 20 years ago Hawkeye Downs switched racing surfaces from dirt to asphalt. What was amazing about that is that Hawkeye Downs was the only asphalt oval track in the entire state of Iowa. Iowa is famous for dirt track racing. I have commonly said that track for track Iowa has the best dirt track racing of any state in the country by far.
I'm even more surprised that in the year 2020 Hawkeye Downs is still an asphalt track. I don't think they get anywhere near the crowds they did when they were dirt racing. I'm surprised that they haven't changed back to dirt.
I would be the first-ever trackchaser to see racing at Hawkeye Downs in Cedar Rapids, Iowa on their asphalt roval course. I had a fantastic time today. The racing was very entertaining.
A little bit more than 60 cars showed up to race on the roval. These were essentially junk cars. By junk cars I mean low-dollar racers that were one step away from the junkyard. After today's racing, some of these cars might've been zero steps away from the junkyard.
I implore you to watch the video I have created from today's racing. With that many cars on a somewhat complicated roval racing configuration, there was action everywhere. Do not miss this video!
I'm happy to report that I was able to see the entire roval race, check out the pits after the race and still catch a 4:10 p.m. flight from Cedar Rapids over to Chicago's O'Hare airport. It helps when the airport is less than five miles from the racetrack. Later I hopped on a night flight from Chicago back to Los Angeles. I was sleeping in the king-sized bed of our modest seaside cottage in the sleepy little Spanish village of San Clemente just hours after I had seen the very first ever roval race at the famous Hawkeye Downs.
Good afternoon from the Hawkeye Downs in Cedar Rapids, Iowa.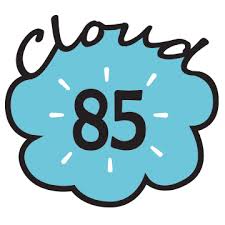 Randy Lewis – 85 countries – 2,645 tracks.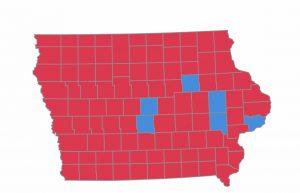 Iowa
The Hawkeye State
This evening I saw racing at my 120th-lifetime track in the Hawkeye State, yes, the Hawkeye State.  I hold the #1 trackchasing ranking in Iowa. Iowa ranks #4, amongst all the states, in tracks seen for me in the U.S. As a matter of face Iowa was the first state I ever trackchased in outside of my boyhood state of Illinois.
Here's a link to my all-time Iowa state trackchasing list. I have made 81 separate trips to Kentucky seeing these tracks.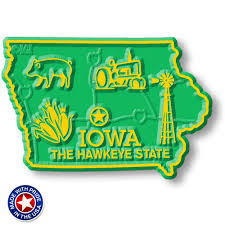 Thanks for reading about my trackchasing,
Randy Lewis
World's #1 Trackchaser
Peoria Old Timers Racing Club (P.O.R.C.) Hall of Fame Member
Iowa sayings: MAID-RITE
You can have your sloppy joe but here in Iowa, we're all about the Maid-Rite. The best part is you can make your Maid-Rite however you like. Ketchup, mustard, pickle, onion, or something a little crazier. A Maid-Rite is to a sandwich what a graveyard was to pop. The graveyard was the ultimate mixture of a variety of different kinds of pop. Yes, I said pop.
JUST THE FACTS
LIFETIME TRACKCHASER COMPARISONS 
The three most important trackchasing comparisons to me are:
Total lifetime tracks seen
Total "trackchasing countries" seen
Lifetime National Geographic Diversity results
Total Lifetime Tracks
There are no trackchasers currently within 780 tracks of my lifetime total.  Don't blame me.
Randy Lewis, San Clemente, California – 2,645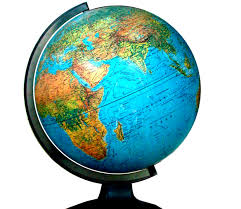 Total Trackchasing Countries
My nearest trackchasing competitor, a native of Belgium, has seen racing in more than 30 fewer countries compared to my lifetime total. 
Randy Lewis, San Clemente, California – 85
Current lifetime National Geographic Diversity results
Randy Lewis, San Clemente, California – 3.96
That's all folks!  Official end of the RLR – Randy Lewis Racing Trackchaser Report
Click on the link below to see the video production from the racing action today.
Click on the link below for a photo album from today's trackchasing day.  You can view the album slide by slide or click on the "slide show" icon for a self-guided tour of today's trackchasing adventure.
Cedar Rapids devastation PLUS the first-ever roval race at Hawkeye Downs