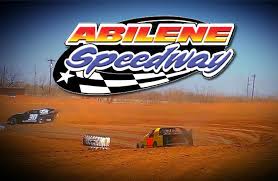 Greetings from Abilene, Texas
From the travels and adventures of the 
"World's #1 Trackchaser"
.
. 
Abilene Speedway – Dirt Oval
Lifetime Track #970
The overviewAbilene Speedway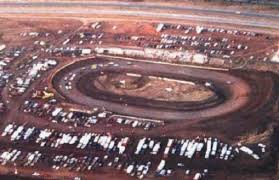 Back in 2005 I saw more tracks in one year than anyone had up to that time or ever since.  182 tracks!  You've got to 'keep on truckin' to see 182 tracks for the first time in a single year.
In October, 2005 I saw a 'day/night' trackchasing double.  In the afternoon I visited the Abilene Speedway, lifetime track #970.  Then in the evening I made it on down to the Red River Speedway.  That's a trackchasing double.  The asphalt version of the Red River Speedway was my 971st lifetime track.  A highlight of my visit to Red River in 2005 was spending the night with Wisconsin trackchaser Ed Esser.  Somewhat unbelievably this was the 12th time during the year that Ed and I had seen each other at one track or another.  All of those meetings were unplanned.  By the way, Ed was attempting to win the "Cheese Challenge" a very special contest set up just for him.  You can read all about it behind the "Asphalt track" tab.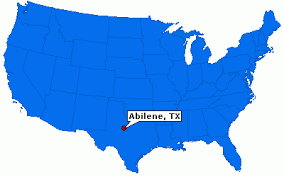 GREETINGS FROM ABILENE, TEXAS AND THEN WICHITA FALLS, TEXAS
CONTEST WINNERS
Yesterday's report included the following statement, "By the way, I was talking to a reader just the other day who said he reads the Trackchaser Report just to see if I'm offering a prize to people who have read this far. Today, I am. The first two people to respond to me via email will win a $5 gift certificate to a surprise location. Good luck!"
New and old readers alike should know that from time to time I have contests and rewards for loyal (and thorough) Trackchaser Report readers. Although I promised to reward two people I will actually being giving prizes to three people. All three winners replied within three hours of my sending out the reports.
Because there is such a large volume of Trackchaser Report subscribers, Yahoo requires that I send out the Trackchaser Report in batches. Therefore, some folks actually receive the news a few minutes ahead or behind of everyone else. Here are the results and winners:
Kristy L., Los Angeles, California (report sent 5:21 p.m., reply received 5:24 p.m.) In the spirit of full disclosure, I must identify "Kristy L." as my daughter. You will see she actually received her copy of the TR later than the other two winners did. I have absolutely no idea how she got the message and read that far in just three minutes. Maybe having the ability to speed read is how she became an attorney. Carol thinks she has her secretary reading the Trackchaser Report for her. Here is what Kristy has to say in her defense, "And…just to set the record straight, mom's theory about my secretary reading my emails for me is unfounded. I really enjoy these reports!" Editor's note: If you cannot have your own daughter on your side, you had better give it up.
Andy R. of Somewhere in, Pennsylvania (report sent 5:19 p.m., reply received 5:35 p.m.) Andy recommends in his note back to me that I take in the Branch Dividian compound the next time I am in Waco. I did check out Waco for this trip, but it was in the wrong direction. I am planning another trip to Texas this year and maybe I can include Waco then.
Jim S. of Ponte Vedra Beach, Florida (report sent 5:20 p.m., reply received 8:15 p.m.) was more succinct with this comment, "Send me my $5.00." He also gave me some good tips on Southwest Airlines boarding passes.
Therefore, I am proud to reward these three early birds with a $5 gift certificate from my newest associate sponsor, Wal-Mart. You have probably heard of them. Wal-Mart's success mirrors my own in trackchasing. They started their business in a faraway place (Arkansas) and no one really knew anything about them for a long time. Soon they began to grow and rise in the mass merchandiser standings. Today, they are the gorilla of retailing in the U.S. and many other parts of the world. They are the model of efficiency and common sense and a great business model to emulate. Congratulations to all contest winners. Your prize is being mailed this afternoon (Andy, I will need an address from you).
AND THE READERS RESPOND
Kindred P. of Clearwater, Florida gives the rather harsh, although possibly accurate, analysis of Pac-10 football, "For the record Pac 10 football is not comprable to Eastern football. The condoms almost lost one of our most mediocre teams– if Bcs gives them VaTech the result will be quite different."
Mike K. of Reading, Pennsylvania writes the following after reading about my visit to the JFK assassination site, "Randy, Another great report. Sometimes I think I learn more about history in your reports then I did many years ago in school. I think I am more interested also because your reports are associated with racing."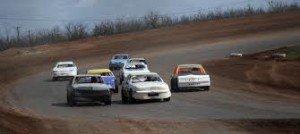 TRIP ENDING SUMMARY 
The weather was perfect for my three day, five-track trip to Texas and Oklahoma. Incredibly, I have now been to 87 consecutive days of trackchasing without a rainout. During that time, I have seen 131 new tracks. Somehow, I have a bad weather feeling about our trip to North Carolina next weekend.
I am not doing as well as I would like with the balance between my golf and my trackchasing. To date, I have seen 162 new tracks (171 total tracks) and played only 37 rounds of golf in 2005. I would like to see those numbers be about the same in any given year. My golf is understated a little since I could not play in January or February due to shoulder surgery.
During my last several golf rounds, I have scored in the 78-85 range. That is 3-4 shots higher than what I consider normal. I attribute my spotty play to not being able to put more time into my golf. On the other hand, I congratulate my fellow golfing competitors. They are willing to put the time and effort into the game and people of my ability are beating me. I can either give up or put more effort into golf. I intend to do the latter and hope to again be competitive in the not too distant future.
I was shocked to see that gas cost "only" $2.39 per gallon in Oklahoma last night. A year ago, I might not have made that comment. Driving just 868 miles to get five new tracks was great! Overall, this was a perfect trip with a good track count and ideal weather as we approach the seasonal end of the trackchasing season.
PEOPLE/STRATEGY/TRAVEL NEWS 
Although the Angels went down in flames and Carol was there to watch it all, that was probably for the best. Why would I say that? Today's track conditions were exactly what Carol dislikes the most.  I was happy she stayed home while I was out on this trip. The racing started at 2 p.m. It was 85 degrees, the sun shown directly into the faces of the spectators as it went down and a strong wind blew directly into the grandstand. 
Saturday evening I had stayed overnight in Wichita Falls, Texas. Sunday morning's drive down to Abilene was just over 150 miles. I was surprised to be reminded how flat much of Texas is. The traffic on rural Texas highways on a Sunday morning was almost non-existent. Grass in Texas is now winter brown.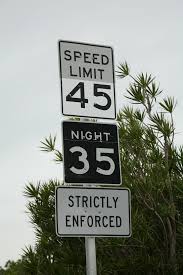 I did see some unusual sights along the road. I was really surprised to see a camel farm. From a distance, they looked like dinosaurs! Texas is one of the few states that have day and night speed limits. They are also one of the few to allow you to drive 70 M.P.H. on two-lane state highways. It must be the season as I saw several signs that read, "Welcome hunters."
By the way, part of my people strategy is to never argue with idiots. They drag you down to their level and beat you with experience.
RACE TRACK STATS:
ABILENE SPEEDWAY, ABILENE, TEXAS -TRACK #970
This Texas track is my 21st countable track to see in the state. This is my second visit to Texas this year and my fourth new track to see in the state this year. I am ranked #2 in Texas. John Moore leads the state totals with 29 tracks. 
RED RIVER SPEEDWAY – OVAL, WICHITA FALLS, TEXAS -TRACK #971
This Texas track is my 22nd countable track to see in the state. This is my second visit to Texas this year and my fifth new track to see in the state this year. I am ranked #2 in Texas. John Moore leads the state totals with 29 tracks. 
RACE TRACK NEWS: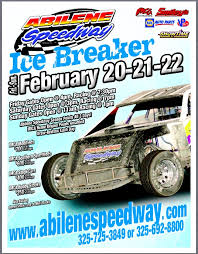 ABILENE SPEEDWAY, ABILENE, TEXAS 
I entered the city of Abilene, population 115,000, about an hour before race time. I had been in Abilene within the past year and like today, visited Abilene Christian University. As a child, I used to listen to sportscaster, Lindsay Nelson, and it always seemed as if he was broadcasting an Abilene Christian football game on national TV. I stopped at the campus bookstore to pick up an ACU (not ACLU) t-shirt but they were closed on Sunday just as they were the last time I visited. One of my life's goals now is to someday get an Abilene Christian University t-shirt!
Today, I paid $9 to get into the race. That seemed very reasonable for a race that was billed as the "$70,000 Southern Challenge." I am not sure where they will come up with that much money.
They had a nice crowd that was forced to stare into a bright setting sun on a very warm day. It continues to be beyond this writer's understanding as to why racetrack builders would build their grandstand to face a setting sun. 
We spectators also encountered a stiff easterly wind. The wind blew 20 M.P.H. the entire day. Day racing on a sunny and windy afternoon is a recipe for spectator disaster.   The track was somewhat dusty but it could have been a lot worse.
The race schedule today was the final day of a three-day program. Nevertheless, they still had several "B" features, last chance races and heat races before they ran their "A" features. I don't understand why they needed to run so many qualifying races on the last day of a three-day program.
The track announcer gave me a nice trackchaser mention. After that, I really didn't hear much from him since the speaker system wasn't very good. I did listen to the track's radio channel (154.570). I found this both entertaining and informative.
The track's concessions were tasty and affordable. I was given a fork to eat my BBQ sandwich and it was great. Two Coors 12 oz. beers only sat me back $3.50. I pay almost 7 bucks for a beer at Angels Stadium.
I did notice one item I had never seen before. The track has a supply of "Rain Check Request Forms." If a customer cannot attend the races the weekend after a rainout, they can submit this form for a pass good for any night during the season. I guess that is a good idea.
The racing was O.K., but they simply had too many races. I would estimate that I saw 250 laps of racing in the three hours I spent at Abilene Speedway. This doesn't show much concern for the racers by the track's management. Many of the drivers came a long way to race at Abilene and getting out late on a Sunday night will not be convenient for them.
Abilene Speedway will be the first half of today's day/night trackchasing double.   The day/night double is by far my most popular type of double this season. I have 21 day/nights out of 55 total trackchasing doubles this season.
RED RIVER SPEEDWAY – OVAL, WICHITA FALLS, TEXAS 
The evening half of my day/night double was 151 miles up the road. I was able to cover that distance in about 2.5 hours and arrived at the Red River Speedway at 7:15 p.m. for the 6 p.m. scheduled start.
They had six classes of racecars racing today. Each class would run a 50-lap feature. I arrived with less than 10 laps completed of the super stock class, the third class of the evening.
This track has a huge steel grandstand. There are 25-30 rows and it spans nearly the entire front stretch. The view walking in from the parking lot, made the grandstand look almost empty. That early warning sign was not far off as I estimated only about 250 people were in attendance.
This was not a very entertaining program. Each class had between 8-14 cars. That's not much iron for 50-lap features. The lighting was poor on a full moon evening. The announcer had very little to add, although the track's radio communications (151.625) were most entertaining. It was most unusual to see a prison located just off the third turn.
You hear the "real scoop" listening to the track radio channel. This communication is for track workers only, but you can pick up what is being said with a race scanner. At one point, a racecar lost a wheel and came to rest in the infield but near the track. During the yellow flag period, they called for the wrecker but none came. Over the radio, I heard the following, "The wrecker is out of gas, and Marty already went home". While the crowd waited for the wrecker to come, I knew it would not be coming. Finally, they used a jeep to push the disabled racecar a little further from the track.
The flagman wore a striped shirt and shorts. I'm assuming his striped shirt had nothing to do with the nearby prison. The flagman was not exactly on the top of his game. He didn't do anything with the flags unless directed over the track's radio. In a first, he did start one race with the yellow flag and not the green flag. He sheepishly told everyone listening over the radio "he was colorblind."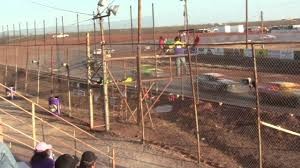 The three complete 50-lap features that I watched came with these car counts, Pony Stocks (14), Modifieds (11) and Bombers (9). Those are pretty small car counts for races of that distance. The Pony Stocks had their race shortened by a few laps when they exceeded their 45-minute time limit.
Shortly after arriving, I was located by none other than Wisconsin's Ed Esser. It looks like Ed and I are the only trackchasers still doing this hobby on a full-time basis with the possible exception of Belgium's Roland Vanden Eynde. Look for the three of us to move up in the worldwide trackchaser standings as time goes by.
You may know that all worldwide trackchasers are on the honor system when counting their tracks. If you say you saw it, we believe you. This is the 12th new track I have seen with Ed Esser this year. Could it be that worldwide trackchaser management is sending Ed out to check on me? Maybe worldwide trackchaser management is sending me to check on Ed! Heck, maybe we are both double agents being sent out by worldwide trackchaser management to check on each other!! Nevertheless, Ed continues to do well in the "Trackchaser Cheese Challenge" as outlined below.
Ed went to two of the tracks I visited this weekend except on different days. This part of Texas is 1,000 miles from Ed's home in Madison, Wisconsin, so he was a long ways from home in his Chevy Blazer. A malfunctioning driver's side electric window made his weekend trip all the more memorable.
Overall, not very good racing at the Red River Speedway. I'm glad to get this oval track in my rearview mirror although there are rumblings; the track may be attempting a figure 8 race in the future. Based upon tonight's car counts and the overall organization of the track, I would be wary of the figure 8 show.
RENTAL CAR UPDATE:
The Budget Rental Car Racing Mercury Marquis got 24.6 M.P.G. At an average gas price of $2.49 per gallon, my per mile charge for fuel was just 10.1 cents per gallon. I didn't like that the Marquis had only one electrical outlet and even that one was located inconveniently near the radio. The car seemed a little stiff. The chassis is nearly identical to a Lincoln Town Car but the ride is not nearly as good.
LIFETIME TRACKCHASER STANDINGS UPDATE:
These worldwide trackchasers are within 100 tracks (plus or minus) of my current trackchaser total.
Rick Schneider – Bay Shore, New York – 1,038 (+67)
Allan Brown, Comstock Park, Michigan – 1,020 (+49)
Any Sivi, Clairton, Pennsylvania – 1,006 (+35)
Guy Smith, Effort, Pennsylvania – 1,001 (+30)
Gordon Killian, Sinking Spring, Pennsylvania – 984 (+13)
Randy Lewis, San Clemente, California – 971
Jack Erdmann, DePere, Wisconsin – 872 (-99) – Warning! If you fall behind by more than 100 tracks, your name will be removed from this list. Sorry, I can't do anything about it, it's policy.
Other notables
Andy Ritter, Somewhere In, Pennsylvania – 228 (+5)
Carol Lewis, San Clemente, California – 223 
Alan Skinrod, Livermore, California – 223 (+0) 
2005 TRACKCHASER STANDINGS
Randy Lewis, San Clemente, California – 162*
Ed Esser, Madison, Wisconsin – 121
Roland Vanden Eynde, Vilvoorde, Belgium – 83
Paul Weisel, Orefield, Pennsylvania – 68
Guy Smith, Effort, Pennsylvania – 59
P.J. Hollebrand, Webster, New York – 57
Carol Lewis, San Clemente, California – 55
Roger Ferrell, Majenica, Indiana – 51 
Pam Smith, Effort, Pennsylvania – 40
Allan Brown, Comstock Park, Michigan – 28
Andy Sivi, Clairton, Pennsylvania – 28
* Trackchasing "New Tracks in One Season" record
Thanks for reading about my trackchasing,
Randy Lewis
Trackchasing's #1 trackchaser of the 21st century
I trackchase for the event not the outcome. Remember, it only costs about 85% more to go first class.
CUMULATIVE TRAVEL DISTANCES:
RENTAL CAR
Dallas-Ft. Worth, Texas Airport – trip begins
Greenville, Texas – 81 miles
Fort Worth, Texas – 173 miles
Lawton, Oklahoma – 371 miles
Abilene, Texas – 575 miles
Wichita Falls, Texas – 733 miles
Dallas-Ft. Worth, Texas Airport – 868 miles – trip ends
AIRPLANE
Los Angeles, CA – Dallas, TX – 1,256 miles
Dallas, TX – Los Angeles, CA – 1,256 miles
Total airline miles – 2,506 miles
TOTAL TRACKCHASING TRIP MILES – 3,374
TRACK ADMSSION PRICES: 
Superbowl Speedway – $5
Texas Motor Speedway – $5
Lawton Speedway – $7
Abilene Speedway – $9
Red River Speedway $8
Total racetrack admissions – about $34 (very reasonable!)
UPCOMING TRACKCHASING PLANS
October 21 – Thunder Valley Speedway, Lawndale, North Carolina
"TRACKCHASER CHEESE CHALLENGE 2005 PACE OF THE RACE REPORT BROUGHT TO YOU BY FRONTIER AIRLINES" 
This is a comparison of how many new tracks Ed Esser has seen in 2005 and how many tracks I saw through the same date in 2004 on my way to seeing, at then a record, 127 tracks. In order for Ed to win the "Cheese Challenge", he must see 128 new tracks.
Through October 19 – Ed – 121 tracks         Randy – 102 tracks*
Prize: If Ed sees more than 128 new tracks in 2005, he wins a round-trip domestic airline ticket to anywhere Frontier Airlines flies. If he cannot see at least 128 new tracks then I win 10 pounds of the Wisconsin cheese of my choice.
Editor's note:  Ed would go on to win the 'Cheese Challenge' award (pictured above).  Congratulations Ed.
Racetracks visited in 2005 (** not the first time to visit this track)
Sungold Stadium aka Premier Speedway, Warrnambool, Victoria, Australia, January 1
Freedom Hall (oval), Louisville, Kentucky, January 15
Freedom Hall (figure 8), Louisville, Kentucky, January 15
Southern Illinois Center, DuQuoin, Illinois, January 16
Golden Aisles Speedway, Waynesville, Georgia, February 25
Zephyrhills Antique Racecar Track, Zephyrhills, Florida, February 26
Dirt Devil's Speedway, Land O' Lakes, Florida, February 26
Ringwood Raceway, Ringwood, England, March 25
Birmingham Wheels, Birmingham, England, March 26
Boiling Hills Farm, Sleaford, England, March 27
Snetterton Circuit, Snetterton, England, March 27
**     Great Yarmouth Stadium (oval), Yarmouth, England, March 27
Great Yarmouth Stadium (figure 8), Yarmouth, England, March 27
The Grove Farm, Monkland, England, March 28
Grimley Raceway, Grimley, England, March 28
Castle Combe Circuit, Castle Combe, England, March 28
Boyd Raceway, Boyd, Texas, April 1
Port City Raceway, Tulsa, Oklahoma, April 2
Outlaw Motor Speedway, Oktaha, Oklahoma, April 2
Hallett Motor Racing Circuit, Jennings, Oklahoma, April 3
JPR Speedway, Tulsa, Oklahoma, April 3
Charlotte County Speedway (figure 8), Punta Gorda, Florida, April 9
CORA Speedway, Dixon, California, April 16
Reno-Fernley Raceway (road course), Fernley, Nevada, April 17
Lakeside Speedway, Kansas City, Kansas, April 22
Salina Speedway, Salina, Kansas, April 23
Jetmore Motorplex, Jetmore, Kansas, April 24
Oberlin Speedway, Oberlin, Kansas, April 24
USA Race Track, Tucson, Arizona, April 30
**    Tucson Raceway Park (outer oval), Tucson, Arizona, April 30
Tucson Raceway Park (inner oval), Tucson, Arizona, April 30
Driesum Race Track, Driesum, Netherlands, May 5
Autosportsdadion de Polderputten, Ter Apel, Netherlands, May 5
Bellekouter Autocross (oval), Affligem, Belgium, May 8
Bellekouter Autocross (road course), Affligem, Belgium, May 8
Circuit de Croix-En-Ternois, Saint-Pol sur-Ternoise, France May 8
Nurburgring, Nurburg, Germany, May 13
Lopik (oval), Lopik, Netherlands, May 14
Lopik (road course), Lopik, Netherlands, May 14
Ten Boer Autocross, Ten Boer, Netherlands, May 14
Rennplatz "Casper Gerd", Rutenbrock, Germany, May 15
Zuidwolde Autocross, Zuidwolde, Netherlands, May 15
Midland Speedway Circuit, Lelystad, Netherlands, May 15
Aalten Autocross, Aalten, Netherlands, May 16
Circuit de Peel International Speedway, Venray, Netherlands, May 16
U.S. 30 Speedway (permanent inner oval), Columbus, Nebraska, May 26
**    U.S. 30 Speedway (outer oval), Columbus, Nebraska, May 26
Hitchcock County Speedway, Culbertson Nebraska, May 27
Pikes Peak International Raceway (road course), Fountain, Colorado, May 28
Colorado National Speedway (asphalt oval), Dacono, Colorado, May 28
Colorado National Speedway (figure 8), Dacono, Colorado, May 28
**    Rocky Mountain National Speedway (oval), Commerce City, Colorado, May 28
Rocky Mountain National Speedway (figure 8), Commerce City, Colorado, May 28
Broken Bow Wilderness Park (figure 8), Fullerton, Nebraska, May 29
Casino Speedway, Watertown, South Dakota, May 29
Sioux Speedway, Sioux Center, Iowa, May 30
Madison Speedway, Madison, Minnesota, May 30
**    Hawkeye Downs (outer oval), Cedar Rapids, Iowa, June 3
Hawkeye Downs (inner oval), Cedar Rapids, Iowa, June 3
Autobahn Country Club – North Course, Joliet, Illinois, June 4
Shadyhill Speedway, Medaryville, Indiana, June 4
Pottawattamie County Fairgrounds, Avoca, Iowa, June 5
Dawson County Speedway, Lexington, Nebraska, June 5
Marshfield Super Speedway, Marshfield, Wisconsin, June 14
Red Cedar Speedway, Menomonie, Wisconsin, June 15
Victory Lane Speedway, Winnipeg, Manitoba, Canada, June 16
River Cities Speedway, Grand Forks, North Dakota, June 17
Raceway @ Powercom Park, Beaver Dam, Wisconsin, June 18
Jefferson Speedway (outer oval), Jefferson, Wisconsin, June 18
Jefferson Speedway (inner oval), Jefferson, Wisconsin, June 18
Golden Sands Speedway, Plover, Wisconsin – June 19
Langlade County Speedway, Antigo, Wisconsin – June 21
Thunderhill Raceway, Sturgeon Bay, Wisconsin – June 22
Luxemburg Speedway, Luxemburg, Wisconsin – June 23
Monster Hall Raceway, Unity, Wisconsin – June 24
Crandon International Off-Road Course, Crandon, Wisconsin – June 25
Pepsi Raceway Park, Tomahawk, Wisconsin – June 25
TNT Speedway, Three Lakes, Wisconsin – June 25
Shelby County Speedway (permanent oval), Shelbyville, Indiana – June 26
Shelby County Speedway (temporary oval), Shelbyville, Indiana – June 26
Jennings County Fairgrounds, North Vernon, Indiana – June 27
Paducah International Speedway, Paducah, Kentucky – June 28
Crystal Motor Speedway, Crystal, Michigan – June 29
Dells Motor Speedway, Wisconsin Dells, Wisconsin – June 30
Van Wert County Fairgrounds, Van Wert, Ohio – July 1
Baer Field (3/8 mile oval), Ft. Wayne, Indiana – July 1
Gingerman Raceway, South Haven, Michigan – July 2
Thunder Valley Motorsports, Jones, Michigan – July 2
New Paris Speedway, New Paris, Indiana – July 2
Durand Downtown Circuit, Durand, Illinois – July 3
Ripple Ridge Raceway, Rawlins, Wyoming – July 8
Sheridan Speedway, Sheridan, Wyoming – July 10
Livingston County Fairgrounds (figure 8) Fowlerville, Michigan – July 12
Eaton County Fairgrounds, Charlotte, Michigan – July 13
Laird International Speedway, Echo Bay, Ontario, Canada – July 14
I-96 Speedway (inner oval), Lake Odessa, Michigan – July 15
I-96 Speedway (outer oval), Lake Odessa, Michigan – July 15
Thunderbird Racepark, Muskegon, Michigan – July 16
Bob's Family Racetrack, Clarksville, Michigan – July 17
Orleans Raceway, Orleans, Michigan – July 17
Mid Michigan Raceway Park, Muir, Michigan – July 17
Franklin County Park (oval), Brookville, Indiana – July 19
Franklin County Park (figure 8), Brookville, Indiana – July 19
**     81 Speedway, Wichita, Kansas – July 21
McCook Speedway, McCook, Nebraska – July 22
Pikes Peak International Raceway (oval), Fountain, Colorado – July 23
I-25 Speedway (oval), Pueblo, Colorado – July 23
I-25 Speedway (figure 8), Pueblo, Colorado – July 23
Thomas County Speedway, Colby, Kansas – July 24
Waterloo County Fairgrounds (figure 8), Waterloo, Illinois – July 27
Western Michigan Fairgrounds (figure 8), Ludington, Michigan – July 28
Blackbird Bend Speedway, Onawa, Iowa – July 29
English Creek Raceway, Knoxville, Iowa – July 30
Beatrice Speedway, Beatrice, Nebraska – July 30
Cedar County Raceway, Hartington, Nebraska – July 31
Bull Valley Speedway (figure 8), Audubon, Iowa – August 1
Saginaw County Fairgrounds (figure 8), Chesaning, Michigan – August 2
Ingham County Fairgrounds (figure 8), Mason, Michigan – August 3
Goodells County Park (figure 8), Goodells, Michigan – August 4
Wonderland Speedway, Lambeth, Ontario, Canada – August 5
Cheboygan County Fairgrounds (road course), Cheboygan, Michigan – August 6
Northern Michigan Speedway, Elmira, Michigan – August 6
Standish Asphalt Raceway, Standish, Michigan – August 7
**     Spartan Speedway, Mason (oval), Michigan – August 7
Spartan Speedway, Mason (figure 8), Michigan – August 7
Branch County Fairgrounds (figure 8), Coldwater, Michigan – August 8
Eastern Michigan Fairgrounds (figure 8), Imlay City, Michigan – August 9
Bay County Fair Derby Arena (figure 8), Bay City, Michigan – August 10
Shiawassee County Fairgrounds – (oval), Corunna, Michigan – August 11
Mt. Pleasant Speedway, Mt. Pleasant, Michigan – August 12
Waterford Hill Road Race Course, Clarkston, Michigan – August 13
Jackson Speedway (concrete oval), Jackson, Michigan – August 13
Owosso Speedway, Owosso, Michigan – August 13
Grattan Raceway Park, Grattan, Michigan – August 14
Ionia Fairgrounds Speedway, Ionia, Michigan – August 14
**     Galesburg Speedway (oval), Galesburg, Michigan – August 14
Galesburg Speedway (figure 8), Galesburg, Michigan – August 14
Lenawee County Fairgrounds (figure 8), Adrian, Michigan – August 15
Genessee County Fairgrounds (figure 8), Mount Morris, Michigan – August 16
Berlin Raceway, Marne (7/16M oval), Michigan – August 17
Will County Fairgrounds (figure 8), Peotone, Illinois – August 24
Volunteer Speedway, Bulls Gap, Tennessee – August 25
Tri-County Motor Speedway, Hudson, North Carolina – August 26
Lake Village Speedway, Lake Village, Indiana – August 27
Kamp Motor Speedway, Chase, Indiana – August 27
Jules Raceway, Wilmington, Illinois – August 28
Milwaukee Mile (road course), West Allis, Wisconsin – August 31
Proctor Speedway, Proctor, Minnesota – September 1
Lincoln Park Speedway (oval), Putnamville, Indiana – September 2
Lincoln Park Speedway (figure 8), Putnamville, Indiana – September 2
Kentucky Speedway (inner oval), Sparta, Kentucky – September 3
Shelby County Fairgrounds (figure 8), Shelbyville, Indiana – September 3
Edinburg Veterans Memorial Park (figure 8), Edinburg, Illinois – September 4
Eagle Park Fairgrounds, Eagle, Michigan – September 9
Dixie Motor Speedway (outer oval), Birch Run, Michigan – September 9
Richmond Good Old Days Festival (figure 8), Richmond, Michigan – September 10
Sandusky Speedway, Sandusky, Ohio – September 10
Mercer County Speedway, Celina, Ohio – September 11
Sunset Speedway Park, Banks, Oregon – September 23
Pacific Raceways, Kent, Washington – September 24
Western Speedway (figure 8), Victoria, British Columbia, Canada – September 24
Western Speedway (oval), Victoria, British Columbia, Canada – September 24
Evergreen Speedway (road course), Monroe, Washington – September 25
Chula Vista International Off-Road Raceway, Chula Vista, California – October 2
Naval Air Station North Island, Coronado California – October 9
Superbowl Speedway, Greenville, Texas – October 14
Texas Motor Speedway – Road Course, Fort Worth, Texas – October 15
Lawton Speedway, Lawton, Oklahoma, Lawton, Oklahoma – October 15
Abilene Speedway, Abilene, Texas – October 16
River River Speedway, Wichita Falls, Texas – October 16