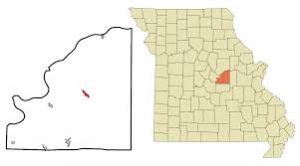 Greetings from Linn, Missouri
.
.
From the travels and adventures of the 
"World's #1 Trackchaser"
.
.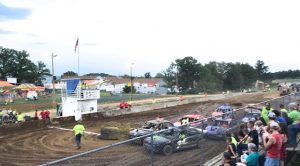 Osage County Fairgrounds
Dirt figure 8
 Lifetime Track #2,465
The EventVideo PlusPhotos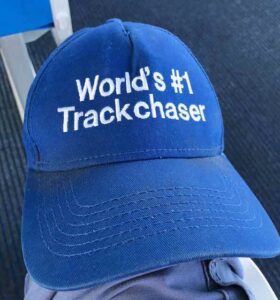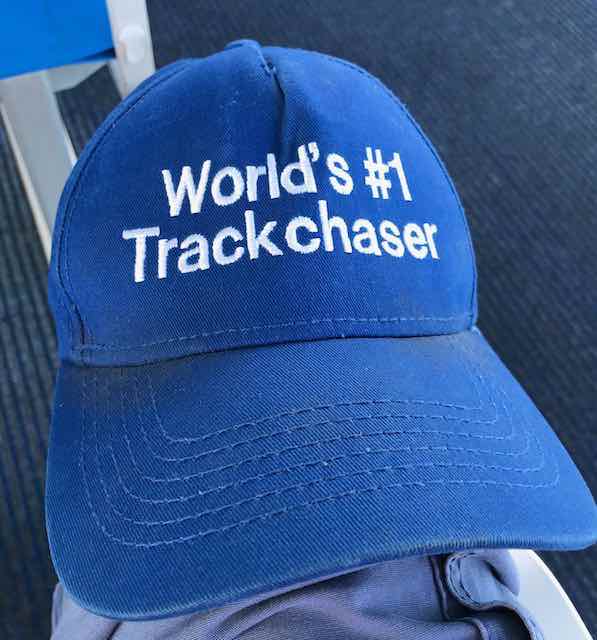 THE EVENT
I am a "trackchaser". So, what the heck is that? I get that question from racing and non-racing people all the time. This is a difficult question to answer. Why? Because after I do my best to respond people still say, "I've never heard of such a thing"!
Here's my best explanation.
Trackchasing is a three-pronged hobby. I'm a racing fan. I love to travel. I love to analyze opportunities to get the most out of everything while saving time and money.
Trackchasing fills the need for all of the above. The racing part of my trackchasing has me trying to see wheel to wheel auto racing at as many different racetracks as I can all over the world. Yes, all over the world. So far things are going pretty well. I've seen racing at nearly 2,500 tracks in 80 countries. As a matter of fact, I've seen racing at more tracks than anyone else in the world.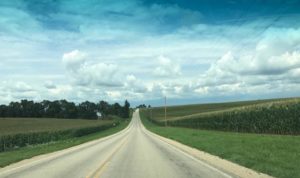 Equally important to me are the things I get to see and experience over the "long and dusty trackchasing trail". I call these adventures "Trackchasing Tourist Attractions". You won't want to miss my "Trackchasing Tourist Attractions" page. Here's the link:  Trackchasing Tourist Attractions or my "Sports Spectating Resume" page, Sports Spectating Resume on my website at www.randylewis.org.
I live in southern California. Most of the racetracks in the U.S. are located well over 1,000 miles from where I live. As a matter of fact, my average trip covers 5,000 miles and more. I take 35-40 of those trips each season. In any given year I will travel well over 200,000 miles, rent more than 50 cars, and stay in more than 150 hotel rooms.
I get the chance to meet people all over the world. With trips to 80 countries and counting just getting the chance to experience so many other cultures, spend times in their homes and meet their friends is a huge reward for being in this hobby. I am indebted to several of these folks for their help and friendship.
It's takes a good deal of planning to do the above and not spend my entire retirement portfolio. I enjoy the challenge, the travel and every other aspect of "trackchasing". In reality, my trackchasing hobby is a lot like being with the carnival. I breeze into town, stay a little while and then head on down the road.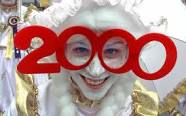 Today's adventure was one more of the 2,000 trips that have taken me up, down and around the proverbial long and dusty trackchasing trail.  If you would like to see where I've been and experience those adventures here's the link:
If you've got a question, comment or whatever please leave it at the bottom of this report.  It's very easy to do.  Or you can visit me on Facebook.  Thanks!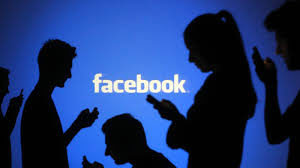 FOREWORD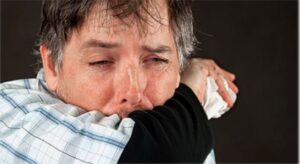 Friday, July 13, 2018.
I never get sick. However, I am sick now. I've got a head cold like no other. I'm sneezing and wheezing and my nose is running and stuffy at the same time. My body aches all over. This is not going to be a good day for being sick.
This is what my schedule looks like over the next 24 hours. I will drive five hours from Evansville, Indiana over into rural Missouri. I'll spend two or three hours at a county fair in Linn, Missouri where temperatures are expected to reach 96°.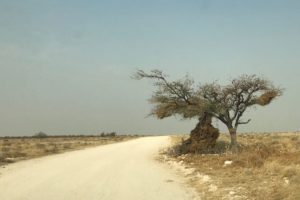 As soon as the races are finished I'll begin driving from Missouri over to Indianapolis, Indiana. That's a six-hour drive. I'll lose an additional hour moving from the central time zone to the eastern time zone.
I've got a 6:20 a.m. flight from Indianapolis to Detroit. I'll have to be returning my car in Indy by 5 a.m. or so. I expect I'll have about one hour during my overnight drive for my famous 12-minute power naps. I think this is going to be a 5-Hour energy drink night!
The one-hour plus flight to Detroit will get me in there at about 7:30 a.m. I'll have to quickly grab a rental car and then make a four hour drive up to Posen, Michigan for their 2 p.m. race start. Under normal conditions that would be a taxing 24-hour travel/racing schedule. Under my current medical situation it's really going to push me to the limits. Wish me luck!
I asked for a one-hour later than normal check out of 12 noon this morning at my Howard Johnson's in Evansville, Indiana. They agreed without a hassle. I need to get as much rest as I can before I start the 24-hour "death march" clock.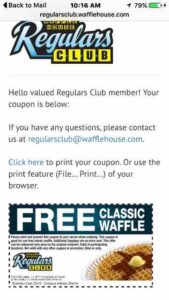 I was carrying a "free waffle" Waffle House certificate in my briefcase. Now would be the time to use it. Alas, Evansville, Indiana has no Waffle Houses. That's one of the reasons I would never live in Evansville.
Next I checked the roadfood.com website. They have a lot of fantastic recommendations on really hole in the wall eateries serving comfort food from dessert to hamburgers to stew. Alas, despite Indiana having 22 Roadfood listings Evansville will didn't have any! No, you will not find me moving to Evansville anytime soon.

I was now down to choice number three for my midday meal. I was headed to McDonald's. I have the McDonald's smart phone app. I knew that Friday was "free fries " Friday. A triple cheeseburger, medium fries and a large Diet Coke set me back a little bit more than four bucks. I'll bet you couldn't buy that meal for four bucks 30 years ago!
I'm driving the National Car Rental Racing Toyota Camry for the 300-mile drive over to Lynn, Missouri. I've had the car for four days and driven it a bit more than 1,700 miles during that time. When I return the car to Indianapolis tomorrow morning I suspect I will have a little bit more than 2,300 miles on the odometer during the five days I've had it.
When the orange low fuel light illuminates I'll begin to think about getting gas. I don't ever stop for gas until I see that light. Then when I do get gas I fill it until it spills over. Yes, I learned most of what I know watching NASCAR and playing golf.
Somewhere along the line I'll have to complete the postcard I bought for Carol at the Lane Motor Museum. When she goes on trips with me she mails out postcards to about 10 of our younger family members and other relatives. I figure if she could take the time to do that on each of her trips I can certainly send her a postcard as often as I possibly can from my trips.
From Evansville I hopped in the National Car Rental Racing Toyota Camry and headed west. I was looking at four separate drives that would take a cumulative total of 19 hours of driving over the next thirty hours. In the remaining eleven hours of those thirty hours I had to be at the airport for three hours. You can do the math. That didn't leave much time for sleep.
Along the way I stopped in Nashville, Illinois to fill up my rental car. I'm really pleased with the Toyota Camry's fuel economy. I get about 35 miles per gallon. It's a comfortable road car and now one of my favorites.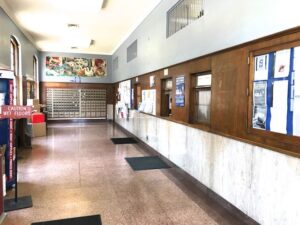 When I finished up getting gas I figured I might as well find a post office to mail Carol's postcard. I don't frequent post offices very often. It looked as if not many people in this area did either. I normally carry a package of stamps but for whatever reason I couldn't find them today. I thought it was rather ironic that I had purchased the Lane Motor Museum in Nashville, Tennessee and now I was mailing it from Nashville, Illinois. Today my postcard stamp cost $.35.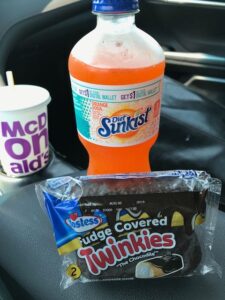 I'm always on the lookout for new food, drink and travel experiences. Today I had a couple of first time opportunities for food and drink inside the convenient store where I got gas. First I noticed a Diet Sunkist orange soda. I didn't think I'd ever had that. Then I noticed some fudge covered Twinkies. I was sure I had never had that. Soon I was heading down the road with a couple of brand new experiences and a big smile on my face.
A lot of times on these long drives I will take a nap or two along the way. I didn't need those today. I had slept until almost 11:30 a.m. in my hotel. That was going to put me in good stead for the rest of the evening and beyond.
THE RACING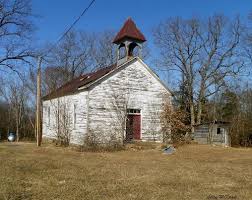 Osage County Fairgrounds – Linn, Missouri
Tonight I was headed to the Osage County Fairgrounds in the small town of Linn, Missouri. Linn has a population of just 1,459 people even though it is the county seat of Osage County. It has taken 110 years for the population to triple in Linn. They have had a post office in town since 1844.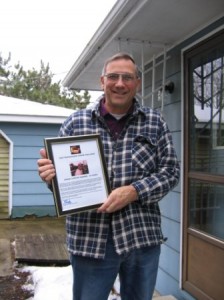 This year I'm trying to see as many different race tracks in Missouri as I can. Why? After tonight I will have seen racing at 42 different Missouri tracks. Ed Esser (above with his cheese challenge award), now deceased, saw racing at 45 Missouri tracks during his time doing what I do. I thinking about trying to meet and possibly surpass Ed's number this year but that might be difficult. We'll see.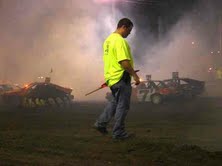 The group that organizes most of the county fair figure 8 racing in the state of Missouri is J and B Promotions. This outfit is owned by a fellow by the name of Gary Jones. I've met Gary at just about every one of his events that I've attended. He's a nice guy and always seems to enjoy the idea that a fella from California makes his way all the way to Missouri to see his figure 8 races.
I pulled into the fairgrounds parking lot about an hour early. I took about 30 minutes to try to get a short nap. Tonight I would be driving overnight. Every little ounce of sleep now was going to help me later.
I walked up to the general admission area where they were selling tickets. I asked them where I could buy a pit pass and how much it would be. Then I asked how much the general admission tickets were. I figured if there wasn't much of a delta I would get a pit pass.
You should know that just about everyone in a position of authority at a county fair is a volunteer. They're part of the fair board or a friend of a fair board member or a friend of a friend of a friend. Volunteers don't always have the latest information. I first noticed this when I was volunteering for high school sports groups. For a few years we handled the concession sales at the boys' basketball games. It was hard to count on volunteers.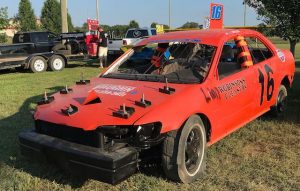 Tonight I asked where I could buy a pit pass. The ticket seller and some other people who looked like they probably should know had no idea what I was talking about. Pit pass? You don't need no stinking pit pass they said. I asked where I could find the pit area. They pointed me in the direction where the race cars were pulling in for the night of racing. I was told I could simply walk in to where the cars were parked with my $10 general admission ticket. I did just that but I'm not really sure that was accurate information I was getting. Sometimes when you get inaccurate information that's in your favor you just keep your head down and accept your reward.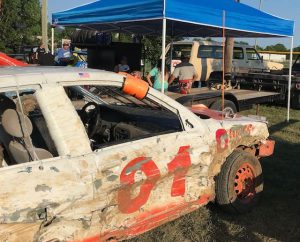 I took a brief stroll through the figure 8 pit area. There were 23 figure 8 cars getting ready to race tonight. This was going to be a one-class figure 8 racing show.  Twenty-three cars for figure eight racing is a decent car count.
I would come to learn those 23 cars would compete in four heat races tonight. The top two finishers in each heat would transfer to the "A" main event. Cars finishing third and worse in their heat transferred to a couple of "B" mains. The top two finishers in each "B" main would tag the back of the "A" main. This all made for a 12-car 16-lap feature race.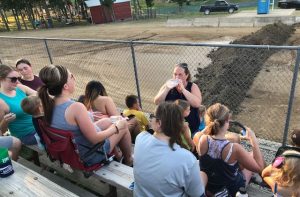 There were a series of small bleachers where fans could watch the racing. These were wooden bleachers with about five or six rows to them. I grabbed a top row seat in one of the bleachers that was in shade. I soon found out this was the women's grandstand!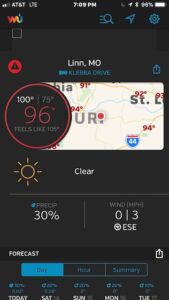 Did I mention the weather conditions were brutal? When I sat down in the bleachers the temperature was 96° with a "feels like" temperature of 105. At 8 o'clock in the evening the feels like temperature was still 99. It was hot and it was humid. There was virtually no wind. The weather was stifling!
Tonight I would be watching what I call four-cylinder junk car figure 8 racing. This racing is for front-wheel drive cars powered by four-cylinder motors. The body and chassis look very similar to what a demolition car would look like. There are very few beauties in this bunch.
It is important to note that this is racing is not demo derby. There are a few bangs and bumps and once in a while a crash at the figure 8 "X". For the most part these people get through all of the obstacles without a lot of carnage. After seeing racing at more than 300 figure 8 venues I've come to appreciate the fact that most figure 8 competitions are really racing.
I always try to sit down next to someone who looks like they might be interesting to talk to. I was a little bit limited in that pursuit tonight because I was looking for a place in the shade. I tried to carry on a little bit of a conversation with a fellow next to me but he didn't show much interest.
They did do something at intermission which I've actually seen a few times. They called out one lady's name and asked her to come down to the announcer's tower. The announcer said she had won a prize. It took them a long time to get here to come down but she finally did.
They brought this young woman out into the middle of the demo derby ring. What could be going on? What was her prize? I thought I had an idea. Any idea on where I'm going with this?
Yep. Out of a small room located just below the announcing tower came a young man dressed in blue jeans and a gray T-shirt. He got down on one knee in the mud and asked the young woman, "Will you marry me"? The answer was an immediate affirmative. The crowd breathed a sigh of relief. The young couple smooched and walked off hand in hand. Congratulations to them. Don't miss the video!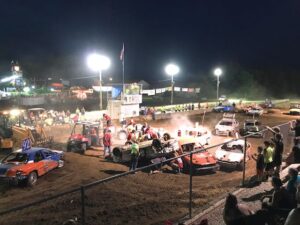 I am a big fan of J and B promotions figure 8 racing. They always get a good field cars. Their heat races usually have 5-7 cars in them which makes for interesting racing. For some reason they go with a 16-lap feature that usually has at least 12 cars and sometimes more. Tonight's track wasn't all that large so 12 cars definitely filled up the arena.
They did have one flip during the feature. That brought out the red flag. While they were attending to the driver sitting on his top another car caught fire! It was all right in front of me.
Except for the weather and the fact that it took me five hours to drive out to the track in Missouri today and it was going to take me six hours to drive back to Indianapolis after the race and the fact that I was feeling deathly ill I really enjoyed myself tonight. That's a lot of qualifiers isn't it!
It would've been a bummer to have all those things going against me and then not get a very good race program in. I'm always happy with J and B Promotions racing. It was nice saying hello to Gary Jones as well. He works hard at what he does but seems to very much enjoy doing it.
AFTER THE RACES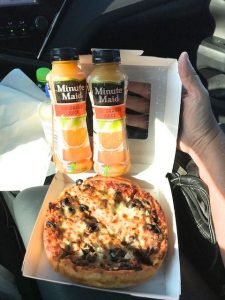 On the way into the track tonight I picked up a couple of bottles of orange juice based upon a recommendation from Wendy Hurst. Wendy is a friend of mine from Wisconsin. I met her several years ago at an ice race up in the Badger state. She recommended drinking lots of orange juice and water to make my head cold go away. After the races I stopped for another couple of orange juice bottles and a big bottle of water. I think that helped.
I needed to get over to the Indianapolis International Airport by about 5 a.m. I had a 6:22 a.m. flight. By the time I returned my rental car and cleared airport security, a 5 a.m. arrival at the airport was what I needed.
My Waze GPS system told me that without any stops I would pull into the airport at 3:30 a.m. Of course, I would need to stop for gas and a restroom break or two. That meant I had an hour or maybe an hour and 15 minutes to sleep somewhere along the line. That wasn't much but it was something.
Tomorrow morning I hope to fly from Indianapolis up to Detroit. When I land in Detroit I will have two separate four hour drives before I finish up somewhere back near the Motor City.
I'm now in that special 30-hour window, which requires that I drive 19 hours and spend another three hours in the airport. During that time I'll spend four or five hours at racetracks. You can make the appropriate subtractions and figure out how much time is left over for sleep. I guess this is especially significant given my current health situation as well as the brutally hot weather.
Good night from Linn, Missouri.
Randy Lewis – 80 countries – 2,465 tracks.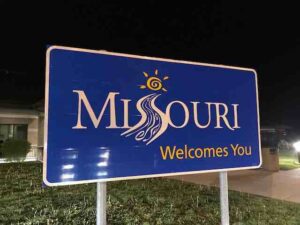 Missouri
The Show Me state
This evening I saw racing at my 42nd lifetime track in the Show Me state, yes, the Show Me state.  I hold the #2 trackchasing ranking in Missouri.  I've seen 42 or more tracks in seventeen different states.
Thanks for reading about my trackchasing,
Randy Lewis
World's #1 Trackchaser
Peoria Old Timers Racing Club (P.O.R.C.) Hall of Fame Member
Missouri sayings: Billiken
What it means everywhere else: A tiny charm doll created by an artist from Kansas City, Missouri. 
What it means in Missouri: The mascot of a university in a different Missourian city, Saint Louis University.
QUICK FACTS
LIFETIME TRACKCHASER COMPARISONS 
The threemost important trackchasing comparisons to me are:
Total lifetime tracks seen
Total "trackchasing countries" seen
Lifetime National Geographic Diversity results
Total Lifetime Tracks
There are no trackchasers currently within 655 tracks of my lifetime total.  Don't blame me.
Randy Lewis, San Clemente, California – 2,465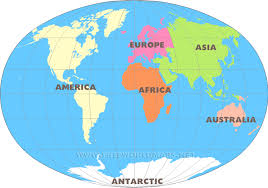 Total Trackchasing Countries
There are no trackchasers currently within 25 countries of my lifetime total. 
Randy Lewis, San Clemente, California – 80
Current lifetime National Geographic Diversity results
Randy Lewis, San Clemente, California – 4.14
That's all folks!  Official end of the RLR – Randy Lewis Racing Trackchaser Report
Click on the link below to see the video production from the racing action today.
Click on the link below for a photo album from today's trackchasing day.  You can view the album slide by slide or click on the "slide show" icon for a self-guided tour of today's trackchasing adventure.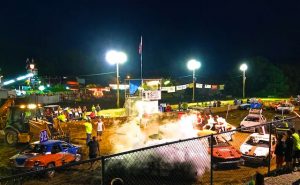 It was a hot and humid night in the Ozark country of Missouri and everyone had a good time