Greetings from Delta, Utah
From the travels and adventures of the 
"World's #1 Trackchaser"
Millard County Raceway – Lifetime Track #1,912
HighlightsThe DetailsRace ReviewVideosPhotosQuick Facts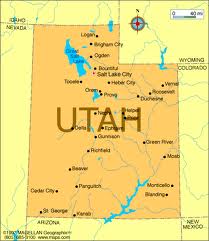 Tonight I was seeing my 11th Bee Hive state track…………….more in "The Details".
My way is different; I think it's better.
……………more in "The Details".

The promoters at the Millard County Raceway know the value of public relations……………more in "The Details".
I do get preferential treatment…………..more in "The Details".
My phone was beginning to vibrate off the hook………..details in "Race Review".
I really WAS thinking this………..details in "Race Review".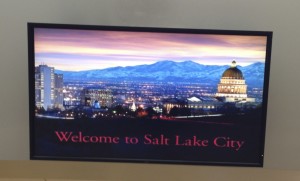 Bee Hive state = 11 tracks.
I woke up this morning in San Clemente, California.  I went to bed in Midvale, Utah.  This is what today looked like.
I was up bright and early for a flight from Los Angeles to Salt Lake City, Utah.  Utah doesn't get a lot of trackchasing activity.  They don't have very many racetracks.  Nevertheless, I was on my way to seeing my 11th lifetime track in the Bee Hive state of Utah.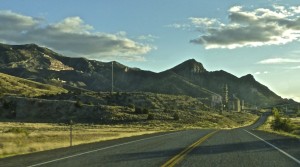 What a beautiful place.
The scenery on my drive down to Delta, Utah from Salt Lake was drop dead gorgeous.  The view in this part of the U.S. isn't seen virtually anywhere else in the country.  A quick check of the weather yielded a 100% rain free existence.  However, by 9 p.m. the temperature was expected to be just 41 degrees.
My way is different; I think it's better.
My way of trackchasing is unique in more ways than one.  I'm pretty much the only trackchaser who tries to publicize the racetracks I visit.  I do that with a website that provides photos, YouTube videos and a review of my "day at the track".  I want the racetracks I attend to get as much exposure as possible.  I guess I'm the "Yelp!" of trackchasing.
No other trackchaser does much in the way of sharing this kind of information with the public.  Heck, my fellow competitors use my site to plan THEIR upcoming trips!  I do know that several trackchasers take photos and videos but they do next to nothing about sharing them with other race fans or trackchasers.  I've tried and tried to get these people to share with others.  However, as I am fond of saying, "You can lead a horse to water but that doesn't make it right".
The promoters at the Millard County Raceway know the value of public relations.
I had been in contact with the promoters at the Millard County Raceway in advance of my visit.  These contacts often lead me to explain why I'm asking such "lame" questions.  Questions like "Do all of the cars start the race at the same time?", "Does this division or that one allow adults to race?" or "What types of caged karts to you run?" are part of the conversation.
I can tell from the reaction I get from the person on the other line that they are thinking something like this "Who IS this guy asking these GOOFY questions?"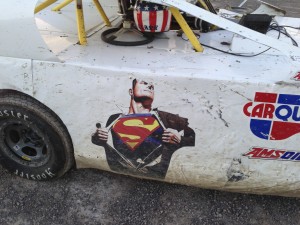 I do get preferential treatment.
Nevertheless, my standing as the "World's #1 Trackchaser" does draw some attention.  For tonight's race the promoter was so happy to have me visiting his track he offered me a complimentary admission.  That reaction on the track's part is not unusual.  However, it much appreciated.
Little did I know that not only would I get a free ticket I would be invited to race!  One of the questions I get most frequently is "Do you race as well as go to all of these tracks?"  I always reply that I have raced but I'm really just a spectator.  Only a few of us who now consider ourselves trackchasers have actually "raced".  I'm up to about ten driving stints and every one of them has been the most fun time I could possibly have.  Tonight's racing could not ever be topped unless I managed to win the Daytona 500!  More on that mega event in "Race Review".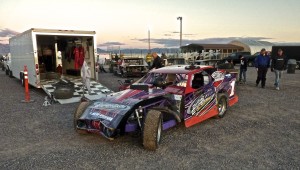 Millard County Raceway – Delta, Utah
At first it was business as usual.
When I arrived at the track the woman selling tickets seemed to be expecting me.  The "word" had gotten around regarding my arrival.
We chatted for a while.  She was a big NASCAR fan and her favorite driver was Tony Stewart.  The woman believed he's been a bit more friendly since his sprint car accident.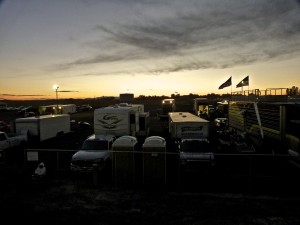 I soon went about my business taking photos and recording video clips.  I try to get an image of just about anything, and maybe more, that my readers would find interesting.  Tonight they had a big field on modifieds on a very cool evening.  The sunsets out this way are gorgeous.
These guys are promoters.
It wasn't long before a fellow by the name of "Joe" tapped me on the shoulder.  I soon found myself talking to Joe Miller one the track promoters.  Joe was the fellow I had first contacted over the phone.
He had a proposal for me.  "Would I like to drive later on in a race?" he wondered.  "Well of course I would Joe, what did you have in mind?" I asked.  "We've got a special 'celebrity' race in the mini modified division.  We would like you to race in one of those cars" Joe explained.  Absolutely!  I was all over that.
Joe also told me the announcer was expecting me for an at the track interview.  Tonight's show was being broadcast live over internet TV.  Check out XSAN.TV for more info.  Wow!  The nation would be listening to my interview with the track announcer and watching me race later on.
The beans were spilled.
I did the interview.  During that interview I spilled the beans about where trackchasing countries #66 and #67 would be.  Anyone interested in winning my "Guess the next country" contest would have a major advantage after listening to that interview.
My phone was beginning to vibrate off the hook.
It was not long before I received a text message from good buddy Rob Palmer from over in South Dakota.  Rob was listening to the broadcast and couldn't wait to see me race.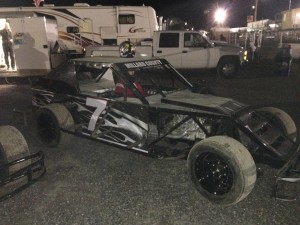 It wasn't long before I was being asked to report to my race car.  I would be driving the black and white Millard County Raceway #7 mini modified.  Folks, I say this from time to time.  When I say it I mean it.  You do NOT want to miss this video.  One of the guys used my iPhone to record the race.  Do not miss this.
You might want to stop reading until you see the video.
I don't want to spoil the video for those who haven't see it yet but….I was one of four cars in the feature event.  I asked to start in the last row.  Why?  Was it because I didn't want to take advantage of the other celebrity's lack of racing experience?  Or was it for my own personal safety?  I'll let you answer that question.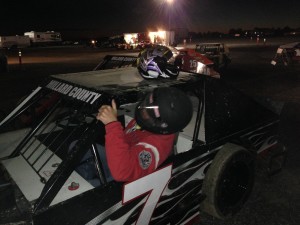 Just getting in the car was a huge challenge.  My joints don't move the way I think they used too.  Some of these cars are not meant for a 6'3" person like me.  With a helmet on my height "stretched" to about 6'6".  As a matter of fact I could NOT get in the car with my helmet on.  Of course racecars have detachable steering wheels.  I had to remove the steering wheel to get in.  Then I worried about the steering wheel coming off during the race!
I really WAS thinking this.
I know I tell you lots of tales in these reports.  Of course every one of them is true.  I will tell you something about what I was thinking while I was driving this racecar at full speed down the backstretch.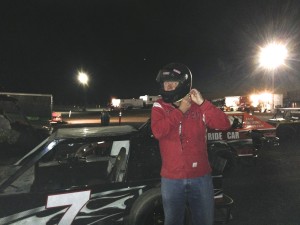 It was a simple thought.  I was saying to myself, "You are sixty-four years old.  You are driving down the backstretch of a dirt track in a full-sized racecar in the middle of some nowhere place in Utah.  Your friends and family have no idea that you do this type of thing.  Are you the luckiest guy in the world?".  I wouldn't be wiping the smile off my face for a good long time.  This was FUN!!!!
I appreciated racing even more after doing this.
Folks without further adieu I will tell you that I won this mini-modified feature event.  This is the first race I have ever won.  Once in an ice race way up in Wisconsin I led the feature.  However, a driver with previous racing experience passed me with a lap to go pushing me back to second.  I've never had a serious crash after racing in England and the United States.  I hope it stays that way!  The few times I have raced give me a much better perspective as a fan than if I had "never turned a wheel".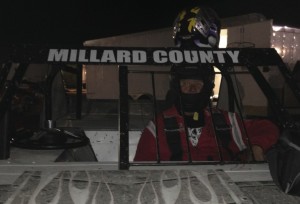 No victory lap.
Had I been thinking a little more clearly I would have taken a victory lap.  When Alan Kulwicki won his first ever NASCAR race he did a "Polish victory lap".  What was that?  He grabbed the checkered flag and drove a slow lap next to the crash wall in a clockwise (opposite of the direction they raced) direction.  Folks thought this was the most unique celebration they had ever seen.
However, at my boyhood track the Peoria Speedway in Peoria, Illinois that's how the race winner did it after every feature event.  I thought each winner took a backwards victory lap in that fashion.  In hindsight I wish I had done that.  Nevertheless when I brought the car back to the pits track promoter Joe Miller was there to greet me and ask me "How it went?".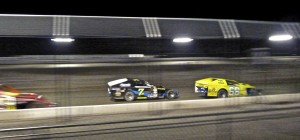 I recommend this place!
If you get the chance I highly recommend a visit out to Delta, Utah.  You'll very much enjoy the racing action at the Millard County Raceway.  Tonight the featured attraction was the modified feature.  They had about 20 mods who put on a very entertaining feature event.
STATE COMPARISONS
Utah
The Bee Hive State
This evening I saw my 11th lifetime track in the Bee Hive state, yes the Bee Hive state.
Thanks for reading about my trackchasing,
Randy Lewis
World's #1 Trackchaser
Peoria Old Timers Racing Club (P.O.R.C.) Hall of Fame Member
Utah sayings:  Three times the wives means three times the fun
QUICK FACTS
AIRPLANE
Los Angeles, CA (LAX) – Salt Lake City (SLC) – 589 miles
RENTAL CAR #1
Salt Lake City International Airport – trip begins
Delta, UT
TRACK ADMISSION PRICES:
Millard County Raceway – Complimentary admission
LIFETIME TRACKCHASER COMPARISONS 
The three most important trackchasing comparisons to me are:
Total lifetime tracks seen
Total "trackchasing countries" seen
Lifetime National Geographic Diversity results
Total Lifetime Tracks
There are no trackchasers currently within 375 tracks of my lifetime total.  Don't blame me.
1.  Randy Lewis, San Clemente, California – 1,912
Total Trackchasing Countries
There are no trackchasers currently within 10 countries of my lifetime total.
1.  Randy Lewis, San Clemente, California – 65
Current lifetime National Geographic Diversity results
1.  Randy Lewis, San Clemente, California – 5.10
That's all folks!  Official end of the RLR – Randy Lewis Racing Trackchaser Report