Greetings from Whitelaw, Wisconsin
From the travels and adventures of the "World's #1 Trackchaser"
.
 141 Speedway – dirt oval – Lifetime track #1,552
*
HighlightsPhotos
DAY 2 – "WHY CAN'T THEY ALL BE LIKE THIS" TRACKCHASING TOUR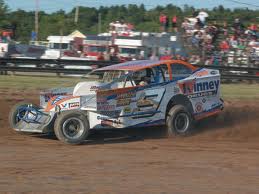 RANDY LEWIS RACING – CONTEST RESULTS!
As you know, I frequently offer my readers trivia contests.  Sometimes these appear in my Trackchaser Reports and often via the photos, I post on my website.
In my recent "Woodhull Raceway Trackchaser Report I captioned a photo appearing in front of a "Kinney Drug Store" this way:
"A six dollar Wal-Mart gift certificate goes to the first correct answer to this question:  What famous racer driver was sponsored by Kinney Drugs?"
Almost immediately, a response came back from New Yorker, John Croasdaile, telling me the Kinney Drug Store sponsorship went to "Barefoot" Bob McCreadie.  McCreadie was always one of my favorites.  A valuable Wal-Mart gift certificate is winging its way to New York.
GREETINGS FROM WHITELAW, WISCONSIN

TODAY'S HEADLINES  
What is the trackchaser ruling on "change of surface"? …………..details in "The Objective". 
Where is the longest gate-to-gate walk in a domestic airport?………………more in "The Trip". 
The "one spin and you're out" rule rocks! …………..details in "Race Review".
THE OBJECTIVE, THE TRIP, THE PEOPLE…AND A WHOLE LOT MORE
The Objective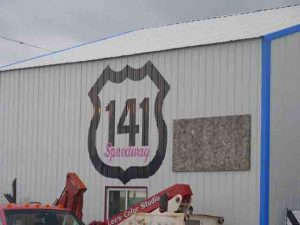 Missed opportunity. 
The 141 Speedway located in Whitelaw, Wisconsin, near Green Bay was an excellent "strategic" choice. These folks race every Wednesday night during the summer. I don't think I have any other tracks in my entire database that race regularly on Wednesdays. That part of the "trackchasing strategy" would work out perfectly. It's always good to see some racing in the middle of the week that "bridges" a trip over to the weekend.
However, I had missed a "strategic" opportunity with the 141 Speedway. For the 2010 season, they changed their racing surface from asphalt to dirt. When this happens, a trackchaser can count the track twice. Here's how the rule reads:
"Tracks that change between a paved surface and a dirt surface can be counted once for each surface. Changes between types of pavement (asphalt, concrete, etc.) or different types of dirt (dirt, clay, shale, grass, gravel, etc.) surfaces only count once. Ice tracks formed over an existing paved or dirt surface cannot be counted as an additional track, but they can be used to count the track once".
Where's my CPA?….No, he's not the numbskull.  
And you thought the IRS tax rules were "sticky". I'm proud of our group for coming up with the rules we have. I'm much "less proud" of the trackchasers who think the group should adhere to "rules that aren't really the rules"! We've had a couple trackchasers who have screamed loudly that their fellow competitors should follow "unwritten rules". To me, that falls in the category of "numbskull" thinking.
I had several chances to see the 141 Speedway race when it was an asphalt track. However, the weather never cooperated. I guess I missed it as a paved track…..unless they switch back from the current dirt surface. With such a successful program that they now enjoy I wouldn't hold my breath waiting for it to return to "tar". 
The Trip 
The longest walk in airport history. 
When I'm out on the trackchasing trail, I am willing to put my body through "whatever it takes" to get to the next track. That might involve flying overnight, sleeping in my car, driving all night or whatever. However, when Carol comes along I want the trip to be more "civilized". Regrettably, I can't always guarantee a "civilized" trip.
We had the option to drive from Minneapolis to the Green Bay area. That would have taken about five hours. However, we needed to be in North Dakota tomorrow night, so flying seemed like our only option.
The Minneapolis-St. Paul Airport is one of my favorites. They have great shopping and restaurants. Also, the connections I can make out of "MSP" can get me all over the middle and upper Midwest. However, some points in the airport are a very long way from others.
On the way to our flight, we grabbed a Subway breakfast sandwich near gate "G1". Our flight to Green Bay was leaving from "B16". I've had some long airport walks in my time but this may have been the longest.
We walked on at least ten moving "sidewalks" aka escalators. A couple of them were down for repairs. This made pulling our carryon luggage along on the airport carpets a real aerobic event. We also went up and down a few vertical escalators. Incredibly, a tram ride was also involved. At one point, we could look out the window and see that we were crossing a major multi-lane highway. The next time I have "nothing to do" I going to take that walk again….and count my steps. It was a "whale of" a walk!
Once we arrived in Green Bay, our rental car took us to the Holiday Inn and Suites. I had reserved this hotel on Priceline.com. We saved about $50 off the very best rate they were offering. This hobby doesn't have to be expensive but it can be. 
The best source for 'off the wall' eating places. 
From there we had lunch based upon a www.roadfood.com recommendation. A few years ago, I was given a book titled, "Road Food". That book provided many memorable dining experiences from some of the most unusual places a fella like me would want to visit.
I signed up ($19.95 per year) to become a member of "Roadfood Insider". I'm still getting used to what my membership might offer. However, what "pushed me over the edge" was the "GPS coordinates" aka Longitude/Latitude information on each and every one of the more than 1,600 places that are listed with Roadfood. With the push of a button (a couple of buttons?), the entire 1,600+ locations are now in the belly of "Garth" my friendly GPS buddy. Now wherever I am Garth will tell me if I'm near some gastronomical delight. That's perfect!
The People 
Left tackles or cornerbacks? 
I would say there are many more left tackles than cornerbacks living in Wisconsin….if you get my drift. With that as background, we followed our first Roadfood recommendation. "Curly's Pub" is located at Lambeau Field, home to the Green Bay Packers. When we pulled up to the stadium in the parking lot we remembered we had already eaten at "Curly's Pub" the last time we came to Green Bay. During that trip, we visited the A+++ Lambeau Stadium tour.
Eating at Roadfood locations is a lot like trackchasing. If I've already eaten at one place, I would prefer to go somewhere else the next time. That's what we did. We ended up at the "Kroll's West". More on that in "Where's the best place to eat?".
Where's the best place to eat?
RLR – Randy Lewis Racing Money Back Guarantee
Krolls West – Green Bay, Wisconsin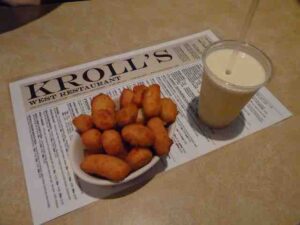 This is not the place for healthy meals. 
Eating a healthy meal on the road takes some planning. I'm a huge fan of dining at Subway. I think they offer healthy food choices if you avoid the fatty meats, calorie rich dressings and the higher calorie breads. When I'm by myself, I enjoy eating at Subway.
However, my business career taught me that "eating out" is or certainly can be a "social event". Subway doesn't rank very high as a "social eating location". That's where information sources like Roadfood.com come into play.
Kroll's West sits just across the street from Lambeau Stadium. I'm sure it's impossible to get into during a Packers home game day. However, in mid-June on a Wednesday getting a table was no problem at all. 
Famous or infamous? 
Wisconsin is famous (infamous?) for its bars and taverns. Kroll's West is sort of like a restaurant in a bar or tavern. The patrons appeared to be locals. It was somewhat dark inside and the motif was straight out of the Vince Lombardi Super Bowl days. I suspect that Vince frequented this place during his heyday. 
Cheese curds and milkshakes. 
We opened with appetizers of cheese curds and a child's milkshake. O.K., let's be a little more direct here. I opened with those things and Carol took a bite and a sip. I wish all restaurants had a "child's" size milkshake. I bet they might do more dollar volume on shakes if they did.
From there I ordered a charcoal grilled pork chop sandwich. I was surprised when it was served. First, it was wrapped in white butcher paper. I had not ordered the sandwich to go. Secondly, there was a huge "dollop" of butter melting between the bun and the meat. Did they want me to have a heart attack on the spot? I did my best to scrape that extra fat off and send it Carol's way. She wasn't interested in having that amount of butter on her sandwich either.
The waiter's seemed a little bit out of place. They were more like laid-off autoworkers than restaurant workers. The prices were fairly reasonable and the food was O.K. However, it was probably the location of this place that made it "unique". I'd recommend this place if you visit Lambeau Field, which I definitely recommend anyone doing. Otherwise, there must be better places (non-chain) to eat in Green Bay.
RACE REVIEW
141 SPEEDWAY – WHITELAW, WISCONSIN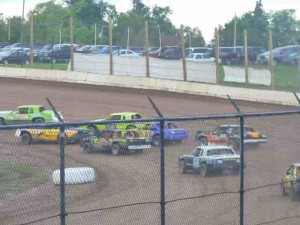 This track gets it.  
I guess I am in the "advanced" stages of trackchasing. I've already seen nearly every decent dirt track in the country. Not all, but most. Much of my trackchasing efforts are now concentrated around novelty tracks that would include figure 8 racing, kart racing and lower level stock cars. I'll throw in international road racing with that bunch too.
My criticism of the above is in regards to the racing. It's still as much fun to meet the people and see the sights and sounds of the areas I visit. Therefore, despite whatever "entertainment value" the racing may or may not offer, I will still enjoy my trackchasing experience.
I'm not really complaining but simply making an observation. Some people can understand the difference and some can't. Tonight when we arrived at the 141 Speedway, we were treated to one of the best racing programs I've seen in a very long time. We couldn't believe it. This track "gets it".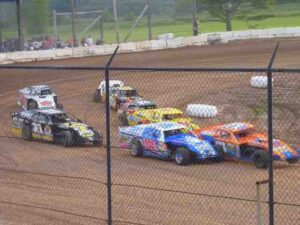 First of all, this was a medium banked ¼-mile dirt oval. That's my favorite type of track. It's easy to see all the action. And, on a track like this one, there is a lot of action. The previous night's rain prompted the track's website to have this posting, "As of 11 a.m. today, we are still racing".
Senior citizens put the squeeze on promoters.  
The parking lot was soggy so we picked a spot facing downhill so we wouldn't get stuck. We arrived 30 minutes early to find a large crowd already in the grandstand. Admission was $12 but for us oldsters who are "experienced" the fare was only $8. Do the "senior citizens" have so much clout with track promoters that they can get such significant (33%) discounts. Apparently, the answer is yes.
We invested our "senior savings" in dinner at the track. Drinks, cheese curds (a must when trackchasing in Wisconsin) and chicken sandwiches were only $13 or five bucks counting our ticket savings.
The racing started on time at 7 p.m. There are so few short tracks that actually start on time, that anybody who does is "two steps" ahead right out of the gate. Tonight there were five divisions racing. Each brought 20-30 cars. That made for about 125 cars racing tonight.
The racing was hard fought. It was common to have two and three cars racing side by side all through the field. By now, the crowd had grown to a couple thousand or more. By the way, the folks of Wisconsin are much better suited to play left tackle on your football team than cornerback. I'm just sayin'.
The announcer was lively and came through loudly over a robust if slightly out of tune speaker system. He provided a nice early trackchasing announcement regarding my visit to the 141 Speedway. 
One stupid mistake and you're gone. 
The track did some things that most tracks don't do, but almost all tracks SHOULD do. An "unassisted" spin causing a yellow flag in the heat races sends the driver to the pits. Most of the heat races started about ten cars. Why is it that every track I have ever seen that has a "one spin and you're out" rule for the heats runs a good program? Why are basketball players skinny? This is really not rocket science. In the features, a "two-spin" rule was used but not needed.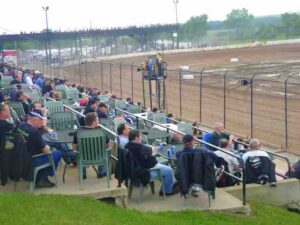 On a tight quarter-mile dirt oval there is a lot of contact. That's what makes the racing fun. However, from time to time the car in second place would lose patience and "dump" aka wreck or spinout the leader. The track would have none of that. The race officials would assign fault to the "dumper" and put him in the back of the pack. The "dumpee" retained his spot. With rules like this there is a lot less "dumping". Great job 141 Speedway!
Remember the 'consie'. 
About half the cars in each heat race transferred to the main event. The remaining cars went to the "consie". Remember the old-time "consolation" events. Yes, that's from an era when there were enough cars for a consolation event!! Tonight there were six "consies" and about 15 heat races. That's a lot of racing.
The best racing was probably the stock car class and the sports mod group. The higher-powered late models were not nearly as entertaining. The regular modifieds and four-cylinder class put on good races as well.
With the clock striking 10:30 p.m., the track had not stopped for an intermission or anything. With the late model feature (the fourth of five features to race) on the track we headed for the exits. We had a very early morning flight to catch tomorrow. This had been a great night of old time racing. They started on time, had plenty of cars, and had good amounts of beatin' and bangin' and passin'. That's all I ask for. I know I don't get that very often but when I do it's time to sing high praises. 
How 'bout a beer or maybe some more cheese curds. 
I would be remiss if I did not mention that Wisconsin race fans are the biggest beer drinkers I've ever seen. Don't get me wrong. They just drink a lot of beer. The track had a full building devoted to "tavern" products. They also had a special section where folks had their own server. We actually watched one of the races from this area. I saw one fella turn down a free beer from his buddy. No, I couldn't believe it!
STATE COMPARISONS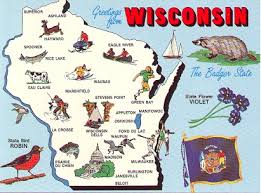 Wisconsin  
This evening I saw my 63rd track in the Badger state. That gives me a fifth place ranking here. Wisconsin's Dale O'Brien has slipped ahead of me here by adding two tracks in 2010. His total is now 64. Ed Esser is state leader with 113 tracks. He is one of a few people to lead in the state in which he resides.
I have about 24 tracks remaining to be seen in Wisconsin. Just seven of them race on a regularly scheduled basis. Many of the others are either kart tracks or race on ice.
Coming Soon – RLR – Randy Lewis Racing Exclusive Features!   
Trackchasing politics revealed….they're about ready to kill each other.
Has a conspiracy been committed in the international tracks "counting world"?
I'll soon be introducing two new promotional ideas to the hobby of trackchasing. Neither has ever been offered by any trackchaser in the hobby.
By mid-summer, I will announce a new charitable giving program that will be funded from my trackchasing.
Thanks for reading about my trackchasing,
Randy Lewis
Alberta's #1 Trackchaser
Wisconsin sayings: Hey Ole, pass me anudder one of dem beers, will ya.
TRAVEL DETAILS
AIRPLANE 
Los Angeles, CA, (LAX) – Minneapolis, MN (MSP) – 1,535 miles 
RENTAL CAR #1 
Minneapolis-St. Paul International Airport – trip begins
Target Field – 9 miles
Minneapolis-St. Paul International Airport – 31 miles – trip ends 
AIRPLANE 
Minneapolis, MN (MSP) – Green Bay, WI (GRB) – 251 miles 
RENTAL CAR #2 
Green Bay International Airport – trip begins
Whitelaw, WI – 31 miles
Green Bay International Airport – 74 miles – trip ends
TRACK ADMISSION PRICES: 
141 Speedway – $8 ($4 senior discount savings)
COMPARISONS
LIFETIME TRACKCHASER COMPARISONS  
There are no trackchasers currently within 200 tracks of my lifetime total.
Randy Lewis, San Clemente, California – 1,552
Ed Esser, Madison, Wisconsin – 1,286
Guy "The Kid" Smith, Effort, Pennsylvania – 1,272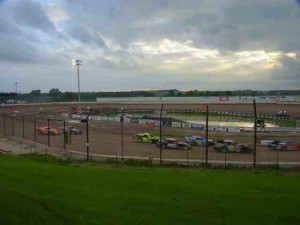 Do you have any experience with auto racing at the 141 Speedway? 
By the way you might have remembrances about this track.  If so, please feel free to share them in the comments section below.  If you have any photos from back in the day, send them to me at Ranlay@yahoo.com.  I'll try to include them here.
Official end of the RLR – Randy Lewis Racing Trackchaser Report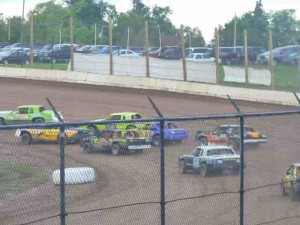 Click on the link below to see how our day went getting to and visiting the 141 Speedway: