From the travels and adventures of the "World's #1 Trackchaser"
Arizona State Fairgrounds – Dirt Oval  –  Track #531
Arizona State Fairgrounds – Dirt Figure 8  –  Track #532
HighlightsOvalFigure 8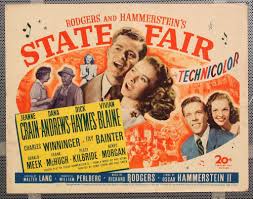 The very first Arizona "Territorial" Fair took place in 1884.  Horse, pony and mule racing was the entertainment of the day.  With statehood granted in 1912, the State Fair Commission continued the work of the Territorial Fair Commission in presenting the annual Fair. With the exceptions of 1921 (cotton crop failure), 1934 to 1939 (Depression era), and 1943 to 1945 (World War II), the Fair has been presented yearly. 
Back in 2001 they were racing on both a dirt oval track and a dirt figure 8 track.  However, they didn't race on the same night.  That meant I would need to go the fair for two consecutive evenings to see these two tracks.  In 2014 the Arizona state fair only hosts figure 8 racing.
A highlight from my first nice at the fair was meeting up with Gary Jacob.  There have been a lot of prominent racechasers.  Racechasers are different than trackchasers.  A racechaser is most interested in seeing a race.  A trackchaser is most interest in seeing a track.  There is a HUGE difference in these two hobbies.  Gary went to more races for a longer period of time than anyone else I know.  This was especially noteworthy given the fact that 90% of Gary's races were held in the relatively rural areas of California, Nevada and Arizona.  Additionally these areas rarely race on any day other than Friday or Saturday.
In reading my Trackchaser Reports from more than ten years ago I was surprised to see how quickly the races were run on both nights.  I don't see that very much in today's racing world.  Despite the racing and fair being held in October it was still more than 90 degrees at race time.  Arizona is one hot place.
You might have remembrances of racing at the Arizona State Fairgrounds.  If so, please feel free to share in the comments section below.  If you have any photos from back in the day, send them to me at Ranlay@yahoo.com.  I'll try to include them here.
Reprinted with consent from my October 18, 2001 Trackchaser Report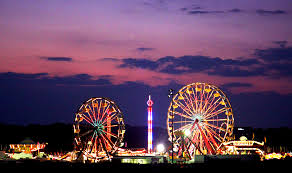 Greetings from Phoenix, Arizona,
TRAVEL/PEOPLE NEWS
The drive from San Clemente to Phoenix was a "quick" 389 miles.  Driving across the desert in 90+ temps was a drastic change from the Vermont fall colors drive of just a couple of days ago.  I don't think it should be in the mid 90s in late October ANYWHERE.  We lived in Phoenix for one year in 1974.  Phoenix can get very hot.  The city has more than 100 days of 100-degree heat.  Today's high temperature was 96 and it was 92 degrees at 7 p.m. 
The race at the Arizona State Fairgrounds is run in conjunction with the Arizona State Fair.  This is a large and popular fair.  Parking was $7, fair admission was $8.50 and there was no extra admission price for the main grandstand where the races were held.  The fair was packed as Toby Keith was holding a concert on the grounds.
Eating at fairs is always entertaining.  Tonight's cuisine was fairly low on the caloric meter.  First was a sampling of baked beans from Big Bubba's Bad BBQ.  Actually with some onions added it tasted like chili.  I can't go to a fair without having a lemonade shakeup.  Some great tasting brought from home peanuts added protein to this vegetarian evening.
Arizona is the 28th different state I've seen races in this year.  This trip is the 6th time I driven to the races from home.  I've had 16 different trips that I've flown to for the year.  The season is winding down and I have only two more races on the schedule.  There's not much chance for more due to other traveling commitments and the upcoming holidays.  Soon it will be time to start playing more golf.
Since this is the people section of my report I wanted to let you know I had the opportunity to meet up again with, arguably, the most prolific race chaser in the history of race chasing, Gary Jacob.  A race chaser tries to see as many races as they can whereas a trackchaser tries to see as many tracks as possible.  I started out as a race chaser and somewhere along the line turned into a trackchaser.
Carol and I met Gary at Speedway 605 in Irwindale, California back in 1976, I think.  Gary is checking his records to confirm.  I had not talked to him in person since then.  I don't have all the stats but I do know that Gary has seen more than 100 races every year for more than 20 years in a row.  He said he has seen around 120 shows this year and expects to finish with about 140.  This is really amazing considering Gary sticks to the Western U.S. (mainly California, Nevada and Arizona) and there are very few mid week shows in this part of the country.  In the Midwest or East you can see races just about every night from June through August.  If someone saw a race every Friday, Saturday and Sunday for all 52 weekends their total would be 156.  You can see Gary is going racing virtually every weekend of the year and seeing three shows on most trips. 
Gary also mentioned that he drives around 40,000 miles a year for his racing.  Incredibly he said he only stays in hotels about 10 nights a year.  He uses his home like the airlines use the "hub and spoke" system as well as staying with friends along the way.  Gary, like many trackchasers, (not Allan or me) likes to drive well into the night or the entire night.  We all know this can be very dangerous.  Not only is it easy to fall asleep doing this but there are a number of certifiable crazies out there in the wee hours.
Gary is also the best person to provide race date info for the Western U.S.  If anyone is racing in these states Gary is likely to know about it.  Gary, it was nice talking to you and travel safe.  It was great having the #1 race chaser living west of the Mississippi (possibly the U.S. and world as well) sharing notes with the #1 trackchaser living west of the Mississippi.  We spent nearly an hour talking in the pits following the races before Gary departed for Kingman, Arizona.
RACING NEWS
The 1/5-mile dirt oval at the Arizona State Fair is my 531st track.  The track is relatively flat.  The racing groups tonight were limited to just two classes.  There were 14 modified midgets and four ¼ midgets.  The midgets were, in reality, micro sprints with 600cc engines.  The ¼ midgets are not a countable class by our trackchaser group.  I believe the reason is that kids drive them.  Jeff Gordon from NASCAR fame spent his early years driving ¼ midgets.
The show was scheduled to start at 7 p.m.  It actually began at 7:25 p.m.  The midgets ran two heats and a feature, as did the ¼ midgets.  The races were over at 8:10 p.m. just 45 minutes after they began. 
The grandstand is very large like those found at most state fairs.  With no extra admission charge there was a huge crowd on hand.  The pit area is just beyond the third and fourth turns.  This track does not appear in this year's National Speedway Directory.  I not sure why it is omitted since they've been running these classes during the fair for years.  The announcer created a lively banter but the sound system was found lacking.
These cars ran three nights during the fair.  The figure 8 cars will also run three different nights during the fair.  To my knowledge this track is not used for auto racing at any time other than the state fair.
Rental Car update: The Procter & Gamble racing Ford Taurus hauled me 389 miles from San Clemente to Phoenix.  I really don't like Taurus automobiles.
Reprinted with consent from my October 19, 2001 Trackchaser Report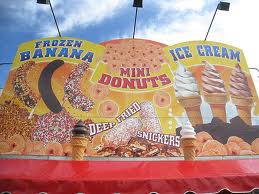 Greetings from Phoenix, Arizona,
TRAVEL/PEOPLE NEWS
Tonight is my second straight night of attending the Arizona State Fair.  This night will feature racing on the figure 8 track.  Last night Gary Jacob gave me the idea of parking in the neighborhood surrounding the fairgrounds.  This would allow me to save the $7 parking fee.  I took his suggestion but on the way back to the car after the races I began to see graffiti written on the walls of homes near where my car was parked.  I started to question the wiseness of this cost cutting move but I did make it back to the car in good shape.  This is an example of buying bad stuff cheap.  That's usually not a good idea.
Since I saved on the parking I thought I could splurge on my dining and drinking choices.  It was 90 degrees so out I started with a large fresh squeezed lemonade ($3), and a carne asada burrito ($6).  Dessert was a wagon wheel cinnamon roll ($2.50) at the Texas Donut trailer.  Later I would need two more lemonades ($6) as it was still hot outside.  Net, I paid $17.50 for these gourmet delights.
With some time on my hands I took a tour through the commercial exhibits building.  This is where folks are trying to sell you stuff you probably don't need.  Companies of note were selling 1) original waterless cookware, 2) Longaberger baskets (my sister sells these part-time), 3) magnetic vibrating massage loungers and 4) Cutco Cutlery (son Jim sold this one summer).  I talked to their rep and he assumed he couldn't sell me anything because we probably had already bought it from Jim.  Correct!  They do make good stuff but it's expensive.  I did overhear that you could buy two massaging twin beds for the unheard of low price of $3,300.  Sorry, can't fit 'em in the trunk.
On the drive home I stopped at the brand new Aqua Caliente Casino (opened in July) in Cathedral City (next door to Palm Springs), California.  This is a huge casino run by the Cahuilla Indians.  I learned the night before that Gary Jacob enjoys a little casino action during his travels.  He described some games I had never heard of so I had to stop and look things over.  Gary, I did see the Wheel of Fortune game but couldn't figure out how to play it. 
I mentioned in my last report that we lived in Phoenix for one year in 1974.  How we got to Phoenix involves my interest in racing.  We were living in Cincinnati at the time and the company was expanding our sales force.  I was offered a job in Salt Lake City.  I told my boss that I didn't really want to move there.  He asked why and I told him there wasn't much racing in Utah.  My boss, who lived in Connecticut, was coming from the "East coast corporate mentality" and had no idea what I was talking about.  Nevertheless, he offered me a job in Phoenix and I took it.  A good friend of mine ended up moving from Pittsburgh and taking the Salt Lake City job.  He married a Mormon lady and lives with her to this day in Salt Lake City.  If I didn't like racing I sometimes wonder how my friend's life might have turned out differently.
RACING NEWS
The figure 8 track at Arizona State Fair is my 532nd track.  The track is a traditional layout made from the 1/5 mile oval.  There was a good turnout out of 28 cars.  Most of the cars were either street or factory stocks from Manzanita Speedway.  They ran four 7-car heats with the top two advancing to the 12-car feature.  The winners of the consie and semi also advanced.  The feature paid $750 to win.
The track was too wet when they started racing which kept the speeds down and created problems in the turns that were not figure 8 related.  There were a couple of solid collisions at the X but not much action otherwise.  The show started at 7:30 p.m. which was 30 minutes late.  They finished just one hour later.  This allowed me to motor on down the road to my overnight destination, Blythe, California.  If you are touring California in the summer don't go to Blythe.  Not much happening here during any other part of the year either.
I'm busy preparing my 2001 annual racing review for your reading pleasure.  Only one or two more tracks for this trackchaser this year.
Rental Car update: The Procter & Gamble racing Ford Taurus completed the trip in 841 miles.