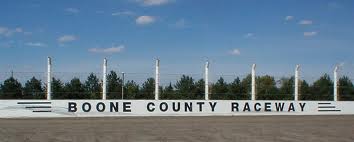 Greetings from Albion, Nebraska
From the travels and adventures of the 
"World's #1 Trackchaser"
Lifetime Track #1,566
HighlightsSpecialThe PlanThe TripThe ExperienceAttractionsRace ReviewVideosQuick Facts
What does tonight's track have to do with Wrigley Field and the Chicago Cubs? …………..details in "Race Review".
Anybody remember the "Bardahl Special" from the 1957 Indy 500?………………more in "The Experience".
The itch is back…………..details in "The Trip".
THINGS YOU MIGHT HAVE NOTICED HAD YOU BEEN PAYING MORE ATTENTION IN SCHOOL
THE BEST READERS IN RACING TAKE TIME TO CONTRIBUTE
From the folks at the Clark County Speedway after seeing my YouTube video about my visit to their track
"We really appreciate what you have done. I saw the video and I got it on our YouTube channel and it is great! All of us would like to thank you for coming and we hope you had a great time! 
Thanks
All of us at Clarke County Speedway!'
Editor's note!!!
I've been promising you "first ever" promotional efforts for the hobby of trackchasing.  I'm happy to introduce "podcasting" to my website arsenal at www.randylewis.org.  I've converted my photo slide shows to YouTube videos.  This way you can sit back and enjoy the trip with me.  Now I've added "podcasts" where I will give a personal video overview of the event.  Can't wait any longer to see it?  Click on this link…..but before you do make sure you have your computer's speakers turned on and the volume cranked up.  Also, you be able to see the pictures so much better if you view then in "full screen mode" and with "high-definition" if you have it.
http://www.youtube.com/watch?v=x8N51b4eJnk
Enjoy the trip to Albion, Nebraska with me!
RANDY LEWIS RACING SPECIAL REPORT
My special reports are meant to be "critical thinking" pieces on the state of trackchasing.  Often times the "trackchasing hierarchy" will consider them controversial.  Nevertheless, some things just have to be told regardless of whose feathers may be ruffled.
At other times my special reports will be major "news flashes" about the direction I am going with trackchasing.  I will always try to stay ahead of the curve as I continue to pursue more and more tracks.  Regardless of where you stand on the trackchasing "political fence" everything is meant to stimulate thought about what can, should and frequently will be done in this hobby.  I hope you enjoy the commentary.
A NIGHT WITH THE "NIMS" PEOPLE
Tonight I was spending the evening with the "NIMS" people.  I doubt these people even knew they were "NIMS" people.  For some reason "NIMS People" sounds like it would refer to "little people in the forest".  However, "NIMS" people are in effect real full-sized people.
Who are the "NIMS" people?
"NIMS" people are folks who hail from "Nebraska, Iowa, Minnesota and South Dakota".  In my experience of traveling the country the very nicest people in the United States hail from these four states.  To me, they are "NIMS" people.  It's the highest compliment I can give folks.
I had called Dave Warner a few days before this trip to get some information about today's racing program.  Dave's contact number was listed on the Boone County Raceway website.  During the course of our conversation I mentioned my trackchasing hobby.  Then we concluded our conversation.  A few hours later, Dave called me back.  He was intrigued that a fellow would come all the way from California to Nebraska with such an unusual vocation.
The track was interested in the "trackchasing story"
Dave wanted me to appear on a local radio program to explain my trackchasing plans and help promote his racing event.  I was glad to oblige.  Last Friday (two days ago), I did a "call in" interview with KIX 106 FM radio from the parking lot of a Runza restaurant in Lincoln, Nebraska.  That went well and I figured my media "presence" in Nebraska for this trip was all wrapped up.
First we did radio.
However, on the drive over to the track this afternoon, I received a call from Kristen Kotic.  Kristen is the account manager for 106 KIX Country in Norfolk, Nebraska.  Kristen had organized Friday's interview.  She was asking if I was interested in doing an "on site remote radio" interview.  Of course, I was.
When I arrived at the fairgrounds I sought out the KIX 106 booth.  I first went to the ticket booth.  The women selling tickets recognized me.  One woman told me "we've been watching you on video".  They had visited my website at www.randylewis.org.  They got me in touch with Dave Warner.
When I met Dave we hopped in his golf cart and away we went.  Dave stopped for a brief moment to do a quick radio interview while he promoted the race.  From there he took me over to meet up with the KIX 106 gang.
Soon I was meeting up with DJ "Rick Randy" and Andrew "the intern".  I'm not kidding you the DJ's name truly was "Rick Randy".  Often when I travel internationally people refer to me as "Mr. Randy".  I'm thinking they think my first name is my last name.  Carol gets a kick out of this and frequently refers to me as "Mr. Randy".  Now I have met another "Mr. Randy".
Rick Randy gave me (Randy) the microphone (actually it was a cell phone) and I did a "remote radio interview".  He pretty much told me to "tell the audience about trackchasing" and that's what I did for a few minutes.  The folks over at KIX 106 could not have been nicer to me.
Following that interview Dave Warner and I took off to explore the racetrack.  Dave is a member of the "fair board".  This is the group that manages the county fairs that are so prevalent all over our country.  The Boone County Fair has been going for more than 150 years.  Dave took me into the pit area and introduced me to many many people.  One of those was the track announcer, Adolph.  Adolph and I agreed to meet up at intermission for an "at the track" interview.
It seemed like a limo to me.
It was still some 30 minutes before the first car was scheduled to hit the track.  Dave had more work to do, so he gave me his golf cart.  There is always something unique at every one of these tracks.  I had never been given the use of a golf cart before at a racetrack.  It was hot and humid.  Using the golf kart allowed me to see the fair quickly and efficiently.  Don't miss the photos.  I think you'll really get the sense of "being at the fair".
Before I took my seat in the grandstands, I tried to grab something to eat.  I was surprised they were out of both hamburgers and cheeseburgers before the races even started.  I grabbed a hot dog.  Then I went over to buy a beer.  However, before I could get that Budweiser I had to get a wristband and a "beer ticket".  When I approached the women with the wristbands she said, "Are you that guy"?  I wasn't sure if I was THAT guy or not.  She went on to say she had heard about my visit to the Boone County Raceway before I even got here.  This was getting weird.
Toward the beginning of the program Adolph, the track's announcer told the crowd a celebrity was in our midst.  I immediately looked around.  Was Tom Cruise or Cameron Diaz making a surprise county fair appearance?  Nope.  Adolph was referring to my visit to Albion, Nebraska.  He asked me to stand and give the crowd a wave.
Next up was an interview with the local paper.
Just a few minutes later a gentleman came down to my row and sat down next to me.  He was from the Albion News (http://www.albionnewsonline.com/) Albion, Nebraska's local newspaper.  They publish once a week on Wednesdays.  We spent some time both before and after my "at the track" interview discussing trackchasing for a story to appear in this coming week's news edition.
Editor's note:
Click on this link to see the trackchasing story that appeared in the July 14 edition of the Albion News.
http://www.albionnewsonline.com/category/sports/
We finished up with an "at the track" interview.
Later in the program, Adolph called me down to the front of the nearly packed grandstand for a live interview.  We started off with a bike giveaway for the kids.  That was fun.
Then, using Adolph's remote mike we did an excellent an interview.  Since Adolph was new to "trackchasing" he was smart enough to hand me the microphone and listen to the "trackchasing story".  I love to tell it and I think people who have never heard a thing about the hobby love to hear about it. 
The trackchasing story.
To begin I told the crowd I had come to Nebraska in the hopes of converting some "Big Red" fans (University of Nebraska) into rooting for UCLA.  That comment was met with a round of good-natured boos.  I told the crowd I just wanted to make sure they were listening!
I did mention that tracks just like the Boone County Raceway are my favorites.  They truly are.  I also reminded them that this trackchasing is "tough business".  There are lots of miles to travel, lots of hotels to stay in and lots of early airplanes to catch.  However, I told them what might be the most difficult for me.  I said to the crowd, "How would you like to have to ask your wife 1,566 different times if it was O.K. to go to the races tonight".  This line brought the house down.  I could see the women in the audience jabbing their men friends in the ribs.  Then I could imagine the men saying back to them, "if he can go that much I ought to be able to go once in a while don't ja think". 
As a side note, I almost always ask anyone in the crowd to come down and meet me if they've seen more than 200 tracks.  Occasionally, someone will come down and tonight they did.  Unfortunately, I was tied up in a newspaper interview when a fellow came down to tell me he had seen "300 tracks".  He said he was "a trucker and had been in the military" allowing him to move about the country.  I gave him my business card and asked him to email me.  If he does, and I HOPE he does, I'll get him set up with trackchasing's "unofficial commissioner" who may have returned from a self-imposed exile.  I don't know what's been up over at the world's corporate headquarters in Quakertown, Pennsylvania.  Maybe I'll give a call out that way sometime soon to find out.
Trackchasing was the winner tonight.
Trackchasing, the hobby, scored a "trifecta" tonight.  Trackchasing was covered on the radio, the newspaper and at the track.  I wish I could quantify how many people were exposed to trackchasing for the first time tonight.  The only answer to that question is "as many as possibly could be".  If only we had more trackchasers that were willing to tell the crowds the "trackchasing story".
All in all, it was a great evening.  Dave Warner had mentioned in our earlier phone call that "folks from all over want to meet you".  I was a stranger but that was nice to hear.  I've got Dave and Kristen and Adolph and many others to thank.  So I will simply say "Thank you!"  I had a wonderful time at the Boone County Raceway.
Why Nebraska?
Trackchasing historians may look back on this evening's track selection and decide "he was going for National Geographic Diversity annual points".  Yes, visiting Nebraska would be a new state for me in 2010.  I have now seen racing in 22 different states.  That will likely serve me well when it comes time to count up the 2010 annual NGD points.
However, truth be told, I wasn't searching out a new state for tonight.  It just turned out that the Boone County Raceway was one of my few Sunday night options that was also located near last night's race in central Iowa.
Boone County Raceway normally races on Friday nights.  Tonight was a special "fair" racing program.  It was nice to get a track racing on Sunday night.  However, this meant I also "burned" a regular "Friday night" track.  I am now down to just 32 tracks that race regularly on Fridays.  I would say that in about two years, I will have exhausted nearly every track in the United States and Canada that races on Fridays.  I've already done that with Sundays.  It's going to take a good deal of creativity as well as technology to turn up those racing trips in the future.  Not to worry.  That's one of the best things about trackchasing for me.
They get wild weather back here.
I woke up this morning in Avoca, Iowa.  That's just about 50 miles to the east of Omaha on Interstate 80.  I couldn't get into the Motel 6 at that exit because they were oversold.  The rate for the Motel 6 was $55.  However, I was told the Motel 6 owner also owned the Avoca Motel situated on the opposite side of the freeway.  The AAA rate at the motel was just $38.  It was older but had all new "stuff" including a microwave and refrigerator in the room.  Overall, it was a very good value.
I heard it "storming" all night.  We get about 10 inches of rain each year where I live.  When I go out on the road to trackchase I do my level best to avoid wet weather.  Therefore, I see very little rain in any given year.  When I peeked out my motel room's window this morning the rain puddles were enormous.  This evening's track was a three and a half hour drive to the west.  Had they been affected by this huge storm?  I called Dave Warner, my track contact and he assured me the storm had not dumped enough on them to cancel the program.  They were racing.
Thanks to my associate sponsor, National Rental Car.
I had to decide to continue with the rental car I already had or trade it in for another one.  There were "strategic" reasons to doing this that I won't bore you with now.  I will say this.  The National Rental Car staff at the Omaha airport was more than cooperative.  It is this "cooperation" that keeps a trackchaser like me "out on the trail".
AFTER THE RACE…………..
I left the racetrack at 9 p.m. after all of the racing events were completed.  The carnival was going good but the weather was threatening.  I had about 140 miles to cover on my way back to the Omaha airport.  After stopping for a McDonalds ice cream cone and Wendy's chili (less than 500 calories in total) as well as fueling up my National Rental Car Racing Dodge Charger it was now nearly midnight.
I had a decision to make.  My flight left at 6:19 a.m.  Was there enough time to make getting a hotel a worthwhile idea?  I would have to be at the airport by about 5 a.m. to return the car.  That meant I would be in my room for all of about five hours.
Sleep or nap?
The alternative was to "nap" in the car for a few hours.  I strongly considered that.  There are two drawbacks to sleeping in the car for me.  You might be able to think of more!  At 6'3" sleeping overnight in a car isn't that comfortable.  I also don't like the security of such a plan.  I looked at it this way.  When I'm in the nursing home drawing my last breath, if I still have forty dollars in my bank account I could have afforded a motel tonight.  If I am dead broke in that nursing home, then a motel tonight wasn't such a good idea.  I chose a motel.  I just want you to know the "thought process" that went into this decision.
My wakeup call came at 4:50 a.m. Central time (2:50 a.m. San Clemente time).  That wasn't the worst thing.  However, I will "bitch and moan" when I have to get up at 6:20 a.m. San Clemente time for golf tomorrow!
My flight to Denver from Omaha was "wide open".  However, all of the flights from Denver back to Los Angeles were well overbooked.  I didn't know exactly when or how I would get back home but I knew I would eventually.
The itch is back.
For the past several years I've been traveling about 250,000 miles each year in pursuit of more and more tracks.  I've already covered about 125,000 miles this year.  I have a good deal of travel coming up in the next few weeks.  You see…….I've got that "international itch" again.  The itch needs to be scratched.  Stay tuned.
It pays to be curious.
I didn't get out of my room until 11 a.m. this morning.  There was no real rush, I have plenty of time to get over to Albion, Nebraska for the 6 p.m. race starting time. 
As I was loading up my car in the rain-soaked parking lot I noticed another late riser packing his gear into a brand new diesel powered pick up truck.  He was towing a race trailer.  I was curious so I asked him what he was hauling. 
He was more than eager to show me his load.  The fellow's name was Patrick Phinny.  Patrick hails from Monterrey, California (think Pebble Beach) where he owns and operates the Baja Cantina restaurant.  Patrick had been back to Milwaukee for the weekend showing off his antique racecar.
In his trailer was a beautiful Frank Curtis built Indy 500 car from the "roadster" era.  His car was the famous "Bardahl Special" carrying the number "19".  This car had raced in the 1957 and 1958 Indy 500s with Frank Turner at the wheel.  The car's best finish was 11th.  It was fun meeting Patrick Phinny.  What did I learn from this encounter?  It always pays to be curious.
ONE CANNOT LIVE WELL OR SLEEP WELL IF ONE HAS NOT DINED WELL
Where's the best place to eat?
RLR – Randy Lewis Racing Money Back Guarantee – not today

Surfside Club – Omaha, Nebraska
Restaurant Reviews
http://www.tripadvisor.com/Restaurant_Review-g60885-d402592-Reviews-Surfside_Club-Omaha_Nebraska.html
http://www.tripadvisor.com/Restaurant_Review-g60885-d402592-Reviews-Surfside_Club-Omaha_Nebraska.html
http://www.roadfood.com/Restaurant/Reviews/3476/surfside-club
I find the most unusual places to eat.
My Roadfood.com "insider" membership turned me on to the Surfside Club in Omaha, Nebraska for lunch.  "Garth" my loyal and ardent "GPS buddy" directed me safely to this little eatery that sits beside the Missouri River.
America is a country of choice.  We have more choices than anybody else.  However, at the Surfside Club the choices are limited.  Do you want to eat "inside or outside".  Do you want "fried chicken"  or "fried catfish".
When your choices are really no choices.
I had entertained the idea of asking for a menu.  My server clearly indicated that was not a "choice".  I did see a sign on the wall mentioning "broiled and skinless" chicken breast.  However, I didn't want to be labeled some "California pinky wacko communist" so I chose to eat like the locals.  That means "fried".  I texted a picture of my entrée back home.  Carol immediately responded with "did you have the FRIED green beans".  Don't laugh.  I've had them in the past.
I would probably have to tell you the food was a little "over fried" for my taste.  I went with the "all-white" meat fried chicken choice.  The sides were the highlight of the meal.  First I had "corn fritters".  If you have never had corn fritters think homemade donuts with fresh corn cornels baked in.  I love 'em.  The coleslaw slightly disguised as potato salad was tasty too. 
I grew up eating fried chicken.  However, I probably haven't eaten fried chicken more than a couple of times in the past 5-10 years.  We NEVER have fried chicken at home.  When I was a kid I "cut weeds" for the city for three summers.  Sometimes our "crew" would forego both breakfast and lunch.  We would then go over to the "Beacon Buffet" and eat them "out of house and home" as my mother used to say.
Like many Roadfood.com recommendations they are fun to go too one time.  The Surfside Club falls into that category.  I wouldn't want to eat this food all the time but it's fun to eat it one time.  I guess that's how I got into trackchasing.  I found I like going somewhere for the first time more than going somewhere for the tenth time.
BOONE COUNTY SPEEDWAY – OVAL – ALBION, NEBRASKA
I'm still seeing good racetracks.
I've seen a lot of very good racetracks but I have not seen them all.  Tonight the "Boone County Raceway" must be added to that list of "top 10%" tracks.  When you've seen 1,566 tracks that's saying something.
The Boone County Raceway is a 3/8-mile high-banked dirt oval.  Smallish banked dirt ovals are my favorite.  This track had a most unique fairgrounds covered grandstand.  The seating and roof structure came from Wrigley Field in Chicago!
What a history!
That's right.  Back in 1925 the fair board paid $33,000 to move the structure out to tiny Albion, Nebraska (http://en.wikipedia.org/wiki/Albion,_Nebraska).  The sign at the edge of town says the population is just 1,797 today.  I wonder what it would have been in 1925?
Did you know that at one time the Albion/Boone County area had the highest unsolved murder rate in the country.  Also during the early 20th century the Boone County Fair was rated among the top five in the country.  Yes, those are both unusual and impressive stats.
The covered grandstand did accomplish two things that might not have been an issue when fans watched the Chicago Cubbies play.  First, with the grandstand's roof the noise from the racecars was amplified by a factor of several.  Once I used my ear protection, things returned to normal.  Also, earlier in the evening when it was still hot there was nary a breeze in the stands.  The grandstand roof kept the sun off us but probably stifled any air movement.
Watch out for what you wish for.
The racing was excellent.  Dave Warner had mentioned they were expecting 38 sprint cars.  Because of the threatening weather, only 13 showed up.  I wasn't disappointed in the least.  On a small track 13 sprinters was much better than thirty-eight of them in my opinion.  The second and final class would be the late models.  There were 17-18 of them.  That was perfect too.
These sprint cars each ran two heats for a total of four races.  That was a nice touch given the smaller than expected field.  The late models ran three heats and, of course, each class ran a 25-lap feature.
Great racing and we beat the rain.
The show started with hot laps at just past 6 p.m.  They progressed nicely with the final checkered flag being thrown at 9 p.m.  My iPhone weather radar showed a huge rainstorm coming directly toward Albion.  It was "touch and go" on whether the rain would disrupt things or not.  I wasn't a mile out of the fair when the first raindrops began to fall.  We had dodged the rain!  I have now seen 49 new tracks in 2010 with just one rainout.
The racing was excellent.  There was multi-groove racing although the high side seemed to be the preferred line.  Despite smaller fields there were plenty of cars for this small track.  They use the "cause a caution" and you're out in the heat races.  Overall, I think that is an excellent rule.  I did think they were a little quick with the yellow flag at times.
The speaker system was great as was the announcer, Adolph.  He told the crowd the driver's name and home town.  He also mentioned that rain was coming and told the crowd during a caution period, "when we get two more laps in this race will be official even if it rains".
The sprint car feature was stopped mid-race for a spectacular flip in turn four.  A driver got out of shape and "bicycled" over the guardrail and just missed landing in the bed of a pickup truck.  I'll bet the owner of that truck doesn't park there next week!
Overall, it was an outstanding night of trackchasing in Albion, Nebraska.  Of course, what made it special was the "NIMS" people.  You can't beat 'em.  I'd consider joining them but I couldn't handle the climate.
STATE COMPARISONS
Nebraska
This evening I saw my 29th  track in the Cornhusker state, yes, the Cornhusker state.  That gives me a second place ranking here.  Wisconsin's Ed Esser has the state lead with 32 Nebraska tracks.  I'm keeping the pressure on Ed here.  Allan Brown sits back in third place with 22 Cornhusker tracks.  Some 46 trackchasers have come here to pursue their hobby.  Ten of them have seen at least ten different tracks in the state home to the "Big Red".
I still have 32 tracks remaining to be seen in Nebraska.  However, only two of those race on a regular basis.  Most of the others are country fair figure 8 shows that race just one time each year.
Coming Soon – RLR – Randy Lewis Racing Exclusive Features!
Has a conspiracy been committed in the international tracks "counting world"?
I'll soon be introducing two new promotional ideas to the hobby of trackchasing.  Neither has ever been offered by any trackchaser in the hobby.
Thanks for reading about my trackchasing,
Randy Lewis
World's #1 Trackchaser
Nebraska sayings:  You know you're from Nebraska when your idea of a traffic jam is ten cars waiting to pass a tractor on the highway.
TRAVEL DETAILS

AIRPLANE
Los Angeles, CA, (LAX) – Denver, CO (DEN) – 861 miles
Denver, CO (DEN) – Omaha, NE (OMA) – 470 miles
RENTAL CAR #1
Eppley Airfield – trip begins
Linn, KS – 172 miles
Osceola, IA – 443 miles
Eldora, IA – 567 miles
Albion, NE – 971 miles
Eppley Airfield – 1,103 miles – trip ends
AIRPLANE
Omaha, NE (OMA) – Denver, CO (DEN) – 470 miles
Denver, CO (DEN) – Los Angeles, CA (LAX) – 861 miles
Total Air miles – 2,662 (4 flights)
Total Rental Car miles – 1,103 (1 car)
Total miles traveled on this trip – 3,785 miles
TRACK ADMISSION PRICES:
Linn County Fairgrounds – $8
Clark County Speedway – $7
Hardin County Fairgrounds – $10
Boone County Raceway – Complimentary
Total racetrack admissions for the trip – $25
COMPARISONS
 LIFETIME TRACKCHASER COMPARISONS
There are no trackchasers currently within 200 tracks of my lifetime total. 
1.  Randy Lewis, San Clemente, California – 1,566
2.  Ed Esser, Madison, Wisconsin – 1,307
3.  Guy "The Kid" Smith, Effort, Pennsylvania – 1,291
Official end of the RLR – Randy Lewis Racing Trackchaser Report