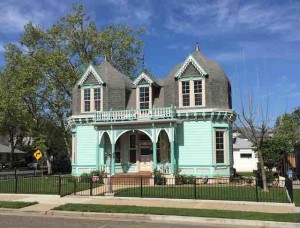 Greetings from Red Bluff, California
From the travels and adventures of the 
"World's #1 Trackchaser"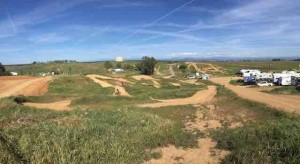 Finger Lake Raceway – Outback track
Lifetime Track #2,067
.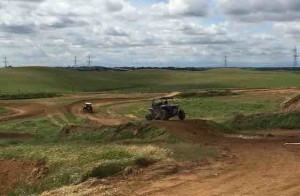 Finger Lake Raceway – MX track
Lifetime Track #2,068
The EventVideosPhotos
THE EVENT
SATURDAY
Red Bluff….home of Al Geiberger.
I woke up this morning in Red Bluff, California after Friday night's racing in Marysville, California. With two days of trackchasing in Red Bluff I would stay over night in the small town again on Saturday night before returning home to San Clemente on Sunday evening. This is how the weekend turned out.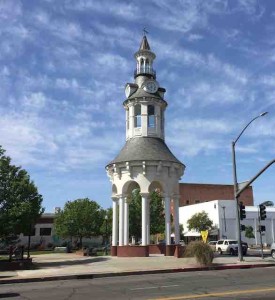 Red Bluff is a town of about 14,000 residents located in Tehama County. Red Bluff is the county seat of Tehama County. Red Bluff can get hot in the summer. They average 100 days each year where the temperature reaches 90 degrees or more. The all-time record high temperature is 121 degrees! The record low is 17. When I was there it was drop dead gorgeous with temps in the lower 70s and a nice breeze.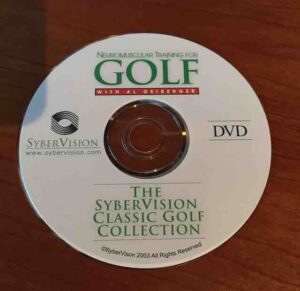 The town is home to the "Red Bluff Round-Up" one of the West's largest rodeos. Their little league team was the runner-up in the 1974 Little League World Series (a past Trackchasing Tourist Attraction of mine). The most notable native of Red Bluff in my opinion was 11-time PGA tour winner Al Geiberger. I constantly watch the Al Geiberger DVD, titled aptly "Golf with Al Geiberger". It's part of the Sybervision Classic Golf Collection. This is the single most valuable golf training aid I have ever used.
Red Bluff was not the original plan.
My original plan was to go to Carlsbad, New Mexico for trackchasing this weekend. However with a very bad rain forecast there I switched to Northern California.
Last night, Friday, I saw some good winged sprint car racing at the little bullring in Marysville, California. After the races I drove up to my inn located right on the Sacramento River in Red Bluff, California.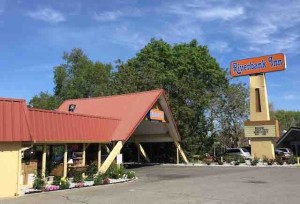 Funky but convenient.
The Riverbank Inn would be perfectly located. It was only 7 miles from Saturday afternoon's racing. Another plus…. it was half the price of competing chain hotels. I must admit the Riverbank Inn was a little on the funky side.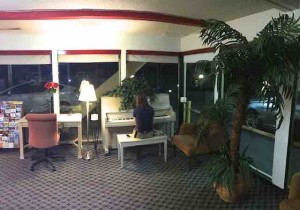 I checked in at midnight. There was a young woman playing the piano in the lobby. That doesn't happen often! After walking around town later in the trip I noticed a fairly strong older "hippie" element. Those folks had to go somewhere after Height-Asbury right?
Nevertheless, my room had a flat screen TV. It was large and came with a microwave oven and refrigerator. All of those things worked well in addition to its location to the Finger Lakes Raceway.
No one should be forced to do this.
My flat screen did not have high-definition broadcasting capabilities. I don't think anyone should ever have to watch a non-HDTV broadcast. There…I've said it. There's no going back.

SORRA…..was new to me.
Prior to about three days ago I have never heard of the Sierra Off-Road Riders Association (SORRA). I had never heard of the Finger Lake Raceway. All of that changed when I got a call from the Randy Lewis Racing research department. They were giddy with their discovery.
It pays to go directly to the top of the food chain.
I had come all the way up to Red Bluff, California to see UTV racing. Earlier in the week I had made a contact with John the fellow who runs SORRA. SORRA is mainly focused on racing ATVs. As you know ATV racing doesn't "count" in the world of trackchasing. I didn't make the rules I just try to follow them.
However, SORRA is attempting to branch out by adding UTV racing. You might recall I was the first trackchaser to bring UTV racing into the hobby. If "imitation is the sincerest form of flattery" then I am most flattered. UTV racing is being reported by trackchasers all over the United States. I wouldn't be surprised if someday I have seen more UTV race tracks than figure 8 tracks!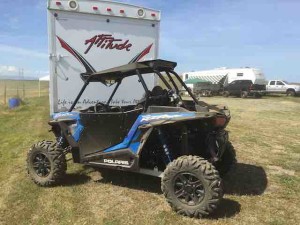 You can use either name.
UTVs are sometimes called "Side by Side" (SXS) racers. The terms are interchangeable. I explained to John the trackchasing rules situation around both ATVs and UTVs. John is a die-hard ATV racer and promoter.
I really hate telling a promoter that his main class is of no interest to the trackchasing rules makers. It's very similar to telling a flat kart promoter that his 50 flat carts don't count for a thing but the two senior champ karts in his pit area do. 
UTVs? Dunno for sure.
Promoter John initially told me he was unsure about how many you UTVs would show up this weekend. I appreciated his honesty. He knew that his buddy who raced a UTV would be there. Later John texted that there would be at least two side-by-side racers at the track. A little later his text told me there would be five. That made me happy! I was headed to Red Bluff.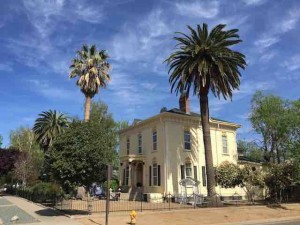 The best way to see things is by walking.
I spent Saturday morning on a 50-minute powerwalk through downtown Red Bluff. I was amazed at the plethora of Victorian homes that had been artfully restored. Please don't miss the photos of my walk. There's a lot of beautiful scenery up here including the Sacramento River. One of the benefits of my reporting that I hope you enjoy is the photos and commentary on interesting things other than the actual racing. I hope you enjoy the racing stuff but there is so much more to the trackchasing hobby than just the racing.
Saturday morning's main event.
The main event of the morning was not racing. It was seeing UCLA play the University of Alabama at Birmingham in the round of 32 NCAA basketball tournament. Lots of people didn't think UCLA should have even been invited to the tournament.
I don't understand that line of thinking at all. UCLA finished fourth in the Pac-12 conference. It's the conference of champions with far more NCAA sports titles than any other conference. During the season UCLA beat the number two and three teams in the conference. They played number five ranked Arizona twice. In each game they led into the second half before losing. How does a team like that not make it to the tournament? All four Pac-12 teams won their opening game and now UCLA, Utah and Arizona have moved into the Sweet 16 with the Bruins victory over the UAB Blazers. Of course UCLA should have been invited into this tournament.

Happy! Happy! Happy!
I must tell you I was one happy camper. UCLA had won their game. I had a lovely powerwalk in beautiful California weather. It was 75° clear and I could see snowcapped mountains in the distance. Additionally I was headed for a two-day trackchasing double at the same facility. Life was good. However, often times, when life is TOO good things can change. One can never get too high or too low.
THE RACING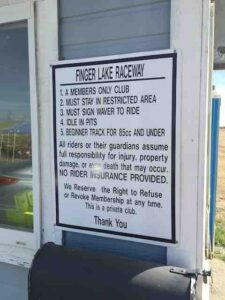 Finger Lake Raceway – Red Bluff, California
ATV and SXS racing is getting more and more popular.
I took the short ride out from the Riverbank Inn to the Finger Lake Raceway. It seems like more and more desert like MX racing facilities are hosting ATVs, motorcycles, and SXS racing.
Today's track was located in a very rural area. Nevertheless I found it easily. I found a place to park and began to explore.
Let's meet the promoter.
My main mission as I walked around was to introduce myself to John, today's promoter. I really appreciated him going out of his way to keep me informed about this weekend's racing.
The first area in the paddock I came across seemed to be exclusively reserved for ATV racers. Today there would be no motorcycle racing. The SORRA group doesn't race motorcycles, only ATVs and now SXSs.
I walked up a steep hill to view the other half of the paddock. There was an ATV race in progress. I introduced myself to the scorers. They were in the midst of scoring the ATV race with about 15 competitors. I asked them where I could find John. They told me he was out on the track. I could see several track workers in different corners and figured he might be one of them.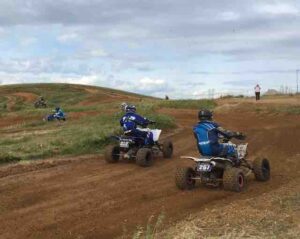 Riders and drivers but not both.
Nope. The scorers told me that John was racing in the current ATV race. He was riding the number 212. By the way competitors are "riders" ON ATVs and drivers IN SXSs. There were still several minutes left in the ATV race so I continued to explore.
I'm a slow learner but something had just dawned on me.
Soon I came across a side-by-side racer. Although I would enjoy the ATV racing it was the SXS racing that had drawn me to today's track. It was at this point that it dawned on me. Until seeing this one single SXS competitor I had not seen any other side-by-side racing machines. I mentioned this fact to a woman sitting in the lawn chair next to the side-by-side racer. She smiled and said, "I think we're the only one here. I don't think we're going to race".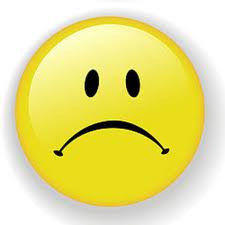 Frowning.
Have you heard the saying that "a smile is simply a frown turned upside down". Yes, I know it works the other way as well. Nevertheless, my smile was now a frown. This was NOT good news.
In a little while John the promoter finished his ATV race. They had been racing on a 2.6-mile dirt road course with all kinds of jumps, creek beds and tabletops. This had to be one of the most demanding courses a ATV rider could encounter.
I was disappointed and the promoter was as well.
I gave John a few minutes to cool off from his race. Then I introduced myself. We were happy to finally meet. However John was disappointed that only one side-by-side racer had shown up today. He told me he was about ready to give up on this class because of lack of interest on the racer's part.
John was disappointed that only one side-by-side racer had come today. He was also disappointed that I had made such a long trip based on his estimate of how many SXS racers had promised to come.
We talked a little longer. I certainly couldn't blame John. Promoters can only do so much. I believed he had been fully honest with me my expecting five side-by-side racers.
I had already gotten some great photos and video footage of the ATV racing. However with no side-by-side race on the agenda today I had to decide if my plans would change.
Now what was the plan?
I would consider heading home tonight. I would have to go back to my hotel, which was already paid for for the evening. I would assess my flight options for getting back to SoCal on this Saturday night. Normally Saturdays are a good day to fly on. However on this day the flights from Sacramento to Los Angeles were overbooked. That didn't look good.
Here I was sitting in my room at the Riverbank Inn. My choices for trackchasing or even racechasing seemed to have dwindled to ZERO. It didn't look like I could make it home tonight. I've been "skunked" a couple of times in the past when no countable trackchasing entries came to the track. I didn't think I could find an open flight. I was resigned to staying overnight in Red Bluff with no racing on the horizon.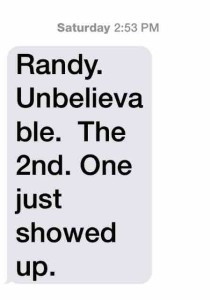 Tech and the promoter to the rescue.
It was about this time that I got a text from John. It read, "Randy, unbelievable. The second one just showed up".
This text was followed immediately by phone call. John was excited to tell me there was going to be a side-by-side race after all.   I told him "I can be there in 20 minutes". He said don't worry it's going to take us a while to change the track a bit. I gathered my trackchasing gear and was out the door in a flash. 
I've never had this experience.
Soon I was back at the Finger Lake Raceway for the second time today. I don't know that I've ever had an experience like this in seeing more than 2,000 tracks across the world.
It was now getting later in the day. The two side-by-side machines lined up in their "feature event" of the day.

So what do the official trackchasing rules have to say about this race?
Do you know what the track chasing rules have to say about races with two competitors? Here is the official wording:
"Any racing event that is limited to less than three simultaneous starters does not count. Examples include (but are not limited to) drag races, hill climbs, mud bogs, monster truck events, solos, rallies, North American style autocross and rallycross, etc."
In a nutshell.
In a nutshell it goes like this. A race can have two competitors but cannot be limited to two competitors. That eliminates drag racing. Of course if another 50 side-by-side racers had shown up today they would be allowed in today's race. This race was not LIMITED to two racers.
As it was only two side-by-side machines came to the Finger Lake Raceway today. One of them came late… very late but he still showed up.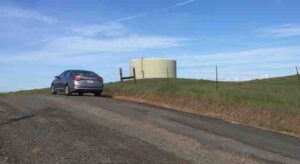 I scampered all over the spectating area of the dirt road course to get you video clips of today's racing action. At one point I even got in my car so you could see the back portion of what is officially called the "Outback" track here. Unfortunately most of these photo positions were facing into a setting sun. Nevertheless, if you view the video you'll get a chance to see what today's two side-by-side racers looked like on the large more than 2 mile up-and-down hill dirt road course.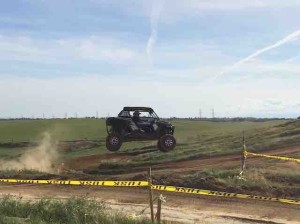 Outback today; MX tomorrow.
Today's race was scheduled for 30 minutes. The plan is for me to come back tomorrow to watch these two side-by-side racers and hopefully more compete on a smaller permanent dirt track at the same facility. It's called the "MX" track. If that comes off as planned I will consider myself a very "lucky duck". 
AFTER THE RACES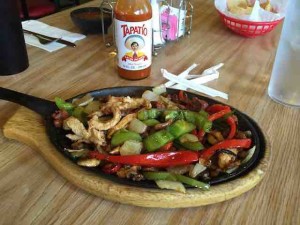 Basketball and good Mexican food.
It wasn't long before I was back to the River Bank Inn. I watched some more NCAA basketball and then went downtown into Red Bluff for a Yelp! recommended Mexican dinner.
The restaurant was named El Mariachi. It had a four-star Yelp! rating from more than 40 reviewers. That was good enough for me. My chicken, chorizo and sausage combo with peppers and mushrooms was absolutely delicious. It was served in a sizzling cast iron skillet. The service was outstanding. Following dinner it was back to the hotel room for more NCAA basketball. I am really looking forward to tomorrow.
SUNDAY
From one close call to another.
My day began in Red Bluff, California. I had been able to stay for two consecutive nights in the Riverbank Inn located along the Sacramento River. It is rare during my trackchasing travels that I get to stay in the same hotel for two straight nights.
Recall that yesterday I had come very close to being shut out of any and all racing at the Finger Lakes Raceway. I had come to see just one countable class, the side-by-side racers (SXS). After being at the track for a couple of hours it looked as if only one side-by-side racer had shown up to race. Dejectedly I left the track and returned to my hotel room. I began preparations for an early departure back to Southern California.
Arisen from the junk pile!
Then all of a sudden I got a test message and a phone call from John the Sierra Off-Road Riders Association promoter. His text read "Randy, unbelievable. The second one just showed up." By "one" he meant a second SXS racer.
Now I wasn't checking out of my hotel room. I wasn't trying to book a Saturday night flight. I was hopping in the National Car Rental Hyundai Racing Sonata and heading back to the Finger Lake Raceway.
A little while later I was watching two side-by-side racers complete their 30-minute race over the "Outback" track at Finger Lake. Track number 2,067 looked like it was not going to happen in Red Bluff, California. However at the last minute it did. I can't recall a situation like this ever occurring in the past.
What about Sunday?
Fast forward to Sunday morning. I began the day with a 30-minute power walk around downtown Red Bluff. I'll get the rest of the walk in later in the day to meet my goal of a minimum of 45 minutes of aerobic exercise.
I'm really impressed with the beautiful restored Victorian homes all over the area. Signs tell me these homes were built in the late 1800s. Considering that California is a newer state those are pretty old homes.
THE RACING
Finger Lake Raceway – Red Bluff, California
It's the MX track today.
When I last left John, the race promoter, yesterday afternoon the plan was for the UTV racers to race on the "MX" track today. The MX track is a permanent dirt road course. Actually the "Outback" track is permanent as well. It just have several "gates" that can be open or shut adjusting the track's overall distance. If you consider the Outback track as the outer track the MX track is about one-half of the Outback track. Make sense?
Everything met the somewhat erratic trackchasing rules.
The "Outback" track was approximately 2.6-miles long. The MX track had to be less than half that distance. Of course the portion of the outback track not being used today had many straightaways and turns that more than exceeded the trackchasing requirement for "different" road course tracks.
Zero. Two. One?
I was amazed by one thing. I was somehow going to come out of this weekend with two tracks when ZERO tracks looked like the plan less than 24 hours ago. However, although I sometimes forget this fact, it is never a good idea to count your chickens before they hatch.
The SORRA sanctioning group is primarily set up for ATV racing. However they're trying to get a side-by-side race group going as well. I showed up at 9:30 a.m. today. I was in time for the first race of the day for the "peewees". Of course this is a race group for kids from aged 5-14 or so. This race was followed by a women's race. Then a few of the men's ATV classes competed. Up to this point all of the races were for ATVs.

Track #2,068 was in the books….no, it wasn't!
Finally at just a little past 11 a.m. the two side-by-side racers, the same ones from yesterday, lined up for their race. Could lifetime trackchasing track # 2,068 be far off?
The answer to that question was "maybe". Earlier in the morning it had started to rain. The rain wasn't heavy. John told me that this group races rain or shine. However, the weather radar showed a lot of "green".
Speaking of green the green flag dropped on the SXS race. The two side-by-side racers accelerated from a dead start at the starting line. Several seconds later they made their way out onto the "Outback" course just like they did yesterday. Whoa!
I was the only person interested in the racing because of trackchasing….no I wasn't.
I was the only trackchaser at the event today. I was the only person interested in trackchasing. I am sure I was the only person that was concerned when the side-by-side racers went off on the same course they used yesterday.
However, apparently, I was not the ONLY person concerned. I walked over to the scoring area to find out what the current commotion was all about.
Whoops!
It turned out the side-by-side racers were not supposed to be using the outback track today. Who said? The owner of the track. I had not met the owner. Apparently the Outback track had not been watered today. The track owner didn't want any racing machines tearing up the "back" part of the Outback track.
There had been a mis-communication between the track owner and the SORRA about the SXS racing scheduled for today. Somehow the owner's wishes were now being registered with the SORRA group. In the space of 30 seconds SORRA was red-flagging the two SXS racers. When they stopped they were told of this error. They would have to re-start from the starting line they had just used. Then when the flag dropped they would complete their 30-minute race around the MX track. This is exactly what they ended up doing.
NOW track #2,068 was in the books….for real.
When the green flag dropped the racers began their event around the "MX" track. What did that mean for me? Track #2,068 was in the record books. I can't ever recall having such "drama" over the occurrence and countability of two tracks with SXS racers or anybody else for that matter.

I don't try to influence the race plan. If that's what they're planning to do and it's not good for me…so be it.
I will tell you this. Guy Smith and his brotherhood are noted for trying to "influence" track promoters in situations similar to this. They have even paid promoters on more than one occasion to run a "special" (wink!) race just for them. Why doesn't anyone but me call him on this?
I would never do that. I will encourage anyone and everyone to run the show they advertised. I would never ask someone to run a show just to benefit my trackchasing. Some of my fellow competitors have fallen a little short on the ethical side of things in the past. Have they ever learned a listen from all of this? I don't know. I will never ask a promoter to run something that wasn't on the schedule to benefit my trackchasing. Never.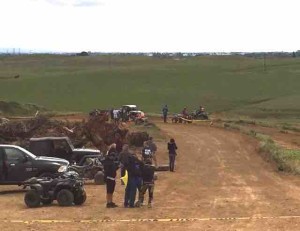 Two SXSs became one SXS racer but not until the middle of the race.
The wear and tear on SXS racers is substantial. These courses are rough with jumps every few yards. As luck would have it today's race leader broke after a couple of laps of racing. This left the driver running in second place to claim the checkered flag.
Dick Trickle said it best.
As the legendary Dick Trickle said more times than I can count, "In order to finished first, first you must finish". Any questions?
When the SXS race was over it was time for me to boogie. I spent a few minutes talking with the side-by-side driver whose machine had broken. He wasn't sure what the problem was but was upbeat about the situation.
Happy!
I was pretty upbeat too. Somehow I had "stolen" two tracks when at first I could have gotten zero. Heck, if the track owner doesn't step in at the last moment this morning I would ended up with just one for the weekend. Getting two tracks definitely makes the weekend much more cost-effective.
AFTER THE RACES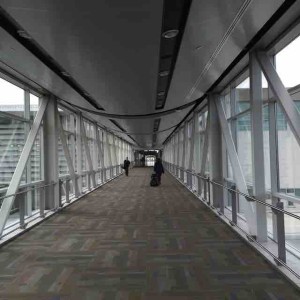 Would I make it home tonight?
I would have a two-hour drive from Red Bluff back to the Sacramento international airport. I would be trying to fly home on Sunday evening from Northern California to Southern California. The routes going to and from Southern and Northern California on a Sunday night are some of the busiest in the nation. The flights were tight. There was no guarantee I would even make it home tonight. You've heard me say that before. I was fortunate to get a flight back to LAX and I was home in San Clemente at a most reasonable hour.
Thanks to John at SORRA for keeping me updated but not changing his program for my benefit.
Special thanks to SORRA promoter John for taking time out of his schedule to text me that the race on Saturday was on. Had he not done that I would have simply gone home without any countable tracks this weekend. All I would have had to show for my efforts would have been credit card receipts.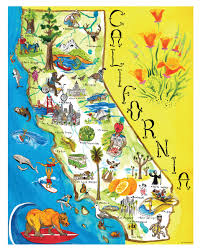 California
The Golden state
This weekend I saw tracks #136 and #137 in the Golden state, yes the Golden state. Gary Jacob leads here with 149.
Thanks for reading about my trackchasing,
Randy Lewis
World's #1 Trackchaser
Peoria Old Timers Racing Club (P.O.R.C.) Hall of Fame Member
California sayings: Let's the waves hit your feet and the sand hit your seat.
QUICK FACTS
AIRPLANE
Los Angeles, CA (LAX) – Sacramento, CA (SMF) – 373 miles
RENTAL CAR #1
Sacramento International Airport – trip begins
Marysville, CA
Red Bluff, CA
Sacramento International Airport – trip ends – 306 miles
AIRPLANE
Sacramento, CA (SMF) – Los Angeles, CA (LAX) –373 miles
Total air miles – 744 (2 flights)
Total rental car miles – 306 (1 car)
Total miles traveled on this trip – 1,050 miles 
TRACK ADMISSION PRICES:
Marysville Raceway Park – $13 senior rate ($4 savings off of regular adult admission – oh my!)
Finger Lake Raceway – No charge
Total racetrack admissions for the trip – Zero
LIFETIME TRACKCHASER COMPARISONS 
The three most important trackchasing comparisons to me are:
Total lifetime tracks seen
Total "trackchasing countries" seen
Lifetime National Geographic Diversity results
Total Lifetime Tracks
There are no trackchasers currently within 450 tracks of my lifetime total. Don't blame me.
Randy Lewis, San Clemente, California – 2,068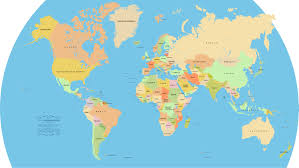 Total Trackchasing Countries
There are no trackchasers currently within 10 countries of my lifetime total.
Randy Lewis, San Clemente, California – 70
Current lifetime National Geographic Diversity results
Randy Lewis, San Clemente, California – 4.88
That's all folks! Official end of the RLR – Randy Lewis Racing Trackchaser Report
The Finger Lake Raceway movie trailer
Today's "full-length" feature film from the Finger Lake Raceway
Click on the link below to see a photo album from this weekend's adventure: 
A great weekend at the Finger Lake Raceway