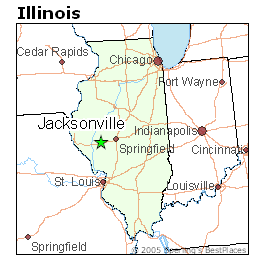 Greetings from Jacksonville, Illinois
.
.
From the travels and adventures of the 
"World's #1 Trackchaser"
.
.
Jacksonville Speedway
Dirt oval
Lifetime Track #348
The EventVideo PlusPhotos
THE EVENT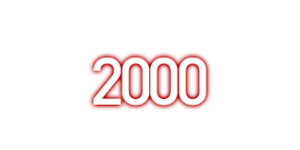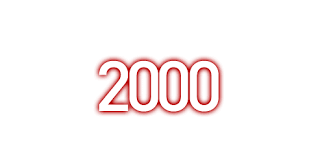 Today's undertaking was just one of more than 2,000 trips that have taken me up, down and around the long and dusty trackchasing trail. If you would like to see where I've been and experience those adventures here's the link:
If you've got a question, comment or whatever please leave it at the bottom of this report.  It's very easy to do.  Or you can visit me on Facebook.  Thanks!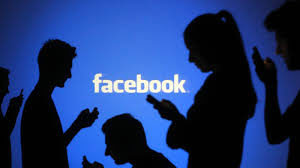 I often see two or more tracks in a single day or in a single weekend. Sometimes when that happens I will combine my observations from multiple tracks into a single Trackchaser Report. That is the case today.
During the afternoon I went trackchasing at the Raceway Bar & Sports Complex in New Berlin, Illinois.  Then that evening I made a re-visit to the Jacksonville Speedway in Jacksonville, Illinois.  I first went to Jacksonville all the way back in 1998.  At the time of my first visit the Jacksonville Speedway was counted as my 348th lifetime track.
ON THE WAY TO THE RACES
SUNDAY
I woke up in Macon, Missouri. I had stayed in the Super 8 Motel there. I used to stay in Super 8s all the time. That was until I started using Priceline. I can get hotels from Priceline.com that are better than Super 8 at a price lower than what Super 8 Motel charges. I don't miss Super 8 motels.
This morning I will be headed over to New Berlin, Illinois. New Berlin is home to the Raceway Bar and Sports Complex. That seems like an unusual name for a short track.
This would not be my first visit to this location. I tried seeing a race here about a month ago on a hot and muggy Sunday afternoon in July. With a very low rain forecast a stray thunderstorm made its way over the cornfields of Illinois. That brief storm washed out the race event before any countable racing took place.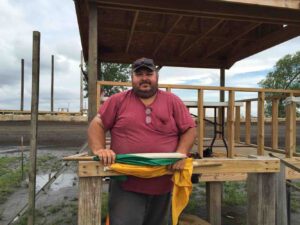 I had a good contact at the track. His name is Tommy Sheppard Sr. Tommy is the owner and promoter of the track. Yes, it pays to go to the top!
It seems as if I've been messaging Tommy every Sunday since I got rained out at his place. His track is located in central America. It seems as if I'm crossing through there quite often, especially on Sundays.
The Raceway Bar & Sports Complex is what is commonly referred to as a "go-kart " track. Most of the competitors there race flat carts. On the day I was rained out there only one adult caged kart and what appeared to be one junior caged kart showed up.
Those two racers had agreed to race together. If they had done that I would have been able to count the track in July. Unfortunately rain dampened that particular idea. Of course all of the above dialog relates to the rules set up by "Trackchasing's Founding Fathers" back in the last century. I won't bore you with those details now.
A couple of days ago I had messaged Tommy. My question was simple. Did he think there would be any caged karts racing this Sunday? He told me there would be. He gave me the OK to come on down.
A little bit later I noticed a message on Facebook that Tommy had submitted. He was telling his drivers that he needed at least two adult caged cards to appear on Sunday! I didn't ask him to do that. He did it on his own. Nevertheless I was most appreciative of the assertive action he was taking.
His message soon generated some interest on Facebook. A sponsor even appeared. That sponsor offered $250 to win if 10 caged karts came to the track. There would be five hundred to win if 15 karts showed up. Those were stratospheric car counts given the fact that the track was getting less than five and sometimes only one or two competitors in this division.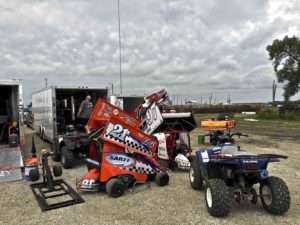 When the sponsorship dollars appeared the interest picked up for this race. Ultimately eight senior caged karts and two junior caged karts came to the track today. I felt as if I had a small part in such a large number of competitors in the winged kart division coming to the track. If they like the experience maybe that will create a permanent interest. I hoped so.
I think Tommy the promoter was amazed at my tenacity. Here was a guy from California asking him nearly every week if the right kind of racers were going to show up to his track in Illinois. I think he liked that.
THE RACING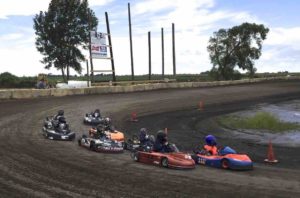 Raceway Bar & Sport Complex – New Berlin, Illinois
At about 1 p.m. I showed up in the "bar" part of the Raceway Bar & Sports Complex. There I plunked down $15 for my pit pass. Now I had full run of the place. I would take advantage of the opportunity over the next three hours.
This is one of the coolest little dirt tracks I've seen anywhere. It is modeled after the famous Eldora Speedway. It's very high banked in the turns. Even the straightaways are banked. You won't see that at very many kart tracks.
My first stop today was to say hello to driver James Rhoades who races out of Panama, Illinois. I had met James and his girlfriend Amber on my last visit. James was the driver who was trying to make the track become "trackchasing countable" before we got rained on. It was nice seeing James again who is now my all-time favorite winged kart driver.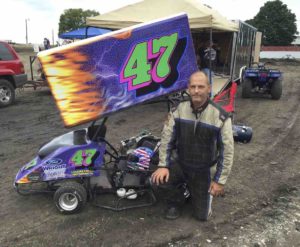 James Rhoades' is part of an interesting story tied to my last visit here. I'll share that story with you. I never ever want any impropriety associated with my participation in the trackchasing hobby unlike some of my fellow competitors at times.
About a month ago I had come to the track. During the course of the afternoon I met a few of the drivers including winged kart racer James Rhoades. On this day it turned out that there was one adult caged kart driver and one "junior" aka not an adult caged kart driver.
I explained to James that I would not be able to count the track in my lifetime totals because only one countable car and driver had shown up. Based upon my explanation of the trackchasing rules James understood that that the "junior" driver had a countable car but was signed up to race in a non-countable (not open to drivers at least 18 years of age) class. The other driver was a "young junior" at seven years of age. James then went to the promoter and asked if he and seven-year-old could race together. Tommy Sheppard Sr. gave that approval pending acceptance of the proposal by the youngster's race team and management.
Some might say that I made that arrangement happen. That is not true. James Rhoades came up with that idea and made it happen.
Here's the funny thing about that story. Now some 4-6 weeks later James and that young seven year old are now routinely racing together. James told me he showing the youngster the ropes. They are normally the only kart in their respective caged divisions. And now you know the rest of the story!
Today's racing would include two heats for each racer and a feature. That's about one set of heats too many if you ask me. There were about 10 classes of competitors at the track today. There might have been as many as fifty karts or a little bit more in the pit area.
Since the last time I was here they have begun construction of an elevated grandstand seating area. That's going to be nice when it's finished. However right now it's not usable at all.
In order to see well, a spectator has to stand along a dirt embankment that is part of the hill used to construct the high-banked racing surface of the track. That's not the most comfortable way to stand for a few hours!
The outer retaining wall around the entire dirt oval is a series of 6-foot long concrete blocks that are 2 1/2 feet square. Spectators can stand just beyond those blocks and watch the racing action within a few feet of where the cars race past.
This is one of those many times when you won't want to miss my video of today's racing. It's pretty spectacular when you can imagine the speed these cars are going. It was amazing at how close they were to my iPhone camera lens.
You will notice I don't take much time to explain what the actual racing was like. I leave that "explanation" up to the Phanfare photo album and YouTube video I provide. They say a picture is worth more than 900 words right?
Following the racing it was time for a good dinner. I hadn't eaten in a sit-down restaurant since I began the trip five days ago.
New Berlin, Illinois the town of only 1,100 people. Nevertheless my iPhone app Yelp! told me that a place called "Capone's Hideout" was an outstanding place to eat. Yes, Al Capone the gangster was big in Illinois! Alas, this place is closed on Sundays.
Jacksonville, Illinois was the biggest nearby town to today's track. I did a Yelp! search and came up with a place called "Little Mexico". What would I do without Yelp!? I was headed to Little Mexico!
There are several reasons to know if you're going to an excellent Mexican restaurant. First, if it's recommended by Yelp! that's a good start. Secondly, if the eatery is showing a soccer game on TV and the broadcaster is describing the action in Spanish you're about ready to have a delicious meal. That was the case today.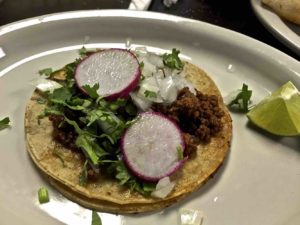 I give a thumbs up for "Little Mexico". I dined on chorizo tacos, a quesadilla Mexicana, some good tortilla chips and very hot salsa that I asked for on a special order basis. I had a fantastic margarita, which was both strong and sour. This was a great place.  It was still only about 5 p.m.
After dinner I had to decide what I was going to do for the evening. Tonight was Sunday night. I didn't need to be over to my next track in Parker, South Dakota until Tuesday evening. That's a lot of downtime.
I entertained the idea of going to minor-league baseball game in Burlington, Iowa. I considered a drive-in movie theater in Springfield, Illinois. I had also thought about going over the Quincy Raceways in Quincy, Illinois for their Sunday night racing program.
THE RACING
Jacksonville Speedway – Jacksonville, Illinois
However, while I was at the Raceway Bar & Sports Complex James Rhodes had mentioned that the Jacksonville raceway in the same town where I'd eaten my Mexican supper was having a special Sunday night race. How lucky was that? That sounded like it might be a good idea. I hadn't been to the Jacksonville Raceway in a very long time. What's a long-time? 1998! Thank you James.
My trip to Jacksonville some 18 years ago was most special. I consider each and every one of my trips to be special. However that 1998 track visit was just a little more special than most others. Let me tell you why.
I was driving down to Jacksonville for a special Thursday night show. My stepfather was driving in from my hometown of East Peoria to meet me there. He would save me a seat.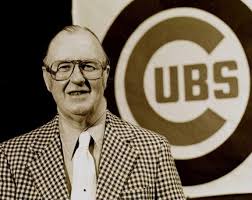 On this particular day long-time Chicago Cubs broadcaster Jack Brickhouse had passed away. During college I had followed the Cubs closely and was a big fan of theirs. I first started going to Cubs games (just once a year) with my grandfather when I was only 6-8 years old. Those were special trips.
WGN radio has broadcast the Cubs games in Chicago for decades. That station's reach can be thousands of miles are certain times of the day. During my entire drive down to Jacksonville from Chicago I listened to all of the stories that surrounded the long career of Jack Brickhouse. I was sad for his passing but the remembrances stick with me to this day.
When I arrived at the track I soon met my stepfather up in the grandstands. He had been talking to some fans next to him visiting from Massachusetts. I would come to find out these folks were John and Joellyn Osowski. They were avid trackchasers and some of the first people to be involved in the hobby.
John and I became good friends. We corresponded via mail (not email in those days) and talked on the phone for a very long time. Sadly, John passed away unexpectedly. The last time I saw John and Joellyn was at a figure 8 track in Vermont back in 2013. It was nice to know that I was John's all-time favorite trackchaser. How do I know that? He told me so! Since John's death we have stayed in touch with Joellyn.
There was another special aspect to that visit to Jacksonville. I had grown up on a street of blue-collar workers in East Peoria, Illinois. That's where I got my interest in auto racing. There were about ten houses on our street. Three of those houses, including our were home to stock car teams! What were the chances? Little did I know at the time but those three racing teams would spawn the World's #1 Trackchaser.
One of my best friends as a child was a fellow named Bobby Allen. Bobby was a year older than me. He lived about 100 yards from my house. Bobby's dad had a "garage" where he worked on cars. The Allen's also started with an old coupe stock car driven by Verlin Boken. No, you can't make up a name like that! The Allen racing team also went with the car #16.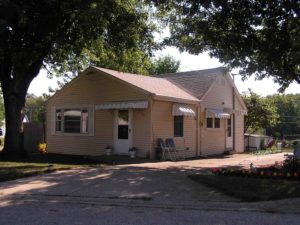 My house, at 411 Doering in East Peoria was small. If you check it out at Zillow.com you will see it measured out at about 660 square feet. My mother, sister and I lived in that house until I was 15 years old. Today my LIVIING ROOM is bigger than that entire house!
Nevertheless, our house had a very long driveway. I started playing competitive league basketball in the second grade. I actually played in two leagues. One league used regulation ten-foot baskets. The other league was the "Biddy" basketball" league. They used baskets that were 8 ½-feet tall. In Peoria the Biddy basketball league was supported by the Salvation Army.
I learned many of my skills from Biddy basketball. In the second grade I was being drilled on dribbling with both hands with my head up, using both hands in layout drills and all the rest. What a great learning experience.
Bobby Allen and I played one on one against each other for hours and hours in my driveway. However, it was not always basketball that brought us to that place.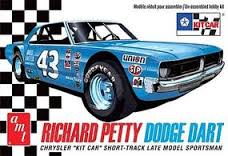 We were both racing fans. Bobby and his family were part of a real race team. I was just a fan. He and I had a joint interest in 1/25th-scale model cars. We liked to build them and race them!
Again we spent hours and hours with a 12-foot wooden ramp racing those cars. The ramp was elevated on one end to a height of about six feet. The wooden ramp had pieces of one by two wood as the "walls" of the ramp.
We started our races with cars lined up three abreast. There were normally 20-30 cars in each race. When the cars were released they would travel down the driveway some 40 feet or so. The car than went the furthest was the winner of the race. That car would have to start last in the next race! We ran race after race until our mothers called us in for dinner. We even kept point standings for the entire endeavor.
Why tell you about Bobby Allen? On my visit to the Jacksonville Speedway Bobby and the "Allen Automotive" race team were in the pit area. By this time Bobby had taken over full responsibility of the team.
There was something that made my 1998 visit to Jacksonville even more special. On that evening the Allen Automotive #16A with Steve Lance Jr. at the wheel won the feature event. I went down in the pits to congratulate Bobby. That was the last time I ever saw him. Sadly he died of a heart attack a few years later.
My stepfather is gone now too. He was a big racing fan. He worked and welded on racecars. Back in the day, a very long time ago, the "Jim Penn Texaco" 1956 Mercury stock car was stored at our place during the winter. The car, painted in blue with the car #218 on the side, was a showpiece in that driveway to me. And now you know the rest of ANOTHER story!
I am commonly asked what my most favorite type of racetrack is. My answer is always the same. It's a quarter mile high-banked dirt oval bullring. I grew up with that and it's still my favorite.
The Jacksonville Speedway fit the bill on several issues tonight. It's a quarter-mile high-banked dirt oval. It was just 4 miles from my Mexican eatery location. Finally they would be racing late models and modified two of my most favorite classes.
However after standing on the side of a dirt hill for three hours at today's kart track I didn't fancy getting to the track tonight at 6 p.m. to sit through a series of delays and meaningless heat races. I stalled.
That's right I dillydallied at dinner and also in the parking lot with my iPhone afterwards. I didn't sit through those heat races.
Shortly after I did arrive at the track they went to intermission. Perfect timing. As soon as intermission wrapped up they went to feature racing. Tonight they had some very good late model, modified and winged sprint car feature racing. I paid $12 for the privilege. I would rather pay $12 to see three good features than $12 to see three good features and an hour and a half of heat races. Sometimes less is more but not so much with money.
I didn't stay for the final two lower-level stock car races. I was going to have a three-hour drive as it turned out to my hotel for the evening.
A pleasant surprise with the modified race was seeing that Kenny Wallace and Kenny Schrader were in the field. Wallace started second and Schrader seventh. I was surprised to see them both fall back just a little bit and finish lower than where they started. Nevertheless, it was fun seeing these two famous drivers compete.
During the sprint car feature I happened to look out toward the pit area. I was surprised, and happy, to see Kenny Schrader's racing rig leaving the track and heading for home over toward St. Louis, Missouri. The famous Federated Stores modified was being transported on an open flatbed racecar hauler!
AFTER THE RACES
I left the speedway and went out into the parking lot. Now I had some decisions to make. It was Sunday night. I didn't have any trackchasing for Monday planned.
I must tell you this. I do not like being out in the road by myself when there are no tracks to visit. I come out on these trips by myself to trackchase. If I wasn't going to be able to trackchase I wouldn't be out here.
This is what I knew. At this very point I was in Jacksonville, Illinois. At 7 p.m. on Tuesday night I needed to be in Parker, South Dakota home of the Turner County Fairgrounds.
The driving time from Jacksonville to Parker was only about nine hours. I could do all of that driving on Tuesday if needed. What was I going to do on Monday and where was I going to stay tonight?
I considered many different options before deciding on attending a Clinton, Iowa minor-league baseball game tomorrow night. Clinton was sort of on the way to South Dakota. The game would provide me some evening entertainment as there was no racing happening on a Monday night.
Then I fired up my Priceline.com app on my iPhone, which is not as conveniently done as with my MacBook Pro. I soon found a hotel in Bettendorf, Iowa. I would be staying at the Ramada in Bettendorf and that would be just fine. How many people go to the races and then AFTER the races begin looking for a hotel room? That's how I do it.
What wasn't exactly fine with that I had to drive a bit more than 150 miles on two-lane rural highways from the Jacksonville up to Bettendorf, Iowa. I am not a big fan of two lane roads. I am not a big fan of two lane roads at night. I am not a big fan of two lane roads at night during the weekend. Any questions?
Good evening from New Berlin, Illinois.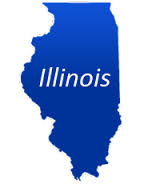 Illinois
The Illini state
This afternoon I saw my 103rd lifetime track in the Illini state, yes the Illini state. I hold the #1 trackchasing spot in Illinois. I've seen 103 or more tracks in 5 separate states.
Thanks for reading about my trackchasing,
Randy Lewis
World's #1 Trackchaser
Peoria Old Timers Racing Club (P.O.R.C.) Hall of Fame Member
Illinois sayings: Land of Lincoln
QUICK FACTS
LIFETIME TRACKCHASER COMPARISONS 
The three most important trackchasing comparisons to me are:
Total lifetime tracks seen
Total "trackchasing countries" seen
Lifetime National Geographic Diversity results
Total Lifetime Tracks
There are no trackchasers currently within 575 tracks of my lifetime total. Don't blame me.
Randy Lewis, San Clemente, California – 2,264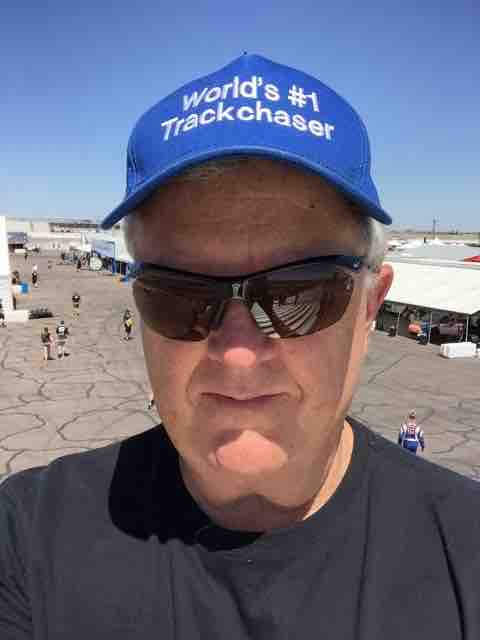 Total Trackchasing Countries
There are no trackchasers currently within 10 countries of my lifetime total.
Randy Lewis, San Clemente, California – 72
Current lifetime National Geographic Diversity results
Randy Lewis, San Clemente, California – 4.47
That's all folks! Official end of the RLR – Randy Lewis Racing Trackchaser Report
Click on the link below to see the video production from the racing action today.
Raceway Bar & Sports Grill
.
.
.
Jacksonville Speedway
Click on the link below for a photo album from today's trackchasing day.  You can view the album slide by slide or click on the "slide show" icon for a self-guided tour of today's trackchasing adventure.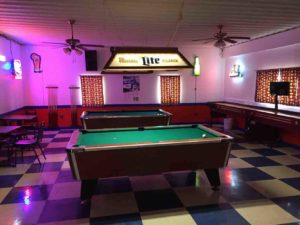 The Raceway Bar & Sports Complex photo album
.
.
.
The Jacksonville Speedway photo album