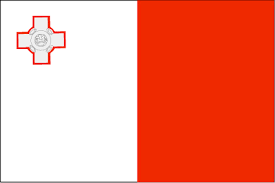 Malta
Trackchasing Country #36
GREETINGS FROM PLACES ON THE WAY TO
MALTA
From the World's #1 Trackchaser
HighlightsPart 1 - Prep - TouringPart 2 - Racing - More touringMalta - Trackchasing Country #36Malta...Fast FactsVideoPhotos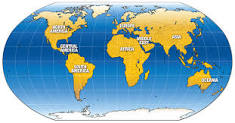 I am an international trackchaser.  My trackchasing hobby has taken me to well over 70 countries.  With all of that travel I have seen and done just about everything….but not EVERYTHING.  That's why I'll keep traveling for as long as I can.  There is always one more thing to see and one more thing to do.
I hope you enjoy taking a brief tour of Malta, my 36th trackchasing country.  Carol and I visited this island country in 2010.  I've had some fantastic international trackchasing visits.  However, NONE can top the hospitality shown to us in Malta.  As you read through this report you will see exactly what I am talking about.  If you get the chance visit Malta!
DAYS 1-3 – "WE'RE OFF TO THE ISLANDS….THE MALTESE ISLANDS" TRACKCHASING TOUR
.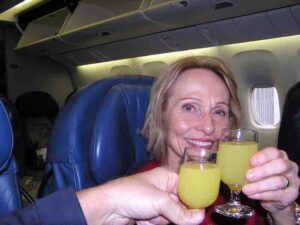 GREETINGS FROM TA' QALI, MALTA
I often say, "There is no trip without the track, but the track does not make the trip". No truer words could be spoken regarding this adventure. Carol and I would be gone from our cozy little home for seven days and six nights. We would travel more than 15,000 miles round-trip to get to our destination. We would be at the racetrack for about four hours!! Don't worry. It's what we do.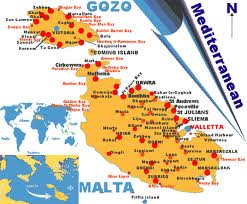 Also, please don't miss some "background" information on Malta, the country. It appears at the bottom of this report. I have tried to condense this section so you can get a good "feel" for beautiful little Malta, an island country.
TODAY'S HEADLINES
You might be amazed at the pre-planning that goes into one of these trips.…………..details in "Advance Preparation".
Without GPS this adventure would be a bit more challenging……………….more in "The Trip".
Don't miss the chance to learn more about Malta…………..details in "Malta – Fast Facts".
DON'T MISS THE PICTURES! 
If you would like to see photos from this trackchasing adventure just click on the photos tab within this report.  There's a lot to see.  Often the pictures tell a different story than the words.
ADVANCE PREPARATION AND THEN….THE OBJECTIVE, THE TRIP……AND A WHOLE LOT MORE
Advance Preparation
You might be surprised at the amount of "Advance Preparation" that goes into one of these trips. Several "items" need to be checked off. First and most important to getting the trip started was to confirm there would be a race. Once that's done there's the transportation, hotel, rental car and …….of course, the "companion selection" process. When this was finished it would be time to "get out of the house and head on down the road".
Editor's note: You might wonder why I take the time to provide so many details about the logistical and economic portion of the trip. It's simple. I hope that when people read one of my reports they can see themselves making an adventure like this. I'll explain how I organize things as well as what it takes money-wise to make it happen. Then maybe that "spark" will come to a reader…..and before they know it they will be touching down in a Malta or an Iceland or an Australia or somewhere far from their home…..and somewhere far from their comfort zone.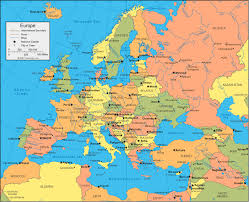 THE RACE
We would not be making this trip unless there was a race. Heck, we would not be making this international trip if I had already seen racing in this country. However, I had never been to Malta. Until I started my research, I didn't even know where Malta was!  You'll have to squint to see Malta on the European map above.  It's directly south of Italy and not very far from the African continent.  
However, this geographical deficit is being corrected as we speak. Click on this link to see how our grandchildren are being trained so that they can one-day follow the footsteps of their trackchasing grandparents. Remember, the twins are only 20 months old.  Mitch teaches us all about geography.  Here's the link:
From a 20 month old….I couldn't believe it!
My first agenda item was to confirm the race dates in Malta. I was lucky in three ways. First, up until 1964 Malta was a British Colony. That meant they speak English. Secondly, the track has an excellent website and it's in English (http://asmalta.tripod.com/). Finally, I needed an "on the ground" contact who spoke English. This would turn out to be the "perfect storm" for beginning this international trackchasing "pre-plan".
The track's website lists their 2009-2010 racing schedule. They have 12 races from October through May of each year. They also have a "summer series" where they race once a month (June-August) at night. I almost tried coming to a race in Malta two months ago in December. However, the rain forecast made me postpone the trip at the very last minute.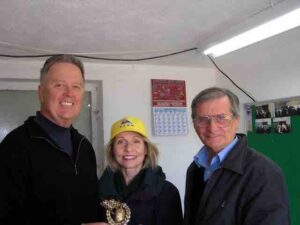 My best trips are when I can make advance contact with someone connected to the racetrack in the country I plan to visit. That contact in Malta would turn out to be Mr. Frans Deguara. Frans and I began exchanging emails in mid-December and continued until just before Carol and I left for the trip. Without Frans (to be described in more detail later), this would not have been anywhere close to as successful as it was.
THE TRANSPORTATION
Transportation was the biggest "wildcard" of this trip along with the weather in Malta during the winter. I planned our airplane trip backwards. That's right….backwards. None of my "airline partners" flies into Malta. That meant that we would have to buy non-refundable (to get the best price) tickets from Malta to "somewhere". Then I would use our airline partnerships to get us from Los Angeles to that "somewhere".
I don't know how people did this before the internet. I really don't. A little searching told me that "Air Malta" flies to several locations in Europe from their airport in Luga, Malta (MLA). I discovered that the cheapest round-trip tickets from Malta to "somewhere" in Europe would be from Rome, Italy. That solved one piece of this puzzle. I bought the non-refundable Air Malta tickets from Luga to Rome. Now I had to figure out how to get from Los Angeles to Rome!
My primary airline partners fly from three cities in the U.S. to Rome. Those would be New York, Washington, D.C. and Atlanta. When I bought my Air Malta non-refundable tickets I had no idea if there would be "standby availability" from Los Angeles to any of these three U.S. cities and then from one of those U.S. cities to Rome, Italy. Yes, my Air Malta airfare money was "at risk".
Three weeks ahead of this trip "space" looked very good. However, there was one item that I had not expected to be a problem. I'm talking about East coast winter weather. Living in Southern California I get a little jaded by our good weather. We would be leaving LAX on Friday morning, February 5.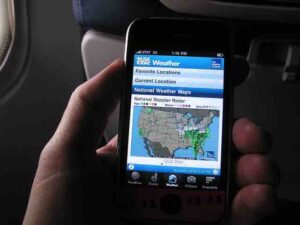 Wouldn't you know it? One of the biggest snowstorms of the century hit the mid-Atlantic region on February 5. This snowstorm was so severe that all flights into Washington D.C., Baltimore and Philadelphia were called the DAY BEFORE the snowstorm!! That knocked Washington D.C. out of the connecting to Rome picture. It also put New York in jeopardy because the storm was predicted to head that way too. Our only choice left….was Atlanta, Georgia.
All bets are off when bad weather hits the airline business when you're flying standby. The bad weather can "help" because passengers who might have been on the plane I wanted never made it from their connecting cities. On the other hand, when passengers get rerouted by bad weather, they can be put on the plane I want at the last minute destroying what looked like a "wide open" flight.
However, the travel Gods were on our side this time. We flew in coach class from Los Angeles to Atlanta. However, in Atlanta we were upgraded to business class from Atlanta to Rome and then again from Rome to Atlanta on the return trip. Folks, business class can be a tad on the expensive side. If you had to buy a round-trip business class ticket from Atlanta to Rome at the last minute, according to www.sidestep.com, that fare would be $9,194!! That's right if Carol and I were purchasing these tickets we would have paid more than $18,000 for the ride. This doesn't even include the round-trip transportation from Los Angeles to Atlanta or the Air Malta tickets from Rome to Malta.
As you know, Carol and I are retired pensioners living on a small fixed income….or something like that. We don't have the big trackchasing budgets of those "Dreaded East Coast Trackchasers". Fortunately, we did not have to pay the "going rate".
There was one other important aspect of our transportation plan. If we missed any one of our three flights that would take us from Los Angeles to Luga, Malta we would miss the race. That's right. If any one of our flights was delayed, there was no rescue plan in sight. I don't like to do it that way but we had no choice, given other logistical commitments (described later).
OVERNIGHT ACCOMMODATIONS
I mentioned we would be gone six nights for a four-hour race. Here is how that came to pass. Lodging can be expensive, especially in Europe. In the U.S., a Motel 6 can be had for $30-40 per night. In Europe, it wouldn't be that unusual to pay twice this amount for inferior accommodations.
We were committed to a UCLA basketball game on Thursday, February 4, the night before we would begin flying. Our first flight for this trip would be leaving Friday morning at 6 a.m. That meant that by the time we arrived at our LAX hotel on Thursday night until the time we left for our early Friday morning flight the best we could get would be 3-4 hours sleep. Our next "night" would be spent sleeping in those huge business class seats all the way to Europe. Business class beats coach by a huge margin but a Marriott bed beats business class seat by a similar margin!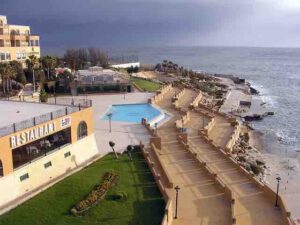 When I travel with Carol, I try to get the most upscale hotels I can. She deserves it. Again, internet searching turned up a fine value at the Corinthia Marina hotel in St. Julian's, Malta. Our room overlooked both St. George's Bay and the Mediterranean Sea. You can't beat that even if the booking was non-refundable and our money would be lost if just one of our flights was delayed. We would be in Malta for three nights. Our final and sixth night of the trip would be at a nearby hotel to the Rome Fiumicino Airport. We would arrive at this hotel at 8 p.m. and be leaving at 7 a.m. the next morning.
Overall, the price of our lodging was more than reasonable. Priceline.com allowed us to spend the night at a Crown Plaza hotel for less that the LAX Motel 6 charges. I used Skoosh.com (Malta) and booking.com (Rome) for our European hotel arrangements.
THE RENTAL CAR
Rental cars can be very expensive. I am currently researching a trip to my 37th trackchasing country and the cheapest car I can find is $97 U.S. per day. However, in Malta cars are very inexpensive. I reserved the smallest car possible from Hertz using www.sidestep.com. I figured they might upgrade me a little (they did) without raising the price (they didn't).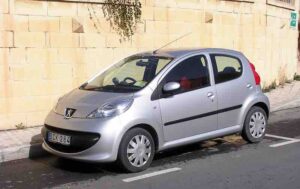 Our little French made Peugeot had four doors, a stick shift and enough power to get the job done. I really enjoy having a stick shift transmission on these trips. However, with the roads and traffic in Malta I never did get the car in fifth gear!
NAVIGATION
"Tonto" my loyal and ardent GPS friend works well in Europe or most of Europe anyway. I used Google Earth to get the Longitude and Latitude coordinates for three places in Malta, the airport, the hotel and the racetrack. I checked with Garmin (www.garmin.com) to confirm there was GPS mapping for Malta. There was…..or so I thought.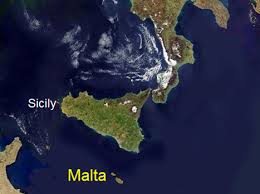 However, my lack of European geographical knowledge put me behind the eight ball here. All along I was thinking that Malta was an island country just below Italy. This made me mistake Sicily (also an island below the main body of Italy) for Malta. I have GPS mapping for Sicily but not Malta!! That was troubling news when this was discovered just after picking up our rental car. Nevertheless, the show must go on and it did. However, it just took us longer (sometimes a lot longer) to go from point A to Point B.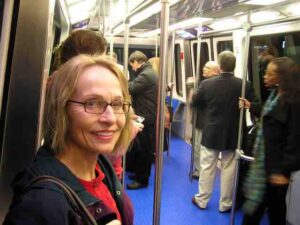 THE TRAVELING COMPANION
It's always fun to have a "traveling companion" on trips like this. "Trackchasing's First Mother", some know her as my wife Carol, is the preferred option. However, just four days before we were scheduled to depart from Malta Carol had been away from home for seven consecutive nights on our Mexican Riviera cruise. It took some of my best "persuasive selling" skills to have her in the seat next to me but she was. I was glad for that.
THE SUMMARY
I had it all now…..a race, an airplane, a hotel, a rental car….and a traveling companion. Now we would just put it all together and have fun. Remember, that's the overriding objective of EVERY trip….to have fun.
The Objective

Trackchasing country #36 was not far off.
The objective of this trip was to see my 36th trackchasing country. Carol would be seeing her 20th. Only one other trackchaser had ever seen racing in Malta. Who was that? Trackchasing's commissioner, Will White. Will came to Malta all the way back in 2002. I used his always good trip summary to get ideas for our trip.
Carol vs. Will White
By the way, did you know that Carol and Will have a special "Race to 30" international trackchasing contest going on. Yes, this was initiated by Mr. White and the challenge was accepted by "Trackchasing's First Mother". Right now Will has seen racing in 23 countries three more than Carol. However, there is still a good deal of international water to be cleared before a winner in this contest can be decided.
The Trip
This would be a long journey.
We would end up flying more than 15,000 miles to make this trip happen. It's what we do. We would be gone from home for seven days and six nights. We would be at the racetrack for four hours. Does this tell you that to me trackchasing is much more about the adventure than the track?
Day 1 – Thursday.
We had to work around a UCLA bball game.
We were committed to a UCLA basketball game on Thursday evening beginning at 7:30 p.m. in Los Angeles. The legendary Pauley Pavilion is some 60-70 miles north of our home in sometimes heavy LA traffic. We would use this opportunity to first visit the grandkids in Pasadena before going to the game.
Babies grow a lot in just 20 months.
I can't believe that at 20 months old what these kids have already learned. Mitchell spent the first two weeks of his life in the Neonatal Intensive Care Unit (NICU) because he and his sister were born five weeks premature. Now he is a full-sized boy for his age and knows his numbers and letters! Astrid aka Asti knows (see above YouTube link) where most of the countries of the world are located. Maybe she could have helped me figure out that Malta was not Sicily!
Following lots of kisses and hugs with the grandchildren it was off to the basketball game. UCLA is usually a powerhouse but not this year. They struggle primarily with a lack of talent. However, tonight they bested Stanford University 77-73. At this point UCLA is in a tie for the Pac-9 aka Pac-10 conference lead.
Following the basketball game, we headed over to the Los Angeles International Airport Area (LAX). It was easier to stay the night near the airport that to drive back home and then get up even earlier to go to LAX.
Trackchasing sponsorship is key.
I am fortunate to have many trackchasing sponsors. One of those supports is the "Los Angeles World Airport" parking group. They have offered me a special deal. For just $50 per month I can park in their garage as much as I want. Most airport parking averages $12-16 per night. So, after just four nights of parking each month the rest of my airport parking is free!! Last year I traveled overnight some 167 nights. That's an average of 14 nights per month. That means that about 10 days of parking at the airport didn't cost me a thing. It's little "deals" like this that can keep my small trackchasing operation going.
Day 2 – Friday.
Trackchasers don't get much sleep.
Our wakeup call came at 3:50 a.m. for our 6 a.m. flight departure. We had some "airplane decisions" to make. Connecting from Los Angeles to Rome via Washington, D.C. was out. All flights into D.C. were canceled from the snowstorm. That left New York or Atlanta. The snowstorm was threatening to affect New York as well so we headed south to Atlanta. Their forecast called for a 100% chance of rain….but that was better than snow. I was worried the rain might cause a delay for getting into Atlanta. If that happened we would miss our connection to Rome. However, the flight departed on time and even arrived in Atlanta early.
We don't check luggage either.
One of the drawbacks to standby flying (there really aren't that many) is we get on the plane after everyone else has boarded. We don't check luggage "through to our final destination" because we never know for sure we're going to make it to our "final destination".
For this morning's flight we were the last to board. At that point, all of the overhead storage space was full. We were going to be required to check our "carryon" luggage. We were now faced with more "trackchasing strategy". Should we check our bags to Atlanta or to Rome? This was not an easy decision.
If we checked our bags to Atlanta we would have to leave airport security in Atlanta to claim our bags and then take the time to clear security to get back into the terminal at the Atlanta airport. If our flight was delayed into Atlanta (with their rainy weather) we might not have time to both retrieve our checked bags and make the flight to Rome.
However, if we checked our bags to Rome another problem would exist. If we didn't get on the flight to Rome we would be without anything except the "clothes on our back". With that in mind, I grabbed what I could and stuffed it into the sleeves of my jacket. What would you have done? We chose to send our bags only to Atlanta. The flight was on time. When we landed in the Peach City, we left the secure part of the airport to get our bags and reentered security with plenty of time to spare. No, this is not a hobby for the "faint-hearted".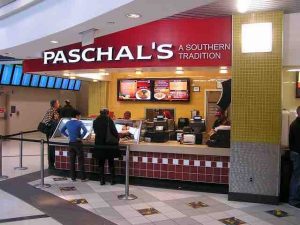 There's fun things to eat at ATL.
There are few places in our nation's airports that can rate a RANLAY Racing Restaurant Recommendation. However, Atlanta's Pascal's, a southern tradition eatery does. The restaurant is located outside of airport security. They serve "Southern" food. We shared meatloaf, cornbread and peach cobbler among the fixins' offered. It was delicious although one meal with one dessert and two drinks did cost us $16.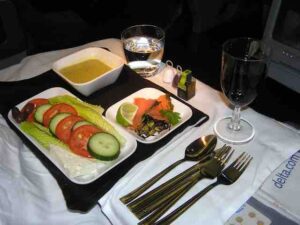 Business class to Europe is the way to go.
I don't know how often you fly. I don't know how often you fly long distances as we did today to Europe. However, if you can get business class or first class do it. If you get a good deal on the price it's more than worth it.
What's the difference between first class and business class? Often there is no difference. I think airlines renamed some of their service "business class" because major corporations get bad feedback from the public and/or their shareholders if they are seen as "wasting" money flying their key executives in first class. Today's plane had only coach and business class.
Carol and I had two of those business class seats for our 9-hour flight. In three words, "Business class rocks!" We started off our journey before we even left the ground drinking mimosas (orange juice and Champaign). Once airborne, the flight attendants showered us with service including steaming hot towels to wipe off the worry of the trip. This was followed by unlimited alcoholic drinks (no charge of course) and a bowl of hot nuts.
The business class seats are extra wide and recline to nearly a parallel position to the ground. Each seat has its own personal video screen and electrical outlet. The row in front of our seats was some 5-6 feet ahead allowing al the leg room needed. We were served a gourmet dinner and then breakfast before landing. Yes, business class rocks!
Day 3 – Saturday.
We would stop for a few hours in Rome first.
We landed in Rome, Italy at 6 a.m. local time on Saturday. That's right. We left Los Angeles at 6 a.m. on Friday and arrived in Rome a full 24 hours later (time zone wise) on Saturday morning. Rome and Malta are both nine hours ahead of California's Pacific Time Zone. That meant 6 a.m. in Rome was 9 p.m. Friday night in San Clemente. I tried not to think about it.
It was raining heavily in Rome when we landed. The Rome Fiumicino Airport is not the most modern airport in the world. Not much of Europe is very modern. On the one hand that is part of the region's charm and on the other hand…..it isn't. We would have a 5.5 hour layover in Rome before heading to Malta. As "connecting passengers" we did not have to clear customs upon our arrival in Italy. We simply rode a shuttle to the connecting terminal for our upcoming Air Malta flight.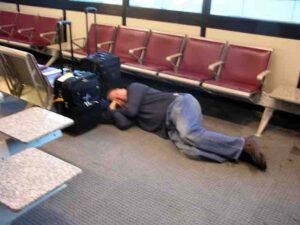 The airport chairs were old and apparently designed by some masochist that was again anyone relaxing in the airport. They were constructed to prevent anyone from sleeping on more than one chair. I tried the floor but the threadbare carpeting made that uncomfortable.
We did our best to while away the five and one-half hours of waiting while our bodily clocks were screaming "If you were in California now you would just be getting ready for bed now". We did sample the pizza at one of the airport's restaurants. If you're in Italy you must try the pizza so you can compare it to your special pizza joint back home. The airport pizza was good.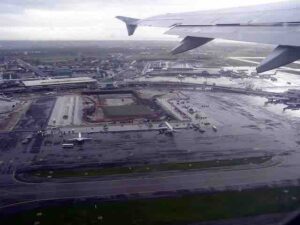 Finally, we were off to Malta.
At just before 12 noon we boarded our Air Malta airline flight from Rome to Luga, Malta. This flight would cover just 427 miles. It was raining when we left Rome.  We have already flown more than 7,000 miles from Los Angeles to Rome. The service on Air Malta was good. They didn't charge extra for things like soft drinks like those economy airlines do. They even provided us a free snack on the one hour flight that included a sandwich, drink and small dessert. I was impressed with Air Malta and their fares were more than reasonable. They have just 12 airplanes in their fleet (all Air Bus 319s and 320s) and operate about 150 flights per week.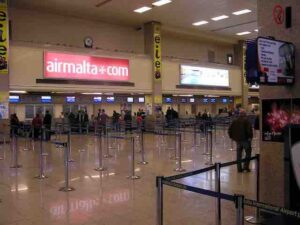 Malta! We made it!
We landed in Malta at 1 p.m. We would be leaving Malta three days later at 5 p.m. That meant that good "trackchasing strategy" would have us waiting until about 3 p.m. to pick up our rental car today. If we had picked it up any earlier and didn't return it by the same time on Tuesday we would be charged an extra day for only an hour or two of usage. By the way, I always pay for foreign rental cars with my MasterCard credit card. This card provides for automobile insurance for the rental car at no extra charge.
Apparently, we snuck into the country.
There was one most unusual item about our arrival into the Malta airport. We had not cleared customs in Rome because we were "connecting" passengers. When we landed in Malta we had no checked baggage. We simply walked through the door marked "nothing to declare" and were out amongst the public. We had not cleared customs at any point upon our arrival into Europe.
I have probably made some 50 international trips beyond North America. I can NEVER remember not clearing customs to get into a foreign country. That also meant that we didn't get our passport stamped. I LIVE for getting my passport stamped! I only hoped we would not face some international espionage charge upon our exit from Malta.
The Malta International Airport was small but modern. Outside it was cool and blustery. Inside the airport offered a nice store (that means lots of postcards for Carol and her postcard group) as well as a group of restaurants on the ground level. Two of the three airport restaurants were a KFC and Burger King. I didn't come more than 7,000 miles to eat in no "stinkin' Burger King".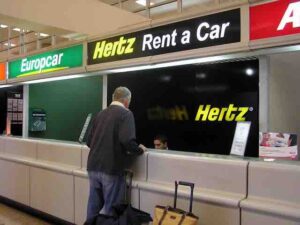 We had a surprise in our rental car.
Soon it was time to pick up our Hertz Rental Car. I had reserved the smallest car available to get the best price. I think they upgraded us by one class. Our little Peugeot was just that "little". That was O.K. The narrow streets of Malta would not be friendly to something like the "Carol Lewis owned and Life of Virginia sponsored Lexus LS 430".
The first item on the agenda was to hook up "Tonto" our loyal and ardent GPS companion. We were in for a surprise. Tonto recognized the "coordinates" for our hotel and the racetrack but it didn't have any Malta "road maps". Essentially, that meant we would not have the benefit of GPS on this trip. Ouch!! No, I really mean it. Ouch!!
Our hotel was about ten miles from the airport. The racetrack was about ten miles from both our hotel and the airport. Yes, this was a perfectly sided triangle. Yes it was a "perfect" triangle.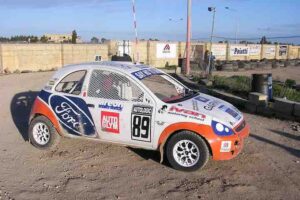 Our first stop in Malta would be the racetrack.
It was 3 p.m. and still light out. Frans Deguara hereinafter referred to as "Frans" had mentioned they would be practicing at the track this afternoon. We decided to go out to the racetrack to see what we could see. We would find our hotel later.
I knew that the Ta' Qali racetrack was near the National Stadium is a less than populated area of Malta. Finding the general race track area wasn't that difficult. With the island being fairly flat we could see the huge light poles of the stadium from several miles away. However, it did take some doing to find the racetrack even though it was within a 3-wood of the National football stadium.
The Malta airport had offered free internet service. Because my Apple iPhone is such a powerful tool I didn't even bring my laptop with me on this trip. I had downloaded all of my emails upon arrival in Malta. One of those emails included a message from Frans including his photo. That was helpful.
We pulled into the racetrack at just past 4 p.m. Practice had already concluded. There were a few racecars still at the track. We walked in and the first person I recognized was Frans! We had emailed each other so often I felt as if I already knew him. Carol and I would get to know Frans much better over the next three days.
The weather was cold with the temperature dropping to just over 50 degrees Fahrenheit in the late afternoon. That was cold but the wind that blew at 20-30 M.P.H. made it feel downright uncomfortable. We spent just a few minutes talking with Frans before we decided to find our hotel and get something to eat.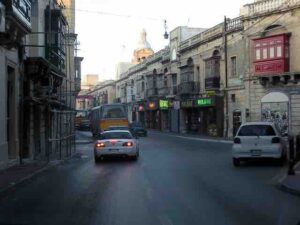 Without GPS we were lost!
Finding our hotel as daylight turned to darkness was one of the more difficult things I've done logistically in a long time. We had the map the Hertz Rental Car agent had given us and that was about it. The streets and roads were narrow and winding. Virtually none of the streets was marked. Pedestrians continued to dart out at the last minute in front of us like they would in a Play Station video game. We used the Mediterranean Sea as a directional guide. "Tonto" tried to help too by at least telling us what direction we were headed.
We were easily lost for more than one hour. I couldn't do much navigating because I had a steering wheel in one hand, the manual transmission gear shift in another hand and a camera in my other hand (yes, I KNOW that is three hands but I just wanted to see if you were paying attention!).
Carol was trying to help out with the navigation. One of my favorite books is titled "If you don't know where you're going you might end up there". We knew where we were going we just didn't know where we WERE very often. I've found that the easiest way to know how to get somewhere is to begin with knowing where you're at.
I couldn't take it anymore.
After driving around for a very long time and not getting any closer to our hotel, I had to pee. Much of my trackchasing travel in the U.S. is in less populated areas. I am also a golfer. If you can add "2 plus 2" you know what that means when it comes time for a "comfort stop". If you don't know what that means, email me and I will explain it to you.
However, most everywhere in Malta is reasonably populated. There were no "open spaces" to relieve the pressure….so to speak. Finally, I sharply pulled the Peugeot over to a parking spot in the middle of a busy Malta town. Surely there would be a comfort station nearby.
This wasn't your mother's toilet.
The best we could do was approach a local Chinese restaurant. If we were going to use their toilets, we would have to have dinner there. It would be the polite thing to do. We walked into the place and asked to use the restroom first. I was given a key and because I seemed to be more "in need" than Carol I went first. The first thing I noticed was that the toilet did not have a toilet seat. For what I needed to get done, this was a problem. However, I assessed the situation and "went for it". Sometimes you just gotta do what you gotta do!
I had suspected that the restaurant owner had given me the restroom key to the men's bathroom. When I went to return the key, I noticed the other bathroom (presumably the women's) was not in use. I told Carol to use the open bathroom. Then when I returned the key, the proprietor told me he had given me the key to the women's bathroom because the men's wasn't well kept. I looked down the hallway. It was too late! Carol was now using the MEN'S bathroom. Ouch! I would later learn that her bathroom didn't have a toilet seat either!
If you can imagine a tavern in a small town in the U.S. you might now what the "New Life Restaurant" was all about. Unfortunately, when I had parked the car I didn't think we would be here long. Therefore, I didn't take my camera. That was a mistake.
This would be our first meal in Malta.
The "restaurant" had about five small tables. Thinking we had entered the Chinese restaurant I asked if they served fried rice. It turned out the Chinese restaurant was NEXT DOOR to the New Life Restaurant. We had already used their restrooms. We couldn't leave without eating. What did the New Life location serve?
They mentioned they could make us some spaghetti. I don't know how many times they have served spaghetti but I doubt it has been many. During the hour we were in the restaurant no other meals were served. The restaurant's TV was playing a football (soccer) match that seemed to be of interest to several customers who were only drinking. Despite the large sign on the wall that read "No Smoking" everyone (except us) seemed to have a beer in one hand and a cigarette in the other. There was also lots of loud talking in the local language of Maltese. For some reason, when folks here speak in Maltese they seem to speak louder than when they speak English. At times it almost seemed like the conversation was about ready to lead to a major brawl.
Bon appétit!
Finally, we were served our spaghetti. It wasn't bad. Carol had a Cisk (pronounced Chesk) beer to go along with her meal. Cisk is a beer produced in Malta. I had some later in the trip and it was very good.
We asked the restaurant owner for some directions to our hotel. He had a different and better plan for finding the Corinthia Marina Hotel. The Malta roads did include directional signs pointing travelers toward one town or the other. The proprietor wrote down the names of about six towns. We would need to travel from point A to point B to point C etc. until we reached St. Julian's where our hotel was located.
Even this was not easy given all of the roundabouts, poor signage and forks in the road where we had to make a "wild guess" as to which way to go. We left the racetrack at just past 4 p.m. The track was only ten miles from our hotel. We had stopped for dinner for a little less than an hour. We didn't arrive to our hotel until nearly 8 p.m. That's how lost we had been!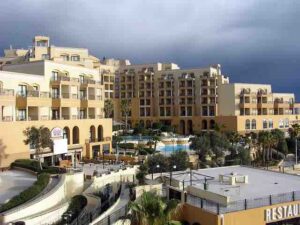 Our Malta accommodations were very good.
We were pleasantly surprised by our hotel. I had seen rates for this hotel ranging from $70-180 U.S. Breakfast in Europe can be expensive. It is not that unusual for breakfast to cost $15-25 U.S. When we secured our sea view room for just $70 U.S. per night including a full hot breakfast for two each day we were pleased.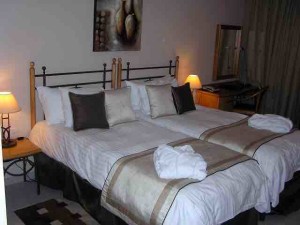 Our room offered two large TWIN beds, not ideal but workable. It came with a refrigerator and safe. There were several TV channels including several English speaking choices like CNN and the BBC. Although it was night time when we arrived, I could tell our view was going to be fantastic.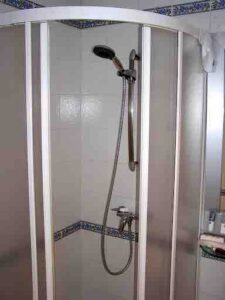 There were two drawbacks to our room.
There were two drawbacks to our room. Neither was a deal breaker but they were minor "inconveniences". First, the shower was a problem. I can hardly ever remember a hotel shower NOT being a problem in Europe. Normally, it takes a mechanical engineering degree to simply turn on the water. That wasn't the issue here.
The shower had an enclosure that measured about two and a half feet across. There wasn't room to bend over and pick up the soap if you dropped it! However, they had anticipated that problem. There was nowhere in the shower to even place the soap or a bottle of shampoo. Oh, my, European hotel showers are not like airline business class seats. These showers do NOT rock!
The second problem with our room was that it had at least one mosquito (maybe more). I could hear the "skeeter" buzzing my ear and had a bite or two to prove my complaint to Carol the next morning. I complained to the hotel manager and all he could tell me was that he "had a mosquito problem at home too". Oh, my.
Despite some "bumps in the road" we were thrilled to be in Malta. The best part of our trip was to begin tomorrow, on Sunday. Don't miss it as our adventure continues with the second and final part of our Malta Trackchasing Report.
Also, don't miss the details provided below about Malta the country. This information provided just enough background on Malta to whet my appetite for our trip.
To be continued………………….
Thanks for reading about my trackchasing,
Randy Lewis
Alberta's #1 Trackchaser
There is a very fine line between a hobby and mental illness.
MALTA – PART 2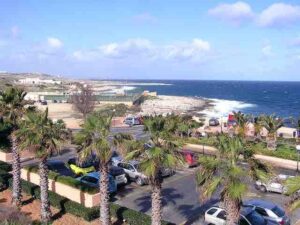 DAYS 4-7 – "WE'RE OFF TO THE ISLANDS….THE MALTESE ISLANDS" TRACKCHASING TOUR
GREETINGS FROM TA'QALI, MALTA
TODAY'S HEADLINES
As usual, there were a few moments that could have derailed this trip's objective….they didn't.…………..details in "The Objective".
We had never met so many media people interested in my hobby of trackchasing……………….more in "The Trip – Day 4 – Sunday".
We were not the first trackchasers to make the trek to Malta……………….more in "The Trip – Day 4 – Sunday".
DON'T MISS THE PICTURES! 
If you would like to see photos from this trackchasing adventure just click on the photos tab within this report.  There's a lot to see.  Often the pictures tell a different story than the words.
THE OBJECTIVE, THE TRIP, THE PEOPLE…AND A WHOLE LOT MORE
The Objective
Why Malta?
The main objective of this trip was to see racing in my 36th trackchasing country. We would also have three days to explore the tiny country of Malta and meet its people. That turned out to be the best part of the trip.
The Trip
Day 4 – Sunday.
It was race day!
Today would be our first full day in Europe. This was also race day! Those of you who have traveled to Europe from the U.S. now that on the day you land it is an effort just to stay up until dinnertime. Carol and I were able to do that last night. Of course, we were helped by the time it took being lost and trying to find our hotel into the evening. We couldn't go to bed until we found our hotel! Nevertheless, we did not go to bed until 9 p.m. local time (12 noon our time!) and we slept for a full ten hours.
Some electronics worked and some got fried.
My new international "electrical adapter" worked pretty well. It charged my iPhone with no problem. Since I didn't bring my laptop on this trip, I used my iPhone to take trip notes.
However, later in the trip the Malta electrical system, via my adapter, fried my rechargeable battery charger. I've had that happen one time before in a foreign location. Luckily, a replacement charger with four AA batters only costs $13 U.S. By the way, rechargeable batteries save me far more than $100 each year.
European hotels come with breakfast.
The hotel's breakfast buffet was included in the rate we had paid for our room. The breakfast spread was well above average. Each morning there were various kinds of eggs, breakfast meats, cereals, breads and juices. It was all very good except the juices. For some reason, European restaurants prefer to serve their juice very weak. I don't care for it that way.
No! Not rain!
It was about 9 a.m.   We wouldn't leave for the racetrack until 11 a.m. The race was scheduled to begin at 12 noon. As we were enjoying breakfast, the tranquility of our seaside resort was interrupted……by a severe rainstorm that last several minutes. This was a major concern to me.
My Malta contact and the Ta' Qali Race Director, Frans Deguara had warned me, that although unlikely, the race could be canceled by bad weather. In all of my international trackchasing days I have never traveled to a country and been completely washed out. Since today was our only day of racing for the entire trip to Malta, the heavy rain was a cause for concern to me.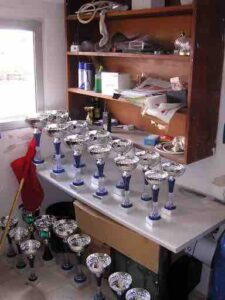 Where was our best trip?
I can no longer say that one of my trackchasing days was the "best ever". I've had so many beyond my expectations days in this hobby I can't tell you which was the best. The highest compliment I can give the people and the racing in Malta is that "it was one of the very best days of trackchasing I have ever had". Nothing will ever top our Malta experience. I'll tell you why throughout this report.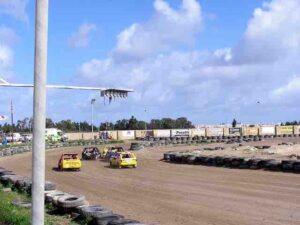 We didn't have much trouble finding the track. It was about ten miles from the hotel. The weather wasn't as friendly as I was hoping for. Remember, this is winter in Malta. The temperature was somewhere around 55 degrees Fahrenheit. The temperature wasn't the problem. It was the wind. It blew strongly at 20-30 M.P.H. all day. I caught a strong cold from this wind that has bothered me for more than a week.
Today we would get the royal treatment.
When we pulled into the track parking lot, Frans was waiting for us. From there he escorted our car and us past security and into the track grounds. We were the guests of Frans and the ASM racing group today. They treated us like royalty. By the way, both Malta's President and Prime Minister have been guests at today's track. I doubt they were treated any better than Carol and I were.
This would be a trackchasing double.
Today we would see racing on two different tracks. The Ta' Qali facility offers competition on both a road course and an oval. We didn't come to Malta to get a "trackchasing double". We came here to see racing in a new, for us, trackchasing country.
We were not the first trackchasers to come to Malta.
We were not the first Americans to come to Malta to trackchase. Our trackchasing commissioner, Will White, had visited Ta' Qali all the way back in 2002. When Will was coming to Malta, my meager international country total was just four!
In the past, I have consulted Will White's trackchasing reports when I was visiting a country he had already been too. I did that with Malta and learned a lot. There is just one problem with this process for the future. As of today, Will has only been to three countries for trackchasing that I have not. These include Guatemala, Luxembourg and Norway. If I ever plan a trip to any of these places, you can bet I will try to learn from Will's experiences.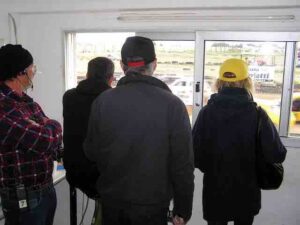 Today we spent most of our time in the "control room". Worldwide race fans may know this as the announcing tower, V.I.P. booth or commentator's stand. We were out of the wind there. We were also exposed to all of the inside info about today's event. Edgar Xuereb was the race scorer today. He went out of his way to answer my questions and make us feel welcome. Thanks, Edgar!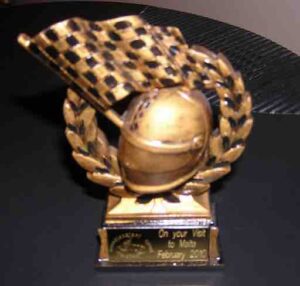 Like I said, we received a royal welcome.
Shortly after we arrived, we were surprised by a presentation that Frans and his crew had in store for Carol and me. We were given a very special memento. It was a helmet trophy surrounded by a checkered flag and wreath. As Americans we have always been treated the very best when we've visited foreign (to us) tracks. This award was another example of how friendly folks are to Americans they had never met previously.  Our Malta trophy sits proudly in my trophy case to this day.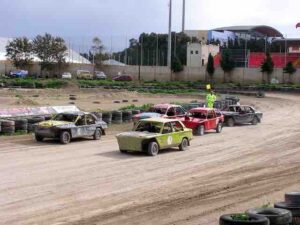 The racing was fun and competitive.
On today's dirt road course, 19 drivers would battle for the winner's trophies (no cash prize money). The road course was flat and maybe a mile long. It had several right and left hand turns. From our elevated position in the control tower, we could see the cars race around the entire track. That's my kind of road course!
There were 4-5 cars in each 5-lap heat race. Every car raced in three heats. The winner received nine points for a heat race win, six for second and it went down from there. The top six point getters after the heats raced in the "A" final. The next best six raced in the "B".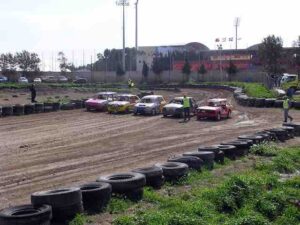 The cars started their races from a standing start all positioned side by side. If a driver jumped the start by just a few inches, a "false start" was called. Two false starts in one race would eliminate the driver from that race. This was a far cry from the often time very sloppy starts seen in American short track racing.
It was interesting to learn that even in racing classes like we saw today there are strict rules. Many of the car's components (engines, transmissions, differentials) are "sealed". This prevents the car mechanics from altering the contents of these parts. When the components aren't changed to include parts to make the car go faster, the expense is less. "Spec" parts like this are a great idea for racing. It keeps the cost down allowing more people to afford racing. It also keeps the racing more competitive for the drivers and fans. Finally, programs like these make the enforcement of a "level playing field" easier for track officials. I like rules like these.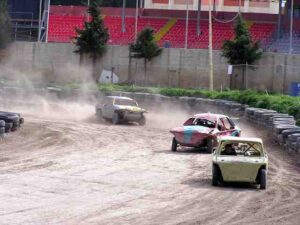 We saw some banger racing too.
The second track today was a flat quarter-mile dirt oval. Like the road course, the cars raced in a clockwise direction. Of course, in America they race on ovals in a counter-clockwise direction. There were just five cars called "bangers" racing on the oval. There wasn't too much action with this group. I believe they ran four races in total. Please don't miss the photos of these races. You'll see some brightly painted fun looking racecars sliding sideways in the Malta dirt.
We stayed busy during the race intermissions.
There was a 15-minute intermission after each set of heat races. During the first interlude, Frans took Carol and me for a tour through the paddock area. He introduced us to several drivers. I have never seen a friendlier group of drivers in my life. What great representatives of Malta racing they were.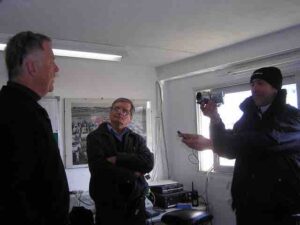 We met several of the Malta racing media.
During another one of the intermissions, we were introduced to visiting motorsports media man, "D.J. Banana" (Mario Mifsud). Mr. "Banana" produces and hosts a two-hour TV program on Malta Motorsports including drag races, off-road racing, motocross and today's racing. We did a five-minute "Q&A" session to be broadcast on his TV program. He promised to send me a copy of the program. When he does, I will share it on my website.
Here's the link to our interview for Malta TV:
We also had a visit from a reporter from the Malta Times. I did an interview with him for several minutes. Carol was even asked a few questions. Frans sent along a copy of the story.  You can also find the Malta Times interview and many, many more behind the "Media" tab of www.randylewis.org.  Here's the complete text:
MALTA TIMES
Valletta, Malta
Friday, 19th February 2010
Motor sport
Compelling racing at ASM series
ASM competitors showed their mettle during the last round of the 2009/10 National Championships.


Another series of races from the ASM 2009/10 National Championships, sponsored by Ashika and Poiatti, was held recently at the circuit in Ta' Qali.


In the Autocross Class A event, Mario Scicluna chalked up the highest number of points in qualifying but, after leading for most of the distance, a mechanical failure forced him to retire.


Patrick Cassar and Chris Aquilina, driving similar and highly-competitive cars, were engaged in a tight duel for the leading position but it was the former who had the final say. The Galea duo, Christian and Mario, followed as they challenged for third place. At the finish line, it was Mario who roared his car to the remaining place on the podium.


Malcolm Borg was the winner of the Class B race. He was closely followed by Silvio Sciberras in a Citroen AX. Newcomer Karmenu Zammit completed the nine-lap race in third place.


Bangers ace Dennis Vassallo is the man to beat in his 2-litre Cortina these days. He won two races at Ta' Qali and finished second in the third heat, thus obtaining 54 of the 60 points available.


Tony Spiteri was second behind Vassallo on 50 points and Clayton Bugeja third with 46.
Distinguished guest
The ASM has just hosted a distinguished guest from the international motorsport scene as Randy Lewis, of California, US, recently toured the circuit at Ta' Qali, accompanied by association officials.


Lewis, who travels to different countries to monitor racing in as many different racetracks as possible, is the world's no.1 'track chaser'.


With the ASM oval now added to his repertoire, Lewis has visited 1,522 venues for auto racing. Before Malta, he had been to 34 other countries to achieve his lifetime ambition.


According to official records, Ed Esser is second behind Lewis in the track chasers' list with 1,251 visits. Guy Smith is third with 1,247 tracks.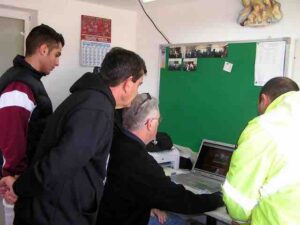 Track officials were introduced to www.randylewis.org.
In the control tower, the track officials were working with a Dell laptop. They used it to organize their race lineups and such. I was surprised to see they had an internet connection in this somewhat rustic building. During one of the breaks, I showed them my website at www.randylewis.org. As you may have seen, I have linked to several YouTube videos of racing at international tracks I've visited. I showed them banger racing from the U.K., sprint car racing from Australia and stock car racing from New Zealand. If you've never tried that section of my site, check it out.
Today I was a celebrity flagman.
I was asked to be the "celebrity flagman" for two races. That was a blast. In Malta, they use a white flag with a large black "X" on it to signify one lap to go. I've never seen that. Anyway, this was a fun experience.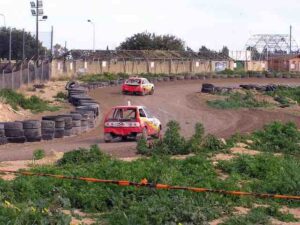 From there, Carol, Frans and I toured the facility from inside the road course. It was cold and windy in this area, but worth the effort. I was able to get some great photos from some very unusual positions. However, being out in the open is probably what has caused my pre-pneumonia condition. Nevertheless, I wouldn't trade good health for the experience!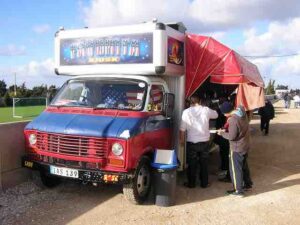 It was time for a snack.
Toward the end of the program, Carol and I visited the track's food "kiosk". This was a mobile catering unit like those that frequent many of the U.K.'s short tracks. Of course, our money was no good at the kiosk. The ASM race group had taken care of this expense for us as well. Thank you!
The races were over, but the fun was just starting.
After the final checkered flag flew, Frans told me we had to get moving for our next appointment of the day. I really didn't have any idea what he was talking about. In advance of our getting to Malta, Frans had mentioned that he had arranged for a local TV interview. When "D.J. Banana" did his interview, I thought we had checked off the "TV" box. Nope!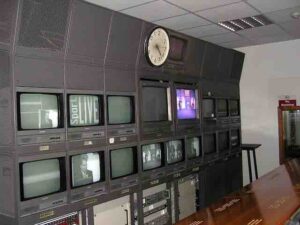 Frans had bigger plans in store….. much bigger. He instructed us to get in our car and follow him. We were headed to the television studios of the number one rated TV station in Malta called "TVM". When we arrived, they were expecting us.
I've done several TV interviews about my trackchasing. Each one has been at the track with a camcorder or small TV camera capturing the interview. Today's production would be the "full enchilada"! Imagine a program like ESPN's "Sports Center" and you'll understand the type of program we would be part of today.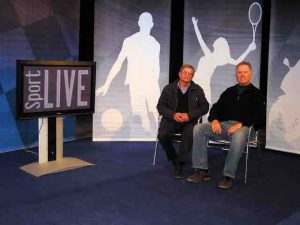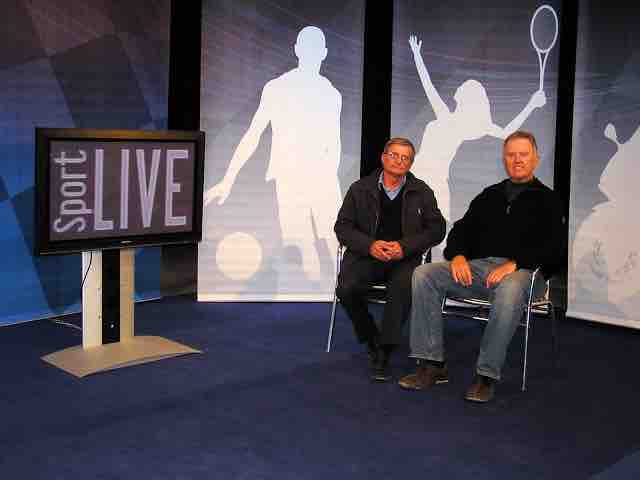 This was 'Sports Center' with Chris Cauchi.
The host of the program was Chris Cauchi. He sort of reminded me of American sports journalist, Roy Firestone. Chris was the host of today's two-hour sports program. When we arrived a champion cyclist (bicycle) was being interviewed. We watched the interview from the control room. Soon it was our turn.
Frans and I were seated in chairs. Chris conducted most of the interview from a podium position across the room. He would interview us for 5-10 minutes and then switch over to a live event such as the Premier league soccer match involving the Dallas Cowboys of Europe, "Chelsea". I can understand why they would cut away from our interview. Chelsea is currently the top ranked team in the entire Premier League just ahead of Manchester United.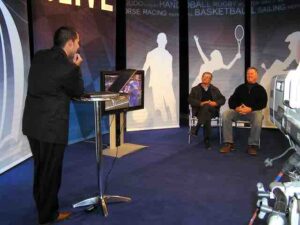 Each time Chris talked with Frans "on air" they conversed in Maltese. When Chris went back to cover the other sports of the day, he also spoke in Maltese. However, (obviously) when he spoke with me we talked in English. Frans had predicted we would be on the program for at most 15 minutes. For some reason, Chris and his director found the topic of "trackchasing" so unusual and apparently interesting they talked with us for four different segments covering more than 30 minutes. Frans is working on getting me a copy of this program. When he does, I will share it with you.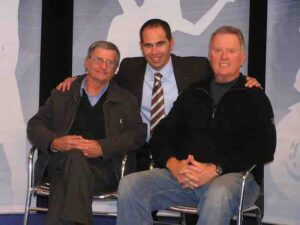 This had been a fantastic day.
When we left the TV station, it was getting dark. We had just completed a very long and fantastic day of trackchasing. I'll be honest with you. When I began my trackchasing career, I never anticipated being interviewed on live TV in Malta. Would you have?
We still have a day and a half of touring in Malta. Frans had convinced me to extend our trip by an extra day since there was a good deal of interesting, historical and beautiful sights to see. I'm glad I took his advice. An extra bonus to the day was news from Frans that he would act as our tour guide for the next two days!
Day 5 – Monday.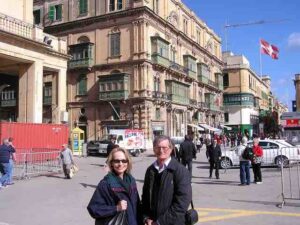 We had the very best Malta tour guide. 
Frans Deguara, Malta's race director, had agreed to meet up with us this morning at our hotel. We had a good plan in place. Frans would drive our rental car with Carol and me as passengers. Frans has lived his entire life in Malta. Who better to act as our personalized Malta guide?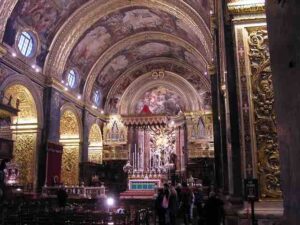 Like I always say, don't miss the pictures. 
I can't really describe the Malta sights we saw today any better than the photos I took can.  Don't miss the photos.  Simply click on the photos tab at the top of this report.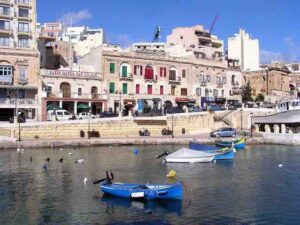 We began our tour in the capital city of Valletta. This is a unique seaside city with ruins dating back some 500 years. The overall highlight of Valletta was seeing St. John's Cathedral and the Grand Harbor of Malta. St. John's was the conventual church of the Order of the Knights of St. John. The Knights were noblemen from the most important families of Europe and they had a mission – to protect the Catholic faith from the attacks of the Ottoman Turks. The Grand Harbor has been used since the Phoenician times.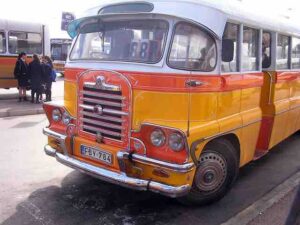 I didn't expect the city buses to be a highlight. 
The old time city buses were cool too. These were large 50 passenger buses with front and rear bodywork that made them look like an old car such as a '58 Chevy, etc. Like I said, don't miss the pictures. We had a delightful lunch across the street from one of the many Malta marinas. The weather was better today although it was still breezy.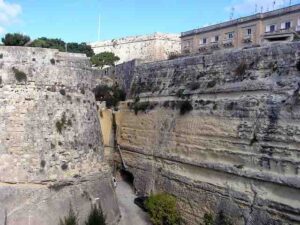 Our tour of Malta continued with more unusual places on the more rural side of the island. 
We continued on in the afternoon to the more rural side of Malta. Here we saw the oldest ruins of a freestanding structure on earth, the Hagar Qim. From there we were off to the "Silent City" of Mdina, famous for Mdina glass. This area of castles and the like had to be seen to be believed. The "Silent City" was a real tour highlight. We finished off the night with a stop in Frans' hometown of Mosta. In the evening, this looked more like an American small town (maybe New England or an Arlington Heights) of any town we saw. We happened into the Mosta Catholic Church while Mass was being celebrated. That was special.
We capped off the evening with a more American endeavor. At home, we have "dollar stores". We visited a "two-Euro" store!! The day had been a most fun adventure. Tomorrow, our last day on Malta, we would take a ferryboat to the nearby Maltese island of "Gozo".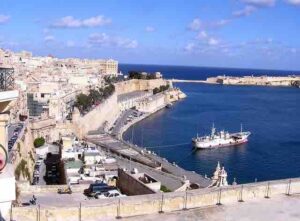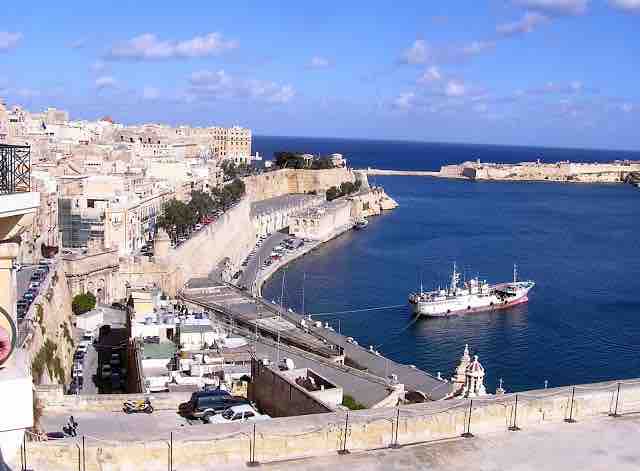 Day 6 – Tuesday.
This was our last day of Malta touring. 
Today would be a busy day. We would first meet Malta race director and our tour guide for the day, Frans, at 8 a.m. We would take our car on the ferry to the nearby Maltese island of Gozo for a half day of sightseeing. Then we'd hustle back to the Malta airport for a 4:30 p.m. departure to Rome, Italy. The plan called for us to stay overnight in Rome before heading back to the U.S. on Wednesday.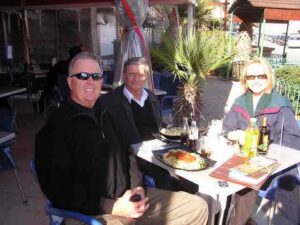 We saw so much more with Frans leading the way. 
Frans had graciously volunteered to serve as our tour guide for a second day in a row. We sure didn't want to impose but if was difficult to turn down such a valuable offer. Frans met us at our hotel at 8 a.m. From there we drove two cars to a designated point. Then we all went in our car, with Frans driving, to the port of Cirkewwa to catch the ferry.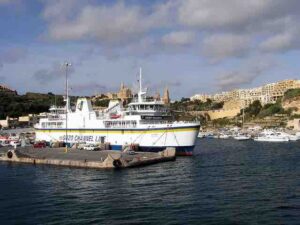 Some 3.3 million people use this ferryboat system each year. I'm surprised at how often I've needed ferryboats in my hobby of trackchasing. I'm guessing I've used them 10-15 times, primarily in Canada to move around. Today's ride was just 30 minutes one-way. The charge for Carol and me along with our car was 25 Euros. Frans traveled at no charge.
Gozo is smaller and has many fewer residents than the island of Malta. 
Gozo island is much less populated than the main island of Malta. Gozo has 31,000 residents out of Malta's total 402,000 people. Despite having so few people, Gozo has 22 churches. It is situated about four miles northwest of the nearest point from Malta. The island is small and oval in form. It measures around nine miles by four miles from edge to edge.
When we landed in Gozo's ferry port of Mgarr, it was easy to drive off the boat and begin our touring. Again, without, the help of Frans we would not have even gone to Gozo, let alone have been able to see as much as we did.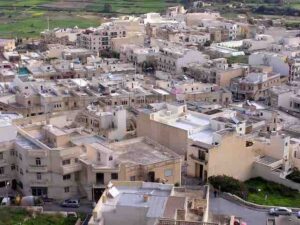 We first spent some time in Victoria, Gozo's capital city. We were able to see another church interior from the 1700s period. There was also time to visit a farmer's market and sample some of the largest green beans I've ever seen. Unbeknown to us, one of the biggest local items produced in Gozo is sea salt. I guess it has to be made somewhere!
Probably the most memorable aspect of our visit to Gozo was seeing the "Azure Window". The Azure Window is a natural arch featuring a table like rock over the sea. This was created millions of years ago, when two limestone caves collapsed creating the "window". Don't miss the photos.
We only had about three hours for Gozo, but it was worth the trip. There was still time for a late lunch with Frans after we got back to Malta. We returned to his home town of Mosta (where we had been last night) for a meal of pasta. I can't thank Frans enough for the generosity of his time.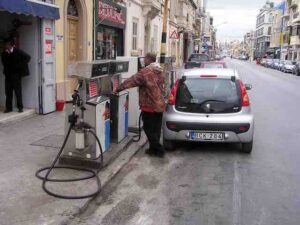 It was petrol time. 
After lunch, we found a petrol station in Mosta to fill up our little Peugeot. We would end up driving our car 193 kilometers (about 120 miles). I was surprised when our total fuel bill for three days of driving was just 17 Euros (about $23 U.S.). We had used only about 3.5 gallons of gas. The Peugeot gave us nearly 35 miles per gallon. All of those numbers were very good except the final one…..gas cost about $6.50 U.S. per gallon. Never the less, we could not complain after driving all over for three days on $23 U.S. for fuel.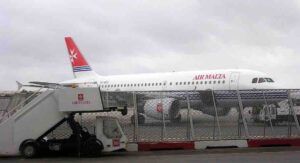 It was time to say good-bye until next time. 
From there, just to make sure we made it to the airport on time, Frans had us follow him to the Malta International Airport. From there we said our good-byes. I hope that Frans and his wife can come to the U.S. sometime. If they do, I will try to be the host for them that Frans was to Carol and me.
Next stop: Rome, Italy. 
Our flight from Malta to Rome was uneventful. When we arrived in Rome, it was dark and raining at 6:30 p.m. We had the option of staying in Rome for a day or more. However, we figured that with the winter weather and rain in the area, it would be best to head for home. We've already traveled overnight almost 15 nights this year and it isn't even mid-February.
I had booked a hotel near the Rome Fiumicino Airport. After some time figuring out how to use a pay phone in the airport, we called the hotel shuttle. Most U.S. airport hotels offer free shuttle service to/from the airport. That isn't the case in many parts of Europe. We paid 15 Euros per room each way for the service.
We arrived at the Ostia Antica Park Hotel located just 7 miles from the airport. We checked into our somewhat austere hotel room with a bed that looked hard from five feet away. It was! However, the room had a bidet, so who could complain.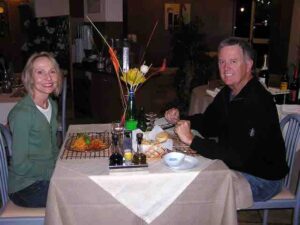 We ate well in Italy. 
There was still time for dinner. Europeans dine late. Frans had been quite amused when I told him that Carol and I eat dinner at 5:30 p.m. each evening. He told me he and his wife eat from 7-8 p.m. The hotel's restaurant looked good and we didn't have to go out in the cold rain. We might have had our best meal of the trip here. It was a very relaxing evening following a somewhat hectic trip. We were on the downside of this adventure and looking forward to getting home.
Day 7 – Wednesday.
This looks easy, but it ain't. 
Nothing is ever easy. You might recall that we had trouble with the East coast winter weather on our way over to Malta. We would have similar travel issues when we went to return to Los Angeles. Can you believe the Washington, D.C. area had a major snowstorm on the day we left for Europe AND the day we returned from Europe? That was a potential problem since our airline partners required that we change planes in either New York, Washington, D.C. or Atlanta. Today the Rome flights to both New York and Washington, D.C. were canceled. We were flying standby through Atlanta. However, when the New York and Washington, D.C. flights cancel they put those paying passengers on the flights that are leaving Rome bound for the U.S. In this case, that was Atlanta!
There were just 5-6 people flying standby like we were. Each of us were veterans of the system. We saw the problem and fully expected to be "left behind" in Rome. We were already plotting our "exit plan" through other parts of Europe. I don't know how it worked out but we ended up getting on this plane! Then when we were given business class seats on the more than 5,000-mile ride back to Atlanta, I really had a hard time understanding our good fortune. I didn't really want to use up all my good luck on a plane ride, but we accepted our fate and enjoyed the flight all the way to the U.S.
Clearing customs was a breeze. 
Clearing customs in Atlanta was easy. Nevertheless, it still confuses me when we have to "clear airport security" to get back into the secure part of the terminal after arriving on an international flight. Security took so little time that we were able to catch an even earlier flight back to LAX.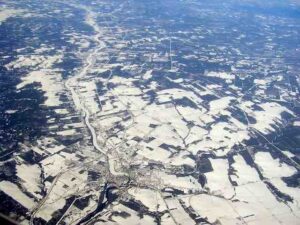 If you can, visit Malta! 
We had dodged a few "snowstorm bullets" that could have ruined this trip. They didn't. That allowed us to have a fantastic trip to Malta. The racing was good. Seeing the sights was fun. However, it was the people of Malta that made this such a great trip. All the way from the restaurant owner who took time to direct us, to Frans and Edgar and the race drivers at Ta' Qali along with the media people we met and lots of other folks all over the country that made this trip special. If you get the chance to visit Malta…..do it!
Thanks for reading about my trackchasing,
Randy Lewis
Alberta's #1 Trackchaser
There is a very fine line between hobby and mental illness.
TRAVEL DETAILS
AIRPLANE 
Los Angeles, CA (LAX) – Atlanta, GA (ATL) – 2,113 miles
Atlanta, GA (ATL) – Rome, Italy (FCO) – 5,033 miles
Rome, Italy (FCO) – Luga, Malta (MLA) – 427 miles
RENTAL CAR #1 
Malta International Airport – trip begins
Ta'Qali Race Track – 55 miles
Malta International Airport – 121 miles – trip ends 
AIRPLANE 
Luga, Malta (MLA) – Rome, Italy (FCO) – 427 miles
Rome, Italy (FCO) – Atlanta, GA (ATL) – 5,033 miles
Atlanta, GA (ATL) – Los Angeles, CA (LAX) – 2,113 miles
Total Air miles – 15,146 (6 flights)
Total Rental Car miles – 121 (1 rental car)
Total Ferry Boat miles – 12 (2 ferry boat rides)
Total auto and air miles traveled on this trip – 15,279 miles
TRACK ADMSSION PRICES: 
Ta'Qali Race Track – No charge 
Total racetrack admissions for the trip – Zero
LIFETIME TRACKCHASER COMPARISONS 
There are no trackchasers currently within 200 tracks of my lifetime total.
Randy Lewis, San Clemente, California – 1,522
Official end of Randy Lewis Racing Trackchaser Report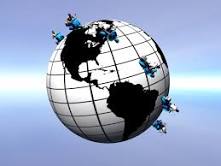 THE COUNTRY LIST
#36!!
Randy Lewis Racing Lifetime Trackchasing Countries
# 1 – UNITED STATES OF AMERICA – Peoria Speedway (Mt. Hawley, oval) – Track #1, Peoria, Illinois – circa 1954 (age 5)
# 2 – CANADA – Cayuga Speedway (oval) – Track #174, Nelles Corner, Ontario, Canada – July 31, 1988 (Dick Trickle winner)
# 3 – AUSTRALIA – Parramatta City Raceway (oval) – Track #180, Granville, New South Wales, Australia – November 17, 1989 (accompanied by Carol)
# 4 – UNITED KINGDOM – Northhampton International Raceway (oval) – Track #378, Northhampton – June 26, 1999 (accompanied by Carol, Kristy, Jim)
# 5 – NETHERLANDS – Driesum Racetrack (oval) – Track #839, Driesum – May 5, 2005 (accompanied by Roland Vanden Eynde)
# 6 – BELGIUM – Bellekouter oval (oval) – Track #841, Affligem – May 8, 2005 (accompanied by Roland Vanden Eynde)
# 7 – FRANCE – Circuit de Croix en Ternois (road course) – Track #843, Saint-Pol sur-Ternoise – May 8, 2005 (accompanied by Roland Vanden Eynde – 2nd new country in one day!)
# 8 – GERMANY – Nurburgring (road course) – Track #844, Nurburg – May 13, 2005 (accompanied by Carol, Roland Vanden Eynde)
# 9 – NEW ZEALAND – Western Springs Speedway (oval) – Track #1,134, Western Springs – December 26, 2006 (accompanied by Carol)
# 10 – MEXICO – Triovalo Bernardo Obregon (oval) – Track #1,281, Tiajamulco de Zuniga, Jalisco – October 14, 2007 (accompanied by Carol, J.J., Roger Ward)
# 11 – BARBADOS – Bushy Park Racing Circuit (road course) – Track #1,296, Bushy Park – December 9, 2007
# 12 – THAILAND – Bira Circuit (road course) – Track #1,300, Pattaya – January 19, 2008
# 13 – SOUTH AFRICA – Durban Grand Prix (road course) – Track #1,315, Durban, KwaZulu-Natal – February 24, 2008 (accompanied by J.J. and Will Van Horne)
# 14 – JAMAICA – Dover Raceway (road course) – Track #1,322, Brown's Town St. Ann – March 24, 2008
# 15 – SWEDEN – Sturup Raceway (road course) – Track #1,335, Malmo – May 10, 2008 (accompanied by Carol)
# 16 – DENMARK – Ring Djursland (road course) – Track #1,336, Tirstrup – May 11, 2008 (accompanied by Carol)
# 17 – CZECH REPUBLIC – Automotodrome BRNO (road course) – Track #1,381, Brno – September 13, 2008
# 18 – AUSTRIA – Lambrechten Stock Car Track (road course) – Track #1,382, Lambrechten – September 14, 2008
# 19 – IRELAND – Tipperary International Raceway (oval) – Track #1,388, Rosegreen – October 26, 2008 (Carol and I visited this track earlier in the year)
# 20 – GUYANA – South Dakota Circuit (road course) – Track #1,390, Timehri – November 2, 2008 (accompanied by Carol)
# 21 – CHINA – The Guia Circuit (road course) – Track #1,392, Macau – November 16, 2008 (accompanied by Carol)
# 22 – COSTA RICA – Autodromo La Guacima (road course) – Track #1,398, La Guacima – November 30, 2008
# 23 – ANDORRA – Grandvalira Circuit (road course) – Track #1,404, Port d'Envalira, Andorra – January 17, 2009
# 24 – ARGENTINA – Circuito Efren Chemolli (oval) – Track #1,406, Buenos Aires, Argentina – January 31, 2009 (shared with Jerry Fisher)
# 25 – QATAR – Losail International Circuit (road course) – Track #1,408, Doha, Qatar – February 13, 2009
# 26 – BAHRAIN – Bahrain International Circuit (road course) – Track #1,410, Sakhir, Bahrain – February 27, 2009 (accompanied by Carol)
# 27 – UNITED ARAB EMIRATES – Dubai Autodrome (road course) – Track #1,411, Dubai, United Arab Emirates – February 28, 2009 (accompanied by Carol)
# 28 – COLOMBIA – Autodromo de Tocancipa (road course) – Track #1,415, Tocancipa, Colombia – March 22, 2009
# 29 – SPAIN – Motorland Aragon (road course) – Track #1,416, Alcaniz, Spain – March 28, 2009
# 30 – PORTUGAL – Circuto de Murca (road course) – Track #1,417, Murca, Portugal – March 29, 2009
# 31 – ICELAND – Kapelluhraum (road course) – Track #1,420, Hafnafjorour, Iceland – April 25, 2009 (shared with Will White)
# 32 – HUNGARY – Hungaroring (road course) – Track #1,426, Mogyorod, Hungary – May 8, 2009 (accompanied by Carol)
# 33 – SWITZERLAND – Hock Ybrig (road course) – Track #1,427, Hoch Ybrig, Switzerland – May 9, 2009 (accompanied by Carol)
# 34 – ITALY – Vighizzolo d'Este Stock Car Track (road course) – Track #1,428, Vighizzolo d'Este, Italy – May 10, 2009 (accompanied by Carol)
# 35 – DOMINICAN REPUBLIC – Autodromo Mobil 1 (road course) – Track #1,515, Santo Domingo, Dominican Republic – December 6, 2009 (accompanied by Carol)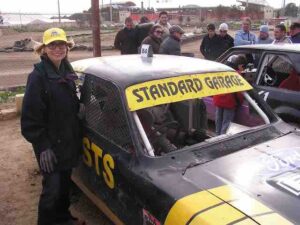 # 36 – MALTA – Ta'Qali Race Track (road course) – Track #1,521, Ta'Qali, Malta – February 7, 2010 (accompanied by Carol)
The 'International Big 5' standings.
By the way, Carol is now a solid member of trackchasing's "International Big 5". Actually, she has wedged her way into the "International Top 4". Here are the current rankings of the trackchasers who have seen racing in the most countries. These standings have been changing some recently. They may change even more in the future.
Roland Vanden Eynde, Vilvoorde, Belgium – 41
Randy Lewis, San Clemente, California USA – 36
Will White, Quakertown, Pennsylvania USA – 23
Carol Lewis, San Clemente, California USA – 20
Chris Economaki, Charlotte, North Carolina USA – 19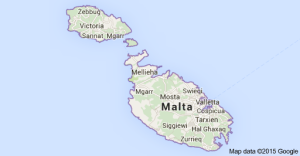 MALTA – FAST FACTS
Malta /ˈmɔːltə/ (help·info), officially the Republic of Malta (Maltese: Repubblika ta' Malta), is a developed southern European country and consists of an archipelago situated centrally in the Mediterranean, 93 km south of Sicily and 288 km north-east of Tunisia, with Gibraltar 1,826 km to the west and Alexandria 1,510 km to the east.[4]
Malta covers just over 300 km² in land area, making it one of Europe's smallest and one of Europe's most densely populated countries. Its de facto capital is Valletta and the largest city is Birkirkara. Maltese is the national language and a co-official language, alongside English.
INDEPENDENCE AND THE REPUBLIC
Malta gained independence from the United Kingdom in 1964 and became a Republic in 1974, whilst retaining membership in the Commonwealth of Nations. It is a member of the United Nations (since 1964) and a member of the European Union (since 2004)
Malta was the venue of a summit between US President George H.W. Bush and Soviet leader Mikhail Gorbachev, their first face-to-face encounter, which signaled the end of the Cold War.
Malta had the second highest voter turnout in the world (and the highest for nations without mandatory voting), based on election turnout in national lower house elections from 1960 to 1995
GOVERNMENT AND POLITICS
The President of the Republic is elected every five years by the House of Representatives. The role of the president as head of state is largely ceremonial. The main political parties are the Nationalist Party, which is a Christian democratic party, and the Labour Party, with Dr. Joseph Muscat as its leader, which is a social democratic party. The Nationalist Party is currently at the helm of the government, the Prime Minister being Dr. Lawrence Gonzi. The Labour Party is in opposition.
CLIMATE
The climate is Mediterranean (Köppen climate classification Csa) / Subtropical, with mild, rainy winters and hot, dry summers.
The lowest temperature ever recorded at Valletta was on 19 February 1895, with 1.2 °C (34.2 °F), and the highest temperature was 43.8 °C (110.8 °F) recorded in August 1999 at Luqa International Airport
December is the rainiest month averaging 4.4 inches. In July, the average rainfall is zero. This month, February is the fifth rainiest averaging 2.4 inches.
ECONOMY
Presently, Malta's major resources are limestone, a favourable geographic location and a productive labour force. Malta produces only about 20% of its food needs has limited freshwater supplies and has no domestic energy sources. The economy is dependent on foreign trade (serving as a freight trans-shipment point), manufacturing (especially electronics and textiles) and tourism. Tourism infrastructure has increased dramatically over the years and a number of good-quality hotels are present on the island. Film production is a growing contributor to the Maltese economy, with several big-budget foreign films shooting in Malta each year. Malta has recently privatized some state-controlled firms and liberalized markets in order to prepare for membership in the European Union, which it joined on 1 May 2004. For example, the government announced on 8 January 2007 that it is selling its 40% stake in Maltapost, in order to complete a privatization process, which has been ongoing for the past five years. Malta does not have a property tax. According to Eurostat data, Maltese PPS GDP per capita stood at 76 per cent of the EU average in 2008.
CURRENCY
From 1972 until introduction of the Euro in 2008, the currency was the Maltese Lira, which had replaced the Maltese pound. The pound replaced the Maltese scudo in 1798.
HEALTH CARE
Malta has a long history of providing publicly funded health care. The first hospital recorded in the country was already functioning by 1372. Today, Malta has both a public healthcare system, known as the government healthcare service, where healthcare is free at the point of delivery, and a private healthcare system. Malta was ranked number five in the World Health Organization's ranking of the world's health systems, compared to the United States (at 37), Australia (at 32), United Kingdom (at 18) and Canada (at 30). The healthcare system in Malta closely resembles the British system, as healthcare is free at the point of delivery.
POPULATION
Native Maltese people make up the majority of the island. However, there are minorities, the largest of which are British people, many of whom retired to Malta. The resident population of Malta, which includes foreigners residing in Malta for at least a year, as of 27 November 2005 was estimated at 404,039 of whom 200,715 (49.7%) were males and 203,324 (50.3%) were females. Malta's population density of 1,282 per square kilometer (3,322/sq mi) is by far the highest in the EU, and one of the highest in the world.
Maltese legislation recognizes both civil and canonical (ecclesiastical) marriages. Annulments by the Ecclesiastes and civil courts are unrelated and are not necessarily granted. There is no divorce legislation and abortion in Malta is illegal. Both male and female same-sex sexual activity is legal in Malta, but same-sex couples and households headed by same-sex couples are not eligible for the same legal protections available to opposite-sex married couples, causing some to undertake legal challenges not experienced by most non-LGBT residents. At the end of 2007, the population of the Maltese Islands stood at 410,290 and is expected to reach 424,028 by 2025. At the moment, females slightly outnumber males, making up 50.3 per cent of the population.
LANGUAGES
The Maltese language (Maltese: Malti) is the national language of the Maltese people. The Constitution enshrines it as the country's official language, alongside English. Italian was the official language of Malta until 1934, when English and Maltese replaced it. Maltese has substantial borrowing from Sicilian, Italian, a little French, and more recently, and increasingly, English. The language includes different dialects that can vary strongly from one town to another or from one island to the other.
The Eurobarometer states that 100% of the population speaks Maltese. Also, 88% of the population speaks English, 66% speaks Italian, and 17% speaks French. This widespread knowledge of second languages makes Malta one of the most multi-lingual countries in the European Union. A study collecting public opinion on what language was "preferred" discovered that 86% of the population express a preference for Maltese, 12% for English, and 2% for Italian.
RELIGION
There are more than 360 churches in Malta, Gozo, and Comino, or one church for every 1,000 residents. Catholicism continues to be the official and dominant religion in Malta. Most congregants of the local Protestant churches are not Maltese; their congregations draw on the many British retirees living in the country and vacationers from many other nations. There are approximately 500 Jehovah's Witnesses; The Church of Jesus Christ of Latter-day Saints (Mormons), the Bible Baptist Church, and the Fellowship of Evangelical Churches have about 60 affiliates. Today, there is one Jewish congregation.
Zen Buddhism and the Bahá'í Faith claim some 40 members. There is one Muslim mosque. A Muslim primary school recently opened; its existence remains a point of some controversy. Of the estimated 3,000 Muslims in Malta, approximately 2,250 are foreigners, approximately 600 are naturalized citizens, and approximately 150 are native-born Maltese
EDUCATION
Primary schooling has been compulsory since 1946; secondary education up to the age of sixteen was made compulsory in 1971. The state provides education free of charge. The adult literacy rate is 92.8%. English and Maltese are both used to teach students at primary and secondary school level, and both languages are also compulsory subjects. Public schools tend to use both Maltese and English in a balanced manner. Private schools prefer to use English for teaching, as is also the case with most departments of the University of Malta; this has a limiting effect on the capacity and development of the Maltese language. Most university courses are in English.
CUISINE
Maltese cuisine is typically Mediterranean, based on fresh seasonal locally available produce and seafood. Still, there are many unique, distinctive and popular local dishes such as ftira biż-żejt, ġbejniet, pastizzi and ross il-forn.
TRADITIONAL LIFE
On a child's first birthday, in a tradition that still survives today, Maltese parents would organize a game known as il-quċċija, where a variety of symbolic objects would be randomly placed around the seated child. These may include a hard-boiled egg, a Bible, crucifix or rosary beads, a book, and so on. Whichever object the child shows most interest in is said to reveal the child's path and fortunes in adulthood.
Money refers to a rich future while a book expresses intelligence and a possible career as a teacher. Infants who select a pencil or pen will be writers. Choosing bibles or rosary beads refers to a clerical or monastic life. If the child chooses a hard-boiled egg, it will have a long life and many children. More recent additions include calculators (refers to accounting), thread (fashion) and wooden spoons (cooking and a great appetite).
SPORTS
Malta has its own national football stadium, Ta' Qali Stadium. It is generally noted that the population tends to be split half and half with regards to supporting Italy or England in sports games, due to the cultural affinities of the island. Boċċi is the Maltese version of the Italian game of bocce, French pétanque and British bowls. Other than certain differences in rules and the ground on which the game is played, one of the most obvious differences between Maltese boċċi and foreign equivalents is the shape of the bowls themselves which tend to be cylindrical rather than spherical in shape.
BROADCASTING
There are eight major nationwide television channels in Malta: TVM, One Television, NET Television, Smash Television, Favourite Channel, Calypso Music TV, ITV, and Education22 – currently transmitted by analogue terrestrial, free-to-air signals. The state and political parties subsidise most of the fundings of these television stations. Cable, terrestrial and satellite reception are all available, though the cable service is the most diffused. Cable subscriptions reached almost 124,000 in February 2006 reaching about 80% of Maltese households, and a small but increasing number of households own satellite dishes to receive other European television networks such as the BBC from Great Britain and RAI and Mediaset from Italy.
MOBILE PHONES
Some 97% of the Maltese population have a mobile phone. Malta uses the GSM900 mobile phone network. This is compatible with the rest of the European countries, Australia and also New Zealand.
HIGHWAYS
Traffic in Malta drives on the left, as in the UK. Car ownership in Malta is exceedingly high, given the very small size of the islands; it is the fourth highest in the European Union. The number of registered cars in 1990 amounted to 182,254.
BUSES
Buses (xarabank or karozza tal-linja) are the primary method of public transport for the islands, which offer a relatively cheap and frequent service to many parts of Malta and Gozo. There are approximately 500 buses in public transit service in Malta. The drivers themselves own most of the buses, but operate to a unified timetable set by the transport authority.
AIRPORTS
Malta International Airport (Ajruport Internazzjonali ta' Malta) is the only airport serving the Maltese Islands. The national airline is Air Malta, which is based in at Malta International Airport, and which operates services to 36 destinations in Europe and North Africa. The owners of Air Malta are Maltese government (98%) and private investors (2%).
MILITARY
The objectives of the Armed Forces of Malta (AFM) are to maintain a military organization with the primary aim of defending the Islands' integrity according to the defense roles as set by Government in an efficient and cost effective manner. This is achieved by emphasizing the maintenance of Malta's territorial waters and airspace integrity.
The AFM also engages in combating terrorism, fighting against illicit drug trafficking, conducting anti-illegal immigrant and anti-illegal fishing operations, operating Search and Rescue (SAR) services, and physical/electronic security/surveillance of sensitive locations.
* Much of this info comes from my research at Wikipedia.
Official end of Randy Lewis Racing Trackchaser Report
Click on the links below to see a photo album of beautiful Malta: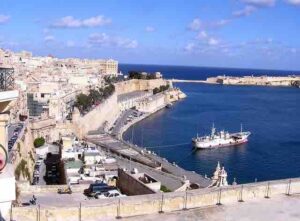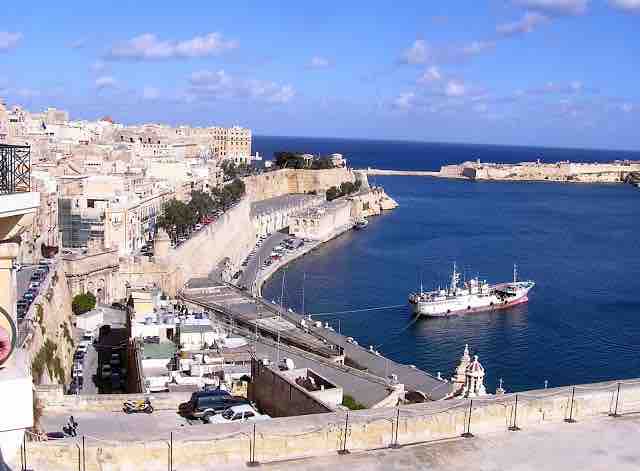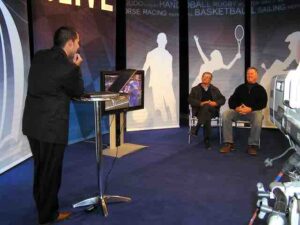 Malta – Part 2 – Racing and Touring