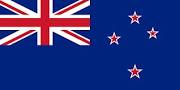 .
Greetings from Meremere, New Zealand
From the travels and adventures of the "World's #1 Trackchaser"
.
Meremere Raceway – Lifetime Track #1,139
HighlightsThe Event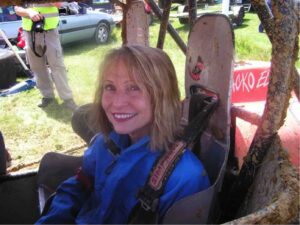 Carol and I get to travel the world.  We have seen and done so many things.  I like the "adventure" activities the most.  I don't think we have EVER done anything as adventuresome as we did today.  Carol rode is a REAL sprint car race.  After she did I figured I would have too as well.  Don't miss the OVER THE TOP experience that we had 'down under' in the beautiful country of New Zealand.  It's all waiting for you to see behind the "Event" tab.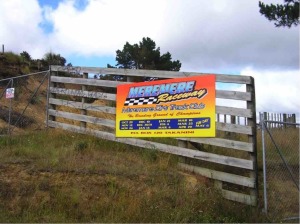 Today is January 1, 2007, the first day of a new trackchasing year.  This is the Meremere Raceway located south of Auckland.  Carol and I are the first trackchasers in the world to get a new track in 2007.  We saw racing at 1 p.m. on January 1 in New Zealand.  At that time of day in New Zealand, it was still December 31 at 4 p.m. in Los Angeles.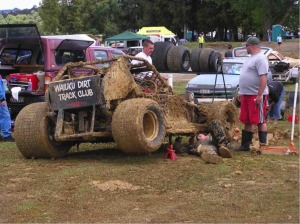 Yesterday's races at Meremere were rained out.  It wasn't much drier today but they were going to race.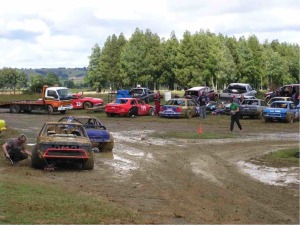 It was surprising they could even move around in the muddy pit area.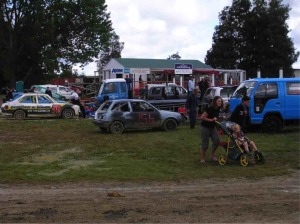 New Zealand racetracks are very lenient, in general, with regard to letting children in the pit area.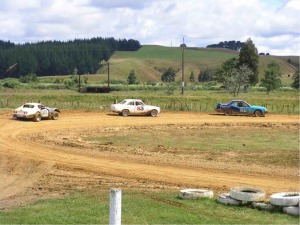 Even though the pit area was muddy the race track was raceable.  All of the racing action today took place in a clockwise direction.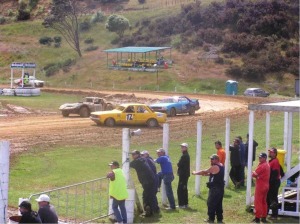 The Meremere Raceway is operated by the Meremere Dirt Track Club.  Wizz Hobson is president of the group.  He and Jason Harrison, track PR rep, showed Carol and I a great time as you are about to see.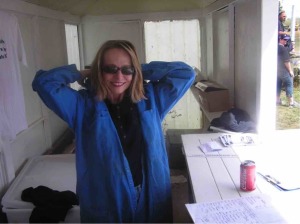 You're going to have to take my word for it.  The following pictures will NOT do justice to the excitement of what we experienced.  Carol and I were invited to ride along in an actual sprint car race.  Carol puts on her driving uniform for this great adventure.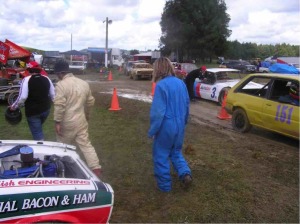 No, this is not some shaggy haired race driver in the blue uniform.  It's Trackchasing's First Mother!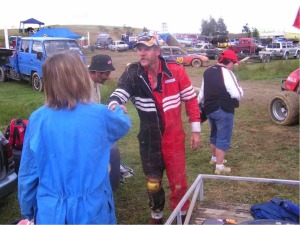 Here Carol meets Rob Allen.  Rob will be the chauffer for Carol in her first ever sprint car race.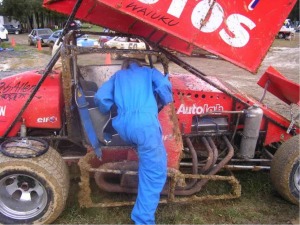 Yes, she's actually going to do it!  She's going to strap herself into a 600 horsepower fire-breathing sprint car.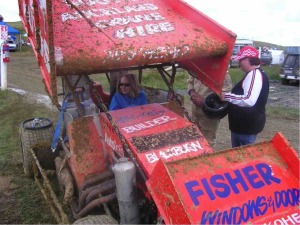 I think before she heads out, she's going to have to lose those designer sunglasses.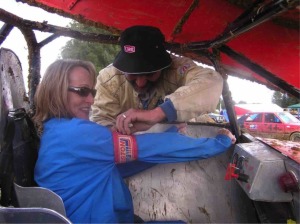 Yes, those are arm restraints.  They keep your elbows from getting any further than about 18 inches apart.  That's awfully important if the sprint car starts to do a series of barrel-rolling flips.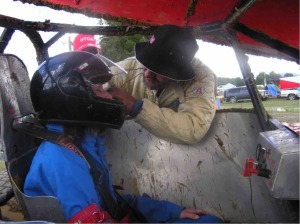 Let's see.  Can we make this helmet fit just a little tighter?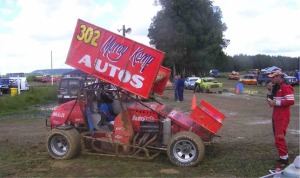 The really bad part of this is that Carol had to sit all strapped into the car for more than 20 minutes until the next sprint car race was ready to go.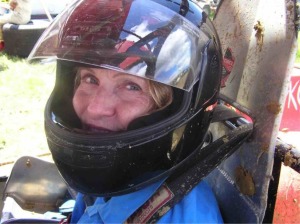 Somehow, I don't think she really knew what she was in for!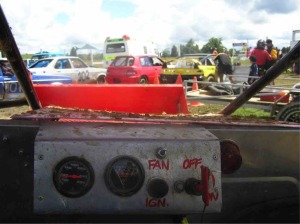 This was Carol's view from the cockpit.  I told her not to mess with the on/off switch.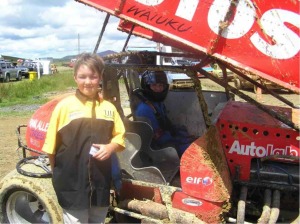 This kid asked one simple question.  "Say mister.  How come you're making her ride in the sprint car first and not you?"  Kids always have a way of cutting to the chase.  Anyway, I promised him I would put his picture on the website as he clutches a business card from the "World's #1 Ranked Trackchaser."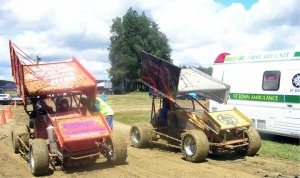 This is not just a simple ride around the track.  Carol and Rob are going to be RACING with other sprint cars at speeds reaching 100 M.P.H. on a quarter mile dirt track.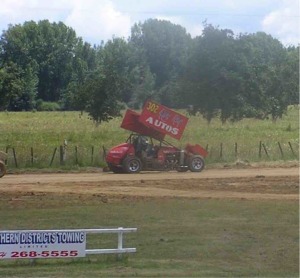 Unfortunately, I couldn't get many pictures of Carol racing on the track.  I was called up to the announcing booth to be the commentator for this race.  Hopefully, I'll be able to get some of that commentating video and/or audio to share on this site with you.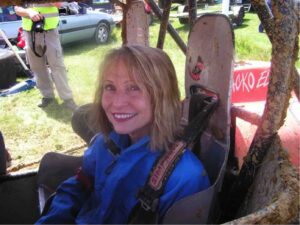 I don't know if that twinkle in her eye is because she's finished with the ride or I'm about to take the ride!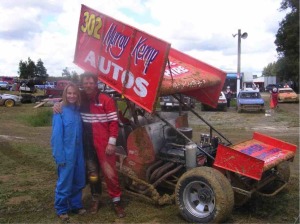 I'm happy to report that both Carol and Rob made it back in one piece in the Muray Kemp Autos Racing Sprint Car Special.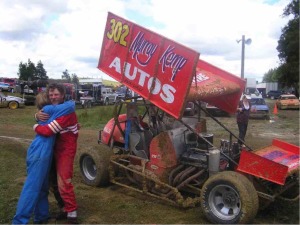 Thanks, Rob!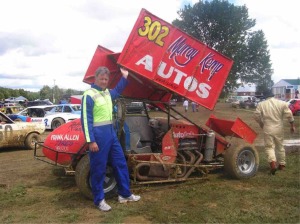 This was the best looking driver pose I could come up with.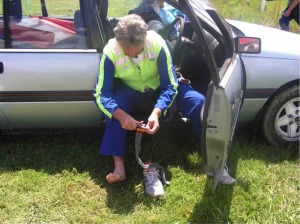 At the very last minute they discovered that my ankle high golf socks were deemed a safety hazard.  Therefore, I had to cover my golf tan with some knee-high wool socks.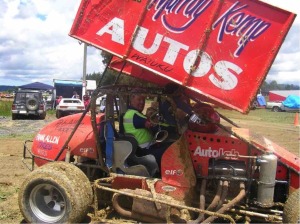 I'm really wishing that maybe I had not agreed to do this, as I am fitted with arm restraints.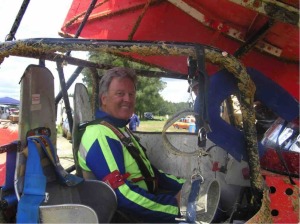 How's this for a fake smile?  I had my five point safety harness, which was a little tight in the crotch, my driving suit and my arm restraints.  I could hardly move a muscle.  As the driver told me, "You aren't going anywhere."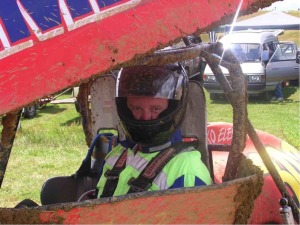 If the helmet was tight on Carol, how do you think it felt on me?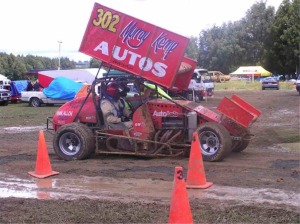 The gentlemen in the yellow shirt said, "Take a deep breath.  Now let it out."  Just as I exhaled he gave one last tug on my shoulder belts.  Nope, I wasn't going anywhere.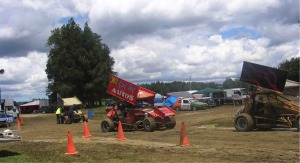 The sprint cars in our heat race are pulling into the staging area.  I was yelling, "Let me out!  Let me out!" but I couldn't be heard over the roar of the engines.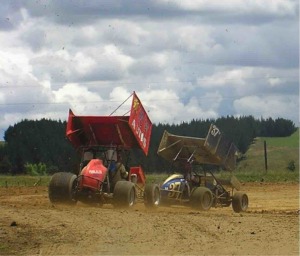 The track was pretty muddy.  A 600-horsepower sprint car that weighs just 1,300 pounds can accelerate very quickly.  We would reach nearly 100 M.P.H. in the straights, then slide around the turns sideways for about 100 yards at 60-70 M.P.H. all the while car #37 was slinging mud into the cockpit.  It was the most exciting "E" ticket ride I have ever taken.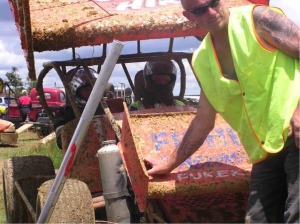 We're back in the pits.  You can see how much mud we picked up during the heat race.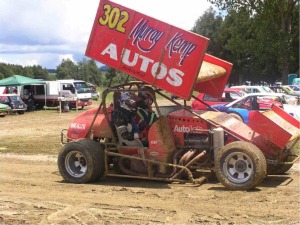 When we were finished, they asked me if I would like to take a ride in a second race.  I gave a hand signal saying no that must have been misunderstood.  All of a sudden we were in the staging area again waiting to hit the track.  At least I had the sense to bring my video camera (pictured) on the second ride.  When we came back in the video camera was full of mud!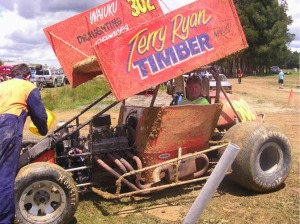 The crew member pours water on a very hot racing engine, while I discreetly try to rearrange my jockey shorts.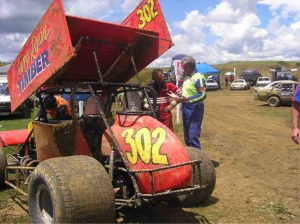 After I had regained my composure and visited the bathroom, I held court about what a "piece of cake" the ride was.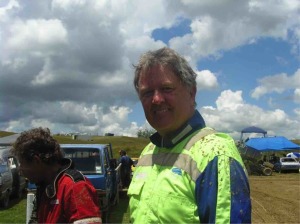 Even though my face and uniform are caked with mud, I had this to say.  Carol and I have been to nearly 1,500 tracks between us.  We had never had any more fun or excitement than we had at the Meremere Raceway.  Thanks to all the folks who made it happen!
GREETINGS FROM HUNTLY, NEW ZEALAND (THAT'S WHERE THE DAY STARTED)
This is the THIRD report in a multi-part series that will detail our 17-day trackchasing and touring adventure to New Zealand and French Polynesia.  The format of this Trackchaser Report will differ from those you have been reading all season. 
Our activities will be listed chronologically by day and divided into "Trackchasing" and "Tourist" categories.  You will get a glimpse into how another family approaches and takes a long and exotic trip like this.  I hope you enjoy reading about our adventures, until you and your family head out on your next tour of the world.
Warning:  If you do not want to experience the feeling of "being there" I recommend that you not read the descriptions of what went on or view the pictures of what was seen.  I would not want any future visits to these faraway parts to be ruined by the realism you are about ready to experience in words and pictures.
Part III
Monday, January 1, 2007
TOURIST ACTIVITY
It was New Year's Day and there was no time for tourist activity.  We had to visit two racetracks in a day/night trackchasing doubleheader.  We would each be getting a new track in 2007, because of New Zealand's time zone, before any of our domestic trackchasing brothers and sisters even had time to drink a Champaign toast to the New Year.  Yes, that is exactly how it should be.
TRACKCHASING
MEREMERE RACETRACK, MEREMERE, NEW ZEALAND – RANDY'S TRACK #1,139 & CAROL'S TRACK #295 – 1/1/07
Wow!  Double Wow!!  Oh shoot, triple wow!!!  I am not certain I am capable of verbally describing what happened to Carol and me today.  What a way to begin the New Year.  I don't think the photos I will provide will do this justice.  If I am in someway capable of showing you the video I shot today, you might get some understanding of what we did.  If anyone poo poos this, one thing will be obvious.  They don't understand what went down.
I'll start this story from the beginning.  We showed up at the Meremere (pronounced Mary Mary) Raceway in Meremere on New Year's Day morning.  They were supposed to run yesterday, but were rained out.  They agreed to run today since it was a bank holiday and everyone had the day off.
I had met the dirt track club's president, "Wizz" Hobson yesterday as well as my advance contact and track PR director Jason Harrison.  These two people would end up making this one of the most special trackchasing days of Carol's and my career.
This is dirt club racing.  The Meremere Dirt Track Club leases the property where there racetrack is located from a local farmer.  The 454-meter long dirt track is a permanent racetrack.  The track is shaped in a tri-oval configuration.  It's located about 60km south of Auckland.  They have some small grandstands, an announcer's booth and good sounding P.A. system as well as a clubhouse.  They also have an onsite campground and a BBQ caterer.  They are set to go racing.
I didn't really know if they would race today or not.  Yesterday, they rained out at 1:30 p.m.  The rain continued until nearly 8 p.m. on New Year's Eve.  As we crested the hill for our first view of the track today, I didn't know if I would see a totally vacant racetrack or cars ready for a full day of racing.  When we arrived at about 10:30 a.m., we saw a well-packed track and sprint cars racing clockwise around the oval.  We were in business!
However, the pit area was a quagmire.  I picked up about 15 pounds of mud just walking a few feet.  I tried to take as many pictures as I could from a central location.  The far reaches of the pit area would need a four-wheel ATV to navigate.
The first person I ran into was Wizz, the club president.  Wizz is also the flagman.  I could tell that Wizz and the rest of the club were really looking forward to a visit from the "World's #1 Ranked Trackchaser."  Wizz had offered something special when I met him yesterday.  He wanted to know if Carol and I would be willing to get suited up in a racecar for a "ride along."  That sounded like fun.
I was thinking we would hop in the passenger's seat of some lowly street stock and ride along without any other traffic at 30 M.P.H.  That would be our highlight of the day.  I thought this would be great for Carol.  That's not EXACTLY what happened.
I guess they were out of street stocks for ride alongs.  They wanted to put us in a sprint car built for two.  I know that some of my readers may not be exactly clear as to what a sprint car actually is.
First of all, a sprint car has the lowest ratio of weight to horsepower of any racing car going.  How does a 600 horsepower engine in a 1,300-pound car sound?  That means a sprinter is light and it is powerful.
Sprint cars are also commonly thought to be the most dangerous type of racecar that exists.  They are open wheeled racing machines, which means they don't have any fenders.  Today's cars were of the World of Outlaw variety.  They had the full top and front wing.  I'll provide several photos of the experience.
I've seen a couple of two-seater sprint cars in the states.  Those cars had the passenger sitting directly behind the driver.  Today's two-seat sprint car had the driver and passenger sitting side by side.  The view from the passenger's side of the cockpit was exactly what one would get if they were driving a sprint car solo.
So, the skeptical among you are thinking, "O.K., what's the big deal?  You hop in the sprint car and go putt putting around at a slow speed.  You probably wouldn't even need a seatbelt for that."  Oh, you skeptical individual you.
We were not going to just putt putt around.  We were going to ride in a sprint car during an ACTUAL RACE!  I have never seen that anywhere at anytime.  They asked us who was going to go first.  My immediate reaction was to blurt out, "Carol."  I always like to go with my gut reaction, so I yelled out, "Carol."  Carol was selected to go first.
I'm going to be honest with you.  I don't really think she understood what was actually happening to her.  She was so calm and smiley, I KNOW she didn't know what was about to come. 
First, she was fitted with a driving uniform.  Then she crawled into the steel fitted sprint car seat.  She looked like "Lil Jac" Haudenschild in his younger, longer hair days.  Then she was fitted with arm restraints.  Yes, arm restraints!  These are used to keep your arms from flying wildly apart in case of a barrel rolling flip.  I was getting scared.  She just kept smiling.
Next, up was the fitting of her black sprint car racing helmet.  This fit her tightly and her cheeks popped up like a chipmunks.  Finally, the five part airplane safety harness was fitted around her shoulders and up from underneath her legs.  If the car flipped over, she wasn't going anywhere.
Then she sat.  Yes, she sat in the car strapped in like a mummy for about 20 minutes while the other races continued.  In the meantime, announcer, "Mike" asked me if I would like to commentate the race that Carol would be in.  I jumped at the chance.  This was my first commentating job in my trackchasing career.
Soon, Carol was off in the Rob Allen driven and Muray Kemp Autos sponsored #302.  I had given Rob just won piece of advice.  "Bring her back in one piece.  I need her to make breakfast for me tomorrow morning."  He nodded and seemed to understand.  There were three sprint cars in the race.  The race was scheduled for six laps.  I was talking a mile a minute on the P.A. and did my best to avoid saying, "Boogity, Boogity, Boogity, let's go racing boys."
Announcer Mike, was videoing my commentary and Carol's sprint car ride.  Carol is a quiet person.  She doesn't have the racing background that many of my readers do.  This had to be the thrill of a lifetime.
Her comments were simple.  "It was very exciting.  The turns were really scary.  It didn't seem like they would be able to straighten out in time for the straights.  I couldn't believe the fumes.  When we first pulled onto the track all of that mud splattered on my face shield.  It was fun watching the cars up ahead to see what they were going to do."
During the cool down laps, I told the crowd that I was most proud of Carol.  I also mentioned that maybe I didn't need to take up any sprint car seat time since Carol seemed to have so much fun.  This comment was greeted with a good deal of skepticism.  I was going to have to ride in that sprint car as well.
The folks hunted up a driver's uniform for me.  It was a little tight in the gut.  I don't understand why.  They discovered I was wearing my ankle high golf socks.  That wasn't going to do.  I was given a pair of woolen socks that went up to my knees.
I hopped in the cockpit.  O.K., I didn't exactly hop in.  It took all of the limberness in my body just to get in the seat.  I would be wearing the same helmet Carol used.  If it was tight on her, you can imagine how it felt on me.  Next came the arm restraints.  I have never worn sprint car arm restraints before.  They keep your elbows from separating by more than 18 inches or so.  Next, the five point safety harness went on.  Yes, it was a little tight in the gut.  I don't understand why.
We were about ready to fire up the engine.  I looked over and I was not getting Rob Allen as a driver.  I was getting someone who was the spitting image of Chuck Amati, long-time and famous sprint car driver from the states.
Before he hit the start button, he carefully put on his driving gloves and locked the steering wheel in place.  I asked him, "Do I need some fire-proof gloves?"  He shook his head no.  There was no time to debate the issue.  We were off.
I don't know if Carol was scared.  If she wasn't, it was because she did not understand the gravity of the situation.  I admit it, I was scared sh#$#$%#less.  I refrained from making any comment like, "We don't really have to pass any of these guys." or "You don't have to do anything special to impress me."  Had I made such a comment it would have invalidated the sanctity of the ride.  I was simply going to sit down, shut up and hang on.
Let me tell you we went for a ride.  When our kids were younger, we went on every roller coaster ride until most parks were ready to shut down.  No coasters bothered me in the least.  Today, my driver was on the gas all the way around the sliming dirt oval.  It was the best "E ticket" ride I have ever had.
When the green flag dropped, that car took off like a rocket.  We went into turn one and slid around the top of the cushion all the way, until we exited turn two.  We went down the backstretch like we were following Steve Kinser.  We would slide very high in turn three.  We slid so high that I thought there was no way we could make it through to turn four, but we did.
The scariest part of the lap was coming out of turn four and driving to the finish line.  The front wheels were turned hard left to make the sprinter go right.  In the middle of the front straight was the flag stand.  In front of the flag stand was a series of tires nailed to the fixed wooden flag stand structure located just at the outside edge of the track.  The car would just get straight before we reached that immovable object, the flag stand.  That part of the lap worried me.
When we finished, I started to breathe again.  During our cool down lap I could see the crowd from all around the track, applauding.  They were happy to see the "World's #1 Ranked Trackchaser" could take it like a man.  They couldn't see my underwear.
When we pulled in, they asked me, "Wanna go again."  What was I going to say?  "Ya, let's do it" and I gave the thumbs up sign.  This time I had the presence of mind to ask for my video camera to record this exciting event.
I also got a new driver, Rob Allen, the same fellow who chauffeured Carol around.  Both of my driver's were great.  During the second race, we were on the tail of one of the other driver's for the entire distance.  We were within 1-2 feet of the right rear of that car in each turn.  I can't wait to see the video. 
We were getting pelted with mud from the tacky racetrack.  My video camera looked a little worse for the wear when we finished.  I may have to take Costco up on their lifetime guarantee!  I won't tell them how I used the camera.
That front stretch flag stand really scared me on the second ride as well.  On the white flag lap, we came out of turn four almost side by side with one of the to other sprint cars.  I was really hoping that Rob would settle for third and not try to take second.  I could actually see the two sprint cars barrel rolling down the straight.  I really didn't want to test my arm-restraints.
When we pulled into the pits, I had a smile on my face that wouldn't go away.  It took me awhile to unbuckle all of the safety paraphernalia.  I sure hope I can share my video with you.  It should give you a real sense of what we got to do.
We finished the afternoon, watching more races.  We also took publicity shots for the local newspaper and Petrolhead, a local racing magazine.  When I get the results from that media work from Jason Harrison, I'll share it on my website.
I know I didn't do our experience justice as I explained it above.  I did my best.  I wish every reader could have shared in this.  Getting to ride side by side with a sprint car driver in an actual race is unheard of.  I'm not sure anyone has EVER done this in the United States.
We concluded our day by thanking Wizz, Jason, Rob, Debbie, Mike and many others.  They made our day.  As a token of their appreciation, they gave Carol and me some very nice souvenir t-shirts from the Mere Mere Racetrack.
This experience ranks right up there with my only race driving experience at the Tirley Raceway in England a few years ago.  It was scary and I don't get scared easily.  Mainly, it was fun!
LIFETIME TRACKCHASER STANDINGS UPDATE:
These worldwide trackchasers are within 100 tracks (plus or minus) of my current trackchaser total.
Randy Lewis, San Clemente, California – 1,139
Guy Smith, Effort, Pennsylvania – 1,077 (-62)*
Rick Schneider – Bay Shore, New York – 1,064 (-75)*
Gordon Killian, Sinking Spring, Pennsylvania – 1,044 (-95)*
Ed Esser, Madison, Wisconsin – 965 (-174)**
* Warning, you are within 50 tracks of being removed from this list. 
** Special exemption.
Other notables
These worldwide trackchasers are within 10 tracks (plus or minus) of Carol's current trackchaser total.
Chris Economaki, Ridgewood, New Jersey – 302 (+7)
Gary Jacob, Turlock, California – 301 (+6)
Ron Rodda, Lincoln, California – 297 (+2)
Carol Lewis, San Clemente, California – 295
Johnny Gibson, Grand Island, Nebraska – 290 (-5)
2007 TRACKCHASER STANDINGS
Carol Lewis, San Clemente, California – 1
Randy Lewis, San Clemente, California – 1
Tracks have been reported through January 1 from two different worldwide trackchasers this season.
 Thanks for reading about my trackchasing,
Randy Lewis
#1 Trackchaser Living West of the Mississippi
That's all the news that's fit to print from San Clemente where the women are strong, the men are good-looking, and all of the children are above average.
CUMULATIVE TRAVEL DISTANCES:
AIRPLANE
Los Angeles, CA – Sydney, Australia – 7,490 miles
Sydney, Australia – Auckland, New Zealand – 1,340 miles
RENTAL CAR – AUCKLAND, NEW ZEALAND
Auckland International Airport – trip begins
Driving all over New Zealand

TRACK ADMSSION PRICES:
Western Springs Speedway – $20NZ
Blue Chip Speedway at Baypark – Free
Upper Hutt Family Speedway – $20NZ
Stratford Speedway – $15NZ
Huntly Speedway – Free
Meremere Raceway – Free
UPCOMING TRACKCHASING PLANS
G'day, mate.  Yep!  The first day of the 2007 trackchasing season is in the books.  We started off with a trackchasing double.  We're in first place…..now can we hold on for just 364 more days?