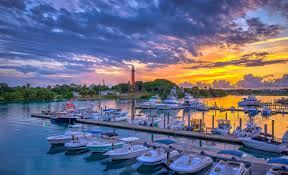 Greetings from Jupiter, Florida
.
.
From the travels and adventures of the 
"World's #1 Trackchaser"
.
.
Moroso Motorsports Park
Asphalt road course
 Lifetime Track #997
The EventPhotos

THE CLASSIC TRACKCHASER REPORT
Editor's note: This is a CLASSIC Trackchaser Report. What the heck does "Classic" mean? It's simply a Trackchaser Report that comes from my trackchasing archives. For whatever reason (usually not enough time) it didn't get posted to my website when I first made the track visit. Often times a classic TR will not have a video and/or photo album attached. I didn't begin producing my YouTube videos until 2009 (YouTube channel: RANLAY). I didn't begin writing a complete Trackchaser Report until I had seen about 430 tracks. Photo albums were sort of hit or miss during the early years of my trackchasing. Additionally, if you see a website link know that link worked when the TR was originally written. Will it work now? Your guess is as good as mine! Nevertheless, this CLASSIC Trackchaser Report has finally bubbled to the surface and is now available for everyone to see at www.randylewis.org. I hope you enjoy it.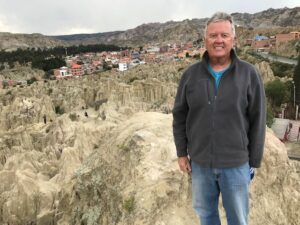 I AM A TRACKCHASER
Yes, I am a "trackchaser". I trackchase. Before you discovered my site had you ever heard of trackchasing? Maybe not? So….what the heck is trackchasing? Sit back, take a read and you'll be an expert on my hobby of trackchasing when you're finished.
Here's my best explanation.
Trackchasing is a three-pronged hobby. I'm a racing fan. I love to travel. I love to analyze opportunities to get the most out of everything while saving time and money.
Trackchasing fills the need for all of the above. The racing part of my trackchasing has me trying to see wheel to wheel auto racing at as many different racetracks as I can all over the world. Yes, all over the world. So far things are going pretty well. As this is written, I've seen racing in 82 countries at more than 2,500 tracks. As a matter of fact, I've seen racing at more tracks than anyone else in the world.
Equally important to me are the things I get to see and experience over the "long and dusty trackchasing trail". I call these adventures "Trackchasing Tourist Attractions". You won't want to miss my "Trackchasing Tourist Attractions" page. Here's the link:  Trackchasing Tourist Attractions or my "Sports Spectating Resume" page, Sports Spectating Resume on my website at www.randylewis.org.
I live in southern California. That's probably the most inconvenient location in the country for seeing tracks in the U.S. Most of the racetracks in the U.S. are located well over 1,000 miles from where I live. As a matter of fact, my average trip covers 5,000 miles and more. I take 35-40 of those trips each season. In any given year I will travel well over 200,000 miles, rent more than 50 cars, and stay in more than 150 hotel rooms.
I get the chance to meet people all over the world. With trackchasing trips to 82 countries and counting just getting the chance to experience so many other cultures, spend time in their homes and meet their friends is a huge reward for being in this hobby. I am indebted to several of these folks for their help and friendship.
It's takes a good deal of planning to do the above and not spend my entire retirement portfolio. I enjoy the challenge, the travel and every other aspect of "trackchasing". In reality, my trackchasing hobby is a lot like being with the carnival. I breeze into town, stay a little while and then head on down the road.
Today's adventure was one more of the 2,000 trips that have taken me up, down and around the proverbial long and dusty trackchasing trail.  If you would like to see where I've been and experience those adventures here's the link: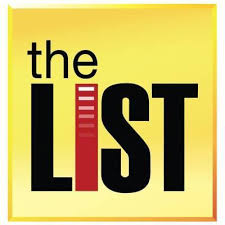 If you've got a question, comment or whatever please leave it at the bottom of this report.  It's very easy to do.  Or you can visit me on Facebook.  Thanks!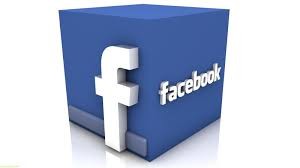 FOREWORD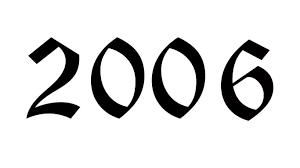 Saturday, February 4, 2006.
GREETINGS FROM JUPITER, FLORIDA
SPECIAL NOTICE
If you are a sick person and just want to get a laugh at my expense, you may want to jump down to the "The trip" section of this Trackchaser Report.
PEOPLE/STRATEGY/TRAVEL NEWS

The Strategy 
Last spring Belgium trackchaser, Roland Vanden Eynde and I were discussing various trackchasing strategies while dining in his home country. One of the things we both agreed on was that to be a world ranked trackchaser you have to have consistency.
You can't see seven races in a row and then take six weeks off. You need to always be getting a track or two as often as you can.  This consistency of purpose will reward the persistent and devoted trackchaser at both yearend and career end.  This is a strategy I try to implement in my trackchasing efforts.
But, hey, couldn't I at least take Super Bowl weekend off? Actually Super Bowl Sunday ranks right up there with Easter Sunday and Mother's Day, as being a day when there is just about no racing going on anywhere. 
Actually, I was first attracted to trackchasing in England several years ago for just one reason.  I could not find any good Easter combinations in the U.S.  Because of the sparseness of U.S. racing during that weekend, I discovered jolly old England.  I will be making my sixth career trackchasing trip to England this year.
I was sitting in my office on Wednesday of this week, just surfing track websites.  I had long had my eye on a Super Bowl Sunday date at a road course in Louisiana. Unfortunately, I couldn't find any Saturday combinations to go with that track.  I rarely fly anywhere for just one new track.  I wasn't going all the way to the Bayou for just one afternoon of road course racing.
It was about this time that I discovered that a track in the Houston area had been rained out of an earlier date.  They had rescheduled for Saturday, February 4.  Wow!  I could combine the Houston track with the Louisiana road course.  I hurriedly checked www.sidestep.com and found a dirt-cheap airfare to Houston.  I was in business!
Before I hit the "Purchase" button, I made one last check on the Louisiana road course web site.  They had changed their date!  They were no longer racing on Super Bowl Sunday, but had moved that race back a week.  That meant I only had the Houston date and, as I said, I wasn't flying all that way for one new track.
Nevertheless, I had the "Fever." I had come so close to booking a trip that I didn't want to leave my office empty handed.  I noticed there were several tracks in Florida racing, four on Saturday and one on Sunday.  I actually had each of these tracks penciled in for future trackchasing trips to Florida over the next several weeks.  But "A bird in the hand is worth two in the bush!" If I saw these tracks now, on what normally would have been a trackless weekend, I would have even more flexibility later on.
Have you even tried to fly to Florida on two day's notice during the high tourist season?  If you have, you might have guessed the airlines were not giving the last minute flyer any price breaks.  Every airport in Florida (Jacksonville, Tampa, Ft. Lauderdale, Miami, and Orlando) had seats available in the $400-500 range.  That wouldn't work for two champ kart tracks and a road course.

I checked all of the airlines where I could use a frequent flyer ticket (American, Frontier, Air Tran, Delta and United).  I rarely use a frequent flyer ticket for any of my personal travel.  I prefer to shop for cheap airfares, buy the ticket, earn the miles and then have the frequent flyer tickets available for the family.
You would think that with six Los Angeles area airports and at least five Florida airports, to choose from I could find a free ticket. Nope!  First, I checked American Airlines and the six California combinations with the five Florida combinations available.  There were no lower mileage award tickets available and I NEVER buy frequent flyer tickets at the new inflated mileage requirements, which of course WERE available.
Just as I was on my last possible airline, United, and my last possible departure/arrival combination, Los Angeles to Orlando, I found a non-stop that would work.  I did one last check of the track websites. Everything looked good.  One quick check of www.weather.com, told me there was a 30% chance of rain on Saturday and only a 10% chance of rain on Sunday.  That didn't sound too bad. Normally, I book my trips 2-4 weeks in advance.  Since I would be leaving in only two days, I actually had the luxury of checking the weather forecast before I headed out on the trip.
I was living up to the strategy that Roland and I had discussed. I was doing a little trackchasing all the time and that is a formula for trackchasing success.  Now, it was time to break the new news to "Trackchasing's First Mother!"
The People
Of course, all of you Trackchaser Report readers know that "Trackchasing's First Mother"lives in our house and is of course my wife, Carol.  Remember she earned this nickname by being the first ever-listed trackchaser (www.trackchaser.com) who is also a mother.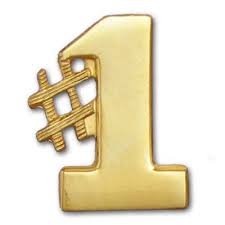 There is one good reason that I hold the title of "#1 ranked worldwide trackchaser while being married." It's helps to have a partner.  Of course, several of our top-ranked trackchasers are single, divorced or married later in life.  I wonder how much trackchasing contributed to all of that?
Nevertheless, I have the very best wife when it comes to getting "permission"to go trackchasing.  Actually, I don't need to ask for permission, but I was raised the right way and ask for it anyway.
Carol told me that if I was out of the house for a couple of days she could get her "Chores" done since we were gone to Oregon for four days last week.  You already know that I don't do any chores around the house other than rebalance our financial portfolio every October 11.
I am not in any way bragging about this fact.  I am only telling you the truth, which according to Trackchaser Report bylaws I am required to do.  There are several reasons that I don't do any chores.
First, when we built our new house three years ago, we designed the house so that the structure comes within five feet of all sides of our property line.  We have no lawn.  I have not mowed a lawn since 1983.  For some reason, I was never able to convince Carol that she should mow the lawn.  She is not impressed when I tell her stories of seeing a significant number of American ladies riding their lawn mowers as I travel the country's back roads!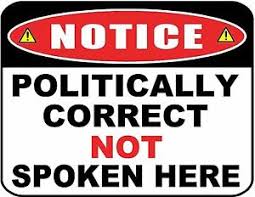 Carol does the more traditional "Women's" work such as cooking and cleaning.  I make this statement only because it is true.  Long ago, I selected only Trackchaser Report readers who did not require a high level of political correctness in reports like this.
You should know that I have volunteered to help with the cooking and cleaning.  This comment should help with anyone who might have forgotten they do not require a high degree of political correctness in their written communications as noted above.
Each time I have volunteered, Carol has rejected my advances (we're talking about cooking and cleaning here!)  She either thinks I'm untrainable or doesn't want to give up control and possibly accept a "streamlined"(my words) or "half-assed"(her words) effort.  Actually, she never swears, another of her virtues.
We're currently working with a carpenter to build some storage cabinets in our garage.  Carol and I are in a debate over whether or not we need a workbench.  In most American families, if this debate existed, I believe the man in the family would be pushing for the workbench and the woman wouldn't care.  That's not the case in the Lewis family.  I see no need for a workbench whatsoever.  I have only used workbenches in the past to sit things on.  Once the workbench was fully saturated with things I didn't want to put away, it became useless.  Carol says we need a workbench.  Therefore, we will have a workbench.  I didn't get to be the "#1 ranked worldwide trackchaser while being married" by being stupid.
On my way out the door, I noticed a screwdriver and a set of adjustable pliers lying on the floor.  I have no idea where these tools came from.  I have no idea what their intended use is for.  That's the way I want to keep it.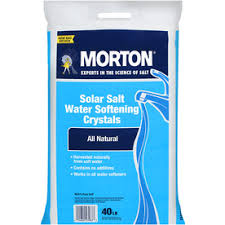 As I opened the garage door, a gust of wind blew my hair askew. This reminded me that my hair is so soft and manageable because we have a top of the line water softener.  I'm told that water softener requires the lifting of 40-pound bags of rock salt to keep it going.
I personally have never put rock salt in the thing although we have the softest water you can imagine.  I can only guess that Carol is handling this.  Yes, she weighs just a smidgeon over 100 pounds.  You might think that lifting a 40-pound bag of rock salt to a height of five feet would be a difficult task for the person I so affectionately call a "Short little dreeb." It probably is.  Nevertheless, I smile and move on with the trip.  That's why I send her to 24 Hour Family Fitness 5-6 days a week!
The trip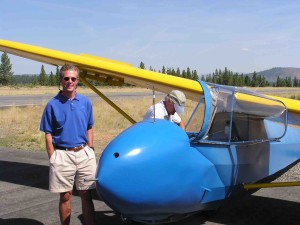 What a difference a week makes!!  It was just a week ago Friday night that Carol and I were dining with our great friends the Moodys at the noted Jake's Famous Crawfish seafood restaurant in Portland.  Let me tell you have things came to be this week.
The first event of this weekend's trackchasing trip was scheduled to begin at 10 a.m. on Saturday morning.  The track was the Moroso Motorsports Park in southern Florida's Palm Beach County. With such an early starting time, I would have to leave home on Friday to make the race.
Normally, I leave San Clemente at the crack of dawn.  I land somewhere in the East or Midwest in the late afternoon and then drive to the first track of the day for racing that evening. Since there was no planned racing on my travel day of Friday, I didn't have to leave the house very early.
If I didn't have to leave early, I wouldn't!  With a 1:30 p.m. LAX departure, I woke up and did my normal aerobic and weight training workout.  Carol went off to her normal 7:30 a.m. aerobics class.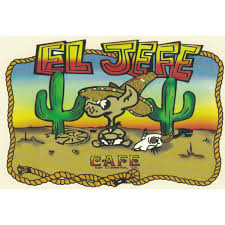 Following our workouts, we met at the El Jefe (pronounced "hey-fey") Cafe.  San Clemente has some of the best Mexican food you're likely to find north of the border. We enjoyed a leisurely breakfast and then a long embrace before I headed out for a hoped for successful trackchasing trip.
I had printed my boarding pass out before leaving home. This is a great time saving feature. With no checked baggage, another time saving feature, I could bypass the check-in counter and go directly to security. My flight was non-stop to Orlando, another time saving feature.
Everything was going really well, except for one very important aspect of the trip.  When I planned the trip on Wednesday, the rain forecast was at only 30%.  In the world of rain forecasting, that's means there is very little chance of being bothered by the wet stuff.  However, shortly after buying my non-refundable airline ticket, the forecast changed.  It was now an 80% chance of rain!  This was a bad sign.
I landed in Orlando about 9 p.m. on Friday night.  Getting the car from National was a snap.  Before long I had the National Rental Car racing Pontiac Grand Prix sailing smoothly down the Florida Turnpike toward the road course in Jupiter.
It had rained here during the day.  The further south I drove the heavier the rain came down.  I pulled out a 10-dollar bill for the tolls. I wanted to see how long that money would last.  When I ultimately pulled into the racetrack parking lot, I had 50 cents left from my $10 toll budget!  The Florida Turnpike is expensive.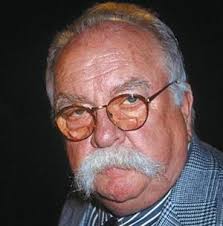 At about 10 p.m., I pulled up to a tollbooth to get a toll ticket. I had not eaten since the El Jefe Café. The tollbooth ticket dispenser was a friendly Wilford Brimley looking character.  I asked where I might get some late night food.  Twirling his mustache, he replied with, "Well, you could risk going to the Burger King, it's about 7 miles down the road. I wouldn't do it.  The first good restaurant is a truck stop and it's 84 miles down the road."  At 10 o'clock at night, I was not going to drive another 84 miles for dinner. I would take the risk at Burger King.
I believe Mr. Brimley was right!  I have never seen a busier or worse run Burger King in my life.  The restaurant was located at one of the service plazas along the toll way.  When I approached the counter there were at least 50 people in line being served by ONE CASHIER.  Don't get me started!
Burger King is not selling very many salads.  I know because after waiting 15-20 minutes to have my order taken and another 15-20 minutes to get my food, my salad order was the only one I saw dispensed. 
Just think, one week ago I was eating in one of the better seafood restaurants in the entire country.  Tonight, it looked like the state prison was serving food on Tuesday burger night.  Maybe Carol was left home to do our household chores, but at least when she goes on a trackchasing trip, everything gets upgraded.
Soon I was back on the turnpike.  I had planned to stay at a Motel 6 in Ft. Pierce, just 30 miles north of the track.  I couldn't make an advance reservation without knowing I would land on time.  If my plane had been cancelled or diverted, I would still be billed for a guaranteed room.  I made the call after dinner to get the room.  They were full.  Rats!
After driving through some heavy rain, I was soon in Ft. Pierce, Florida.  Recall this is where Carol and I were stranded by hurricane Frances just 18 months ago.  When I say stranded, I truly mean it.  We were driving through an area that had been devastated by a major hurricane just the day before.  Nothing was open.  I mean nothing, no restaurants, hotels or most importantly gas stations.
You may recall this is where I ended up paying $100 for five gallons of gasoline from a local cabbie.  I've never been more pleased to make a purchase in my life as Carol and I were struggling to make a cruise ship in Miami.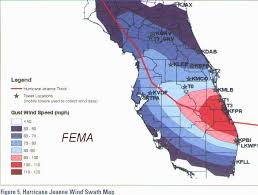 Now as I drove through Ft. Pierce, the weather conditions were similar to that night in early September, 2004.  It was dark and it was raining.  There was the Days Inn.  When we were here in '04, that hotel was closed by the hurricane damage.  We were out of gas in that very Days Inn parking lot with no commercial businesses open.  The area was being protected by the Florida National Guard.  Carol had to use the parking lot for her bathroom surrounded only by her rain poncho.  No photos were allowed.  At least that's what she thinks!
It was now past midnight.  I didn't like the memory of that Days Inn even though they advertised, "Recently renovated."  I knew why too!  I would drive a little further and try to find a better place.
Suffice it to say, I never found another hotel before I reached the racetrack.  Even though I had the track's website driving instructions, given from three different directions, I had some difficulty finding the track.  The directions made sense after I finally reached the track. However, there is usually a learning curve that must be rounded in unfamiliar territory.  A Pratt and Whitney plant security guard finally got me on the right path to the track that was just a few hundred yards from his "Plant protection" shack.
It was now 1 a.m.  The first race started in nine hours.  This was a rural area.  I had not seen any hotels for the last 30 miles.  I was about ready to do the unthinkable.  What was that?  Sleep in my car!
In trackchasing my seeing 182 tracks last year in one season was a pretty big deal.  I'm here to tell you that feat doesn't hold a candle to all of the trackchasers who sleep in their cars nearly every night they go trackchasing.  I average sleeping in my car about one night per year.  I only do this when I am forced too.
At 1 a.m., there was no people activity at the track.  It was raining hard.  As I pulled into the track's camping area, I was greeted by two signs.  The first sign read, "Camping at your own risk."  What did that mean?  The second sign read, "Camping – $15, pay at track office."  We'd deal with that one in the morning.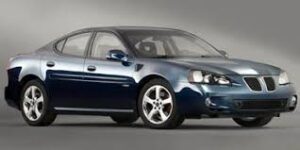 The National Rental Car Racing Pontiac Grand Prix really wasn't that much different from a hotel room.  O.K., it really was a LOT different from a hotel room, but I trying to be positive here. 
At 6 foot 3 inches tall, and tipping the scale at 231 pounds, I found my accommodations a bit on the cramped side.  I actually had four different sleeping options in this Pontiac. It might be a tad more accurate to say resting options rather than sleeping options.
My first choice was to recline the driver's seat.  This wasn't that comfortable and the steering wheel seemed to get in the way.  After about 10 minutes of tossing and twisting, I discovered there aren't enough soft spots in a Pontiac interior to suit me.
I eyed the back seat.  It was a struggle to move my luggage from the rear seat to the front with me still in the front seat!  I couldn't go outside because it was pouring rain.  Finally, with only a few pulled muscles, I made it to the back seat and my luggage was now in the front seat.  Hey, this would make a great TV show.
Did you know that a Pontiac Grand Prix back seat is about four feet wide?  Do you know what happens when you try to put 15 pounds of feathers in a 10-pound bag? Yep, the same thing that happens when you try to put a 6'3" body in a four-foot space.  It ain't pretty.
There were only two options left, the front passenger seat and the trunk.  I really had my eye on the trunk.  However, I was afraid I might suffocate and never live to pass any of those pesky East coast trackchasers who remain above me in the worldwide trackchasing standings.
I chose the right passenger seat.  This seemed like the best of my options.  It's where I spent the next six hours.  Like I said, the Pontiac really wasn't that much different than last week's upscale Marriott Hotel in downtown Portland.
I had a phone in the car just like the Marriott.  I had a 360-degree view from my "room" which was actually better than the Marriott.  Carol had stuffed three Rice Krispy squares in my luggage so I had my version of "Room service." I even had a bathroom.  O.K., maybe it's not your idea of a bathroom, but a Burger King small drink cup works for me, especially when it's pouring rain outside.  It definitely gives new meaning to the phrase, "I had to get up in the middle of the night and go to the bathroom!"
Have you ever been in a tin can, when it's raining hard outside? Me neither, but sitting in a Pontiac Grand Prix, in the dark, in a rain swollen parking lot, while it pours down rain, is about as close as you're going to get to the real tin can experience.
Road course racing almost never rains out in the U.S.  The remaining tracks on my schedule this weekend would rainout with this type of rain.  It was now raining so hard, that I feared my 106-day consecutive trackchasing day streak was in significant jeopardy.  I could only toss, turn, and wait.
At about 7 a.m., a car pulled up and parked beside me.  Were they coming to collect their $15.  No, it was just the beginning of race morning traffic. I leaned forward with a noticeably sore neck that hadn't been that way the night before.  I peered out the window to see the welcome sight of several racecars waiting in line to check in.  The rain had stopped.  The clouds were starting to dissipate.  It looked like they would be racing after all.
With a wallet now overflowing with cash, due to having no hotel expense, I began the day in search of my 997th lifetime track. Like I always say, "Trackchasing doesn't have to be fun to be fun."
RACE TRACK STATS: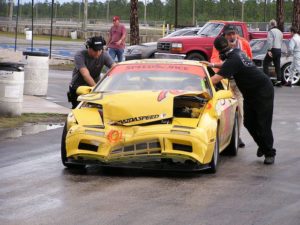 MOROSO MOTORSPORTS PARK, JUPITER, FLORIDA – TRACK #997 – 2/4/06
This Florida track is my 40th in the state.  This breaks my third place tie with Gordon Killian and puts me just one track behind P.J. Hollebrand (above right) who holds second place in the Sunshine state.  Ed Esser leads everyone in Florida with 46 tracks. 
RACE TRACK NEWS: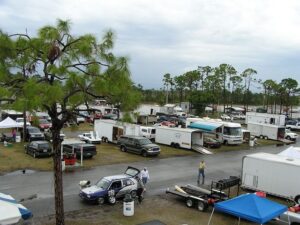 MOROSO MOTORSPORTS PARK, JUPITER, FLORIDA  
Here is a quick blurb about the racetrack from the Moroso website (http://www.morosomotorsportspark.com)
"Moroso Motorsports Park is located on 200 acres of wooded property in NW Palm Beach County. The facility boasts a 2.25-mile ten-turn road course, an NHRA sanctioned ¼-mile state-of-the-art drag strip, permanent rest rooms, concession stands, souvenir Pit Shop, fuel island, and a 200′ x 300′ asphalt skid pad. In addition to the myriad of motorsports events, the park is also used for parties, defensive driving schools, festivals, and corporate ride-n-drives. A 9/10 mile asphalt Kart Track was completed in 2004 and offers a competitive challenge for amateur and professional racers alike as well as Kart schools and clinics."
Today's event was sanctioned by the Florida Region of the Sports Car Club of America (SCCA).  Three groups were racing during an unusual one-day event.  I was here to see the two-hour Group 2 enduro event. Group 2 consisted of these SCCA classes: ITGT, ITS, ITA, IT7, AS, P1, P2, SPO AND SPU cars.
The great thing about this race is that it was scheduled to start at 10 a.m.  That meant I could easily get up to St. Lucie Speedway for their early evening show.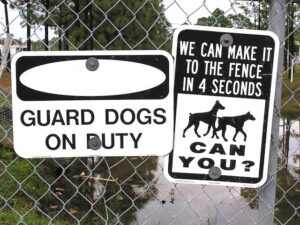 Because I slept at the track, it was very easy to make the morning commute for this earlier than normal starting time.  On my walk to the ticket window from the car, I encountered these signs, "Beware of Alligators", "Camping at your own risk," and, next to a picture of some attack dogs, "These dogs can run faster than you can!"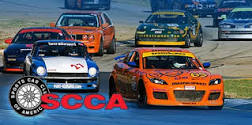 At the ticket window, I was asked if I was a member of the SCCA.  I told them I was not (and I never have been).  The woman then said, "That will be $100." I really don't know if she was kidding or not.  I didn't wait to find out.  After some brief, but rapid and compelling discussions, I was being admitted as a member of the press.  They even gave me a dorky orange vest like highway workers use and strongly recommended I wear it.  Since no one else had one of these vests, I stuffed it in my cameral bag and returned it to the main office upon my exit.
As mentioned, it had rained all night.  I entered the track about 9 a.m.  By this time there were actually some patches of blue starting to show up in the sky above.  That would not last long.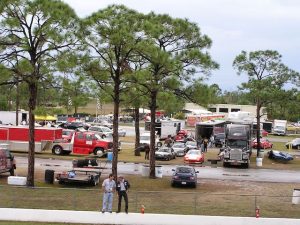 I took a brief tour of the paddock area. There were 40-50 cars at Moroso today. The biggest class was Group 2.  I would be watching these Corvettes and Miatas and the like race a two-hour enduro.
During the last practice session and before the start of the enduro a huge black cloud made its appearance on the horizon.  This black cloud covered about 150 degrees of the entire sky.  It was massive and dark.  It was also moving very fast.  I videotaped the cloud's movement.  It may have been the fastest moving cloud formation I have ever seen.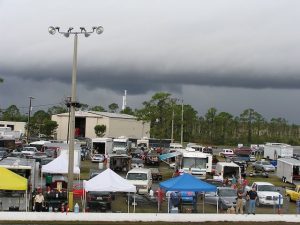 At first the black cloud came overhead and nothing much happened.  Then the wind started to pick-up and then it started to rain.  This was a "Noah, go get the ark" type of rain.  The cars that were on the track for their practice session continued to race like there was no water at all.  I have never in all of my trackchasing days seen it rain this hard and the cars kept racing.  It was raining like proverbial cats and dogs and some of the cats and dogs were coming down sideways.
After it had been raining like this for nearly 30 minutes with no more cars of the track, the announcer came over the public address system with this, "Group 2 participants, Group 2 participants, your race has been…………(Please, don't say cancelled!) shortened from two hours to one hour and 30 minutes."  I let out an audible gasp.  I still had a chance at my 997thcareer track.
I had been talking to one of today's drivers while we waited for the first race to begin.  The fella I was talking to would be co-driving with his brother in one of the Miatas in today's two-hour enduro race.  This guy was relatively young and had retired in 1999 after selling his medical company.  His brother was in the racing business and sold SCCA type racecars.  You could tell this was one of the high dollar teams from the looks of their semi-trailer racecar hauler.
I learned a lot about sports car racing from this driver.  He told me it runs him about $3,000 per weekend to race with the SCCA.  I was surprised it was that expensive.  He said an aspiring driver could rent a car from his brother for about $3,500 per weekend.  The entry fee per weekend runs around $500.  That seemed gigantically high as well considering these racers do not race for prize money.
He told me they commonly raced in rain like we were having today.  He did say that if there were any indication of lightning the organizers would cancel the race.  The lightning was not a problem for the racers, but was too dangerous for the corner workers. That made sense.  It was an interesting conversation with this gentleman. I learned a lot about SCCA road racing.
The race started an hour and 15 minutes late. That's almost unheard of in SCCA racing. It rained hard from 10 a.m. until the race ended at nearly 1 p.m.  At some points on the track more than half the racing surface was covered with standing water.  The puddle spray the cars created was sometimes 30 or 40 feet high.
The rain was heavy.  I had left my umbrella in the car as an efficiency measure. Therefore, I stayed in the covered overhead spectator bridge for the entire race.  I could just about see all the action from this elevation.  They had a couple of yellow flags for spinners that slowed the racing.  I'm guessing the cars ran 25-35 laps during the 90-minute race.
Last week we spent the entire weekend in rain in Portland, Oregon.  Our trackchasing was saved because the race was held indoors.  This weekend in South Florida the rain was even worse and I was saved by a road course, where they very seldom cancel.  To continue the long and successful weather streak I have, you need to have a little luck on your side and I have had that during the past two trackchasing weekends.
RENTAL CAR UPDATE:
I'll be motoring around on this trip with the National Rental Car Racing Pontiac Grand Prix under me.  I picked up the car with just 7,200 miles on it.  I fear I may have trashed it a little with all of the rain and sand the car's been through.
LIFETIME TRACKCHASER STANDINGS UPDATE:
These worldwide trackchasers are within 100 tracks (plus or minus) of my current trackchaser total.
Rick Schneider – Bay Shore, New York – 1,038 (+41)
Allan Brown, Comstock Park, Michigan – 1,021 (+24)
Any Sivi, Clairton, Pennsylvania – 1,007 (+10)
Guy Smith, Effort, Pennsylvania – 1,007 (+10)
Randy Lewis, San Clemente, California – 997
Gordon Killian, Sinking Spring, Pennsylvania – 989 (-8)
Other notables
Andy Ritter, Mansfield, Pennsylvania – 233 (+1)
Colin Casserly, Stevenage, England 232 (+/-0)
Carol Lewis, San Clemente, California – 232
Bernie Harlen, Goshen, Indiana – 229 (-3)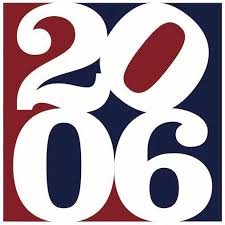 2006 TRACKCHASER STANDINGS
Randy Lewis, San Clemente, California – 6
Roger Ferrell, Majenica, Indiana – 4
Ed Esser, Madison, Wisconsin – 4
Gordon Killian, Sinking Springs, Pennsylvania – 3
Carol Lewis, San Clemente, California – 2
Guy Smith, Effort, Pennsylvania – 2
Will White, Quakertown, Pennsylvania – 2
Rick Young, Maxville, Ontario, Canada – 1
Several trackchasers – 1
Thanks for reading about my trackchasing,
Randy Lewis
Trackchasing's #1 trackchaser of the 21stcentury
Trackchasing doesn't have to be fun to be fun.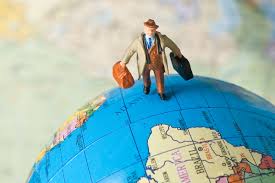 CUMULATIVE TRAVEL DISTANCES:
AIRPLANE
Los Angeles, CA – Orlando, FL – 2,210 miles
RENTAL CAR
Orlando International Airport – trip begins
Jupiter, Florida – 182 miles
TRACK ADMSSION PRICES:
Moroso Motorsports Park – Free
UPCOMING TRACKCHASING PLANS
St. Lucie Speedway, St. Lucie, Florida – February 4
RACETRACKS VISITED IN 2006 (** not the first time to visit this track) 
Watermelon Capital Speedway, Cordele, Georgia – January 14
Cross Roads Motorplex (asphalt oval), Jasper, Florida – January 15
Norfolk Scope Arena, Norfolk, Virginia – January 20
Qualcomm Stadium, San Diego, California – January 21
Oregon State Fair & Expo Center, Forster Livestock Arena, Salem, Oregon – January 28
Moroso Motorsports Park, Jupiter, Florida – February 4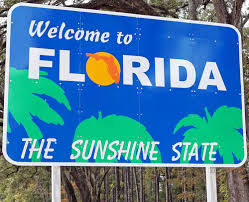 Florida
The Sunshine state
This afternoon I saw racing at my 40th lifetime track in the Sunshine state, yes, the Sunshine state.  I hold the #3 trackchasing ranking in Florida.
Thanks for reading about my trackchasing,
Randy Lewis
World's #1 Trackchaser
Peoria Old Timers Racing Club (P.O.R.C.) Hall of Fame Member
Florida sayings:  It'll pass.
This phrase refers to the on-again, off-again rain showers experienced throughout the day. Floridians are always talking about the possibility of rain when making day plans, but any doubts are usually squashed with "It'll pass." Rain comes in short intervals in Florida; it can be pouring in your backyard while your front yard is sunny and clear, so don't cancel any plans due to a dark cloud in the distance. 
QUICK FACTS
LIFETIME TRACKCHASER COMPARISONS 
The three most important trackchasing comparisons to me are:
Total lifetime tracks seen
Total "trackchasing countries" seen
Lifetime National Geographic Diversity results
Total Lifetime Tracks
Randy Lewis, San Clemente, California – 997
Total Trackchasing Countries
Randy Lewis, San Clemente, California – 8
Current lifetime National Geographic Diversity results
Randy Lewis, San Clemente, California – n/a
That's all folks!  Official end of the RLR – Randy Lewis Racing Trackchaser Report
Click on the link below for a photo album from today's trackchasing day.  You can view the album slide by slide or click on the "slide show" icon for a self-guided tour of today's trackchasing adventure.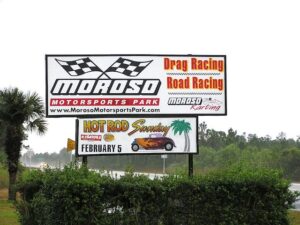 My 2006 trackchasing day from the Moroso Motorsports Park