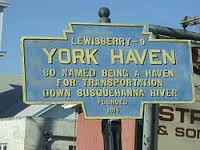 Greetings from York Haven, Pennsylvania
.
.
From the travels and adventures of the 
"World's #1 Trackchaser"
.
.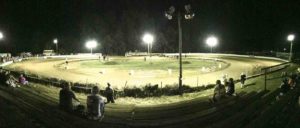 Outback Track
Dirt oval
Lifetime Track #2,277
The EventVideo PlusPhotos
THE EVENT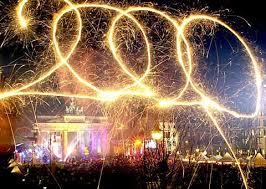 Today's undertaking was just one of more than 2,000 trips that have taken me up, down and around the long and dusty trackchasing trail. If you would like to see where I've been and experience those adventures here's the link:
If you've got a question, comment or whatever please leave it at the bottom of this report.  It's very easy to do.  Or you can visit me on Facebook.  Thanks!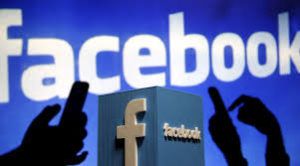 ON THE WAY TO THE RACES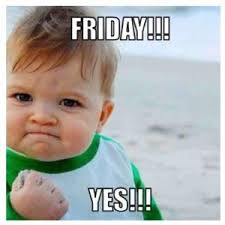 FRIDAY
I could sleep late this morning. I didn't have all that much driving to do to get to tonight's racetrack in York Haven, Pennsylvania.
That being the case I slept in just a bit. My plan didn't call for me having the benefit of a hotel for the next two nights. I really needed to enjoy my stay at the Hampton Inn and Suites while I could.
This was a quality hotel. Their best online rate for last night was $139 plus tax. I had used Priceline.com to stay here for just $43. With all taxes and fees I was saving more than $100 compared to their normal guests. There was nothing wrong with that. I just felt badly for their normal guests!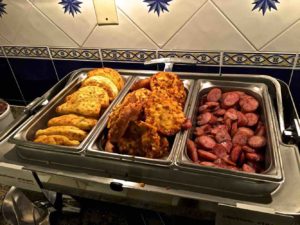 The breakfast was well above average at the hotel. I dined on egg omelets and summer sausage. Now that I'm practicing the Atkins diet that's about all that I could have. Nevertheless it was most filling.
Last night I had checked on touring opportunities in and around Baltimore somewhat near where I was staying. One of the choices caught my eye! Today I would be heading to the Babe Ruth Birthplace and Museum located in Baltimore, Maryland.
Babe Ruth started out in the Baltimore Orioles' organization. It seemed only appropriate that the Baltimore born and raised youngster would have his museum within a short walking distance of the Oriole Stadium at Camden Yards. Of course I have seen a baseball game at that stadium. As a matter of fact, I have seen a baseball game at EVERY active MLB stadium (30 of them).
I drove over to the museum to find that seniors were admitted for just five dollars. I very much enjoyed my visit. There were a good mix of videos and films along with photographs and exhibits of the Babe throughout his career.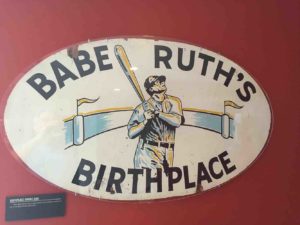 If you are interested in Babe Ruth or baseball or sports in general I would highly recommend a stop there. It won't cost you much and it won't take very much of your time. However, I think you'll enjoy yourself a good deal.
On the way out I did buy a souvenir t-shirt commemorating my visit to the museum. Then at the end of the trip I left the shirt in my rental car! I hope someone in Boston suffers the "curse of the Bambino" is they wear that shirt.
From Baltimore I would drive up to Harrisburg, Pennsylvania. Harrisburg was a good location for two reasons.
First of all, later this evening I was headed to the Outback Track located just behind the Susquehanna Speedway in York Haven, Pennsylvania. Tonight's track was only about 10-15 miles from the center of Harrisburg.
Secondly, Harrisburg is home to the National Civil War Museum. This museum is the number one tourist attraction in all of Harrisburg. That ranking motivated me to visit. 
Using my Waze GPS system most things are easy to find. That was the case with the National Civil War Museum as well.
Admission for seniors was $11. That was just a one-dollar saving over the regular admission but as they say every dollar counts. They say that right?
Of course, I don't think "seniors" should get any discounts at all compared to young families. However, I've been out voted on this issue. Therefore I feel I must accept the discounts as they come my way.
The National Civil War Museum was dedicated in the year 2000. It looked even newer to me. Of course the Civil War was fought over slavery and states rights compared to federal government control. You knew that right?
Please take a look at my photographs to get an overview of what this afternoon's touring was like. I highly recommend this museum if the topic is of interest to you. I spent about an hour and a half inside the building and still didn't read about much of the information that was provided. Nevertheless I found it a reinforcement of what I thought I already knew.
THE RACING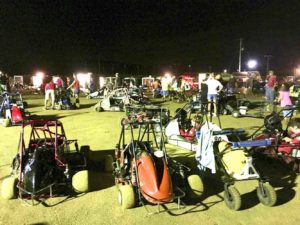 Outback Track – York Haven, Pennsylvania
Next up was the short drive over to the Outback Track. This is a small go-kart track that races on Friday nights. I only have about 15 tracks left to see that compete on Fridays. 
Tonight would prove that nothing is ever easy in the hobby of trackchasing. The races were scheduled to begin at 7:30 p.m. I arrived at 6:30 p.m. I paid my $10 admission fee, which allowed full access to both the pit area and the grandstand. Tell me again why regular dirt oval tracks can't charge one reasonable fee to get into both the grandstand AND the pit area? Oh, don't even bother. I wouldn't believe the explanation anyway.
Just like last night it was a terribly hot, humid and still evening. At 7:30 p.m. it was still 86°. You could cut the humidity with a knife. We don't have humidity in San Clemente. You knew that right?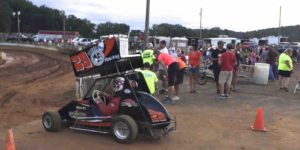 Only one of the karting classes competing tonight counted according to trackchasing rules. Those were the "speed cars" which I was told have a minimum age limit of 16 years up to infinity (really old).
I learned at the driver's meeting that because of some form of water problem in Hagerstown, Maryland that track's cars would be racing at the Outback Track tonight. The man leading the driver's meeting told everyone that there were 65 cars in attendance the largest amount for the entire season.
I had not given the car count for the countable speed cars a second thought. I was thinking they always got a lot of them at this track. I was wrong!
In point of fact there were only two speed cars in the pit area tonight. Two cars is the MINIMUM allowed to qualify as a race. O.K., there is an * to that statement. However, I'm not going to subject you to that minutia now.
The speed cars were the first class to hit the track during warm-ups. Normally that would be outstanding news. However, as things would turn out it wasn't that great.
The track was in rough and muddy shape. They were going to use the bigger and heavier speed cars to pack the track. They must have allowed these two drivers to take 50 laps around the small dirt oval. That was terrible news for me.
Why would I say that? If one of those two cars had a mechanical breakdown of any sort that could not be repaired during this 50-lap practice session my entire visit to the Outback Track would be nullified. If only one speed car was left to compete the Outback track would not count in my lifetime totals. I was sweating that one.
One might think that because the speed cars went first in practice that they would have their heat race ahead of the other 63 competitors. Wrong! I looked at the line-up board. The speed cars had practiced first but their heat race was the last of the night!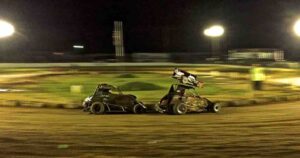 This meant that the two-car speed car heat race would not go off until past 9 p.m. I would not be staying for their feature event since there were only two cars racing.
You might be thinking, "Randy, you must certainly want to keep dominating Guy Smith in the lifetime trackchasing results if you're willing to hang around this track for so long to see just two karts race". My response to that query would be simple and to the point. So?
To top it all off I got hit by a moist mud ball from one of the speed cars during hot laps. That left a huge brown golf ball sized mark on my brand new turquoise t-shirt. I had been planning to wear that shirt all the way through Sunday night. I hate it when that happens.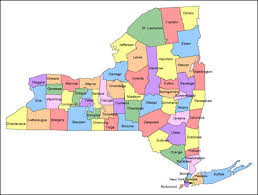 Following tonight's race I would have a 3 ½-hour drive up to Watkins Glen, New York. The plan was to sleep overnight in my car and be ready to watch their first race tomorrow at 8 a.m. Every minute I waited to see a two-car speed car heat race meant one less minute of sleep.
In the middle of the racing there was a significant skirmish in the pit area. I was there to see it all. There was a lot of screaming, yelling and pushing. It looked like a riot might break out at any moment. This was after a very gentile driver's meeting where everyone seemed to be getting along.
The reasons for the problem were somewhat predictable. One race team thought the officials were favoring some others. My experience has been that track officials normally go out of their way to be impartial. Racers and their teams are not the most objective folks when it comes to getting rulings that go against them.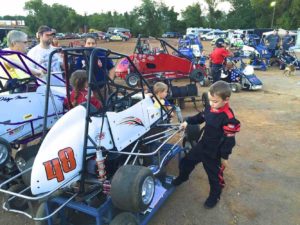 It was a LONG wait for the two-car speed car heat race to make it to the track. I WAS wondering what in the world that Trackchasing's Founding Fathers were thinking when they turned thumbs down on both flat karts and cars driven by kids. I wasn't there. I wasn't part of that rules making procedure. In hindsight I would have done it differently. However, it is what it is.
Was the two-car speed car heat race the best I've seen in 2016? Well, it might have been the best TWO-CAR race I've seen….I haven't seen many of those this year. Nevertheless, it was good to finally knock off this track location. It's been part of several previous trackchasing plans and avoided for one reason or another.
AFTER THE RACES
After the races I would have a long drive up toward Watkins Glen, New York. I had to be there for their 8 a.m. Saturday morning start. I would be sleeping somewhere along the way in my car.
I did notice that severe thunderstorms were hitting York Haven, Pennsylvania and presumably the Outback Track at just past midnight. I suspect those storms might have affected the two-car speed car feature race and maybe more.
Good evening from York Haven, Pennsylvania

Pennsylvania
The Keystone state
This evening I saw my 98th lifetime track in the Keystone state yes the Keystone state. I am on the threshold of seeing 100 or more tracks in six different states. No one has come close to doing that. I've seen 98 or more tracks in 6 separate states.
Thanks for reading about my trackchasing,
Randy Lewis
World's #1 Trackchaser
Peoria Old Timers Racing Club (P.O.R.C.) Hall of Fame Member
Pennsylvania definitions: Wawa:
What it means everywhere else: The sound a baby makes when crying.
What it means in Pennsylvania: A convenience store that every Eastern Pennsylvanian is at least slightly addicted to.
QUICK FACTS
LIFETIME TRACKCHASER COMPARISONS 
The three most important trackchasing comparisons to me are:
Total lifetime tracks seen
Total "trackchasing countries" seen
Lifetime National Geographic Diversity results
Total Lifetime Tracks
There are no trackchasers currently within 575 tracks of my lifetime total. Don't blame me.
Randy Lewis, San Clemente, California – 2,277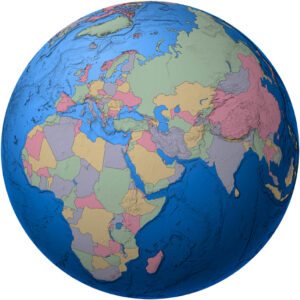 Total Trackchasing Countries
There are no trackchasers currently within 10 countries of my lifetime total.
Randy Lewis, San Clemente, California – 72
Current lifetime National Geographic Diversity results
Randy Lewis, San Clemente, California – 4.47
That's all folks! Official end of the RLR – Randy Lewis Racing Trackchaser Report
Click on the link below to see the video production from the racing action today.
Click on the link below for a photo album from today's trackchasing day.  You can view the album slide by slide or click on the "slide show" icon for a self-guided tour of today's trackchasing adventure.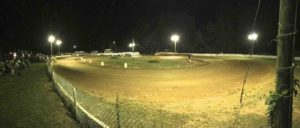 The Outback Track…..it truly IS out back!
.
.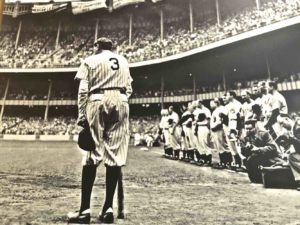 Babe Ruth Birthplace and Museum – Baltimore, Maryland
.
.
National Civil War Museum – Harrisburg, Pennsylvania