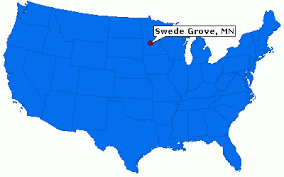 Greetings from Swede Grove, Minnesota
.
.
From the travels and adventures of the 
"World's #1 Trackchaser"
.
.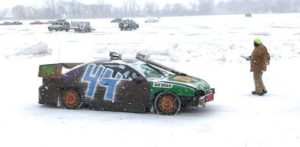 Peterson Lake Ice Oval
Ice oval
 Lifetime Track #2,415
The EventVideo PlusPhotos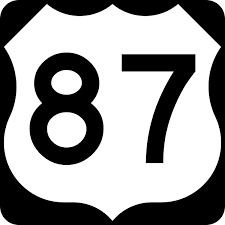 THE EVENT
I have had the opportunity to follow my trackchasing hobby all over the world.  As this is written I have seen racing in 77 countries.  My lifetime track total is just over 2,400. Today I would be seeing my 87th race on ice.  Long ago I wrapped up seeing racing in every American state.
Some twelve years ago I moved into the "World's #1 Trackchasing" spot.  Of course, that's if that title is awarded to the person who has seen the most lifetime tracks.  Frankly, I don't think it should be.   Maybe "Most Prolific Trackchaser" is a better description for that category.
The World's #1 Trackchaser title should be bestowed on the person who has seen the most racing in the most countries.  That's what the "world" is made up of isn't it?  Countries!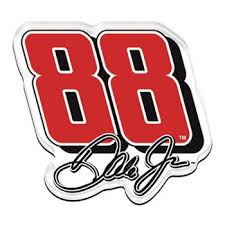 I've got to tell you I never expected to see ice racing at this many locations. Today, when the first heat took the green flag, ice track #87 was in the books. I was seeing my 88th lifetime track in Minnesota. I've still got quite a few opportunities in the Gopher state. Maybe I'll get a hundred tracks there some day but not for a while.
It's important to note that my hobby is not only about racing.  Yes, that is one part of it.  However, of equal importance are the logistics of trackchasing (getting from point A to B to C, etc.) and the opportunity to see the world.
I live in Southern California.  The vast majority of tracks in the U.S. are located in the Midwest and East.  It takes a good deal of logistical planning to get from where I live to where the tracks are.  A typical weekend trip within the U.S. will cover more than 5,000 air and driving miles.  I do about forty of those trips each year.  For the past 15 years I have traveled about 175 nights each and every year.  Surprisingly to some, more than half of those overnights were not part of trackchasing.
A big part of trackchasing for me is simply travel just for the fun of seeing new things.  You won't want to miss my "Trackchasing Tourist Attractions" page or my "Sports Spectating Resume" page on my website at www.randylewis.org.  Search around on my site.  Use the drop-down menus.  They will take you all over the world!  My site will give you some understanding on how important seeing the world and just "seeing stuff" is with my trackchasing hobby.
Today's adventure was one more of the 2,000 trips that have taken me up, down and around the long and dusty trackchasing trail.  If you would like to see where I've been and experience those adventures here's the link: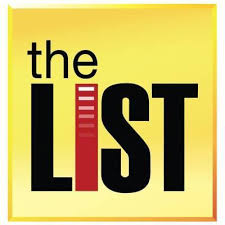 If you've got a question, comment or whatever please leave it at the bottom of this report.  It's very easy to do.  Or you can visit me on Facebook.  Thanks!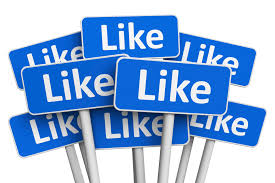 FOREWORD
Friday, February 2, 2018 and before.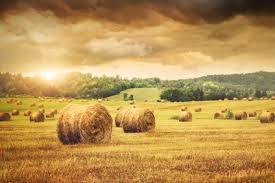 Someone famous, or at least they should have been famous, once said, "You need to make hay while the sun shines". How true.
The ice racing season in North America pretty much runs from the beginning of January until the end of February. There are probably more ice races contested in February than in January. It takes a while for the ice to form. Often times ice racing groups must cancel their first weekend or two of scheduled racing in early January if the ice isn't good enough.
I might not always want to leave the friendly and warm confines of our modest seaside cottage in the middle of the winter. However, with the adage running through my head, "You need to make hay while the sun shines", I pull on long johns, grab my stocking cap and gloves and I buy another airplane. If I don't, by March 1 or so ice racing will be only a distant memory. It will have yielded to the positive spring forecast and the beautiful days at the Midwestern beaches albeit for a very short time in the summer months.
If I had to say, I would tell you Carol is not a major ice racing fan. I can say that, even after I have explained to her that in most ice race watching situations you could watch from the comfort of your automobile. The thought of being out on a frozen lake in the middle of Minnesota or anywhere where they have frozen lakes is not appealing to Trackchasing's First Mother. That's OK with me. He who travels fastest travels alone.
Carol is a homebody anyway. She does all the chores around our house. When I say all of the chores I mean ALL of the chores. I'm the finance guy. I've sat on airplanes night after night for thirty years accruing good-sized paychecks and investing wisely. I pay for the chores. Carol does the chores or she farms them out. It doesn't matter which to me. We're both comfortable with the situation.
Most, but not all, ice racing is done in the afternoons. This weekend would begin with a Saturday afternoon show in Swede Grove, Minnesota on Peterson Lake. In order for me to get there for the very first green flag I would need to leave San Clemente on Friday afternoon.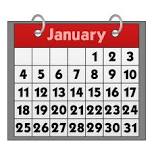 You might want to know this is the first weekend in February. So far in 2018, I have trackchased every weekend. That's five weekends. This is the third consecutive weekend I will be flying into Minneapolis, Minnesota.
As a more than frequent traveler my experience allows me to spot trends with our nation's airlines. The busiest times of the year to fly are at Christmas, Thanksgiving and during spring break. O.K., you're probably saying to yourself, "I don't even fly that much and I could have told you that".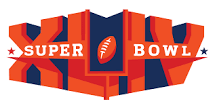 O.K., Mrs./Mr. smarty pants, do you know what weekend is the least crowded in the countries airports? If you said Super Bowl weekend you would be right.
I am not a fan of the National Football League. I have not watched a single down during the entire 2017-18 season. However I used to be a big NFL fan.
There was a time when I never missed a game. In the early days of Monday night football I had a wager with a friend that motivated me to watch every play and lean forward when my team was rushing for a first down and do my best to lean against the opponent when we were on defense. I bet a lot of money on those games. Then when the first labor strike came along about 20 years ago I said enough and swore off the NFL.
I worked for a large corporation during my business career. We always had sports tickets to all of the major teams in all of the major sports. As a matter fact when the company stopped buying Los Angeles Rams NFL season tickets I stepped in and for a few years owned nine season tickets for the Rams games. I would sell five of the tickets for profit which paid for the remaining four tickets that my family and I used.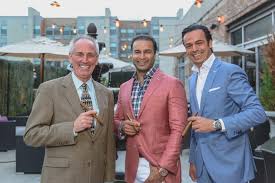 During my corporate days I was required to attend a lot of customer outings. To be quite frank with you I absolutely hated those. The last thing I wanted to do was to go to some entertainment venue where you're supposed to be having a fun time and have to be "on" with customers during the entire charade. Yep. I absolutely hated that.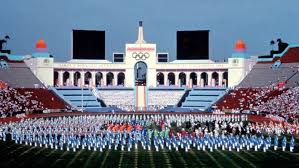 However, when the company invited my wife and me to the 1984 Summer Olympics and the Super Bowl in 1977 at the Rose Bowl in Pasadena, California I couldn't pass those up. Oakland beat the Vikings, 32-14, on that Super Bowl day, January 9, 1977. That's when the game was played in early January and not early February. Kenny Stabler was the star quarterback for the Raiders at the time. Our seats were one row in front of his wife's seating location. Wanda Stabler never stopped yelling during entire game.
Maybe I will record the Super Bowl this year. If I do it will be only to watch the commercials. Even at that I normally end up deleting the recording without watching any of it by around July 4 or so.
Usually when Super Bowl weekend rolls around I will gleefully fly into a place like Minneapolis in the middle of ice racing season. All of the airplanes are wide open then. Everyone is staying home to watch the game being played at some warm weather location like Miami or Los Angeles. I was all set to do that this year as well. That was until I noticed that the Super Bowl was being played in downtown Minneapolis!
Now I love Minneapolis and Minnesotans more than just about anybody you know. However, I wasn't that wild about flying into Minneapolis on Friday before the Super Bowl game on Sunday. I thought I would never get a flight. I thought it would never get a hotel. I was right about the hotel but wrong about flight.
When I went on Priceline I found hotels in Minneapolis selling for $500-$1,000 a night and more. A Motel 6 was priced at $249 plus tax for gosh sakes. Had these Minnesota hotel proprietors lost their minds? No, they are just American business people. It's called capitalism and I'm O.K. with that.
I was shocked to find that the flights going from Los Angeles to Minneapolis were wide open on Friday before the big game. I figured with all the money and high-rollers that reside in Southern California there would be a mass exit over to the Super Bowl. Not true. Flights were wide open.
There was no way I could afford to stay in or around Minneapolis. Tomorrow morning's track was out in the direction of St. Cloud, Minnesota. That's about a two-hour ride from the "cities". I found a place up there with rooms for just $50 a night.
The following might show you how aggressive I can be with travel expenses. I called the hotel to see if they might offer a senior discount from the $50 a night rate I saw on their website. The hotel manager I was talking to told me they no longer had any $50 rooms available. The price was now $60. I've got to tell you there is one ethnicity that commonly runs hotel chains that I'm not very fond of when it comes to running hotel chains.
I had only asked this fellow what his best senior rate was. He didn't know that I knew his website was offering rooms for $50. I hung up on his $60 offer. Then I immediately bought a $50 hotel room from his website. Don't mess with Texas!
The Astoria Inn and Suites is a former Motel 6 property. I had stayed there in the past when it was a Motel 6. The place has not gotten any better since leaving Motel 6. No, the Astoria Inn was not the best motels I had ever stayed in. As a matter fact, it approached being one of the worst.
To begin with I couldn't get my hotel door open. I was pushing the door handle down like one does when one checks into 99% of the hotels in North America. I had to run down to the desk and get the same manager I spoke to on the phone previously to help. He came up to the second floor with me. There he told me to RAISE the handle to make the door work. It worked.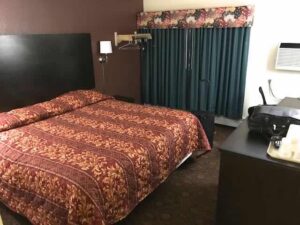 Then the manager went into the room with me. He immediately jumped on the bed and unscrewed the smoke detector. I had never seen a hotel manager do that! The batteries were low he told me.  The detector had been beeping. He smiled and told me he would fix it tomorrow!
The temperature in my room when we entered had to be about 14°, maybe 17. The manager went over to the air-conditioner and turned on the heat. The machine did blow out warm heat but not at a much more rapid pace than whatever cold air was coming into the room. The room temperature crept up by a degree or two every 15 minutes. By the time I went to bed it was probably up to about 55°. Did I win by getting a $50 hotel on Super Bowl weekend? I'm not sure.
Saturday, February 3, 2018
I didn't know a lot about today's ice racing group. I knew they were racing on Peterson Lake and I thought the lake was in Grove City, Minnesota.
I've been following these folks for a couple of years. I knew they scheduled two races each season. I also knew that due to warm weather and lack of ice they had canceled a show or two in the past. The weather looked good today. With cold and windy conditions I didn't expect ice to be a problem.
I figured I would just breeze in the Grove City, a town of 635 people, and find the racing location easily. It seemed to me that in such a small town a collection of racers and their fans would be easy to spot. After doing this for a few years now I've discovered that nothing is ever easy.
After I entered Grove City and was just about ready to exit, a distance of about a half a mile, it dawned on me that I wasn't going to see a group of racers and their fans parked alongside the highway. I had no other choice but to stop and ask a woman who was busily shelving snow in front of her store.
I passed on the opportunity to tell her my snow shoveling strategy. Since you're reading this and seemingly have the time I'll share it with you. I have not mowed a blade of grass since 1983. I haven't shoveled any snow since before that. I'm pretty sure by the Fourth of July Grove City will not have a speck of snow on the ground anywhere. If that's the case then why shovel it now? If it's going to disappear on its own why break your back shoveling it? Pretty sound logic huh?
Despite Grove City being a town of less than 700 people this woman didn't exactly know where they were racing. If that doesn't tell you that auto racing, and ice racing in particular is a niche sport, I don't know what will.
THE RACING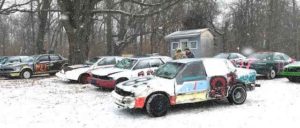 Peterson Lake Ice Oval – Swede Grove, Minnesota
I switched up things and put Peterson Lake in my GPS rather than Grove City. That worked wonders. Soon I saw a couple of other cars turn down a dirt road. I did too.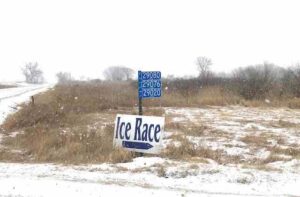 Then I saw a white sign with blue letters that said, "Ice race". The sign pointed me further down the road. That sign to me was like waving a red flag in front of a bull! I was on the case.
I was soon driving on someone's farm property. I was passing their farmhouse and then the barn. Had I taken a wrong turn? I was on snow-covered ground. Nope. I drove a little further and found a huge parking lot and pit area. This would be home to the Peterson Lake ice racers.
This was a set up where the racing would take place just a few yards from the shore. I'm going with the East Coast term "shore" because even in the warmest of summer days this spot didn't look like it could be called a beach.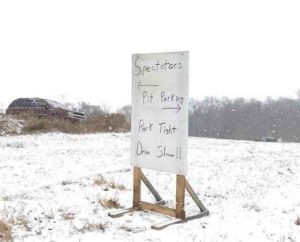 There was no charge for admission today. That is normally the case with ice racing. That's a nice side benefit but I would come to these races regardless of where they charged or not.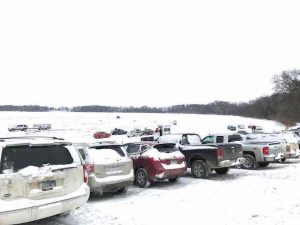 Fans parked their cars on a hilly snow-covered area. The front row, those folks with the very best view of the racing on the lake, was already spoken for. I parked in about the fourth row and begin the laborious process of layering myself up. I was prepared for today's 12° below zero Celsius temperatures with a strong wind of 10 miles an hour or more. If I got to a point where I couldn't handle it I knew where my car was parked.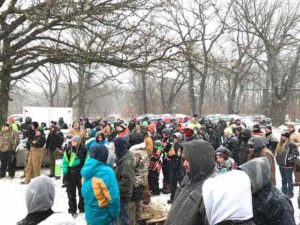 I was just in time for the driver's meeting. I soon learned there were three classes racing today. Those divisions with the four-cylinders, six cylinders and studded class. Heat races would be for six laps, B mains for eight and feature events 15 labs.
Today the cars would be racing around an ice oval. I'm going to guess the track was about 1/5-mile in distance. There was a huge car count on hand.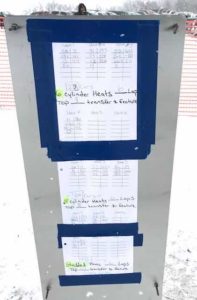 It seems like everywhere I go for ice racing the classes that run on "soft rubber" have a lot more cars than those that race on studs. Why is that? Would it have anything to do with the great expense of studded ice racing tires? Probably. When you don't know the answer to a question if you look to see where the money went your question might be answered.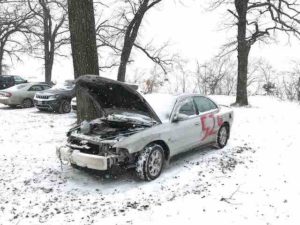 In some places this might be called junk car racing. These cars were "daily drivers" not that long ago. They didn't carry roll cages but most carried at least one if not two or three passengers. I was happy to see that all the passengers and drivers were wearing helmets. That is not always the case with this type of racing on ice in Minnesota. Sometimes beer is used in place of a racing helmet.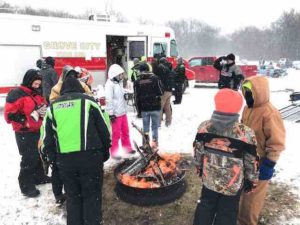 I don't normally see fire pits at ice races. But then most of the time most of the fans are watching the ice races while they are stationed on the lake. Today fans were warming themselves around several fires. I liked that idea.
Editor's note: I missed the really cold weather at Peterson Lake by one day. On Sunday at 10 a.m. it was 13 degrees below zero Fahrenheit with a "feels like" temperature of -27!
I noticed more than one, O.K. I noticed many men walking around in sub-zero freezing wind chill with a tall cool one clutched in their hands. You can take the man away from the bar but you can't take the bar away from the man.
I talked to one old timer, O.K. he was probably younger than me, who told me that he raced stock cars at Grove City back in his day. He told me the place was a dragstrip now. I did see that on my way in the Grove City earlier today.
The racing speeds I witnessed today were dramatically slower than what I had seen only a couple of weeks ago up at Borden Lake in Garrison, Minnesota. Both of the classes that I was comparing were racing on soft rubber. I wondered why that was. I guess there is a difference in cars especially constructed for ice racing compared to your daily drivers.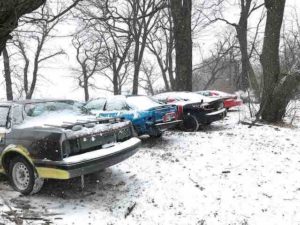 I walked all around the pit area. I walked back in the woods. I didn't see any porta potties or bathrooms anywhere. That's why I walked back in the woods.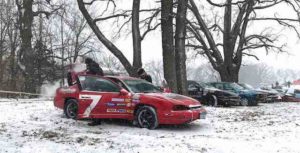 I took photos of most of the racers. I took videos of several of the races. I had to stand about 75 yards or more from the racing action. However by the time I crop things you'll think I was within arm's reach of today's ice racing competitors.
I can't recall wearing this much clothing in the past although I'm sure I have. Except for my hands, and I had hand warmers inside my gloves, I was really very comfortable. I did stop over to where the Grove City fire department was selling it refreshments.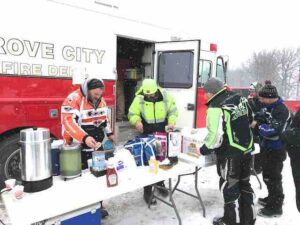 They were doing it as a fundraiser. Their prices could not have been any more reasonable. They were outright low. Heck, this was a fund raiser. They were attempting to raise funds! I would have upped prices by at least fifty percent. Of course, maybe that's why I live in California and am not a "NIMS" person living in Minnesota. Of course, NIMS people are the nicest folks in the country.
Hotdogs and sloppy Joe's were for sale at two dollars each. Canned soda and coffee were available for only a buck each. I walked off with a couple of sloppy Joe's and a can of soda.
They did a pretty good job of running one race after another today. However they did have several yellow flag delays when their racers slid through the snow banks and got stuck. I contrast that with my Borden Lake track visit a couple of weeks ago. As I recall they had one yellow flag delay all day. Today they averaged about two yellows per race. Each yellow was a three or four-minute delay. That adds up on a cold and windy Saturday afternoon.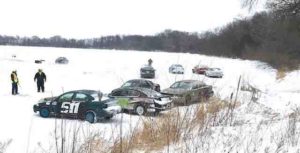 I was at the Peterson Lake today for about 2 1/2 hours of their program. Toward the last part of my stay the weather started to get cloudier and windier. It was actually getting to be just a little bit uncomfortable toward the end. I had seen about as much of the racing program at I cared too today from just about every angle that was available to spectators. I did notice that a few pick-up trucks had entered the lake from a different direction. They had a view overlooking the backstretch from a distance of 75 yards or so.
AFTER THE RACES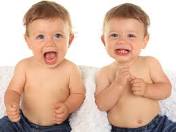 Today I would be attempting a day/night ice trackchasing double. There may never have been as many as five of these successfully accomplished in the nearly 100-year history of trackchasing. Without giving it a lot of thought I don't know if I've ever done it myself.
One of the reasons that ice trackchasing doubles are so rare is that probably less than 1% of all ice racing is done at night. However, race promoter Jr. Schleuger had scheduled an ice race for this evening. It would be on Crystal Lake in Forest City/Crystal Lake, Iowa. More on its location later.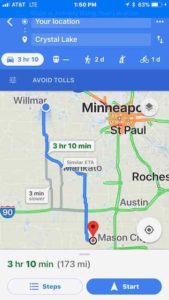 I knew Crystal Lake was about 170 miles south of where I was this afternoon in Swede Grove, Minnesota. On the slick and snow-laden roads it would be more than a three-hour drive.
Here's what I didn't know. I wasn't 100% sure where Crystal Lake, the body of water was located. One might think it's in Crystal Lake, Iowa. You actually drive onto the lake from streets in Crystal Lake. However Wikipedia says the town of Crystal Lake, Iowa is 100% land with no water. My iPhone GPS system told me, once I was on the lake, that I was actually in Forrest City Iowa. However, again Wikipedia told me Forrest city, home to Winnebago industries, was also landlocked. So where WAS Crystal Lake, the body of water?
I had that conundrum to ponder on the drive down to Iowa. Along the way I stopped for my favorite snacks. Those would be pork rinds and Diet Mountain Dew. They were out of Vienna sausages.
Good afternoon from the Peterson Lake Ice Oval in Swede Grove, Minnesota.
Randy Lewis – 77 countries – 2,415 tracks.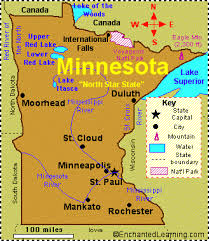 Minnesota
The Gopher state
This afternoon I saw racing at my 88th lifetime track in the Gopher state, yes, the Gopher state.  I hold the #1 trackchasing ranking in Minnesota.  I've seen 88 or more tracks in seven different states.
Thanks for reading about my trackchasing,
Randy Lewis
World's #1 Trackchaser
Peoria Old Timers Racing Club (P.O.R.C.) Hall of Fame Member
Minnesota sayings:  Interesting. That's interesting… because Minnesotans are too nice to actually voice their opinion.
QUICK FACTS
LIFETIME TRACKCHASER COMPARISONS 
The three most important trackchasing comparisons to me are:
Total lifetime tracks seen
Total "trackchasing countries" seen
Lifetime National Geographic Diversity results
Total Lifetime Tracks
There are no trackchasers currently within 600 tracks of my lifetime total.  Don't blame me.
Randy Lewis, San Clemente, California – 2,415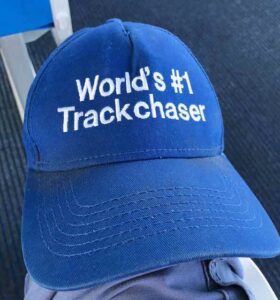 Total Trackchasing Countries
There are no trackchasers currently within 20 countries of my lifetime total. 
Randy Lewis, San Clemente, California – 77
Current lifetime National Geographic Diversity results
Randy Lewis, San Clemente, California – 4.14
That's all folks!  Official end of the RLR – Randy Lewis Racing Trackchaser Report
Click on the link below to see the video production from the racing action today.
Click on the link below for a photo album from today's trackchasing day.  You can view the album slide by slide or click on the "slide show" icon for a self-guided tour of today's trackchasing adventure.
Ice racing from the cold, snowy and windy Midwest….Minnesota!