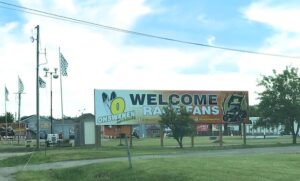 Greetings from Ohsweken, Ontario, Canada
.
.
From the travels and adventures of the 
"World's #1 Trackchaser"
.
.
The Warm Up Track at Ohsweken Speedway
Dirt oval
 Lifetime Track #2,454
The EventVideo PlusPhotos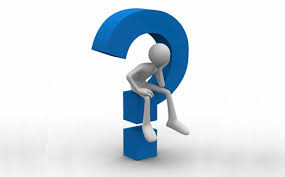 THE EVENT
I am a "trackchaser". So, what the heck is that? I get that question from racing and non-racing people all the time. This is a difficult question to answer. Why? Because after I do my best to respond people say, "I've never heard of such a thing"!
Here's my best answer.
I'm a racing fan. I love to travel. I love to analyze opportunities to get the most out of everything while saving time and money.
Trackchasing fills the need for all of the above. The racing part of my trackchasing has me trying to see wheel to wheel auto racing at as many different racetracks as I can all over the world. Yes, all over the world. So far things are going pretty well. I've seen racing at nearly 2,500 tracks in 80 countries. As a matter of fact, I've seen racing at more tracks than anyone else in the world.
Equally important to me are the things I get to see and experience over the "long and dusty trackchasing trail". I call these adventures "Trackchasing Tourist Attractions". You won't want to miss my "Trackchasing Tourist Attractions" page. Here's the link:  Trackchasing Tourist Attractionsor my "Sports Spectating Resume" page, Sports Spectating Resumeon my website at www.randylewis.org.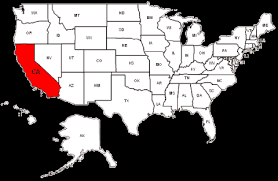 I live in southern California. Most of the racetracks in the U.S. are located well over 1,000 miles from where I live. As a matter of fact, my average trip covers 5,000 miles and more. I take 35-40 of those trips each season. In any given year I will travel well over 200,000 miles, rent more than 50 cars, and stay in more than 150 hotel rooms.
I get the chance to meet people all over the world. With trips to 80 countries and counting just getting the chance to experience so many other cultures, spend times in their homes and meet their friends is a huge reward for being in this hobby. I am indebted to several of these folks for their help and friendship.
It's takes a good deal of planning to do the above and not spend my entire retirement portfolio. I enjoy the challenge, the travel and every other aspect of "trackchasing". In reality, my trackchasing hobby is a lot like being with the carnival. I breeze into town, stay a little while and then head on down the road.
Today's adventure was one more of the 2,000 trips that have taken me up, down and around the long and dusty trackchasing trail. If you would like to see where I've been and experience those adventures here's the link: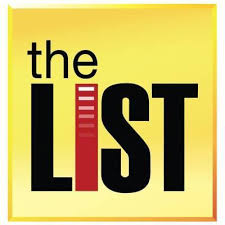 If you've got a question, comment or whatever please leave it at the bottom of this report.  It's very easy to do.  Or you can visit me on Facebook.  Thanks!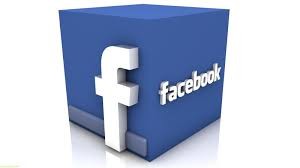 FOREWORD
Tuesday, June 19, 2018.
Before I can pull the trigger on one of these trips there's a tremendous amount of planning detail that must be completed. First, I have to confirm the race locations and dates. Then I'll check the weather forecast to make sure the likelihood of being rained out is minimal. Finally, I'll figure out how I'm going to get from point A to B to C, etc. I wish you could be part of this. It would likely give you a deeper appreciation for the hobby of trackchasing.
Often times Carol does not make the trip if the logistics are iffy, the weather is threatening and/or I'm likely to sleep overnight in my car or in an airport. Can you blame her? Heck, those issues come with almost every trip!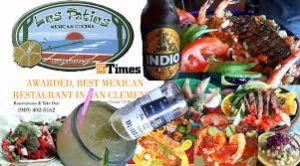 On the night before those kinds of trips we will sneak away for a cozy dinner and possibly a movie. This evening we went to our familiar Mexican eatery, Los Patios. We go there often for "Taco Tuesday". The food is good, not excellent. The prices are cheap and the service works. La Patios is probably a mile or maybe less from our modest seaside cottage.
It was with some trepidation that I began this trip. Earlier in the day I told Carol I wasn't going today. The weather for tomorrow night's racing options was just too troublesome. Then I got an updated forecast, which made things look a little better. I decided I would take the chance on the weather.
I fly standby. There are lots of reasons why flying standby is really the way to go. However, during the summertime lots of people are flying.
Students don't have school. Lots of folks are retired and don't have a job to go to. Lots of other people either don't have a job or take their vacation during the summer and warmer months. For whatever reason, it seems like people in America have a lot of free time. What do they do in their free time? They spend it on leisure activities. You don't see this nearly as much in other countries around the world.
For this trip to work I needed to get to the Midwest. Anywhere in the Midwest would do. I was going to be flying an all-nighter. Competing destination points were Minneapolis and Indianapolis. However, I also considered Chicago, Kansas City, St. Louis and Cincinnati among others.
I had three overnight options that could get me to Minneapolis or Indianapolis. None of them looked very good as regards seat availability. However, I have come to learn that lots of people either buy a ticket or try to standby for a flight and never show up. I was counting on those people in this instance.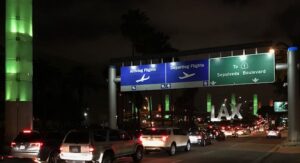 When I got to the Los Angeles International Airport I discovered there was another overnight nonstop to the Midwest. This plane was going to Columbus, Ohio. I had not even considered Columbus. It turned out there were a few seats available for the flight to Ohio. I made some last minute connections and soon I was boarding a flight to Columbus.
What would I do when I got to Columbus? I would figure it out…..when I got to Columbus.  The one reason that I've been so successful with trackchasing and other areas of life is that I'm pretty good at figuring stuff out.
I had a middle seat on my four-hour overnight flight. If you're going to fly standby in the middle of the summer you must get accustomed to flying in the middle seat. Normally, it's not all that bad.
The woman in the window seat was small. She was young. She curled up in a ball with a hoodie over her face and I never heard from her again. I wished the same could be said about my seat me on the aisle.
I was wearing shorts and a T-shirt and felt most comfortable. The gentleman in the aisle seat had a long sleeve shirt on to begin with. Then he pulled out a sweatshirt and put that on. He followed all of that by taking one of the airplane blankets and wrapping himself in that. This increased his dimensions beyond his allocated seat space. Yes, he encroached on my middle seat.
I have the capability of sitting very still on an airplane, if necessary. That way I can stay in my own space and not bother anyone else. The fellow in the aisle seat did not have that capability.
He must have touched his own personal movie screen on the back of the seat in front of him one million times. If he didn't touch the screen one million times he touched it two million times. Every time he reached up with his left hand to try to change something on the screen he brushed against me. Every time he turned his torso he brushed against me. Who likes that right?
At one point I took the offensive. I looked over at him and said, "I'm doing my best not to bump into you." He didn't take the hint. He simply looked at me and smiled and said, "OK, no problem". Yes, he was totally oblivious. It was definitely one of the more uncomfortable middle seat experiences I have had.
Wednesday, June 20, 2018.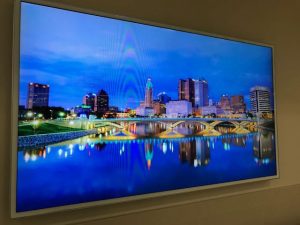 I landed in Columbus at about 6 a.m. It was Wednesday. I don't often get the chance to trackchase on Wednesday. That's why I couldn't pass up this opportunity.
I had two trackchasing options today. One was in Indianapolis, Indiana and the other in Allison, Iowa. The weather forecast for Indianapolis had been bad and stayed bad. The weather forecast for Allison had been off and on. When I left on this trip it was good. They were not expecting any rain. I was headed to Allison, Iowa.
If I drove to Allison from Columbus it would be an eight-hour drive. However, if I could fly from Columbus over to Minneapolis and then drive down to Allison driving time was just three hours. Then when I returned my rental car back to Minneapolis it would make getting to Thursday night's destination easier. After just less than an hour in Columbus I hopped on a plane to Minneapolis getting there at 8 a.m.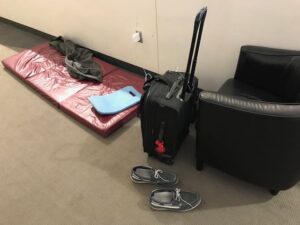 I certainly hadn't got much sleep on the plane last night. That being the case, I went to my favorite spot in the Minneapolis airport and took a snooze for three-four hours. It's nice and quiet up there. Today they even had a foam rubber mat all laid out for me. I took advantage of the opportunity.
I called last night to make a rental car reservation with National. I was told that Minneapolis was sold out of rental cars. I couldn't make a reservation for noon today.
However, I have a special program with the National Car Rental Company. I can call to make a reservation at least 24 hours in advance and they will give me a car even if they are sold out to the "public". So, last night I made the reservation for 10 p.m. tonight. Of course I expected pick up the car around noon. They would let that slide and the idea that there were no rental cars in Minneapolis did not apply to me. Just tell me your rules and I'll figure out a way around them.
It was cloudy, very cloudy, on my drive down to Allison. An hour from my destination it started to mist. That was a little concerning. I checked my weather apps and lo and behold it looked like rain was covering the entire Midwest. Where in the heck did that come from?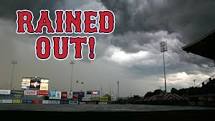 Now it looked like Allison, Iowa was going to get rain. When I crossed over the Iowa border I stopped at the Iowa Welcome Center. I would hang out there for just a bit to see if the rain was going to do any damage. This way I could save about two hours of round-trip driving if they did rain out in the next few minutes. Sadly, they did. I picked up that information on their Facebook page. Bummer!
In 2018, I've seen racing at 46 new tracks. This is my second rainout of the year. That's a pretty good record. I don't have as many back up plans as I used to.
I am always disappointed when I do get rained out. Tonight, it looked at as if my other TC option in Indianapolis might be racing. It's doubly disappointing when I have two choices and end up picking the wrong one. Oh well, I did the best I could.
I had a couple of extra hours that were suddenly free now. On the drive back to Minneapolis I figured I might stop and see a movie. I used my GPS, my MoviePass locator and calculated the ETA as I was traveling up the interstate. How did I live my life before tech?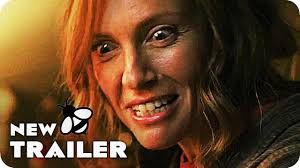 All this allowed me to see a movie called Hereditary in Owatonna, Minnesota. With MoviePass there was no extra charge for me to see the film. Hereditary is classified as a drama/horror movie. I'm not a huge fan of horror movies. I didn't really care for this one and left with about 30 minutes to go. One can do that when they didn't pay anything extra to see the film. I must admit I took a short nap during the cinema production as well!
A trackchasing rain out is certainly a waste of time and money. Those things are both important to me. The only saving grace was that I didn't have a hotel expense last night (taking the red-eye plane ride) and I didn't expect to have one tonight. 
I was going to try to catch an airplane to Toronto, Ontario, Canada tonight. If I hadn't been rained out in Iowa this evening I was going to try for Toronto in the morning. If I didn't make the Toronto flight tonight I would still try to go to Toronto in the morning.
If I didn't make the flight to Toronto this evening I'll sleep in the Minneapolis airport. If I do make the flight I'll sleep in the Toronto airport. Putting up zeros in the hotel category helps when the bigger dollar signs are being added to the airplane category right now. Remember, I don't sleep in airports to save money although that strategy does save money. I only sleep in airports when there's not enough time to effectively use a hotel.
I got the last seat on the plane from Minneapolis to Toronto tonight. I arrived into the Toronto Pearson International Airport and cleared Canadian border control easily. They don't use the paper forms they used to for admittance to Canada. Only recently they've switch to electronic kiosks similar to the ones that I've used for years with my Global Entry program.
I couldn't pick up my rental car until tomorrow morning without incurring an extra day's expense. I didn't want to do that. That meant I likely had no transportation to what would also likely be an expensive hotel for the evening. I elected to sleep overnight in the Toronto airport.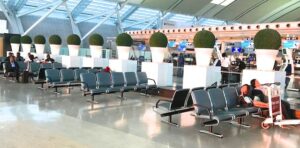 I've slept overnight before in Toronto (YYZ). Actually it's one of my favorite airports to sleep overnight in. Why? There are several lay down sleeping options. Also, they don't have any of those annoying announcements that virtually every American airport does all through the night.
Thursday, June 21, 2018.
I probably got about five hours of sleep in the airport. There were a good fifty people doing the same thing I was. Sleeping over three chairs without armrests is not the most comfortable situation but it will make do. It's not even possible if the chairs have armrests! There's a huge all glass wall at the end of terminal one in the departures level. That's where I slept. The window gives you a great view of the morning sunrise.
After waking up at about 6 a.m. I walked over and grabbed a Chrysler 300 from the National Car Rental parking garage. That's one of my favorite road cars. It's big but still gets good gas mileage.
Whenever I sleep overnight in my car or in an airport I like to go directly to a "two for one" hotel. What the heck is that?
Here's how the "two for one" works. I call up a hotel and ask if they will rent me a room early in the morning. Today, I asked for a 9 a.m. check in. Hotels will do that if they weren't full the night before.
I can't use Priceline with this strategy. There's no telling if I book a hotel on Priceline whether or not they'll let me in early or not. I usually go with Motel 6 to execute a successful two for one strategy.
I've stayed in my share of Motel 6 properties. I'm not bragging. It's nothing to be proud of. I'm just explaining. They are usually a clean and available brand. They do seem to attract more local police cars than the Marriott. I'm just saying.
I know from experience that the greater Toronto area has the very best Motel 6 properties of anywhere in the world. They're relatively new, multi-story and just nicer all around. Today I found one in in Burlington, Ontario. The price was a very reasonable $55 US plus tax.
Here's how the two-for-one strategy works. After a night of less than quality sleep in my car or the airport I check into the hotel at about 9 a.m. and sleep for four or five hours. Then I get up in the late afternoon and go to whatever activity brought me to the area. When that activity is finished I return to the hotel late at night and sleep overnight until my next planned activity. Using this strategy effectively gets me two "nights" of sleep for one hotel expense.
I considered a couple of Trackchasing Tourist Attractions but sleep sounded like a better idea. I just relaxed in my room until dinner time. Then I used Yelp to find me a quality Indian restaurant.
There is a strong Indian population all over Canada and especially around Toronto. That made me expect to be able to get good Indian food. I did. Yelp helped me find the Bombay Grill in Burlington. Outstanding.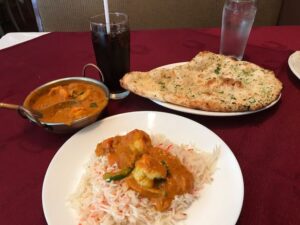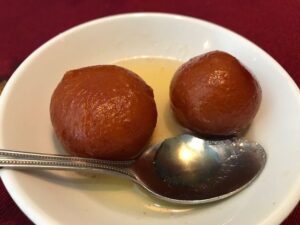 I dined on shrimp masala and garlic (extra garlic) naan. I should have asked for them to make my dish spicier. I love spicy food. I finished off my meal with a dessert serving of gulab jamun, a south Asian sweet. It was all delicious.
From the restaurant it was an easy, less than an hour drive down to the Ohsweken Speedway in Ohsweken, Ontario, Canada. This would not be my first trip to Ohsweken.
THE RACING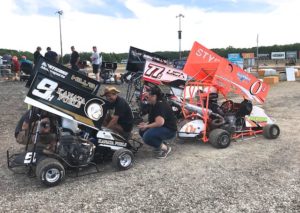 The Warm Up Track at Ohsweken Speedway – Ohsweken, Ontario, Canada
I first went to Ohsweken in 2000. The track was much different then. That track visit some 18 years ago is noted for one reason. On that evening I did my very first at the track interview. I don't really know how that interview originated. I do know that I have done nearly 500 of those interviews since the first one in 2000.
Carol was with me on that first Ohsweken visit. She's heard me interviewed many times. I think she's only been interviewed once or twice. As I recall one of those times came from a trackchasing visit to Italy!
I returned by myself to see the "new" Ohsweken Speedway in 2013. I was there to see racing on their inner oval. Of course they were racing on their regular track that night as well.
If you want to check out my review of the racing program from five years ago here's the link:
The Ohsweken Speedway runs one of the best short track dirt racing programs that I've seen anywhere in the world. They seem to do virtually everything right. Good for them. If every track did it as well the short track auto racing industry would be much healthier.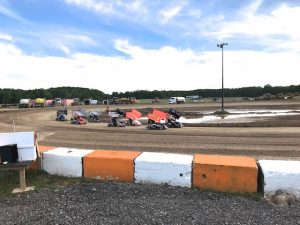 Tonight I would see racing on their smaller banked dirt oval. This track actually sits off of the big track's backstretch. This little bullring is known as the "Warm Up" track. This might show you how buttoned up the Ohsweken Speedway is. They build a "warm-up" track so their sprint cars can be pushed off in this area and then enter the bigger speedway already running. They did that to save time. As you know most sprint cars don't have starters.
In today's world having race cars without starters is a bit like using candles rather than electricity. It's a little bit like major league baseball hitters not wearing a helmet. In my opinion it's a totally outdated concept and delays the show immeasurably. Fans in today's world want their entertainment to happen at a much faster pace than in the past.
On Thursday nights the Ohsweken Speedway uses the warm-up track for micro sprint racing. They have a complete Thursday night schedule that runs all summer. Tonight's race was their first effort of the 2018 season.
This evening's admission price was seven dollars Canadian. That seven bucks included both the opportunity to watch the races as well as be in the pit area. I love that concept.
When I stepped up to the window I asked the ticket seller if Mary, the woman I had talked to on the phone in advance of my visit, was there. Nope. She wasn't at the track today.
With that question answered the ticket seller handed me my pit pass wrist band. I gave her my business card to give to Mary. I walked away. Then I realized I hadn't paid for my wristband!
If you have read my Trackchaser Reports for very long you know that I use cunning and guile to first understand the rules and then use those rules to my advantage to save money, time and to add convenience.
Due to the ticket seller's inattention I have just "saved" seven Canadian dollars. Yes, I am retired. I've been retired for more than 16 years. I don't receive a pension of any kind from my company. Carol and I pretty much live on the savings that we accumulated while I was working. Of course Carol has not drawn a paycheck for more than 40 years. I could never live with myself if I had to use her money to go trackchasing.

However, I did not gain seven Canadian dollars by being cunning or clever or really for any good reason. I had an extra seven Canadian dollars in my pocket because of the lack of attention paid by the ticket seller. If I didn't bring this mistake to her attention I would be dishonest.
There is a HUGE difference between being cunning and clever and smart compared to being dishonest. Being dishonest does not register on my behavior skill set. I went back to the ticket window. I actually had to wait in line to tell the clerk that she hadn't taken my money. She appreciated my coming back.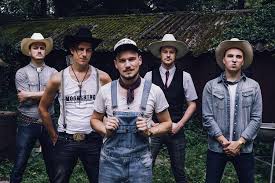 I remember a couple of my fellow competitors laughing about a story where the ticket seller had given them the wrong amount of change. The mistake had been in the trackchaser's favor. They didn't go back and correct this mistake even though they knew about it when it happened. I never forgot that. As a matter of fact, I called them out on this action at the time. They never joked about taking money in this fashion from the track again.
Each time I remember anything about those people I think about how they cheated the person who gave them the wrong change. It's really the same way I think about those trackchasers that have paid promoters to run special events for the trackchasers benefit only. They did that again about a year ago. That's dishonest. That's cheating.
I know they will say they "sponsored" the event. Oh, really? How is it that this new "sponsored" track didn't get any attention or MONEY this year when there would be no trackchaser benefit?
Tonight I was just in time for the 7 p.m. start. I was happy to see the first heat was already on the track. They were going to start on time. I guess I would not have expected anything less from the Ohsweken Speedway.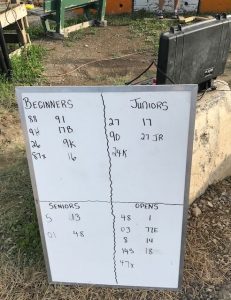 There were four classes of micro sprints racing tonight. Each class averaged seven or eight cars with a low of five in one group and a high of nine in another. There were also two flat cart classes tonight. One of those classes had only one competitor.
As I mentioned I had talked to Mary, who is the main contact for the micro sprint racing at Ohsweken. During our conversation she confirmed that both the senior division and the open or expert division allow drivers to be 18 years of age or older. That meant that those classes counted toward my trackchasing hobby. The other two micro sprint classes did not as they were limited to people less than 18 years of age.
Tonight the PA system was only used to call drivers to the track. There was no play by play announcing at all. I miss that feature at the kart tracks that don't have a true announcer.
Restrooms and concessions were located a bit of a walk away from the warm-up track. They were using the facilities the big track uses for the fans that sit on their back stretch.
In America everyone knows that we use the term "restroom" when we want to take care of our "personal" needs. In Europe and most of the rest of the world they use the word "toilet" in lieu (pun intended) of restroom. Toilet to me seems a little crude. Restroom seems to not exactly fit the occasion if you know what I mean.
Canada is just about the only country that goes with "washroom". That seems like a better word to use than either restroom or toilet to me. You're probably going to wash as you leave the washroom. You're not likely to do much "resting" in the restroom right? If I were president of United States my bathroom policy would be simple. I would rename everything the "washroom" and be done with it.
Tonight they had two heat races and a main event for each class. The racing was OK. It seemed to me that they had more than their share of yellow flags. For whatever reason the open class had a lot of spins. Then they had difficulty with their restart lineups. They ran tons of yellow flag laps trying to get it figured out.
Probably the most unique aspect of tonight's program was the flagman or as that position is sometimes referred to in other countries, the starter. Like many of the drivers, the flagman was a kid.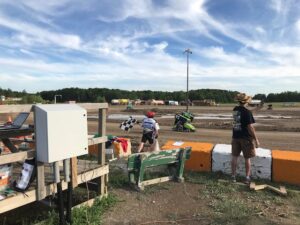 I'm going to guess he was 12 or 13 years old. I will tell you this. The young man did a great job. If his actions had been those of an adult I would never have known the difference. Well done.
As I always tell you, I recommend you take a look at the YouTube video and my photo album to get a sense of what tonight's racing and racetrack were really like. As they say a picture is worth more than 900 words.
AFTER THE RACES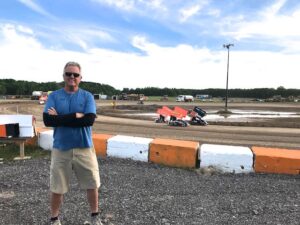 I was back in my Motel 6 by a little past 10 p.m. I had stopped to get gas near Ohsweken Speedway at a Shell station on the Six Nations Indian reservation. I guess I didn't tell you that the speedway is located on an Native American reservation.
When I stopped at the gas station a fellow came out to pump my gas. I asked him if that was common. He told me that his station and another Shell station "on the reservation" pump the gas for their customers. This got us into a conversation about the reservation.
My gas pumper reminded me that the Six Nations Indian reservation is not part of Canada. It is its own nation. Does that mean it is its own country? Probably not.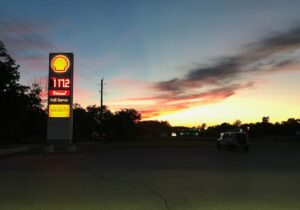 I will tell you that the gas price of $1.17 Canadian per liter was the lowest I had seen anywhere in Canada over the past few weeks. I'm guessing that stations on Native American reservations do not pay Canadian taxes.
I'll throw another guess at you. I don't personally know this to be a fact but I do know that the facilities at the Ohsweken Speedway are top notch in every area. I'm suspecting they get Indian casino money to support much of the "hardware" you see at the track, from water trucks to track packers and more. Maybe someone knows something about that.
I had a 4 a.m. Eastern time wake-up call in the morning. That's just one o'clock in the morning California time. I try not to think about that especially after sleeping on an airplane and then in an airport on the two previous nights. I'll be trying to catch a flight from Toronto to Minneapolis. If I make it I'll drive nearly seven hours from Minneapolis to Fessenden, North Dakota. They're having a first ever, once a year county fair stock car race there. I really want to make that trip.
Good night from Ohsweken, Ontario, Canada.
Randy Lewis – 80 countries – 2,454 tracks.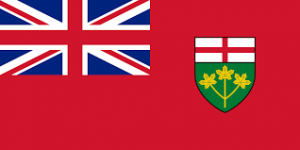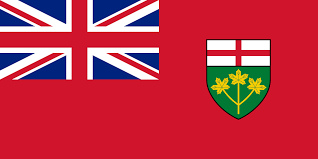 Ontario
The Heartland province
This evening I saw racing at my 67th lifetime track in the Heartland province, yes, the Heartland province. That seems like a lot of eastern Canada track visits for a fellow who lives in California. This was my 36thseparate visit to Ontario for trackchasing purposes.
Thanks for reading about my trackchasing,
Randy Lewis
World's #1 Trackchaser
Peoria Old Timers Racing Club (P.O.R.C.) Hall of Fame Member
Ontario sayings:  "What are your plans for May Two-Four?"
The Victoria Day long weekend is called "May Two-Four"—ostensibly because May 24 is actually Victoria's birthday, but really because it marks the start of the summer beer drinking season. (You'll likely be drinking a two-four over the weekend.)
QUICK FACTS
LIFETIME TRACKCHASER COMPARISONS 
The threemost important trackchasing comparisons to me are:
Total lifetime tracks seen
Total "trackchasing countries" seen
Lifetime National Geographic Diversity results
Total Lifetime Tracks
There are no trackchasers currently within 655 tracks of my lifetime total.  Don't blame me.
Randy Lewis, San Clemente, California – 2,454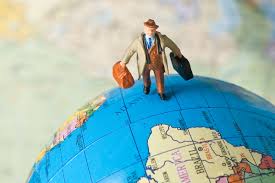 Total Trackchasing Countries
There are no trackchasers currently within 25 countries of my lifetime total. 
Randy Lewis, San Clemente, California – 80
Current lifetime National Geographic Diversity results
Randy Lewis, San Clemente, California – 4.14
That's all folks!  Official end of the RLR – Randy Lewis Racing Trackchaser Report
Click on the link below to see the video production from the racing action today.
Click on the link below for a photo album from today's trackchasing day.  You can view the album slide by slide or click on the "slide show" icon for a self-guided tour of today's trackchasing adventure.
A night of racing on a Canadian Native American reservation