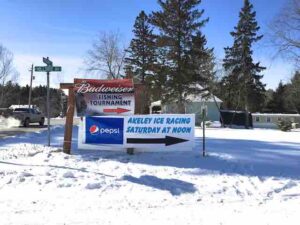 Greetings from Akeley, Minnesota
From the travels and adventures of the 
"World's #1 Trackchaser"

11th Crow Wing Lake Ice Oval – Lifetime Track #2,060
HighlightsThe EventVideosPhotos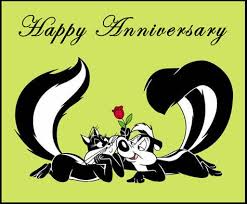 Our month-long celebration continued.
My personal history with ice race trackchasing.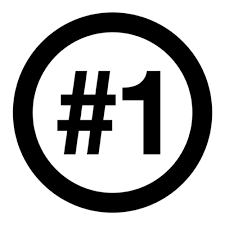 World's #1 ICE trackchaser.
Where has ice racing taken me? All over the world!
Why did I wait so long to begin going to ice races?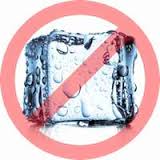 Until I was 57 years old going to an ice race never made sense to me.
My ice racing history year by year.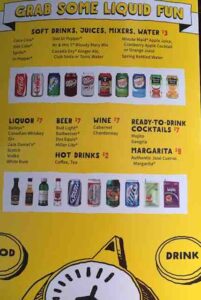 Let's get this party started with Spirit Airlines.
Even the best laid plans.
Strategy, always strategy.
What a husband, huh?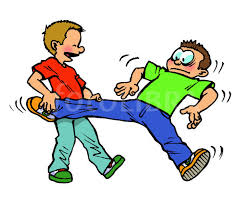 Was this guy pulling my leg?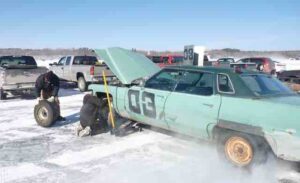 Ice racing at 11th Crow Wing Lake had resurfaced.
Big ol' Detroit iron.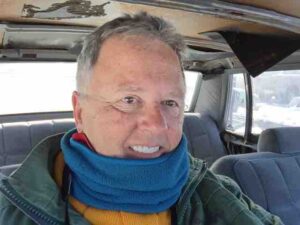 Would you like to ride in a race?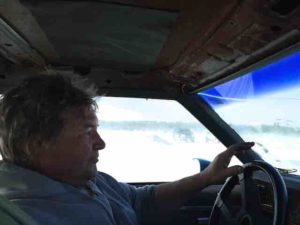 A young Dick Trickle.
This was definitely not a good idea.
Any time I have in car video clips don't miss my YouTube video of the day's racing action.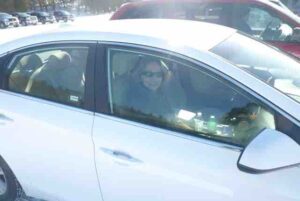 Carol was as snug as a bug in rug.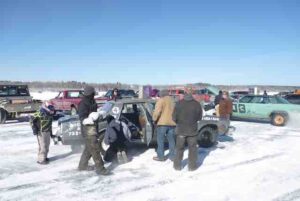 You've heard of "NIMS" people?
Feedback from folks all across the country.
THE EVENT
Friday.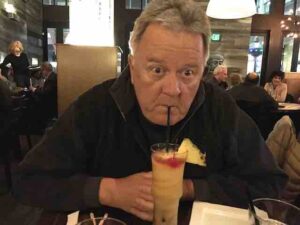 Our month-long celebration continued.
I woke up this morning at home in San Clemente, California. I went to sleep in downtown Minneapolis, Minnesota. Carol did the same thing! This is how this part of the trip turned out.
Wife Carol and I have month long celebrations for our birthdays. We'll do one thing or another to celebrate these special occasions all month. How did we get into this habit? Back in my business days I wasn't always home for my birthday or maybe hers. No problem. We simply learned to celebrate these special occasions when we could. Since we couldn't always be together on that "special" day we learned to have multiple celebrations during the "birthday month".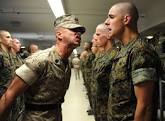 I guess the same kind of thinking covers our wedding anniversary. We were married in February all the way back in 1972. I had just completed U.S. Marine Corps boot camp training in San Diego, California. By the way going to boot camp was my first ever visit to the Golden state! Now I have lived in California longer than any other state, 35 years.
My personal history with ice race trackchasing.
Our anniversary month always happens during the heart of ice trackchasing season. Ice racing has not always competed with wedding anniversary events. I was 52 years old (2001) before I ever went to my first ice race. I didn't go on my SECOND ice racing for another six years. For me, ice racing has been a more recent phenomenon.
World's #1 ICE trackchaser.
Nevertheless as this is written I have accumulated more ice trackchasing points than any other trackchaser. How are ice-racing points awarded? A trackchaser gets one point for each ice track attended. There is also one point given for each state, province or foreign country (X U.S and Canada) where an ice-racing track has been seen.
Where has ice racing taken me? All over the world!
Before this weekend I had accumulated 67 points from seeing racing on ice tracks. I also have an additional 16 points from the extensive ice trackchasing travel I've done. Here's a list of the faraway places ice trackchasing has taken me.  The picture above comes from an ice racing event in Finland.
Alaska
Alberta
Angola
British Columbia
Finland
Maine
Manitoba
Michigan
Minnesota
New Hampshire
New York
Ontario
Quebec
Russia
Vermont
Wisconsin
Why did I wait so long to begin going to ice races?
A question I might be asked would be "Why did you only go on one ice racing trip up until 2006?" Great question! There's a simple answer.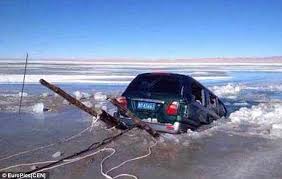 Traveling to an ice race is too risky. No I am not talking about the risk of falling through the ice! Then what's the risk?
Ice racing only takes place when there is ice…..lots of ice. The typical amount of ice needed to support the racecars, tow rigs, etc. is some 12-18". As you can see from the places where I have ice trackchased only a few places get enough cold weather to have these kinds of races.
Even the shortest "warm spell" in January or February can sink the ice racing ship so to speak. Having snow on the ice is bad too. Snow can prevent the ice racers from having access to the lake. Snow also creates "bad ice" which isn't good for ice racing either.
Not all "ice" racing needs to be done on a frozen lake however. Frequently ice races happen on land where the racing surface is a combination of snow and ice. I've never really understood why they call it snow when it's really just ice.

Until I was 57 years old going to an ice race never made sense to me.
Before I had my airline sponsorships I did not go to ice races. As you can see ice-racing locations are a long way from California. I've had to fly to EVERY ice race I have ever attended. Prior to being part of the "airline industry" it never would have made sense to buy an airline tickets days or weeks in advance. Ice races could be and often times are cancelled on a single day's notice.
My ice racing history year by year.
However, my airline sponsorships allow for spur of the moment trackchasing planning and travel. If there's a seat open on most planes I can hop on. As soon as that productivity tool came about I was headed for the ice tracks…..with a vengeance! Here's a table showing the number of ice tracks I have seen year by year.
| | |
| --- | --- |
| 2015 | 7 |
| 2014 | 7 |
| 2013 | 7 |
| 2012 | 5 |
| 2011 | 12 |
| 2010 | 3 |
| 2009 | 4 |
| 2008 | 15 |
| 2007 | 7 |
| 2006 | 0 |
| 2005 | 0 |
| 2004 | 0 |
| 2003 | 0 |
| 2002 | 0 |
| 2001 | 2 |

A special weekend.
This weekend was going to be special for a couple of reasons neither of which was related to ice racing. First, Carol and I would be celebrating our 43rd anniversary. Secondly, it was Valentine's Day. However, lest we not forget it was trackchasing that brought us to this frigid part of the country. We were here to pick up new ice racing tracks in both Minnesota and Manitoba, Canada.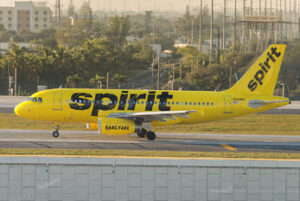 Let's get this party started with Spirit Airlines.
We were out of the house at a relatively reasonable 6 a.m. We were going to do something that I was just a little bit skeptical of on this trip. We would be flying on Spirit Airlines.
Spirit is truly a bare-bones airline. You can buy their "bare fare" for a certain price. If you want to check a bag or bring a bag on board or get a reserved seat or board the plane early or get your boarding pass at the airport or buy travel insurance or make a contribution to the "green" movement there will be an extra charge. That could add up to a lot of extra charges!
However, if you don't need any or many of these "amentias" then Spirit Air might be for you. We went with the bare fare. The cost was approximately $100 one way for each of us from Los Angeles to Minneapolis. That's a great fare.
Because Carol was traveling with me I agreed to check two bags at $30 per bag. The bags had to weigh less than 40 pounds and could not exceed 62 linear inches. Had I been traveling by myself I would found a way to squeeze everything into my carry-on bag for free. However, when Carol comes on the trip I get lots of "extras".
Actually the flight was fairly uneventful.  Although the plane was 95% full Carol and I had an open middle seat between the two of us. We stopped at Subway to get food and drink prior to flying on Spirit. The airline charges for everything including water and coffee albeit at reasonable prices.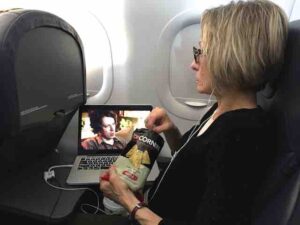 We provided our own entertainment by watching an iTunes movie on my Apple MacBook Pro during the flight. I order 1-2 movies or more every week from iTunes. It's a great entertainment source.
For just $130 per person we had everything we could have gotten from a more "full service" airline. I'm still a little skeptical of flying on Spirit Airlines. They have the smallest amount of legroom in the industry and their seats do not recline. However, if one prepares properly they can nearly replicate the "normal" airline experience for a much lower price.
Even the best laid plans.
We landed in Minneapolis at 3 p.m. rented a car and drove downtown for our one night stay in Minneapolis. Since this was our anniversary date I had reserved a room at the Hyatt Regency in downtown Minneapolis. I love it when Carol comes on these trips!
However with all good plans bumps in the roads sometimes pop up. By the time we landed Carol was not feeling well. She thought it might have been the jalapenos! This sudden illness canceled any nighttime activities we were considering such as theatrical productions and even a tour of the local camping/RV show. Even when Carol was feeling well she did remind me, "I don't want a camper or a boat". Yep. She knows me too well. She's always thinking ahead.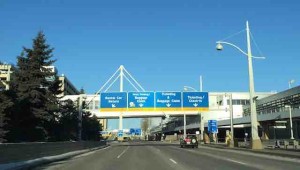 Strategy, always strategy.
I am nothing if not a strategic thinker. I use strategy for two main purposes. I want to make life easier and do it at an affordable cost. However, I always want to buy good things cheap. I don't have much interest in buying cheap things cheap. If you understand that concept then you've got a good handle on my strategic thinking.
When we landed at the Minneapolis airport we had to find a way to get downtown. Then tomorrow we needed to rent a car for a one-way trip to Winnipeg, Manitoba, Canada. What was the best way to do all of that?
Taking a taxi would cost $40-50 dollars for a one-way ride from the airport to the hotel. We could have taken the train and then a bus as well for less than $10 per person. However, I ask you, who takes their bride of some 43 years on a train and then a bus in the middle of the winter in Minnesota? No. No cheap things cheap for me.
I would rent a car to take us from the airport to the hotel and then back to the airport tomorrow morning. My sponsors, the National Car Rental Company would give me a full-sized car for the day for just $19. Then, as they always do because they are good sponsors, they would give me a credit for $15 or more on a future rental. My net cost? About $4 USD. The boys and girls at the Hyatt, who are no longer my sponsors would charge us $15 to park at the hotel. This was the least expensive "good" option. We had a full-sized car and the choice to driving anywhere around Minneapolis that we wanted.
Once at the hotel we took a nice late afternoon nap. By the time we awoke Carol was feeling much better. We ended up walking a few blocks in the bitter cold of Minneapolis to a very nice anniversary dinner at a place called Ling and Louie's Asian Bar and Grill eatery. The food was gourmet. It couldn't have been better.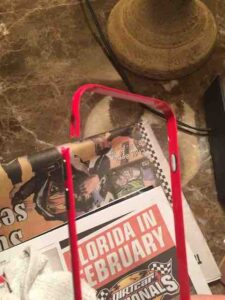 From there we made a quick stop at Target to buy a new iPhone case for my iPhone six. The previous one broke! We were soon back at the luxurious Hyatt and ready for an ice trackchasing weekend. 
Saturday.
Where did Carol go?
We checked out of the Hyatt Regency at 8 a.m. in downtown Minneapolis. Carol made a quick pit stop at the hotel gift shop for postcards. I noticed that when I was nearly to the parking garage and she wasn't behind me! However we soon found each other and headed out and out on our three-hour to Akeley, Minnesota.
Breakfast would be a hodgepodge. Carol dined on her frozen, left in the car overnight, remainder of her foot long Subway sandwich. She's really a very thrifty person. I supplemented my bottled water, carried from California, with a McDonald's Egg McMuffin and hash browns order.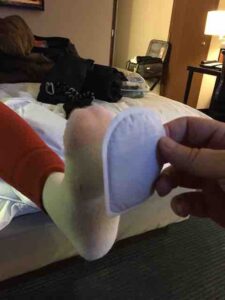 What a husband, huh?
My Weather Underground app told me it would be five below zero in Akeley, Minnesota but with little wind. I had strategically placed Carol's toe warmers on her socks so I knew she would be well protected. I know. What a husband huh?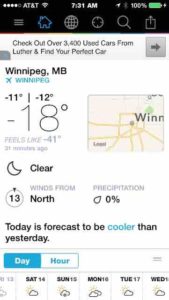 Tomorrow's ice racing will take place in Winnipeg, Manitoba, Canada.  This morning their temperature was 18 below zero with the wind it created presented a "feels like" temperature of 41° below zero! Luckily it will be just a little bit warmer when we get to the Winnipeg track tomorrow.
We pulled into Akeley a town of just over 400 people at just before noon. We stopped at the local convenience store. There we made a pit stop for personal comfort, bought some convenient store food and asked for directions to the ice track. The convenience store scored highly in all areas.
Our convenience store food choices consisted of an Italian sausage personal pizza, some rice crispy treats and brownies with German chocolate icing. As Carol often says the long and dusty trackchasing road is short on fruits and vegetables. This was supposed to be a fun trip. These were fun foods. They would get us down the road.
After the races……..
Next up? Canada eh?
We now had a five-hour ride up to our hotel in downtown Winnipeg. We stopped along the way for some pizza. The restaurant's parking lot was jammed with cars. However, their Yelp! racing was just 2.5 stars. Rarely is Yelp! off by more than a half star. That was the case tonight.
We spent a good portion of our ride up to Winnipeg listening to various college basketball games on Sirius/XM radio. We were surprised at how many close games there were. We listened to Gonzaga beat Pepperdine, Maryland nudge Penn State and Arkansas come from behind to take Ole Miss.

Was this guy pulling my leg?
We stopped for gas in Newfolden, Minnesota. I knew we were only 40-50 miles south of the Canadian border. I wanted to make sure we bought cheaper U.S. fuel before we got to Canada. We did. We paid just $2.09 per gallon. That was the least expensive price I saw during the entire trip.
Later in Winnipeg, Canada we would pay 88.4 cents Canadian for a liter of gas. Doing the quick math tells me Canadians are paying $3.34 U.S. per gallon for their fuel. With our 20% discount from the current exchange rates we were paying about $2.69 USD for our fuel in Winnipeg.
Nevertheless, I was somewhat amazed when I asked the young male gas station clerk how far we were from Canada. He told me he didn't know. Fair enough. I didn't know either.
However the clerk mentioned he lived about an hour from his convenience store job. Let's think about this for a moment. We were currently just 45 minutes or so from the border. This guy lived about an hour from the convenience store we were both in.
I really wanted to him ask him two different questions. Number one…. why would he live an hour from a minimum wage job? Secondly I wanted to ask him if he could solve for "X" and tell me how far we were from Canada based upon where he was now and where he lived. However that seemed like just a little bit more than his skillset might be able to handle.
Winnipeg here we are.
We arrived at the downtown Holiday Inn and Suites in Winnipeg at a reasonable 10:30 p.m. It was six below zero. We had completed a full day of ice racing. Now we were looking forward to another one tomorrow.
THE RACE 
11th Crow Wing Lake Ice Track – Akeley, Minnesota

Ice racing at 11th Crow Wing Lake had resurfaced.
About a half-mile from the center of town was the entrance to the 11th Crow Wing Lake ice-racing track. I have been following ice racing on this lake for more than 10 years. However, it seemed like a few years ago they stopped racing. From what I could tell they started up again last year.
I had been in contact on the phone a couple times with Reid the race promoter. Later on I also discovered the Akeley ice racing Facebook page.
Although Reid had never heard of trackchasing or the World's #1 Trackchaser for that matter he was happy to provide me with the racing start time information and answer my questions. He also confirmed that regardless of the cold weather they would be racing. That was important to hear. Because I had noted on their Facebook page that they had canceled a race last February because of expected cold temperatures and strong winds.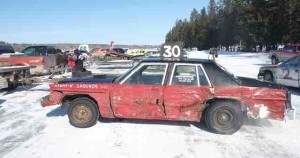 Big ol' Detroit iron.
Today there were about 14 cars on hand racing in one division. Almost all the cars looked to be big Detroit iron V8 powered cars. The program consisted of two heat races and a feature event. The cars also ran a feature in the opposite direction on the oval track…..opposite meaning clockwise.
Would you like to ride in a race?
Reid not only acted as the race promoter he was also the flagman for today's event. During a break in the action I tracked him down to introduce myself. He asked me "Would you like to ride along in a race". I said, "Of course I would!". "Really?", he asked as if surprised with my answer. I told Reid I would love to do that so I could get some actual in the car footage of today's racing.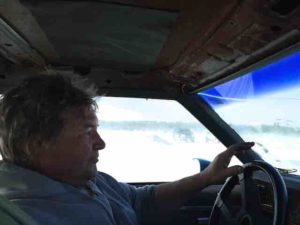 A young Dick Trickle.
Reid said he had just the driver that would take me around the track. That driver was Rick Hanson. Rick was piloting a bright blue 1984 Chevy Caprice with car #81 on the roof top.
Rick was more than happy to have me tag along. He told me he had raced on the ice for several years but took last year off to spend the time in Florida with his wife. Rick reminded me of the legendary Dick Trickle in his mannerisms. He was soft spoken and humble the way lots of folks are up this way. He looked a little like Dick, one of my all-time favorite drivers, and smoked a little like Dick Trickle.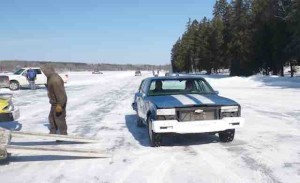 Just before we took the green flag I yelled over to Rick above the sounds of the racing engine, "You guys are crazy to do this!". What I meant by that is ice racers are having some great fun that most people will never get the chance to experience. They are out in zero degree weather or worse having the times of their lives just for the fun of it. To most people that sounds crazy but in reality it's just fun for the fun of it. You can't beat that.
This was definitely not a good idea.
There was one unusual factor with today's races that I've seen only two other times in the 2,059 track visits I have made. What could happen less than 1% of the time at all of those track visits? Today's drivers do not race with helmets!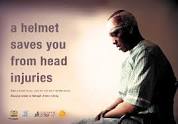 I would guess that straightaway speeds on today's third-mile oval (estimated) topped 50 M.P.H. In my opinion that's much too fast to be racing without safety gear such as helmets. I don't think many or any of the cars raced with roll cages either. I know everyone wants to save some money. However, an injured driver is going to wish he had sprung for a helmet after the fact. His family would too. When I win the lottery I'm going to send each driver at the 11th Crow Wing Lake Ice Track a brand new Bell helmet. In the meantime, Reid, please add racing with a helmet as a rule for next year.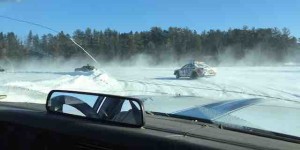 Any time I have in car video clips don't miss my YouTube video of the day's racing action.
You definitely don't want to miss today's YouTube video. You'll see some really exciting in car action. I think it's one of my better videos of the year. You'll see as many as four or five people riding in a single car.
I'm disappointed to report that I missed the one clip I would've loved to have had. During the heat race my driver spun out in the middle of turns three and four. For a moment we were stopped dead on the track. The driver's door side of the car was facing oncoming traffic. Another driver came up on us and had nowhere to go. He was traveling a good 40 M.P.H. on ice. Just before impact my driver Rick pulled forward a bit. Rather than getting t-boned we were hit hard in the left rear tire area damaging the left rear of the car badly. It was quite a jolt. All my video clip shows is the dashboard! Too bad you couldn't have seen the size of my eyeballs!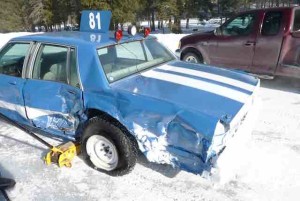 We limped back to the pits. After an examination of the damage it looked as if only the tire was flat and the wheel bent. All of the rear end gear was still in operating order. The driver who hit us asked if he could pay for the tire! These folks in Minnesota are simply too nice.
Of course I would!
Rick asked, "Would you like to go again?" Of course I would! Another driver lent us a wheel and tire and we were back in business.
We had dropped out of our heat race. Today's feature lined up based upon an invert of the heat racing results. This meant we would start on the pole of the 12-14 car feature race. I didn't like that for two reasons. If we had a problem at the front of the race that was a lot of iron waiting to run over us. Secondly, and more importantly, there's not a lot of racing action out the front windshield when there's nobody ahead of you. Rick told me the same thing. He preferred the fun of racing on ice in the middle of the pack. As it was a few cars passed us and we WERE racing in the middle of the pack for much of the race. The action back there is a blast. Again I think you will really appreciate what goes on in the ice race from the footage I got today. I couldn't thank Rick Hanson enough for his Minnesota hospitality.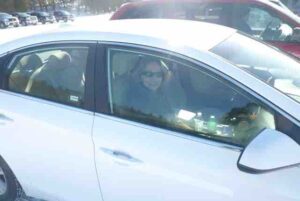 Carol was as snug as a bug in rug.
Luckily, Carol could view all of today's ice racing action from the interior of the National Car Rental Racing Hyundai Sonata. Her position was midway along the front straightaway and exactly where the cars entered the track from the pit area. She didn't need to get out of the car for a single moment all day. Given the cold weather she appreciated that.
I had a chance today to ride in a racecar for a heat race and a full feature event. It doesn't get any better than that. As always the people we meet in Minnesota are simply fantastic. That goes from today's promoter, my driver and several of the guys I met in the pits. Even the convenient store crew was nicer than normal.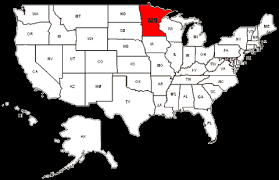 You've heard of "NIMS" people?
If you've read very many of my reports you've heard of the "NIMS" people. If not I will tell you what "NIMS" people are. They are folks I've met from "Nebraska, Iowa, Minnesota and South Dakota". In a normal season I will visit 30-35 different states. Over the course of a few years I will end up visiting every state many many times. The "NIMS" people are the nicest in the country by far. If I'm visiting a "NIMS" state and find someone who isn't as nice as they could be….I know they are vacationing from the East Coast!
And soon we were off.
After today's racing we were off on our way to Winnipeg, Canada for tomorrow's ice racing. Today's track, the 11th Wing Lake Ice Track would be lifetime track number 2,060. It will come with a good deal of fun memories including another in a series of exciting in car ice racing rides.
On the way off the lake we spent a little bit of time at the other end of the lake checking out the annual fishing tournament. I've never been inside a fish house on one of these lakes. I really want to do that sometime.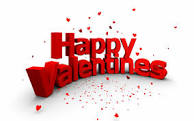 Feedback from folks all across the country.
I texted photos and some in car ice racing video clips to several friends. I asked them what THEY were doing on Valentine's Day.
From Chicago: Looks warmer and sunnier there than Chicago. Currently 1 degree with 20 M.P.H. wind.
From Florida: Sitting on the beach in Playa del Carmen. Have I mentioned lately that you might be insane?
From Southern California: Looks like a lot of fun.
From Dallas: (In a) friend's backyard party in Dallas. Lovely 70 degrees.
From Austin, Texas: There are many ways to amuse oneself in this life!
From DeKalb, Illinois: We just got home and started the fireplace. I really enjoy the little videos you send. It looks cold where you are.
From Los Angeles: Brutal day in the Midwest. I'm roughing it in 80-degree sunny weather. How did you talk Carol into this trip?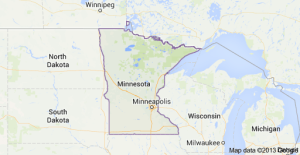 Minnesota
The Gopher state
This afternoon I saw my 73th lifetime track in the Gopher state, yes the Gopher state. I'm just four behind Ed Esser's state leading 77 Minnesota tracks. Maybe I can spend a few days out this way in the summer. Rob Palmer…help!
Thanks for reading about my trackchasing,
Randy Lewis
World's #1 Trackchaser
Peoria Old Timers Racing Club (P.O.R.C.) Hall of Fame Member
Minnesota sayings: BORROW ME: To lend.  Example: "Can ya borrow me twenty bucks till payday?"
QUICK FACTS
AIRPLANE
Los Angeles, CA (LAX) – Minneapolis, MN (MSP) – 1,535 miles
RENTAL CAR #1
Minneapolis-St. Paul International Airport – trip begins
Minneapolis-St. Paul International Airport – trip ends – 27 miles
RENTAL CAR #2
Minneapolis-St. Paul International Airport – trip begins
Akeley, MN
Winnipeg, Manitoba, Canada
Winnipeg James Armstrong Richardson International Airport – trip ends – 498 miles
AIRPLANE
Winnipeg, Manitoba (YWG) – Minneapolis, MN (MSP) – 395 miles
Minneapolis, MN (MSP) – San Diego, CA (SAN) – 1,532 miles
RENTAL CAR #3
San Diego International Airport – trip begins
Los Angeles International Airport – trip ends – 126 miles
Total air miles – 3,462 (3 flights)
Total rental car miles – 653 (3 cars)
Total miles traveled on this trip – 4,115 miles 
TRACK ADMISSION PRICES:
11th Crow Wing Lake Ice Track – No charge
Lake Shirley Ice Circuit – No charge
Total racetrack admissions for the trip – Nada
LIFETIME TRACKCHASER COMPARISONS 
The three most important trackchasing comparisons to me are:
Total lifetime tracks seen
Total "trackchasing countries" seen
Lifetime National Geographic Diversity results
Total Lifetime Tracks
There are no trackchasers currently within 450 tracks of my lifetime total. Don't blame me.
Randy Lewis, San Clemente, California – 2,060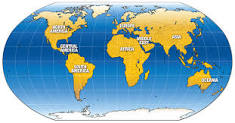 Total Trackchasing Countries
There are no trackchasers currently within 10 countries of my lifetime total.
Randy Lewis, San Clemente, California – 70
Current lifetime National Geographic Diversity results
Randy Lewis, San Clemente, California – 4.88
That's all folks! Official end of the RLR – Randy Lewis Racing Trackchaser Report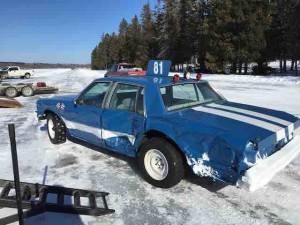 Click on the link below to see what a day of ice racing looked like on the 11th Crow Wing Lake Ice Oval:
A great day of ice racing on 11th Crow Wing Lake in Akeley, Minnesota