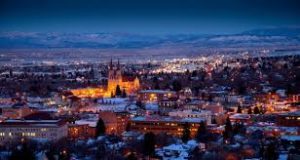 Greetings from Helena, Montana
Highlights


From the travels and adventures of the "World's #1 Trackchaser"
.
 Capital City Speedway
Dirt oval
Lifetime track #284
The Capital City Speedway in Helena, Montana is officially listed as my 284th-lifetime track. Capital City was just the second track I had visited to see racing at in the Treasure State.  
I did not begin writing my famous "Trackchaser Reports" until the middle of the year 2000.  My first official Trackchaser Report was written for track #425, the State Fair Speedway in Sedalia, Missouri.  I saw that track with my brother Mark on May 28, 2000.

Prior to 1980, I never kept track of when I went to a track. I just know from memory that I had seen racing at 71 different racetracks from when I was born in 1949 through the 1979 season. This was affectionately known as the "Group of 71".
You see when I first became a racing fan I never gave the idea of "trackchasing" a passing thought. Why? Trackchasing requires the funds to travel long distances. I grew up poor. We had no money for travel. The ONLY vacation I can ever remember taking until I was in college was a bus trip from Peoria, Illinois to Evansville, Indiana to visit my grandparents. We had absolutely no money for luxuries and travel was a luxury.
I began my racing fan "career" as a "racechaser". How did I decide beginning in college and running through the early 80s where I would go to the races? That was easy! I simply followed my favorite drivers. I scoured the Hawkeye Racing News for advertised race dates. I followed my favorite dirt driver, Darrell Dake all over his home state of Iowa and my home state of Illinois. We were big Dick Trickle fans. When he was racing at a big show we tried to make it there. Yep. I was a racechaser. I didn't give a second thought to whether I was visiting a new track or not.
However, somewhere in the 80s, I decided I liked going to a track for the first time more so than re-visiting a track for the 10th time. It was also about this time that Darrell Dake was slowing down his race schedule and Dick Trickle was moving from the midwestern short tracks to NASCAR. Of course, during the 60s and 70s, I was a regular at my hometown track, the Peoria Speedway. To this day the Peoria Speedway remains my all-time favorite track.
Much of what I can tell you about the Capital Speedway is from memory.  I went there for a midweek show on Tuesday, August 6, 1996. Two days before that I was trackchasing in Monett, Missouri!
I can tell you that "The History of America's Speedways – Past and Present" authored by Allan E. Brown has this to say about the Capital City Speedway.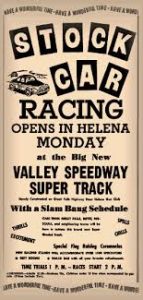 The track ran as a dirt oval from 1977-1998. I just made it by two years! The track was known by other names during its 21-year operation. These names were, Thunder Road Speedway, Shining Mountains Speedway and Sunset Speedway. I can just about bet you that each time the track's name changed they had a new promoter! There was also racing in Helena, Montana back in the mid-50s at the Valley Speedway Super Track. 
During my visit, I noted there were lots of delays. I felt the event was poorly flagged. A good starter can keep the show going. A poor flag waver can really screw up the entertainment for the fans.
On the night I visited well-known far west driver Mike Wasina Sr. driving his #9A won the feature. He was racing with the NSA sprint car series. I also trackchased in Montana the following two nights. Mike's son, Mike Wasina Jr. in his #7W won the next two nights. The Wasinas were keeping it in the family.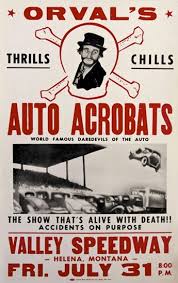 Over the years "daredevil" shows made appearances in Helena. In the 50s and 60s, these traveling roadshows were very popular with fans when they stopped for their annual visit.
You might have remembrances about this track.  If so, please feel free to share them in the comments section below.  If you have any photos from back in the day, send them to me at Ranlay@yahoo.com.  I'll try to include them here.