DISTRICT OF COLUMBIA
The Federal City
.
.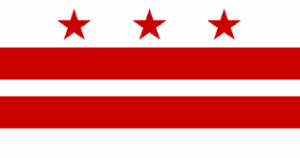 From the travels and adventures of the "World's #1 Trackchaser"
Highlights
All-Time Favorite District of Columbia Track:
National Grand Prix – Washington, D.C.
Current lifetime trackchasing rank: 2
Best Memories:
I guess my pick for my favorite D.C. track is the National Grand Prix. I went there in 2002 and became one of only six trackchasers to have seen a race in all 50 states PLUS the District of Columbia.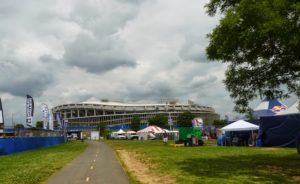 In the past half-century, there has not been a lot of racing in the Federal City. My second and last (up to now) race in Washington, D.C. was just outside of the RFK stadium (above). It was a Red Bull Global Rallycross race event on a mixed surface track. That group doesn't exist anymore but they could always be counted upon to come up with some exciting new locations. I saw racing at more Red Bull Global Rallycross venues than any other trackchaser. Unfortunately, because of the low rise grandstands, the race viewing of the 2015 event wasn't all that good.  
| | | | | | | |
| --- | --- | --- | --- | --- | --- | --- |
| | TRACK | CITY | STATE | COUNTRY | DATE | TRACK TYPE |
| 1 | National Grand Prix | Washington | District of Columbia | United States | July 20, 2002 | STREET-RC |
| 2 | RFK Stadium | Washington | District of Columbia | United States | June 22, 2014 | TEMPORARY-MRC |
If you see a track link in the above list simply click on it to be transferred to my Trackchaser Report. Here you will be able to read about my adventure at this particular track. Not only will you learn about my time at the track but you'll hear about all of the interesting people, places and things I encountered during the entire trip, coming and going, to that speedway. Most of my Trackchaser Reports will also include a photo album and YouTube video. Check it all out. Don't be afraid to use the "search" box in the upper right corner of my website's home page. Just type in the track name or whatever and you'll be directed to the place you want to be.
Below is a key to surface types and track configurations so you can understand the above list just a little bit easier.
Surface types:  D-dirt; P-paved; M-mixed
Configuration types:  O-oval; RC-road course; F8-figure 8 track