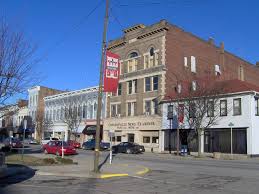 Greetings from Connersville, Indiana
.
.
From the travels and adventures of the 
"World's #1 Trackchaser"
.
.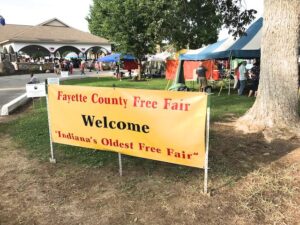 Fayette County Fairgrounds
Dirt oval
 Lifetime Track #2,568
The EventVideo PlusPhotos
THE EVENT
I am a "trackchaser". I trackchase. Before you discovered my site had you ever heard of trackchasing? Maybe not? So….what the heck is trackchasing? Sit back, take a read and you'll be an expert on my hobby of trackchasing when you're finished.
Here's my best explanation.
Trackchasing is a three-pronged hobby. I'm a racing fan. I love to travel. I love to analyze opportunities to get the most out of everything while saving time and money.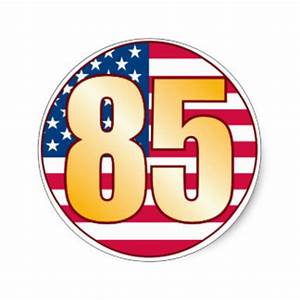 Trackchasing fills the need for all of the above. The racing part of my trackchasing has me trying to see wheel to wheel auto racing at as many different racetracks as I can all over the world. Yes, all over the world. So far things are going pretty well. As this is written, I've seen racing in 85 countries at more than 2,500 tracks. As a matter of fact, I've seen racing at more tracks than anyone else in the world.
Equally important to me are the things I get to see and experience over the "long and dusty trackchasing trail". I call these adventures "Trackchasing Tourist Attractions". You won't want to miss my "Trackchasing Tourist Attractions" page. Here's the link:  Trackchasing Tourist Attractions or my "Sports Spectating Resume" page, Sports Spectating Resume on my website at www.randylewis.org.
I live in southern California. That's probably the most inconvenient location in the country for seeing tracks in the U.S. Most of the racetracks in the U.S. are located well over 1,000 miles from where I live. As a matter of fact, my average trip covers 5,000 miles and more. I take 35-40 of those trips each season. In any given year I will travel well over 200,000 miles, rent more than 50 cars, and stay in more than 150 hotel rooms.
I get the chance to meet people all over the world. With trackchasing trips to 85 countries and counting just getting the chance to experience so many other cultures, spend time in their homes and meet their friends is a huge reward for being in this hobby. I am indebted to several of these folks for their help and friendship.
It's takes a good deal of planning to do the above and not spend my entire retirement portfolio. I enjoy the challenge, the travel and every other aspect of "trackchasing". In reality, my trackchasing hobby is a lot like being with the carnival. I breeze into town, stay a little while and then head on down the road.
Today's adventure was one more of the 2,000 trips that have taken me up, down and around the proverbial long and dusty trackchasing trail.  If you would like to see where I've been and experience those adventures here's the link: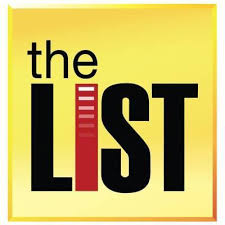 If you've got a question, comment or whatever please leave it at the bottom of this report.  It's very easy to do.  Or you can visit me on Facebook.  Thanks!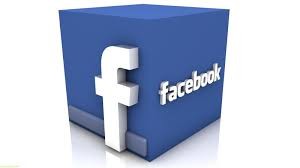 FOREWORD
Monday, July 29, 2019.
With a free day (that being today!) in Minneapolis I had a plan for tonight. I would take in a St. Paul Saints minor-league baseball game. A couple of weeks ago I had an open day in Minneapolis and chose a Rodney Crowell musical concert at the Dakota Jazz club in downtown Minneapolis. As you can see, especially if you look at my Trackchasing Tourist Attractions page on my website at www.randylewis.org, I have a wide variety of interests when it comes to spending my free touring time.
I've got a pretty strong history when it comes to following baseball. As a little leaguer I pitched for our town's all-star team in the preliminary rounds that would later lead to the Little League World Series. Needless to say we lost early in the tournament! I pitched and won as a freshman in high school before switching to golf as my spring sport.

I've seen a game played in every active Major League Baseball park and several others than have been replaced over the years. I've seen the MLB World Series played in three different stadiums. I've seen the MLB baseball All-Star game. I've been a season-ticket holder for the, at the time, California Angels (that's 82 games!). I've seen the college World Series played in Omaha. I've been to a game featuring the Little League World Series in Williamsport, Pennsylvania. I've also been to more minor league baseball parks than I can remember. I've followed a lot of baseball! Carol and I still go to several Angels games each year. When you've got Mike Trout, Shohei Otani and Albert Pujols to watch I surprised we don't go more often.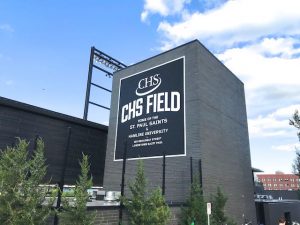 On this evening I was going to downtown St. Paul, Minnesota to see the St. Paul Saints play the Kansas City T-Bones. Yes, minor league baseball teams sometimes have some very unusual nicknames!
I go to a lot of major league baseball games to this day. You would think that a major league game would be a lot more expensive than a minor league contest. Not true. I have often paid more to park and more for my ticket at a minor league game that a big-time game. That surprises me because the level of play in the majors is FAR superior to what is seen in the minors.
There wasn't a lot of parking in downtown St. Paul around the ball park. Some of it was expensive. The lot across from the stadium itself was charging $25!
When we go to an Angels' game we commonly pay only five dollars to park at a local business. If we park at Angels Stadium itself the charge is only ten dollars and we get to park in the "Lexus lot", which is about 50 yards from the ticket taker at the home plate gate.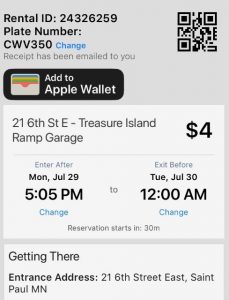 Tonight I used my "Spot Hero" smartphone app. Spot Hero allows me to check out several parking locations. I can see the parking charge and how far the parking is from the stadium on my phone. Tonight I picked a huge multi-story parking garage for just four dollars. My location was about 6-7 blocks from the stadium. Some parts of downtown St. Paul, despite undergoing a revival, are a little bit sketchy.
It is difficult to buy tickets on the resale market for minor league games. Minor-league sports attract sort of a minor-league fan. They are not as sophisticated, in general, in the ways of buying, selling and trading their tickets. I don't mean to offend anyone. I'm just explaining the phenomenon. 
I did use my SeatGeek ticket buying app, again on my smart phone. There were a few tickets available to the game but they all started at $20 per seat. That seemed pretty high for a minor-league game. It's not uncommon to be able to buy tickets to major league games from the SeatGeek source for less than ten dollars.
I elected to go down by the stadium and stand near the ticket booth. I've done that in the past. Often times someone just walks by who has an extra ticket and offers it up to me for a very low price and often times for free. That didn't happen tonight. 
That being the case I ended up buying a ticket for the "Berm". The price was only five dollars. Baseball fans who want to use a berm ticket will actually sit on a grassy hill side area overlooking left field and facing home plate. 
The next least expensive ticket at the ticket booth was $16 other than the "berm" seat location. By the way, I had absolutely no intention of sitting on a grassy surface (the berm) to watch tonight's baseball game. As a matter of fact, when I have reserved seat tickets to any sporting event I consider my printed seat location as simply a recommendation by the sports team that I'm watching. If I like their recommendation and the seating location is a good one I will sit there. If I don't like the location I won't set there. Is that how you think about the printed information on the sports ticket you buy? 
Just outside of the stadium there was a small parking lot, which advertised parking for tonight's game at $25. I had saved a good deal of money on both parking and now with the baseball ticket I had just bought. I do not try to save money on transactions like this simply to keep the money in my pocket. Then, you might ask, "What do you do with your savings?"
I "reinvest it!" Arguably I had saved about $30 by buying my parking and my ticket "right". I took that $30 savings and five dollars of my own and bought a St. Paul Saints souvenir shirt. Long after I have forgotten how much money I saved on parking and on buying my ticket I will remember and probably be wearing that St. Paul Saints shirt all over the world. That's how I do it. 
Tonight's game was scheduled to start at 7:05 p.m. If a short track racing operation advertised that they were going to start at 7:05 p.m. there is very little chance that would happen. However, with "professional" sports if they say 7:05 p.m. they mean it. 
At about 6:50 p.m., 15 minutes before the game was scheduled to begin, I was just meandering around the park checking out the concession options. I glanced over to the field and they seemed to already be playing. No, this wasn't batting practice or anything else. The game was going on right now! 
I tugged on the sleeve of a nearby security guard, metaphorically speaking. I asked him what was up with the activity on the field. That was when he clued me in on some information I wasn't aware of. 
It seems that yesterday's game between the St. Paul Saints and the Kansas City T-bones had been delayed and then postponed by rain in the second inning. Tonight they decided to resume that game at 6 p.m. They would play nine innings or the balance of the game from the second inning stoppage. The they would take a short break and "tonight's" game would begin after the rain out game was finished. Then tonight's scheduled game would go for only seven innings. Got that?
Frankly, I couldn't have cared less about this minorly confusing situation. I didn't have a vested interest in either team. I was there to experience the feel and ambience of a new stadium environment. 
Soon I was bellying up to the bar and ordering a 24-ounce light beer. That was supplemented with a jalapeño cheese brat. This set me back $16 in U.S. currency. Later on I would have a Thelma's ice cream sandwich for five bucks. This was essentially two large cookies sandwiched around a healthy serving of vanilla ice cream.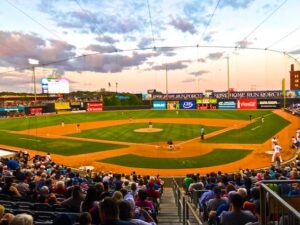 I watched a few innings from the bleachers down the left-field line and then spent some time behind home plate.. I could see the people sitting on the grassy berm. That didn't look too comfortable. For the rest of the night I simply wandered around the stadium checking the place out. 
I did spend a few minutes in the Saint Paul baseball museum, which is attached to CHS field. The baseball history in Saint Paul goes back for more than a century. Charles Comiskey of Chicago White Sox fame actually owned the St. Paul franchise at one time. 
When the first game was finished it was time for me to make an exit. The actual game I had come to see with a start time of 7:05 p.m. wasn't going to start until nearly 10 p.m. Like I said it didn't matter to me. I got all of the entertainment out of my five-dollar ticket that I was looking for. 
When I went to the Rodney Crowell concert  in downtown Minneapolis last week I noticed quite a few homeless people roaming around in the evening. The downtown area of Saint Paul looks like it is making a comeback but it still has its seedy looking type sections. I was concerned enough about it to keep my eyes and ears open and my man purse close to me on the half-mile walk back to the parking garage. 
It has been a very productive couple of days in Minnesota to begin this two-week plus trip. Tomorrow morning I would be getting up early and flying from Minneapolis to Chicago. Then I will be driving down toward Cincinnati and Indianapolis for another county fair event. In a nutshell, the trackchasing beat goes on.
Tuesday, July 30, 2019.
I'm getting a late start on my county fair trackchasing activity this year. That is primarily because of about a month's worth of ocean cruise vacations with Carol and the kids. I wouldn't have it any other way. 
This morning I was bound for Indiana's oldest free fair, the Fayette County fair in Connersville, Indiana. I had some logistical issues to deal with. What would those be?
To begin with I woke up in an Extended Stay America hotel in Bloomington, Minnesota. Bloomington, Minnesota is 669 miles from Connersville, Indiana. I didn't think I had enough time to drive there. That meant I would take a jet airplane. 
I had to return my rental car this morning before 6:30 a.m. Why was that? Just two days ago I had picked up my National Car Rental Racing Toyota Camry at 6:30 a.m. To avoid an extra charge I had to return it by 6:30 a.m. this morning. Nope. I've never had the big trackchasing budgets of those Dreaded East Coast Trackchasers.
My flight from Minneapolis to Chicago wasn't leaving until 9:10 a.m. That gave me plenty of time to get more than 2 miles of power walking in. I also stopped at the PGA MSP lounge for a moment.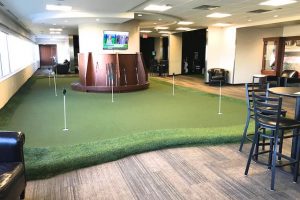 This lounge is one of my trackchasing sponsors. I could relax there all day if I wanted at no charge. I could even pick up a putter and practice my stroke on their indoor artificial putting green. As it was I grabbed a breakfast sandwich, relaxed, made some calls and sent some messages and got ready for my day. 
I landed at Chicago's O'Hare International Airport without fanfare. O'Hare used to be my hometown airport back in the day. I made a mental note that I hadn't been there in sometime. It was good to revisit the friendly confines of O'Hare. 
About a year ago or maybe a little bit more O'Hare opened up a brand new centralized rental car center. It's nearly a 10-minute shuttle bus ride from the terminal to the rental car center. The rental car center is very nice despite the minor hassle of getting there. 
Normally I rent from the National Car Rental Company my more than 10-year rental car trackchasing supporter. However, today I was renting from Budget Rental Car. Why?
Using Costco travel they offered me a Budget full-sized rental car for about $120 less than the price quote received from National. I like National but not for $120 more.  Sometimes Costco is more but not today.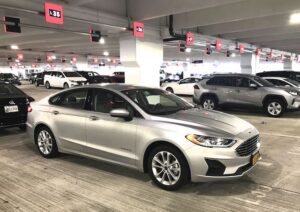 Budget gave me a nearly new Ford Fusion hybrid automobile. The funny thing is that often a Ford Fusion hybrid doesn't get as many miles per gallon as a Toyota Camry internal combustion engine car. That surprises me. 
I use the Waze GPS app as my GPS system. I've tried several and Waze is the best in my opinion. I commonly use GoogleMaps as a backup. 
Today I did a side-by-side cost analysis of the more than four-hour drive from the Chicagoland area down to Connersville, Indiana. I wanted to see what the driving time and driving distance would be by using the toll roads compared to avoiding the toll roads. 
The greater Chicagoland area is famous for its toll roads. It always has been. Today it was only going to take me about 10 more minutes and would actually save me about 3 miles in driving distance to cover the four-hour drive using roads that did not charge tolls. I would take the route avoiding the tolls. 
I had plenty of time to make the drive. I have instituted a new walking plan when I travel. Whenever I stop to get a bite to eat, or visit a rest area or get gas or whatever I use my "105" system. It takes me 105 steps to cover 1/10th of a mile. I try to cover for 4/10 of a mile during each of the stops. My goal each day is to exceed 4 miles of walking. When I cover the small distances intermittently throughout the day it's amazing how fast the miles can add up.
Tonight's autocross racing was scheduled to begin at 7 p.m. The program was being run by Roush Promotions. I've seen a couple of his events in the past. There are quite a few demolition derby/junk car promoters located all over the Midwest. I've met most of them.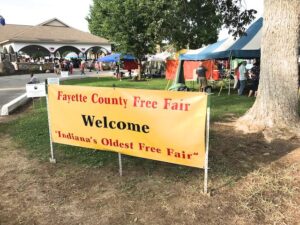 I pulled into the fairgrounds about 20 minutes before race time. The Fayette County fair is a "free" fair. Does that mean you won't spend any money? Er….no. Nevertheless, according to the signage, the Fayette County Fair is the oldest free fair in all of Indiana. 
I would not be paying anything to park at the fair or to get into the fair. The admission price for the autocross racing was only seven dollars. All of that was a bargain compared to some fairs, especially those in the eastern third of the United States. 
I had just enough time for a "jumbo pork tenderloin". Although Iowa is my favorite pork tenderloin state I guess I would say anybody in the Midwest can produce a pretty good tenderloin. Tonight's tenderloin was thin but large. The lady told me it would be ready as soon as it came "out of the fire". I smothered it in mustard. It wasn't my best pork tenderloin but it was my latest. 
Tonight's grandstand was large, mostly modern and covered. The fair itself was packed as virtually every fair I attend is. However, only about 150 people showed up tonight for the autocross racing in the very large grandstand. I guess free is better than seven dollars.
Rain had been in the forecast. However after looking at my weather map I saw that the heaviest rain was located about an hour or more south of us. We were safe on the weather front. 
THE RACING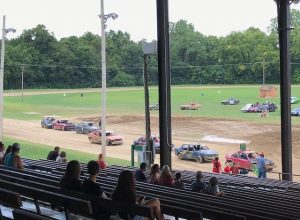 Fayette County Fairgrounds – Connersville, Indiana
Tonight the junk cars would be racing on a temporary dirt oval track. Actually this was just a huge expanse of dirt in front of the grandstand. A couple of junk cars were placed about 75 yards apart and would be used as "pylons". The car's raced counter-clockwise around these two pylons creating the "oval" track. 
There were two major items that detracted from tonight's enjoyment from my point of you. Racing was scheduled to begin at 7 p.m. For some unknown reason the very first green flag for the very first race dropped at 7:59 p.m. Oh my. Additionally, the PA system was horrible. If I listened closely I might be able to decipher what the announcer was saying but doing so was a chore.
The biggest division was for four-cylinder beat up junk cars. They had 38 of them. Another four V-8 racers towed to the track. There wasn't a single yellow flag thrown tonight for any reason. They did have a red flag condition, one time, when a driver from the fourth row jumped the start and was leading by turn one. 
The one saving grace for the show was that despite starting an hour late they completed the entire program in about an hour. This included four heat races, two consolation events and the features for the small cars. They had one heat race and a feature for the big cars. By just a little bit after 9 o'clock I was heading out of the grandstand over toward the animal barns.
I took some time to check out the fair's carnival. There wasn't a whole lot to see on the agricultural front at the Fayette County Fairgrounds. At this late part of the day most of the activity around the farm barn was shut down. I took a brief tour and then headed on out towards Fort Wayne, Indiana. 
AFTER THE RACES
I hold a number two state trackchasing rank in the Hoosier state. I'm gaining on the leader at a rapid pace. It wouldn't surprise me that someday I will be the #1 trackchaser in all of Indiana. We'll have to see about that.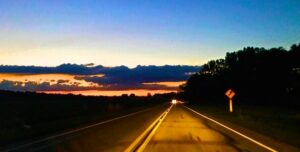 My drive up to Fort Wayne was mainly on two lane roads. I'm never too enthused about driving on smaller country roads at night with all of the crazy people who might be out there. Nevertheless, I was simply a passenger following my Waze GPS system.
I pulled into the Magnuson Hotel a few minutes before midnight in Fort Wayne. I can tell you from experience that the hotel clerk I met at the hotel was just about as uninterested in her job as anyone could be. Folks, I can only describe the situations and share the facts. I don't cause the situations. I don't distort the facts. I am simply the messenger. 
Good evening from Connersville, Indiana 
Randy Lewis – 85 countries – 2,568 tracks.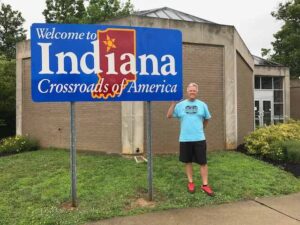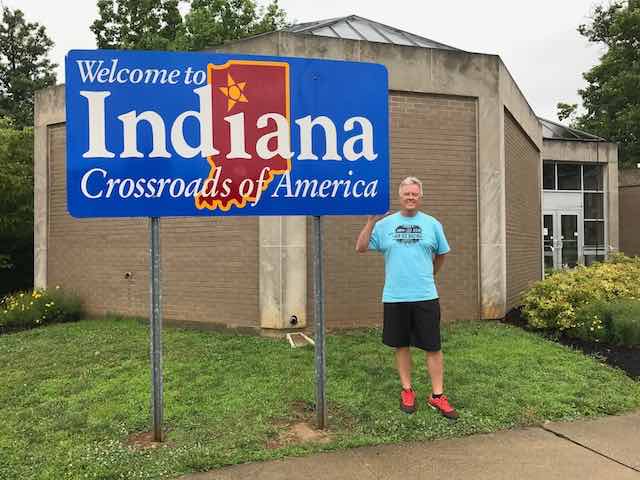 Indiana
The Hoosier state
This evening I saw racing at my 119th lifetime track in the Hoosier, yes, the Hoosier state.  I hold the #2 trackchasing ranking in Indiana. However, I am gaining fast on the fella in the #1 spot.  I've seen 119 or more tracks in three different states. No trackchaser can match that stat.
Thanks for reading about my trackchasing,
Randy Lewis
World's #1 Trackchaser
Peoria Old Timers Racing Club (P.O.R.C.) Hall of Fame Member
Indiana sayings:  A Pork Tenderloin isBest Served With A Dessert Of Hoosier Sugar Cream Pie
Obviously the worst thing about pie has always been all the fruit. Blech! Too healthy. Hoosier sugar cream pie is the perfect, sugary, delicious solution.
QUICK FACTS
LIFETIME TRACKCHASER COMPARISONS 
The threemost important trackchasing comparisons to me are:
Total lifetime tracks seen
Total "trackchasing countries" seen
Lifetime National Geographic Diversity results
Total Lifetime Tracks
There are no trackchasers currently within 715 tracks of my lifetime total.  Don't blame me.
Randy Lewis, San Clemente, California – 2,568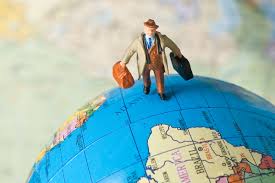 Total Trackchasing Countries
The nearest trackchasing competitor has seen racing in 30 fewer countries compared to my lifetime total. 
Randy Lewis, San Clemente, California – 85
Current lifetime National Geographic Diversity results
Randy Lewis, San Clemente, California – 4.14
That's all folks!  Official end of the RLR – Randy Lewis Racing Trackchaser Report
Click on the link below to see the video production from the racing action today.
Click on the link below for a photo album from today's trackchasing day.  You can view the album slide by slide or click on the "slide show" icon for a self-guided tour of today's trackchasing adventure.
First a Minnesota baseball game and then some autocross racing from the Hoosier state