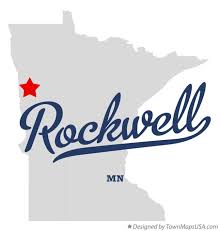 Greetings from Rockwell, Minnesota
.
.
From the travels and adventures of the 
"World's #1 Trackchaser"
.
.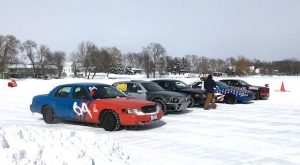 Grand Lake Ice Oval
Ice oval
 Lifetime Track #2,534
The EventVideo PlusPhotos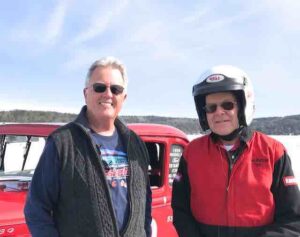 THE EVENT
I am a "trackchaser". I trackchase. Before you discovered my site had you ever heard of trackchasing? Maybe not? So….what the heck is trackchasing? Sit back, take a read and you'll be an expert on my hobby of trackchasing when you're finished.
Here's my best explanation.
Trackchasing is a three-pronged hobby. I'm a racing fan. I love to travel. I love to analyze opportunities to get the most out of everything while saving time and money.
Trackchasing fills the need for all of the above. The racing part of my trackchasing has me trying to see wheel to wheel auto racing at as many different racetracks as I can all over the world. Yes, all over the world. So far things are going pretty well. As this is written, I've seen racing in 82 countries at more than 2,500 tracks. As a matter of fact, I've seen racing at more tracks than anyone else in the world.
Equally important to me are the things I get to see and experience over the "long and dusty trackchasing trail". I call these adventures "Trackchasing Tourist Attractions". You won't want to miss my "Trackchasing Tourist Attractions" page. Here's the link:  Trackchasing Tourist Attractions or my "Sports Spectating Resume" page, Sports Spectating Resume on my website at www.randylewis.org.
I live in southern California. That's probably the most inconvenient location in the country for seeing tracks in the U.S. Most of the racetracks in the U.S. are located well over 1,000 miles from where I live. As a matter of fact, my average trip covers 5,000 miles and more. I take 35-40 of those trips each season. In any given year I will travel well over 200,000 miles, rent more than 50 cars, and stay in more than 150 hotel rooms.
I get the chance to meet people all over the world. With trackchasing trips to 82 countries and counting just getting the chance to experience so many other cultures, spend time in their homes and meet their friends is a huge reward for being in this hobby. I am indebted to several of these folks for their help and friendship.
It's takes a good deal of planning to do the above and not spend my entire retirement portfolio. I enjoy the challenge, the travel and every other aspect of "trackchasing". In reality, my trackchasing hobby is a lot like being with the carnival. I breeze into town, stay a little while and then head on down the road.
Today's adventure was one more of the 2,000 trips that have taken me up, down and around the proverbial long and dusty trackchasing trail.  If you would like to see where I've been and experience those adventures here's the link: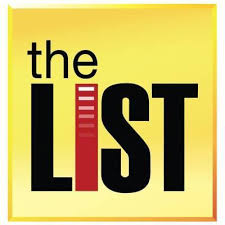 If you've got a question, comment or whatever please leave it at the bottom of this report.  It's very easy to do.  Or you can visit me on Facebook.  Thanks!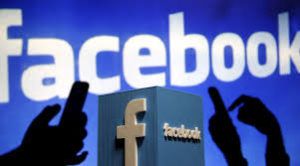 FOREWORD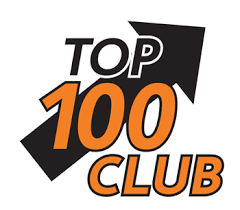 Saturday, March 2, 2019.
This is the first weekend of March 2019. I am going ice trackchasing. I've seen racing at more than 100 ice tracks in 20 countries, provinces and states. If you were to look at my ice track list you would see only a handful of ice tracks where I've seen racing on the ice in March or later. Ice trackchasing is a January and February activity.
During January and February I've had a very successful ice trackchasing record. Coming into this weekend I have seen ice racing at 13 different tracks. There is a trackchasing group based out of Pennsylvania that does pretty much the same thing that I do. They have a large group of members. If you were to check the ice trackchasing totals of every member of that group, ADDED TOGETHER, that number wouldn't come close to matching the 13 ice tracks I've seen this year. That might give you some indication as to how significant and difficult seeing that many races on ice really is.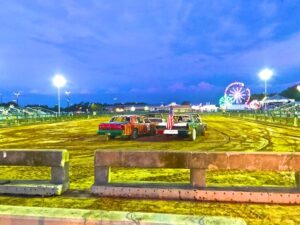 Last night I trackchased in Central Florida. Today the temperature in Orlando was going to top out at about 86°. Nevertheless, I was at the airport this morning to board a 6 a.m. flight departure from Orlando to Minneapolis, Minnesota. Why do that?
I very well could have stayed in Florida. I knew of a new Florida track racing on Saturday evening. The weather forecast was excellent. That racetrack would have been easy to add to my Gator state total.
However, for me, Minnesota held more trackchasing gold on this particular weekend. One of my goals is to add a seventh state where I've seen racing at 100 tracks or more. So far I've done that in:
California
Illinois
Indiana
Iowa
Michigan
Pennsylvania
What state is the leading candidate to become number seven in my century club? Right now, it's a battle between Minnesota and Wisconsin. Coming into this weekend I have seen racing at 94 tracks in Minnesota and 92 in Wisconsin.
That's why I was bypassing an easy to get track where the high temperature for the day would be 86° for an ice track in Minnesota where the overnight low was going to be 20° below zero. Yes, motivation is a strange, happy and productive thing to have in your life.
Thursday night I had flown overnight on a jet airplane from Los Angeles to Orlando. On Friday night ,I got about four hours of sleep before getting up at 4 a.m. Eastern time today to catch a 6 a.m. flight. I was dragging just a little bit. However, I have always figured that once I die I will have plenty of time to rest in peace.
This would be the eighth consecutive weekend that I have flown into Minneapolis or through Minneapolis, Minnesota. I guess you would say Minneapolis is the hub of ice trackchasing. I hope to break that string next weekend but I have learned never to predict the future with trackchasing.
When I landed in Minneapolis I immediately went over to the French Meadow Bakery and Café. They are a Priority Pass sponsor of mine and tied into the PGA MSP Lounge at the airport. I think their lunch and supper menu is better than their breakfast menu. It just seems that I'm rolling through Minneapolis before 11 a.m. most of the time. Today I settled for one of their omelets, at no charge of course. It wouldn't have been my top choice had I arrived later.
THE RACING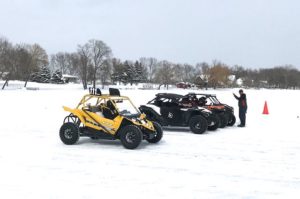 Grand Lake Ice Oval – Rockwell, Minnesota
Today I was going to see the Central Minnesota Ice Racing race group compete on Grand Lake in Rockville, Minnesota. I really like Derek Hedberg and his management of CMIR. They race on a number of different lakes. They do their best not to cancel their shows. I think they've had one cancellation this year, at the beginning of the season. Fortunately, that did not affect me.
I have been watching the weather in Rockville, Minnesota for a couple of weeks. They have had a lot of cold weather. I believe that northern Wisconsin and northern Minnesota have the coldest weather over a larger part of their geography than any other part of the United States and that includes Alaska.
If a location has a lot of cold weather they are likely to have a lot of ice and by that I mean thick ice on their lakes. However, there are a couple of weather oddities that can sidetrack even the lakes with the thickest ice. What would those be?
One problem could be excessive heat. I don't mean 90 degrees but maybe 40-50 degrees. You're not going to see very much ice racing when the temperature is above freezing for an extended period of time even if you have thick ice. What is melted ice? Water. Too much water and there won't be any racing. You might also not be able to see ice racing if the temperature is too cold and/or the wind chill is too cold.
As an example, the Winnipeg Sports Car Club up in Manitoba will not race when the wind chill drops below 40 below Fahrenheit/40 below Centigrade. Did you know that's where the two temperature standards meet on the bottom end?
As a matter of fact, one of the ice racing groups that I follow up in Alberta actually canceled their official event. The wind chill temperature was too cold for them. I was lucky when about a dozen of their hardcore members decided to race anyway. Excessive cold weather was not going to be a problem today in Rockville, Minnesota.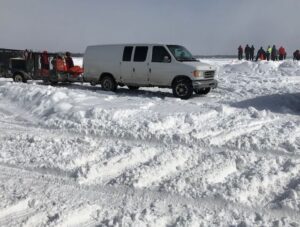 That brings up the second potential issue that could negatively affect an ice race even in cold weather. That would be precipitation. The precipitation could come in the form of rain or snow. For Rockville it was snow. Just the day before the race they got a ton of snow.
The CMIR group had already plowed a good-looking ice road course on Grand Lake. Then after they plowed it the snow storm hit. The snowstorm really screwed up their already plowed track. Fishing holes didn't help either. Some fishing holes caused flooding at one corner of the road course track. With the snow and water this track would be unusable.
There are some ice racing groups that would have thrown in the towel right there. However, Derek wouldn't take "no" for an answer. His crew simply went to work to produce an alternative. They looked at their pit area. They figured they could plow an oval ice racing track in the pit area and then scrunch up the pits in what would have likely been spectator parking. That was the solution. It worked!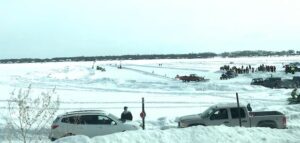 When I arrived into Rockville, Minnesota and found the ice racing activity on Grand Lake I had a decision to make. Would I drive my car onto the lake or stay ashore? That decision was easy for me.
You see my rental car is my "warming hut". If standing out on the lake watching ice racing gets to cold I simple return to the rental car to warm up. The closer the car is to where I will be watching the ice racing the better.
Yes, I immediately pulled the Avis Car Rental Racing Toyota Camry onto the lake. There wasn't much room for spectator parking but I'm one of those people who feels, "There's always room for one more". I found a spot, gathered up my ice racing gear and hopped out of the car.
I was in for a surprise. In the unplowed areas of the lake, which was most of the lake, the snow was a good 2 feet deep. Making my way was like trying to run in the sand at the Pacific Ocean in front of our modest seaside cottage in San Clemente. Neither was/is very easy to navigate.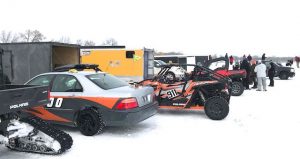 CMIR races quads, bikes, UTVs and cars. There are very few ice racing groups that do that. Some race cars only. Some have quads, bikes and UTVs only. Very few incorporate all four individual racing types into their ice racing program. Why? I have no idea.
There were nearly ten UTVs racing on the ice. Some competed in more than one class. The smaller front wheel drive cars had four entries. The larger rear wheel drive cars brought five. I've been to four CMIR races this year. That was the biggest car count of the RWD large stock cars that I've seen. They had quads and bikes too.
Folks, I've seen Jaguars and Mercedes automobiles compete in banger racing in England. Banger racing is fantastic. I love it. It's basically a demo derby where the cars race around an oval track for ten laps. Action packed!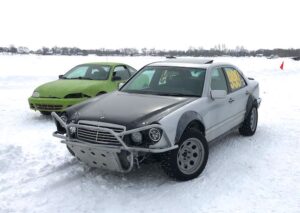 I've seen Jaguars and Mercedes compete in the ultra-professional road racing series worldwide. It is rare that any of these racers come in contact with each other during a race.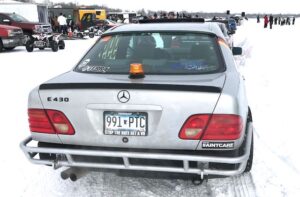 However, to my knowledge I have never seen a Mercedes race in one of these low-dollar ice racing events on a lake in Minnesota! Today a driver was handling the driving duties in a Mercedes E430. It looked like about a 1996 model but that is only a guess.
I owned a brand new Mercedes E430 back in 1996? This car came after my 1993 or 1994 Lincoln Town Car and before my 1999 Lexus LS 400. Ever since 1999 I have driven the Lexus brand right off the show room floors of various SoCal Lexus dealers.
What did today's ice oval look like? They say that NASCAR's Martinsville Speedway is shaped like a paperclip. I believe that to be true. I would also say the Grand Lake Ice Oval was shaped like an extreme paperclip.
I'm going to estimate that the straightaways were 300 yards in the length and maybe even more. The turns were tight. The cars got up a lot of speed racing down those long straights. Then they had to slam on the binders and use their studded tires for traction through the narrow turns.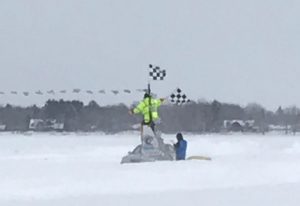 I didn't get a chance to say hello to Tom Hedburg. Tom is Derek's father. He does the flagging duties for CMIR. It was a cold and windy day. I'm sure Tom was relatively comfortable in his propane heated starter stand. I am told it's warms him up to 85° or so. Catch you next time, Tom.
I was able to get good video action of all of the UTV and stock car racing. I took the time to walk through the pit area to shoot some close-up photographs of those entries as well. I do all of this with my Apple iPhone. I'm one of the only people that I know of that will tell you his camera comes with a phone.
I did take a tumble, my first of the season, in the powdery, soft and clean snow. It was a lot easier taking a fall in that snow than landing on my backside on glare ice which often populates an ice track pit area. I got up, dusted myself off and moved on.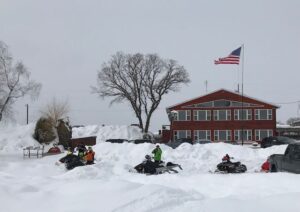 A good deal of the time ice racing tracks are plowed in front of a land-based bar and restaurant. Sometimes the bar and restaurant sponsors the ice racing. They know they're going to get a good turnout of customers before, during and after the races. Today the racing on Grand Lake was right in front of the "Eddy's on Grand" bar and restaurant.
I have to be extra careful that I don't go back to an ice racing location that I've already seen previously. That's not really what trackchasing is all about. Much to my chagrin, I actually did that two weeks ago. I went to a CMIR ice track on Balsam Lake in Wisconsin. Later I realized I had already seen ice racing in pretty much the exact location back in 2008 with the IIRA (International Ice Racing Association). That meant I couldn't count the "second" Balsam Lake location.
Earlier this winter I saw some ice racing on a huge lake in Minnesota called Milles Lac Lake. That race was also in front of "Eddy's". On the drive out today I did some quick research to confirm there were TWO Eddy's AND they were not in the same place. When that was confirmed I breathed a lot easier.
AFTER THE RACES
It was a fun day of racing on Grand Lake. I'm actually happy that I was able to see racing on an oval rather than a road course. I'm sure that road courses are more fun on the ice for the racers. However, ovals are fan favorites in most cases. With an oval you can almost always see all of the racing all of the time. That's what I want to do.
Today was the last race date on the Central Minnesota Ice Racing schedule for 2019. I had seen four of their race events this year. There was actually a hidden benefit in seeing racing on an oval configuration compared to a road course today.
If the CMIR group races on Grand Lake next year it's more than likely they will compete on a road course. Under normal conditions, all of their racing is on road courses. Since I saw racing on the oval this year a Grand Lake road course would be an additional new track for next year. We will see how that goes.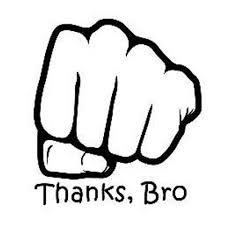 I would like to take the time out now to thank Derek Hedburg and his dad Tom and everyone else who makes CMIR racing a huge success. Thank you for racing on as many lakes as you do. I've got your group penciled in for many more next year.
Despite not having much sleep over the last couple of nights it was time to head out on the road for tomorrow's ice racing in Michigan. I had nearly a seven-hour drive to make. It was time to make it.
Good day from a snow-drenched Grand Lake and my 14th ice track visit of 2019.
Randy Lewis – 82 countries – 2,534 tracks.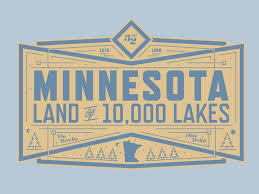 Minnesota
The North Star state
This afternoon I saw racing at my 95th lifetime track in the North Star state, yes, the North Star state.  I hold the #1 trackchasing ranking in Minnesota.  I've seen 95 or more tracks in seven different states. No other trackchaser can match that stat.
Thanks for reading about my trackchasing,
Randy Lewis
World's #1 Trackchaser
Peoria Old Timers Racing Club (P.O.R.C.) Hall of Fame Member
Minnesota sayings:  "You call this snow? Remember the great Halloween blizzard of '91?" 
Yeah, this was over 25 years ago, but that night sticks out in Minnesotans' minds like it was yesterday. For some reason, the weather gods decided it was high time for winter to start on the one day of the year kids dress up and get free candy (maybe the patron saint of dentistry cashed in a favor or something). That spooky night brought eight inches of snow, and over the next few days the Twin Cities got almost 30 inches of that white stuff… not to mention the ice that came with it. There have been some pretty chilly Halloweens since then, but none to rival that historic holiday.
QUICK FACTS
LIFETIME TRACKCHASER COMPARISONS 
The threemost important trackchasing comparisons to me are:
Total lifetime tracks seen
Total "trackchasing countries" seen
Lifetime National Geographic Diversity results
Total Lifetime Tracks
There are no trackchasers currently within 695 tracks of my lifetime total.  Don't blame me.
Randy Lewis, San Clemente, California – 2,534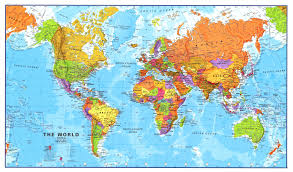 Total Trackchasing Countries
The nearest trackchasing competitor has seen racing in 30 fewer countries compared to my lifetime total. 
Randy Lewis, San Clemente, California – 82
Current lifetime National Geographic Diversity results
Randy Lewis, San Clemente, California – 4.14
That's all folks!  Official end of the RLR – Randy Lewis Racing Trackchaser Report
Click on the link below to see the video production from the racing action today.
Click on the link below for a photo album from today's trackchasing day.  You can view the album slide by slide or click on the "slide show" icon for a self-guided tour of today's trackchasing adventure.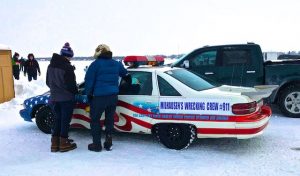 The trip from Florida to Minnesota for a day of ice racing then an immediate drive to northern Michigan