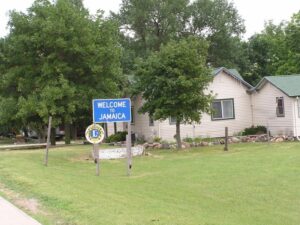 Greetings from Jamaica, Iowa
and then Rockwell, Iowa
and finally Webster City, Iowa. Whew!
.
.
From the travels and adventures of the 
"World's #1 Trackchaser"
.
.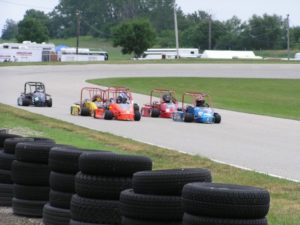 Jamaica Raceway
Asphalt oval
 Lifetime Track #1,211
.
.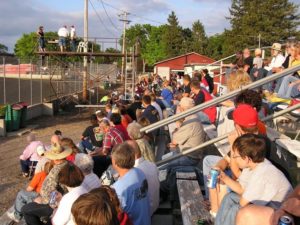 Calhoun County Speedway 
Dirt figure 8
 Lifetime Track #1,212
Reprinted with permission from my June 23, 2007 Trackchaser Report.
TODAY'S HEADLINES
Why did Carol have to pay for supper?……………more in "The People".
To buy a ticket or not?  What price for credibility? ………………..details in "Race Review – Jamaica Raceway".
Were 'Iowa Hillbillies' a problem.  No!……………….more in "Race Review – Calhoun County Exposition Fairgrounds".
We woke up in Kearney, Missouri this morning. We went to sleep in Webster City, Iowa. This is what transpired today.
PEOPLE/STRATEGY/TRAVEL NEWS
The Strategy     
The strategy is real simple now.  It's summer!  It's time to see some tracks.
The Trip 
Just minutes after leaving last night's track in Grain Valley, Missouri, the skies opened up.  This was the heaviest rain we have encountered on the trip.  The poorly equipped Dodge Charger's windshield wipers could barely keep up.
Today's trip is easy.  It was just 204 miles up to Jamaica, Iowa for our afternoon race. Then, it was 55 miles up to our early evening show in Rockwell City, Iowa.  Finally, it was a comfortable 44 miles over to Webster City, Iowa for Carol's third track of the day. 
The People
When we travel, we like to see the local attractions.  Today, that came in the form of our lunch and dinner, aka supper, choices.  Lunch was at the Hungry Hobo in Urbandale, Iowa.  "Supper" was at the AMVETS tavern in downtown Rockwell City, Iowa.  We had an interesting experience in both locations.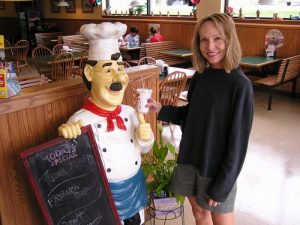 I'm not certain whether or not Carol has ever experienced a Hungry Hobo.  Discerning readers may remember that I frequent this Quad Cities based sandwich chain whenever I can.  I'm good friends with the company's CEO/Managing partner, Pryce Boeye.  He and I contest the "Illinois Cup" each season and hope to again this year.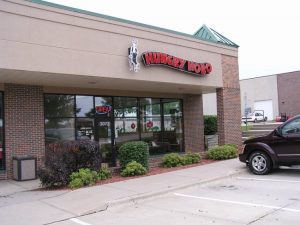 The Hungry Hobo in Urbandale is a franchise location.  I asked the counter person/manager if he knew who Pryce Boeye was.  "He's the owner over in Rock Island, right?"  Good guess!  If you don't know who the CEO of your company is, you should.
Our dining experience had both its good points and areas for improvement.  I'll start with the improvement opportunities.  First, the place was cold.  You could hang meat in there.  Coffee was on the menu.  Carol ordered coffee.  The somewhat inattentive order taker told us they didn't have coffee.  That was a technically correct statement, I guess. A follow-up question to the manager about the coffee yielded this response, "No, we don't have coffee.  The coffee maker has been broken and the owner doesn't want to get it fixed." O.K. then maybe the item should be removed from the menu.
All of this not withstanding, the food was good as it always is at Hungry Hobo.  I had the #6, the pepperoni and cheese po' boy sandwich.  Carol went with the #26 baked potato, broccoli cauliflower combination. Maybe that's why she looks the way she does.  We topped it all off with a piece of chocolate cake with creamy white frosting. The service was incredibly fast. It was a good quick meal at the Hungry Hobo.
Supper was very unusual.  We stopped in Rockwell City, home to tonight's figure 8 racing.  It looks like downtown Rockwell City got up and left in the middle of the night and no one could do anything about it.  This is so common in the small rural towns of America.  They've been "Wal-Marted."
We stopped at a local Casey's gas and convenience store and asked for a good place to eat.  The clerk said, "That really depends on what you're looking for".  That answer made us think we might have many culinary choices.  I started dreaming about Northeastern Morocco lamb chops or Polynesian sushi.
My line of thought was broken when he came back with, "We have the pizza place toward the end of town.  They have a nice buffet.  Then there's Taco Johns."  He thought a little more.  "The Dairy Dream is sort of like a diner.  That's about it."  I guess we wouldn't be having lamb chops tonight.
We drove through downtown one more time.  A cardboard sign caught our attention.  The AMVETS was having a "steak fry".  That sounded good given our other choices.  We found the AMVETS tavern and walked in.
I told Carol before we walked into the place, "I just want to blend in with the locals and have a good meal.  I don't want to draw attention to ourselves."  She agreed. We were soon greeted by the barmaid. I asked her where we paid for the steak fry.  Her reply was classic.  "You pay right over there.  You folks in for the weekend?"  Busted!  "Yep! We're here for the races.  We go all over the world trying to see as many races as we can," I told her.  "Sure you do, honey,"she replied.  "Come on over here and sit down."
When it came time to pay the elderly cashier, I discovered my cash money was in my briefcase out in the car.  I asked Carol to pay.  The Midwestern born and raised cashier raised an eyebrow.  You could tell what she was thinking.  "What kind of ne'er do well did you hook up with honey, if you have to pay?"  I didn't have time to defend myself.
When Carol travels, she keeps her money buried in the deepest recesses of her purse.  It seems like she has to open 4-5 trap doors, before we seen any green.  Then, when she finally does get her grubby little fingers on the cash, it is folded over about ten times.  She patiently unfolds each fold like she is handling a napkin at a fancy restaurant.  Finally, she gives the crumbled bills to the cashier, while I turn several shades of red in embarrassment.  Anyway, that's our system and it works for us!
Our meal was good.  The homemade salad bar had deviled eggs, Jell-O and baked beans among other things.  I didn't know if drinks came with our $12.50 per person steak fry or not.  I asked for a Bud Light and soon was served.  A little while later, the waitress came up and asked, "Can I have two dollars for the beer?"  Sure.  Carol do you have two dollars?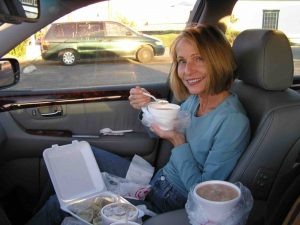 CAROL'S COMMENTS
I liked the Jamaica go-kart track.  There sure were a lot of families.  Some of those boys in the "kids" class were huge. 
I like the AMVETS organization so I didn't mind donating, but I didn't think much of their food at the steak fry.  The steak was way too fatty.
The figure 8 cars at Rockwell City were fast.  It's definitely a down-home operation.  I'm glad you didn't fall off that ladder going up to be interviewed!
The races in Webster City were the best we saw all day.  They knew how to run a race program.
STATE RANKINGS 
These were my 62ndand 63rdlifetime tracks to see in the Hawkeye state.  I wouldn't be honest if I didn't tell you I am disappointed in my fourth place ranking here.  You see, Iowa was the first state I ever traveled to for racing outside of my boyhood state of Illinois.  At age 14, we made a trip to the Davenport Speedway.  Nevertheless, I trail Max Allender's 71 tracks for third place. Jack Erdmann leads in Iowa with 83 tracks.
Somewhat incredibly, today's tracks were only Carol's third, fourth and fifth in her trackchasing career.  She has not made a trackchasing visit to the corn state since seeing both ovals at the Davenport Speedway during the "pre-1980" days!  Wow!
She is now tied for 33rdplace in the Hawkeye state.  She has now matched the total of Chris Economacki and P.J. Hollebrand among others.
RACE REVIEW – JAMAICA RACEWAY 
It's not easy to get a regularly scheduled new track in on a Saturday afternoon.  The Jamaica Raceway is located in a very small town (251 people) in the middle of Iowa. If you can see the town's water tower, you will be able to find the track.
This track is built for go-karts.  It's 1/5 of a mile in length and highly banked.  Today, there was only one countable class.  The countable class was the "Adult Mini Winston Cup" group.  In other parts of the world, these racing machines might be called mini-cups.  They also have a class called "Wing Champ Kart Adults."  They had just one of these today and he ran by himself, making this a non-countable class.
An hour or so after I submitted my trackchaser press release to track personel, I was called to the pit office.  Earlier in the day, I had approached the pit office and asked the price of admission to the pit area.  I was told it was eight dollars to get in the pits and free for the main grandstand. Based upon that information, I chose the grandstand.
When I returned to the pit office to answer their page, the woman working the pit office recognized me from our earlier encounter.  "Why didn't you tell me who you were?  I would have let you in for free!"  However, the RANLAY does not roll that way.  I don't want any obligations to anyone in trackchasing.  What if I had been admitted for free and then found out the track and/or promotion was terrible?  Then, I might feel conflicted.  Should I tell my loyal Trackchaser Report readers that the place was a dump and piss off the promoter.  Should I say the place was great and mislead my readers?  I choose to pay my own way out of my "small retirement stipend" so I can be true to you, the loyal Trackchaser Report readers.
In point of fact, I had no conflict today.  The Jamaica Raceway is a quality, family-oriented go-kart type track.  I was lucky enough to meet the owner, Randy Perkins.  Randy took me on a tour of the facility and told me the track's history.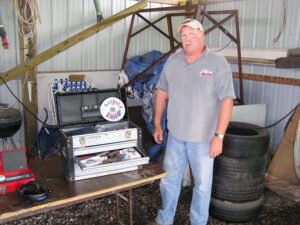 Randy Perkins worked for UPS during his business career.  He told me "because UPS stock did so well, I was able to purchase the land for this track.  I used to promote go-kart racing down in Adel. When the politics got to great, I moved up here and bought ten acres.  The weeds were as tall as we are when I bought the land.  The town has 251 people.  When the city council went to vote on my project, 231 people showed up and not one person spoke against the track.  I built the track in 1999.  We just have fun with the track, and for the most part, it pays for itself."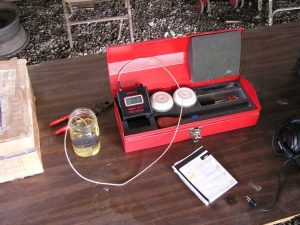 Mr. Perkins took me on a tour of his tech facility.  Here they measure the octane of the fuel.  If you are running fuel that is too rich, you will be disqualified.  I also spent time talking with the owners in the Adult Mini Winston Cup class.  They have both adults and teenaged drivers racing in this group.  Go karting at this level is a lot like little league baseball only for the automotive-minded folks.
By the way, when I talk to go-kart track promoters and/or racers, I often mention that flat go-karts do not count in trackchasing.  I know, I'm too honest for my own good.  I wish everyone reading this could see the look of both astonishment and disappointment that comes over the faces of my go-karting friends.  I quickly point out that I had absolutely nothing to do with this ruling.  These trackchasing rules were established long before I got here I always tell them.  This explanation usually puts me back in their good graces.
The announcer was unusual in that she was a woman.  You probably guessed that before you got to the word "woman."  Women probably make up less than 1% of all the announcers, I hear so that makes it worthy of comment. 
There were seven mini-cups racing today.  Each of the 6-8 classes raced two heats and a feature. They take an intermission after the first set of heats and again after the second set of heats.  We stayed for both sets of heats for all classes.  Most of the fans in the stands appeared to be family members.  If a person lived locally, this would be an excellent place to buy a go-kart and "go racin."  Overall, Carol and I had a nice time on a cloudy day in the middle of Iowa, where the people are the friendliest in the United States.
RACE TRACK STATS: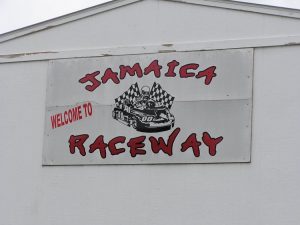 JAMAICA RACEWAY – TRACK #1,211 (CAROL'S TRACK #322)
Track details
Website:  http://www.jamaicaraceway.com/
Weather:  Temps in the low 70s on an overcast day.
Track type:  high-banked oval
Surface:  Asphalt
Length:  1/5- mile
Grandstands:  5 row wooden bleacher grandstand with overhead roof.
P.A.:  Loud and clear in the pit area and the grandstand.
Announcer:  Today most announcements were limited to car number and driver name.
On time:  We arrived a few minutes late and they were already racing.  Scheduled start time was 1 p.m.
Pit area:  Located beyond turns three and four.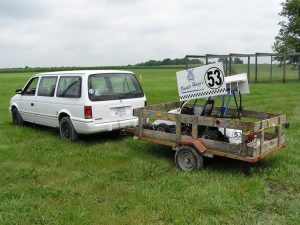 Classes:  There were several flat kart divisions.  Jr. Champ karts – 7, Sr. Champ karts – 1, Adult NASCAR Mini-Cups – 7
Radio Frequency:  Unknown
Concessions:  All types of hot sandwiches and cold drinks were available.  We ate at the Hungry Hobo before arriving at the track.
Scoreboard:  No
Restrooms:  Serviceable
Extras:  The track owner/promoter gave me a history of the track and a tour of the pit area and tech center.  I saw my first ever "fuel-tester."
RACE REVIEW – CALHOUN COUNTY SPEEDWAY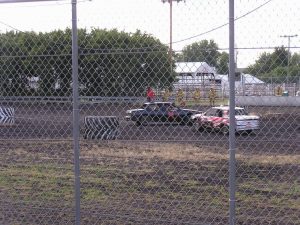 This was my second visit to this facility.  I was here last September for their oval racing (track #1,107). This was not the best figure 8 racing I have ever seen.  They started 33 minutes later than the website advertised.  Then, they took a 20-30 minute break when one of the workers dumped his four-wheeler and broke his leg!
Speaking of broken legs, I narrowly avoided breaking my own leg tonight.  The track announcer came upon my trackchasing press release.  The announcer at the Calhoun County Exposition Fairgrounds stands right next to the track starter.  Their platform is some 20-25 feet above the ground.  The only way to get up to the announcer is to ascend an unsecured aluminum ladder.  It was a lot easier going up than coming down following my interview.  The lengths I will go to promote the hobby of trackchasing!
The track played good country music over a robust P.A. system. They played continuously right through all of the racing.  I liked that. The racing wasn't much.  They didn't put very many cars in any of the heats. Even when there did look like a crash might happen one or the other of the oncoming cars stopped to avoid a collision. Fans come to see figure 8 blood, not namby pamby efforts from accident avoiding weasels. 
This was a down-home crowd of folks.  The incidence of unsightly tattoos is now beginning to infiltrate even Iowa.  In addition, the preponderance of grossly overweight people has reached here as well. I'm doing my best to avoid joining that population.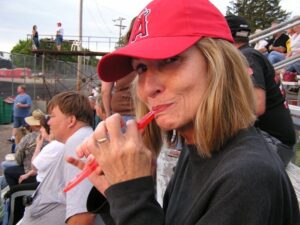 Following my track interview, I took my seat with Carol and we enjoyed some red and blue ice pops.  About that time, I received a tap on the shoulder.  The fellow behind me said, "Just wanted to let you know, that we're not all hillbillies around her."  His wife nodded her head in agreement.  Yes, there were folks from all backgrounds at the track tonight.  Auto racing often attracts people from lower socio-economic backgrounds.  I don't mind that a bit.
I find that people from all backgrounds, regardless of their uniqueness, be it social, economic, racial or ethnic can be interesting and quality people.  I enjoy learning more about people that just is what is on the outside.  If you're reading this, and I've met you, I'll bet I can tell you something about your family, your background or your interests. I just like learning about what people have been up too.  Of course, you can same the same thing about me, if you've been reading my Trackchaser Report for long.
Anyway, the racing wasn't that great here.  However, I had a fun interview with a very enthusiastic and jolly announcer.  I met some interesting people in the stands.  We had a fun supper at the AMVETS steak fry.  Therefore, the visit to the Calhoun County Speedway met and exceeded my expectations.
RACE TRACK STATS:
CALHOUN COUNTY SPEEDWAY – TRACK #1,212 (CAROL'S TRACK #323)
Track details
Website:  http://www.rockwellcityracing.com/
Weather:  Temps in the low 80s on a very pleasant evening.
Track type:  Traditional dirt figure 8
Surface:  Iowa black, I mean black dirt.  No dust.
Length:  ¼ – mile
Grandstands:  10 row fiberglass seat bleacher grandstand,
P.A.:  Excellent. They played good country music throughout the program even when the cars were racing.
Announcer:  Local and enthusiastic.
On time:  Website said the races would begin at 7:00 a.m.  First started at 7:34 p.m.  They also had a 20-minute delay when a track worker dumped his four-wheeler and broke his leg!
Pit area:  Located beyond turns one and two
Classes:  Front wheel drive cars – 13, Rear wheel drive cars 21
Radio Frequency:  Unknown
Concessions:  We ate at the Rockwell City AMVETS' steak fry before coming to the track.  Only purchase was four ice pops at 25 cents each.
Scoreboard:  No
Extras:  The track announcer interviewed me from atop the flag stand.  This required me to ascend an aluminum ladder some 20 rungs!
RACE REVIEW – HAMILTON COUNTY SPEEDWAY 
The Hamilton County Speedway was a new track for Carol but not for me.  I was here back in June, 2002 (track #568).  On that night, I won the track's best door prize, a very attractive hand-made racing clock.
We went to the Hamilton County Speedway for a couple of reasons. First, it was the nearest location to Des Moines, Iowa where we could find a Super 8 Motel.  We'll be going to a major race event over by Des Moines tomorrow and hotels are hard to come by in the area.  Secondly, this will be a new track for Carol, her fourth of the trip.
The Hamilton County Speedway racing is outstanding.  The old county fairgrounds grandstand (described below) really adds to the charm of the place.  We arrived late and the ticket seller was nice enough to give us a break on the ticket price.  She reduced the price from nine dollars to five. 
We arrived just as the limited modified feature was wrapping up. There were still three features remaining on the track with the blackest dirt in America.  We saw the street stock (14), modified (15) and late model (20) feature events.  These guys race hard, they pass each other and they run at least two (or more) grooves. They don't have a lot of yellow flags and when they do, they get back to racing quickly.
If this had been a new track for me, I would have rated their program one of the best I've seen in 2007.  Iowa might have the best short-track dirt stock car racing of any state in the country.  I think they do.
It had been a long day of trackchasing.  We had been to three different racetracks.  We weren't through with the weekend by any means.  I finished up the evening by having a brief skirmish with the hotel clerk over their inability to honor our non-smoking room reservation.  In the end, an equitable solution was found for everyone.  This is America, and an equitable solution cannot always be found for each party, but it's better when it can be.
RACE TRACK STATS:
HAMILTON COUNTY SPEEDWAY – (CAROL'S TRACK #324)
Track details
Website:  http://www.hamiltoncountyspeedway.com/
Weather:  Very comfortable with temps in the low 70s
Track type:  oval
Surface:  Iowa black dirt
Length:  1/2- mile
Grandstands:  Classic old-style county fair covered grandstand.  The grandstand have more than 50 poles, which blocked the view of the racing, supporting it.
P.A.:  Not all that loud.
Announcer:  O.K., couldn't hear him too well
On time:  We arrived at 10 p.m.  We saw the completion of one feature and the final three features of the night.  This was a very efficient program.
Pit area:  Located in the track's infield.  Does not block the view of the races.
Classes:  Features started 15-20 Street stocks, modifieds and late models.
Radio Frequency:  Could not find the local frequency.  My radio may be damaged from a recent drop at the I-70 dirt track.
Concessions:  Didn't buy a thing.
Scoreboard:  Lap counter and one-position scoreboard
Extras:  Before the last completed race was having its cars pull off the track, the next feature was pulling onto the track. This is the way to run the railroad.  The racing was some of the best I have seen all season. This is a very competitive, racy, multi-groove track.  Well above average.
RENTAL CAR UPDATE
Chicago – Thursday-Tuesday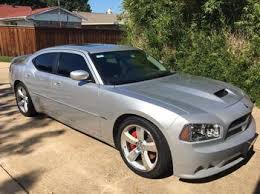 We picked up a Dodge Charger from Dollar Rental Car.  I really didn't want one of these; I had a bad experience with one in Denver.  Carol doesn't think the car's six-cylinder engine has much power.  I agree. The tach is where the speedometer should be and vice versa.  The car does not have automatic headlights.  The radio is bad and the outside car noise is worse than it should be.  The car does have a good deal of front seat legroom. If you said we are spoiled by driving Lexus automobiles you would be correct.
Thanks for reading about my trackchasing,
Randy Lewis
Alberta's #1 Trackchaser
A good system is better than a good shovel.
CUMULATIVE TRAVEL DISTANCES:
AIRPLANE 
Los Angeles, CA – Chicago, IL (Midway) – 1,709 miles
RENTAL CAR – CHICAGO 
Midway International Airport (yes, he said Midway) – trip begins
Memphis, MO – 319 – miles (rained out L)
Grain Valley, MO – 621 miles
Jamaica, IA – 924 miles
Rockwell City, IA – 979 miles
Webster City, IA – 1,023 miles
TRACK ADMSSION PRICES: 
Valley Speedway – $8 ($2 senior discount)
Jamaica Raceway – Free (pit passes were $8)
Calhoun County Exposition Fairgrounds – $7
Hamilton County Speedway – $5 (discount for late arrival)
RANKINGS
LIFETIME TRACKCHASER STANDINGS UPDATE:
There are no trackchasers currently within 100 tracks of my lifetime total. 
Randy Lewis, San Clemente, California – 1,212
Other notables
These worldwide trackchasers are within 10 tracks (plus or minus) of Carol's current trackchaser total.
Dwight Bucks, Topton, Pennsylvania – 324
Carol Lewis, San Clemente, California – 323
2007 TRACKCHASER STANDINGS
Randy Lewis, San Clemente, California – 74
Ed Esser, Madison, Wisconsin – 47
Roland Vanden Eynde, Vilvoorde, Belgium – 35
Carol Lewis, San Clemente, California – 28
Mike Knappenberger, Reading, Pennsylvania – 25
Guy Smith, Effort, Pennsylvania – 20
Gordon Killian, Sinking Springs, Pennsylvania – 18
Paul Weisel, Orefield, Pennsylvania – 17
Pam Smith, Effort, Pennsylvania – 16
Roger Ferrell, Majenica, Indiana – 15
LIFETIME NATIONAL GEOGRAPHIC DIVERSITY STANDINGS
2007 (current thru 6/11/07)**
Randy Lewis, San Clemente, California – 6.71

Gordon Killian, Sinking Springs, Pennsylvania – 6.96

Allan Brown, Comstock Park, Michigan – 7.55
**Until the end of the year, NGD rankings are unofficial.  Rankings are affected not only by the leader's activities but also by other trackchasers impact on the leader's position in each state. 
UPCOMING TRACKCHASING PLANS 
We're trying to dodge the raindrops.  In this part of the country that can be difficult.  I have a major surprise planned with my trackchasing in just two days.

RACETRACKS VISITED IN 2007 (** not the first time to visit this track)
1,139.  Meremere Dirt Track Club, Meremere, New Zealand – January 1
1,140.  Meeanee Speedway, Hawkes Bay, New Zealand – January 1
1,141.  Top of the South Speedway, Richmond, New Zealand – January 2
1,142.  Woodford Glen Speedway, Christchurch, New Zealand – January 3
1,143.  Robertson Holden International Speedway, Palmerston North, New Zealand – January 5
1,144.  Taupo Motorsports Park, Taupo, North, New Zealand – January 6
1,145.  Waikaraka Park International Speedway, Auckland, New Zealand – January 6
1,146.  Angels Stadium of Anaheim (inner oval), Anaheim, California – January 13
1,147.  Angels Stadium of Anaheim (outer oval), Anaheim, California – January 13
1,148.  West Valley Speedway, Surprise, Arizona – January 14
1,149. Sandia Motorsports Park (road course), Albuquerque, New Mexico – January 28
1,150. Grand Prix De Lanaudiere, Lavaltrie, Quebec, Canada – February 3
1,151. Ste-Eulalie Ice Track, Eulalie, Quebec, Canada – February 4
1,152. St Guillaume, St Guillaume, Quebec, Canada – February 4
1,153. Caldwell Rodeo Arena, Caldwell, Idaho – February 10
1,154. Balsam Lake Ice Track, Balsam Lake, Wisconsin – February 18
1,155. Northeast Pond Ice Track, Milton, New Hampshire – February 24
1,156. Lee Pond Ice Track, Moultonborough, New Hampshire – February 25
1,157. New Hendry Country Speedway, Clewiston, Florida – March 3
1,158. Florida Sports Park, Naples, Florida – March 4
1,159. Honeoye Lake Ice Track – Road Course, Honeoye, New York – March 10
1,160. Houston Raceway Park, Baytown, Texas – March 16
1,161. Houston Motorsports Park, Houston, Texas – March 16
1,162. Dawgwood Speedway, Chatsworth, Georgia – March 17
1,163. Toccoa Speedway, Toccoa, Georgia – March 17
1,164. Tazewell Speedway, Tazewell, Tennessee – March 18
1,165. Malden Speedway, Malden, Missouri, Tennessee – March 23
1,166. Dacosa Speedway, Byhalia, Mississippi – March 24
1,167. Swinging Bridge Raceway, Byram, Mississippi – March 24
1,168. Florence Motor Speedway, Florence, South Carolina – March 25
1,169. Foothills Raceway, Easley, South Carolina – March 30
1,170. Mileback Speedway, Gray Court, South Carolina – March 30
1,171. Grand Prix of St. Petersburg, St. Petersburg, Florida – April 1
1,172. Vegas Grand Prix, Las Vegas, Nevada – April 8
1,173. Huntsville Speedway, Huntsville, Alabama – April 13
1,174. Low Country Kartway, Aynor, South Carolina – April 14
1,175. Dillon Motor Speedway, Dillon, South Carolina – April 14
1,176. Valley Dirt Riders, Berthoud, Colorado – April 15
1,177. Antelope Valley Fairgrounds, Lancaster, California – April 22
1,178. Sertoma Speedway, Tularosa, New Mexico – April 27
1,179. Sandia Motorsports Park (outer oval), Albuquerque, New Mexico – April 28
1,180. Sandia Motorsports Park (inner oval), Albuquerque, New Mexico – April 28
1,181. Hollywood Hills Speedway, San Felipe Pueblo, New Mexico – April 29
1,182. Meridian Speedway, Meridian, Idaho – May 11
1,183. Diamond Mountain Speedway, Vernal, Utah, Idaho – May 12
1,184. Rocky Mountain Raceways (oval), Salt Lake City, Utah – May 12 
1,185. Rocky Mountain Raceways (figure 8), Salt Lake City, Utah – May 12
1,186. Modoc Speedway, Modoc, South Carolina – May 18
1,187. Possum Kingdom Super Speedway, Belton, South Carolina – May 19
1,188. Laurens County Speedway, Laurens, South Carolina – May 19
1,189. Fairplex at the Los Angeles County Fairgrounds, Pomona, California – May 20
1,190. Lowes Motor Speedway (inner oval), Concord, North Carolina – May 24
1,191. Lowes Motor Speedway (road course), Concord, North Carolina – May 24
1,192. Madison International Speedway (inner oval), Oregon, Wisconsin – May 25
** Madison International Speedway (outer oval), Oregon, Wisconsin – May 25
1,193. Thunderbird Stadium (figure 8), Bremerton, Washington – May 26
1,194. Thunderbird Stadium (oval), Bremerton, Washington – May 26
1,195. Whispering Pines Motorsports Park, Kamloops, British Columbia, Canada – May 27
1,196. Magic Valley Speedway, Twin Falls, Idaho – May 28
1,197. Owyhee Motorcycle Raceway Park, Boise, Idaho – June 1
1,198. Race City Motorsports Park, Calgary, Alberta, Canada – June 2
1,199. Edmonton International Raceway, Wetaskiwin, Alberta, Canada – June 2
1,200. Castrol Raceway, Edmonton, Alberta, Canada – June 2
1,201. Hidden Valley Motorsports Park, Drumheller, Alberta, Canada – June 2
1,202. Boyd's Speedway, Ringgold, Georgia – June 8
1,203. Fayette County Fairgrounds, Washington Courthouse, Ohio – June 9
1,204. Brush Creek Motorsports Park, Pebbles, Ohio – June 9
1,205. Brown County Speedway, Russellville, Ohio – June 9
1,206. Vinton Speedway, Vinton, Ohio – June 10
1,207. Hilltop Speedway, Millersburg, Ohio – June 10
1,208. I-70 Speedway – dirt (outer oval), Odessa, Missouri – June 13
1,209. L A Raceway, La Monte, Missouri – June 14
1,210. Valley Speedway, Grain Valley, Missouri – June 22
1,211. Jamaica Raceway, Jamaica, Iowa – June 23
1,212. Calhoun County Speedway (figure 8), Rockwell City – June 23
** Hamilton County Speedway, Webster City, Iowa – June 23 (new for Carol only)