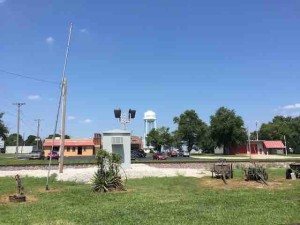 Greetings from first Bates City, Missouri
and then
.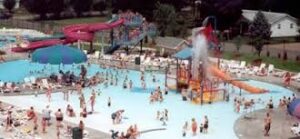 Farmington, Missouri
.
.
From the travels and adventures of the 
"World's #1 Trackchaser"
.
.

JSI Off- Road Race Park
Dirt road course
Lifetime Track #2,150
.
.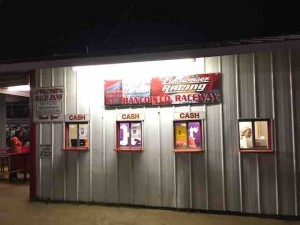 St. Francois County Raceway
Dirt oval
Lifetime Track #2,150
The EventVideo PlusPhotos
THE EVEN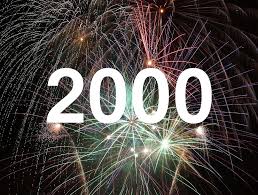 Today's undertaking was just one of more than 2,000 trips that have taken me up, down and around the long and dusty trackchasing trail. If you would like to see where I've been and experience those adventures here's the link:
.
.
.
.
If you've got a question, comment or whatever please leave it at the bottom of this report.  It's very easy to do.  I'll try my best to respond.  Thanks!
.
.
.
.
ON THE WAY TO THE RACES
Laundry time.
I woke up this morning in the Ramada Inn in Kearney, Nebraska. This was a good repositioning location after last night's race in Stockton, Kansas. Tonight's race is about four hours away from the Ramada. In my world a four hour drive is just across town.
.
.

This is day 39 of my 63-day trip. For the fourth time on this trip I would be doing my laundry. By doing the math you can see I get nearly 10 days of wear from the clothing I brought on this trip.
Oops. Mistake.
It was while I was waiting for my clothes to dry in the Ramada that I discovered I had made an error in my trackchasing planning. The track I was planning to see tonight races every Friday night during the summer.
I had checked their website a couple days ago. When I looked I must not have been paying close enough attention. It turns out they were taking THIS Friday night off. That was problematic from a trackchasing perspective.
Had I only known earlier.
Had I known about this last night or even early this morning I could've adapted and caught a track somewhere within an 8-10 hour drive of Kearney, Nebraska. However when I DID discover the problem it was past 12 noon.
At that point I could only drive five or six hours in one direction or another. Additionally I had already contracted with Priceline.com for my hotel this evening. That hotel was located in Kansas City, Missouri.
.
.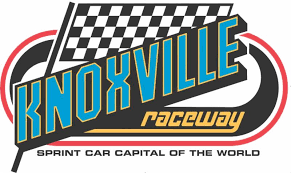 I didn't have any good options for seeing any track I have never been to. I could have driven fairly easily over to the Knoxville Nationals being held this weekend in Iowa. However I've been to Knoxville a few times. I'm not a big fan of winged sprint car racing so I decided not to go there.
That's right. I asked myself a simple question.
My hotel was in Kansas City. I asked myself a simple question. What could I do that would be in and or around KC that would be fun for the day or the evening? I soon had an answer to that question.
.
.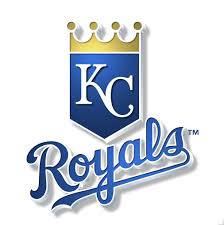 What a stroke of good fortune.
I would end up selecting a Kansas City Royals major-league baseball game. In addition to the fact that I didn't have any place to trackchase I had a hotel in Kansas City already locked up on a nonrefundable basis. I chose the Royals game for to do in Kansas City for two reasons.
In 2014 I finished up with my goal of seeing a major-league baseball game at every current MLB park. During the past 4-5 years I probably saw more than 20 of the 30 major-league ballparks. Seeing those parks that recently provides a very strong remembrance of the experience at each location.
Some of the parts such as Wrigley Field I first visited almost 60 years ago! I have fond memories of my trips to Wrigley Field, which have continued throughout my lifetime. I also have reasonably strong memories of all but one of the 39 major league parks where I've seen the game.
30 teams; 39 ballparks.
That's right 39 parks. There are only 30 major league baseball teams. However, I have been to two parks for nine of the teams. The first park visited has now been replaced by a newer stadium. I've seen 'em all but will have to keep at it. In 2017 Atlanta is opening a new ballpark.
I have little memory of my MLB visit to Kansas City.
There is only one stadium that I don't really have much memory at all of visiting. That stadium is Kauffman Stadium home to the Kansas City Royals.
Although I have no memory of going there I have two points of evidence, which confirm I have seen a game there. First I have some pictures that I took inside the stadium during a game. I'm not in those pictures but it clearly shows the centerfield view of interstate 70 from the Royals ballpark.
.
.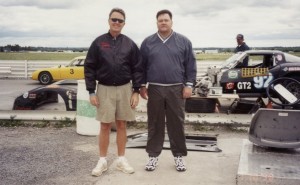 Additionally my brother Mark confirms going there with me. Back in 1994 Mark and I took my stepfather Bill on a racing trip to Belleville, Kansas. During that trip we stopped off for a Royals baseball game. Granted that visit was 21 years ago. I'm not really sure why I don't remember that baseball game.
Prior to discovering that I had no trackchasing opportunity for this evening I have been thinking about how I was going to get back to see a game in Kansas City. I guess the trackchasing/baseball gods got together to create tonight's special situation.
This made tonight's choice a no-brainer.
There was one other benefit that came my way that made this a "no-brainer". The Royals were playing my hometown and most favorite team the Los Angeles Angels of Anaheim. There was NO way I could bypass the game in Kansas City given all of the above special circumstances.
I was going to have to hustle to make the 7:10 p.m. game. Actually I didn't pull into the parking lot until about 7:30 p.m. I didn't have a ticket. That's not a problem for me I never have a ticket!
.
.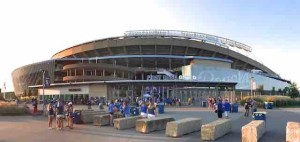 Kansas City is one of the few ballparks that has thousands of parking spaces dedicated solely to their baseball stadium. So many of the parks are located in downtown locations where the parking is hit or miss.
Ballparks that house the Angels and Dodgers are a couple of the only parks with their own huge safe parking lots. The Angels charge $10 to park at the stadium. Tonight the Royals were charging $12. Of course if you go to a NASCAR race you won't be charged anything to park at the track property.
On the way into the game I was listening to the Kansas City broadcasters on XM satellite radio. They told me that even though the game was nearly sold out there were still a few tickets available.
Why not get a ticket the old-fashioned way.
That was a novel idea. I might even consider buying a ticket at the ticket office! I never do that.
I used my iPhone to check on the retail ticket prices for a Kansas City Royals game. Prices were high with standing room only tickets going for $20. I believe you can buy the cheapest ticket at an Angels home game for less than $10.
After I paid to park I soon encountered a professional ticket scalper. After a short conversation with him his offer price was $20. My counter offer was ten.
At this point in the second inning was started. I had a lot of leverage on my side. He was trying to sell me a baseball ticket that was perishable. In three hours it wouldn't be worth anything.
.
.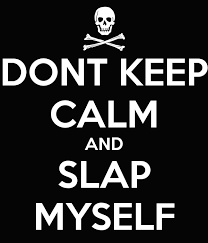 I'm going to have to slap myself upside the head.
I think I'm getting soft in my old age and/or impatient. Rather than wait the guy out and pay $10 for the ticket or seek another scalper who would cooperate I offered him $15. He readily accepted. It is true I'm getting soft in my old age when it comes to negotiating. I'm going to have to slap myself upside the head and get motivated for these encounters in the future.
Now I had paid $12 for parking and 15 bucks for a ticket. Major League Baseball parks will really soak you on the concessions. I noticed I had a huge bottled water in the front seat of my car. I figured I would see if they would let me take that into the game.
When I cleared security the guy checking told me that I would not be able to take a bottle of water into the game. However he said if I poured out its contents I could refill it from the fountain inside the stadium. That worked for me and that's what I did.
.
.
Just my luck…buck night.
I wasn't 25 steps into the stadium when I noticed a special banner that read "buck night". What did that mean?
They were selling all hotdogs and bags of peanuts for one dollar each. I encountered a similar promotion in Cleveland last year and also in Philadelphia when Carol Lewis tagged along.
I quickly bought three hotdogs and a package of peanuts. I threw away the buns. Now with my bottle of water I had all of four dollars invested in refreshments that on any other night would have cost me $25-$30.
The game looked to me to be a sellout. Why was tonight's game so popular? First they were playing the Angels. The angels are a very popular team when they play on the road. Secondly and just as importantly tonight was Friday night fireworks night. That's a very popular promotion with baseball fans.
Impressive.
I was impressed with Kauffman Stadium. I saw a statue with a sign that told me from 1969 through 1991 this was the only park used exclusively for baseball. That was impressive.
It didn't really matter to me what the seat location read on my actual ticket. I was not going to sit there anyway.
.
.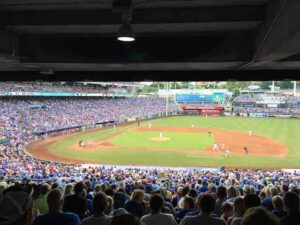 I grabbed a seat on the lower level and watched the game while I ate my hot dogs, peanuts and drank my bottle of water. Then I took a leisurely walk around the entire inside perimeter of the stadium. This is what I normally do to get a good lay of the land for the new stadium I am visiting.
39 parks; never seven this before.
I discovered two items that I have never seen in any other major league baseball park I have visited. I was most impressed with both.
.
.
Out beyond centerfield they had a baseball field about the size of what you might find at a little league game. The field was covered in Astroturf. A long line of youngsters and their parents were waiting to get into the batting cage. They could take a few swings using a large Wiffleball type bat. Rubber balls were being used. When the kids took their last swing they then ran about the bases. I saw kids that could've been more than three or four years old having a solid batting stance and making contact with the pitches. That was impressive.
Baseball might be most popular in the Midwest.
I think baseball is more popular in the Midwest than any place else. Why would I say that? Today I was wearing, for the first time, my Iowa Cubs T-shirt. I acquired the shirt earlier on this trip at one of the Iowa Cubs games in Des Moines, Iowa.
I didn't think too much about wearing that shirt today. Most of my other shirts has just come out of the dryer and the Iowa Cubs shirt was brand-new.
During the day I had three separate people in three separate locations make a comment about my shirt. If I were in California I don't think anyone would have said a word. However in the Midwest baseball is big and people wanted to go out of their way to mention something about my Iowa Cubs T-shirt.
.
.

And this was special.
The second most unique item of Kauffman Stadium was the Kansas City Royals Hall of Fame. A few other stadiums have their halls of fame at the stadium.
However the Royals also have a 15-minute movie and a small theater describing the history of baseball in Kansas City with their HoF. I couldn't miss that. As the major league baseball game was going on I was sitting inside a movie theater at the stadium watching a movie! I've never ever done that before.
.
.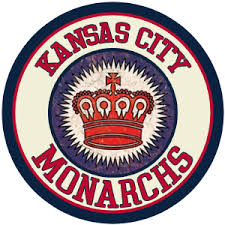 The first "big league" team to ever appear in Kansas City with the Kansas City Monarchs of the old Negro baseball league. I've been to the Negro baseball museum in downtown Kansas City. It's one of the best sports museums I've ever been to. I highly recommend it.
What happened to the Kansas City Monarchs?
The Kansas City monarchs morphed into the Kansas City Athletics. They begin playing in the major leagues in 1955. Later owner Charlie Finley moved the Athletics to Oakland. In 1969 the Kansas City Royals became an expansion team for Kansas City. Today the Royals are owned by David Glass, former CEO of Wal-Mart.
I had a fun time in Kansas City watching the Angels take on the Royals. I'm nearly certain I had a better time at the baseball game that I would've had it seeing one more race track. Want to know who won the game? Google it.
Following the game I headed over toward the Kansas City airport where I would be staying at the Hilton Hotel. I had secured my reservation at the Hilton via Priceline earlier in the day.
.
.

Always negotiating.
The least expensive weekend rate at the Hilton, this was a Friday night, was $89 plus taxes and fees. I paid $45 plus plus (taxes and fees).
When I checked in the desk clerk told me that even though I had reserved a king bed the room they only had two double bedded rooms left. I told him that was a problem. If he give me a complementary breakfast tomorrow morning we would be even.
He was most happy to do that. No one wants an unhappy customer. The retail value on a nice breakfast plus tip in an upscale hotel like this Hilton would go for about $20. I figured I had done pretty well negotiating the deals I got at both the baseball game and with my hotel.
If only I had the trackchasing budgets of the Dreaded East Coast Trackchasers.
No, I don't have the big budgets of the Dreaded East Coast Trackchasers. That's OK. To be honest with you I'm smarter than they are and a better negotiator. That allows me to get a lot for a little. That's a good thing.
Good night.
SATURDAY
Not happening.
I don't always get the chance for a full eight hours of sleep when I'm on the road. When I'm home I do. I'm one of those people who believes that getting enough rest is critical to a good mental attitude.
However there are times when getting the right amount of sleep just isn't going to happen. Back in college my strategy was to pull an all nighter before the exam rather than to study consistently during the entire semester. Often times in my business career with a travel schedule jumping multiple times zones there wasn't enough time for a good nights rest. As a matter of fact in the early part of my business career we played a lot of cards after our business meetings had finished for the day. One time we played cards all throughout the night and walked directly from the card room into our business meeting for 8 a.m. start. That was brutal and I was half my age back then!
As you can see when I'm out on the long and dusty trackchasing trail I often times don't have much time for sleeping. I have to evaluate where I've been in the past as well as what's up coming on my schedule to determine whether to sleep a little longer or not.
What would YOU do?
Tonight I will be faced with a race program that will finish at about 10 p.m. Then I'll have a relatively short drive of just 80 miles to the greater St. Louis International Airport area.
.
.
However my flight leaves tomorrow morning at 6:40 a.m. That means I'll be returning my rental car at about 5 a.m. I don't think I'll get a hotel for the 5-6 hours I might be able to use it. I'll just lean back the driver's seat in the National Car Rental Racing Dodge Charger and snooze for a few hours…probably in a Wal-Mart parking lot.
Last night I stayed in a very upscale Hilton Hotel. With a little "front desk negotiating" I secured a complementary breakfast buffet in the hotel's restaurant. That was a nice $20 value then followed up my paying about half of what most were being charged for a night's stay at the Hilton.
THE RACING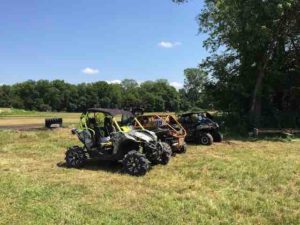 JSI Off-Road Park – Bates City, Missouri
BATES CITY, MISSOURI – FIRST STOP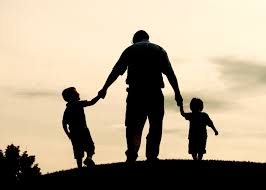 The 'Father of Side by Side Trackchasing".
It was just a one hour drive to this afternoon's racing event in Bates City, Missouri. Years ago Bates City had an oval track. However they raced on it for just a couple of years. I never did get a chance to see any racing in Bates City. That would change today.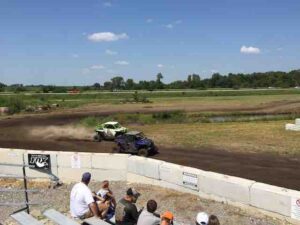 As the self-proclaimed "Father of side-by-side trackchasing" I would be adding another one of the SXS races to my lifetime totals today. I've been following the Kansas City Off-Road Racing Association group all year. They race at three or four different locations in Missouri and Kansas.

Number two but moving up.
I am currently the number two ranked trackchaser in both Kansas and Missouri. However every year I get just a little bit closer to the lead. I wouldn't be surprised if someday I garner the number one position in Kansas and maybe even Missouri.
Following this afternoon's racing at the JSI Off-Road Park I would head to a track I've considered attending for well over 10 years. That would be the St. Francois County Raceway in Farmington, Missouri. I'll tell you more about that track visit a little bit later.
The basic day/night trackchasing double.
I have seen a large amount of trackchasing "doubles" in my time. I've always put a special focus on trying to see two tracks in one day. My most popular trackchasing "double" by far is the day/night double.
That simply means I see one track in the afternoon and another track on the same day that evening. Of course a double takes some extra planning. The tracks have to be geographically proximate to each other.
I-70 Interstate Highway.
Last night I saw a major league baseball game featuring the Kansas City Royals and the Los Angeles Angels of Anaheim. They played in Kauffman Stadium. Just beyond the centerfield wall was a view of traffic whizzing past on Interstate 70.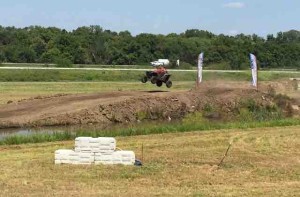 I guess I-70 plays an important role in people's lives around here. Today's off-road race course was located within 100 yards more or less of Interstate 70. The track had an excellent view of the traffic passing both east and west.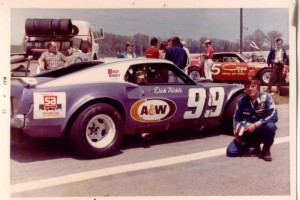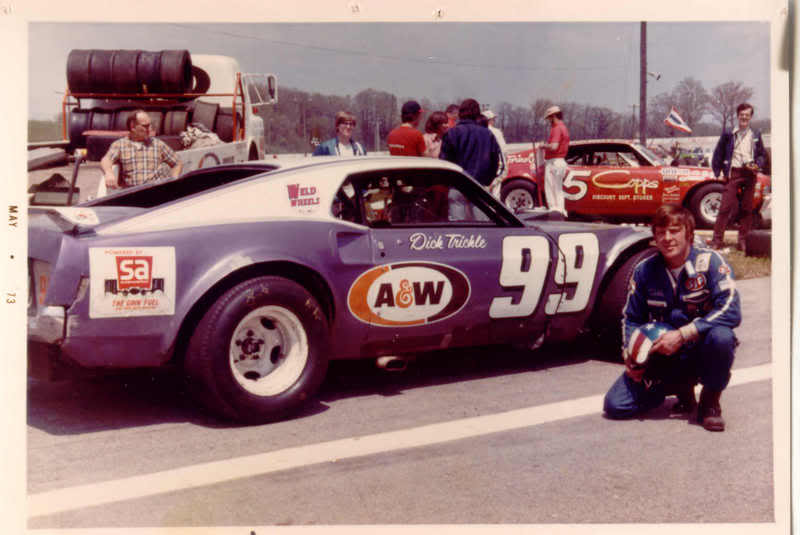 Did you know?
Did you know that one of the most famous tracks in Missouri over the past 50 years WAS the I-70 Speedway? Yep. Dick Trickle won some big races there. I appeared in 1982, 2000 and 2007 for three separate trackchasing lifetime additions. The I-70 Speedway is closed now.
Today's race event was scheduled to begin at 2 p.m. They were on schedule. The driver's meeting began at 2 p.m. sharp. Racing started about 10 minutes later. There was no admission charge for folks. I was allowed to visit the paddock area for a close up look at today's racing machines.
The driver's meeting was brief. There would be three heat races for the different classes of side-by-side/trophy truck competitors. Heat races would run for six laps. The feature events would be 15 circuits each.
Just for the fun of it.
I spoke briefly with the track owner. Jerry told me he built the track just for fun. He wasn't looking to make a profit and hoped everyone simply had a good time. I'm sure lots of fans and racers were benefiting from his generosity today.
The three classes of racers today were the unlimited group, trophy trucks and 800s. All of the racing featured adult drivers.

The track.
The dirt road course was a little bit less than a mile long using my longitude and latitude guesstimate capability. There were some small jumps and some large jumps and several wide sweeping turns. From my viewing position in the nicely constructed brand-new aluminum grandstands I could see 95% of the racing action. I liked that part.
There were three unlimiteds, three trophy trucks and five racers in the 800 class. They all started their races from a standing start.
They were surprised to see me.
I introduced myself to the promoters of today's event. They were a little surprised that I would come all the way from California to the little town of Bates City, Missouri (245 people). However if they read my Trackchasers Reports like you do they wouldn't be surprised at all would they?
The video.
I suggest you take a moment to check out today's racing video. It looked like everyone was having a good time on a warm 90° blue sky mid-summer day.
I love 'em.
When my race watching was finished I had just enough time to make the four hour drive over to Farmington, Missouri. I love trackchasing doubles.
So far in 2015, coming into today, I have seen 97 tracks on 74 trackchasing days. If you take the smaller of those numbers from the larger you'll see that I have had 23 trackchasing doubles already this year. I find that rather amazing.
St. Francois County Raceway – Farmington, Missouri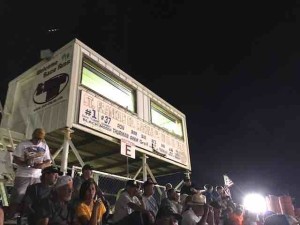 FARMINGTON, MISSOURI – SECOND STOP
I wanted to trackchase in Illinois.
This evening's racetrack was located in Missouri about an hour and a half south of St. Louis. Nevertheless I was thinking about seeing a track in Illinois.
I need just one more Illinois track to move into a tie with trackchaser Ed Esser for the state lead. I've come close on this trip to getting the track but I haven't quite made it yet.
Strike one.
Early on in this trip one racing organization canceled their event a few days before it was scheduled to occur. I didn't know about the cancellation and showed up at the track to find no one there. That was strike one in my attempt to see one more Illinois track.
Strike two.
This is day #40 of my 63-day trip. I've had only one rain out on the trp. That was a kart track in Illinois. That was strike number two while trying to see another Illinois track.
Strike three.
Tonight, on the drive from Bates City, Missouri over to Farmington, Missouri I would be passing by that Illinois kart track that rained out a few weeks ago. What did I have to lose? I figured I would stop by and see if there were any winged karts racing tonight.
I had seen the track's past results and didn't expect to see any.  The special event that was rained out was for winged karts only. I knew they would have the right kind of go-karts racing on that night but the rains prevented anything from happening.
I pulled into the track at about 6:30 p.m. tonight. They were just beginning their heat races. I thought I saw the wing of a winged kart in the pit area. That was certainly good news. I would come to find out that was the only winged kart in the pits tonight.
One kart doesn't do it for me. In order for a track to meet current trackchasing rules a minimum of two karts must race that meet trackchasing's and somewhat stringent requirements. This was strike three in my attempt to see one more Illinois track.
Was Ed Esser messing with me?
I was starting to think that Ed Esser might be "messing with me" from wherever he is currently located. Ed was a native of Wisconsin. I am a native of Illinois. It only seems fair to me that I should be the number one trackchaser in Illinois since I grew up there. I won't be giving up. I have another opportunity for an Illinois track next Friday.
I was looking forward to this little track.
Off I went to the St. Francois County Raceway in Farmington, Missouri. I knew this was a little quarter-mile dirt bullring. I had heard good things about the racing there.
Because I had stopped at the Illinois kart track I was now about an hour and a half behind schedule. That didn't really bother me. I don't really care to waste the first hour and a half or two hours of a short track race program watching heat races. If I could I would simply show up just in front of the very first feature of most oval tracks I visit.
A lucky duck.
I pulled into the track parking lot at 8:30 p.m. There wasn't any racing going on. I correctly figured they were at intermission. The parking lot was crowded. I would soon find out the grandstands were as well.
Tonight was "five dollar night". Normally general admission is 10 bucks but tonight it was half that amount. I was a lucky duck.
Big and good.
I quickly stopped at the track's concession stand and ordered a couple of cheeseburgers and a Diet Coke. My total bill was nine dollars. The burgers were big and good.
All the while I was doing this I could hear the announcer entertaining the crowd during intermission. When I entered the grandstand area I saw the announcer standing down by the flag stand at ground level.
Hello. 
As I frequently do I handed my business card to one of his assistants. He later passed it on to the announcer. Most on the ball track announcers see this as an opportunity to share the trackchasing human interest story that I bring to the party with their local fans. Tonight's announcer felt that way.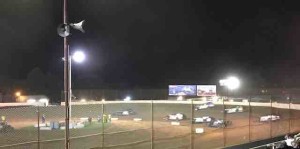 Hello Farmington, Missouri.
He called me down to where he was standing and we spent a few minutes talking about trackchasing. The announcer was very much interested in my hobby. From the sound of the applause from the crowd at the end of our talk they appreciated my visiting too. They appreciated the fact that a Californian had taken the time to come to their little track in Missouri.
Racing was about to resume. I quickly found a seat up in the packed grandstand. I don't know if they get a crowd like this every Saturday night or if it was larger because of the half price admission. I'm going to guess this track does very well with attendance.
My favorite type of track.
I would be watching racing on a quarter-mile high-banked dirt oval. I think the greater St. Louis area has more quality dirt quarter-mile tracks than any other metropolitan area in the United States or the world for that matter.
I would see four feature events. The first was sort of a street stock class followed by the modified "A" class, sprint cars and a modified "B" class. Each of the races was good. I think I like the modifieds were the best.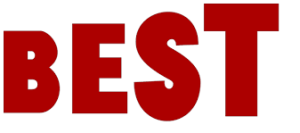 Tonight I was seeing one of the best tracks of 2015.
So far this year I've seen about 95 different tracks. I would say the racing at the San Francois County Raceway ranks in the top five and might possibly be the best track I've seen in all of 2015. I hope to be back some day.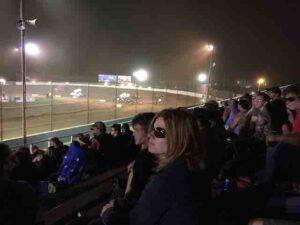 I will tell you this. For the last two features the track was dusty. That's to be expected with the sprint car race. They've got wide tires, very powerful engines and chew up the dirt and dust. I had remembered to bring my racing goggles, which are also reading glasses. I was in good shape on all fronts.  Check out the people wearing sunglasses in the above photo!
Fighter jets in a gymnasium.
I know I say this from time to time but I highly recommend you catch the YouTube video from tonight's track. As Dick Trickle used to say tonight's racing was like "flying fighter jets inside the high school gymnasium". Despite the dust the racing was fun.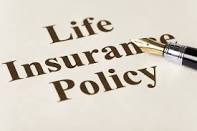 The only drawback of the evening.
I saw only one drawback to the evening. The racing official who handled the starting cone stood on the racetrack as the cars prepared for re-starts. He often turn his back on the modified and sprint cars. They weren't more than 30 feet from him and racing at 80 miles and hour. I would never do that. I hope he's got his insurance premiums paid up.
At the track interviews.
I often do at the track interviews. When I'm up in the announcing tower and people can't see me it's a totally different situation than when I'm standing in front of the entire crowd talking to a track announcer. I would think it's sort of like the difference between doing a TV interview or a radio interview.
Talking to the fans.
When I do interviews where people can see me fans will frequently come up and say hello and ask questions about my trackchasing adventures. I like that. On the way out of the track that was the case tonight with a father and son. The conversation started with "Are you that guy from California?"
I told them the racing tonight with some of the best I've seen all year. They were pleased to hear that. I handed the young man my trackchasing business card. I'm sure he'll take the time to look me up on the Internet and hopefully enjoy what he finds at www.randylewis.org.
AFTER THE RACES
Stretching my fuel.
Now I had an 80-mile drive back toward the St. Louis international Airport. I will probably return a rental car to an airport somewhere in the country 50-75 times every year.
Of course before I can return my rental car I have to fill it with gas. I find it amazing how I often have to stretch the gas in order to get me to the airport. I do that so that I don't have to stop 50-100 miles out and then stop again once I reach the airport. I would say that eight times out of ten it's touch and go with me trying to get within a 25 mile radius of the airport before I fill up. NASCAR has its fuel mileage races and this is trackchasing equivalent.
The master plan.
I would be getting back into the general airport area by about midnight. Tomorrow morning's flight will depart at 6:40 a.m. I have to be at the airport by 5-5:30 a.m. That will give me enough time to get my bags checked, clear security and complete that drill.
My plan was to sleep overnight in the car. I do that from time to time and don't have any problem with that whatsoever.
However I had been out in 90% humidity and 90° temperatures all afternoon up in Bates City. Then when I got down to Farmington I was coated with a layer of dust. I wasn't sure I was going to look too good or smell very good after my day of trackchasing.
I toyed with the thought of getting a last-minute hotel. However I chafed at the idea of paying $50-$60 or maybe more for a five hour stay. I even considered getting a shower at a truck stop.
What did Carol think of my dilemma?
During my nightly phone call home to Carol I explained to her my dilemma. She was aghast. Girls seem to have a higher standard when it comes to personal hygiene than a Saturday night trackchaser does.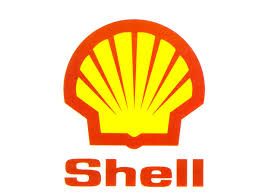 The Shell Motel.
Once I got within 20 miles of the airport I stopped at a Shell station for gas. I cleaned out the trash in the car's interior the best I could. I filled the tank a little fuller than normal so that by the time I reached National Car Rental location the fuel gauge would still be showing completely full of gas.
No Wal-Mart this time.
My plan was to stop at a local Wal-Mart and sleep for 4-5 hours. However I quickly build a rapport with the young woman handling the counter duties at the Shell station. I figured what the heck. I asked her if it would be OK if I pulled over to the side of the station and slept for a few hours. She was happy to oblige. If you ask you don't get.
A fun day.
If you don't think this trackchasing day sounds like a fun day then you are not ready to be a trackchaser. That's O.K. I don't need any more fellow competitors.
My afternoon track was one that I didn't know existed at the beginning of this year. My evening track was a location I've thought about going to for well over a decade. Today's day/night trackchasing double was a blending of the old and the new.
Good night.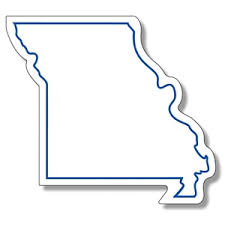 Missouri
The Show-Me state
This afternoon and evening I saw my 54th and 55th lifetime tracks in the Show-Me state, yes the Show-Me state. I've seen 55 or more tracks in 13 separate states. I think I've got a chance to become the #1 trackchaser in Missouri some day. We'll see.
Thanks for reading about my trackchasing,
Randy Lewis
World's #1 Trackchaser
Peoria Old Timers Racing Club (P.O.R.C.) Hall of Fame Member
Missouri sayings: Your federal flood relief tax dollars at work
QUICK FACTS
AIRPLANE
Los Angeles, CA (LAX) – Chicago, IL (ORD) – 1,745 miles
RENTAL CAR #1
O'Hare International Airport – trip begins
London, KY
Indianapolis International Airport – trip ends – 766 miles
RENTAL CAR #2
Indianapolis International Airport – trip begins
Bedford, KY
Indianapolis International Airport – trip ends – 603 miles
RENTAL CAR #3
Minneapolis-St. Paul International Airport – trip begins
Aitken, MN
Morten, Manitoba, Canada
LaGrange, IN
Manchester, IA
Oskaloosa, IA
Bowling Green, IN
Buncombe, IL
Ionia, MI
Osgood, IN
Hemlock, NY
Taylorville, IL
Cambridge, MN
Mora, MN
Urbana, IL
Bedford, KY
Owenton, KY
LeMars, IA
Belleville, KS
Grayslake, IL
Brazil, IN
La Grange, KY
Grayslake, IL
Sturgis, SD
Martinsburg, WV
Tazewell, VA
Henry, VA
Belmar, NJ
Berryville, VA
Croton, OH
Stockton, KS
Bates City, MO
Farmington, MO
TRACK ADMISSION PRICES:
Laurel County Fairgrounds – $10 (not a trackchasing expense)
Trimble County Recreational Facility – $10
Aitken County Fairgrounds (oval) – complimentary admission
Aitken County Fairgrounds (RC) – $8
ALH Motor Speedway – complimentary admission
LaGrange County Fairgrounds – $10
Delaware County Fairgrounds – $10
Mahaska County Fairgrounds – $5
Sandstone – $15 (include pits)
HBR Raceway – $10 (included pits)
Ionia Free Fair – $13
Ripley County Fairgrounds – complimentary admission
Hemlock County Fairgrounds – complimentary admission
Christian County Fairgrounds – $8
Isanti County Fairgrounds – $12
Kanabec County Fairgrounds – $10
Champaign County Fairgrounds – $6
Dirty Turtle Off-Road Park – complimentary admission
Owenton County Fairgrounds – $10
Plymouth County Fairgrounds – complimentary admission
Belleville High Banks – $20
Lake County Fairgrounds – $8
Staunton MX – $15
Oldham County Fairgrounds – $10
Lake County Fairgrounds – $10
Buffalo Chip – $20
Berkeley County Youth Fairgrounds – $10
Tazewell County Fair Speedway – $10
Providence Raceway – $10
Wall Stadium Speedway – no charge
Clarke County Fairgrounds – $7
Hartford County Fairgrounds – $7
Rooks County Speedway – $10
JSI Off-Road Park – No charge
St. Francois County Raceway – $5
LIFETIME TRACKCHASER COMPARISONS 
The three most important trackchasing comparisons to me are:
Total lifetime tracks seen
Total "trackchasing countries" seen
Lifetime National Geographic Diversity results
Total Lifetime Tracks
There are no trackchasers currently within 500 tracks of my lifetime total. Don't blame me.
Randy Lewis, San Clemente, California – 2,151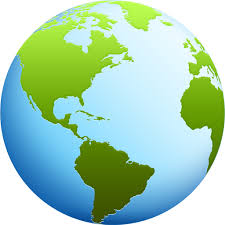 Total Trackchasing Countries
There are no trackchasers currently within 10 countries of my lifetime total.
Randy Lewis, San Clemente, California – 70
Current lifetime National Geographic Diversity results
Randy Lewis, San Clemente, California – 4.88
That's all folks! Official end of the RLR – Randy Lewis Racing Trackchaser Report
Click on the link below to see the "Video Plus" production from first the JSI Off-Road Race Park and then the St. Francois County Speedway
.
.
JSI OFF-ROAD RACE PARK
.
.
.
ST. FRANCOIS COUNTY RACEWAY 
.
Photos…easy to view.
That's right. Click on the link below for a photo album from today's trackchasing day. Double click on a photo to begin the slide show or watch the photos at your own pace. Hover over a photo to read the caption.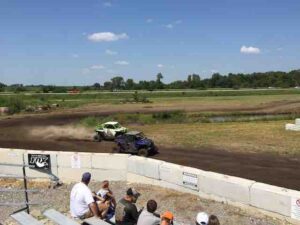 An afternoon of dirt off-road racing – Bates City, Missouri
.
.

An evening of dirt oval racing – Farmington, Missouri