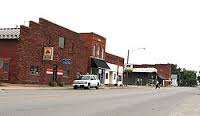 Greetings from Donnellson, Iowa
.
.
From the travels and adventures of the 
"World's #1 Trackchaser"
.
.
Lee County All-Star Speedway – dirt oval
Track #205

Lee County Speedway – figure 8 dirt track
Track #1,998
The EventVideosPhotos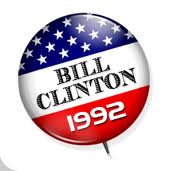 Editor's note:  Back in 1992 I went to the "Lee County All-Star Speedway" in Donnellson, Iowa for some great Iowa stock car racing. The dirt oval in Donnellson was lifetime track #205. The track is located at Iowa's oldest fairgrounds. Back in 1992 they were celebrating their 136th fair!
I didn't begin writing my famous Trackchaser Reports until about track #430. Tom Hearst, a former NASCAR national dirt track champion, won the race in his car #31. The night before I made a first time visit to the Thirty-Four Raceways in Burlington, Iowa. The night after my Donnellson trek I ran up to Farley, Iowa for a re-visit. The night after that I was off to three nights of DIRT Modified racing in Quebec with my stepfather Bill Virt. He and I trackchased all over the U.S. and Canada.
ON THE WAY TO THE RACES

Day 26 of 42.
I woke up this morning in Mt. Vernon, Illinois. I went to bed in Hannibal, Missouri. Today was day 26 of my 42-day mega trackchasing trip. This is what the day looked like.
Yes, I woke up in Mount Vernon, Illinois. I intended to go to bed in Springfield, Illinois. These locations aren't that far apart. However, my original plan did not include a trackchasing stop in Donnellson, Iowa. Why the indecision? Read on.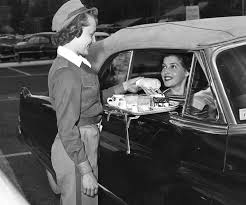 Back in the day at the Steak N Shake.
One of my favorite boyhood restaurants growing up in East Peoria, Illinois was the Steak N Shake. On Friday nights I used it for cruising as well as for date night. What girl wouldn't be impressed to go for a hamburger and fries served by a "curbie". Don't know what a "curbie" is? Sorry, you're going to have to Google it. On Sunday afternoons I went there with my family after church. Yes, Steak N Shake was a family staple in my less than middle-class economic family.
Addicted.
Because I am addicted to Diet Coke, I stopped at the Steak N Shake drive-through just across the street from my hotel in Mount Vernon. Of course it was almost time for lunch by the time I got my day going. The Steak N Shake garlic double steak burger with fries, and a large drink had my name on it. Today I upgraded my Diet Coke with BOTH cherry and vanilla syrup.  The French fries were a far cry from those served at my favorite fry place…. McDonald's. I like In N Out Burgers fries too. The garlic steak burger was okay at best. I'll take an In N Out Burgers or Wendy's sandwich any day. However nobody beats Steak N Shake's large Diet Coke with cherry and vanilla flavoring….even though it is priced at three times that of McDonald's large soda.
This was personal business.
I would be making a stop in St. Louis Missouri to conduct some personal business. I'd like to tell you what that was all about but there may be prying eyes. Dissemination of that information would not be appropriate.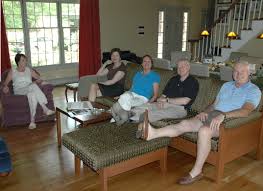 Why don't these people just stay home?
I'm having some difficulty getting good deals on Priceline in the Midwest. It's the middle of the summer. Everybody is taking his or her summer vacation. Kid's softball and soccer teams are out in force. Everybody's trying to get in that one last vacation before school starts. I say keep those rug rats in school for 12 months and off the road. That way I can get good deals from Priceline!
A very good rental car.
As I often say of all the cars I could rent I strongly prefer the Hyundai Sonata. It has three things going for it that I love on the trips I take. First it gets 35-38 miles per gallon. What retired pensioner like myself wouldn't love that? Secondly with National Car Rental the Sonatas almost always come with free satellite Sirius/XM radio. The third and final additional benefit is that I can get 600 miles per tank full. My Lexus at home will be lucky to get 400 miles per tank. It's nice to not have to stop for gas as frequently if I didn't have a 600-mile range. Please don't mistake my enthusiasm. This is NOT a Lexus. It is a rental car.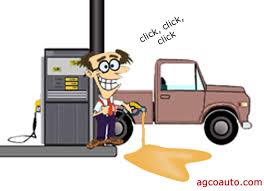 Why is my pant leg wet?
By the way your brother-in-law might not get 600 miles per tank full. You've often thought he doesn't quite have it figured out right? I don't stop for gas until I've been driving with the orange low fuel light on for several miles. Then when I do fill up I normally just close my eyes until I feel the fuel beginning to trip on my pant leg. Then I'll have a smoke and grab my receipt.
O.K., all of the above paragraph is true especially what I said about your brother-in-law except for one thing. I didn't have a cigarette. I've never had a cigarette. I've never had a single puff of anything…ever. I intend to keep it that way unless I am offered an ungodly some of money.  
Normally I like to "double-check".
When I'm traveling I normally call the hotel where I have my reservation. I call for two reasons. Sometimes I won't be arriving until well after midnight. I don't want them to give my room away so I call to remind them that I'm coming albeit later than normal.
I also make the hotel call to confirm I have a non-smoking room. I've stayed in approximately 5,000 hotel rooms in my life. Just about the worst thing hotel experiences I've ever had occurred when I was forced to sleep in a "smoking" room.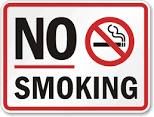 What?
Tonight the Sleep Inn in Springfield, Illinois told me the only room they had for me was a smoking room. I had made my reservation via Priceline.com. My reservation was non-refundable.
I love Priceline. However, they will NOT let you cancel a reservation after it's made. You could tell them the Taliban has kidnapped you. They might offer their sympathies (probably not) but no refund. You could mistakenly make your reservation a day early or a day later than when you wanted to come. No refund. I should know. I've done that.
Now wait just a minute.
However when I raised a stink (pun intended) with my smoking room problem with the Sleep Inn clerk she told me she would "release" me from my reservation. All I had to do was call Priceline and tell them that was the case. I did all of that. Yes, it was a hassle. However, sleeping in a smoking room would have been a bigger hassle. I was able to cancel my reservation, no harm no foul. I was reminded that it makes a lot of sense to call my hotel before I arrive for the reasons noted above.
The Racing.
Lee County Speedway – Donnellson, Iowa
Not a lot of memories.
Tonight I was headed to the Lee County Speedway in Donnellson, Iowa. They were having their twice a year destruction derby show. Their DD features figure 8 racing.
This was not my first trip to Donnellson. I was there to see racing on their dirt oval track then called the Lee County All-Star Speedway. That was in 1992. The Lee County All-Star Speedway my 205th lifetime track. Tonight's figure 8 track was #1,998. Other than reading my notes that told me Tom Hearst was the feature winner I have virtually no recollection whatsoever of my racing experience at the Lee County All-Star Speedway!
Early with perfect weather.
Tonight's show was scheduled to begin at 7 p.m. I pulled into the parking lot at 6 p.m. Folks were already entering the grandstand on a blue sky 85° evening.  I had considered going to this track a couple of weeks ago for their figure 8 race. However, the weather forecast was bad, the show ended up being rained out and I headed elsewhere.
Underachiever.
Last night's mini-sprint racing at the Southern Illinois Raceway overachieved. Tonight's program underachieved. They were supposed to begin at 7 p.m. They didn't sing the national anthem until 7:32 p.m. What could put them that far behind on a perfect weather night?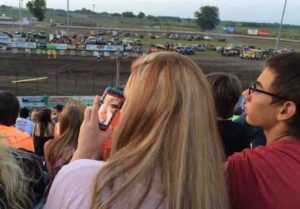 Short track auto racing can have its share of delays.  When that happens people bring out their phones.  Short track auto racing has always had delays.  Didn't people actually talk to each other during "pauses" before phones came about?  Some folks even use their phone as a mirror!
What was this?
The track announcer kept telling the crowd about the "push me pull me" race. It was one of 11 events on tonight's agenda. I had never heard of a "push me pull me" race. It almost sounded as if this might even be contested on a new track layout, possibly a dirt road course. As luck would have it they didn't have enough volunteers to run this race. I would have liked to have seen what the "push me pull me" race was all about…..especially if it were run on a new track.
Small, medium and large.
Tonight they had three classes of figure 8 racing. For simplicity's sake I'll called those classes small, medium and large. Each class ran a 10-12-lap feature event. There were about 6 cars in each of these races. Some of the cars ran in more than one class. I'm guessing they had about 15 figure 8 cars in total spread over the three classes.
After the first figure 8 race they had a rollover contest. Three cars competed in this event. A couple of the cars made the rollover contest very exciting for the crowd. After another figure 8 feature event they had a lawnmower demolition derby. Only two lawnmowers showed up. Wow. Was that a yawner!

One hour and out.
The Star-Spangled Banner had played at 7:32 p.m. The "push me pull me had been cancelled. They did run three figure 8 feature events, two separate rollover contests (with the same three cars) and two demo derby heats. The entire program was finished at 8:32 p.m. exactly one hour after they started. Maybe, with a one-hour show they figured if they started more than a half-hour late the crowd would think they got more for their money.
AFTER THE RACES
This was beautiful.
I always try to look for the positives when writing my Trackchaser Reports.  What was the most positive aspect of tonight's program?  The sunset!  Don't you agree?
Lame indeed.
What was I thinking about tonight's racing? First, the word "lame" came to mind. I was also thinking I might be able to catch some of the racing action at 34 Raceway in Burlington, Iowa. It's one of the top local tracks. However my cell phone showed "no service" in Donnellson. AT&T's coverage isn't the best in the rural Midwest. A couple of miles away I did get some service and called Burlington. Unfortunately that track was 45 minutes in the opposite direction of tonight's hotel in Hannibal, Missouri. The Burlington phone contact told me they were already starting their feature events at just 8:30 p.m. He said I wouldn't be able to see much if I did decide to come considering my location and his. That being the case I made the 70-mile drive on down to Hannibal, Missouri.
Don't ever go to Iowa and miss this.
For an event as ballyhooed as the "Eve of Destruction" to start so late and have so few participants was disappointing. Nevertheless the very large grandstand was nearly 100% full at $12 per adult. I did have a five-dollar pork tenderloin. It was just a little bit over fried. However no one should ever come to Iowa without having a pork tenderloin.
Think of your own collecting hobby.
Tonight I had seen track #1,998. For me trackchasing is a "collecting" hobby. Think of the things that you either have or still do collect in your life. Do you have 1,998 of them? I've had this passion for a long time and continue to enjoy it.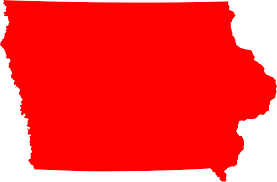 Iowa
The Hawkeye state
Tonight I saw my 95th lifetime track in the Hawkeye state, yes the Hawkeye state. Tonight's track gives me the undisputed trackchasing lead in Iowa. I passed buddy Ed Esser's total by one. Ed would be happy for me.
Thanks for reading about my trackchasing,
Randy Lewis
World's #1 Trackchaser
Peoria Old Timers Racing Club (P.O.R.C.) Hall of Fame Member
Iowa sayings: We do amazing things with corn.
QUICK FACTS
AIRPLANE
Los Angeles, CA (LAX) – Chicago, IL (ORD) – 1,745 miles
RENTAL CAR #1
O'Hare (Chicago) International Airport – trip begins
Charlotte, MI
Cortland, OH
Davisburg, MI
Davisburg, MI
Mechanicsburg, IL
Harlan, IA
Primghar, IA
Knoxville, IA
Bucyrus, OH
O'Hare (Chicago) International Airport – trip ends – 3,516 miles
RENTAL CAR #2
O'Hare International Airport – trip begins
Carlyle, IL
St. Louis International Airport – trip ends – 412 miles
RENTAL CAR #3
St. Louis International Airport – trip begins
Hastings, MI
Greenfield, IA
Atchison, KS
David City, NE
Dighton, KS
Malvern, IA
Eldon, MO
St. Louis International Airport – trip ends – 2,760 miles
Editor's note: The above did involve three different rental car contracts. However, I did it all with the SAME car. When I pulled in for the final time to the St. Louis airport the car was huffing and puffing. In 15 days I had driven it 6,688 miles.
RENTAL CAR #4
Denver International Airport – trip begins
Powell, WY
Plentywood, MT
Crary, ND
Yorkton, Saskatchewan, Canada
Denver International Airport – trip ends – 3,044 miles
RENTAL CAR #5
O'Hare (Chicago) International Airport – trip begins
Marion, IL
Donnellson, IA
TRACK ADMISSION PRICES:
Eaton County Fairgrounds – $10
Trumbull County Fairgrounds – $4
Oakland County Fairgrounds – oval – $10 ($10 to park!)
Oakland County Fairgrounds – figure 8 – $10 ($10 to park….again!)
Ealyville Speedway – Complimentary pit pass
Shelby County Speedway – $5
Primghar Raceway – $5
Knoxville Raceway – Complimentary admission
Crawford County Fairgrounds $10 ($5 fair; $5 grandstand)
Clinton County Fairgrounds – $10
Barry County Expo – $13 ($3 fair; $10 grandstand)
Adair County Fair – $6
Atchison County Raceway – $12
Butler County Fairgrounds – $10
Lane County Fairgrounds – $10
Mills County Fairgrounds – $10
Miller County Fairgrounds – $10
Parker County Fairgrounds (Night #1) – Complimentary admission
Parker County Fairgrounds (Night #2) – Complimentary admission
Sheridan County Fairgrounds – $10
Devil's Lake Speedway – $20 (ouch!)
Yellowhead International Speedway – $10 Canadian
Southern Illinois Raceway – $10
Lee County Speedway – $12
LIFETIME TRACKCHASER COMPARISONS 
The three most important trackchasing comparisons to me are:
Total lifetime tracks seen
Total "trackchasing countries" seen
Lifetime National Geographic Diversity results
Total Lifetime Tracks
There are no trackchasers currently within 400 tracks of my lifetime total. Don't blame me.
Randy Lewis, San Clemente, California – 1,998

Total Trackchasing Countries
There are no trackchasers currently within 10 countries of my lifetime total.
Randy Lewis, San Clemente, California – 68
Current lifetime National Geographic Diversity results
Randy Lewis, San Clemente, California – 4.96
That's all folks! Official end of the RLR – Randy Lewis Racing Trackchaser Report
Click on the link below for a photo album from my trackchasing day:
Trackchasing at Iowa's oldest fairgrounds