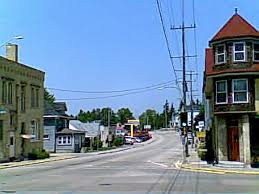 Greetings from Slinger, Wisconsin
.
.
From the travels and adventures of the 
"World's #1 Trackchaser"
.
.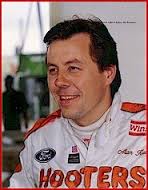 Slinger Speedway
Asphalt oval
 Lifetime Track #101
.
.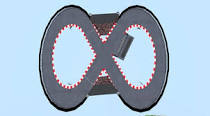 Slinger Speedway
Asphalt figure 8
 Lifetime Track #507
.
.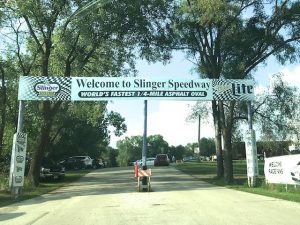 Slinger Speedway
Asphalt road course
 Lifetime Track #2,573
The Event2001 - Figure 8Video PlusPhotos
THE EVENT
My name is Randy Lewis. I live in San Clemente, California. I am a "trackchaser". I trackchase. Before you discovered my site had you ever heard of trackchasing? Maybe not? So….what the heck is trackchasing? Sit back, take a read and you'll be an expert on my hobby of trackchasing when you're finished.
Here's my best explanation.
Trackchasing is a three-pronged hobby. I'm a racing fan. I love to travel. I love to analyze opportunities to get the most out of everything while saving time and money.
Trackchasing fills the need for all of the above. The racing part of my trackchasing has me trying to see wheel to wheel auto racing at as many different racetracks as I can all over the world. Yes, all over the world. So far things are going pretty well. As this is written, I've seen racing in 85 countries at more than 2,500 tracks. As a matter of fact, I've seen racing at more tracks than anyone else in the world.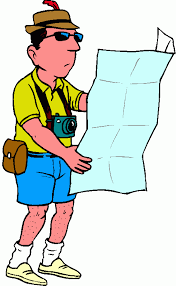 Equally important to me are the things I get to see and experience over the "long and dusty trackchasing trail". I call these adventures "Trackchasing Tourist Attractions". You won't want to miss my "Trackchasing Tourist Attractions" page. Here's the link:  Trackchasing Tourist Attractions or my "Sports Spectating Resume" page, Sports Spectating Resume on my website at www.randylewis.org.
I live in southern California. That's probably the most inconvenient location in the country for seeing tracks in the U.S. Most of the racetracks in the U.S. are located well over 1,000 miles from where I live. As a matter of fact, my average trip covers 5,000 miles and more. I take 35-40 of those trips each season. In any given year I will travel well over 200,000 miles, rent more than 50 cars, and stay in more than 150 hotel rooms.
I get the chance to meet people all over the world. With trackchasing trips to 85 countries and counting just getting the chance to experience so many other cultures, spend time in their homes and meet their friends is a huge reward for being in this hobby. I am indebted to several of these folks for their help and friendship.
It's takes a good deal of planning to do the above and not spend my entire retirement portfolio. I enjoy the challenge, the travel and every other aspect of "trackchasing". In reality, my trackchasing hobby is a lot like being with the carnival. I breeze into town, stay a little while and then head on down the road.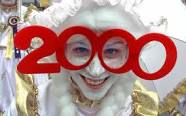 Today's adventure was one more of the 2,000 trips that have taken me up, down and around the proverbial long and dusty trackchasing trail.  If you would like to see where I've been and experience those adventures here's the link: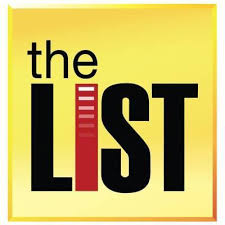 If you've got a question, comment or whatever please leave it at the bottom of this report.  It's very easy to do.  Or you can visit me on Facebook.  Thanks!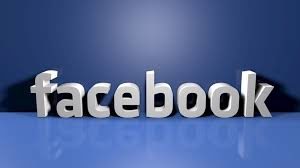 FOREWORD
Sunday, August 4, 2019.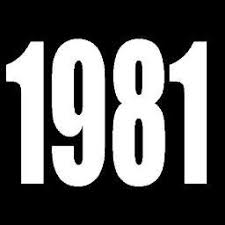 My history with the Slinger Speedway in Slinger, Wisconsin goes all the way back to 1981. I wasn't a trackchaser in 1981. I was a racechaser. What's the difference? 
As a racechaser I couldn't have cared less what track I was going to. I was going to the races to see my favorite drivers at the various racing organizations that offered the best racing around the United States.
 On the other hand, as a trackchaser, truth be told I don't really care who or what is racing. I'm there to experience the ambience and enjoyment of a new track visit. Don't get me wrong. If possible, I would love to see good racing. However, it is not a requirement. As a trackchaser I go to the races to "count" a new track.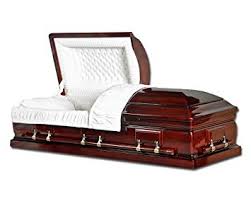 A worldwide competitive trackchaser would likely pass up their best friend's funeral, a racetrack that was offering their favorite kind of racing with full fields of cars or a complimentary three-hour full body massage in order to see three four-cylinder junk cars race at 20 MPH around a county fair mud bug like figure 8 track. Don't believe me? I've seen it. Trust me.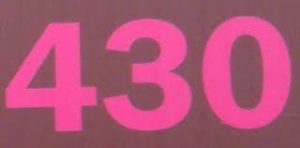 Back in 1981 when I saw racing on the asphalt oval track at the Slinger Speedway I was seeing my 101st lifetime track. Because I was a racechaser and computers and their word processing programs didn't come into my life until about 1985 or later I did not begin writing my famous Trackchaser Reports until I had seen about 430 tracks.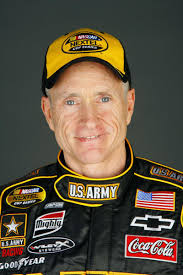 I can tell you I saw some pretty good racing at Slinger back in '81. That's why I was a racechaser! Maybe you will recognize these two drivers who each won one of the two features contested on that day on July 21, 1981. NASCAR drivers Mark Martin and Alan Kulwicki. Of course one of my all-time favorite drivers (top 5!) Dick Trickle raced that day as well.
 I liked the Slinger Speedway. It's one of the most competitive tracks in the country. However if I "liked" it so much why did it take me 20 years to come back and when I did come back I came back to see figure 8 racing at Slinger? See the paragraph that explains the racechasing/trackchasing situation above!
In 2001 I was a full-fledged trackchaser. I went back to the Slinger Speedway then for the express purpose of seeing figure 8 racing. Yes, I enjoyed the racing on the oval track but I was seated in the steeply pitched Slinger grandstands for racing on their paved figure 8 course.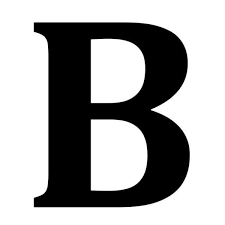 Now in 2019, I was returning 38 years after my initial visit to see racing on what they called their "B" track. This new "B" track was used by only one division, the "team cruisers". I would make a special trip up to Slinger to see their 10-lap race on the "B" track. Fortunately I would also be treated to a very good looking oval track night of racing  and more figure 8 racing. 
 However, before I get into all of the details of my Sunday night at the races at Slinger let me tell you what preceded that activity. Last night I trackchased in Jefferson City, Missouri.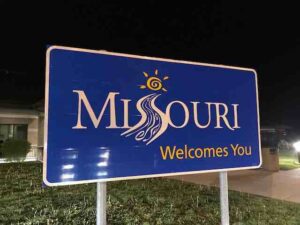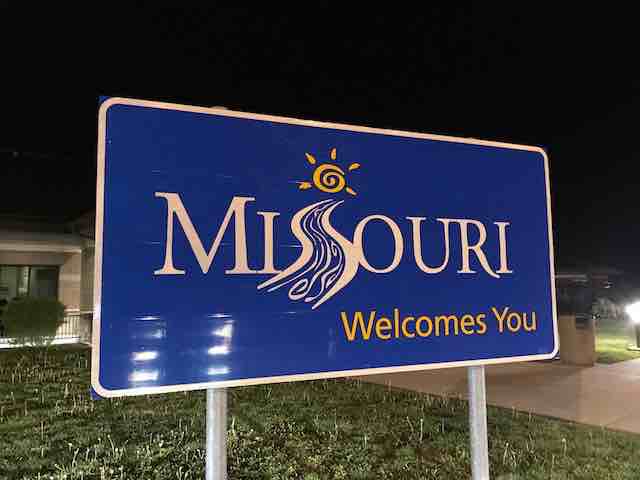 Being in Missouri last night was special. Why? I was able to see my 68th lifetime track in the Show Me state. This moved me into a first place tie for having seen the most tracks in Missouri with my good buddy, but now deceased, Ed Esser. 
 After the Jefferson City races I stayed overnight in Hannibal, Missouri. I was able to sleep overnight in a pretty nice Comfort Inn and Suites hotel. The best rate they were offering their "normal" guests was $114 plus tax. I paid old lady $52 and tax with my Priceline.com sponsorship. No, I don't pay retail. 

 I was up relatively early and left Hannibal for the four-hour drive up to Northern Illinois. You might recall that I am a graduate of Northern Illinois University (recent Orange Bowl participants!), which is located in DeKalb, Illinois. 
 My sister Becky and her husband Bob live up in that area. Since they live in the middle of the country and also because I'm from Illinois I get back there from time to time. Over the years I've taken them to the races many times. 
 As a matter of fact, my brother-in-law Bob keeps an active list of the tracks that he has seen. I simply told Bob and Becky that we were going to the races at Slinger Speedway. Bob expected he would be able to add one new track giving him a grand total of 39. I would surprise him later with the idea that he would be seeing racing on THREE tracks. That's right. At some events Slinger races on their oval, figure 8 track and "B" track.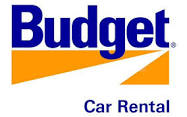 On this trip I'm driving the Budget Rental Car Racing Ford Fusion hybrid. I can tell you that by the time I return the car to Budget at Chicago's O'Hare International Airport I will have driven it 2,404 miles. The car is very economical. It gave me 42 MPG. It's got a pretty stout air-conditioner too. I think it has given me a head cold. 
 I pulled into the driveway of Becky and Bob's house just in time to pick them up. We continued driving up to the Slinger Speedway located near Madison, Wisconsin. For the most part the drive was uneventful. We did stop for a soda break at a Wisconsin convenience store.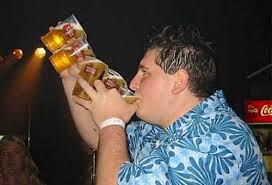 Just watching people in my world is worth the price of admission. This little store had the largest liquor department I've seen in a long time. We even saw one guy pour the contents of a small whiskey bottle into his fountain drink. This didn't surprise me. We're in Wisconsin for gosh sakes. Wisconsin has the biggest bunch of alcohol drinkers I've ever seen anywhere in the United States by a factor of several. They are only rivaled worldwide by the folks I met in Zimbabwe. I would like to see a "drink off" between Wisconsin and Zimbabwe. Yes, I would pay big money to see that.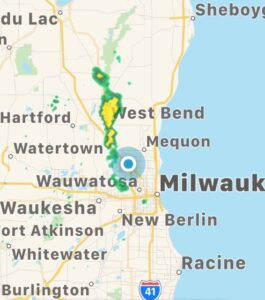 We almost ran into a big problem. The weather! A long narrow cell running from north to south was passing just to the north of the Slinger Speedway. That weather cell had lots of yellow and red in its radar image. Outside of this one significant dark cloud it was all 100% blue-sky weather. It actually rained on us 10 minutes from the track and the clouds did luck ominous. We dodged a bullet on that one.
THE RACING
Slinger Speedway – Slinger, Wisconsin

 The Slinger Speedway is an old-time track. I would put it in my "top 40" list of the best racetracks in the country on an overall basis. 
 Tonight they had two different classes of late models racing as well as two classes of four-cylinders, the figure eights and the team cruisers. General admission was $14. Actually, that wasn't all that bad.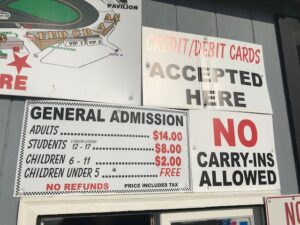 However, in the small print the ticket sign showed that students could get in for eight dollars. An even smaller printed sign mentioned "senior citizens". Slinger offered a huge discount for seniors. Being able to see what we were able to see tonight for eight bucks was one of the best bargains of the year. 
 Don't even get me started on why senior citizens should not receive these discounts. OK, I'll tell you why they shouldn't. In most cases senior citizens have elected not to work. They have retired from work. Why? They don't need the money from work. If someone is well off enough to stop working because they don't need the money they don't need a discount for being a senior citizen. 
 If some business is hell-bent on giving a price reduction to their customers I say give it to the young family with three rug rats. That family probably has both mom and dad going to work and sometimes going to work at more than one job. They have mouths to feed. They need a discount. Senior citizens who have voluntarily left their jobs for a life of old age leisure do not need senior discounts.
 I would be staying over at Becky and Bob's for two nights therefore reducing my hotel expense. I treated them at the Slinger Speedway for their admission and concessions. 
 I wouldn't say that Becky and Bob at this stage in their life are the most agile individuals. I think they would agree with that assessment. On the other hand, most of the grandstands at Slinger are very steeply pitched. We sat in the grandstand down toward turned one. I was amazed I could get them to walk midway up into that grandstand. 
 There were no steps leading up to the grandstand. It was simply an asphalt path that ascended up a very steep grade. Not only did that path go upward but it sloped from left to right. There is no way that OSHA would have approved a pathway like this. I'm surprised the speedway hasn't had lawsuits of some type. It was really pretty dangerous in my opinion.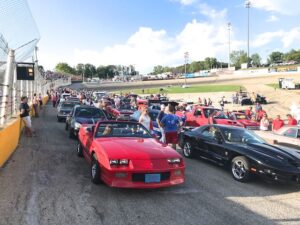 For our eight-dollar admission we were also being treated to a huge classic car show. More than 50 cars were parked on the front straightaway at the speedway. Fans could go down onto the track and take a close look at these cars. I did just that. 
 Slinger Speedway is a very high-banked asphalt oval. I'm not sure I've seen any tracks, on the short track level, banked any higher. It's right up there with Salem and Winchester. Slinger bills themselves as "The World's Fastest Quarter-Mile Oval". They must be. Late models were turning laps in the 11-second range.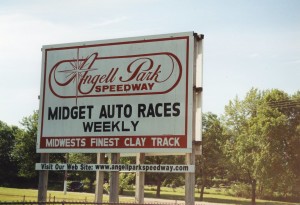 Slinger speedway is a Sunday night track. The Angel Park Speedway, home of the National Midget Hall of Fame, is also a Sunday night track. They race open wheeled midgets there. The two tracks are only 54 miles apart. That surprises me. It is true that most stock car fans are not big midget fans and vice-versa but it still surprises me.
 During the car show I had the opportunity to chat with the track announcer. He told me he's been at the Slinger Speedway since 1986. That's a pretty good run for a track announcer. I told him I'd come all the way from California to see racing on Slinger's "B" track. He told me he would share that information with the crowd later in the program. The announcer was true to his word.
 As you might imagine, from a track that I was classify as a "top 40" speedway, they started on time, had a stout PA system (almost too loud), a quality announcer, no major downtime in the racing program and excellent concessions. Why can't every track cover these basic short track racing boxes?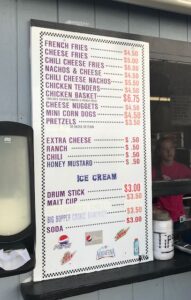 At the concession stand I opened with an order of cheese nuggets a.k.a. cheese curds. How could I not since I was in Wisconsin? Those curds were absolutely delicious. I followed with a can of Keystone Light beer, which is made by the Coors Brewing Company. I'm not much of a beer drinker but I was in Wisconsin right? What would a can of Keystone Light cost? Just $2.50, which seemed pretty low to me. 
 Later Becky and Bob would share an order of chicken strips and fries. The fries were delicious and fresh cut. They reminded me of being at a New York state track. All of the concessions at Slinger were good and reasonably priced.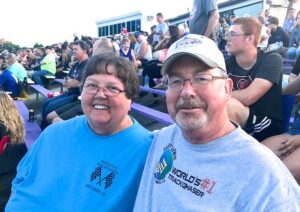 Tonight I was wearing my 2019 "World's #1 Trackchasing" t-shirt. Becky was wearing hers as well. Bob was also wearing a Randy Lewis Racing t-shirt but a vintage one from about 2012 or so. We were easily identifiable in the grandstand. 
 A few people came up to say hello. My new shirts seem to be a magnet for racing fans. One fellow told me Slinger had a crowd of 6,600 people earlier in the year for one of their big shows. I know that NASCAR's now retired Matt Kenseth won a big feature race here in 2019.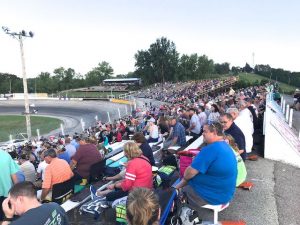 It looks to me like the Slinger Speedway is the kind of place where, over the past 50 years or more, simply added a little bit here and added a little bit there. They have a huge grandstand seating area. Each one of the major seating sections is different. It was kind of hard to tell how large the crowd was tonight given this unusual seating situation. Nevertheless, they had a good size crowd. I'm going to guess 1,500-2,000 people.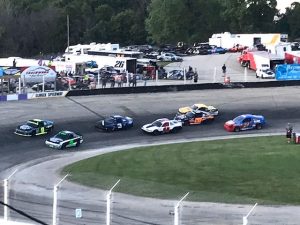 The racing classes that would compete on the oval track all brought 15-18 cars. These oval classes included the super late models, late models, super beez, Slinger bees plus the team cruisers and figure 8s. Occasionally the flagman would signal that a driver was blocking and needed to race in just one lane. Additionally drivers could be disqualified for racing faster in the race than they qualified.  They were trying to prevent "sandbagging". 
 As always please take a look at my video and photo album. This will show you in pictorial form exactly what we saw tonight.
 During the entire oval racing program the announcer didn't make any reference to the upcoming race on the "B" track or the figure 8 racing. I was minorly concerned. I would have thought he might have mentioned these races but he didn't. That meant that I had to sit on pins and needles in the hopes that racing on these two configurations had not been canceled for whatever reason. 
 However, they did race on the "B" track. Five team cruisers came out of the pit area to race for 10 laps. A team cruiser racing machine needs to have two people to operate it. The driver has control of the steering and the brake. The person sitting on the passenger side of the front seat operates the gas. Cruise racing is really big in Iowa.
 The announcer told us the "B" track looked like a letter "B" from the alphabet if you were hovering over it in a helicopter. I could understand that.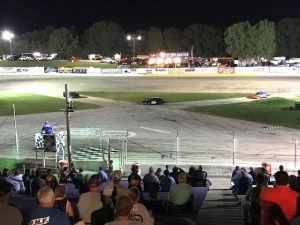 The cars raced down the front stretch of the oval and into turn one. As they exited turn two they took a left into the infield and raced around a huge tractor tire that was near the "X" of the figure 8 track. At the "X" they made a right hand turn and went straight into turn three of the oval track. They continued around through turn four and back onto the front straight complete one lap. 
 When I first began trackchasing I would never have considered counting any variations beyond the basic oval track, which was what always brought me to the races. However, there is one benefit to counting different track configurations at one facility. In the Slinger Speedway situation I came to see the novelty racing on the "B" track but was also able to see the really good traditional racing on the oval track. I guess that is the saving grace  from attempting to see different track configurations.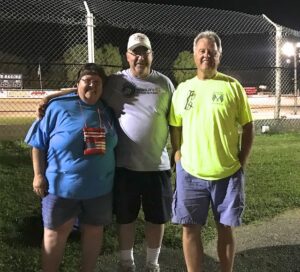 Following racing on the "road course" they brought out about nine or ten figure 8 racers to complete a 10-lap race around the traditional asphalt figure 8 track. These cars were really fast. There weren't enough of them to cause much mayhem at the "X" but they did crash into each other a bit just in the normal course of racing. When that race was finished the remaining 50% of the original crowd headed out of the speedway. What did that tell me? Those folks lived close to the track! There was a slight back up getting out of the track.  I don't see that very often in today's short track racing world. 
AFTER THE RACES
 From there Becky and Bob and I made the 2 ½-hour drive back to their house. They agreed we had had an enjoyable evening of short track racing at the Slinger Speedway. Bob was pretty enthused to be able to add to his growing track list by three. He's now seen racing at 41 different tracks in two countries.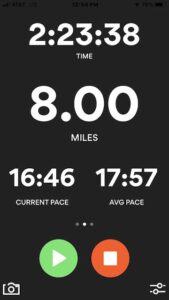 The next day while Becky and Bob ran some errands and attended to some personal things I relaxed at their home. Illinois is a flat state. There are all kinds of walking paths around the Brown's house. I decided to go on an 8-mile power walk adventure. I didn't set any speed records but then the temperature was 88° and the "feels like" temperature was 91. I thought, given the distance and the fact that I might be needing a foot operation, that covering eight miles was a pretty good accomplishment. 
 When I'm with Becky and Bob I always share some of my financial planning ideas. I've been able to get them to use Uber, Priceline and now we're working on having them negotiate with SiriusXM Radio to get the very best rates. That's not part of their daily lifestyle but it is mine. 
 When our two-day visit was finished I left on Tuesday morning at 4:30 a.m. I was heading to a track located outside of the United States. Did you know that I've seen more than 400 tracks outside of United States? No U.S.-based trackchaser has ever done such a thing. Nearly 16% of all the tracks that I've seen over time have been outside of the U.S. 
 Good evening from the Slinger Speedway in Slinger, Wisconsin.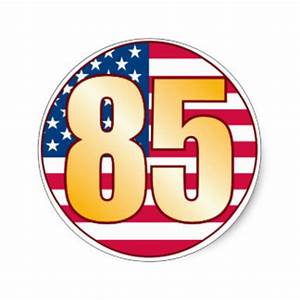 Randy Lewis – 85 countries – 2,573 tracks.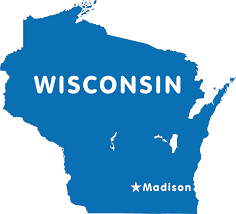 Wisconsin
The Badger state
This evening I saw racing at my 92nd lifetime track in the Badger state, yes, the Badger state.  I hold the #4 trackchasing ranking in Wisconsin. The state is dominated more than any other with "favorite son" trackchasers.  I've seen 92 or more tracks in eight different states. No trackchaser can match that stat.
Thanks for reading about my trackchasing,
Randy Lewis
World's #1 Trackchaser
Peoria Old Timers Racing Club (P.O.R.C.) Hall of Fame Member
Wisconsin sayings:   couple three. This is a phrase that means "a few."
QUICK FACTS
LIFETIME TRACKCHASER COMPARISONS 
The threemost important trackchasing comparisons to me are:
Total lifetime tracks seen
Total "trackchasing countries" seen
Lifetime National Geographic Diversity results
Total Lifetime Tracks
There are no trackchasers currently within 715 tracks of my lifetime total.  Don't blame me.
Randy Lewis, San Clemente, California – 2,573

Total Trackchasing Countries
The nearest trackchasing competitor has seen racing in 30 fewer countries compared to my lifetime total. 
Randy Lewis, San Clemente, California – 85
Current lifetime National Geographic Diversity results
Randy Lewis, San Clemente, California – 4.14
That's all folks!  Official end of the RLR – Randy Lewis Racing Trackchaser Report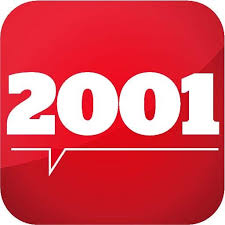 Reprinted with permission from my August 12, 2001 Trackchaser Report
Greetings from Slinger, Wisconsin,
TRAVEL/PEOPLE NEWS
I stay in Super 8 hotels frequently during my racing trips.  They offer reasonably priced ($40-60) accommodations in usually fairly new properties.  They also have hotels in virtually every area of the country.  Normally I make my reservations via their toll free 800 number. I've just begun using their web site, http://www.Super8.com.  This may be the best web site of its kind that I've ever seen. 
At the title page you simply type in a city and state and the site quickly gives you a list of the Super 8 hotels in the nearby vicinity.  You can also pull up pictures of the hotel and get pricing easily.  One of the best features is the "what's nearby" category.  You can click on "Italian restaurants", as an example, and it will list Italian restaurants sorted by their distance from the hotel.  I used their search feature for "golf" for an upcoming trip to Minnesota.  The site listed 25 golfing establishments from driving ranges to full golf courses and showed the distance from the hotel, directions, phone numbers, etc.  You might want to check out Super 8.  It's not a Hyatt or Marriott but it's above Motel 6. Super 8 commonly offers a swimming pool, continental breakfast and recliners in the rooms.  So…enough about Super 8 and on with the racing.
RACING NEWS
We headed north to the Slinger Super Speedway (SSS).  Slinger, Wisconsin is about 30 miles northwest of Milwaukee and not too far from Grafton (Greg Zimmerman's hometown).  This was a historic trip for my first wife and traveling companion, Carol. She was going to see her 100thlifetime track. 
SSS is a class A race facility.  It's a ¼ mile high banked asphalt oval with a traditional figure 8 track.  It bills itself as the fastest ¼ mile oval in the world, and it probably is.  I had seen the Slinger oval one other time in 1981. The track sits on a mini mountain and it's a bit of a hike from the parking lot up to the seats.
General admission was a somewhat steep $11 for a regular show.  This did not deter the crowd as the place was packed.  SSS has been in operation for more than 50 years.  Their grandstand seating reflects the amount of time they've been in business.  It reminds me of Arkansas zoning.  They have grandstands everywhere and in all varieties.  Some are close to the track and some aren't.  Some are bleachers and others are concrete.  There is lots of seating all over the track and it was a near sell out.
The racing program was a little difficult to follow.  One class, the Slinger Stingers (similar to street stocks) ran two heats and no feature. Same thing with the two person cruisers. The late models ran a trophy dash, semi main and 60-lap A main.  The IMCA type modifieds and mini cups ran heats and features.
The track also offered a unique offering that I can't recall ever seeing which was the "Speedway Guest Cars".  These were identically painted street stock type racers that spectators could rent and race in one 8-lap heat race.  The cars were all painted a dull black with white numbers ranging from 0 to 9.  I like adventure vacations.  If I had known they had these before the race started I would have been in one.
Another "division" was the spectator drags. Spectator drags allow people to bring their streetcars and trucks out on the track to race.  SSS starts two cars from a standing start and they race TWO laps. The winner advances until there is an overall champion.  This is always exciting because the crowd is waiting for someone to wreck their streetcar. It's funny how the crowd mentality enjoys seeing the other guy fail.  I did see a driver flip his car during one of these races years ago in Rockford, Illinois.  Just a little beating and banging in these events today.
The first Slinger Stinger heat race pushed off on schedule at 7 p.m. and was completed at 7:04 p.m.  Carol's 100thlifetime track was official.  Carol's first official recorded track was the Peoria Speedway in Peoria, Illinois.  She still has the scars on her leg from a flipping car that crashed into a light pole while we were sitting in the first row box seats.  As the light pole crashed it sent sparks showering onto Carol.  The guy sitting next to her was taken to the hospital as a result of the car's impact.  Yes, I like (but Carol doesn't) adventure vacations. 
Carol's 50th lifetime track was the North Carolina Motor Speedway in Rockingham, North Carolina.  Special congratulations can be sent to Carol at this (in 2019 now deleted email address). She appreciated the notes sent to her recently supporting my position on buying shoes at outlet stores!  Carol is anxiously looking forward to getting 200 tracks so her track list can be posted on the trackchasing web site of all web sites http://www.trackchaser.com.
Editor's note:  This website is no longer operational.
SSS has a wide variety of food to consume. We started off with bratwursts and steak sandwiches and a couple of Miller Genuine Drafts.  We're not big beer drinkers but when in Wisconsin do as the Wisconsinonians do.  A unique menu item was the crème puff.  I couldn't pass this up.  For $2 we were served a large pastry over flowing with fresh whipped cream.  It was yummy.
The weather was very warm for a Wisconsin evening. It was probably 75 degrees.  We were enjoying the races that were run efficiently.  The track allows for side-by-side racing which made for good entertainment. 
I gave my trackchasing note to the announcer who was kind of an "over the top" kind of guy.  He spent a couple of minutes on the trackchasing idea. Unfortunately, at the race I attended before SSS at Belvidere, Illinois the announcer chose not to mention anything about my note.  Had he announced my presence I might have had the chance to meet the other major trackchasers in the audience including the #1 ranked "King of Trackchasing", Rick Schneider.
The last race of the evening was to be a 10-lap figure 8 event.  This would be my 507th lifetime track and Carol's 101st lifetime. With two features to go before the figure 8 race the weather changed dramatically.  The wind started to blow and the temperature immediately dropped 10 degrees.  People started putting on jackets (we had none) and talking about the rain in the forecast.  This didn't look or sound good.   The spectator one on one drags preceded the figure 8 race.  It started to sprinkle and then rain a little harder.  I began to pack up our things.  The rain let up just a bit and they brought out the figure 8s. Their race was pretty uneventful and a new track was in the bag.
We're had a great trip with every scheduled event (racing and non-racing) coming off as planned.  They were all fun.  We got to see several old friends and the early August Midwestern weather cooperated in fine fashion.  Looking forward to the next one!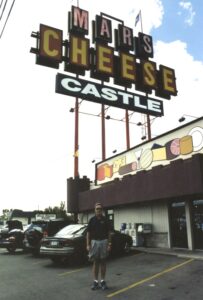 Restaurants of the day: Lunch at the Mars Cheese Castle, off I-94 in Kenosha, Wisconsin.  This has been a favorite stop since the early 1970s when we would eat here after the Milwaukee Mile USAC stock car races.  Couldn't pass up a bottle of Jim Beam maple syrup.  Looking forward to my next pancake breakfast.
Weather:  Shorts and t-shirt early on and then a light jacket.
Rental Car mileage:  The Hertz racing Mazda 626 had 805 miles on it when it got back to the Chicago O'Hare airport.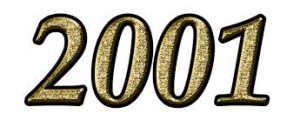 New racetracks visited in 2001
Laughlin Event Center, Laughlin, NV (no web site)
Loc Moran, Mont Carmel, Quebec (http://www.grabnetworks.net/delta/)
Circuit Jacques Rainville, Vanier, Quebec (no web site)
Pauline Davis Pavilion, Red Bluff, CA (http://www.rboutlaws.com/)
The Pavilion at the Fairgrounds, Chico, CA (no web site)
Baton Rouge Raceway, Baker, LA (http://www.batonrougeraceway.com)
Mississippi Motorsports Park, Long Beach, MS (http://www.msmotorsportspark.com)
South Alabama Motor Speedway, Opp, AL (http://www.southalabamaspeedway.com)
Nashville Super Speedway, Smyrna, TN (http://www.nashvillesuperspeedway.com)
Beech Bend Raceway (oval track), Bowling Green, KY (http://www.beechbend.com)
Beech Bend Raceway (figure 8 track), Bowling Green, KY (http://www.beechbend.com)
Soggy Bottom Speedway, Morgantown, KY (http://www.soggybottomspeedway.com)
Buttonwillow Raceway Park, Buttonwillow, CA (http://www.buttonwillowraceway.com)
Speedway 90, Beaumont, TX (http://www.Speedway90Bmt.com)
105 Speedway, Cleveland, TX (http://www.105speedway.com/)
482   Savannah Speedway, Savannah, MO (no web site)
Winston Speedway, Winston, MO (no web site)
Stuart Speedway, Stuart, IA (http://www.midiowa.com/showtime/stuart.html)
Barberton Speedway, Barberton, OH (http://www.barbertonspeedway.com/)
Eriez Speedway, Erie, PA (http://www.statelineeriezspeedway.com/)
Anderson Dry Lake, Lucerne Valley, CA (http://hometown.aol.com/mdrracing/index.html)
Perris Auto Speedway-(figure 8 track), Perris, CA(http://www.perrisautospeedway.com/)
Dixie Motor Speedway – (figure 8 track), Birch Run, MI (http://www.dixiemotorspeedway.com)
Dixie Motor Speedway – (oval track), Birch Run, MI (http://www.dixiemotorspeedway.com)
Grand Prix of Cleveland, Cleveland, OH (http://www.imgmotorsports.com/)
492.   Painesville Speedway – (oval track), Painesville, OH (http://members.tripod.com/pspeedway/)
493   Painesville Speedway – (figure 8 track), Painesville, OH (http://members.tripod.com/pspeedway/)
Angola Motor Speedway, Angola, IN (http://www.angolamotorspeedway.com/index.shtml)
Atlanta Motor Speedway, Hampton, GA (http://www.atlantamotorspeedway.com/)
Dixie Speedway, Woodstock, GA (http://www.dixiespeedway.com/)
Rome Speedway, Rome, GA (http://www.dixiespeedway.com/) Rome uses the same web site as Dixie Speedway.
Holland Speedway (oval), Holland, NY (http://www.hollandspeedway.com/)
Holland Speedway (figure 8 track), Holland, NY (http://www.hollandspeedway.com/)
Freedom Raceway, Delevan, NY (http://www.freedomraceway.com/)
Allegheny Mountain Raceway, La Mont, PA (http://www.amraceway.com/)
McKean County Raceway, East Smethport, PA (http://www.mckeancountyraceway.com/)
Bradford Speedway, Bradford, PA(http://www.bradfordspeedway.com/)
Ventura Raceway, Ventura, CA (http://www.venturaraceway.com/)
Winnebago County Speedway, Pecatonica, IL (no web site)
Boone County Fairgrounds, Belvidere, IL (http://www.boonecountyfair.com/index2.htm)
Slinger Super Speedway, Slinger, WI (http://www.slingersuperspeedway.com/)
Click on the link below to see the video production from the racing action today.
 [enter YouTube videos]
Click on the link below for a photo album from today's trackchasing day.  You can view the album slide by slide or click on the "slide show" icon for a self-guided tour of today's trackchasing adventure.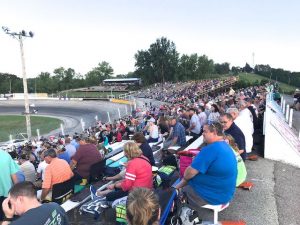 A full night of racing up in Wisconsin and a comlete failure in Ontario, Canada