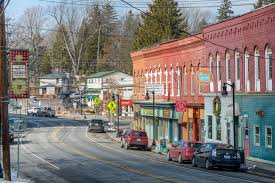 Greetings from Trumansburg, New York
.
.
From the travels and adventures of the 
"World's #1 Trackchaser"
.
.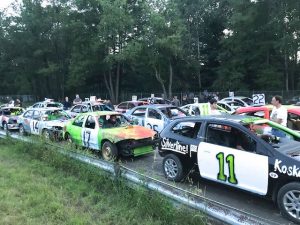 Tompkins County Fairgrounds
Dirt figure 8
 Lifetime Track #2,486
The EventVideo PlusPhotos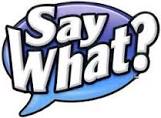 THE EVENT
I am a "trackchaser". So, what the heck is that? I get that question from racing and non-racing people all the time. This is a difficult question to answer. Why? Because after I do my best to respond people still say, "I've never heard of such a thing"!
Here's my best explanation.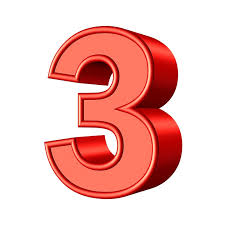 Trackchasing is a three-pronged hobby. I'm a racing fan. I love to travel. I love to analyze opportunities to get the most out of everything while saving time and money.
Trackchasing fills the need for all of the above. The racing part of my trackchasing has me trying to see wheel to wheel auto racing at as many different racetracks as I can all over the world. Yes, all over the world. So far things are going pretty well. I've seen racing at nearly 2,500 tracks in 80 countries. As a matter of fact, I've seen racing at more tracks than anyone else in the world.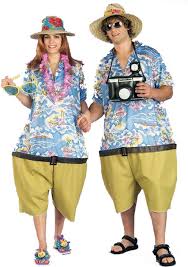 Equally important to me are the things I get to see and experience over the "long and dusty trackchasing trail". I call these adventures "Trackchasing Tourist Attractions". You won't want to miss my "Trackchasing Tourist Attractions" page. Here's the link:  Trackchasing Tourist Attractions or my "Sports Spectating Resume" page, Sports Spectating Resume on my website at www.randylewis.org.
I live in southern California. Most of the racetracks in the U.S. are located well over 1,000 miles from where I live. As a matter of fact, my average trip covers 5,000 miles and more. I take 35-40 of those trips each season. In any given year I will travel well over 200,000 miles, rent more than 50 cars, and stay in more than 150 hotel rooms.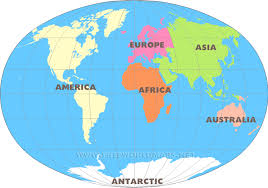 I get the chance to meet people all over the world. With trips to 80 countries and counting just getting the chance to experience so many other cultures, spend times in their homes and meet their friends is a huge reward for being in this hobby. I am indebted to several of these folks for their help and friendship.
It's takes a good deal of planning to do the above and not spend my entire retirement portfolio. I enjoy the challenge, the travel and every other aspect of "trackchasing". In reality, my trackchasing hobby is a lot like being with the carnival. I breeze into town, stay a little while and then head on down the road.
Today's adventure was one more of the 2,000 trips that have taken me up, down and around the proverbial long and dusty trackchasing trail.  If you would like to see where I've been and experience those adventures here's the link: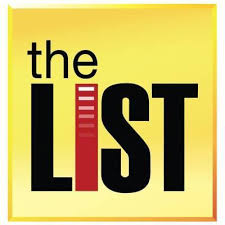 If you've got a question, comment or whatever please leave it at the bottom of this report.  It's very easy to do.  Or you can visit me on Facebook.  Thanks!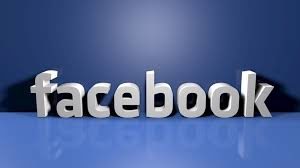 FOREWORD
Thursday, August 23, 2018.
For the second consecutive weekend I would be heading to upstate New York and the surrounding area to trackchase. I hoped to be flying standby on an overnight flight to the East Coast from Los Angeles.

There are a couple of benefits to taking the redeye flight. First, I don't waste a full day traveling. If I were to leave Los Angeles at 9 a.m. and fly to New York, with a three hour time zone change difference, I wouldn't land until about 6 p.m. That would waste an entire day. By flying overnight I can live a full day in Los Angeles, leave at 10 p.m. and pull into New York, Boston or Philadelphia at 7 o'clock in the morning. Then I've got a full day available to me for wherever my driving travels need to take me.
However, when something sounds too good to be true often times it is. The primary drawback to the redeye flight is lack of sleep. The flight time to the east coast is approximately six hours. If I get one or two hours of sleep out of that I'm probably lucky. That means when I land in the East Coast I'm going to have to nap during the day in order to make it. It's a trade-off. Taking an overnight flight is not my #1 choice but sometimes it just seems like the best of the available alternatives.
On many of these trips I fly standby. That means I can get a seat on the plane if one is unsold and there are no other standby passengers with more seniority than me. Normally that works out very well. On this Thursday night the entire process was a little iffy.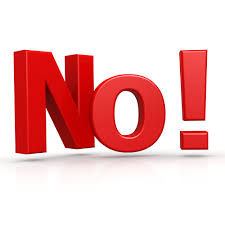 I was standing by for a 9 p.m. departure to New York's JFK airport to begin this trip. The flight was "tight". I was ecstatic when my name was called to get the very last seat on the plane. The gate agent walked me down the jetway for that last seat. Coming the other direction on the jetway was another airline employee to inform me that there had been a mistake. There was no seat available for me. Bummer. I returned to the terminal to assess what other options might be available. I had to smile at all of this. My fellow competitors drive to most of their tracks. They don't travel far. I travel far! Sometimes it's not that easy. It always takes a good deal of time.
There was another flight leaving for JFK in two hours. However, that flight was way overbooked. There was also a flight leaving for Boston at about the same time. I listed for that flight and made it! In anticipation of this potential problem I had reserved a car in both New York and Boston. Either one of those arrival points would work out for the trip I had planned.
My travel capabilities allow me to leave my fellow competitors in the dust when it comes to trackchasing totals. I'm willing to do whatever it takes to get from point A to B. You've seen that if you've read many of my Trackchaser Reports. That's why my nearest fellow competitor is just about 700 tracks behind me despite the fact that I trailed him by nearly 300 tracks at one point in time! That's a swing of around 1,000 tracks. If you're going to do what I do you're going to have to have passion for the hobby. Of course, I do. 
Friday, August 24, 2018.
I landed at Boston's Logan International Airport at a little past 7 a.m. I thought that tonight's race would begin at 7 p.m. I was headed to Trumansburg, New York. Trumansburg is about a six-hour drive from Boston.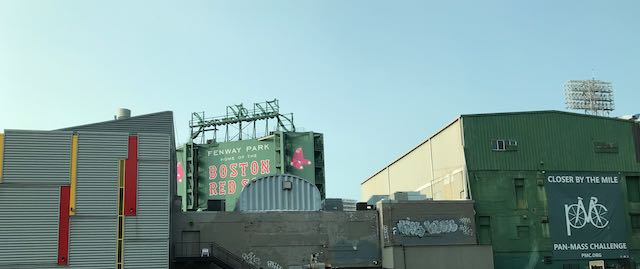 I figured I had better get going to avoid whatever traffic I might encounter in Boston on a Friday morning. I chose a Toyota Camry from the National Car Rental executive elite lot. Before I departed I recorded the car's license plate in my Illinois tollway toll pass system account. I'm operating with a new toll transponder on this trip. The last one I had failed for whatever reason. On the drive out of Boston I passed by venerable Fenway Park….as I always do.
The plan was to nap on the drive over to upstate New York as needed. I probably got an additional two hours of sleep in highway rest areas during the drive. That was certainly better than nothing but I would look forward to a good night's hotel rest this evening.
Along the way I noticed that Cooperstown, New York wasn't too far off of my driving route. Of course, Cooperstown is home to baseball's Hall of Fame Museum. I've been there two or three times. Cooperstown is a little bit out-of-the-way to most of the places I go. It's in very rural upstate New York. A good paint salesman could do really well up here. Despite not having much sleep I couldn't pass up another opportunity to visit since I was so close.
It was an absolutely beautiful weather day. Temperatures were in the high 70s with sunny blue skies. No rain was expected for this weekend, which from a trackchasing point of view was excellent. I pulled into Cooperstown and had about two hours to explore the museum.
The senior price of admission was a reasonable $15. That was a strong discount from the $23 regular adult ticket. For whatever reason my museum visit today seemed a bit "different" compared to the previous times I've been here. Everything seemed smaller. I didn't know why that was. I still had a good time. Don't miss my photographs.
It was interesting observing the demographic of the people visiting Cooperstown today. There seemed to be a number of single men in their 50s and 60s. You could just tell they were baseball fanatics. I could imagine them sitting up high in the stands watching the game at their local major-league baseball park.
The other popular demographic seemed to be a man and wife in their 30s with a couple of 10-year-old kids. You could see that the man was a big baseball fan explaining all of the baseball statistical nuances to his kids. On the other hand, you could see the wife just kind of smiling and biding her time before the family vacation visited another spot that she might enjoy more. Yep. It's fun watching people.
In one corner of the museum a video played the famous Abbott and Costello, "Who's on First" comedy routine. Later I would visit the giftshop where I picked up a souvenir T-shirt from Cooperstown. While I was doing that I saw a woman eyeing a T-shirt with the Abbott and Costello "Who's on First" picture on the shirt. The woman yelled over to her husband, "Which team did these guys play for?" He glumly replied, "They're comedians." OMG.
When I left the museum I had to start thinking about where I would be staying tonight. The town of Ithaca, New York, home to Cornell University, was only 10 minutes from tonight's fairgrounds. Cornell was only 20 minutes from tomorrow night's racing location in Whitney Point, New York. I would stay in Ithaca.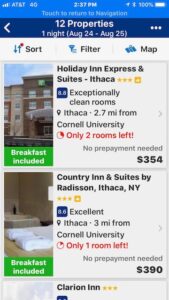 Hotel prices in the Northeast are the highest in the country. Couple that with parents bringing their kids back to school and that seemed to drive prices out of sight in Ithaca, New York. A Holiday Inn Express room was selling for $354. A Country Inn and Suites was $390 for a single night.
When I saw a billboard advertisement for the Hillside Motel in Ithaca I decided to call them. Their ad made them look like a small "ma and pa" motel. They had to be cheaper than the Holiday Inn Express. They were.
When I called they offered me a room for just $69 a night. I was told the TV in the room was broken. That's wasn't a problem for me. I very rarely ever turn on the TV when I'm in a hotel room. I'm just too busy with my phone and computer. They are my "TVs".

I am trained that no matter what the initial price that is offered is I will try to get a lower price. That's just me. It comes from my training in the corporate world. This is called "nibbling". I told the Hillside Motel that I had been expecting to pay only about $50. They came back with an offer of $59 plus tax, a ten-dollar savings from the original offer, which I gladly accepted.
I was only a couple of minutes away from the Hillside Motel when I had called them. There was time to check in before I went to the fairgrounds. The motel was a funky place. When I saw it I almost decided to skip it entirely. Then I thought to myself…a Holiday Inn Express was renting for $354. The Hillside Motel was $59. I pulled into their parking lot.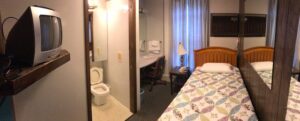 The Hillside Motel was essentially a big old two-story house. My room was small but clean. It came with a twin bed and an open Bible. It was in a good location. I couldn't beat the price or even come close. Tonight I would stay at the Hillside Motel.
From there I drove out to the Tompkins County Fairgrounds in Trumansburg, New York. I had been to Trumansburg one other time to see racing at the Starlite Speedway. That was back in 2002. As a matter of fact, that visit took place on Sunday, June 30, 2002. That was my last official day of employment before I retired from the Procter & Gamble Distributing Company. I spent 29 years and 362 days working for the "man". If a person had to work to support their family, and I did, P&G was a great place to do it. The Starlite Speedway was my 580thlifetime track. Tonight's  fairgrounds was a mile or two from the Starlite Speedway.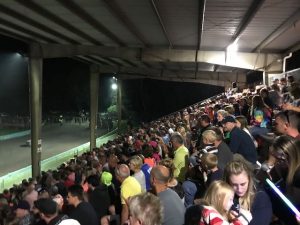 Today is August 24, 2018. It's getting late in the United States county fair season. Most fairs happen in July and the first two weeks of August. Like most county fairs that I visit this place was packed. It always seems that the fair parking lot has 1,000 cars and there are only 500 people at the fair. I can't explain it.
THE RACING
Tompkins County Fairgrounds – Trumansburg, New York
I paid five dollars to park. There was no admission to the fair. That makes things a little bit more expensive for the single traveler than the family of five. However, I worked at a good paying job for 30 years, saved my money so that I can afford the things I do today.
They had gotten a lot of rain in Trumansburg over the past couple of days. That made tonight's parking lot a little bit soggy but manageable. I had learned from an earlier phone call today that race time was 8 o'clock. That was good. The later start gave me just a little bit more time to tour in Cooperstown.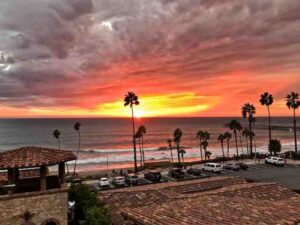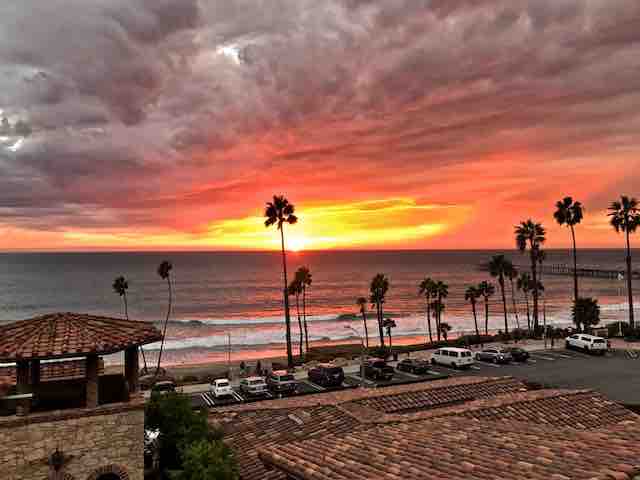 It was dark now. Being late August it's getting darker sooner as we pass the mid-point of summer. It was also cooler. This was the first night of the summer season where I needed to wear a light pullover. Fall is coming. One of the fun things about trackchasing is experiencing the change of seasons. In San Clemente we have only one season!
I could see the grandstand was pretty much 100% full. That didn't worry me. There's always room for one more. I learned that reading the Bible. I learned that going to church.
The walking path from the parking lot took me into the pit area for tonight's racing. Had I wanted to I could have watched the races from the pits for free. However, that would have been at ground level and not nearly as entertaining as if I have a seat in the grandstands.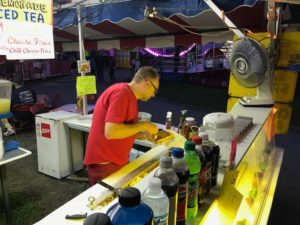 Bypassing the opportunity to watch the races for no charge in the pit area, I headed to the grandstands. However, I was waylaid by a Philly cheesesteak sandwich opportunity. Granted I was nearly out of calories for the day but I couldn't pass this up. There I paid a very reasonable five dollars to enter the grandstand to watch tonight's JM Productions double figure 8 four-cylinder figure 8 racing.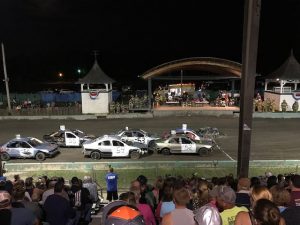 As I expected I found a seat high up in the grandstands overlooking the center of the figure 8 track. I was only 4-5 rows from the top. If I had come two hours earlier I wouldn't have gotten a better seat. Yes, there's always room for one more.
After walking through the pit area I had seen there were a good 50-60 cars ready to go for figure 8 racing tonight. They were all lined up for their upcoming heat races. The JM Productions people run as good of a four-cylinder figure 8 racing program as anybody. They are one of the few places that do the "double" figure 8, which has two crossovers. I like that idea.
The racecars come to the track with both of their front doors on each side of the car painted white. Then when they get to the track JM Productions assigns them a car number and spray paints it on the white door as well as on a small metal sign affixed to the roof. These are the only people in the country that do it this way. It works well.
The program started on time. They had a good announcer that could be heard over a solid PA system. The program was run very efficiently with qualifying races and a feature event made up of the seven heat race winners and the winner of the consolation race. Your best bet is to take a look at my video as well as my photo album to get a good idea of what the racing was like.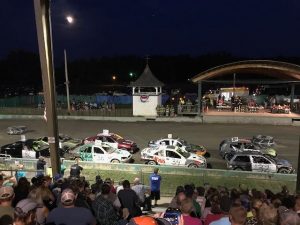 Tonight I will see my 320th lifetime figure 8 racetrack. No one comes all that close to that total. Before I started trackchasing I never ever went to a single freestanding figure 8 event. However, because the hobby of trackchasing decided to add figure 8 racing to its countable configuration list I started going to figure 8 tracks about 15 years ago. As we used to say at Procter & Gamble, "You get what you measure".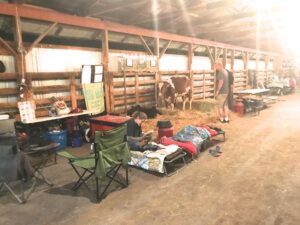 AFTER THE RACES
When the races were finished I took a few minutes to walk the fairgrounds. I checked in on a couple of the farm buildings and commercial exhibits. There wasn't much happening there.
I had hoped to walk around the fairgrounds long enough, 30 to 40 minutes, to get my 4 miles of walking in. I was just too tired to do it. I headed back to the parking lot and then over to the Hillside Motel.
I had flown the better part of 3,000 miles to get here. Then I had driven six hours on 2-3 hours of sleep. That was simply what it takes if you're going to see a figure 8 race in Trumansburg, New York and expect to live in a modest seaside cottage in San Clemente, California. It works for me.
Good night from Trumansburg, New York.
Randy Lewis – 80 countries – 2,486 tracks.

New York
The Empire state
This evening I saw racing at my 81st lifetime track in the Empire state, yes, the Empire state. I've seen 81 or more tracks in ten different states. No trackchaser can match that stat.
Thanks for reading about my trackchasing,
Randy Lewis
World's #1 Trackchaser
Peoria Old Timers Racing Club (P.O.R.C.) Hall of Fame Member
New York sayings:  Schlep
Considering most New Yorkers do not own cars, since it is not essential while living in the city, traveling from point A to point B not within walking distance tends to get old pretty fast. Between finding the correct subway station, figuring out if/when you need to transfer, and attempting to hail a cab when they all seem to be full, there is a huffing-and-puffing level of exhaustion while commuting and traveling for non-work purposes. In New York, this action is called 'schlepping.' Example: I had to schlep from Bryant Park all the way downtown. I'm ready for bed.
QUICK FACTS
LIFETIME TRACKCHASER COMPARISONS 
The threemost important trackchasing comparisons to me are:
Total lifetime tracks seen
Total "trackchasing countries" seen
Lifetime National Geographic Diversity results
Total Lifetime Tracks
There are no trackchasers currently within 665 tracks of my lifetime total.  Don't blame me.
Randy Lewis, San Clemente, California – 2,486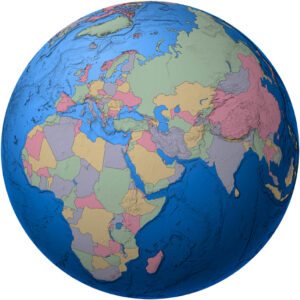 Total Trackchasing Countries
Trackchasing takes me all over the world. There are no trackchasers currently within 25 countries of my lifetime total. 
Randy Lewis, San Clemente, California – 80
Current lifetime National Geographic Diversity results
Randy Lewis, San Clemente, California – 4.14
That's all folks!  Official end of the RLR – Randy Lewis Racing Trackchaser Report
Click on the link below to see the video production from the racing action today.
Click on the link below for a photo album from today's trackchasing day.  You can view the album slide by slide or click on the "slide show" icon for a self-guided tour of today's trackchasing adventure.
Another night of figure 8 racing at one of our nation's county fairs