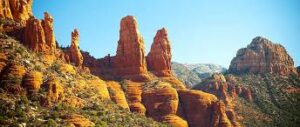 Greetings from Peoria, Arizona
.
.
From the travels and adventures of the "World's #1 Trackchaser"
 .
.
Canyon Raceway –  Track #801
Highlights
GREETINGS FROM PEORIA, ARIZONA,
THE CHASE FOR THE 2004 CHAMPIONSHIP
Here are the 2004 leading trackchasers and number of tracks seen
RANDY LEWIS, San Clemente, California – 119
ED ESSER, Madison, Wisconsin – 100
ROLAND VANDEN EYNDE, Vilvoorde, Belgium – 84
ANDY SIVI, Clairton, Pennsylvania – 67
ROGER FERRELL, Majentica, Indiana – 67
WILL WHITE, Quakertown, Pennsylvania – 62
PEOPLE/TRAVEL NEWS
Just 20 days left in the year and 14 days til' Christmas.  Not much time to get any more new tracks for 2004.
Today starts a rather unusual racing weekend.  Actually, it may be one of my dumber trackchasing plans, at least from a logistics point of view.  On Saturday morning, I was out the door at 4:30 a.m. and bound for LAX.  It is always eerie to see the Goodyear blimp moored just off the 405 freeway when I drive through Carson, California.  Someday I would love to ride in that blimp. 
The guys at my golf club tee off around 7:30 a.m. each Saturday and Sunday morning.  It just kills me to get up at 6 a.m. on a Saturday or Sunday to make that tee time.  Of course, I complain to my friends about having to get up so early.  For some reason, awaking before dawn for trackchasing is not a problem.
The flight to Phoenix marks my 23rd round-trip airplane ticket of the 2004 season for the trackchasing hobby. On the way to LAX, I made a stop in Manhattan Beach to drop off a dolly, no not that kind of dolly.  J.J. is moving this weekend and the dolly will come in handy for him.  Southwest Airlines will take me to the Valley of the Sun for my final trackchasing trip, to Arizona anyway, of the season.
My brother, Mark, will be the chauffer today.  He lives in Chandler, Arizona.  He and I have been on three Arizona racing trips this year.  During that time Mark has racked up five new tracks.
I would like to take a moment to congratulate Hoosier based Roger Ferrell on seeing his 400th career track this past weekend in Virginia.  Four hundred is sort of the unofficial number to be considered a serious trackchaser.  I believe there are now 22 people who have achieved this lofty total.  Getting 400 tracks also enables you to both propose a trackchaser rule and vote on proposed trackchaser rules.  Maybe, Roger has some significant legislative trackchasing agenda he will now present to the group.
Finally, to all those who recognized my 800th track achievement in notes sent over the past week, thank you. 
I hardly ever do any trackchasing in December.  In fact, prior to this year I have only seen three new tracks during December in my entire trackchasing career.  Usually, in December I'm busy with my RANLAY College Football Bowl Pool.  This is a college football bowl betting contest that is in its 27th year.  To date, I have paid out more than $45,000 in prize money.  If you care to check out the contest click on this link.
As the games are played, the results will be updated.  First prize in the contest will pay nearly $2,000.  Not bad for a $25 investment.
RACE TRACK NEWS:
Operation "Trackchase Shock and Awe" continues……….attempting the impossible or at least the very difficult.
The Canyon Raceway figure 8 track is my 801st track to meet or exceed all current trackchaser rules.  This is my 119th track of the season.  This track is my 19th countable track in Arizona.  The Grand Canyon state is the only state that I lead all other worldwide trackchasers in countable tracks.  This is my fourth separate visit to Arizona this year for new tracks and fifth visit for all racing in 2004.
I visited the Canyon Raceway oval track in 2000.  I drove from San Clemente to that race.  I had just been given a very used Ford Taurus as a company car.  That car broke down right in the middle of a busy Phoenix intersection.  Being stuck in that position with 4-6 lanes of traffic coming at you from every direction is not very enjoyable.  I was able to make the race that day by the skin of my teeth after switching to a rental car.  That incident along with several others is why I don't like domestic automobiles.
Since I've already seen the Canyon oval track, today's countable action is on the figure 8 track.  I was a bit concerned about the track fielding enough cars for a figure 8 race.  Occasionally, promoters have to cancel their figure 8 races because not enough or no cars show up to race.  Gary Jacob assured me they would race at the Canyon Raceway.  Why was he so certain?  Both the track promoter and flagman race cars in the figure 8 program.
The weather forecast for rain is 0%.  That's what I'm talkin' about.  The temperature is about 78 degrees.  That's the way life should be in the middle of December.  This was definitely surfer shorts and Spam t-shirt weather.
The Canyon Raceway is in the midst of a special "fall" racing program.  During a 4-5 week period, they will race on Saturday afternoons.  They race on both the oval and the figure 8 track during the fall special.  Last week's program was rained out after the fourth heat.  Today, we'll get to see the balance of last week's postponed program as well as the full program scheduled for today.  This might allow us to see a countable event on the figure 8 track from the rained out program sooner than we would under a normal program.  Quicker is good, because I've got some more weekend plans before I go to sleep on Sunday night.  You'll hear more about that later.
Today at 1 p.m. the track started with the  balance of the program that was rained out from last Saturday, December 4.  The rained out schedule consisted of a few heat races and the feature events.  There were five classes of car racing.  These included:  Pure stocks, bombers, modified midgets, dwarfs with street tires and dwarfs with Hoosier tires (don't even ask).  The figure 8 race would be the sixth class.  With the rained out program being run I thought we would see the figure 8 race from last week's program before they started the heats and features for today's program.  That would have been too easy.
Last week one of our trackchasers said I should probably appreciate my 800th track even more because it was so difficult to get with the rain in Texas and the long trip to Florida.  With all due respect, I see the world from a 180-degree different view.  I don't want things to be hard.  When something comes hard that means my plan failed or became difficult to implement because some part of the plan didn't work out.  Sometimes when things don't go right I've made the mistake.  Sometimes others make the mistake or with racing, Mother Nature intervenes to make the original plan difficult.
I want things to be easy.  I put a lot of time into planning, preparation and implementation.  If I do my job right, everyone else does their job right, and the weather cooperates then things are easy.  It's sort of like the saying, "The harder I work, the luckier I get". 
Today they decided to run two figure 8 races after all of the rained out races were finished and after all the races from today's program were completed.  I asked the flagman why.  He said they were afraid if they ran the rained out figure eight feature in the middle of the program, they might tear up cars and they wouldn't be available for today's originally scheduled program on the oval track.  He turned out to be a prophet.  That meant I would not get a lucky break by having them run the rained out figure 8 race before the entire program of today's races were run.
The Canyon Raceway is located adjacent to an airplane glider port.  Mark and I continually saw gliders being pulled up to altitude by their tow planes.  If the rained out figure 8 had run early in the day, I was going to pack up and treat brother Mark to a glider ride.  I had ridden in a glider in Lake Tahoe earlier this summer and I wanted Mark to have the same thrill.  Unfortunately, we never made it to the glider port.
They didn't finish the rained out program's races until 2:30 p.m.  That put today's schedule behind by one and one-half hours.  With an original start time of 1 p.m., my 7:30 p.m. flight had looked like a safe bet.  Even though we were 40 freeway miles from the Sky Harbor Airport, we should have had plenty of time.
Of course, when the plan starts to fall apart, there is never enough time.  Due to two intermissions, many drivers (especially the dwarfs) who couldn't drive straight, an adult tire race, a children's tire race and a stock car mechanics race we ran the time down to the last few minutes.
We needed to leave the track by 6 p.m. at the latest (five hours after the original start) for me to make my 7:30 p.m. flight.  Even that plan assumed we would have little traffic in a town noted for congestion. 
The first figure 8 feature took to the track at 5:40 p.m.  They never announced how many laps the race was to run.  Based upon the other feature events and car counts, I would guess the race was for ten laps.  Seven figure 8 cars started the event.  In the first couple of laps, two cars dropped out.  With just a couple of laps remaining in the race there was a spirited battle for the lead amongst the top four cars.  The fifth car was about one-half lap behind.  The fifth place car was driven by the track promoter.  He kept lagging behind and making for some very narrow escapes at the figure 8's "X".  One of the spectators next to us said the promoter likes to have near misses so the crowd is entertained.
At about that moment there was a horrendous collision at the "X" between the promoter's car and the leader.  I would estimate the cars were both traveling faster than 50 M.P.H. when the promoter t-boned the leader.  This crash brought out a red flag for the two completely totaled cars.  Are a few minutes it was decided that with only three cars remaining the race would be checkered and considered complete.  They cancelled the scheduled second figure 8 feature.  What a wild finish.  Mark and I were off to the airport.
I arrived 50 minutes before flight time.  In today's new security checkpoint world that's not a lot of time but I made the flight back to LAX.  Getting on that flight was more important than usual.  There were three reasons it was so important.  First, this was the last flight of the night for Southwest Airlines to LAX.  Secondly, if I had to pick another airline after the last Southwest departure I would have to buy another airline ticket.  Thirdly, I had to get back to LAX to make a midnight originating flight.  Where am I going at midnight?  You'll have to read my next trackchasing report to find out the answer to that question!
RACE TRACK FOOD:
Mark and I each had a beer, a Diet Pepsi and some chili nachos.  Our planned dinner at Honeybear's BBQ was cancelled due to lack of time.  Next time, Honeybear's.
RENTAL CAR UPDATE:
No rental car today, as I'll be hitching a ride with brother Mark in his Pepsi racing Oldsmobile Alero.  Mark works for Pepsi in the Phoenix area which explains the sponsorship of his racing Olds.
THE BOTTOM HALF OF THE TOP 10 UPDATE:
The battle for positions 6-10 in the worldwide trackchaser standings is as follows:
Jack Erdman – 863
Randy Lewis – 801
J. Hollebrand – 788
John Moore – 787
Ed Esser – 726
Jack added 35 tracks to his 2004 total.
P.J. is heavily involved in his racecar collectibles business.  The Christmas season
Is heavy volume for him.  I wish P.J. the best of luck for a great Christmas selling season.
John saw 30 new countable tracks in 2004.
Ed has his 100 tracks and says he's done for the year.
CUMULATIVE DRIVING DISTANCES:
Phoenix, Arizona Airport – trip begins
Peoria, Arizona – 44 miles
Phoenix, Arizona Airport  88 miles – trip ends
Cumulative miles driven in rental cars for 2004 trackchasing trips – 25,465
Cumulative miles driven in friend's car for 2004 trackchasing trips – 9095
Cumulative miles driven in our personal cars for 2004 trackchasing trips – 3,729
Cumulative miles driven for all trackchasing trips – 30,189
Cumulative air miles flown for all trackchasing trips – 87,918
Cumulative cruise ship miles for all trackchasing trips – 6,431 (estimated)
Cumulative miles traveled (car, air and ship) for all trackchasing trips – 124,538
Total miles driven in my personal car for all activities in 2004 – 10,116
TRACK ADMSSION PRICES (U.S. DOLLARS):
Canyon Raceway – $11
Total racetrack admissions for the trip – $11
Thanks for reading about my trackchasing,
Randy Lewis
The California Outlaw
That's all the news that's fit to print from San Clemente where the women are strong, the men are good-looking, all of the children are above average and the real estate prices are way above average.
Planned new racetracks (on the last day of each racing trip I will post my tentative plans for my next trip)
I'm sorry that due to competitive reasons, I can no longer post my future trackchasing plans.  My fellow competitor's do not post their future plans which allows them to keep
their trackchasing research results to themselves.  I have been freely sharing all of my trackchasing research since day one.  I even offer an Excel spreadsheet, which lists
every new track racing date opportunity that I know of.  I regret that I will no longer be able to advise my trackchasing peers of where "The California Outlaw" will be trackchasing. 
Effective January, 1, 2005, I will return to sharing my future trackchasing plans.
Racetracks visited in 2004 (** not the first time to visit this track)
Canyon Raceway – Figure 8, Peoria, Arizona, December 11
**     Canyon Raceway – oval, Peoria, Arizona, December 11
Five Flags Speedway, Pensacola, Florida, December 3
Desoto Speedway – Figure 8, Bradenton, Florida, November 28
**     Desoto Speedway – oval, Bradenton, Florida, November 28
**     Desoto Speedway – oval, Bradenton, Florida, November 27
Sebring Raceway, Sebring, Florida, November 27
Carolina Speedway, Gastonia, North Carolina, November 21
Myrtle Beach Speedway, Myrtle Beach, South Carolina, November 20
Roebling Road Raceway, Savannah, Georgia, November 20
North Florida Motor Speedway, Wewahitchka, Florida, November 14
Spring City Speedway, Spring City, Tennessee, November 13
Riverview Speedway, Carthage, Tennessee, November 13
Cochran Speedway, Cochran, Georgia, November 12
Las Vegas Motor Speedway-Road Course, Las Vegas, Nevada, November 7
Firebird International Raceway – West, Chandler, Arizona, October 31
**     I-10 Speedway, Blythe, California, October 30
Atomic Motor Speedway, Oak Ridge, Tennessee, October 24
Cleveland Speedway, Cleveland, Tennessee, October 23
Bronson Motor Speedway-Figure 8, Bronson, Florida, October 22
Bronson Motor Speedway-Oval, Bronson, Florida, October 22
Firebird International Raceway, Chandler, Arizona, October 17
Prescott Valley Speedway, Prescott Valley, Arizona, October 16
Ace High Speedway, Monroeton, Pennsylvania, October 3
Winchester Speedway, Winchester, Virginia, October 2
The Bloomsburg Fair – Figure 8, Bloomsburg, Pennsylvania, October 2
Mercer Raceway Park, Mercer, Pennsylvania, October 1
Lincoln Speedway, Lincoln Illinois, September 27
Clay County Speedway-Oval, Flora, Illinois, September 26
Clay County Speedway-Figure 8, Flora, Illinois, September 26
Crown Point Speedway, Crown Point, Indiana, September 25
Illiana Motor Speedway-Road Course, Schererville, Indiana, September 25
Illiana Motor Speedway-Figure 8, Schererville, Indiana, September 25
Illiana Motor Speedway-Small oval, Schererville, Indiana, September 25
Anderson Speedway – Figure 8, Anderson, Indiana, September 24
**     Anderson Speedway – Oval, Anderson, Indiana, September 24
Southern Speedway, Milton, Florida, September 4
Dog Hollow Speedway, Strongstown, Pennsylvania, August 30
Nelson Ledges, Garrettsville, Ohio, August 29
Airport Speedway, New Castle, Delaware, August 28
Nazareth Speedway, Nazareth, Pennsylvania, August 28
Selinsgrove Raceway Park, Selinsgrove, Pennsylvania, August 27
Farmington V.F.D. Speedway, Farmington, Pennsylvania, August 26
Tonopah Speedway, Tonopah, Nevada, August 21
Sportman's Speedway, Knox, Pennsylvania, August 15
Jennerstown Speedway, Jennerstown, Pennsylvania, August 14
BeaveRun Motorsports Complex-Wilson Circuit, Wampum, Pennsylvania, August 14
BeaveRun Motorsports Complex-Road Course, Wampum, Pennsylvania, August 14
Motordrome Speedway, Smithton, Pennsylvania, August 13
Cuyahoga County Fairgrounds, Berea, Ohio, August 12
Wayne County Fairgrounds, Palmyra, New York, August 11
Pocono Intl Raceway – Road Course, Pocono, Pennsylvania August 10
Butler Fairgrounds, Butler, Pennsylvania August 9
Ninety-Three Speedway, Oak Hill, Ohio, August 1
Jackson County Speedway, Jackson, Ohio, August 1
Sportsdrome Speedway, Jeffersonville, Indiana (figure 8), July 31
Sportsdrome Speedway, Jeffersonville, Indiana (oval), July 31
Gateway International Speedway – road course, Madison, Illinois, Illinois, July 31
Warren County Fairgrounds (oval), Roseville, Illinois, July 30
Warren County Fairgrounds (figure 8), Roseville, Illinois, July 30
Tri-City Speedway (inner oval), Auburn, Michigan, July 29
Tri-City Speedway (outer oval), Auburn, Michigan, July 29
Munger Fairgrounds, Munger, Michigan, July 29
Ionia Fairgrounds, Ionia, Michigan, July 28
Thayer County Speedway, Deshler, Nebraska, July 18
Heartland Park-Road Course, Topeka, Kansas, July 18
Montgomery County Speedway, New Florence, Missouri, July 17
Soggy Bottom Raceway, Greenup, Illinois, July 17
Wayne County Speedway, Wayne City, Illinois, July 16
Music City Motorplex, Nashville, Tennessee, July 15
Clarksville Speedway, Clarksville, Tennessee, July 14
Tri-State Speedway, Pocola, Oklahoma, July 13
Tulsa Speedway, Tulsa, Oklahoma, July 12
Park City Raceway, Valley Center, Kansas, July 11
Heartland Park – Road Course, Topeka, Kansas, July 11
Nevada Speedway, Nevada, Missouri, July 10
Adrian Speedway, Adrian, Missouri, July 10
Bolivar Speedway, Bolivar, Missouri, July 9
Dallas County Speedway, Urbana, Missouri, July 9
U.S. 30 Speedway (small oval), Columbus, Nebraska, July 8
U.S. 30 Speedway (large oval), Columbus, Nebraska, July 8
Butler County Speedway, Allison, Iowa, June 27
Webster County Fairgrounds, Ft. Dodge, Iowa, June 27
Dallas County Fairgrounds, Adel, Iowa, June 26
Butler County Speedway, Rising City, Nebraska, June 25
Hamilton County Fairgrounds, Aurora, Nebraska, June 25
The Speed Bowl, Red Cloud, Nebraska, June 23
Junction Motor Speedway, McCool Junction, Nebraska, June 22
Belle-Clair Speedway, Belleville, Illinois June 13
Charleston Speedway – Road Course, Charleston, Illinois June 13
**     Eldora Speedway, Rossburg, Ohio, June 12
Doe Run Raceway, Doe Run, Missouri, June 11
Fredericktown Raceway, Fredericktown, Missouri, June 11
Highland Speedway, Highland, Illinois, June 8
Pine Ridge Speedway, Baldwyn, Mississippi, May 29 (Carol's #153)
Memphis Motorsports Park-Road Course, Memphis, Tennessee, May 29 (Carol's #152)
Simpson County Speedway, Mendenhall, Mississippi, May 29 (Carol's #151)
Southern Speedway, Hattiesburg, Mississippi, May 28 (Carol's #150)
**     Charleston Speedway, Charleston, Illinois, May 22
Coles County Speedway, Loxa, Illinois, May 22
Lincoln Trail Motorsports Off Road Park, Casey, Illinois, May 22
Warren County Speedway (oval track), Indianola, Iowa, May 21
Warren County Speedway (Figure 8 track), Indianola, Iowa, May 21
Firebird International Raceway – East Course, Chandler, Arizona, May 2 (Carol's #149)
Pagota Motorcycle Club, Birdsboro, Pennsylvania, April 25
Mahoning Valley Speedway, Lehighton, Pennsylvania, April 24
Shellhammer's Speedway, Leesport, Pennsylvania, April 24
Hill Valley Speedway, Orbisonia, Pennsylvania, April 24
Thunder Alley Speedpark, Evans Mills, New York, April 22
Belle Vue Greyhound Stadium, Belle Vue, United Kingdom, April 12
Buxton Raceway, Buxton, United Kingdom, April 12
Brampton Raceway, Brampton, United Kingdom, April 12
York Autograss, York, United Kingdom, April 12
Sheffield Stadium, Sheffield, United Kingdom, April 11
Blyton Raceway, Blyton, United Kingdom, April 11
Hunmanby Raceway, Hunmanby, United Kingdom, April 11
Skegness Stadium, Skegness, United Kingdom, April 10
Silverstone, Silverstone Circuit, Silverstone, United Kingdom, April 10
Mildenhall Stadium, Mendenhall, Suffock, United Kingdom, April 9
Bovingdon Circuit, Bovingdon, Hertfordshire, United Kingdom, April 9
Sunshine Speedway (figure 8), Pinellas Park, Florida, April 3
**     Sunshine Speedway (oval), Pinellas Park, Florida, April 3
Lubbock Motor Speedway, Lubbock, Texas, March 21
Thunderbird Speedway, Crandall, Texas, March 20
Kennedale Speedway Park, Kennedale, Texas, March 20
Texas World Spdwy (Road Course), College Station, Texas, March 20
Heart O' Texas Speedway, Waco, Texas, March 19
**   Central Arizona Raceway, Casa Grande, Arizona, January 20