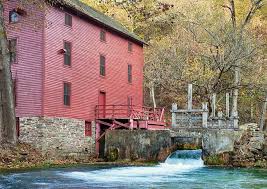 Greetings from West Plains, Missouri
.
.
From the travels and adventures of the 
"World's #1 Trackchaser"
.
.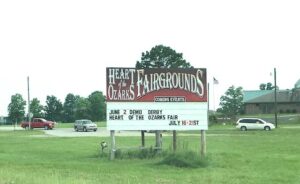 Heart of the Ozarks Fairgrounds
Dirt figure 8
 Lifetime Track #2,445
The EventVideo PlusPhotos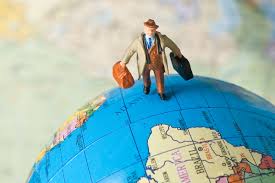 THE EVENT
I am a "trackchaser". So, what the heck is that? I get that question all the time from racing and non-racing people all the time. Here's my best answer.
I'm a racing fan. I love to travel. I love to analyze opportunities to get the most out of everything while saving time and money.
Trackchasing fills the need for all of the above. The racing part of my trackchasing has me trying to see wheel to wheel auto racing at as many different racetracks as I can all over the world. So far that is going pretty well. I've seen racing at more than 2,400 tracks in 80 countries. As a matter of fact, I've seen racing at more tracks than anyone else in the world.
Equally important to me are the things I get to see and experience over the "long and dusty trackchasing trail". I called these adventures "Trackchasing Tourist Attractions". You won't want to miss my "Trackchasing Tourist Attractions" page or my "Sports Spectating Resume" page on my website at www.randylewis.org.
I live in southern California. Most of the racetracks in the U.S. are located well over 1,000 miles from where I live. As a matter of fact, my average trip covers 5,000 miles and more. I take 35-40 of those trips each season. In any given year I will travel well over 200,000 miles, rent more than 50 cars, and stay in more than 150 hotel rooms.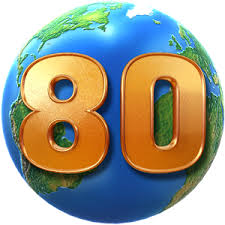 I get the chance to meet people all over the world. With trips to 80 countries and counting just getting the chance to experience so many other cultures, spend times in their homes and meet their friends is a huge reward for being in this hobby. I am indebted to several of these folks for their help and friendship.
It's takes a good deal of planning to do the above and not spend my entire retirement portfolio. I enjoy the challenge, the travel and every other aspect of "trackchasing".
Today's adventure was one more of the 2,000 trips that have taken me up, down and around the long and dusty trackchasing trail. If you would like to see where I've been and experience those adventures here's the link: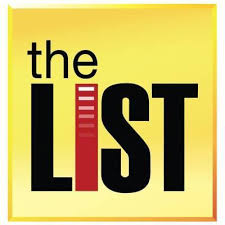 If you've got a question, comment or whatever please leave it at the bottom of this report.  It's very easy to do.  Or you can visit me on Facebook.  Thanks!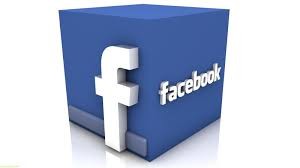 FOREWORD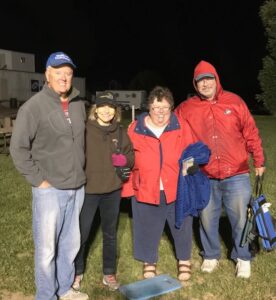 Saturday, June 2, 2018.
Carol and I woke up this morning in Dekalb, Illinois. We had trackchased with my sister Becky and her husband Bob in northern Wisconsin last night. Dekalb is the city where she and I first met. Dekalb is home to Northern Illinois University. Carol and I are both proud graduates of NIU. We did it in four years each and with no after school debt! It been 51 years since we both went off to college. It seems like yesterday or at least last month.
Today we had a seven-hour drivethat would take us down to West Plains, Missouri. The figure 8 racing we were after was scheduled to begin at 7 a.m. We left Dekalb at 9 a.m. This would give us two hours of "free" time for pitstops, food and the like.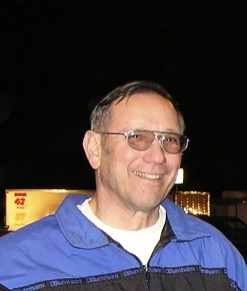 I have a strong desire to see a new track in Missouri tonight. As this is written I have seen racing at 40 Missouri tracks. The Missouri state trackchasing leader is my old buddy and now deceased Ed Esser. Mr. Esser has seen 45 tracks in the Show Me state. Maybe someday I will be able to meet and exceed his total. If he couldn't be the leader I'm pretty sure he would be quite happy that I might be able to do that.
However, we had a little bit of weather problem. As I looked at the 10-day weather forecast for West Plains, Missouri there was only one three-hour period where it looked like there was about a 100% chance of rain over the next 10 days. Of course, that was from 4-7 p.m. tonight, race night. Just lucky I guess.
Yesterday I talked with Gary Jones, the promoter and sole owner of J&B Promotions. His group sanctions figure 8 racing and demolition derby all over the state of Missouri. I met Gary a couple of years ago. I've seen him at several of his productions by now. He's always happy to see that a California trackchaser is willing to show up and enjoy an evening of Missouri figure 8 racing.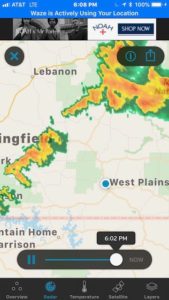 It was fun watching the weather radar today using my Wunderground weather app. Not only was the West Plains radar green with precipitation but also yellow and red. Yellow is hard rain and red is really hard rain.
There was a long vertical rectangle of rain moving across the state of Illinois bringing heavy precipitation. Luckily as we drove from northern Illinois through Springfield and then St. Louis we just barely missed most of that rain.
I could see the southern tip of all of that bad weather was about 20 miles north of where we were headed in Missouri. I thought if we missed that rain we were in the clear. Not exactly.
At a little past our normal lunchtime we sought out a place to eat. The Midwest used to be a complete wasteland for ethnic restaurants, especially Mexican restaurants. Over the past few years that has changed dramatically. Now lots of buildings have lost their original tenants and are popping up as Mexican eateries.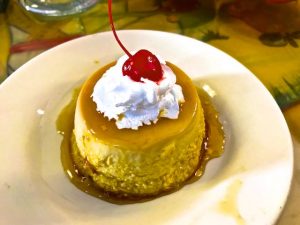 Today we stopped at a place called El Potro. I didn't even use Yelp to find it. We were actually looking for an Arby's but when that proved to be unsuccessful El Potro popped up on the other side of our windscreen. It was worth the visit. The flan (above) was spectacular.
Today we were driving almost exclusively on interstate highways. Carol took over the driving responsibilities for a few hours. That doesn't happen all that often. While she drove I was on my computer making future hotel reservations including tonight's stay at the Hampton Inn in West Plains, Missouri.
The Hampton Inn brand has been upgraded from a dowdy run-down hotel chain brand to a really nice property. Today's Hampton Inn cost us just $94 and was less than a-year-old. It was only 3 miles from tonight's racing location. That made the hotel's location and price an excellent choice.
I saw the $94 price on Booking.com.I figured if I called the hotel directly I might be able to beat that price. My logic was, if they made a reservation directly with me they wouldn't be paying any fees toBooking.com. Maybe theycould pass along some of those savings to me. That did not prove to be the case.
The price I was quoted on the phone, speaking directly with the hotel, was $109 per night. I pointed out thatBooking.com had a lower price by 15 bucks. The clerk, an employee only and therefore not a real decision-maker, could only say "sorry can't do anything about that." I told him I would book withBooking.com which is exactly what I did.
So what did that mean? It meant the hotel would likely net about 80% of what I paid Booking.com or maybe $75. They could have offered me a rate of $85 and made an extra ten dollars for themselves. That's win/win. Maybe there's a training opportunity for the Hampton Inn in West Plains, Missouri.
During the day the high temperature in West Plains at one point was 94° with a "feels like" temperature of 107. What does that mean? It was not only hot but it was humid!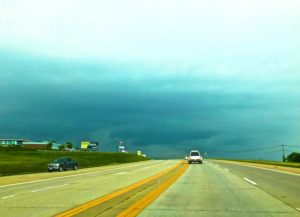 We had driven past the fairgrounds at 6 p.m. on the way to the hotel. We saw that a large crowd was already in the parking lot and more people were coming in by the minute. Bad weather was approaching. We didn't get to the fairgrounds until about 10 minutes before race time, which was 7 p.m.
THE RACING
Heart of the Ozarks Fairgrounds – West Plains, Missouri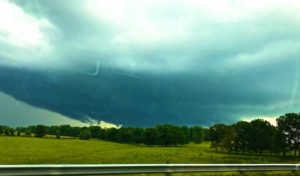 The heavy rain was forecasted to hit the fairgrounds at 7:30 p.m. We paid our $15 general admission fee. I asked the ticket seller what the "rain out" policy was going to be. Despite extremely threatening skies he looked at me as if I were speaking Hebrew. I told him not to worry about it we would figure it out.
Luckily, the Heart of the Ozarks Fairgrounds has a large covered grandstand. It was almost full but had room for two more Californians. We grabbed a spot right in the center of the grandstands and only a few rows from the top.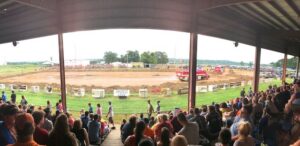 On the one hand, given the impending heavy rain coming our way, we were more than fortunate to have a roof over our heads. On the second hand, it was so hot and humid with absolutely no breeze up in the stands that I questioned whether or not it would be better to get drenched or die of heat stroke.
Just a few minutes before the official start time, I walked over into the pit area to say hi to Gary Jones, the promoter. Although he was really busy he took the time to say hello and give me a nice Missouri greeting. He introduced me to the announcer and a little bit later on we did about a 90-second interview about my trackchasing visit.
Since I was in the pit area I took the opportunity to scope out tonight's racing competitors. I took several photographs and video clips while observing the situation.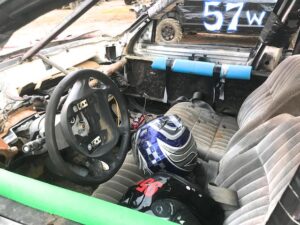 I didn't have a pit wristband. I figured if anybody gave me any trouble I could simply drop Gary Jones's name and I would be safe. Yes, it pays to know people and I know people.
I returned to the grandstand where Carol was saving my seat. As soon as the green flag dropped on the first figure 8 heat race, the Heart of the Ozarks Fairgrounds was instantly placed on our lifetime trackchasing lists. That's always a fun moment in the racing program.
I never like to tell you too much about the racing action itself. Why is that? I think the photographs and especially the YouTube video I produce will handle that responsibility more than adequately. I will say this. I think the four-cylinder Missouri figure 8 racing is as good or better than any small car four-cylinder figure 8 racing in the country.
It looked as if all of the bad weather that could be seen on my iPhone's radar was going to miraculously split in half. It was pretty much like the parting of the Red Sea. It looked like the bad weather was going to miss the fairgrounds! The announcing staff took the plastic garbage bags off of the huge speakers. Yep, the rain had missed us. I think a lot of people thought that. They were incorrect.
More than half of tonight spectators were seated in the covered grandstand. However, there were a substantial amount of racing fans who sat in small uncovered bleachers, stood or brought their lawn chairs to watch the activity. It was those folks who were in for a rude surprise.
Out of the blue, a gully washer arrived at the fairgrounds. It sounded probably worse than it was on the tin-roof of our covered grandstand. I will tell you this. The people who were not seated under roof ran for their wet lives. It was fun to watch from the grandstands. Sometimes people delight in watching other's miseries. That's the theory of our national news broadcasts anyway. Lots of people, me included, broke out their cell phones to catch these folks running for wherever.
Almost as quickly as the rain came it stopped. It rained really hard but for only two or three minutes. It was just enough to give the demo derby ring a good wet down.
The rain cooled off the hot and humid conditions inside the grandstand by just a little bit. However, it was much more comfortable watching the racing from outside the grandstand temperature wise. It was just risky.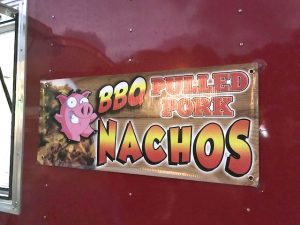 I volunteered to seek out refreshments while Carol saved our seats in the grandstands. I came back with a pulled pork sandwich, pulled pork nachos and a nice five-dollar bag of kettle corn.
Folks seated around us were admiring our concession purchases. Two groups asked where we bought what we bought and what did it cost. I knew, when I got our food, they were running out of things fast. A normal looking couple got up to go get something to eat. The guy said to me, "Save our seats, unless the guy is a lot bigger than me". I attempted to do just that but the couple never came back. That was rude.
At that point we enjoyed three demolition derby standard car heat races. Each one of these started about ten cars. They qualified three or four from the DD heat into the feature to be run later in the evening. Some of these demos, when they get down to the last few cars on a wet track, can take a lot of time. Sometimes the racing surface is too slick for the drivers to get much traction and therefore hit anyone with much speed.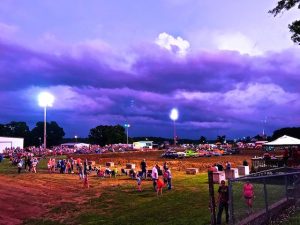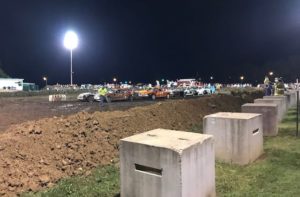 I elected to watch the 12-car figure 8 feature race at ground level. That was a great view. I think you're going to like the video. Carol watched from the grandstand. I told her that when this race finished we would head for the exit. It was 10 p.m.
We had been at the fairgrounds for more than three hours and seen all of the figure 8 racing being offered tonight. When Carol came down from the grandstand there were two things that would become obvious as we looked back on the situation.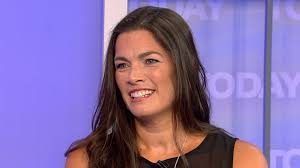 It looked as if Carol had pulled a "Nancy Kerrigan" on me. You might recall Nancy Kerrigan getting whacked on the knee, just a few weeks before her Olympic skating opportunity, by some of Tonya Harding's pals. For some reason Carol now had an extremely bum knee. We had no idea how this happened. This seemed to come out of the blue as she hobbled about in pain.
AFTER THE RACES
When Carol come out of the grandstand following the excitement of the conclusion of the figure 8 feature event I guess things got a little hectic for her especially since she could hardly walk. Additionally, Carol likes to please people. One of the ways she does that is to not only clean up her trash but everyone else's trash sitting nearby. I never do that. I tell her that I am not going to be held responsible for the venue laying off their cleaning people because I cleaned up everybody's trash. Am I being lazy or looking out for other people's well-being?
With a bad knee and her hands full of trash, her purse and our two foam rubber seat cushions Carol forgot to bring a nearly full bag of kettle corn with her. I guess I could have helped her bring some of this stuff down. However, my two hands were full holding my iPhone.
Luckily for me Carol is of bohemian dissent. That's right! Her forefathers emanated from Eastern Europe. Mine came from Western Europe. What does all of this mean? It means that Carol is very frugal. I should be thankful for that. I am.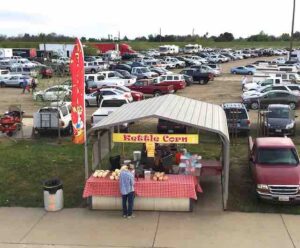 Carol was quite distraught over mistakenly leaving behind a three-quarters full bag of kettle corn. I felt that I was going to be able to make it through the rest of the evening with this news. However, she was beating yourself up over the lost opportunity with our kettle corn. (She interjects at this point that the kettle corn was for the trip in the car later on in the trip.) Of course, she is right. It would've been most enjoyable to have that kettle corn but it was lost and it appeared to be lost forever. I felt it was time to move on.
Despite all of the late evening excitement we had a great time at the fairgrounds. We got very lucky with the weather. It could have rained really hard for a really long time based upon the weather radar. It was nice to be able meet up with Gary Jones again. He's a real nice guy. We had added another figure 8 track to our lists. That's always a good thing.
We were going to have to deal with Carol's bad knee. It wasn't something that seemed like it was not going to come and then go away as quickly as it had become a problem. We had resigned ourselves to the permanent loss of our kettle corn. We were tired from the day's long drive. Because it was time we headed back to our lovely hotel, the Hampton Inn in West Plains, and went to bed.
Good evening from West Plains, Missouri
Randy Lewis – 80 countries – 2,445 tracks.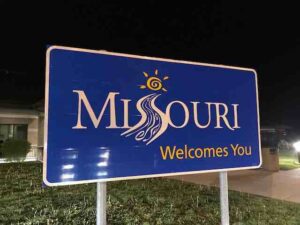 Missouri
The Show Me state
This evening I saw racing at my 41st lifetime track in the Show Me state, yes, the Show Me state.  I hold the #2 trackchasing ranking in Missouri. However, I am on the case and that might change soon, maybe even in 2018.  I've seen 41 or more tracks in eighteen different states.
Thanks for reading about my trackchasing,
Randy Lewis
World's #1 Trackchaser
Peoria Old Timers Racing Club (P.O.R.C.) Hall of Fame Member
Missouri sayings:  Sack
Not a bag, Missourians carry their groceries home in a paper sack.
QUICK FACTS
LIFETIME TRACKCHASER COMPARISONS 
The threemost important trackchasing comparisons to me are:
Total lifetime tracks seen
Total "trackchasing countries" seen
Lifetime National Geographic Diversity results
Total Lifetime Tracks
There are no trackchasers currently within 645 tracks of my lifetime total.  Don't blame me.
Randy Lewis, San Clemente, California – 2,445
Total Trackchasing Countries
There are no trackchasers currently within 25 countries of my lifetime total. 
Randy Lewis, San Clemente, California – 80
Current lifetime National Geographic Diversity results
Randy Lewis, San Clemente, California – 4.14
That's all folks!  Official end of the RLR – Randy Lewis Racing Trackchaser Report
Click on the link below to see the video production from the racing action today.
Click on the link below for a photo album from today's trackchasing day.  You can view the album slide by slide or click on the "slide show" icon for a self-guided tour of today's trackchasing adventure.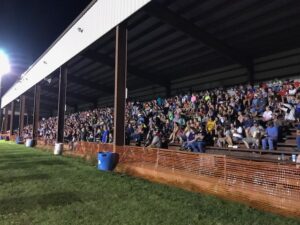 Just about rained out….but we made it!