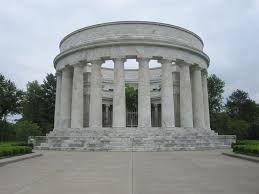 Greetings from Marion, Ohio
.
.
From the travels and adventures of the 
"World's #1 Trackchaser"
.
.
Marion County Fairgrounds
Dirt figure 8
Lifetime Track #2,345
The EventVideo PlusPhotos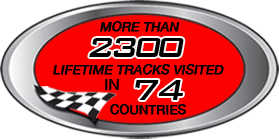 THE EVENT
I have had the opportunity to follow my trackchasing hobby all over the world. As this is written I have seen racing in 74 countries. My lifetime track total exceeds 2,300. Each and every year I will trackchase in 25-30 states.
At track #1,040 I moved into the "World's #1 Trackchasing" spot. Here's the funny thing about that. I was perfectly content to remain in about seventh place in the worldwide trackchasing standings. Then I had rotator cuff surgery, which knocked me out of golf for about six months. With no golf and time on my hands I turned up my trackchasing by a notch or two. I discovered I liked MORE trackchasing and LESS golf. It didn't take all that long to move up to the top of the world trackchasing standings at that point.
Did you know that Carol and I lived in Ohio back in the day? That's right. In 1974 my company offered up a promotion for us to move to Cincinnati. We lived in Fairfield, Ohio. Our hometown track was the Queen City Speedway in nearby West Chester.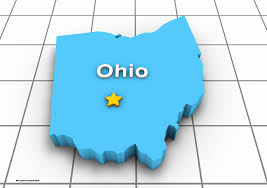 Tonight I was returning to the Buckeye state to see my 80th lifetime track here. I've seen 80 or more tracks in nine different states. Do you know how many trackchasers can say they've done that? No, really do you know? The answer is…..wait for it….none!
My hobby is not only about racing. Trackchasing for me centers around three things. The racing part is pretty obvious. However of equal importance is the logistics of trackchasing and the opportunity to see the world.
I live in Southern California. The vast majority of tracks are located in the Midwest and East. It takes a good deal of logistical planning to get from where I live to where the tracks are. For the past 15 years I have traveled about 175 nights each and every year. Surprisingly to some, more than half of those overnights were not part of trackchasing.
Then there's the travel just for the fun of seeing new things. You won't want to miss my "Trackchasing Tourist Attractions" page or my "Sports Spectating Resume" page on my website at www.randylewis.org. That will give you some understanding on how important seeing the world is with my hobby.
Today's adventure was one more of the 2,000 trips that have taken me up, down and around the long and dusty trackchasing trail. If you would like to see where I've been and experience those adventures here's the link: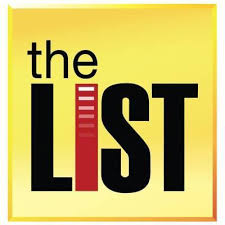 If you've got a question, comment or whatever please leave it at the bottom of this report.  It's very easy to do.  Or you can visit me on Facebook.  Thanks!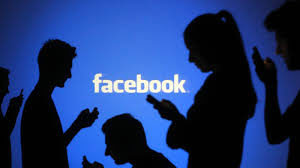 FOREWORD
Last night I slept overnight in a Massachusetts Turnpike highway service center. It wasn't much of a sleep. I pulled in at about midnight and left at 2:30 a.m. for Boston's Logan International Airport.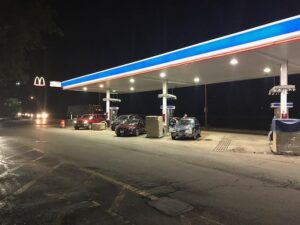 The service center was only a 30-minute drive from the airport. I was flying standby on a flight departing for Chicago's O'Hare airport at 5 a.m.
I returned the National Car Rental Racing Nissan Maxima with 703 miles on the trip odometer. I'm a big fan of the Maxima. I used to like the Hyundai Sonata (I still do) but the Maxima is another class or more upward. The car gave me 29.2 miles per gallon. That's good enough.
I made the flight from Boston over to Chicago but it wasn't as easy as I thought it was going to be. At the last minute the flight tightened up a good deal. I'm not sure what I would have done if I had not been able to get back to the Midwest today. I've got a lot of trackchasing and some friends to meet as well in the Midwest.
Because I boarded the plane amongst the last of the passengers I had to check my rolling bag. I don't like to do that. Today I had no choice. Carrying my computer case without the rolling wheels of my carry-on case is a recipe for back trouble.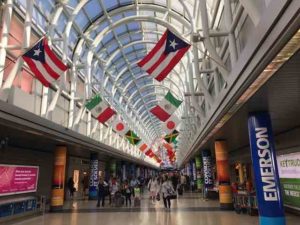 I landed in Chicago's O'Hare International Airport at 6:45 a.m. I've flown into O'Hare a million times maybe more. It was too early to pick up my rental car.
What do I mean "too early" to pickup my rental car? My return time dictates when I pick up my car! If I know I'm going to return my car at 9 a.m. on whatever day, as an example, I don't want to pick it up before 9 a.m. If I got my rental car at 6:45 a.m. this morning I would pay nearly an extra day's rental car charge. Yep. There is lots of strategy in my hobby.
I also didn't want to leave security to retrieve my bag at this hour. The best place to relax for the next couple of hours would be in the American Airlines Admirals club. That being the case I didn't pick up my bag and went directly to the Admirals Club.
If I left the secured area of the airport to get my bag I wouldn't be able to come back to the "airside" of the terminal to enjoy the Admiral's Club. My hobby is about both managing expense AND enjoyment/comfort.
In the club I picked up a breakfast snack and opened my laptop. I've told you a million times that I trackchase just a little bit differently than everyone else. My methods have served me particularly well.
The first thing I did was to go on Priceline.com and reserve a hotel room in Dayton, Ohio. I picked up an Extended Stay America property for about 30% off the regular price. Sometimes these hotels can be pretty expensive for what they are. I normally pay about $50-$60 including tax when the going rate is more like $80-$100 per night. You can use the same hotel room buying strategies that I do. Pretty much everything I talk about is explained in detail on my website.
National Car Rental is my normal rental car choice. However, sometimes their prices begin to creep up. Even though they give me sponsorship rebates sometimes even that isn't worth renting from them.
Once in a while I use Costco Travel. They'll give me a good price once in a while. They did on this trip.
However, just to be sure I challenged Costco Travel's Alamo Rental Car price first on Priceline and with a return call to National. When I confirmed that I couldn't beat the Alamo price my morning work was complete.
I wish I'd kept track of all of the money that I have saved doing these little "extra" efforts. I would think that $20 here and $40 there begins to add up when you do it every week for years and years and years. I'm sure I've saved enough to pay for a brand-new Lexus SUV and maybe a lot more.
By the time I got down to retrieve my checked airline bag, about two hours after we landed, it had already been placed away in storage. At least it hadn't walked off with some other passenger.
I hopped on the National Car Rental/Alamo Rental Car bus. It was just the driver and me. His name was Steve. Steve was a real hoot. He fancied himself as a food connoisseur and maybe he was. After he gave me so much information in a radio style voice over the bus PA system I felt obligated to tip them. Nice guy, but a little weird. I enjoyed his company.
As an executive elite member of the National Car Rental frequent renter program my rental car experience is much different than most people. I don't have to deal with rental car agents at the counter. I don't have to go through the whole rigmarole regarding insurance, gas fill ups, GPS and the like.
I don't have any "status" with Alamo. That meant I had to schlep over to the rental car counter just like your average Joe. With regard to travel I don't care much for what the "average Joe" has to go through.
I was told that I could get a toll road transponder for 10 bucks a day. That wasn't exactly true. By the time they added on the taxes I was paying $13.50 per day. I would have my car for three days. That meant the transponder was going to cost me 40 bucks.
I'm not sure that I'll spend $40 on tolls in the next three days. However, the toll pass is good for every toll road all the way out through New York that accepts EZPass. In Illinois people who don't have a toll transponder pay twice as much as the folks who do.
I don't know why I haven't done this before. I think I'm going to go online and try to order my own EZPass transponder. I'll check out whatever fees are involved. I'm not sure the transponder will work with a variety of rental cars. Over the years I have rented a toll transponder very infrequently.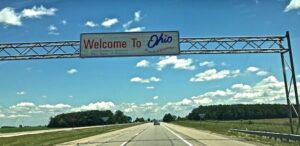 It was going to be a five-hour fifteen-minute drive from the airport in Chicago over to Marion, Ohio. Marion is the sight of tonight's county fair figure 8 racing activity. I would also lose an hour moving from the central to the eastern time zone.
July is county fair season. There aren't as many county fair options for me to visit as there used to be. That only makes sense. I've been to more than 300 county fairs with my trackchasing hobby. However, there are still quite a few left to explore. More and more are popping up in the Far West. I like to see those simply because I haven't been to all that many in that part of the country.
Last night's rain out in Howes Cave, New York was disappointing. Anytime I get rained out I'm disappointed. However, I just as easily could have been rained out the night before as well in Plattsburgh, New York. It was better that I saw the big Super DIRTcar Series race at the Airborne Park Speedway than a kart show at the Dodge city speedway. I'll be back to get that one someday. No disrespect to any track.
Today's weather in Ohio is going to be good. There would be blue skies with high temperatures targeted at about 80°. For July in the Midwest that's a very reasonable weather situation.
THE RACING
Marion County Fairgrounds – Marion, Ohio
I pulled into the Marion County Fairgrounds at 6 p.m. The place was already packed. It was going to get even more crowded.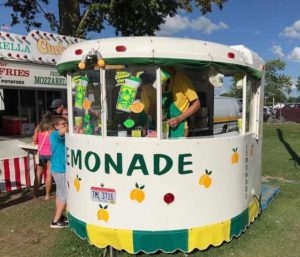 I was an hour and a half early for the 7:30 p.m. start of the demolition derby and truck figure 8 racing. This gave me plenty of time to explore the animal barns. That's something I do at every county fair I visit.
I didn't really know if the fair was just starting or just ending. Most fairs last about 4-7 days. Our Orange County Fair back home goes for nearly a month albeit with a couple of days off each week. July is the biggest month for county fairs. Mid-July through the end of July and maybe the first week of August is the heaviest part of the fair season. However there are fairs that run even later including one of my favorites, the Illinois state fair down in Springfield, Illinois.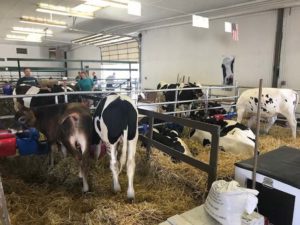 Admission to the fair was just eight dollars. Carnival rides would be extra but there weren't that many rides at tonight's get together. My general admission ticket also included getting into the huge covered grandstand for the motorsports action at no extra charge.  There was plenty of time to explore the fair and the animal barns.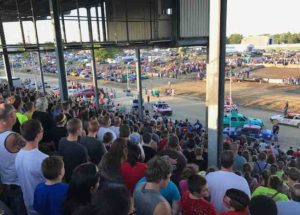 I elected to go up into the top row of the grandstand at about 7 p.m. I'm glad I did. Just a few minutes later the entire grandstand was full. There was also additional seating around the demo ring. Lots of people stood as well. This was a very well attended event.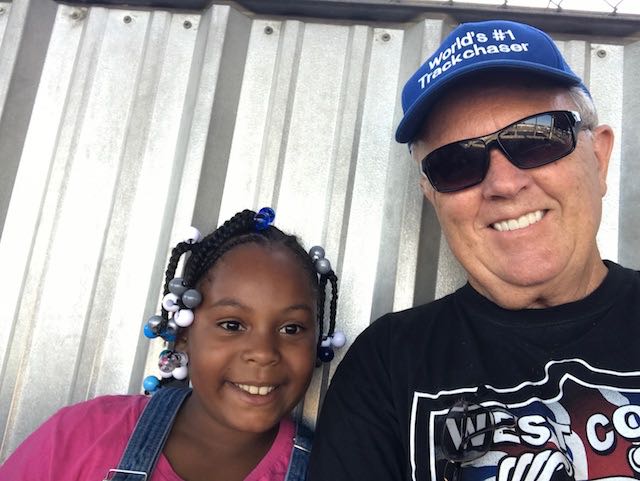 They started a little late. But when they did start they began with a 21-car stock demolition derby feature event. I was prepared for this event to go on for a while. Actually, it didn't last that long. In the space of 10 or maybe 15 minutes the winner, the last man running, was declared from this huge starting lineup.  All during the night folks kept running up and down the grandstands for food and drink.  I had a special little friend sitting next to me.  She had some of the best ideas on how to do things I've ever heard.
I think they were going to have two more demolition classes competing later on. Luckily for me the next event was for the truck figure 8 racing class. These two races accommodated a total of 13 small pick-ups. The top four in each of the heats moved on into the truck figure 8 feature.
I will tell you this. There are two general classifications that meet the trackchasing rules that are just about the least entertaining of anything that is allowed.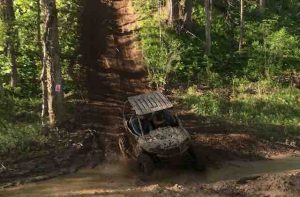 One of those is the UTV event where the competitors start in a clearing and run off into a heavily wooded area. Usually the UTVs are out of sight for 80-90% of a single lap. I've done my best to avoid those shows after seeing a few. There just isn't much bang for the spectator buck with these "shows".
The second of these situations that I am not a big fan of is the overly watered county fair figure 8 "demo derby". Here the cars rush, at about 5 miles an hour, down into the first turn. Then…everyone gets stuck! Nope. Those are not very entertaining.
That was the case tonight with the first heat race. The track was way too muddy. There wasn't much action at all. At the end it looked more like a demo derby than a figure 8 race.
However, by the time the second heat race for the truck figure eights began the track was a little more manageable. They actually "raced". No, it wasn't the Daytona 500 or the World 100 or the Winchester 400. The second race was a little bit more entertaining than the first race.
I had now been at the fairgrounds for more than three hours. The truck figure 8 feature race was going to be run later after at least one or maybe two demolition events. If I stayed for all of that I would be in the grandstands for another 2 hours. I wasn't up for that. I bade farewell to the Marion County Fairgrounds. Lifetime truck #2,345 was in the record books.
AFTER THE RACES
Much of the drive back toward Indiana was on rural two-lane highways in Ohio. I'm not a big fan of doing that kind of driving on Saturday nights at 10:30 p.m. There are just too many crazies out on the roads then.
When I checked into the Extended Stay America in Vandalia, Ohio I encountered something I don't think I have ever experienced. That means, in more than 5,000 nights of hotel stays, this had never come up. The desk clerk was out of plastic hotel room keys.
That being the case she simply escorted me up to my room. She told me that we could "deal with it" in the morning. That was fair enough. Last night I had slept in a Massachusetts Turnpike service area. A hotel bed was going to feel mighty fine tonight as my good friend Charlie Garrett used to say.
Good evening from Marion, Ohio.

Ohio
The Buckeye state
This evening I saw my 80th lifetime track in the Buckeye state, yes the Buckeye state. I hold a top 10 trackchasing spot in Ohio. I've seen 80 or more tracks in nine separate states.
Thanks for reading about my trackchasing,
Randy Lewis
World's #1 Trackchaser
Peoria Old Timers Racing Club (P.O.R.C.) Hall of Fame Member
Ohio sayings: Sneakers and athletic footwear are strictly "tennis shoes" here.
QUICK FACTS
LIFETIME TRACKCHASER COMPARISONS 
The three most important trackchasing comparisons to me are:
Total lifetime tracks seen
Total "trackchasing countries" seen
Lifetime National Geographic Diversity results
Total Lifetime Tracks
There are no trackchasers currently within 600 tracks of my lifetime total. Don't blame me.
Randy Lewis, San Clemente, California – 2,345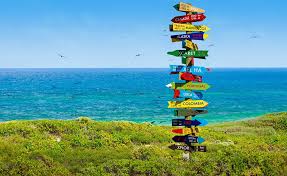 Total Trackchasing Countries
There are no trackchasers currently within 20 countries of my lifetime total.
Randy Lewis, San Clemente, California – 74
Current lifetime National Geographic Diversity results
Randy Lewis, San Clemente, California – 4.37
That's all folks! Official end of the RLR – Randy Lewis Racing Trackchaser Report
Click on the link below to see the video production from the racing action today.
Click on the link below for a photo album from today's trackchasing day.  You can view the album slide by slide or click on the "slide show" icon for a self-guided tour of today's trackchasing adventure.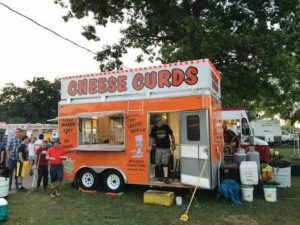 Let's go to a typical midwestern county fair….come on….let's go