Greetings from Marshalltown, Iowa
.
.
From the travels and adventures of the "World's #1 Trackchaser"
.
.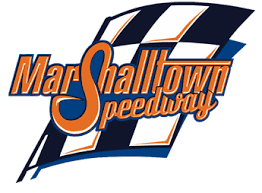 Marshalltown Speedway
Dirt oval
Lifetime track #28
Highlights
The Marshalltown Speedway in Marshalltown, Iowa is officially listed as my 28th-lifetime track. Marshalltown was just the seventh-ever track I visited to see racing at in the Hawkeye State. I've seen racing at more than 100 tracks in Iowa.
I did not begin writing my famous "Trackchaser Reports" until the middle of the year 2000.  My first official Trackchaser Report was written for track #425, the State Fair Speedway in Sedalia, Missouri.  I saw that track with my brother Mark on May 28, 2000.
Before 1980, I never kept track of when I went to a track. I just know from memory that I had seen racing at 71 different racetracks from when I was born in 1949 through the 1979 season. This was affectionately known as the "Group of 71". Marshalltown Speedway is one of those cherished tracks in the "Group of 71" club.
You see when I first became a racing fan I never gave the idea of "trackchasing" a passing thought. Why? Trackchasing requires the funds to travel long distances. I grew up poor. We had no money for travel. The ONLY vacation I can ever remember taking until I was in college was a bus trip from Peoria, Illinois to Evansville, Indiana to visit my grandparents. We had absolutely no money for luxuries and travel was a luxury.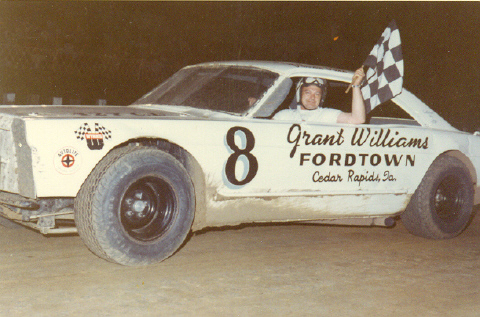 I began my racing fan "career" as a "racechaser". How did I decide beginning in college and running through the early 80s where I would go to the races? That was easy! I simply followed my favorite drivers. I scoured the Hawkeye Racing News for advertised race dates. I followed my favorite dirt driver, Darrell Dake, all over his home state of Iowa and my home state of Illinois. We were big Dick Trickle fans. When he was racing at a big show we tried to make it there. Yep. I was a racechaser. I didn't give a second thought to whether I was visiting a new track or not.
However, somewhere in the 80s, I decided I liked going to a track for the first time more so than re-visiting a track for the 10th time. It was also about this time that Darrell Dake was slowing down his race schedule and Dick Trickle was moving from the midwestern short tracks to NASCAR. Of course, during the 60s and 70s, I was a regular at my hometown track, the Peoria Speedway. To this day the Peoria Speedway remains my all-time favorite track.
Much of what I can tell you about the Marshalltown Speedway is from memory. I went there during my first year of employment with Richardson-Vicks Inc. That would have been from July, 1972 to late summer, 1973.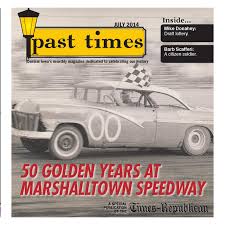 Today the Marshalltown Speedway is one of the best tracks in the country and in the United States. Back in the early 70s, it wasn't doing so well. The one and only note I made from that visit was, "smallest crowd ever". As a matter of fact, the promoter had a very unusual meeting with the drivers before the races began. He said something to the effect, "I've only collected $658 tonight. I can give the crowd their money back or we can race for that $658." It was then that noted Iowa racing legend, Ed Sanger piped up, "If we ever want to build up the crowd we need to race!". They did.
I gathered this information from the Marshalltown Speedway website. They continue to race in 2020 as a much more successful track than when I visited nearly 50 years ago. Good on them.
Terrain:
High Banked 1/4 Mile Clay Oval
Located on Central Iowa Fair Grounds
Times:
Pit-Gates Open: 5:15
Grandstands Open: 5:30
Races Start: 7:30
Weekly racing consists of IMCA Sanctioned Late Models, Modifieds, Stock Cars, SportMods, Hobby Stocks, and Mod Lites
Prices
Children 10 & under – Free
Adults – $12.00
Seniors (65+) – $10.00
Weekly Show Pit Passes – $25
I can tell you that "The History of America's Speedways – Past and Present" authored by Allan E. Brown has this to say about the Marshalltown Speedway. By the way, I can't even imagine the level of research it took to make this book. There is a listing from virtually every racetrack that ever existed in the U.S. and Canada. It truly does border on the unbelievable. Well done!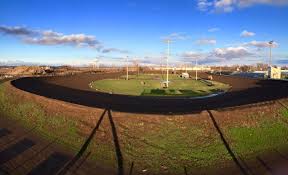 They began racing here in 1965. The track is located at the Central Iowa Fairgrounds. Over the years the ¼-mile dirt oval has raced under different names, such as the Marshall County Fairgrounds.
You might have remembrances about this track.  If so, please feel free to share your memories of the comments section below.  If you have any photos from back in the day, send them to me at Ranlay@yahoo.com.  I'll try to include them here.