Greetings from Lynden, Washington
.
.
From the travels and adventures of the 
"World's #1 Trackchaser"
.
.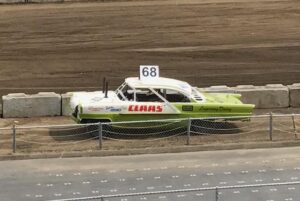 Northwest Washington Fair & Events Center
Dirt figure 8
Lifetime Track #2,364
The EventVideo PlusPhotos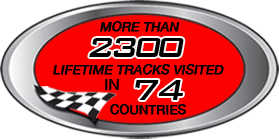 THE EVENT
I have had the opportunity to follow my trackchasing hobby all over the world. As this is written I have seen racing in 74 countries. My lifetime track total exceeds 2,300. Each and every year I will trackchase in 25-30 states.
At track #1,040 I moved into the "World's #1 Trackchasing" spot. Here's the funny thing about that. I was perfectly content to remain in about seventh place in the worldwide trackchasing standings. Then I had rotator cuff surgery, which knocked me out of golf for about six months. With no golf and time on my hands I turned up my trackchasing by a notch or two. I discovered I liked MORE trackchasing and LESS golf. It didn't take all that long to move up to the top of the world trackchasing standings at that point.
No matter how many tracks and trips I make I'm always finding something I've never seen before. Who knew that Washington county fairs offered so much trackchasing "countable" racing?
In all of my trackchasing days I can never remember seeing a county fair race on a non-holiday Monday afternoon. I guess I was one of the last to know. The grandstand was packed for the 12:30 p.m. Monday afternoon event!
My hobby is not only about racing. Trackchasing for me centers around three things. The racing part is pretty obvious. However of equal importance is the logistics of trackchasing and the opportunity to see the world.
I live in Southern California. The vast majority of tracks are located in the Midwest and East. It takes a good deal of logistical planning to get from where I live to where the tracks are. For the past 15 years I have traveled about 175 nights each and every year. Surprisingly to some, more than half of those overnights were not part of trackchasing.
Then there's the travel just for the fun of seeing new things. You won't want to miss my "Trackchasing Tourist Attractions" page or my "Sports Spectating Resume" page on my website at www.randylewis.org. That will give you some understanding on how important seeing the world is with my hobby.
Today's adventure was one more of the 2,000 trips that have taken me up, down and around the long and dusty trackchasing trail. If you would like to see where I've been and experience those adventures here's the link: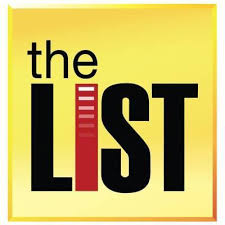 If you've got a question, comment or whatever please leave it at the bottom of this report.  It's very easy to do.  Or you can visit me on Facebook.  Thanks!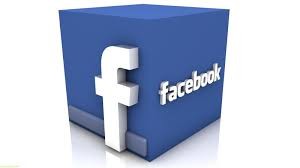 FOREWORD
SUNDAY
Today is an off day for trackchasing. Why weren't we trackchasing on a Sunday? The answer was simple. There were new no new tracks for us to see.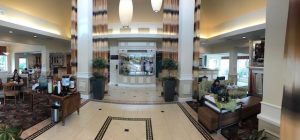 We stayed overnight at a Hilton Garden Inn in Kennewick, Washington. Those Hilton properties are very nice little mid-tier hotels. We checked into our hotel last night at about midnight.
I was up in time to get a 60-minute power walk in. We didn't have a tight time schedule today. We ended up staying in a hotel room until nearly noon.
I spent some time finalizing my NASCAR fantasy league picks. There are 65 members or so in the group. Essentially I'm getting my butt kicked. My ranking is right about in the middle of the pack. I thought I would do much better.
Tonight we will check into the Courtyard by Marriott Hotel in Everett, Washington. We'll stay there for four nights. I made the reservation with Priceline. Priceline gives me some excellent deals.

We paid $382 for the four nights of stay at the Marriott property in Washington. The regular price for those very same four nights, and the very best price that could be purchased online from the Marriott website was a staggering $828. We had saved about $450 off their very best price. I don't know what I would do without Priceline as I move up, down and around the long and dusty trackchasing trail.
Kennewick, Washington is out in the desert part of the Evergreen State. Cities like Seattle, in the western part of Washington get a ton of light rain. Surprisingly, Seattle is in the midst of a severe drought. They've set a record with no rain for 55 days. The central parts of Washington as well as the eastern section of Washington have more of a semi-arid climate. They grow a lot of apples in the eastern two-thirds of the state. Wineries, presumably not apple wine, dominate here as well.
Where we are staying in Kennewick is very modern. I find Seattle in many places to be an older somewhat dreary run down "grunge" city. On a beautiful sunny day it's one of the most beautiful cities in the world. They just don't have very many beautiful days with their overcast climate of dampness and rain.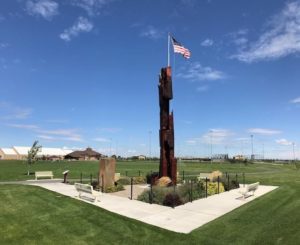 I checked TripAdvisor.com to find out what the top attractions in Kennewick were. I was surprised to see that a 911 Memorial has been erected in the city. It ranked as the #3 attraction in town. We checked it out and were quite impressed.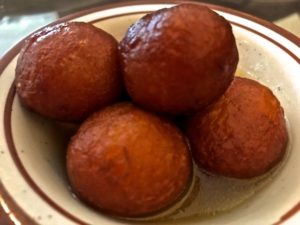 Then we hopped over to a Yelp recommended Indian restaurant. There we enjoyed a very complete Indian luncheon buffet including gulab jamun for dessert. 
From there it was a three-hour drive over towards Seattle and ultimately Everett, Washington where we would stay for the next four nights. I wanted to treat Carol to an upscale seafood restaurant meal. During my business days as the Western Regional Sale Manager I had spent a lot of time in Seattle. Unfortunately, Ray's Boathouse restaurant was totally booked for the time that we might be able to come. Next time!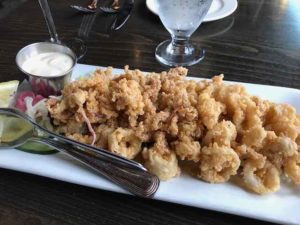 Yelp recommended a reasonable alternative to Ray's called Emery's on Silver Lake. There we dined on calamari, personal pizzas and margaritas. No, Emery's was NOT the same as Ray's Boathouse!
When it came time to pay the bill our server brought us an electronic machine. She left it at the table with us. It was our responsibility to slide our credit card through the machine, put in whatever tip we wanted to leave and get a receipt printed. It was the first time we have ever seen anything like this anywhere. Seattle is a high-tech area.
We then checked into the Courtyard by Marriott hotel in Everett, Washington. As noted previously we ended up paying $382 for a four-night stay. The regular rate on the Marriott website was $828 for a standard room. We had saved more than $450.
However a big part of every negotiation is the "nibble". The "nibble" simply means that you're going to ask for something extra beyond the basic part of the deal. As a lifetime platinum elite member I carry some clout with Marriott.
I ended up convincing the desk clerk that it would be a good move on her part to upgrade us to a suite. She did just that. We got a two-room space plus bathroom and probably 600- 700 ft.². We had a gorgeous view of downtown Everett and the Puget Sound.
I've found it pays to negotiate, persuade and cajole but ALWAYS in a sincere and honest manner. That way when you get the prize you will know you did it the right way. This hotel upgrade will make our stay a very comfortable one for Carol and me.
When we checked in Carol scoped out every light fixture, thermostat, nook and cranny so she'll be comfortable in her environment. This process probably took her the better part of an hour while I relaxed and our king size bed. Men are from Mars; Women are from Venus.
Tomorrow is going to be an interesting day. We hope to see some oval track racing as part of a demolition derby program at a county fair. What makes the whole thing so unusual is the racing will take place at 12:30 p.m. on a Monday afternoon. I can't ever recall seeing such an activity during that time of day on a Monday that is not part of a holiday weekend.
MONDAY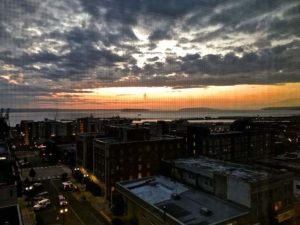 This morning we woke up in Everett, Washington. Our Marriott hotel suite had a great view of the Puget Sound. I took the opportunity to go out for one of my patented 60-minute 4+-mile power walks. The only drawback to my walk was that almost all of it had to be done over concrete surfaces. Some might not think there's not a big difference between concrete and asphalt. There really is!!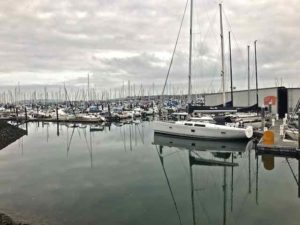 My walk took me through downtown Everett. It's a beautiful downtown area. There must be two or three banks on every corner. They also have pianos spread throughout the city. They are outdoors and right on the sidewalk. As I continued past downtown I made my way out to the Navel base in Everett. I find Everett to be sort of an upscale Berkeley, California.
Next up was breakfast. I've stayed in hotels for about 5,000 room nights in my life. About 99.9% of the time (nearly always!) I would much rather eat outside the hotel. Food is not part of most hotels core competency.
I will never ever go hungry as long as I have Yelp. Yelp told us there was a 4.5-star rated restaurant within 2/10 of a mile of the hotel. We gathered all of our belongings; we would be gone for the entire day, and headed to Colby's Diner.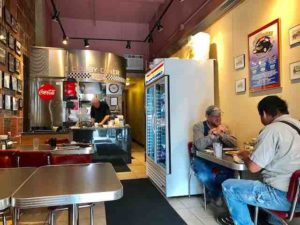 Colby's is only open for breakfast and lunch. They are also a very small restaurant. There are only about five tables in the entire place. The serving area can't be more than 12 feet wide and 25 feet long.
Today only the owner was working in the diner. He told me he had owned the place for "10 1/2 years". I wondered at what point he started saying "10 ½" after 10 years of ownership and how quickly he'll be switching over to 11 years from 10 1/2? Yes, I sometimes wonder about unusual things.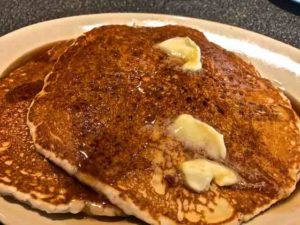 I went with the two-pancake offering. These pancakes were huge. Their price was only five bucks for the pair. I smothered them in syrup and butter. It was the first time I have had pancakes in four months since being on my low-carb diet.
Carol very much enjoyed the Colby's Diner corn beef hash and eggs. We both left the restaurant "full as a tick" as my mother would commonly say. It was so good that we might go back there sometime before we depart Everett.
THE RACING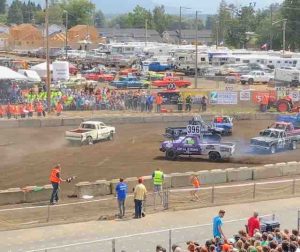 Northwest Washington Fair & Events Center – Lynden, Washington
Today's trackchasing effort was going to be a bit unusual. Let's think about that statement. I've seen racing at more than 2,300 locations. Don't you think I've seen just about every "unusual" thing by now?
The starting time of today's race as well as the day of the week made the county fair offering so unusual. Today was Monday. Racing was scheduled to begin at 12:30 p.m. I can't ever recall seeing any racing at 12:30 p.m. on a Monday that wasn't already part of a three-day holiday weekend.
Just a couple of months ago I discovered a "vein" of Washington state county fair operators. These promoters were offering a different form of trackchasing countable racing. That racing would take place on either a makeshift figure 8 course or an oval track.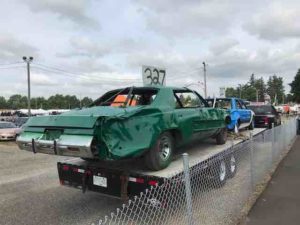 Here's what makes their racing so unique. The figure 8 and/or oval racing is part of a bigger demolition derby show. The county fair websites never made any mention of wheel to wheel racing. The fair schedule simply said "demolition derby".
However, when I found out about one of these I found out about several. I still don't know how many figure 8 or oval tracks are hiding under these demolition derby "rocks". Now that I am sharing this discovery I shutter to think of the trackchaser stampede into the Northwest beginning next summer. I hope they have the common courtesy to at least acknowledge where they got the idea!
I've already seen three or four of these Washington county fairs this summer. We've got a couple more scheduled for the balance of this trip. There are still others that I will see you in the future. Until a couple of months ago I had no idea that Washington state county fairs offered this type of trackchasing countable racing. No other trackchaser in the 60+ year history of the hobby has ever seen one of these Washington county fair shows.
I've been to more than 400 county fairs. That's a lot of fried Oreos. The demolition derby is still the king of the fairs. However, more and more fair operators are beginning to add some sort of wheel to wheel racing to their entertainment offerings. Granted it's not going to rival the Daytona 500 but it will meet the often times generous trackchasing rules.
The lion's share of my 300 figure 8 tracks have been contested at county fairs. Additionally I've seen a large number of oval and road course events at these fairs as well.
This morning we entered the Northwest Washington Fair about an hour before scheduled race time. There were various parking lot opportunities ranging up to seven dollars per car. We found some street parking. I didn't pay anything for it.
Admission to the fair for people our age was 10 bucks. I think we saved a dollar or two off the regular general admission price just to get into the fair.
Our plan was to do a little bit of fair exploration before the races and then afterwards as well. At about noon we sauntered down to the grandstands. They were selling tickets to the afternoon's demolition derby. What we found surprised us.
This afternoon there would be some actual "racing" that preceded the demolition derby. Then tonight at 7 p.m. they were offering a demolition derby without any racing component. When I went to buy our tickets a huge sign told me that tonight's demolition derby was already sold out!
Tickets for this afternoon's demo would be $10 each. It was good that we could put both our fair admission and our demolition derby tickets on our credit card. Cash is king on these trips.
They have a large county fair grandstand in Lynden, Washington. I'm not very good at guessing seating capacities. I'm going to say this grandstand held 1,500-2,000 people or so. All of the seats in the grandstand this afternoon and this evening were reserved.
I knew from my advance contact with the fair that there would be "trackchasing countable" racing. I didn't really remember or have any idea whether that would be done on a figure 8 course, oval or road course. It really wasn't worth remembering. It didn't matter to me. Whichever configuration they chose the track would still count the same in my record books.
When we entered the grandstand they gave us a one-page program. The program shared the schedule of events today. The first event of the day would be a "jump your stuff" offering. I didn't really know what that meant but I figured if I hung around long enough I would find out.
That novelty was preceded by a best-looking car award. That is common with county fairs offering any type of racing or demo derby. The program then went on to say there would be two figure 8 races followed by three demolition derby heats. Now Carol and I knew that we were going to be seeing figure 8 racing this afternoon. That was fine enough to us.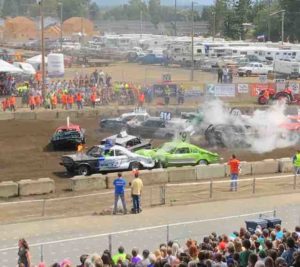 This afternoon's grandstand looked to be a sell out to me. The weather was really nice at about 70° and sunny. Probably the biggest drawback to the afternoon of entertainment was the PA system. The announcers talked nonstop and seemed to be entertaining and informative. Sadly, the PA speaker system was so garbled that it was difficult to understand what they were saying.
The jump your stuff event had three entries. A dirt hill had been built next to the concrete barriers of the demolition derby ring. The cars in the "jump your stuff" contest would get a running start, drive up and over the hill, which peaked at about six, or eight feet tall and then land the best way they could. The first entry did his before I was ready camera wise.
The driver and his three occupants ran up the hill at about 40 MPH. Then their car did a nosedive into the dirt like a rocket splashing into the ocean. It looked like a pretty hard hit. I guess it was. After seeing that episode the other two drivers in this event canceled their participation!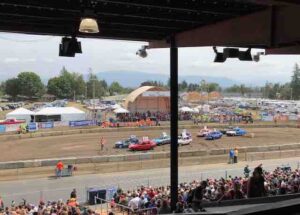 Next up was the figure 8 race. They had the cars race first followed by about 10 pick up trucks. The trucks put on a better show I think. Don't miss my video of the figure 8 racing action. Don't mind the pole that blocks some of the view and makes the video look amateurish. We were the "best available seats" after buying our tickets at the last minute.
The demo derby action that followed was ferocious. They were having the full-sized cars go at it in preliminary races this afternoon. I was amazed to see two '56 Lincolns some older 1960s cars competing. It was interesting to see that they had chosen to demo these somewhat rare models. Again, don't miss the video.
When the action was finished we had a little more time to tour the fairgrounds. The highlight of our afternoon was watching a hypnotist do her thing with several volunteers from the crowd. We were not allowed to videotape the proceedings but it was entertaining.
We tried to avail ourselves to every commercial and agricultural exhibit at the fair. We ended up getting some fair food that included corn dogs, a raspberry milkshake and a caramel apple. It was all good.
We had now been at the fair for nearly 5 hours. We couldn't believe how crowded the place was on a non-holiday Monday afternoon. I wondered what these people did for work. People still work right? Someone has to pay their social security taxes so Carol and I can continue these vacations.
AFTER THE RACES
During my pre-trip preparation I checked TripAdvisor to find out what the #1 tourist attraction was in all of Bellingham, Washington. Bellingham was the nearest big city to Lynden which is only about 5-10 miles south of the Canadian border.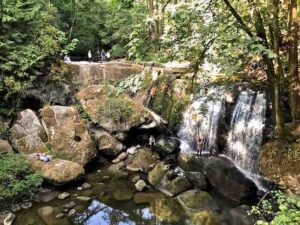 TripAdvisor told me the #1 attraction in Bellingham was the Whatcom Falls located in the Whatcom Falls Park. The falls were only 15 miles from the fair. We couldn't pass that up.
I will tell you this. If the number one thing in all of Bellingham is the Whatcom Falls there probably isn't much going on in Bellingham. We did run into a couple who told us that another water fall was really what we needed to see if we were interested in waterfalls.
This couple told us that these bigger falls were only about 20 miles away. They also added there was an Indian casino nearby that would be a good place to have dinner. All of that sounded wonderful.
However, when I checked the driving distances with my GPS unit I found the other set of falls was actually 42 miles from where we were. The drive back to the hotel would only be one hour if we didn't make that trip. If we added the falls and the casino we were looking at nearly a three-hour drive.  The bigger waterfall didn't seem like such a good idea now. We bagged that thought.
We had already had a pretty busy day. I checked my iPhone. My pedometer told me that with all the walking we did at the fair we had brushed up against seven miles for the day.
We are prone to trying to put 10 pounds of taters in a 5-pound bag. The discussion came up as to whether or not we should see a movie. We both looked at each other and said at the same time, "Maybe not."
That being the case we decided that a nice Chinese dinner in Seattle/Everett would be the hot ticket. We love Chinese food. I'm happy to say the restaurant lived up to its Yelp rating.
Soon we were back in our luxurious suite at the Marriott Hotel in Everett while it was still daylight. We kicked back and then just enjoyed our good fortune. It had been a good day.
Good afternoon from Lynden, Washington.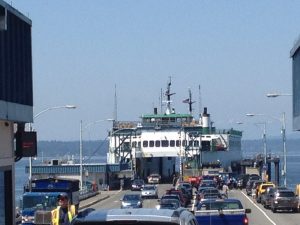 Washington
The Evergreen state
This afternoon I saw my 37th lifetime track in the Evergreen state, yes the Evergreen state. I hold the #1 trackchasing spot in Washington as I do in 24 total states. I've seen 37 or more tracks in 19 separate states. No trackchaser can match that stat.
Thanks for reading about my trackchasing,
Randy Lewis
World's #1 Trackchaser
Peoria Old Timers Racing Club (P.O.R.C.) Hall of Fame Member
Washington sayings: Lawn
What it means everywhere else: Grass.
What it means in Washington: Moss.
QUICK FACTS
LIFETIME TRACKCHASER COMPARISONS 
The three most important trackchasing comparisons to me are:
Total lifetime tracks seen
Total "trackchasing countries" seen
Lifetime National Geographic Diversity results
Total Lifetime Tracks
There are no trackchasers currently within 600 tracks of my lifetime total. Don't blame me.
Randy Lewis, San Clemente, California – 2,364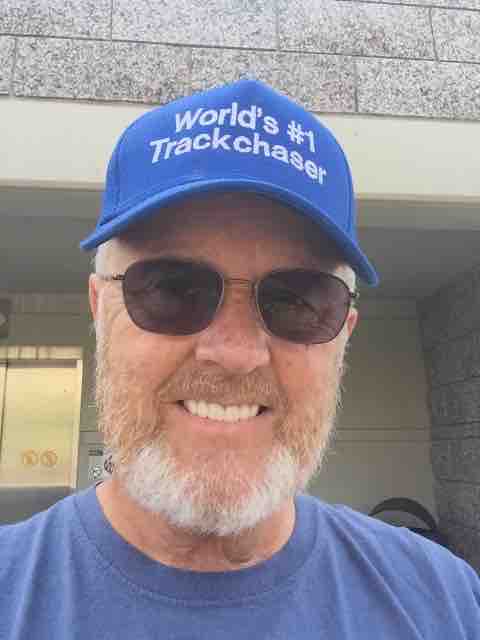 Total Trackchasing Countries
There are no trackchasers currently within 20 countries of my lifetime total.
Randy Lewis, San Clemente, California – 74
Current lifetime National Geographic Diversity results
Randy Lewis, San Clemente, California – 4.37
That's all folks! Official end of the RLR – Randy Lewis Racing Trackchaser Report
Click on the link below to see the video production from the racing action today.
Click on the link below for a photo album from today's trackchasing day.  You can view the album slide by slide or click on the "slide show" icon for a self-guided tour of today's trackchasing adventure.
Idaho touring, a great county fair and then some Washington touring!