Greetings from Springfield, Missouri
.
.
From the travels and adventures of the
"World's #1 Trackchaser"
.
.
Ozark Empire Fairgrounds
Indoor dirt oval
Lifetime Track #1,305
.
.
Ozark Empire Fairgrounds
Indoor dirt figure 8
Lifetime Track #1,635
.
.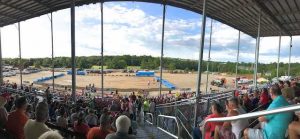 Ozark Empire Fairgrounds
Outdoor paved figure 8
Lifetime Track #2,357
The Event2017 - Outdoor figure 82011 - Indoor figure 82009 - Indoor oval #22008 - Indoor oval #1Video PlusPhotos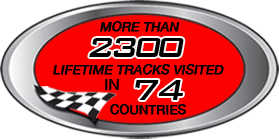 THE EVENT
I have had the opportunity to follow my trackchasing hobby all over the world. As this is written I have seen racing in 74 countries. My lifetime track total exceeds 2,300. Each and every year I will trackchase in 25-30 states.
At track #1,040 I moved into the "World's #1 Trackchasing" spot. Here's the funny thing about that. I was perfectly content to remain in about seventh place in the worldwide trackchasing standings. Then I had rotator cuff surgery, which knocked me out of golf for about six months. With no golf and time on my hands I turned up my trackchasing by a notch or two. I discovered I liked MORE trackchasing and LESS golf. It didn't take all that long to move up to the top of the world trackchasing standings at that point.
From time to time I return to a particular racing facility AND get to count a new track. How can that happen? I might see a race on an oval configuration, as an example, on my first visit. Then I might come back to see a race on a road course, or a figure 8 track or when the track changes surfaces or when a different oval configuration presents itself. Confusing? Think of the mental gymnastics that trackchasing's founding fathers put themselves through thinking of all of this to begin with!
Tonight I was returning for a somewhat unusual reason. I had been to the Ozark Empire Fairgrounds previously. I had come here on two separate occasions actually. One of those trips was to see an indoor figure 8 race. My second trip had me seeing an indoor oval race. However, tonight I would see an OUTDOOR figure 8 track. Do the permutations never end?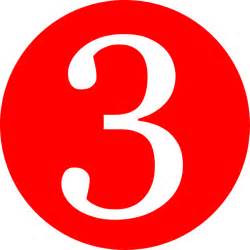 My hobby is not only about racing. Trackchasing for me centers around three things. The racing part is pretty obvious. However of equal importance is the logistics of trackchasing and the opportunity to see the world.
I live in Southern California. The vast majority of tracks are located in the Midwest and East. It takes a good deal of logistical planning to get from where I live to where the tracks are. For the past 15 years I have traveled about 175 nights each and every year. Surprisingly to some, more than half of those overnights were not part of trackchasing.
Then there's the travel just for the fun of seeing new things. You won't want to miss my "Trackchasing Tourist Attractions" page or my "Sports Spectating Resume" page on my website at www.randylewis.org. That will give you some understanding on how important seeing the world is with my hobby.
Today's adventure was one more of the 2,000 trips that have taken me up, down and around the long and dusty trackchasing trail. If you would like to see where I've been and experience those adventures here's the link: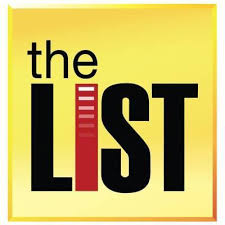 If you've got a question, comment or whatever please leave it at the bottom of this report.  It's very easy to do.  Or you can visit me on Facebook.  Thanks!

FOREWORD
I was switching geographical gears for the last half of this trackchasing trip. I began with four days of travel and racing in Idaho, Montana and Alberta, Canada.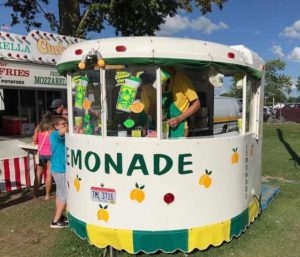 It's the last week or two of the county fair season in the United States. I couldn't miss out on that trackchasing gold mine. Over the next five days I expected to hit five county fairs. County fairs are my trackchasing bread and butter in July and early August.
Yesterday I had completed a thirteen-hour drive from Drayton Valley, Alberta, Canada to Seattle, Washington. I had 23 hours to complete that drive.  Once in Seattle I hopped on a flight to Kansas City, Missouri. My airline sponsors were ever so kind to put me in a first class seat.
At just before midnight I was landing in the Kansas City International Airport. It took me a moment to negotiate my rental car selection with the National Car rental people.
Like the American population they seem to be offering more SUVs that they do passenger sedan automobiles. I personally drive a SUV. It's the Carol Lewis owned and MFunds sponsored Lexus RX 350. It's a wonderful vehicle.
However, SUVs get closer to 20 miles per gallon. The four-door sedans I rent such as the Hyundai Sonata, Chrysler 300 or Toyota Camry average 30 miles per gallon and more. The Hyundai Sonata that I just turned returned in Seattle gave me 39 miles per gallon over 1,933 miles of slightly above the speed limit driving.
Tonight I ended up with a Toyota Camry (the white one!). I also plan to drive it about 2,000 miles during this trip. However, with the Camry I've got seven days to do that. With the car I just turned in that was driven all over far western Canada I only had three days to add nearly 2,000 miles to its odometer!
I would be staying at the Extended Stay America hotel at the Kansas City airport. I want to provide this caution. If you see any major hotel chains declaring bankruptcy in the near future you will know it was probably me that helped them along. With Priceline.com I routinely save nearly 50% off the very best rate the hotel offers other guests online. That was the case tonight as well.
TUESDAY
There aren't very many tracks that race on a Tuesday night. However, the county fairs will race on just about any night. That's what I love about county fair race.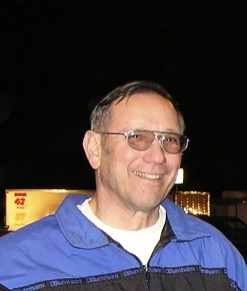 Tonight I will be returning to the Ozark Empire Fairgrounds. Previously I had seen indoor racing with Ed Esser at this fairgrounds.
However, tonight they were racing outdoors at the fairgrounds. They were advertising figure 8 racing to go along with a demolition derby. That was going to work into my schedule just fine.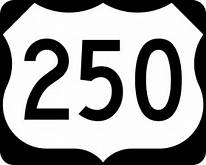 As you know I have a goal of exercising aerobically 250 times during the year. This is a difficult goal to achieve during July and August with my heavy travel schedule. It's pretty hard to drive thirteen hours in a twenty-three hour period in itself. It's virtually impossible to squeeze four miles of power walking into a day like that.
This morning I got out of the hotel for a 45-minute power walk. My speed was just a little bit less than normal. I attributed that to the heavy humidity. I would have gone my normal hour but I was running behind schedule. I didn't want to be late for lunch.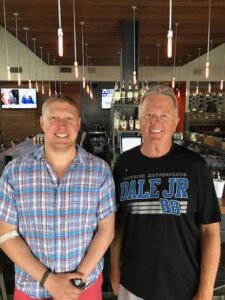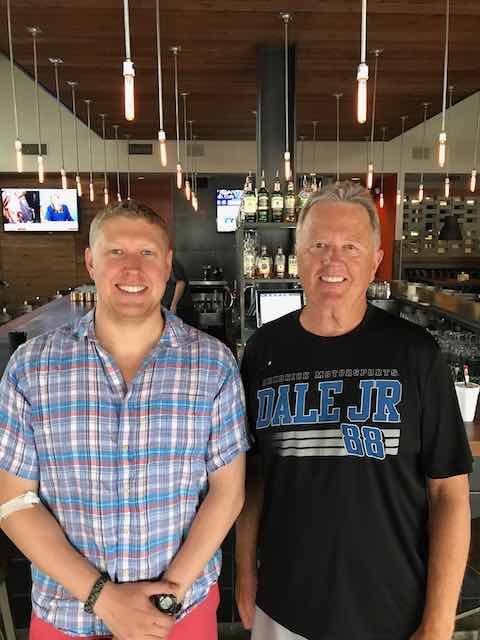 Lunch today was going to be special. I was meeting up with a fellow who carries my same surname. Yep, I would be having lunch with Rich Lewis who now lives in Kansas City.
Rich and I first met on a Zimbabwe African safari. He was a friendly outgoing guy who seemed to share the same passion for me of worldwide travel. I love people like that.
Rich and I have stayed in touch since our chance meeting in Africa. I enjoy following his travels, which most recently included a very fun trip to Iceland.
Rich had just recently relocated to Kansas City. Despite his very busy schedule he was able to fit me in for lunch. We met downtown in Kansas City at BRGR a noted hamburger establishment. We swapped travel stories and had a great lunch. Rich is less than half my age. Nevertheless, it just shows that folks of any age who have things in common can have a good time together. Great seeing you Rich and let's do it again sometime soon.
It was going to be about a three-hour drive from Kansas City down to Springfield, Missouri where tonight's racing was located.  Did you know that Springfield is home to the headquarters of Bass Pro shops? Yep Johnny Morris is the head kingpin in and around Springfield,
On the drive down towards Springfield I started to see big yellow billboards advertising Osceola cheese. I was thinking to myself that I might like some cheese curds. I could certainly buy them at the fair but they would be fried. After seeing about the 10th billboard it was confirmed. I was stopping at the Osceola cheese store.
The place was packed. They offered toothpicks for sampling probably 300 versions of cheese and maybe more. I watched their customers. I think some of them were having a complimentary dinner one toothpick choice at a time!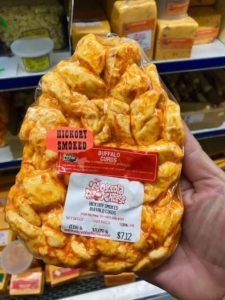 I left the store with nearly a pound of hickory smoked cheese curds. I also picked up some hot and spicy pork rinds and a couple of bottles of Diet Cherry Dr. Pepper.
I sat in my car and enjoyed my cheese curds washed down by my Dr. Pepper. I popped open my laptop and used my iPhone Internet connection to make a hotel reservation for tonight.
Priceline.com got me into the La Quinta Inn and Suites in Collinsville Illinois for just 40 bucks plus tax. That was 48% off the best rate the hotel was offering anyone else tonight.
Do you do much travel? If you do you might want to get the same hotel rates that I get when I'm on the road. You CAN you know. Just check out my website at www.randylewis.org. If you know how to use drop-down menus and go to the special reports section you'll find a tab that reads, "Hotels…How to buy them….". Click on that link. Do what I say. Then you'll be able to buy hotels just as cheaply as I do. I wish you good luck. It's really easy to do.  Can't wait?  Click here.
THE RACING
Ozark Empire Fairgrounds – Springfield, Missouri
It was a little pricey to attend tonight's figure 8 racing. First, it was five bucks to park. Next, the price to enter the fairgrounds was nine bucks. Finally, general admission to enter the grandstand to watch the races was $15 U.S. more. Reserved seating was $20 U.S. in the grandstand. Oh my gosh. Can people in a small town in a confederate state afford those prices? Maybe they can. The stands were packed.
I always like to tour the trade show booths to see what looks interesting. I spent about 10 minutes talking to a guy selling solar panels. I learned that in this part of Missouri electricity sells for $0.10 per kWh. In California it's now $0.43 a kWh! That's right folks. People in the Golden state pay more than four times for their electricity compared to the Show Me state. The expense of California is called the "Sunshine tax".
Then I ran into a lady selling copper pads. These pads can be used on BBQ grills or to place hot dishes on while they cool and the like. I got two good-sized pads for twelve dollars. We'll use them on the gas grills at our timeshare properties in Maui. It will make cleanup a breeze.
I had one other experience walking the fair. I came across three Marine recruiters who had a booth set up at the fair. They were there to entice others to become young Marines. As you know I entered the United States Marine Corps on active duty in 1971. I was part of the United States Marine Corps reserves until 1977.
I asked one of the more than fit young men if they still "hit people in boot camp". He looked at me and smiled and said, "Of course they do. Our training tactics for the Marines haven't changed in 60 years". I was happy to hear that. I got my share of "hits" in boot camp.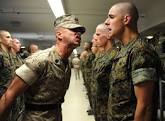 I think if you've made it through United States Marine Corps boot camp you share a special fraternity with others who have done the same thing. I would hate to see the requirements change now and made easier. I wouldn't have a common bond with people who've gone through boot camp in a more lenient fashion.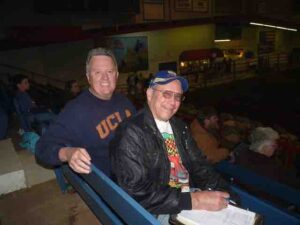 I took a quick walk inside the indoor arena located on the Ozark Empire Fairgrounds. Back in March 2011 Ed Esser and I saw small car figure 8 racing here. In February 2009 Carol and I saw outlaw karts race on the indoor oval inside the fair building. I think we showed up there without my remembering I had already seen oval track racing there! During February 2008 I had seen winged midgets race indoors at the Ozark Empire Fairgrounds.
The very next day I was down at the Atlanta Motor Speedway with Dale Terry seeing racing on their road course. At that event I met NASCAR driver Bill Elliott and his 11-year old son Chase Elliott. Then the very next day I was up in Brainerd, Minnesota watching sports cars racing on ice with Ed Esser. At that event they offered me a ride in a racecar on the ice track. I let Ed use that offer and he had the best time. I definitely like giving things rather than receiving things. I've got all of the "things" I need already. I often tell my friends that if I won the lottery (which I don't play) I wouldn't know what to spend the money on. I already have enough money to support my lifestyle through my IRS projected life expectancy.
I always see something at the races that I've never seen before. This was the first fair I've ever seen where vendors go through the grandstand selling pork rinds! That gives them one more star in my book.
I've seen one form of racing or another at more than 300 county fairs. If I had to guess I would say that the total charge for a night of racing at these fairs is about $10 per person. That includes parking, admission to the fair and to the grandstands for the racing. That's why I was shocked with tonight situation at the Ozark Empire Fairgrounds.
As noted, I was charged five dollars to park at the fairgrounds. I would say that less than one out of 10 fairs charges for parking. Nevertheless, it was what it was. I parted with a fiver.
Next up was buying a ticket to the fair itself. This was when things started to get weird. They offered a special price for seniors as lots of places do nowadays.
The age at which someone becomes a senior varies all over the board. I think I've seen the senior age as low as fifty and as high as sixty-five. Normally the maximum age required to be considered a senior is 65 years old.
Tonight was different, way different. In order to get a senior discount at the Ozark Empire fairgrounds and be admitted to the fair for free you had to be 80+ years old. Eighty plus! Unbelievable. Not being a senior tonight I paid my nine-dollar admission to the fair.
These people in Springfield, Missouri or not finished gouging me yet. Now I had to go to a separate building and wait in line to get a ticket for tonight's "night of distraction". I had a choice there. I could get a general admission ticket in the grandstand for $15 or a reserved seat for twenty. I chose the lower-priced option.
Now I was into these guys at five dollars for parking, nine dollars for fair admission and $15 for grandstand admission. That was a grand total of $29 to see what I normally see for ten. I don't care how much money you have, no one wants to get ripped off.

In a pleasant but firm voice I informed the lady selling me by grandstand ticket that I had been to more than 300 county fairs. She looked up at me and smiled. It was a "bless your heart" smile. Bless your heart is commonly a phrase used by people in the south. It's somewhat akin but not exactly like, go "F" yourself.
I continued on with my "sharing" of information with the woman. I sensed that she was in need of feedback. I told her that even though I had been to all that many fairs that tonight's fair was one of the highest priced I had ever experienced. She told me she was sorry to hear that. Then I asked her if she would mind sharing my point of you with her superiors. Will she? I have no idea. If she does, will it do any good? I doubt it. Nevertheless, the best I could do was give my feedback.
Tonight racing was scheduled to begin at 7 p.m. They didn't open the gates to the grandstand until 6 p.m. Prior to opening the gates there was a line of at least 150-200 people waiting to get in as soon as they opened the gates. I don't see that very often.
The demolition derby "ring" had a paved asphalt surface. That's pretty unusual. Probably 98% of the demolition derby rings that I see are dirt.
The maintenance crew rolled out a couple of tractor tires that one man could move by himself. That meant when a car hit those tires they were going to be sliding them around. They watered down the track to slow the speeds as well as make the spinning and crashing a little more exciting for the fans.
The figure 8s were first on the agenda. Tonight they were 15 cars in that classification. They came out and ran three heat races, which were actually pretty good. The speeds they could attain on asphalt were so much faster than if they were racing on dirt. Faster figure 8 racing is normally better figure 8 racing.
Following the three figure 8 heat races they came with a three-competitor farm combine demolition derby. I've seen those a time or two. I don't know at what stage a farm combine becomes less useful for farming and more suited for a demolition derby. I know those machines are very expensive. I would think the combines have to be on their last legs to justify being placed in a demolition derby. With just three competitors they still had some very hard hits that through the combines up on the two wheels at impact.
Next up was a consolation race for the figure 8 cars. The top two finishers in each of the three heat races transferred to the main event. This left nine cars running in the consolation. With that many cars on such a small track it was fun to watch.
Just 45 minutes after the show began they went to a 20-minute intermission. They came back with a seven-car figure 8 feature event. In reality the feature race wasn't all that different than the ones that had preceded it tonight.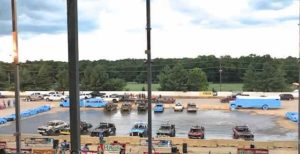 The next event, and I am presuming the final event, featured twelve "big" cars engaged in a full-fledged demolition derby. I watched this until about half the cars were still running. The demolition derby ring was somewhat small. The cars didn't pick up much speed when they hit each other. It was only 8:30 p.m. when I exited the grandstands.
AFTER THE RACES
Frankly the figure 8/demolition derby program tonight wasn't all that much different than what I've seen at so many other fairs at a much lower cost. I think it was a horrible situation that an individual like myself, living on a small fixed income, had to part with $29 of my hard-earned retirement savings for what I saw and experienced tonight.
When I left the fairgrounds I was headed for Collinsville, Illinois. I would be staying overnight there at the La Quinta Inn and Suites. The drive was going to take me about 3 1/2 hours. This trek would get me roughly halfway over toward tomorrow night's county fair in southern Indiana. I'll tell you more about that when tomorrow.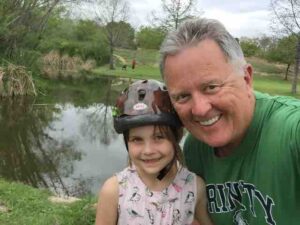 Finally, our granddaughter Astrid is attending her first ever sleep over camp near Houston Texas this coming week. It'll be the first camp she's gone to where she had to stay away from home at night. I went on Postagram to send her a couple of postcards so that she will "get mail" at camp. I'm sure this will be a big experience for her. 
Good night from Springfield, Missouri.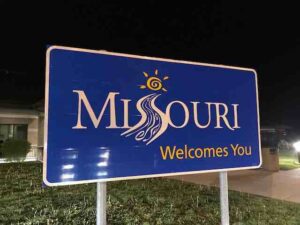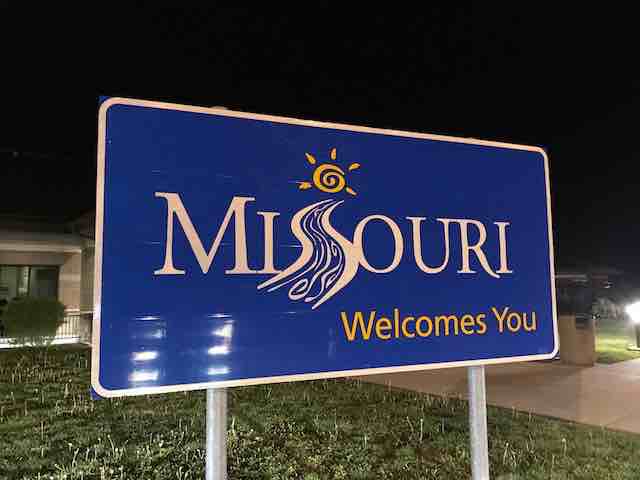 Missouri
The Show Me state
This evening I saw my 62nd lifetime track in the Show Me state, yes the Show Me state. I hold the #2 trackchasing spot in Missouri. I'm just six tracks behind legendary trackchaser Ed Esser.
Thanks for reading about my trackchasing,
Randy Lewis
World's #1 Trackchaser
Peoria Old Timers Racing Club (P.O.R.C.) Hall of Fame Member
Missouri meanings: "Cuba"
What it means everywhere else: A tiny island in the Caribbean, home to famous cigars and the Castros. 
 
What it means in Missouri: A tiny town of 3,000 in Crawford County, Missouri, famous for being the closest city to Route 66's World's Largest Rocking Chair.
QUICK FACTS
LIFETIME TRACKCHASER COMPARISONS 
The three most important trackchasing comparisons to me are:
Total lifetime tracks seen
Total "trackchasing countries" seen
Lifetime National Geographic Diversity results
Total Lifetime Tracks
There are no trackchasers currently within 600 tracks of my lifetime total. Don't blame me.
Randy Lewis, San Clemente, California – 2,357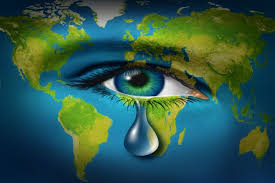 Total Trackchasing Countries
There are no trackchasers currently within 20 countries of my lifetime total.
Randy Lewis, San Clemente, California – 74
Current lifetime National Geographic Diversity results
Randy Lewis, San Clemente, California – 4.37
That's all folks! Official end of the RLR – Randy Lewis Racing Trackchaser Report
Reprinted with permission from my March 18, 2011 
DAYS 1&2 – "LAST TRIP OF THE QUARTER" TRACKCHASING TOUR
TODAY'S HEADLINES
Johnny Carson wishes us well at the 1974 Vick Chemical National Sales Meeting …………..details in "Things you might have noticed has you been paying more attention in school".
Ed Esser makes a guest appearance in this track's Randy Lewis Racing video………………more in "The People".
Six in two or six in six? …………..details in "The Objective & The Strategy".
THINGS YOU MIGHT HAVE NOTICED HAD YOU BEEN PAYING MORE ATTENTION IN SCHOOL
SPECIAL NOTICE!!
This coming June I will be retired from my business career at Procter & Gamble for nine years. Those years have gone by quickly. I began working all the way back in 1972 for the Vick Chemical Company. The companies' name would later change to Richardson-Merrell and then to Richardson-Vicks. "RVI" owned some major health and beauty aid brands such as Nyquil, Pantene, Vidal Sassoon, Oil of Olay as well as the Vicks line of cough and cold products. In 1985, the Procter & Gamble Distributing Company (P&G) purchased RVI. I finished the last 17 years of my work life with P&G. Throughout my entire 30-year career I was fortunate to have excellent, secure and high-paying employment. Not many people can say that.
During the RVI portion of my career we would have a weeklong "National Sales Meeting" every year. These meetings were held in resort locations all over North America. As luck would have it my first full week on the job was spent at our National Sales Meeting in New Orleans. We stayed in the best hotel in town and every night roamed the French Quarter and ate at the very best restaurants. This was the start of a very good work experience!
At each national sales meeting we would be introduced to various new products we would be selling that year. In 1974 we were bringing "Dismiss" to the market. Does anyone remember Dismiss? Long-time friend and reader of the Randy Lewis Racing Trackchaser Reports, LOUIS SKYPALA was nice enough to send along this video from the Tonight Show starring Johnny Carson.
We advertised heavily with Johnny Carson. This allowed Carol and me to visit the Tonight Show some fifty times with V.I.P. seats! Until Louis sent me a link to this promo spot that Johnny Carson and Ed McMahon did for us back in 1974 I had never seen it. You absolutely will not want to miss this. However, be warned that Mr. Carson uses some salty language that might offend some. Here goes:
Johnny Carson wishes us well at the 1974 Vick Chemical National Sales Meeting!
GREETINGS FROM SPRINGFIELD, MISSOURI
THE OBJECTIVE, THE TRIP, THE PEOPLE…AND A WHOLE LOT MORE
The Objective and the Strategy  
The objective.
Six in two or six in six?
My objective is to see multiple tracks each time I get on an airplane to leave California. I would rather see six tracks in two trips rather than six tracks in six trips. This is one of the reasons I have established my "entertainment diversification" program. You all know that program calls for me to have 18 weekends off from this hobby during the year.
I have already taken off three weekends off this year. My plans for the remainder of the year will allow me to easily make this goal. Nevertheless, the 34 weekends (maximum) that I do go trackchasing will still permit me to see over seventy-five tracks.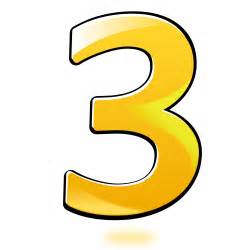 This is what I need to succeed.
For me to be successful in trackchasing I need three things. Those would be 1) a track to attend 2) good weather and 3) a way to get there. This weekend, requirement #3 would be the sticking point. March can be difficult to even find tracks that are racing. In the late winter/early spring it can be hard to find good weather. However, this weekend the forecast for both of those items was well above average.
The strategy.
Spring break sucks!
This is "spring break" time. Kids get a week off from school because of "spring". This is probably not meant as much to benefit the students as it does to benefit teacher's unions. Spring break spans about six weeks from March through April.
The airports are crammed with "big" kids going off to exotic "spring break" destinations. Their parents can only hope the kids don't end up on some of the spicier videos that depict college kids being college kids. Of course, "little" kids are traipsing around airports too. They have the gall to bring their parents along for the ride. In a nutshell these people "clog up the system" for us serious trackchasers who have secured sponsorship from the airlines.
It's theeee plane! It's theeee plane!
Almost every trip I take requires an airplane. Without planes I could not participate in my hobby of trackchasing. California is just too far away from "the action". I'll tell you more about the "opportunities" I faced on this adventure in "The Trip" section.
The Trip
The hub and spoke system.
My sponsoring airlines have flights from SoCal to about 15 Midwestern and Eastern cities. My plan is almost always to get on one of the planes flying to these fifteen places. From there I can either rent a car or pick up another airplane to a spot closer to the racetrack I plan to visit.
For this trip I wanted to get to Springfield, Missouri. They had a race program beginning at 7:30 p.m. on a Friday night. There are no direct flights to Springfield from Los Angeles. That's not too surprising. There are only a couple of daytime flight connections that would allow me to get to Springfield, Missouri in time for the racing action. Those flights were all overbooked.

No! Don't make me take the "red-eye".
My "fallback" position was to fly the "red-eye" on Thursday night/Friday morning. I do not like to fly red-eyes but I will do it if that's what it takes. You might be surprised to know that overnight flights are the most crowded of any during the entire day.
I'm not sure I can explain that. I guess some of the passengers are airline employees "commuting" to work. Maybe some of these people bought their airline tickets on Priceline.com. I love Priceline for hotels but don't care for their product with airline tickets. There might be more passengers flying back to the Midwest or East overnight from Hawaii. However I don't know if any or all of these reasons, or none of them, are really the reason for overnight flights to be so crowded.
It was time to bid my farewell.
At halftime of the UCLA-Michigan State NCAA tournament game (being watched on TV) I bade "Trackchasing's First Mother" farewell. I listened to the rest of the game on radio. With eight minutes to go in the game UCLA led by 23 points. It was more than disconcerting to see UCLA lose that advantage in the final minutes of the game. Despite their inability to handle prosperity they still won by two points!
There are few guarantees in life.
When I arrived at LAX at 10 p.m. I had no assurances I would even get on an airplane. I did have about fifteen cities that had planes with overnight flights to choose from. The two best choices ("best" being a relative term) had me flying into Columbus, Ohio or Indianapolis, Indiana. From there I would have to drive to Springfield, Missouri. It was an 11-hour drive from Columbus and eight hours from Indy.
I chose these flights because they each had 2-10 open seats. All of the other thirteen or more flights to other cities were well overbooked. The last flight of the night left for Memphis at 1:40 a.m. There was better than a 50/50 chance that I would still be at the airport at 2 a.m. with ZERO options.
I really had only one choice.
Columbus and Indianapolis were not TWO options they were ONE option. The planes to these two cities left within ten minutes of each other. They were also leaving from different terminals that prevented me from making one if I missed the other. The funny thing is that my fellow competitors think I "have it easy" because I get sponsorship support. Nothing could be further from the truth.
Indy or bust.
I decided to go with the plane to Indianapolis. It actually had less seats open than the Columbus flight did. However I liked the potential eight-hour drive from Indy to Springfield more than the 11-hour drive from Columbus, Ohio.
I ended up making the flight to Indianapolis with two seats to spare. That gave me a middle seat in coach for the four-hour flight. Before the plane boarded folks tonight I saw different people go up to the gate agent. They were asking to have their seat location improved. "The flight is full I can't help you" was the frequent refrain from the agent.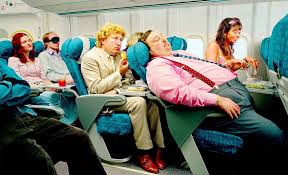 Just my luck.
I saw one huge fellow ask for a seat change. There was no way I wanted to be sitting next to him. I had center seat #8B. My big friend ended up in seat #8A. Oh, my. While he slept on the overnight ride he leaned my way. With my seat reclined, the hair on the back of my head was actually touching the hair of the guy leaning forward to sleep in the middle seat behind me. This truly made me question the value of taking this trip at all.
I landed in Indianapolis at 5:30 a.m. Eastern time (2:30 a.m. San Clemente time). It would be a 461-mile drive to Springfield, Missouri. "Garth" my friendly GPS buddy was more charitable that my iPhone mapping system. Garth told me the drive would take only six and one-half hours.
What happened to the sun?
What was surprising to me was that is was pitch black for the first 130 miles of my drive westward along I-70. I guess that's because Indianapolis sits on the western edge of the Eastern Time zone. I stopped at a couple of interstate rest area for power naps. I saw lots of other people traveling in these rest areas. I wondered if any of them were on such a frivolous adventure as me.
Somewhat incredibly, and partially due to a one-hour time change to my advantage I arrived at the Motel 6 in Springfield at 2 p.m. That bed looked good. With multiple alarms set I made my wake-up call so I could comfortably cover the three-mile drive to the Ozark Empire Fairgrounds in time for the races.
By the way, I rented a Dodge Charger on this trip from National. Both the Charger and the Chrysler 300 come equipped with Sirius satellite radio at National. That's a lifesaver on these long driving trips. I have XM satellite radio in my personal car back home. However, I am too cheap to spring for the "extra" expense to get the NASCAR station on XM. I enjoy listening to it on these trips but not enough to pay for it at home.
The People
I try to avoid creating a conflict of interest.
Normally, I don't run into fellow trackchasing competitors on my trips. This is my 23rd track of the season and I have not seen any other trackchasers up to this point. However, I was almost 100% certain I would see a fellow competitor tonight. How did I know that?
The website at www.autoracingrecords.com told me so. ARR showed that Ed Esser had never been to the Ozark Empire Fairgrounds for a figure 8 track. That wasn't too surprising. The OEF had never HAD a figure 8 race before.
Other indicators were 1) it was March and 2) this was a Friday night. If there was ANY track racing tonight within 1,500 miles of Madison, Wisconsin (where Ed lives) Ed would be there. I suspected strongly that this was the only Friday night race in the middle of March for Ed to choose from. He would be there.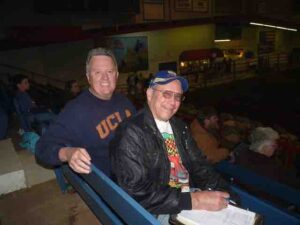 Sure enough Wisconsin was represented tonight.
When I arrived I quickly checked the parking lot. Ed drives a white mini-van. No, he's not a "soccer mom". It was easy to spot such a vehicle with a Wisconsin license plate. Although I was certain I could find Ed inside I placed one of my business cards under his windshield wiper just as a reminder.
Once inside the building Ed and I spotted each other in less than 60 seconds. Since Ed is not a trackchaser I would just as soon as avoid, we welcomed each other with open arms.
We spent the next three hours in each other's company. Since this part of our lifestyle is so similar we had plenty to talk about. I know how much the staff at Randy Lewis Racing puts into researching upcoming tracks. I found it amazing that Ed and his staff have such a complete database of trackchasing information as well.
It's always good to see Ed.
Yes, it's always good to see Ed, despite him being my strongest trackchasing competitor. He holds down the #2 spot in the worldwide rankings. There is one thing that makes Ed different from many others and one thing that makes him similar.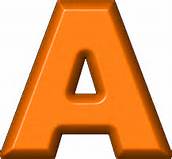 The "Ying" and the "Yang".
The similarity is that he is very competitive. He will do just about anything to see a new track. There's nothing wrong with that. However, there is one thing that makes him dissimilar to many of my fellow competitors. He doesn't begrudge others doing well. I guess he gets an "A" for both of these behaviors.
Get well and stay well.
Recently, Ed has had a health scare. He appears to be recovering. I hope and expect he will have a 100% recovery and will live happily for many many years. Carol and I have kept Ed in our thoughts during this trying time period. It was good to see him tonight. I was happy when he slipped me the "secret" fraternity handshake from our college fraternity as we wished each other goodwill and good fortune and disappeared into the night.
Editor's note
By the way, tonight Ed Esser made what I strongly believe was his first ever "text video". This was a "hello" message to "Trackchasing's First Mother". His text was immediately dispatched to TFM. You won't want to miss it at www.randylewis.org. It can be found in the "videos" tab under the "Ozark Empire Fairgrounds" banner.
RACE REVIEW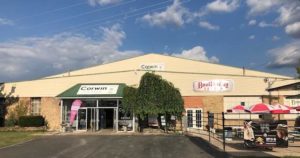 OZARK EMPIRE FAIRGROUNDS – SPRINGFIELD, MISSOURI
Let's not get confused here.
This was an incredible amount of effort for a "novelty" race. From a trackchasing point of view, every track counts. However, from a racing aspect no one would ever confuse tonight's racing action with the World 100, the Boone Nationals or the Knoxville Nationals.
The promoter of these events is Jay Reynolds. Jay has been helpful each time I have called him for information. He bears a striking resemblance to NASCAR's Kyle Busch.
This was my third trip to the Ozark Empire Fairgrounds building. I came here in 2008 to see an oval race. Then I came back with Carol in 2009 thinking I had never been to the OEF before. Of course, once I entered the building I recognized my error. At least "Trackchasing's First Mother" got a new track that night. Now I was returning in 2011 to racing on their figure 8 track.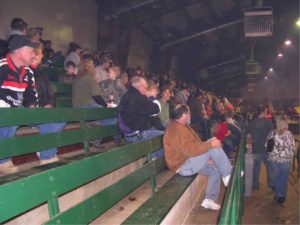 The indoor arena (Ozark Empire Fairgrounds) is an older building that I'm guessing seats about 2,000 people. They had a crowd of 600-800 people tonight. Ed and I picked out a spot where we could hear the P.A. announcer. Ed likes to write down the names of the drivers. He must have more than 100,000 names in his database.
They had a little bit of everything.
Let's get something straight. They never said they were having the World 100 here tonight. What they WERE having was a very diverse and entertaining evening of motorsports. The program began with a monster truck show (on a small scale) of sorts. When that was finished they had some pocket bike (These are what pocket bikes look like) races. Next up were some small car oval races. The six cars or so per race ran around two large tractor tires following an oval direction.
This guy made the show even better.
All during the events, a "clown" roamed the arena. He was "miked" and added to the show with his humorous comments. He held two interesting contests.
The first was a "kids one shoe race". About one hundred children accepted his offer to compete. They all came down to the arena's dirt floor. There they gathered in the middle of the arena and each took off one of their shoes. Then the kids were marshaled to one end of the arena wearing just one shoe. At the signal the kids all raced in a pack to the center of the dirt arena to find their shoe. As you might imagine this proved to be both difficult and comical. Once a child recovered their shoe they continued on to the opposite end of the arena to complete the race. Somewhat incredibly when the race was finished and the kids had cleared the area there was still one shoe sitting in the middle of the dirt!
The second contest organized by tonight's jokester was very funny as well. He selected four beautiful girls from the audience. He summoned them down to the middle of the arena floor. They were to have a dance contest for four CDs that were being used as prizes. The music began to play and the girls started to dance. When the music stopped the crowd selected, by applause, the two finalists.
As the third and fourth place finishers went back to their seats, the "MC" explained how the final winner would be determined. He would blindfold both remaining contestants and they would "dance their hearts out" for the audience's approval.
He blindfolded girl #1 and made sure she couldn't see anything. Then he went over to girl #2 and pretended to blindfold her. However, he whispered to her that she would not need the blindfold, gave her a CD and told her to return to her seat. Then the fun and the music began. As the music played girl #1 began to dance with the most unusual moves. The MC urged "both" contestants to give it their all if they wanted to win the grand prize. Soon the music stopped and girl #1 removed her blindfold to find herself the only dancer in front of 600-800 people. Everyone got a big laugh out of this including girl #1!
More diversity.
Next up we were treated to a "lawn mower demo derby". Remember folks I was in southern Missouri. It's a lot more "relaxed" down here. The DD could not start until the air cleared out a bit. The atmosphere was still a bit "blue" from the small car oval racing.
Finally, after sitting nearly three hours it was time for the figure 8 races. They ended up having two heats and a feature. About a dozen cars participated. Surprisingly, the cars were fast on such a small track. Ed and I both agreed that this was better than average figure 8 racing.
Track #1,635 was in the books for me. This was Ed's 1,357th track. I have no idea where we will meet up again. We both shared some of our weekend plans with each other. It sounded as if we would be going different places. It was a good night to see an unusual event on a Friday night in March. Tonight took a lot of effort but then tracks are getting harder and harder to come by.
STATE COMPARISONS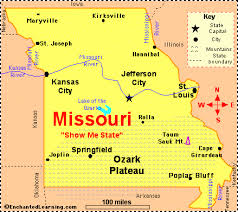 Missouri
This evening I saw my 49th track in the Show Me state, yes, the Show Me state. This gives me a second place ranking here. Wisconsin's Ed Esser is the Missouri state leader with 67 tracks. Exactly where in the Midwest is Mr. Esser NOT the leader?
I show just three tracks remaining to be seen in Missouri that race on a regular basis. There are also a few kart tracks here for me to see.
Coming Soon – RLR – Randy Lewis Racing Exclusive Features!
My review of the Apple iPhone trackchasing "app" Track Guide powered by the National Speedway Directory.
How is the transition going from unofficial trackchasing commissioner Will White to his successor?
National Geographic Diversity season results for 2010 will by posted by March 30, 2011 or so.
Thanks for reading about my trackchasing,
Randy Lewis
World's #1 Trackchaser
Missouri sayings: I'm from Missouri; you've got to show me.
TRAVEL DETAILS
AIRPLANE
Los Angeles, CA (LAX) – Indianapolis, IN (IND) – 1,810 miles
RENTAL CAR #1
Indianapolis International Airport – trip begins
Springfield, MO – 453 miles
TRACK ADMISSION PRICES:
Ozark Empire Fairgrounds – $15
COMPARISONS
LIFETIME TRACKCHASER COMPARISONS 
There are no trackchasers currently within 200 tracks of my lifetime total.
Randy Lewis, San Clemente, California – 1,635
Ed Esser, Madison, Wisconsin – 1,353
Guy "The Kid" Smith, Effort, Pennsylvania – 1,349
Official end of the RLR – Randy Lewis Racing Trackchaser Report
Reprinted with permission from my February 6, 2009 Trackchaser Report
DAY 1 – "WE'RE BACK!!!!" TRACKCHASING TOUR
EDITOR'S NOTE
Trackchasing is primarily a male sport. There is not a single woman who has ever trackchased on their own like many of our male trackchasers do. Trackchasing seems to attract a special male demographic. Most of the top male trackchasers are unmarried. Of the chasers who are married, very few of them bring their wives along for the ride. I, and a few others, are lucky that our wives will come along to share our crazy hobby from time to time. I am not sure that if Carol had a similar hobby that I would be willing to join in as much as she does.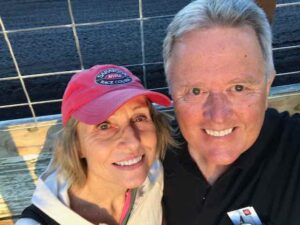 I have often wondered why the above seems to play out so often. This is not a difficult question to answer. Trackchasing is a "long walk for a short slide". Nevertheless, I love trackchasing. However, if I did not realize the need for a more normal life I would do it even more often than I do. I love it when Carol comes along on a trip. There is a very good chance that she will travel more miles in 2009 than any other trackchaser as she pursues the hobby, other than me. That either shows here commitment to the hobby (probably not) or her commitment to me (hopefully) or that she should be committed (again, probably not). I do my best to make sure she is as comfortable as possible on these trips. However, even my best-laid plans make achieving this objective somewhat difficult at times. Over the next few Trackchaser Reports, you the reader may conclude that trackchasing really is a "long walk for a short slide". On the other hand, you may say to yourselves, "I might not want to do this, but they sure seem to have fun doing it".
Greetings from Springfield, Missouri
TODAY'S HEADLINES
A last minute logistical quality check turned up an irregularity, or said another way, "I screwed up"…………..details in "The Trip".
This trip has multiple and unrelated objectives………………more in "The Objective".
Don't miss 2008 Lifetime National Geographic Diversity results. ………..details in "2008 Lifetime National Geographic Diversity Results".
THINGS YOU MIGHT HAVE NOTICED HAD YOU BEEN PAYING MORE ATTENTION IN SCHOOL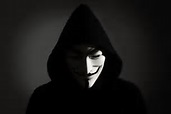 I will maintain my policy of affording anonymity to readers who send in interesting bits of information or who provide cutting edge analysis.
From the best readers in racing and other places!
Often racing oriented websites provide coverage of the trackchasing hobby. Just this past week, I received a radio interview request from a station in the southeast, a media credentials pass from a track in a foreign country, a stock car ride in a celebrity/media event in Wisconsin and coverage from a website in Canada. Of course, the Canadian website coverage was in French. Here's how the story read in French from www.360nitro.com. I have also translated the text from French to English using one of my web-based foreign language translation programs. These programs don't translate things perfectly but they do it well enough and quick enough, to make the process productive.
From up in Canada somewhere!

The French Version
Pour la plupart des amateurs, avoir visite de 10 a 15 pistes au cours de leur vie sera un bel accomplissement.
Imaginez 1400!
Randy Lewis de San Clemente en Californie est le meneur a ce chapitre; il a visite des pistes un peu partout a travers le monde, assui loin qu'en Australie! J'ai eu la chance de rencontrer M. Lewis lors de sa visite a l'Autodrome Edelweiss en 2007. Un bonhomme tres sympathique, qui adore explorer le monde des courses en compagnnie de sa femme. Etant a la retraite, cela lui permet de visiter encore plus de pistes. En 2008, il visite pas moins de 102 pistes!
Il y a 7 personnes, tous des Americains, qui font partie du groupe select de 1000 pistes visitees en carrier. Le premier Canadien vient au 45e echelon, Don McAuley avec 236 pistes. Notre collegue et photographe, Rick Your, trone au 53e rang avec un total de 172 visites. M. Young m'expliquait pour qu'une piste soit consideree comme visite, il doit y avoir un evenement qui a lieu a cette piste.
Quelques figures connues font partie de cette listte: Ken Schrader avec 373 pistes, Sammy Swindell avec 280 et Steve Kinser avec 265 pistes. Probablement que plusieurs autres pilotes feraient partie dans cette liste, mais ceux-ci n'ont past comptabilise leurs visites.
J'ai fait le tour des collaborateurs de 360nitro.com. C'est Steve Bertrand qui vient en tete avec 28, Marc Terrier avec 21, Josee Poisson avec 29, moi avec 17, Fannie Brouillette avec 12 et Steve Brillant avec 8; ils font partie des mes colleques qui m'ont fair part de leurs visites.
Donc, que vous ayez visite 1 ou 1,400 pisties dans votre vie, l'important, c'est que lors de cette visite en particulier, vous avez aime votre sejour! Si vous voulez en connaitre plus sur les chasseurs de pistes, je vous invite a visiter le site web: www.trachasher.net

Translation – French to English
For most fans, having visited 10 to 15 runs during their life will be a great accomplishment.
Imagine 1400!
Randy Lewis of San Clemente, California is the leader in the area and has visited tracks all over the world, as far afield as Australia! I was fortunate to meet Mr. Lewis during his visit to the Autodrome Edelweiss in 2007. A very nice guy who loves to explore the world of racing with his wife. As for retirement, it allows him to visit even more track. In 2008, he visited no fewer than 102 tracks!
There are 7 people, all Americans, who are part of a select group of 1,000 tracks visited career. The first is the 45th Canadian level, Don McAuley with 236 runs. Our colleague and photographer, Rick Young, stands in 53rd place with a total of 172 hits. Mr. Young m'expliquait to track a visit is considered, there must be an event that takes place at the track.
Some figures are known on this list: Ken Schrader with 373 runs, with Sammy Swindell and Steve Kinser 280 and 265 runs. Probably several other drivers would be included in this list, but they have not recorded their visits.
This resolves the 360nitro.com employees. Steve Bertrand ranks first with 28, with 21 Marc Terrier, Josee Poisson with 20, 17 with me, Fannie Brouillette with 12 and Steve Brillant with 8; they are part of my colleagues told me about their visits.
So you have visited 1 or 1400 tracks in your life, the important thing is that during this visit in particular, you enjoyed your stay! If you want to know more about hunters tracks, I invited you to visit the website: www.trackchaser.net
My next report will give you the details of my Wisconsin racing adventure from the invitation below.
From time to time, I am invited to drive at the tracks I have visited. I received this message from this past weekend's ice track visit.
"It was a pleasure to actually talk to you on the Marion Pond Sunday. I love checking your web site to see what you have been up to. One thing though, the full size RWD cars at Marion are non-studded. The mod that you saw, actually runs the RWD Studded class at Tilleda. One more thing, I am trying to put together a "Celebrity" race at Tilleda. I think it would be great to have a "foreign" driver in the field……if you are headed back to the frozen Wisconsin we'd love for you (to) participate."
TECHNOLOGY UPDATE
The purpose of technology is not to confuse the brain but to serve the body.
As promised, I will be providing you information about my Apple iPhone is this section of the Trackchaser Report. Of course, my iPhone is a phone. I can make telephone calls with it. However, less than 5% of my iPhone usage goes to making phone calls. With each Trackchaser Report, I will provide 1-2 special uses of the Apple iPhone. Please don't wait to buy one until I have exhausted my list of what the machine can do. If you did that, you might never get one.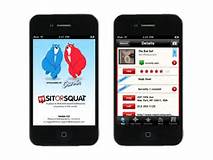 New App review for this RANLAY Racing Trackchaser Report
The "Sit or Squat" app was provided by long-time Trackchaser Report reader Louis Skypala. What does this app do? It provides specific location to where the nearest free public toilet is! And you thought technology might not be for you.
Cumulative list of Apple iPhone capabilities
Multiple "hands-free" communication options
Full email capabilities
"Now Playing" complete movie reviews (Rotten Tomatoes) and show times from local theatres wherever I am. The program even provides the movie trailers for nearly every current movie being offered.
"Around Me" details all major businesses within a mile or so of my current location
"Mobile News" gives me all the major news stories in several categories including Top news stories, local news, sports, show biz, business, politics, travel and many, many more as provided by the Associated Press.

"Currency" gives me up to the minute conversion rates on all major currencies in the world.
"Google" works just like Google on your computer except on the iPhone it is voice activated. I ask the question and it directs me to where I can find the answer on the World Wide Web.
"Sit or Squat" provides the nearest location of free public toilets wherever you might be at the moment.
Good morning!
We woke up early Friday morning in San Clemente, California. First, we flew to Kansas City and we drove to Springfield, Missouri. This is what transpired during day #1 of the "We're back" trackchasing tour.

What you are about to read is based upon a true story. Heck, I'm hearing some of this stuff for the first time myself!
The objective, the trip and the people….and a whole lot more.
The Objective 
Most trips have multiple objectives. This one did too.
There were so many things I planned to accomplish with this trip. Given that it's February, trying to achieve so many objectives in the hobby of trackchasing is quite surprising. Here are the main items that would be checked off during this nine-day trip.
Carol would add to her trackchasing totals by as many as four new tracks. This would move her past NASCAR's Kenny Schrader in the worldwide standings. She and that pesky Schrader have been having a major battle in the standings for years.
I would be resuming my racing career. Yes, for the first time I would be driving in North America as a follow-up to my European race driving experience.
Carol and I would be able to visit family in Illinois. Later in the trip, I would be able to visit family in Florida.
During the latter portion of this trip, I would see racing in my 25th lifetime trackchasing country.
Despite having seen 1,406 lifetime tracks, I might add as many as four new tracks on this trip.
This trip covered such a wide spectrum of objectives. Carol and I would each add several tracks. We would see family. Finally, I would advance one-step closer to the coveted and rarified level of 30 total trackchasing countries. Of course, all of this was predicated on my transportation systems working and the weather cooperating. And with that,….we were off.
The Trip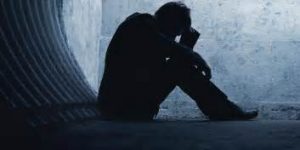 No one has ever trackchased in this territory before.
No one in the world has ever trackchased at more than 1,400 tracks but me. That being the case we don't exactly know how this many tracks is going to impact both the physical and mental aspects of trackchasers who reach this level. It's sort of like trying to understand the impact of space travel on astronauts……or not.
I'm not sure anyone who hasn't done it can fully understand the amount of logistical planning that goes into one of these trips.
This trip is planned to include a minimum of 11 airplane flights, four different rental cars and a mixture of hotels, family stays and other unusual sleeping methods. Of course, all of this is done with a firm eye on expense control. This trip's Excel spreadsheet has more than 75 rows to it. Each row was an individual flight, rental car location or hotel. It's just what I do.
A last minute quality check turned up an irregularity.
I've got to give Carol aka, "Trackchasing's First Mother" a lot of credit. She is very supportive of my hobby. She'll go on 8-10 trips a year, maybe more. Her travel, in even this small number of trips, can sometimes surpass the travel of any other trackchaser in the hobby other than me. That's impressive.
We trackchase at tracks where I have never been. That universe of tracks also means that Carol has never been there. If we're on the road and there are not any tracks around to add to my totals, we might go to a track that I have been too that Carol has never visited. However, this does not happen often.
The night before we left for our trip, I was reviewing the trip plan. We would start off at an indoor show in Springfield, Missouri. Then a funny feeling came over me. What was I feeling? I looked a little closer at the plan. Hey! I had ALREADY been to the Ozark Empire Fairgrounds in Springfield, Missouri. I went there just last year. This would not be a new track for me. I don't know how I overlooked that but I did.
We had already purchased an airline ticket. We would lose money if we canceled or changed our trip. Given the time of the year, there were no other new track opportunities for me to add a new track on a Friday night in February. The Springfield track would still be a new track for Carol. However, there were some extenuating circumstances.
We would have a tough airplane connection following the race in Springfield, Missouri.
Carol and I headed for the airport at 4:45 a.m. on Friday. This would be the first of many unusual wake-up/departure times. The plan was to fly into Kansas City on Friday afternoon. We would then drive 190 miles to Springfield. Following the race, we would stay in Springfield. The next morning (Saturday) our flight left at 6 a.m. (4 a.m. San Clemente time). We would land in Chicago at 7:30 a.m. We hoped to get our rental car quickly and then drive 256 miles up to Tilleda, Wisconsin. At that point, I would jump in a stock car and compete for the very first time in an ice race. Yes, it was a busy schedule…..but it's what I do.
However, we could change the plan.
A good planner establishes a well-researched agenda. However, when a better idea comes up, a good planner should be smart enough to change. Since I had already seen this track, the travel plan could be changed to make getting from point A (Kansas City) to point B (Tilleda, Wisconsin) a little easier on our aging bodies.
We could eliminate going to Springfield. We could simply catch a flight from Kansas City to Chicago. This would have us bypassing Springfield, Missouri. The bottom-line benefit would be an extra four hours of sleep. The downside was that Carol would not get a new track.
I left the decision up to her. Would she rather drive an extra 200 miles and see a new track…..or would she like for the trip to be a little bit easier and get four hours more sleep. She wasn't sure which way to go. We decided to let "God" or fate shape our destiny.
The flight from Kansas City to Chicago that would be a change from our original plan was overbooked. We might not get on even if we wanted too. Carol decided we should try to get on the flight. If we didn't make it we would still have time to drive from Kansas City to Springfield for the originally planned race.
After we landed in Kansas City, we moved over to terminal A to see if we could get on the flight to Chicago. It didn't look good and it wasn't. We didn't get on that flight. We took that as "fate" telling us to go to Springfield. I don't consider this missing a destination with my sponsored airlines since "changed" our destination was only "optional".
Anyway, that's how we ended up in Springfield, Missouri tonight. Nothing is ever simple and this trip was just beginning to get complicated.
The People
It's fun to sit in the midst of the local population.
Tonight we watched the races amongst a very loyal and local group of Missourians.
RACE REVIEW
OZARK EMPIRE FAIRGOUNDS, SPRINGFIELD, MISSOURI
Latitude: 37.2555         Longitude: -93.3019
Tonight's program wasn't much different than the one I saw last year on February 1. If you would like to read my review of that race, simply go to www.ranlayracing.com and click on "Trackchaser Reports" and then go to the 2008 section. You'll be looking for track #1,305.
Tonight's program was indoors. Shockingly, the temperature when we arrived into Springfield at 5 p.m. was 69 degrees! This made the temperature inside tonight's building very comfortable. It was nearly room temperature all evening.
However, the air quality was not very good. I suspect it was barely above legal standards. There was very much a local crowd on hand of some 500 people or so. Carol guessed about 400-500. They were entertained with a long series of races by motorcycles on the oval and a motocross track as well as a few classes of racing lawn mowers. There were also several kids' classes of winged midgets. The only countable class that we saw (out of about 20 or so) were the 500 cc winged outlaw midgets (karts). There were just seven of them.
I never would have thought I would be back for these races. But then, one never knows what's going to happen in life do they. I was happy to see Carol get track #372. This is going to be a challenging logistical trip for both Carol and me. We have some very early wake-up calls, long drives and long flights. Tomorrow morning the alarm will go off at 4 a.m. Central time (2 a.m. San Clemente time). If we make our flight, we will drive a little more than 1,000 miles in the next 36 hours. That's moving down the road.
STATE COMPARISONS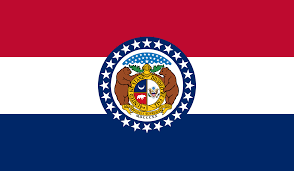 Missouri
This evening Carol saw her 7th track in the "Show Me" state. This moves her into a tie with Norm Wagner for 27th spot. Ed Esser leads in Missouri with 64 tracks.
RENTAL CAR UPDATE
Kansas City, MO – Friday/Saturday
We will be driving the National Rental Car Racing Chevy Malibu on this trip. Carol and I ended up driving the car 226 miles in the 18 hours we had it. This was a one-way rental. Whenever, I have a rental car that I will pick up in one place and drop in another, I use a National Rental Car "free" day. One-way rentals can be very expensive. It's not unusual for the daily charge for a one-way rental to be $75 or more. By using a "free" day, I only pay the applicable taxes. Today's car cost just $10.94 and all of that was taxes.
I paid an average price of $1.73 per gallon. The Chevy gave me 31.0 miles per gallon fuel mileage at a cost of 5.8 cents per mile. The car cost 4.8 cents per mile to rent, all taxes included.
Coming soon!
How do fellow P&G retirees really think?
I have some really big news set to break by March 15, 2009 or so. Despite frequent questions, I can't tell you what this is about until the appointed date.
Why I fear Ed Esser.
Thanks for reading about my trackchasing,
Randy Lewis
Alberta's #1 Trackchaser
When Peter says something about Paul, it says more about Peter than it does Paul.
2008 ANNUAL NATIONAL GEOGRAPHIC DIVERSITY RESULTS
The National Geographical Diversity contest has been in existence since 2003. There are two separate NGD categories. The first is the annual results and the second category is the lifetime results category. Folks eagerly anticipate the publishing of these comparisons. Today I will review the 2008 lifetime NGD results.
As a quick review, trackchasers earn points in the 50 United States and the District of Columbia. Trackchasers who rank in a state's top 10 get the amount of points equal to their ranking. When a trackchaser ranks first in a state, he/she gets one NGD point. Finish seventh and the score received is seven points. However, if a trackchaser finishes outside of the state's top ten, the score is 15 points. This higher score is designed to penalize or simply make someone feel bad for being such a poor performer. Of course, the trackchaser with the lowest overall average score (from 51 scoring locations) is the winner.
The lifetime NGD results have been around since 2003. Coming into this year, the previous lifetime winners were:
2003 – Allan Brown
2004 – Gordon Killian
2005 – Gordon Killian
2006 – Gordon Killian
2007 – Randy Lewis
The results come directly from the trackchasers themselves. Everything is on the honor system. If a trackchaser reports his track, or it is reported for him, the unofficial trackchaser commissioner accumulates the totals at www.autoracingrecords.com. He is a "wholesaler" of sorts.
I have maintained for several years that the "Lifetime National Geographic Diversity" award is the most prestigious of any trackchasing ranking/comparison in the United States. What could top it? This comparison focuses not only on the quantity of tracks a chaser has seen in the U.S. but on the breadth of trackchasing coverage over the entire 50 states and the District of Columbia.
This year's winners (and their lifetime NGD scores) are :
Men's Division – Gordon Killian – 5.96
Women's Division – Pat Eckel – 12.27
Gordon came on strong at the end of the year to nip yours truly by just .06 NGD points. That's only three state position points spread over 50 states and D.C. Although Gordon does not hold a single first place ranking in any of the 51 categories, he ranks outside the top 10 in just three states. On the other hand, I have a #1 ranking in twelve different states. I also have a worse than 10th place finish in ten states. It is those ten states that provide a cumulative 50-point penalty for me. It will be difficult for me to regain the #1 lifetime NGD ranking since I can't improve in the 12 states I already lead and can't move up much in the ten states where I rank worse than tenth because of the predominance of East coast blockers. Nevertheless, I never give up and we'll see what happens next year.
Pat Eckel, the women's winner with a score of 12.27 edged out two fellow (so to speak) competitors. Nancy Brown finished with a 12.37 score and Carol Lewis wrapped up her season with a 12.67 score. The results were very close in the woman's division just as they were in the men's division.
One of the real benefits of the NGD rankings is that it gives recognition to people who don't normally get much of that each year. Complete results of this year's lifetime NGD contest can be viewed at www.randylewis.org. There is no other place on the worldwide web where trackchasing's state leaders can be seen on a screen or two.
These are the top 10 lifetime NGD performers through 2008:
Gordon Killian – Sinking Springs, Pennsylvania – 5.96
Randy Lewis – San Clemente, California – 6.02
Allan Brown, Comstock Park, Michigan – 7.98
Ed Esser – Madison, Wisconsin – 8.33
Guy Smith – Effort, Pennsylvania – 9.16
Rick Schneider – Bay Shore, New York – 9.33
Andy Sivi – Clairton, Pennsylvania – 9.59
Jack Erdmann – DePere, Wisconsin – 10.61
John Moore – Knoxville, Tennessee – 10.76
Will White – Quakertown, Pennsylvania – 11.90
There are 46 trackchasers who have ever recorded a lifetime top 10 finish in an American state. Those 46 trackchasers have seen an incredible 25,283 tracks. That's an average of more than 500 tracks per trackchaser.
Here's a list of the top trackchasing states that have had more than 1,000 visits:
Pennsylvania – 2,736
New York – 2,192
Indiana – 1,693
Ohio – 1,635
Michigan – 1,352
Illinois – 1,219
Florida – 1,139
Wisconsin – 1,097
California – 1,054
On the other hand, some areas of our country have seen very little of our trackchasers. These states have had fewer than 100 cumulative trackchasing visits:
District of Columbia – 14
Hawaii – 28
Rhode Island – 31
Alaska – 42
Utah – 47
Idaho – 50
Wyoming – 55
Montana – 63
New Mexico – 68
Louisiana – 81
Due to the extreme economic conditions most of the United States and the world is experiencing, there will be no physical awards for NGD winners. While some folks are struggling, we don't want to "materialize" the contest to an unreasonable level.
The data was analyzed by the National Geographic Diversity Institute in Jackson Hole, Wyoming. All results are final. If you find an error, take it up with them.
TRAVEL DETAILS
AIRPLANE 
Los Angeles, CA – Kansas City, MO – 405 miles
RENTAL CAR
Kansas City International Airport – trip begins
Springfield, MO – 189 miles
Springfield-Branson National Airport – 226 miles
TRACK ADMSSION PRICES: 
Ozark Empire Fairgrounds – $12
COMPARISONS
LIFETIME TRACKCHASER COMPARISONS UPDATE:
There are no trackchasers currently within 200 tracks of my lifetime total.
Randy Lewis, San Clemente, California – 1,406
Other notables
These worldwide trackchasers are within 10 tracks (plus or minus or more) of Carol's current trackchaser total.
Kevin Eckert, Indianapolis, Indiana – 455
Ken Schrader, Concord, North Carolina – 373
Carol Lewis, San Clemente, California – 372
2009 TRACKCHASER STANDINGS
Randy Lewis, San Clemente, California – 6
Tracks have been reported by 39 different worldwide trackchasers this season.
LIFETIME NATIONAL GEOGRAPHIC DIVERSITY STANDINGS 
Final 2008 National Geographic Diversity results will be posted soon.
UPCOMING TRACKCHASING PLANS 
With several spring/summer non-trackchasing commitments looming, now is the time to get in as many tracks as I can in order to meet my 2009-trackchasing goals. This will be a wild and wooly far-flung trip.
RACETRACKS VISITED IN 2009
1,401. Death Valley Raceway (oval), Armargosa Valley, Nevada – January 3
1,402. Lake Weyauwega Ice Track (oval), Weyauwega, Wisconsin – January 11
1,403. Marion Pond Ice Track (oval), Marion, Wisconsin – January 11
1,404. Grandvalira Circuit (road course), Port d'Envalira, Andorra – January 17
1,405. Kuna International Raceway (oval), Kuna, Idaho – January 25
1,406. Circuito Efren Chemolli (oval), Buenos Aires, Argentina – January 31
Ozark Empire Fairgrounds (oval), Springfield, Missouri – February 6 (new track for Carol only)
Reprinted with permission from my February 1, 2008 Trackchaser Report
DAY 1 – LET'S JUMP ALL OVER THE COUNTRY TRACKCHASING TOUR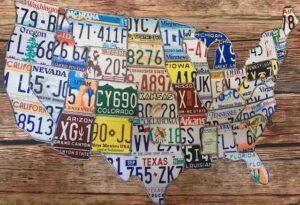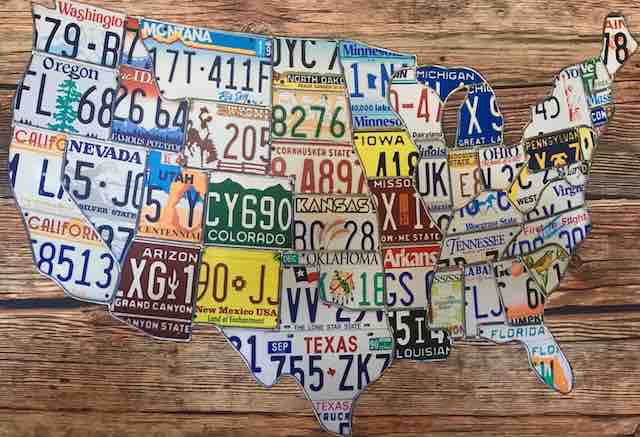 NATIONAL GEOGRAPHIC DIVERSITY RESULTS COMPLETE!
If you were a baseball manager which of these two baseball players would you want on your team? Would you want a power hitter who batted .350 and hit 50 home runs, but couldn't catch a fly ball to save his life. On the other hand, would you want a shortstop that caught every ball in the gap and never made an error all season, but batted just .175.
You are probably saying to yourself, "But Randy, why couldn't I have a player who hit 50 home runs, batted .350 and never made an error?" You would be well within your rights to have such a preference. It was with this thinking in mind that the National Geographic Diversity trackchasing program was developed.
Back in 2001 and 2002, I began to work on an idea that would recognize the best "all-around" trackchasers. At the time, I asked several trackchasers and fans what they thought should be considered when visualizing the ideal, maybe even the "best" trackchaser.
People told me the best trackchaser should see a lot of tracks, maybe even more tracks than anybody else. They also told me that to be considered at the highest echelon of trackchasing, that person had to see tracks all over the country. Remember, this was before we had any knowledge of folks outside of the U.S. doing much trackchasing.
Based upon this input I went to work to develop a rating program that would balance a trackchaser's quantity of tracks with where the trackchaser had to go to see them. My data came from the www.trackchaser.net website. Will White who operates www.trackchaser.net gets his data from the trackchasers themselves. I guess you could say the data was traveling full circle.
Of course, this is just one way of judging who the most valuable trackchaser might be. Pundits could say our overall trackchasing rules are just one person's or one small group's way of looking at the trackchasing hobby. Fans who talk to me can't understand the rationale for not counting drag strips, motorcycle races or desert off-road races. I tell them that's just the way the founders decided to do it. That would be the same response I provide when someone asks how the NGD rules came about.
Below you will see the explanation and background for the National Geographic Diversity Awards that appears on www.randylewis.org.
NATIONAL GEOGRAPHIC DIVERSITY AWARD BACKGROUND 
The National Geographic Diversity Award was first established in 2003.  The NGDA is meant to recognize trackchasers who excel on two fronts.  Points are awarded based upon a trackchaser's state ranking in all 50 of the United States and the District of Columbia.  For trackchasers to do well in this analysis they must see racing in a large number of states AND rank high in each state's trackchasing standings.
If a trackchaser has seen the most tracks of anyone as reported by www.trackchaser.net in an individual state, they will receive a score of "1" for that state.  The second place finisher gets a "2", third place finisher gets a "3", etc.  Anyone finishing outside of the top 10 in an individual state receives a score of 15 in that state.  The National Geographic Diversity scoring scale is like golf.  The low score wins.
Each year there are four National Geographic Diversity awards.  Both men and women are recognized for lifetime results and for annual results.  Since 2003 was the first year of this award, both the lifetime and 2003 (annual) results were the same.  During 2003, the results were limited to the top 20 worldwide trackchasers.  In subsequent years, any trackchaser listed in a state's top 10 will be eligible for the award.
All results are tabulated by the National Geographic Diversity Institute located in Jackson Hole, Wyoming.  Results are certified accurate based upon data submitted by each trackchaser and accumulated by trackchaser commissioner, Will White and then accumulated by the institute.
This is the fifth year of the NGD contest. Last year, when Gordon Killian was the men's and overall lifetime NGD leader I wrote the following. I stand by those words today.
"The NGD lifetime leader may hold the most prestigious position in all of trackchasing, at least in the United States.  This leadership position signifies a dominance in BOTH states visited and tracks seen within all of those states."
Special congratulations go out to John Moore, Bing Metz, Paul Weisel, Guy Smith, Pam Smith, Randy Lewis, Ed Esser, Gary Jacob, Allan Brown, Pappy Hough, Roger Ferrell, Rick Schneider, Jack Erdmann, Paul Weidman, and Norm Wagner.  They all led the lifetime state standings in one state or more.
2007 National Geographic Award Winners
2007 Annual Men's – Randy Lewis, San Clemente, California
2007 Annual Women's – Carol Lewis, San Clemente, California
Lifetime Men's – Randy Lewis, San Clemente, California
Lifetime Women's – Nancy Brown, Comstock Park, Michigan
Previous National Geographic Award Winners
Annual Winners
2006 Annual Men's – Randy Lewis, San Clemente, California
2004-2005 Annual Men's – Ed Esser, Madison, Wisconsin
2003 Annual Men's – Allan Brown, Comstock Park, Michigan
2005-2006 Annual Women's – Carol Lewis, San Clemente, California
2004 Annual Women's – Nancy Brown, Comstock Park, Michigan
Lifetime Winners
2004-2006 Lifetime Men's – Gordon Killian, Sinking Spring, Pennsylvania
2003 Lifetime Men's – Allan Brown, Comstock Park, Michigan
2006 Lifetime Woman's – Pat Eckel, Easton, Pennsylvania
2005 Lifetime Woman's – Nancy Brown, Comstock Park, Michigan
All of this year's award winners will win a one-year subscription to the series sponsor, the National Geographic magazine.
Additional NGD results and detail can be found under the NGD tabs at www.randylewis.org.
TODAY'S HEADLINES
2007 National Geographic Results are now final. Use www.randylewis.org to click on either "NGD Lifetime Results" or "NGD Annual Results" to see who the winners are.
My seatmate on the flight to Springfield had a unique occupation today…………..details in "The People".
Tonight's track had one of the more unusual racing classes that I will see all season. …………..details in "Race Review".
AND THE READERS RESPOND
From time to time interested readers write me about one thing or another. Many times, I feel that my other readers would be interested, informed and/or amused by the comments I get.
From Pennsylvania (regarding the question I posed in my last Trackchaser Report)
"Hi Randy.
Initially, I would have said you were good and lucky. However, after having thought about this a few minutes more I have to say that good beats lucky.  My reasoning is that you engage folks on these trips.  I like to engage strangers on trips as well and have learned a lot and saw things I might not have seen in my travels if I relied on luck."
Greetings from Springfield, Missouri.
I woke up in San Clemente, California. I went to sleep in Springfield, Missouri. This is what transpired today.
PEOPLE/STRATEGY/TRAVEL NEWS
The Objective  
The objective is to see as many tracks as I can. If my airplanes fly as scheduled, I will get three tracks in three days in February. There probably have not been 10 such instances in the history of trackchasing.
The Trip
My flights were tighter than I expected but I made each of them. Somehow, I lost my boarding pass from the security area to the boarding gate, a distance of about 30 yards. A quick explanation regarding my incompetence remedied the situation.
My first flight took me from Orange County to Denver. I was just about the last person on the flight. Just as I was about to step into the plane, the flight attendant told me there was no more room for my carryon bag. This can be one of the drawbacks to flying standby. As a standby passenger, I almost never check a bag. It's just too risky. A bag checked at the very last minute might not make it to my destination.
As the flight attendant was arranging with several other passengers to check their bags, she asked me what my connection was going to be. I mentioned my standby status. The flight attendant motioned me over to the side and whispered in my ear, "go sitdown in your seat and we'll take care of your bag". With a nod of assurance from her, I knew my bag would travel with me and not have to be checked at the last minute. I'm planning some ice racing on Sunday and I wouldn't want to venture up into Northern Minnesota with my long underwear ending up mysteriously in St. Thomas.
The People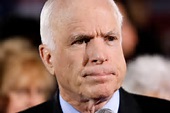 When I have time, I enjoy talking with my fellow passengers on the plane. Often, however, I will simply pop open my laptop and work without conversing with my seatmate. By the way, one of my more well-known fellow airline passengers was Republican front-runner John McCain. This must have been 15 years ago or so. We were both in a small first class cabin. I didn't even know who he was until, the fellow sitting next to me explained it to me.
Today I was flying on a small plane. They sat a guy as big as me in the seat next to me. This made working on my laptop or doing just about anything, including breathing, nearly impossible. I took the opportunity to strike up a conversation.
The fellow was a manager for a large accounts receivable company. His company tried to get people to pay their bills to hospitals. He had some interesting things to say. First, people with higher credit scores are more of a credit risk than folks with lower scores. Apparently, people with high credit scores can get access to more credit and more credit does them in.
My new friend told me the average person owes about five $700 bills to a hospital. What was surprising to me was that with the people who miss a payment or more, the hospital ends up collecting only 20% of what is owed!!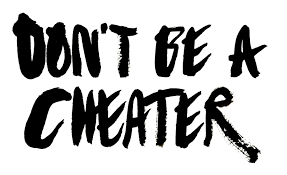 I cringe when I hear those radio and TV commercials announcing "we can settle your credit card bills for pennies on the dollar". Wouldn't it be more accurate to have the announcer say, "Yes, you bought that new TV for $500. We can help you screw the store you bought it from so you won't have to pay your bill at all. You'll end up getting the TV for just the $50 down payment you made. Don't worry! The store will just charge higher prices to the people who do pay their bills in full!"
STATE RANKINGS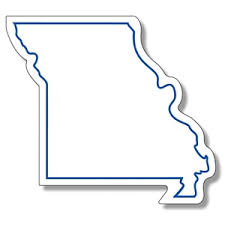 Missouri
This was my 38th lifetime track to see in the "Show Me" state. I am now tied with Max Allender for third place here. Ed Esser has a commanding lead in Missouri with 57 tracks.
I now rank third of better in a hobby leading 23 states and the District of Columbia.
RACE REVIEW
OZARK EMPIRE FAIRGROUNDS, SPRINGFIELD, MISSOURI
Some might say tonight's new track was a long walk for a short slide. They would be correct. I woke up at 4:30 a.m., then flew standby on two flights on a Friday, the busiest day of the week. I landed in Springfield at about 4 p.m. with temperatures hovering right at freezing.
Tonight was the first night of a two-day indoor show at the Ozark Empire Fairgrounds. The better racing night was going to be Saturday night. However, it's rare to be able to schedule a Friday night show in early February. Despite the fact that tonight's program offered only one countable trackchasing class, strategically this was the better program to watch.
Tonight's program was scheduled to begin at 7 p.m. However, with the fairgrounds less than five miles from the airport, I figured I would check out the building in the daylight, then check into my hotel, then come back to the track at around starting time. When I entered the building, I immediately ran into Jay Reynolds, the event's promoter. I had corresponded with Jay in advance of the trip. He invited me in as the track's guest and took me on a tour of the facility.
The entire program was being held in an indoor HEATED arena. Frequently, these fairgrounds shows are not heated. With the outside temperature at near freezing, it was a major win to have some heat. Jay is a young man of about 35 years of age. He runs a landscaping business in the summer and is just now getting into the race promotion business. He has more of these shows planned as well as a big monster truck show.
Jay had a good deal of the "marketing" elements of a good race promotion. On the other hand, the event had some significant drawbacks. I will tell you about both.
Jay Reynolds is a racing competitor in addition to being a racer. He drives in the 500cc outlaw kart division. I've seen him race at other venues. He seems to know everybody and spent time thanking each competitor for coming to the weekend event. The indoor pit area is a huge cavernous enclosed area that sits behind the main grandstand. There were more than 100 competitors pitted in this area.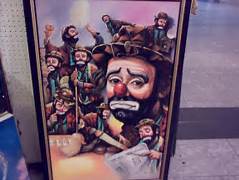 Jay and his crew had taken care of a number of customer convenience and entertainment details. They had an event t-shirt concession. There was a clown (Ned Dirt) who entertained the crowd during down times. They threw t-shirts into the crowd from time to time. The concessions were good and probably provided by the event's concessionaire staff. My cheeseburger ($4.50) was above average.
Hot laps started about six o'clock. I had already been at the track for more than an hour when practice started. There were a large number of classes racing tonight. The classes included, "Race Brother's Hillbilly Lawn Mowers, RE Cycle Flat Track Motorcycles, ENS Outlaw Blue plate young guns (ages 5-10), Outlaw Kart Modified young guns (ages 8-12), and the DC Cycle Modified Pit Bikes."  The lone countable class was the TRS Motorsports Outlaw Karts. There were 22 of them.
The announcer was a professional, but unfortunately, in buildings like this the P.A. system is rarely good. Tonight it was very poor. It was impossible to hear what the names of each class that appeared on the track actually were.
Hot lapping took more than one hour. Fortunately, the outlaw karts were the first class on the 1/6 mile flat dirt oval. There were a good number of spins during practice for the outlaw karts and kids kart divisions. This, along with an announced late start due to race teams arriving late delayed the first racing until 7:20 p.m.
Fortunately, I guess the only countable class, the outlaw karts raced first. Unfortunately, the racing wasn't very good. There were three heat races. Each started 7-8 karts. Each of the races had multiple yellow flags. The first two heat races needed four tries at even getting their races started.
I heard several fans commenting that these karts were just too fast for such a small track. That may have been true. I think several of the drivers were running way over their head as well.
In addition to the yellow flag delays, the dust and exhaust made seeing even the opposite end of the track difficult. I wonder what EPA officials would have said about these air quality conditions. Carol would not have liked this show one bit.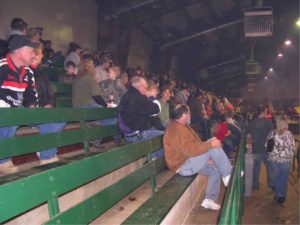 There was a very large crowd on hand tonight. The arena offered seating around the entire oval except beyond turns one and two. The building was around 80% full. I would estimate there were about 1,000 people on hand. I can't imagine that many of them were pleased with the dust and fumes from the outlaw kart group.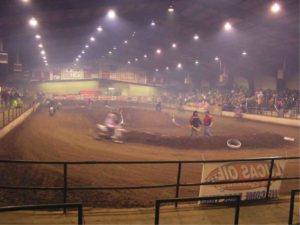 The remaining classes were much better for racing without all of the debris in the air. I really liked the flat track motorcycle division. They were loud and powerful. The racing lawnmowers were also a crowd favorite. There were a couple of small motorcycle/motorbike groups that ran on a road course layout with small jumps. There were also some kids kart divisions to round out the program.
I commend Jay Reynolds for putting many elements of an entertaining program together.  Who offers "bar stool" racing?  Nevertheless, he's going to have to make a few changes and unfortunately, they focus on trackchasing's one countable class that was on the program tonight. There is no way, in my opinion, he can allow that amount of dust and fumes to continue. If the crowd feedback doesn't do him in, the local government officials just might. I wish him luck. He has all the enthusiasm in the world and a good deal of race promotion knowledge.
RENTAL CAR UPDATE
Springfield, MO – Friday/Saturday
I drove the National Rental Car Racing Pontiac G6 just 39.9 miles in the slightly more than 15 hours that I had it. I paid an average price of $2.79 per gallon. The Pontiac gave me 37.6 miles per gallon in fuel mileage at a cost of 7.4 cents (U.S.) per mile. The car cost 67.3 cents per mile to rent, all taxes included!
Thanks for reading about my trackchasing,
Randy Lewis
Alberta's #1 Trackchaser
When Peter says something about Paul, it says more about Peter than it does Paul.
TRAVEL DETAILS
AIRPLANE 
Orange County, CA – Denver, CO – 845 miles
Denver, CO – Springfield, MO – 634 miles
RENTAL CAR – SPRINGFIELD, MO
Springfield-Branson International Airport – trip begins
Ozark Empire Fairgrounds – 4.5 miles
Springfield-Branson International Airport – 39.9 miles
TRACK ADMSSION PRICES: 
Ozark Empire Fairgrounds – Free
RANKINGS
LIFETIME TRACKCHASER STANDINGS UPDATE: 
There are no trackchasers currently within 100 tracks of my lifetime total.
Randy Lewis, San Clemente, California – 1,305
Other notables
These worldwide trackchasers are within 10 tracks (plus or minus or more) of Carol's current trackchaser total.
Mike Knappenberger, Reading, Pennsylvania – 439
Carol Lewis, San Clemente, California – 353
Ken Schrader, Concord, North Carolina – 353
Max Allender, Des Moines, Iowa – 349
2008 TRACKCHASER STANDINGS
Randy Lewis, San Clemente, California – 8
Carol Lewis, San Clemente, California – 4
Mike Knappenberger, Reading, Pennsylvania – 4
Ed Esser, Madison, Wisconsin – 3
Bruce Eckel, Easton, Pennsylvania – 2
Pat Eckel, Easton, Pennsylvania – 2
Guy Smith, Effort, Pennsylvania – 2
Paul Weisel, Orefield, Pennsylvania – 2
Several trackchasers with one track.
Tracks have been reported by 16 different worldwide trackchasers this season.
LIFETIME NATIONAL GEOGRAPHIC DIVERSITY STANDINGS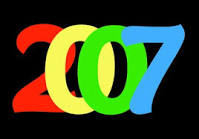 2007 NGD results are now posted at www.randylewis.org.
UPCOMING TRACKCHASING PLANS 
Tomorrow is going to be a huge day of trackchasing at a big name track.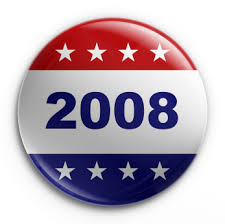 RACETRACKS VISITED IN 2008 (** not the first time to visit this track)
1,299. Barnes Lake Ice Track, Ashcroft, British Columbia, Canada – January 13
1,300. Bira Circuit, Pattaya, Thailand – January 19
1,301. Cameron Lake Ice Track (oval), Erskine, Minnesota – January 26
1,302. Birch Lake Ice Track (oval), Hackensack, Minnesota – January 27
1,303. Mille Lacs Lake Ice Track (road course), Garrison, Minnesota – January 27
1,304. Mille Lacs Lake Ice Track (oval), Garrison, Minnesota – January 27
1,305. Ozark Empire Fairgrounds, Springfield, Missouri – February 1
Click on the link below to see the video production from the racing action today.
2017 – Outdoor figure 8 racing PLUS the farm combine demo derby 
.
.
2011 – Actual racing footage from both the oval and figure 8 racing indoors at the Ozark Empire Fairgrounds
.
. 
The 2011 trip to Springfield for the indoor figure 8 racing 
Click on the link below for a photo album from today's trackchasing day.  You can view the album slide by slide or click on the "slide show" icon for a self-guided tour of today's trackchasing adventure.
2017 – Outdoor racing at the Ozark Empire Fair 
Farm combine demolition derby and lots more from Springfield, Missouri